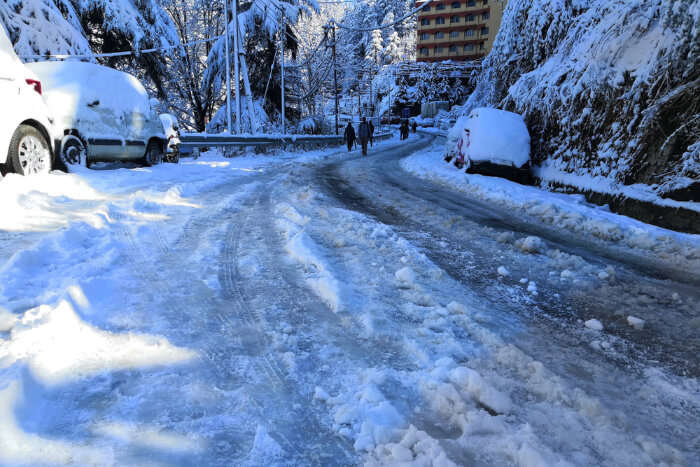 Shimla, the Queen of Hills looks absolutely amazing in winter. In summer, this region serves as haven for people in the neighboring states. In winter, the magnetism escalates as snow covers the Capital. Witness the winter magic by planning a trip to Shimla and going to all the best places to visit in Shimla in December. This month particularly is a lovely time to visit Shimla district. The first half of the month is usually snow-less, while the second half is all about being merry during the Christmas celebration and enjoying the carpet of snow.
Whether you're a snow-lover or not, whether you want to go skiing or not, the Shimla trip in December is meant for all. The best places to visit in December in Shimla are a great place to party on New Year's Eve. To avoid hassles on your vacation, get yourself a customizable Himachal tour package to explore this hilly-retreat.
Note: As per the Covid-19 travel guidelines of Shimla, it is mandatory for travelers to maintain social distancing at all times. Additionally, travelers must have the Arogya Setu App installed for entry into the premises of hotels and restaurants.
Top 13 Places To Visit In Shimla In December
Shimla looks nothing less than a fairytale land in December. With snow falling down, every place in this city looks magical and beautiful. Scan through this list of places that one can visit in Shimla in December.
1. Shimla City – The Colonial Queen Of Hills

The capital of Himachal Pradesh, Shimla is one of the top hill stations of India. This hill-station's scenic splendor and colonial charm make it one of the must-visit places in north India. Right from religious landmarks like Jakhu Temple and Christ Church to the buzzing shopping alley like Mall Road, Shimla pleases travelers of all kinds and the holiday homes in Shimla are the best places to stay while going for a trip there.
Attractions: Scandal Point, Indian Institute of Advanced Study, and The Shimla State Museum
Where to stay in Shimla: The Oberoi Cecil, Veer Garh, Radisson Hotel Shimla, and Hotel Silverine
2. Mashobra – Forested, Yet Luxuriated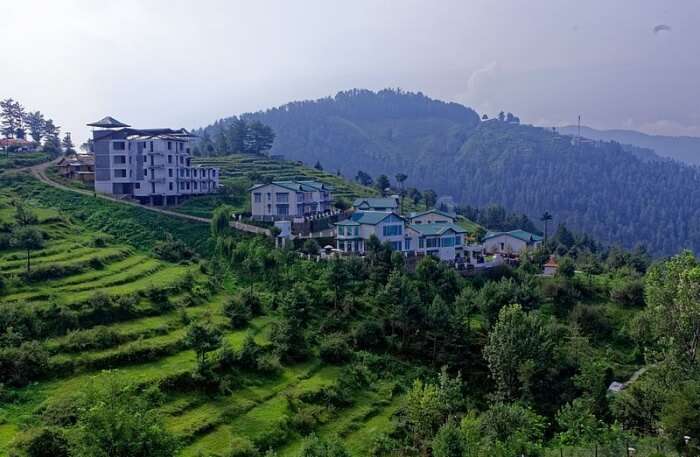 Located amidst the Reserve Forest Sanctuary of Shimla, Mashobra is a haven for all the peace-seeking souls. This is among the best places to visit in Shimla in December, thanks to many activities you can indulge in, such as skiing. Also, there are options for both luxury and budget homestays in Mashobra.
Attractions: Skiing, trekking, and rappelling are some of the best things to do in Mashobra.
Where to stay in Mashobra: Club Mahindra, Tranquil Countryside Homes, Mashobra Greens, and Hotel Rock Heaven
These 20 Resorts In Shimla Will Help You Plan A Scenic Escape In 2022
3. Kufri – A Heaven In Shimla During Snowfall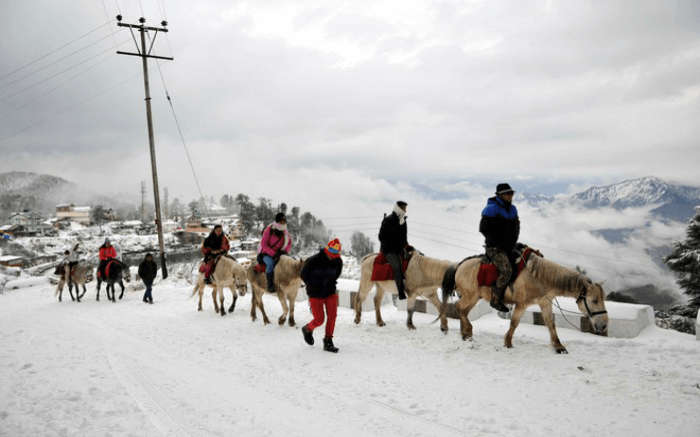 Though Kufri is 16 km away from the city of Shimla, it is counted among the top tourist attractions of Shimla. Kufri's charm increases manifold in the winter season and thus it is one of the most beautiful places to visit near Shimla in December. The ski slopes and mesmerizing views from the ridge of Kufri are crowd pullers and tourists will get some of the best homestays in Kufri while on a trip to Shimla.
Attractions: Horse ride, skiing, and Himalayan Nature Park
Where to stay in Kufri: Royal Tulip Shimla, Kufri Holiday Resort, and Galleu Hill Resort
29 Amazing Things To Do In Shimla Every Traveler Must Experience In 2022!
4. Narkanda – The Skiing Destination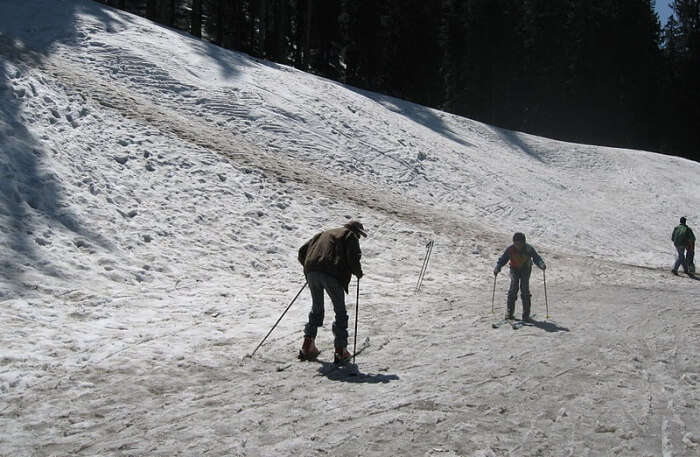 A town in Shimla District that turns into a ski resort, Narkanda is located just 2-hours' drive away from Shimla city. Since Narkanda is perched at a higher altitude than Shimla (7,400 feet), the panoramic views of the valley will captivate you. This is among the best places to visit in Shimla in December as HPDC conducts skiing courses here; they've have been doing the same since 1980. Also, owing to different slopes, Narkanda is perfect for everyone from beginners to experienced skiers.
Attractions: Horse ride, skiing, and Himalayan Nature Park
Where to stay: Hotel Snowflake, Tethys Ski Resort, The Wilderness, and Seetalvan Orchard
46 Best Places To Visit In Manali And Its Precincts In 2022
5. Rohru – The Apple Orchard Master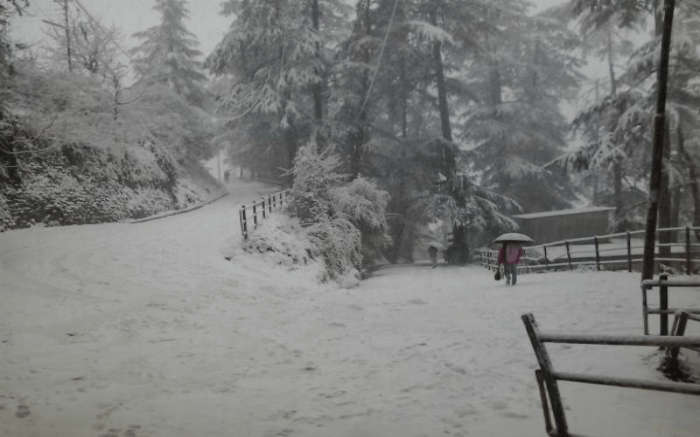 One of the lesser-known places to visit near Shimla in December, Rohru's apple production is something that has created a buzz in whole of Himachal Pradesh. The town is located beside the Pabbar River, and trout fishing is a very popular activity here. If you visit this town in the first half of December, you can easily enjoy this activity, as after that the town gets whitewashed with snow. Alongside trout fishing, other activities one can enjoy during their stay in Rohru, such as hand gliding and trekking.
Attractions: Trout fishing, trekking, and Shikru Devta Temple
Where to stay: The Chanshal, Hotel River View, and Hotel Giri Ganga
19 Boutique Hotels In Shimla Near Mall Road For Comfort And Ease Of Travel
6. Summer Hill- The Perfect Escape Into Peace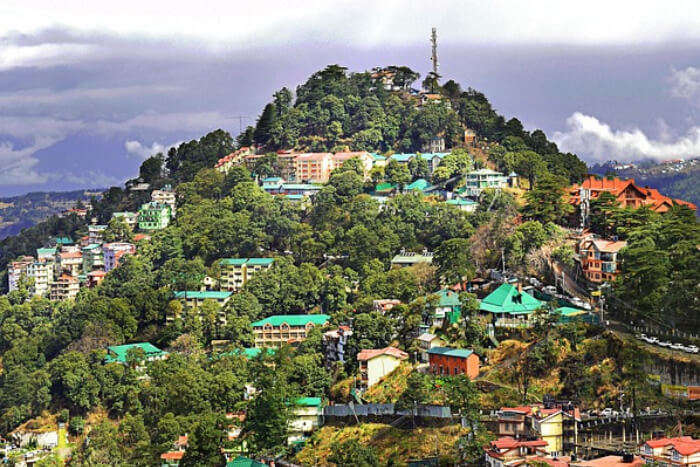 One of the best places to visit in Shimla in december, Summer Hill offers a retreat to the nature lovers and a perfect escape from the hustle & bustle of the city life. It is nestled among deodar trees and snow clad mountains. If you are looking for peace and tranquility while enjoying the natural views, this is the place you must visit! Being the epitome of beauty and serenity, it is the perfect romantic getaway for couples!
Attractions: Monorville Mansion, Dhilon Pond, Annandale
Where To Stay: Merchant Hotel, Cambridge Lodge
7. Shaily Peak

Take out time to explore the beautiful Shaily Peaks which is home to nature's artistic views. Located in Naldehra, this is one of the most spectacular places to visit in Shimla during December. This place can be visited by riding a pony or by commuting through a motorable road. Apart from that, there is a steep trail which can be taken to reach this place. This place is suitable for experiencing adventure sports like hiking and trekking. Apart from that, there are views of the snow-capped mountains which makes all the strenuous efforts worth it.
Distance From Shimla: 23 km
Activities To Do: Photography, Hiking
8. Chadwick Waterfall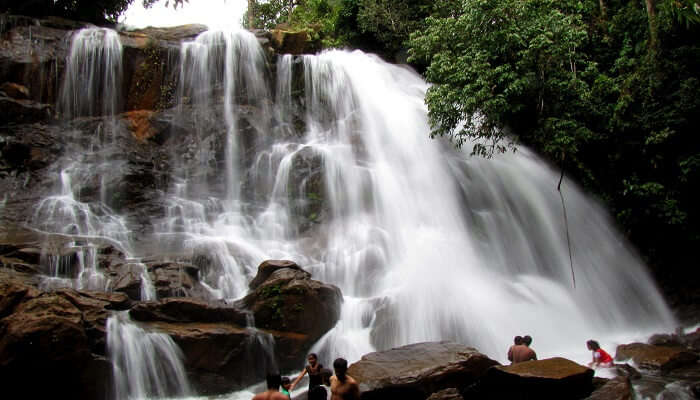 Sitting by the beautiful waterfalls in the cold winter evening can be one of the most exciting things to do. The sight of the gigantic waterfall is worth a shot and its quite a popular attraction in Shimla which is visited by the tourists and locals throughout the year. The water falls from a height of 100 meters and creates a beautiful sight to capture.
Distance From Shimla: 5 Kms (Glen forest)
Activities To Do: Picnic, Photography, Trekking
9. Annandale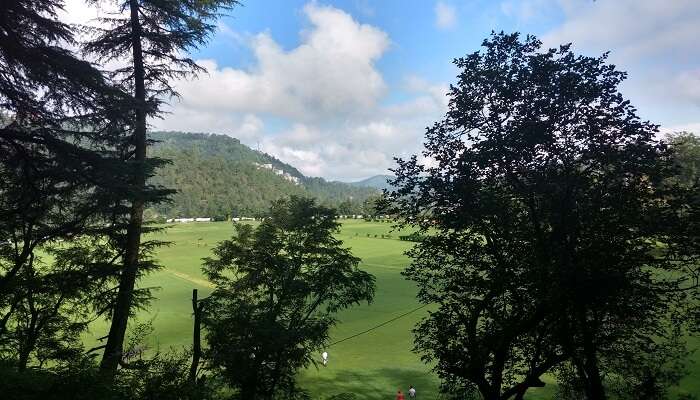 For the people who are fond of open landscapes which are surrounded by lush green forests, then Annandale is the place where you should be. This is a flat terrain located close to the Shimla Ridge and now turned into a playground where the locals can play sports like cricket, golf and racing. Surrounded by thick Deodar, Oak and Pine trees, this place is a sight to capture and behold and visiting this place during the snowfall will be totally worth.
Distance From Shimla: 3.5 Kms
Activities To Do: Picnic, Photography, Museum, Sports
10. Majathal Wildlife Sanctuary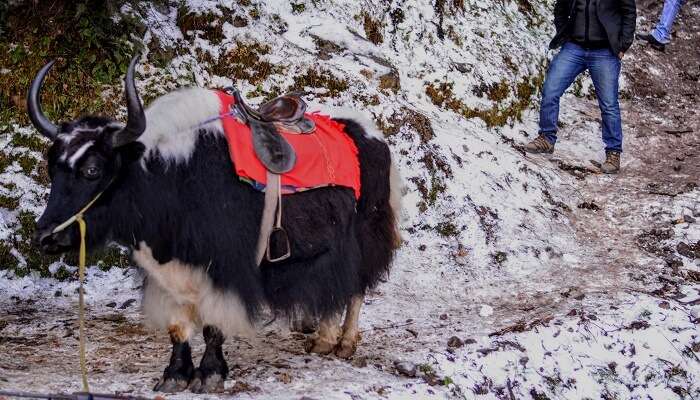 Spend a day amidst the wildlife at this unexplored region named the Majathal Wildlife Sanctuary. Came into existence in 1974, this sanctuary is spread across a region of 39.4 sq. km and makes a great spot in Shimla for the people who love wildlife. The main highlight of the sanctuary is the trek to the steep and rugged terrain from where one can watch the exotic flora and fauna. Apart from this, the sanctuary is home to Himalayan bear, Barking deer and Leopard.
Distance From Shimla: 76Kms
Activities To Do: Photography, Trekking
11. Kiala Forest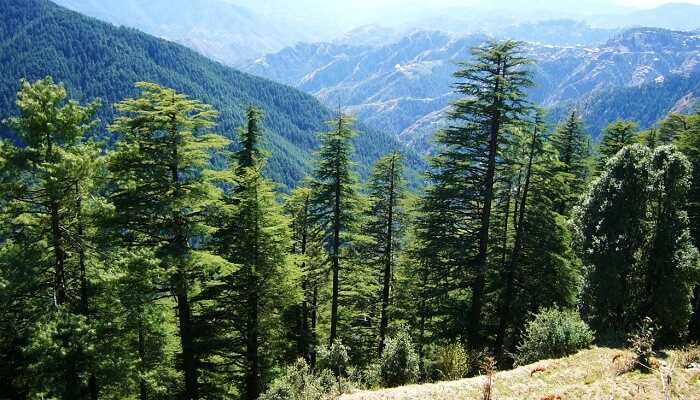 Kiala Forest is an offbeat place in Shimla which is ideal for the nature lovers and will definitely relax your mind and body. While the place is covered with rich vegetation and pure air, there is an undaunted beauty of nature which blankets the place. Resting at the Kotkhai valley of Shimla, this place is a heaven for the people who love to do photography and also wants an escape from the hustle-bustle.
Location: Kotkhai, Shimla
Activities To Do: Picnic, Nature Walk, Photography
12. Scandal Point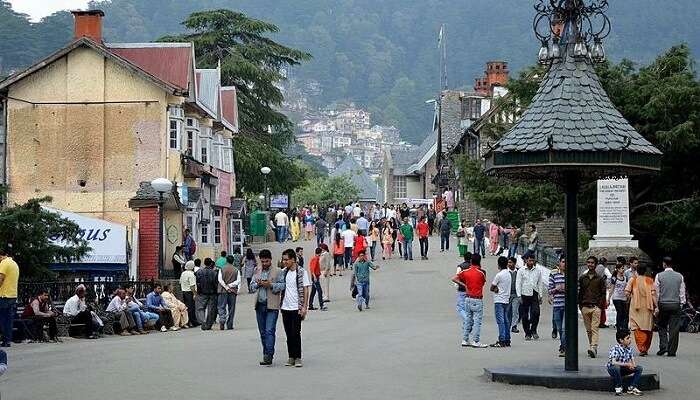 One of the famous tourist spots sitting in the heart of Shimla, Scandal Point can be spotted at the convergence of the Ridge and the Mall Road. With an extremely fascinating and interesting history latched to it, Scandal Point is all about romance and love. It is believed that Scandal Point was the spot from where Bhupinder Singh, the king of Patiala in 1892 and Viceroy's daughter eloped. In the present day, one can witness a magnificent and eye-catching statue of the respected freedom fighter Lala Lajpat Rai standing at that point.
Location: Mall Road, Shimla
Activities To Do: Sightseeing, Dining, Shopping, Horse Riding
53 Best Places To Visit In Shimla On Your Soothing 2022 Weekend Getaway
13. Viceregal Lodge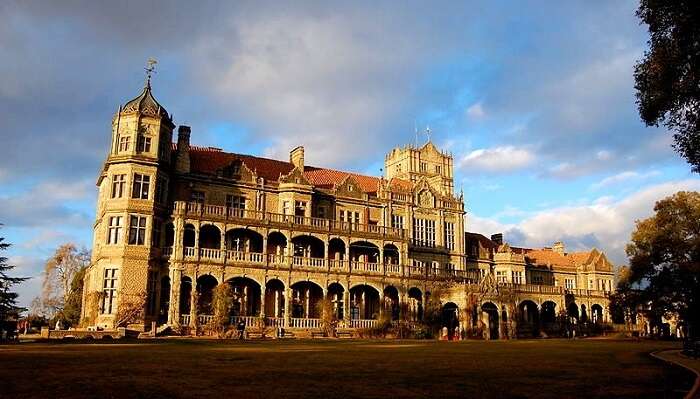 One of the most attractive places to visit for architecture and history buffs, Viceregal Lodge exhibits a fine and exquisite craftsmanship of the styles and designs from the British era in India. Also known as Rashtrapati Niwas, this lodge is sitting on the Observatory Hill and was once a residence of a British Viceroy when the British was ruling India. Used as an impeccable museum at the present day, paying a visit to the Viceregal Lodge can help one gain knowledge about the by-gone era via photographs, texts, and much more.
Location: Observatory Hill, Shimla
Activities To Do: Sightseein, Photography, Picnic
19 Boutique Hotels In Shimla Near Mall Road For Comfort And Ease Of Travel
Are you excited enough to spend a weekend in Shimla and enjoy its winter? If yes, then plan your trip to Shimla with TravelTriangle in December 2022 and gather memories that you'll cherish forever.
Frequently Asked Questions About Places To Visit In Shimla In December
What is there to do in Shimla in December?
There are a lot of enticing things that you can do in Shimla in December like trying the local food, paragliding, Skiing, heli-skiing, and ice-skating.
Is there snowfall in Shimla in December?
If you want to witness snow on your vacation in Shimla then December is the perfect month to plan your trip. You can experience snowfall in Shimla around Christmas for sure.
How many days are sufficient for Shimla?
Shimla is a gorgeous hill station and there are a lot of things to do and places to visit in the city. You will need around 3 to 4 days to explore Shimla and enjoy your vacation to the fullest.
What to wear in Shimla in December?
December is one of the coldest months in Shimla and you must carry proper woolen clothes and jackets on your vacation.
What are the places to visit in Shimla in one day?
If you're visiting Shimla city for one day, we recommend visiting Mall Road, Christ Church, and the Indian Institute of Advanced Studies. Mall Road is a lovely place for shopping, eating, and even enjoy the views of snow-capped peaks. Christ Church is the second oldest church in North India and indeed is an important landmark of the city. Indian Institute of Advanced Studies will keep you captivated with its lovely Colonial architecture.
Are there any hill stations near Shimla to visit in December?
Rohru, Narkanda, and Mashobra are among the top hill stations near Shimla to visit during December. The mentioned places fall in the Shimla district itself.
Is it advisable to visit Shimla in December?
Yes. If you're willing to see the snow during winters, then it is advisable to visit Shimla in December.
Is Kufri safe in December?
Kufri is perfectly safe for travelling during the month of December and other winter months. Make sure that you plan your itinerary accordingly and plan ahead for transportation arrangements beforehand as snow and other weather conditions can often impact the same.
Is 2 days enough for Shimla?
If you want to explore Shimla's most popular attractions, and get a feel of the city through its food and culture, you can achieve the same in 2 days. If you plan to further explore the area and throw in some adventure activities like trekking, a weeklong trip is recommended to help with deeper exploration.
People Also Read:
Places To Visit Near Delhi In December Places In Egypt In December Places To Visit In Himachal Pradesh In December