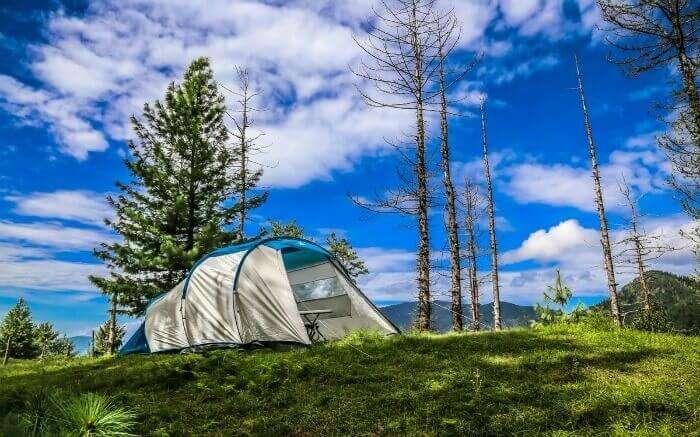 Shimla is a couple's muse! An enabler of hearts, where wandering frames cast a lengthy shadow as tender souls fuse.
Popularly known as India's premier honeymoon destination for decades, Shimla is definitely the go-to place for all mountain lovers. So instead of glorifying Shimla as a honeymooner's paradise, it's time we started associating it as a nomads hideout! How about camping in Shimla?Because Shimla is huge, 5131 km sq to be precise, and apart from the main city, which mostly keeps brimming with lovebirds, there's a lot of towns and tehsils of Shimla which still lie under nature's embrace; untarnished.
As you move away from the heart of the city you can actually see the vast span of meadows, sprawling farmland, some sleepy villages, and perfect outdoors. Mashobra, Narkanda, Jubbal, and Rampur are some of these places where you can actually plan a camping stint in and around Shimla. All of these locations are a mere couple of hours drive from the city center and make for a perfect outing for every traveler. The details below would help you plan camping in Shimla more efficiently!
Best Time For Camping In Shimla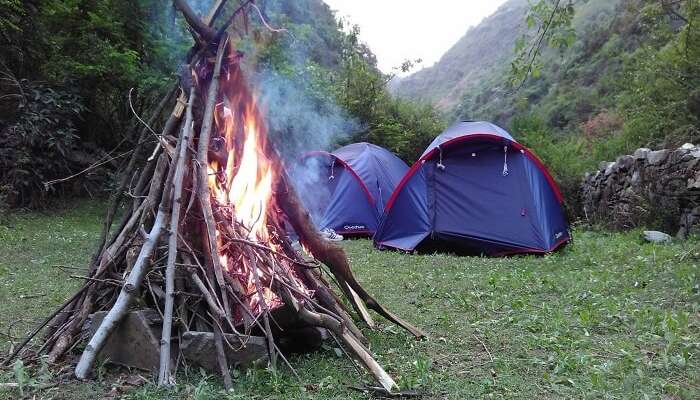 Shimla is a year-round destination for adventure lovers. Camping in Shimla can be planned in summer as well as winter. If you are planning camping in winters you have to be extra cautious with the right gear. Those looking for some adventure along with camping must plan an outing between November and February. The average temperature in the region remains between 0 to 15 degrees Celsius.
Must Read: Pawan's 4 Days Couple Trip To Shimla Was All About Snow, Food, Romance & Activities!
Top 5 Places For Camping In Shimla
Moving away from the main Shimla city one can spot ample of campsites and villages. These places are yet untarnished and still preserve the rich heritage of the past. Stay in a Swiss tent or go for a forest camping in Shimla, these places bring you the best of nature. If you have an adventure on your mind there are plenty of options to look forward to.
1. Mashobra – Where Nature Wears The Perfect Green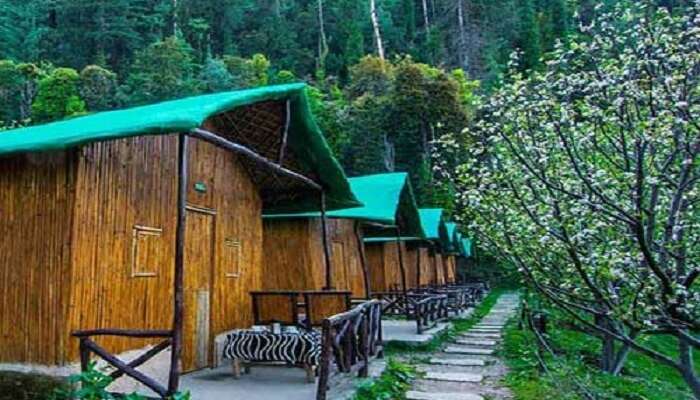 Find yourself in the heart of the magnificent nature a Mashobra. One of the hubs for adventure activities in Shimla. Mashobra has found the attention of the youngsters of late and it's beautiful than the Shimla city. All you need to do is find a camp for yourself in the foothills of the glorious mountains. Add to your camping experience with some thrill-inducing activities.
The popular things to do in Mashobra are trekking, mountain biking, paragliding, rappelling, river rafting, and quad biking.
Suggested Read: 10 Most Amazing Things To Do In Shimla
2. Narkanda – Tucked In Sheets Of Clouds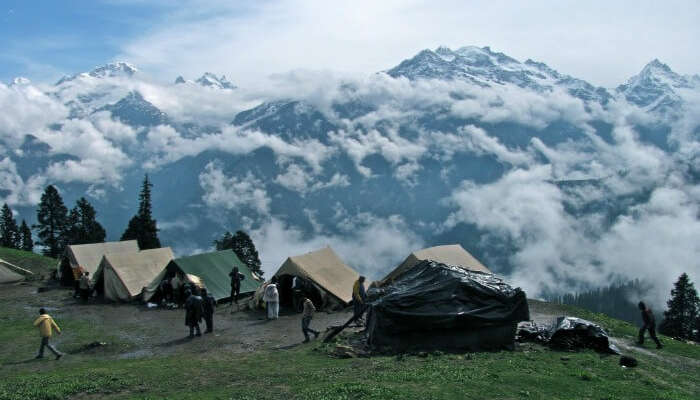 Narkanda is a Nagar Panchayat of Shimla and the place has everything so striking about it during winters. While planning camping in Narkanda one can spot a considerable amount of sites in and around the town where one can make their tent and plan a camping trip stint with family or friends.
The small town, one of the offbeat destinations in the capital city, attracts a lot of backpackers because of its vast outdoors. Make your camping stint even memorable with some of the exclusive adventure activities like skiing, a trek to Hatu Peak, and a tour of the local market. The town is located some 60 km from the city center which can be easily traveled by road.
Suggested Read: 10 Amazing Places To Visit In Shimla
3. Junga – A Sleepy Village On The Outskirts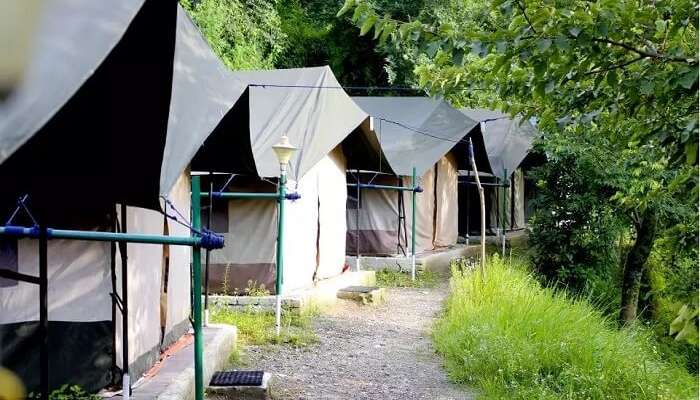 Some 10 km towards the south of the district headquarters of Shimla lies Junga village, a rather quiet suburb located far from the city hustle. Sirmaur and Shimla surround the quaint village from both sides which is mostly visited by nature lovers and backpackers. Plenty of greenery and breathtaking views from all sides make it a sweet spot for camping in Shimla.
Jakhoo, Christ Church, The Ridge, Kalka Shimla Railway, and Summer Hill aren't too far away if at all you want to spare moments exploring the wild and lesser populated side of Shimla.
Suggested Read: Enveloped In White, The Best Places To Visit In Shimla In December Looking Absolutely Stunning!
4. Shoghi – Tailor-Made For Camping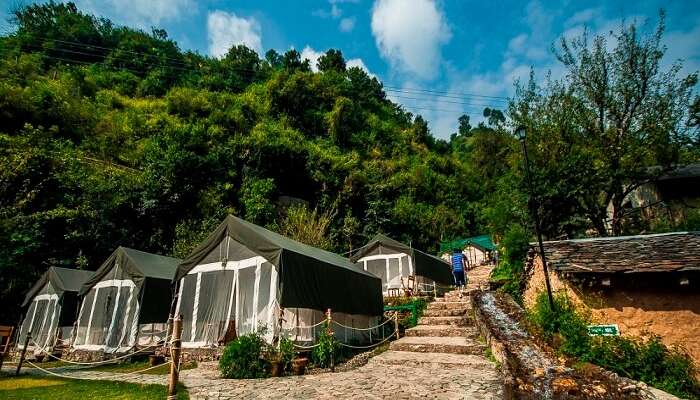 A hill-station nestled inside Shimla, Shoghi could be the ultimate place to seek some respite from the city life. The entire village looks like a green painting on a blue canvas. Shoghi has sprawling campsites and nature's uninterrupted views you were looking for all this while. Plan camping or roaming around like a nomad and see what this tiny Shimla village has for you. Kandaghat, Hanuman Temple, and Tara Devi Temple are the attractions nearby, just in case you have a few more days to spare and you want to explore more.
Suggested Read: Top 15 Hill Stations Near Shimla That Are Perfect For A Himalayan Getaway!
5. Kufri Ski Resort – Winter Is The Time To Go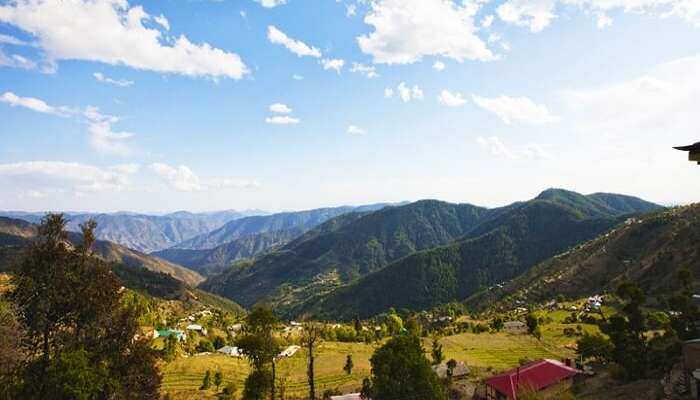 Located at a distance of 16 km from the city railway station, Kufri Ski Resort comes alive and exhibits Shimla in winter in the right taste. With the whole place covered under a thick blanket of snow, you can actually experience camping in Shimla at its best in Kufri. Reaching here from Shimla city center shouldn't take you more than an hour.
Suggested Read: 5 Resorts In Shimla For A Relaxing Retreat
Top 3 Places To Go Camping Near Shimla
If you are done with exploring Shimla these places can also make a perfect option to go camping nearby. Indulge in nature's quietude as you find a peaceful retreat to camp, trek, and spend some wonderful moments. Consider these places that also make a perfect day trip from Shimla.
1. Thanedar – 7700 Feet Above The Sea Level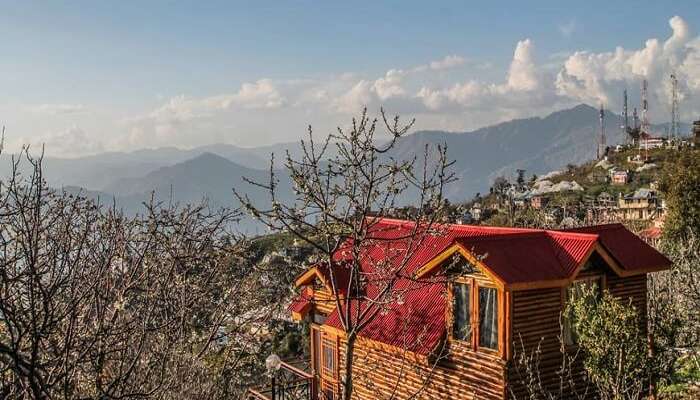 This is a small, quaint village in Himachal Pradesh. Those who are in search for an offbeat vacation should definitely consider paying a visit to Thanedar. Sitting around 7700 feet above sea level, this destination has plenty to offer in terms of thrill. This destination is perfect for Shimla trekking camp and to get away from the bustle of city life, in the lap of mother nature.
Distance from Shimla: 80 km
Suggested Read: Green Tax In Shimla To Be Levied On Outstation Vehicles From 1st April 2020!
2. Dharampur – Connected With Kalka By A Toy Train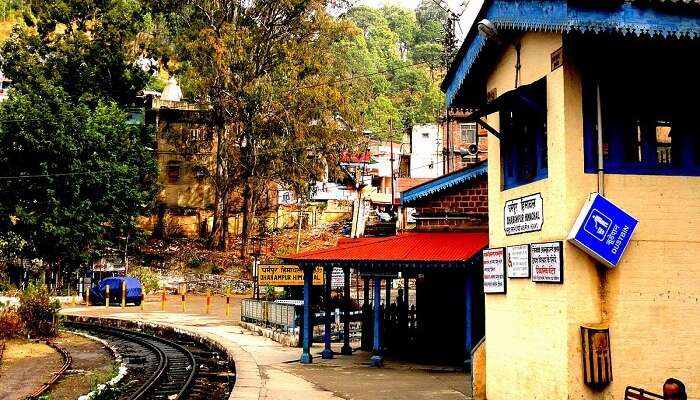 This particular town is sitting in the arms of Solan in Himachal Pradesh and is perfect for setting-up your camps near Shimla. Full of adventures, thrill, and excitement, this town is a must-visit for all those who are looking to get away from the monotonous life. Spend a night under the mountain star-studded sky.  
Distance from Shimla: 65 km
Suggested Read: 48 Best Places To Visit In Shimla On Your Soothing 2020 Weekend Getaway!
3. Chail – Blissful Sights Around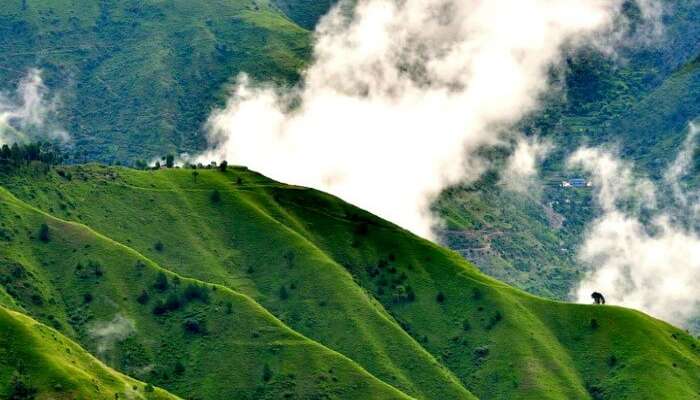 Parvati Valley not too far from Shimla is a haven for wanderers. The entire valley is studded with exciting campsites and numerous camps that can make for a top option for all travelers. Get an opportunity to surround yourself with the mountain skies at this spot!
Distance from Shimla: 44 km
Suggested Read: 7 Most Haunted Places In Shimla: Exploring The Eerie Side In 2020!
Top 10 Camps In Shimla
Apart from wonderful campsites, Shimla also has some of the most wonderful and classiest camps and one must book a stay here to behold nature from the close quarters.
1. Hail Himalayas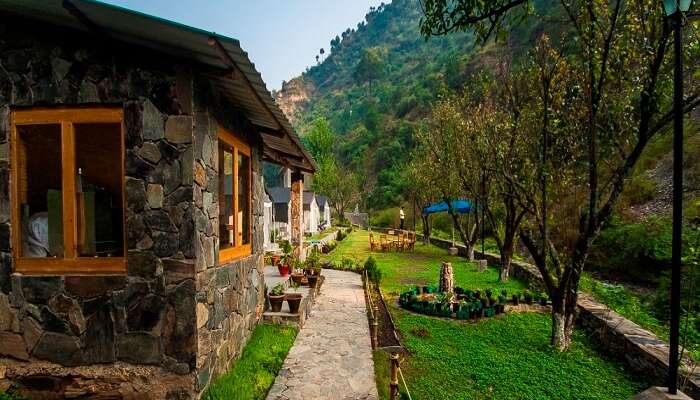 This is one of the best Shimla adventure camps where you can stay at. This eco-resort offers a blissful experience and a surreal staycation in the lap of nature. Spend a night here if you are looking to get away from life hustles. A stay here is absolutely value for money.
Tariff: INR 3500 per person per night onwards
Website | Reviews
Suggested Read: Honeymoon In Shimla 2020: Guide To A Romantic Escape For Newlywed Couples
2. Snow Trails Camp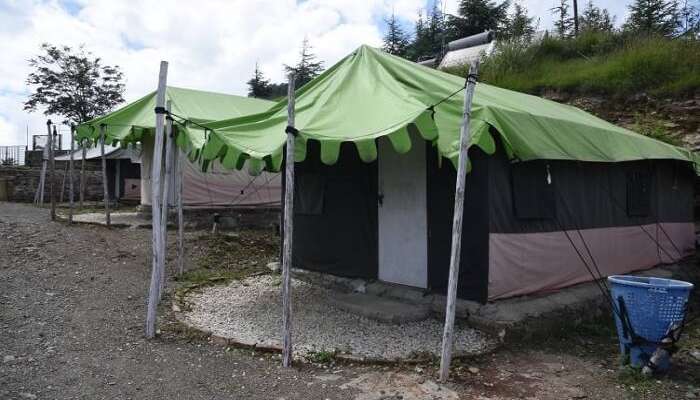 If you're looking for the top camping tents in Shimla, don't look farther because the Snow Trails Camp is the best place to be. Set up in the mid of the mountains, this place is perfect for getting up close and personal with nature.
Tariff: INR 4000 per person per night onwards
Website | Reviews
Suggested Read: Our 7 Days Tour To Shimla From Bengaluru Was The Perfect Family Bonding We Needed!
3. Redwood Camp Shimla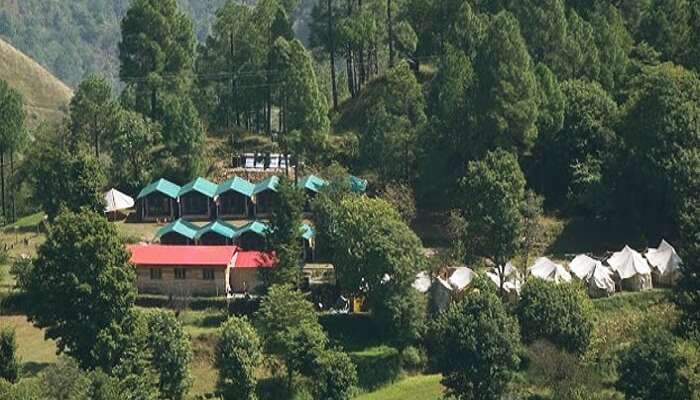 Offering a stay at the most affordable camping price in Shimla, the Redwood Camp Shimla is a great place to stay for budget travelers and backpackers. It is set up right amidst greenery and offers the most serene experience ever.
Tariff: INR 2300 per person per night onwards
Website | Reviews
Suggested Read: These 12 Phenomenal Places To Visit In Shimla In June Must Be Explored By Every Traveler!
4. Mashobra Greens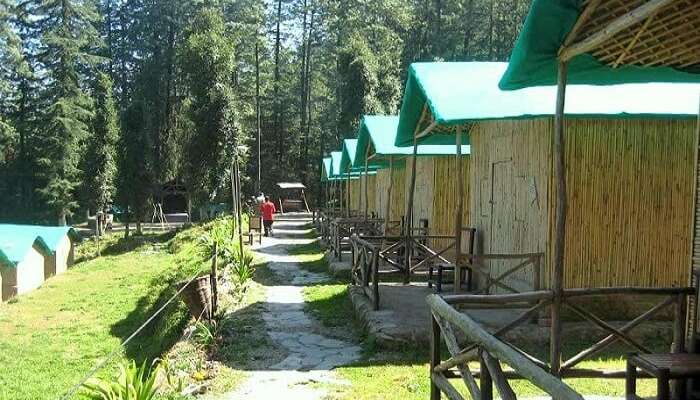 For those seeking to go camping in Mashobra, this is the place where you should head. Mashobra Greens offers an exact experience that they promise. Nature, mountain sun, log-camps, and pin-drop silence around combine to offer the fun that this town has to offer. 
Tariff: INR 2900 per person per night onwards (double sharing)
Website | Reviews
Suggested Read: A 2020 Handy Delhi To Shimla Trains Guide For First Time Visitors To North India
5. Jupiter Camps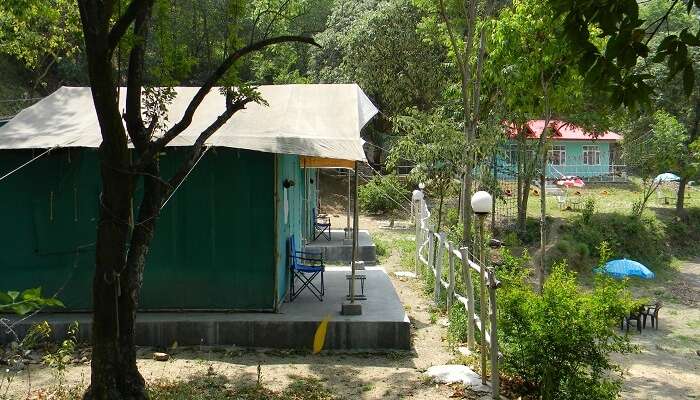 If you are traveling to Himachal Pradesh for a laid-back vacation, head to Jupiter Camps. These camps are some of the most relaxing ones that you can find in this state. Enjoy a bowl of maggie, sit by the bonfire, or just witness the views with your cup of chai. 
Tariff: INR 2599 per night onwards
Website | Reviews
Suggested Read: 5 Thrilling Water Sports In Shimla That Can Turn Your Boring 2020 Trip To An Exciting One!
6. Camps Jungle Livinn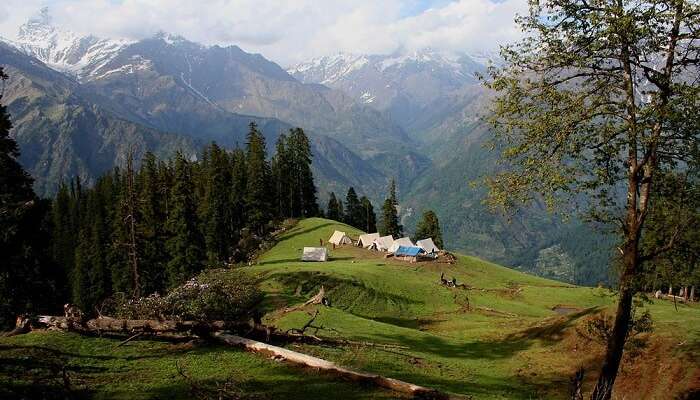 Jungle Livinn is a 2-star property, situated at 42.3 km from Shimla Railway Station and 42.3 km from Railway Station Bus Stop. The tents are delegated with all including an appended tiled restroom with shower head and 24-hour hot and cool water. Each house is furnished with normal light from daybreak to nightfall and offers its own particular interesting perspective of the valley. All cabins have wooden roofs and are all-around outfit. 
Tariff: INR 5000 to 8500
Website | Reviews
Suggested Read: 26 Amazing Things To Do In Shimla Every Traveler Must Experience In 2020!
7. Park Wood Shoghi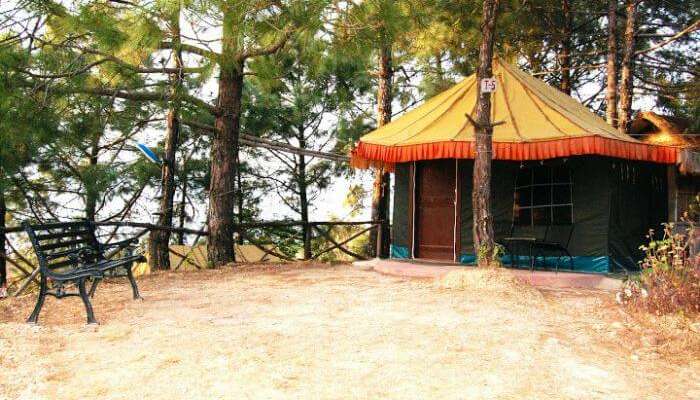 The Park Wood camps are situated in the Shoghi area of Shimla. It is situated at a height of 5700 ft. over an area of 20 acres. Set amidst nature, these camps provide some of the best opportunities for tourists. Displaying a village get-up, these camps are worth a try. They even provide basic opportunities for cozy accommodation, hygienic sanitation facilities, parking, room-service etc. The rustic ambiance of this camp is its specialty! The village is adorned with rhododendrons, pine trees, oak trees, and other natural beauties.
Tariff: INR 9,500 – 14500
Website | Reviews
Suggested Read: 10 Homestays In Shimla That Offer A Comfy Stay In The Hills In 2020!
8. Off The City Camps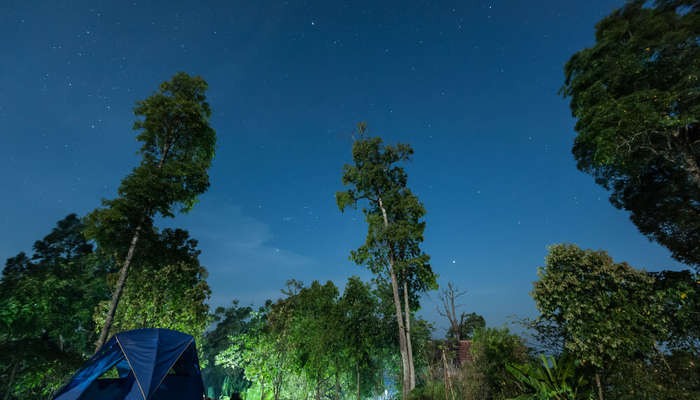 Off -the city camping in Shimla is one of the major attractions for tourists. One such camping spot is in Mashobra. This particular area is located far away from the main city of Shimla. Here you can set up camps without worrying about the needs and amenities as they are well catered to. Mashobra Greens is situated at a height of 7650ft. above the sea level, in Naldhera interstate. They provide accommodation, all meals during the stay, entertainment like bonfire parties, clean and hygienic toilets, etc. In fact, you will be offered a wide range of activities like rappelling, flying fox, treasure hunt and many such pumped-up activities. 
Tariff: INR 6000- 10,500
Suggested Read: These 12 Adventure Sports In Shimla Must Be Experienced For A Good Adrenaline Rush
9. Wanderers Camps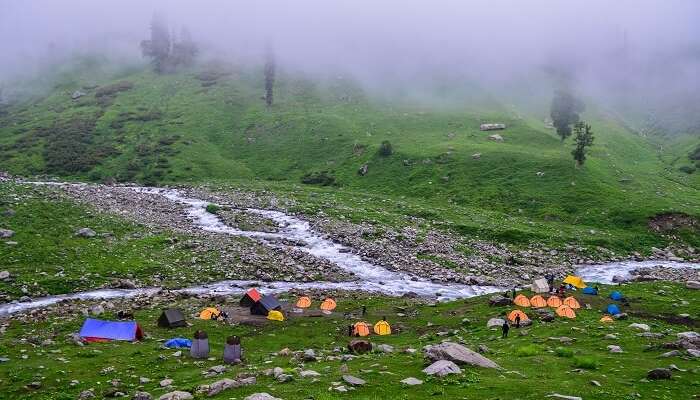 Wanderer camps are located 16 km away from Shimla. It is situated in the forest area known as Jungle Rajneela. Situated at the heart of nature these camps offer one the best possible comfort and natural beauty. Become one with nature in these camps as they are surrounded by ultimate greenery and mountains. These camps provide accommodation, hygienic sanitation facilities, good food, 24-hour electricity services and 24-hour water (hot/cold) services. Bonfires under the pretty canvas of the night sky make the stay here worthwhile. 
Tariff: Starting from INR 1200
Website | Reviews
Suggested Read: Honeymoon In Shimla: Guide To A Romantic Escape For Newlywed Couples
10. Green Getaway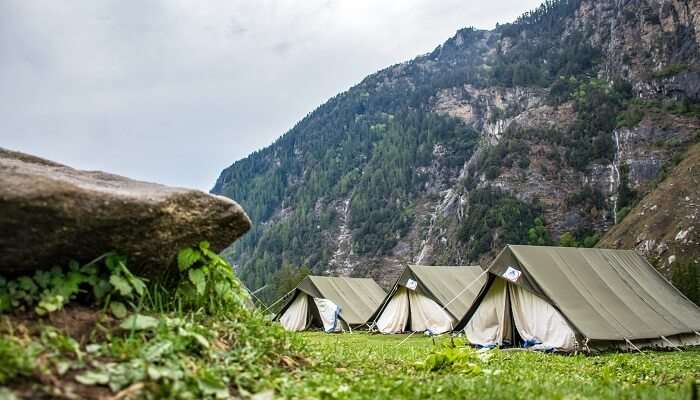 Image Credits: Guduru Ajay for Pexels
Green Getaway is available around 5,100 feet above sea level. One of the famous camps in the princely estate of Keonthal, this Jungle camp is nestled amidst the snow-clad mountains and the lush-green jungles of Shimla. For those in search of a perfect getaway for camping in Shimla, this is certainly the place to be. The place is always breezy and has pleasant temperatures throughout the day. If you seek to go for 'deep camping' and get closer to the wild, this camp is your perfect getaway.
Tariff: NR 1,500 per night
Website
Suggested Read: Shimla Summer Festival: An Extravaganza For A Vibrant And Festive Atmosphere In 2020
How To Reach Shimla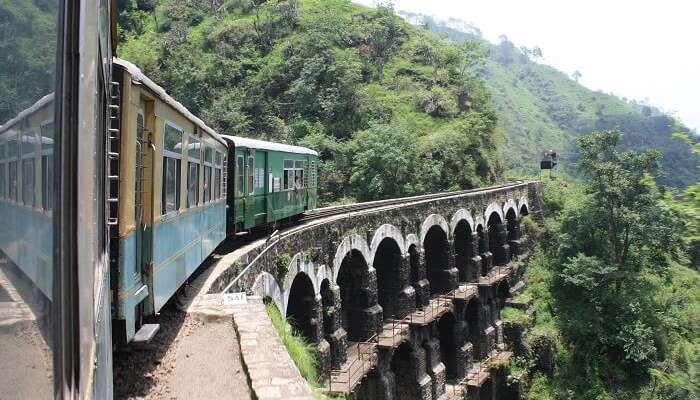 For those wondering how to reach Shimla, taking a direct AC bus or Volvo from Delhi or Chandigarh is the best option. There are also trains and flights available.
By Air: The nearest airport from Shimla is in Jubbarhatti and it is located at a distance of 22 km from the main city. There are flights connecting Jubbarhatti to major cities including New Delhi, Kullu, Chandigarh on a daily basis. Many shared cabs are available from the airport to Shimla.
By Train: The Kalka Shimla railway line connects Shimla to Kalka. Tourists can enjoy the breathtaking views of the lush green mountains, forests, tunnels, bridges. Many public transport vehicles are available from the railway station to Shimla.
By Road: Shimla is well connected by road with major cities in North India. There are direct buses for Shimla from New Delhi, Chandigarh, Kullu, Manali. There are many ac and non ac buses available from these cities to Shimla.
Further Read: Top 25 Hill Stations Near Shimla That Are Perfect For A Himalayan Getaway In 2020!
Camping in Shimla is another way to explore the splendor of the mountain city that portrays the best of Himalayan land! And these places are just perfect for a weekend getaway from the city. Plan a Himachal holiday and head out for your trip accordingly.
Disclaimer: TravelTriangle claims no credit for images featured on our blog site unless otherwise noted. All visual content is copyrighted to its respectful owners. We try to link back to original sources whenever possible. If you own rights to any of the images and do not wish them to appear on TravelTriangle, please contact us and they will be promptly removed. We believe in providing proper attribution to the original author, artist or photographer.
Frequently Asked Questions About Camping In Shimla
What is the best time to visit Shimla?
The best time to visit Shimla is from October to November and March to June. During these months the weather of Shimla is perfect for exploring the roads.
Q. What is Shimla famous for?
A. Shimla is famous for its mall road, antique shops, temples and more. You must also try camping in Shimla. It will let you have a unique and adventurous experience.
Q. What should I wear in Shimla?
A. During summers, you can wear light clothes with stole for the night and during winters, carry heavy woollen clothes. Also, do not forget proper shoes.
Q. When does it snow in Shimla?
A. From the months of December to January, Shimla experience snowfall.
Q. Is camping legal in India?
A. Yes, camping is legal all over the country.
Q. What is the best place to camp in Goa?
A. Anjuna beach is the best spot to camp in Goa.
Q. Can I make my own tent in Kheerganga?
A. Yes, you can pitch your own tents in Kheerganga with the permission of Forest department.
Q. Which is the best place for camping in India?
A. Some of the best places for camping in India are Rishikesh, Spiti Valley, Chandertal lake, Solang Valley and more.
Looking To Book A Holiday Package?
---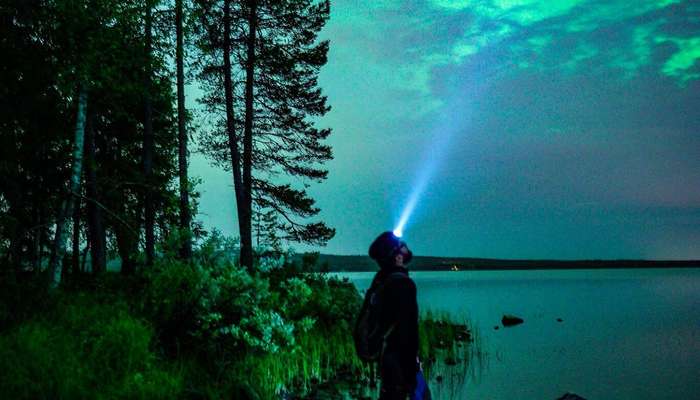 Comments
comments