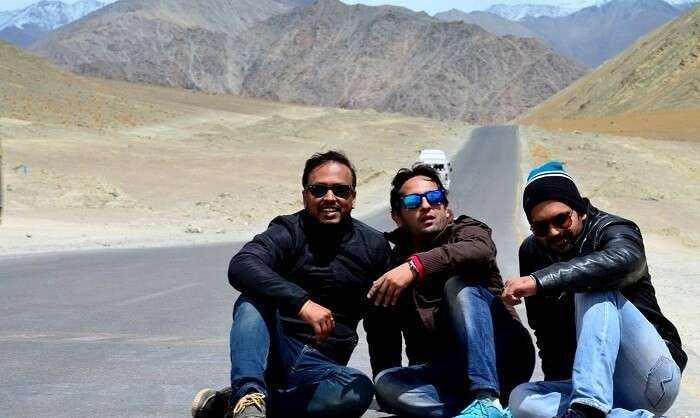 For me, traveling is a passion, so much that I love taking a break once in every three months. From nature to adventure, I admire everything and love exploring new places. And since working in a top MNC hardly leaves any time for me to relax or rejuvenate, I make sure that nothing stops my travel plans.
It was time to head out again and this time I was planning a trip with my friends, and so Ladakh seemed the perfect paradise. While we had sorted out the bookings for the commute, we wanted someone to plan the rest of the holiday for us. That's when I recalled about TravelTriangle, about which I had gotten to know through my sister when I was planning a trip to Kashmir. We wanted to explore all the best places to visit on a friends trip to Ladakh, and TravelTriangle planned our itinerary exactly like that. It was one impeccable experience, and all of us will cherish it for lifelong.
Here are the details of our Ladakh trip package:
Trip Type: 6 Days 5 Nights adventure trip with friends
Cost: INR 75,500 from Amazing India Routes
Inclusions: All the accommodation, breakfast and dinner, transfers from and to the airport, sightseeing, a private cab for local transfers, sightseeing, and all taxes.
Exclusions:Air/train fare, lunch, travel insurance, personal expenses, and anything not mentioned in the inclusions.
The Best Places To Visit On A Friends Trip To Ladakh That We Ticked Off Our List Too
1. The city of Leh
Our most-awaited trip kick-started the moment we landed at the Kushok Bakula Rimpochee Airport in Leh, and were welcomed by our trip representative. The first day was planned for relaxing so that all of us could acclimatize. So, we headed directly to our hotel, completed the check-in formalities, and rested for a while.
Leh Ladakh Bike Trip 2022: Everything You Need To Know From The Scratch
Our hotel was located only 1 km away from the main market. So, later we chilled a bit, witnessed the beautiful views, and enjoyed near the hotel.
2. Hall of Fame, Magnetic Hill, and Indus & Zanskar Sangam
As per my our Ladakh trip itinerary, we visit the Hall of Fame i.e. Kargil Memorial, the Magnetic Hill, Gurudwara Patthar Sahib, the Indus & Zanskar Sangam, and the Spituk Monastery. All of these places in and near Leh are some of the best places to see in Ladakh, and we made the most of it by enjoying the views on a bullet bike.
Magnetic Hill In Ladakh: A Handy Guide To Unravel This Mystery In 2022!
Our visit to the attractions were quite blissful and enriching, and we couldn't help but capture every bit of it.
3. Khardung La Pass – The world's highest motorable road
Of all the best places to visit on a friends trip to Ladakh, Khardung La is the most famous, and is definitely worth visiting at least once in one's life. We had our breakfast early in the morning after which we left for the highest motorable road. The temperate was around -20 degrees Celsius and the views were absolutely breathtaking.
Visit These 19 Monasteries In Ladakh For A Purifying Experience In 2022
While everything was going super smooth till now, we experienced an unexpected adventure. There was a heavy snowfall and we got stuck there for around six hours. Due to this, we couldn't head to Nubra and decided to return to Leh.
4. Jab Tak Hai Jaan Shooting Point, Chang La & Pangong
On the fourth day of our friends trip to Ladakh, we left for Pangong for an overnight stay. En route Pangong, we stopped at a monastery, visited the school where Rancho from 3 Idiots taught the kids, and saw the Jab tak hai Jaan shooting point. It was one of the most interesting experiences of our trip.
How To Turn A Friends' Trip To Ladakh Into An Adventurous Affair
We also crossed the Chang La Pass, which is the second highest mountain pass. It was covered with white snow and all of us spent a good amount of time chilling, and capturing memories there.
Their Family Vacation In Ladakh Was One Incredible Sightseeing Adventure
It took us around 6 hours to reach Pangong, after which we relaxed at our cottage, and called it a night. It was freezing as the temperature was between -1 to -10 degree Celsius.
5. Leh Market
In the morning, we woke up to the beautiful view of the Pangong Lake, and believe me it was literally breathtaking. We had our breakfast and headed back to Leh for an eventful last day in this paradise on earth.
Upon reaching the city, we went to the market and indulged in the local cuisines. While all of it was delicious, thukpa was one thing all of us savoured the most.
Exploring the market, shopping, and enjoying the talent hunt were some of the other things that we did on the last evening.
Head To Ladakh In Winter 2022 For An Adventure Of A Lifetime
Next day, we packed our bags and left for Delhi after bidding a sweet adieu to the haven of Leh. It was one kick-ass trip and an amazing experience with TravelTriangle, and all of us will remember it forever.
High Points Of Our Ladakh Trip
Visit to Khardung La
Witnessing the beauty of Pangong Lake
Low Points Of Our Ladakh Trip
There weren't any low points as such, but we couldn't go to Nubra Valley due to heavy snow, and we missed a few adventures like camel ride and rafting, so we felt a little bad.
Tips For Visiting Ladakh With Friends
Check the weather before planning your trip and make sure your holiday is at least for a week.
Pack really warm clothes, with a pair of gloves and sturdy shoes.
Don't forget to take a good camera along.
Keep all the essential medicines and a mini first-aid along.
Do plan your itinerary keeping in mind the unforeseen weather conditions because you surely wouldn't want to miss out on anything.
Riding a bike on the highest motorable road is one of the craziest experiences to have. So, if you know how to ride one, make sure you take it along or rent it from there.
Our overall experience with TravelTriangle was absolutely impeccable. Our trip itinerary was customized as per our interests and budget, and we were way too overwhelmed because of it. Amazing India, our travel agent too was very supportive and prompt throughout our adventurous journey. Needless to say, everyone must take a trip to Ladakh with their friends at least once in their lives!
Frequently Asked Questions About Best Places To Visit On A Friends Trip To Ladakh
Which is the best month to go to Ladakh?
The best month to go to Ladakh is June. However, April to June and October to March is the best time to visit Ladakh. June to April are the Summer months whereas October to March happens to be the winter months.
Is Ladakh a safe place to travel to?
Yes, Ladakh is a completely safe destination to travel to and explore. The media has created a hype but that serves no good neither to travelers nor to anyone living there. In fact, Ladakh is one of the safest destinations in India to travel to.
What is Ladakh known for?
Ladakh is known for its beautiful landscapes, pristine lakes and villages. It is also quite famous for its unique culture, adventure spots, and Buddhist monasteries.
Is consuming alcohol safe in Leh?
There is no prohibition or ban on the consumption of alcohol in Leh. However, keeping in check and drinking moderately is strongly recommended. Alcohol can become a cause of dehydration in Leh.
Do Indians need a passport to travel to Leh Ladakh?
No, Indians don't need a passport or any special permits to travel to Leh Ladakh. However, permits might be required to travel to some popular attractions such as Nubra Valley and from Pangong Tso to Tso Moriri.
What is the famous food of Ladakh?
Thukpa, Butter Tea, Chang, Khambir, and Skyu are some of the scrumptious delicacies from Ladakh.