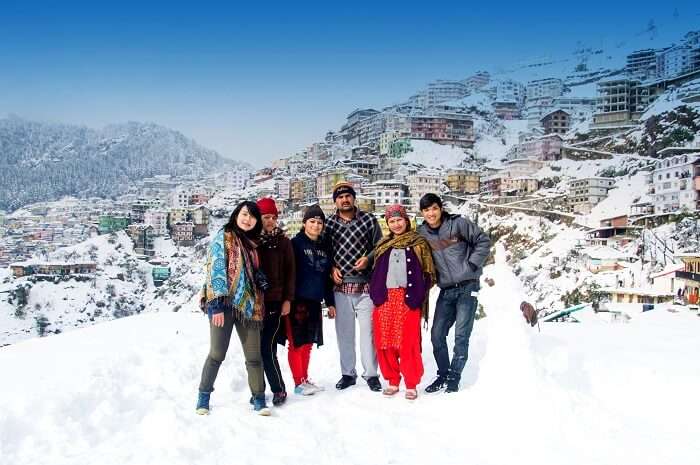 Shimla in winter 2022 is a snowy magical land, and certainly one of the best places to visit in India if you love the chill in the hills. Be it stepping out and playing in the snow, or admiring the beauty of the white flakes with your loved one from the hotel room, a holiday here is like none other during the season! And to help you make the most of your winters in the town, here's a pocket guide covering the best places, experiences, hotels, restaurants, and more!
Table Of Content
A Handy Guide To Enjoy The Perks Of Shimla In Winter
Shimla is a place that you can visit throughout the year. However, if you visit during the winter months, you will witness the unique glory of the place. So, if you are planning to visit Shimla in winter, this comprehensive guide will surely help you enjoy a memorable vacay:
Weather In Shimla During Winter Season
The winter season kick-starts in the hills in the month of October and lasts till February, making the town a winter wonderland. The temperature drops to a minimum of -2° C, making the air all cool and pleasant for people to rejoice. While it gets too cold at times, these months are ideally the best time to visit Shimla for snowfall.
The mesmerizing views of the snow-covered peaks and gorgeous landscapes are worth witnessing. And apart from the winter sports, if there is anything that makes the town a major attraction, it is the Christmas & New Year Eve celebrations here.
13 Places To Visit In Shimla In December 2022
Ideal Duration For Holidaying In Shimla
Loaded with experiences and sightseeing attractions, an ideal duration for a winter vacation in Shimla is three days and two nights. Within this time, you can indulge in ice skating, admire the snow, explore the popular cafes in the town, shop on the Mall road, and even spend quality time with your close ones. While all of this can also be done in a day lesser than the ideal duration, the chances are it would become a hassle and tire.
Top 9 Things To Do In Shimla In Winter 2022
Are you looking for the most exciting things to do in Shimla in winter? There are a lot of activities and fun that you can indulge in while on your vacation. Shimla hosts numerous enthralling encounters that will make you have an awesome time here with your loved ones! Here is a list of the 9 best things to do while holidaying in Shimla in winter. Take a look!
1. Ridge Road: Take A Stroll
Whether you take a Shimla tour in January or later, visiting the famous Ridge Road, and exploring the little shops along the road is one experience you must not miss. While the area is beautified with layers of snow, the cute mufflers, caps, and mittens at the shops are worth buying too. And if you're a big Shopaholic, you'll be happy to know that the town is a great place to buy some good quality cotton stoles and shawls.
Snowfall In Shimla: Enjoy The Winter Chill In The Summer Capital Of British India This 2022
2. Shimla Winter Carnival: Be A Part Of The Lively Ambiance
Celebrating the kick-start of winters, the town organizes a winter carnival every year, where a large number of people come together to have fun in the snow. Apart from ice-skating, skiing, or snowman making, fashion shows and performances are also organized to pull massive crowds.
3. Toy Train Ride: Enjoy The Scenic Views Along The Way
The popular Kalka Shimla toy train ride is another wonderful experience to have in the town. Though used as a mode of transport from Kalka to reach Shimla, you can also take a ride just for experiencing the bliss of nature. With the splendid snowflakes around, it will definitely turn into a joyride.
Best Things To Do On A Weekend Trip To Shimla With Family For A Duration Of Just 2 Days!
4. Ice Skating: Experience The Thrill
Ice skating is one of the best things to do in Shimla in winter. If you are a thrill-seeker, it is a must to skate through the icy landscapes of the hills and enjoy an exhilarating experience. Ice skating is best done in the month of winter that is October, December or in the later months when there is snowfall in Shimla and skating can be enjoyed fully.
5. Snow: Play And Capture Memories
Playing in the snow, making a cute snowman, and capturing every moment with your squad is another best thing to do for creating your own bank of 'Shimla in winter photos'. Be it indulging in adventure activities or just rolling up and down the snow, every moment will add on to the treasure, which you can cherish forever.
These Cafes In Shimla Are A Heavenly Pit Stop For Food Loving Travelers!
6. Forest Camping: Spend A Night Under The Stars
Camping on the hills is yet another must-do activity as you will get to enjoy mesmerizing views and revel in the calmness of the surroundings. Also enjoy a night of bonfire and fun, music and dance with your friends and family and is one of the best things to do in Shimla in winter.
7. Paragliding: Enjoy The Bird's Eye View
You can also indulge in a thrilling paragliding experience on your trip to Shimla. Some of the best places in Shimla where you can enjoy paragliding are Barot, and Bilaspur. Witness the beauty of this small hill station and treat your eyes to the best panoramic views of the city. One of the best times of the year to enjoy paragliding is just after the monsoon for then you will get to capture the best views of the hills.
16 Homestays In Shimla That Offer A Comfy Stay In The Hills In 2022!
8. Sightseeing: Visit The Popular Attractions
Shimla has a lot of attractions that travelers can visit on their sightseeing tours. Prominent places like Jakhu Temple, Mashobra, Kufri, Narkanda, Rohru, Summer Hill, Shaily Peak, Chadwick Waterfall, Annandale, are some must-visit attractions on the hills.
9. Shopping: Venture On A Shopping Spree
The Ridge and Mall Road Shimla are some of the best places to go shopping in the hills. You will find various shops with handcrafted items including regional shawls and costumes. There are a lot of renowned brands also located on the ridge road that you can go shopping which is among the top things to do in Shimla in winters.
Trekking Near Shimla: All You Ever Wanted To Know About The 7 Surrounding Trails
3 Famous Places To Visit In Shimla In Winter
Here is a list of the famous places to visit in Shimla during winter for a soothing experience! Take a look!
1. Kufri: An Enchanting Hill Station
Located at 2,622 meters above the sea level in the foothills of the Himalayas, Kufri is one of the best places to visit in Shimla in winters. Apart from offering thrilling activities like skiing and ice skating, it is the most picturesque place for capturing the best moments in the snow.
2. Narkanda: The Skiing Resort Of Shimla
The perfect ski resort and only some two hours drive away from the city and one of the best places to visit in Shimla, Narkanda is another wonderland in the hills. Offering breathtaking panoramic views of the valley, this place will leave you captivated. From learning how to ski to becoming a pro at skiing, you can experience all of it here!
Camping In Shimla: 15 Places To Go For An Adventure Instilled Romance In 2022
3. Mashobra: A Haven For The Adventure Junkies
Nestled amidst the Reserve Forest Sanctuary of Shimla, it is undoubtedly one of the best places to visit in Shimla during winter. It is a haven for everyone in pursuit of peace, and its range of budget and luxury stays make it an ideal spot for all the types of travelers.
Best Places To Stay In Shimla In Winter
Take a look at the best places to stay in Shimla while you're holidaying there during winter and have a soul-satisfying experience of staying!
1. Wildflower Hall
Situated some 8,000 feet above sea level, this is one of the best luxury hotels in Shimla. Apart from the breathtaking views of the snowfall from its rooms, it also offers ample experiences to refresh and rejuvenate oneself. With the best dining and accommodation in town, a stay here would only enrich your trip experience.
Price: INR 17,000 to INR 24,400 (double-sharing)
TripAdvisor Rating: 5/5
Location: Shimla Kufri Highway, Chharabra, Shimla, Himachal Pradesh
Website | Reviews
Our 7 Days Tour To Shimla From Bengaluru Was The Perfect Family Bonding We Needed!
2. Snow Valley Resorts
Spectacular mountain views, beautiful view of the town, modern amenities, and friendly hospitality is pretty much what this budget resort offers. Being nestled amidst green pine woods, this is the best place to stay and soak some sunshine during your trip.
Price: INR 4,200 to INR 9,500
TripAdvisor Rating: 4.5/5
Location: After Kachi Ghatti Towards Shimla, Ghora Chowki, Shimla, Himachal Pradesh
Website | Reviews
3. Clarkes Hotel
Located on the famous Mall Road, this hotel is the best place to experience the best of both worlds – old-world charm and modern facilities. Not just elegantly styled accommodation options, but also an exceptional culinary experience is what you would get to taste during your stay here.
Price: INR 6,500 to INR 11,500
TripAdvisor Rating: 4.5/5
Location: The Mall Road, Shimla, Himachal Pradesh
Website | Reviews
53 Best Places To Visit In Shimla On Your Soothing 2022 Weekend Getaway
Popular Places To Eat In Shimla In Winter
Take a look at the popular places to treat your tastebuds while holidaying in Shimla in winter!
While Shimla has its fair share of fine dining restaurants like Goofa Ashiana, Seventh Heaven, Cecil, and more, a few cafes in the town are a must-try for anyone who loves enjoying the winter with a little warmth around.
1. Cafe Sol
Located in Hotel Combermere, Café Sol is one of the most popular cafes in Shimla. With a well-stocked bar on the rooftop, it boasts a fancy ambience and a wide range of cuisines like Indian, Chinese, and Italian. A pint of beer or a glass of Bloody Mary along with the famous club sandwich is all you need to embrace the chill in the hills.
Timings: 10:00 AM to 11:00 PM
TripAdvisor Rating: 4/5
Location: Hotel Combermere, Opposite Tourism Lift, Mall Rd, The Mall, Shimla, Himachal Pradesh
Website | Reviews
20 Heartwarming Hill Station Cafes In India For The Nomad In You! (2022)
2. Cafe Simla Times
Named after a famous old newspaper, this cafe is the best hangout spot in the town with artistic vibes to it. Not just the creative interiors, but also the innovation in the menu would leave you impressed at first sight. With an option of both indoor and outdoor seating, this place offers the opportunity to enjoy the weather as per one's comfort.
Timings: 12:30 PM to 10:30 PM
TripAdvisor Rating: 4.5/5
Location: The Mall, Adjacent to Hotel Willow Banks, Shimla, Himachal Pradesh
Reviews
3. Wake And Bake
The Wake & Bake Café is undoubtedly the best place to visit in Shimla during winter. The beautiful oak tables and hand-painted branches add on to the beautiful decor of the place. And its perfect laid-back vibes along with bona fide French crêpes, Lebanese hummus, and South Indian pancakes make it one-of-its-kind in the town.
Timings: 9:30 AM to 10:00 PM
TripAdvisor Rating: 4.5/5
Location: 34/1, Shimla Bypass, Tutikandi, Shimla, Himachal Pradesh
Website | Reviews
20 Heartwarming Hill Station Cafes In India For The Nomad In You! (2022)
Tips for Visiting Shimla In Winter
While planning your trip, do check the weather once, especially if you're visiting to witness the snowfall.
Pack accordingly. But, make sure that warm jackets, shrugs, mittens, stoles, and caps are a part of your luggage.
Carry all your essential medicines so that in case of emergency, you don't have to run around.
Make a list of all the places to visit like Kufri, Naldehra, and more which are covered spectacularly with snow.
Don't forget to ski while you're there. A little thrill is essential to make your holiday more enthralling.
Carry a good camera with you and capture beautiful pictures.
Planning to escape to the hills this winter? The lush greenery, serene surroundings, majestic views and pleasant weather all make up for a wonderful holiday experience. Shimla in winter is one such experience that has made numerous Globetrotters fall in love with its exquisite beauty. Whether you wish to witness nature's beauty or indulge in some snow adventure, Shimla has got a myriad of things to enthrall you. Don't forget to book your Shimla holiday with TravelTriangle for a hassle-free and incredible experience!
For our editorial codes of conduct and copyright disclaimer please click here. 
Frequently Asked Questions About Shimla In Winter
Is there snowfall in Shimla in January?
Yes, perhaps the best time to experience winter in Shimla is between December and February. This time also attracts a lot of tourists since it is the peak season. However, if you want to experience the magical snowfall in Shimla, plan your stay around mid-January and February.
What should one carry to Shimla?
If you are visiting during the winter months, then make sure to pack your coats and jackets. Temperatures can fall as low as 0 degrees so make so you don't want to forget your woollens! Gloves and mittens are a must while you should also carry woollen caps and thermals. Another tip is to carry cold cream and moisturizer. And lastly, don't forget sports shoes with a good grip sive the roads can get quite slippery.
How many days are sufficient for visiting Shimla?
When it comes to exploring, 2 days are enough to visit Shimla. However, if you plan to enjoy the pleasant weather and chilly winds then you can plan a 3-4 day trip in the city. Apart from the major tourist attractions, there are plenty of cafes for your explore along with activities to indulge in.
What is the famous food of Shimla?
When in Shimla, you simply cannot miss out on the Himachali specialties like Chana Madra. And if you are visiting in the winter, then certainly get your hands on Siddus which is a delicious steamed dish. While you will have no trouble finding the food of your choice, do make sure to indulge in the local cuisine. You can also visit some of the chaat shops to savor some delightful street food.
What can one buy in Shimla?
From handicrafts to home decor items, the streets of Shimla are home to many markets and small shops. You will find great wooden items and traditional craft pieces at the markets here. While Mall Road is famous for its amazing street food, you will also find shops selling shawls, Himachali caps and much more.
Is it safe to travel to Shimla?
While Shimla is completely safe for tourists, it is advisable to check the weather forecast before planning a trip. Apart from this, it is recommended to avoid going out late night at secluded places.
People Also Read: