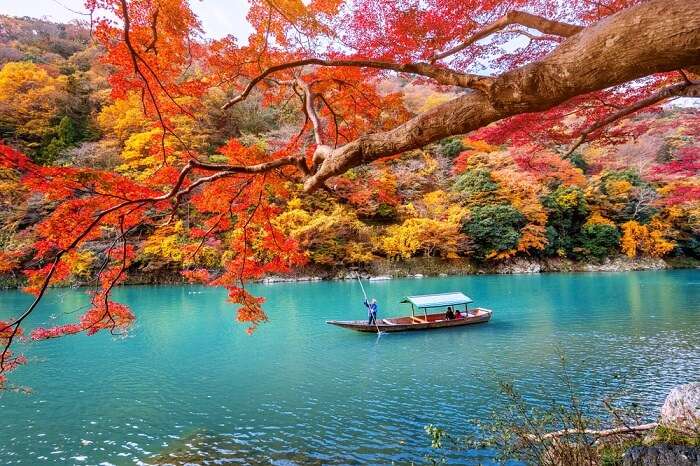 Japan has much to offer its tourists. It has so much beauty and technology. Its capital, Tokyo, is one of the most advanced cities in the world. Autumn in Japan happens from the months of September to November and it is the time that most tourists flock to the country. Although the cherry blossoms aren't out in this season, the main attraction would be the beautiful Autumn leaves. Aside from the fact that it gets a lot cooler out, there are also plenty of parties that place and the feel of Christmas sets in by October. Lights are put up all over the country and there are plenty of festivals and parties that take place from September onwards.
Weather During Autumn In Japan
The temperatures can range from 7 degrees Celsius to 28 degrees Celsius in the months of September, October, and November. Autumn months in Japan are comfortable and pleasant. It is never too cold or too warm and there may or may not be typhoons during the month of September. Most people wonder what to wear in Autumn in Japan and to answer that, you can wear short sleeves as there will be warm afternoons but carry a light cardigan or a long-sleeved t-shirt during the evenings as it tends to get chilly out.
10 Things To Do In Japan During Autumn
There are a lot of happening events taking place in Japan during this time that travelers love to indulge in during their stay.
1. Take part in the Meiji Jingu Gaien Ginkgo Festival
This popular event is great for viewing the Autumn leaves and is a great way of spending Autumn in Japan Tokyo. The festival is held at Meiji Gaien Ginkgo Park and lasts for about 2 weeks. This is a great way to spend the day admiring magnificent Ginkgo trees and the beautiful golden leaves. These trees are spread out all over the avenue for about 300m. There is also a market in the venue where you can purchase food and local products. This is a great place to just relax and enjoy the cool breeze and the colors of Autumn.
Dates: 16th November to 2nd December
Must Read: 25 Unbeatably Fun Things To Do In Japan That All Travelers Must Try
2. Spend the day hiking
If you are the adventurous type and you love nature, then you could consider going hiking. October would be the best month to take part in outdoor activities especially when the weather is pleasant. If you head to the mountains, you can get a great view of the lush green mountains and Autumn at its best. This is the best time to go hiking because most of the hiking spots become unavailable during mid-November. However, make sure to find out what to wear in Autumn in Japan when going hiking.
Best hiking spots: Mt. Takao, Mt. Hakone and Mt. Oyama
3. Attend the Takayama Autumn Festival
This festival is one of the best festivals that you can experience in Japan. It is held in both Spring and Autumn. The highlight of this festival would be the parade of floats. Decorative and beautiful floats or Yatai are created and paraded around town. If the weather is bad, they are kept on display in stores. Another great part of the festival is the Karakuri performance. Mechanical dolls are created and they can move and dance on the float. If the weather is bad, the performances take place in the storehouses. This is a great way to spend Autumn in Japan.
Location: October 9th and October 10th
Suggested Read: Christmas In Japan: Relish The Kurisumasu Keki This Christmas!
4. Visit Japanese Gardens
If you want to experience the beauty of Autumn there is no better way than to visit these gardens. The gardens can only be experienced at this time of the year because that is when it looks the best. At some gardens, there are special events that take place. Lights are put up and hung on the trees. You can spend the evening here or have a little picnic with your family here. The gardens tend to stay open till late in the night just because of the season.
Best gardens to visit: Shinjuku Gyoen, Hotel New Otani Garden and Hama Rikyu
5. Take part in the Kochia Carnival
Kochia or Bassia scoparia is a unique kind of autumn leaf which grows from the ground. The bushes are planted on Miharashi Hill and cover about 385 hectares of land. This is one of the most popular that happens every year and will happen in Autumn in Japan 2022. This is a beautiful and yet unique experience because these fluffy balls are scattered all over the park. It turns from greed in Summer to a bright red/pink during the months of Autumn. Aside from this, you can find cosmos flowers surrounding the field nearby. You can spend the day here or take a walk through the fields for a great experience. Although the fields tend to get crowded with tourists, you can visit during the early morning to get a great view of the light blue sky blending with the red kochia.
Date: Mid-September to Mid-October
Suggested Read: This Library Hostel In Japan Is The Perfect Cocoon That Every Bookworm Dreams Of!
---
Planning your holiday but confused about where to go? These travel stories help you find your best trip ever!
Real travel stories. Real stays. Handy tips to help you make the right choice.
---
6. Be a part of Tsukimi (Moon Viewing Festival)
If you are in Japan during early or mid-fall, then you will find a lot of people gathering to watch the moon. It was an ancient practice done during the Heian period. You can find spots to gaze at the moon and enjoy some dango (traditional Japanese dumpling) and sake (a famous drink). There are some events held where there is appreciation shown for the harvesting of rice or just the seasonal harvest. There are spring festivals as well as summer festivals. The Japanese enjoy appreciating and observing the change of seasons. Find a good spot to take part in this festival.
7. Take a trip to Shirakawa-go
Taking a trip to this magical village should definitely be on your to-do list. Although it isn't one of the oldest villages, it still has architecture and more that is similar to that of Japan before industrialization. The village is tucked away in the beautiful mountains and is the best place for nature lovers. Although it isn't easy to get to by public transport, it is definitely worth a visit. The city of Takayama is nearby which holds ancient Japanese houses and architecture. Although natural calamities and fires have destroyed most of the past, there is still plenty to see.
Suggested Read: Japan Beats Singapore As Having The World's Most Powerful Passport!
8. Spend the day relaxing at an Onsen
Japan has thousands of natural hot springs. Almost every single town or village has hot springs. Even some of the hotels have hot springs attached to the rooms. This should definitely be on your itinerary. There are special amusement parks where you can take volcanic sand baths and they are called 'The hells'. These bathhouses are nothing luxurious so you shouldn't expect much. If you just want to experience Japanese culture, then this is a good idea for you. You can visit Takaragawa-Onsen which is located on the mountain near a river and the landscape is a sight to behold.
9. Experience the Niihama Taiko Festival
The parade that happens here usually has over 40 different kinds of floats that are shaped like drums and they weigh about 2 tonnes. It is usually called a mans festival because the floats are often tossed into the air to show off each teams skill and their competitiveness. The drums continue to be beaten as the floats are pushed against each other. The festival tends to get a little aggressive but if you are okay with that then this is surely a new experience. Aside from watching the men get aggressive, you can enjoy some traditional cuisine and even purchase beautifully decorated embroidery art from the vendors around the area.
Date: October 16th to October 18th
Suggested Read: Cherry Blossoms Are In Full Bloom & So Is The All New Spring Flower Cruise In Japan
10. Watch a grand sumo tournament
Although baseball and golf are quite popular in Japan, so is sumo wrestling. You should definitely spend your Autumn in Japan Tokyo by watching sports when you have free time. Watch giant men ram each other in small sand pits. Although sumo tournaments can't be seen throughout the year, you can definitely get to watch a tournament during the month of Autumn. You can visit venues like Kokugikan or Fukuoka Kokusai Centre.
Further Read: Getting A Japan Visa Will Now Be Easier Than Buying A Movie Ticket!
Although there are plenty of things to do in Japan, this was a list of the 10 best things that you can do if you want to experience Autumn in Japan 2022. Get a chance to experience all that Japan has to offer during Autumn! Let us help you book your trip with TravelTriangle and find the best deals and offers for your vacation.
---
Looking To Book A Holiday Package?
Book memorable holidays on TravelTriangle with 650+ verified travel agents for 65+ domestic and international destinations.
---
Comments
comments