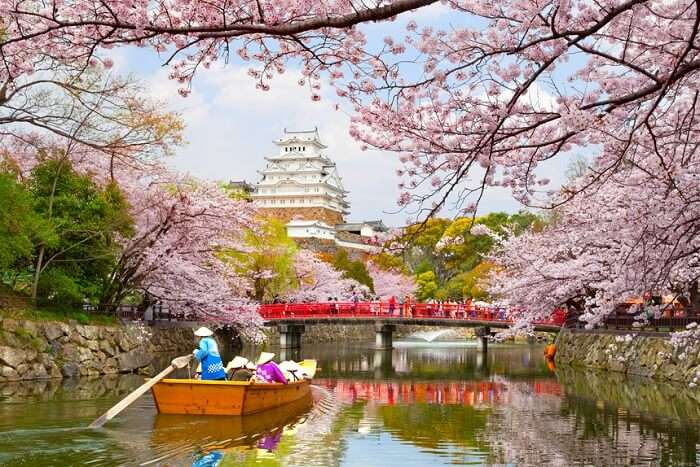 The picturesque land of Japan is one of the economically leading countries in the world. It is an elongated archipelago of thousands of active volcanic islands in the Pacific Ocean. The Japanese islands vary in climatic conditions within their regions and play host to many endemic species of wildlife. Japan is culturally rich and offers many interesting activities with respect to architecture, art, music, food, lifestyle, and nature. It is the perfect amalgamation of modernization and tradition. Here is a list of the most exhilarating things to do in Japan that would make it the next tourist destination in everyone's bucket list.
25 Exciting Things To Do In Japan On Your Getaway
Scroll down to find the most thrilling and rejuvenating activities you can engage in while you're holidaying in Japan with your friends and/or family.
Climb Mount Fuji
A weekend trip to Arashiyama
Cherry Blossom Festival
Tokyo Nightlife
Sumo Show
Kabuki Dance
Explore Nijo Castle
Ninja Museum
Try Okonomiyaki 
Nagasaki Atomic Bomb Museum
Ise Grand Shrine
Nishiki Market
Tempozan Ferris Wheel
Oirase National Park
Kiyomuzo Dera Temple
Hot Spring Bath
Geisha Dance
Ride a bullet train
DisneySea
Harry Potter World
Robot Restaurant
Shibuya Crossing
Drink Matcha Tea
Tea Ceremony
Have sushi
1. Mount Fuji: Climb Japan's Highest Active Volcano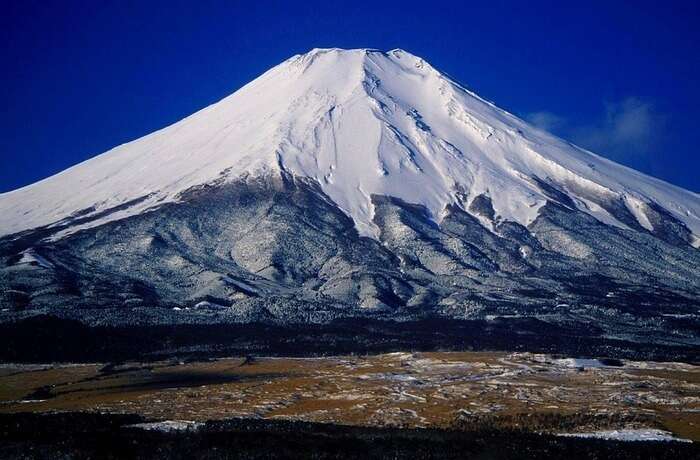 Image Credit: David Mark for Pixabay
Mount Fuji is the highest active volcanic mountain in Japan that is also worshiped as a sacred mountain in the Shinto religion. It lies to the south west of Japan's capital- Tokyo. One of the adventurous things to do in Japan is to climb the popular Mount Fuji in the months of July and August. Visitors can even enjoy the breathtaking views from either of these places- the Shin-Fuji station, from the top of the Chureito pagoda or any of the five lakes that surround the mountain. There are a few fascinating activities available around the base of the mountain as well such as skiing, art museum, and the Fujisan Sengen Shrine.
Location: Shizuoka ken, Japan
Must Read: 35 Best Places To Visit In Japan That Make It Look Right Out Of A Storybook
---
Looking To Book An International Holiday?
Book memorable holidays on TravelTriangle with 650+ verified travel agents for 65+ domestic and international destinations.
---
2. Arashiyama: Take A Weekend Trip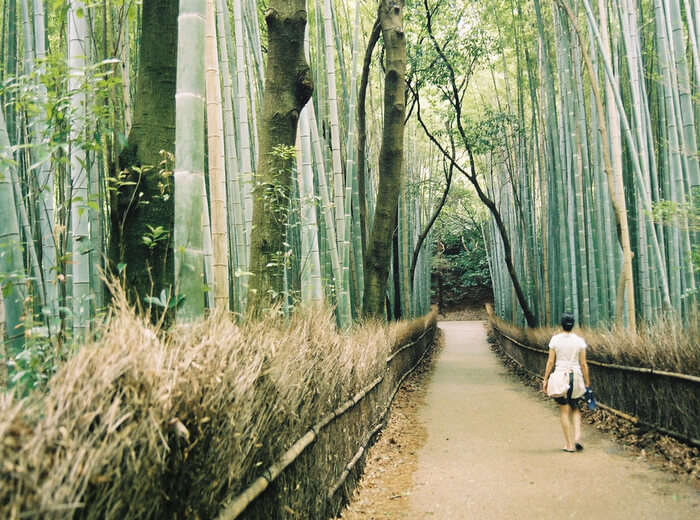 One of the best weekend resorts a few kilometers away from the bustling city of Kyoto, Arashiyama is a land of nature and heritage. The best thing to do in Japan in November is to visit this gorgeous landscape. December also makes a good time to visit the bamboo groves as they are filled with numerous lights as a part of the hanatoro festival. The main attractions of Arashiyama are the vast bamboo groves, the famous Togetsukyo bridge, boating in the Oigawa river, temples like Tenryuji, goji and Nenbutsuji and the monkey park.
Location: Ukyo-Ku, Kyoto
Cost: INR 400 per person
Suggested Read: Japan In May: Explore The 10 Most Exciting Activities Japan Offers In May
3. Cherry Blossom Festival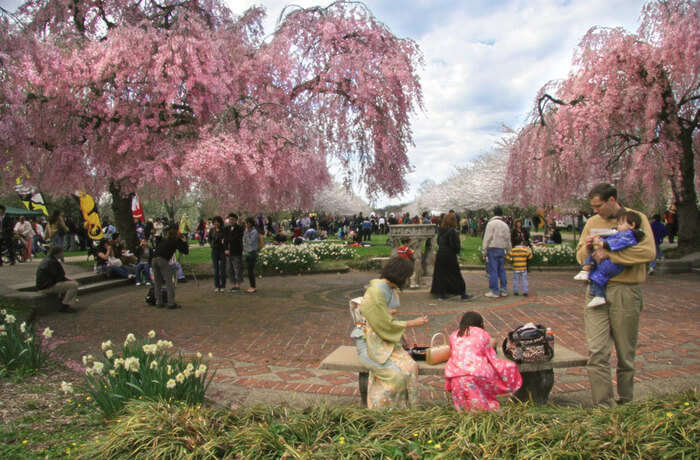 Traditionally called the hanami festival, the Cherry Blossom Festival is dedicated to the two weeks of the spring season when Sakura and Ume flowers bloom all over the regions of Japan. People flock over the gardens in Japan to enjoy an evening of food, drinks, and music under the blossomed cherry trees and celebrate the view of the delicate pink flowers. Being in the Honshu region of Japan during the months of March and April is one of the best things to do in Japan.
Location: All over Japan
Suggested Read: Getting A Japan Visa Will Now Be Easier Than Buying A Movie Ticket!
4. Tokyo: Enjoy The Nightlife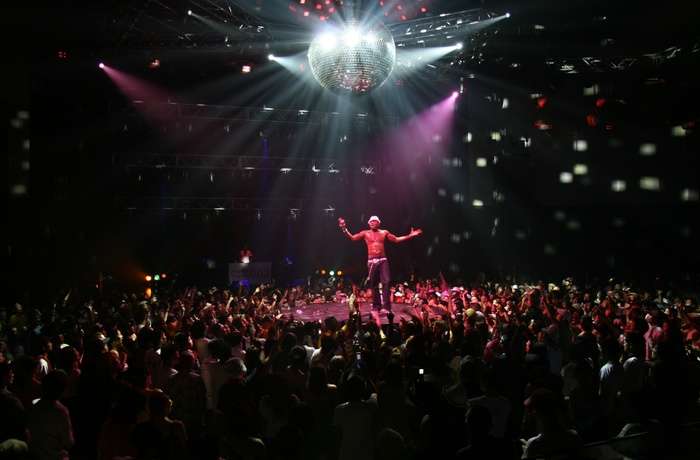 Shinjuku station is a major nightlife district in Tokyo. Visitors can come across the world famous robot restaurant, Karaoke bars, Japanese pinball parlors, and nightclubs. Numerous ramen restaurants and bars are hidden in the narrow alleys of this district. Local guides are available to help one find the right places to go izakaya bar hopping. Genuine local foods such as chicken skewers, grilled seafood, fried tofu, and vegetables can be found in these alleys to be enjoyed with the drinks like sake and local beer.
Location: Shinjuku station, Tokyo
5. Ryogoku: Watch A Sumo Show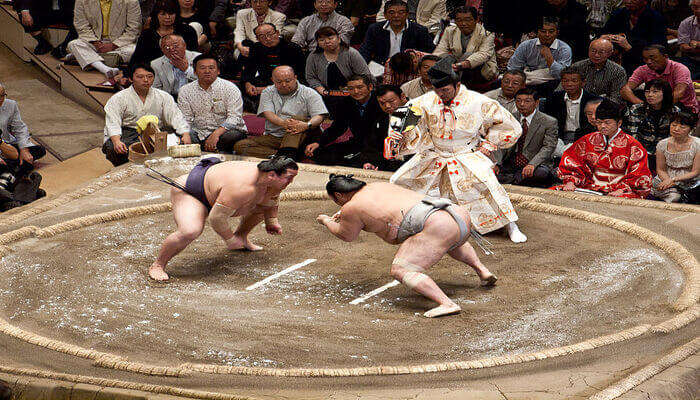 Ryogoku area is a significant center in Japan dedicated to sports such as boxing and sumo wrestling. The neighborhood is filled with galleries, museums, cafes, and traditional restaurants. The kokugikan stadium hosts many tournaments of the National sport of Japan. One can opt for a match in the stadium or just watch the early morning practices of sumo wrestlers in their stables for free of cost. The area also houses a sumo museum that displays things related to the history and culture of sumo wrestling.
Location: Ryogoku district, Sumida, Tokyo
Average Cost: INR 10,000 per person
Suggested Read: This Hidden Forest House In Japan Is A Heaven On Earth For All Nature Devotees!
---
Planning your holiday but confused about where to go? These travel stories help you find your best trip ever!
Real travel stories. Real stays. Handy tips to help you make the right choice.
---
6. Chuo: Witness The Spectacular Kabuki Dance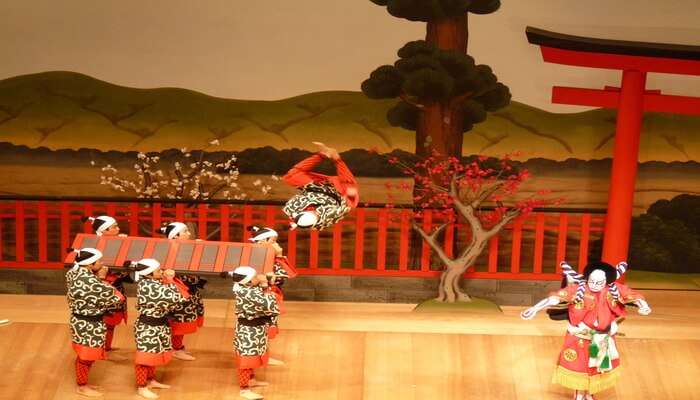 The traditional art form of Japan, Kabuki is more of a dramatized stage play rather than a dance form. Historical events and other well-known stories are always depicted in this art form. The kabuki performance is enhanced by the live music played using traditional musical instruments. This dance form is designed in the Kabukiza theatre and two performances take place every day. For those willing to pay extra, English subtitle guides are available. The Kabuki experience is simply splendid and one of the best things to do in Tokyo, Japan.
Location: 12-15 Ginza, Chuo, Tokyo, Japan
Timings: : 11 AM – 4:30 PM
Cost: INR 1500 per person
7. Nijo Castle: Go Explore!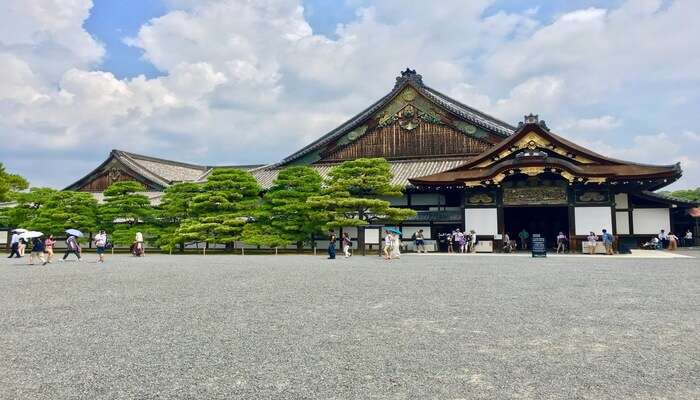 Built in the early 17th Century, Nijo Palace was the residence of Kyoto's first military dictator of the Edo period. It is the only palace in Japan to have been built at the ground level. The castle grounds are lush with charming gardens and are surrounded by sturdy stone walls and moats for defense. The buildings in the grounds are connected through nightingale tunnels and the main palace is decorated with tatami mats on the floor and colorful paintings on the ceiling and the entrance doors. The castle has a huge landscape of garden consisting of Sakura, maple and ginkgo trees. One of the things to do in Japan in November is to walk around these beautiful gardens to enjoy the fall colors.
Location: Horikawa nishi iru, Nijo-Dori, Nakagyo-Ku, Kyoto
Timings: : 9 AM – 5 PM
Entry fee: INR 700
Suggested Read: Cherry Blossoms Are In Full Bloom And So Is The All New Spring Flower Cruise In Japan
8. Ninja Museum: Engage In A Ninja Experience!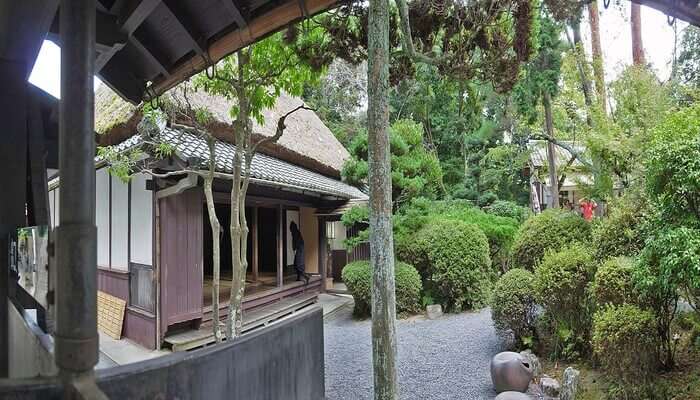 The ninja museum in Igyaru is a village museum that allows visitors to experience the art of stealth mastered by the Japanese in the medieval times. The guided tour takes one around the premises where the deception of the hallways and weapons to the naked eye can be witnessed. An exhibition hall in the museum displays the costumes and weapons of ninjas. The mini theatre and a ninja show give an insight to the visitors into the life of the ninjas. One can even try a hand at learning the art for themselves making it one of the adventurous things to do in Japan. They also have a gift shop attached to the museum that sells rare ninja souvenirs.
Location: 117-13-1 Ueno-Marunouchi, Iga-shi, mie-ken, Japan
Timings: : 9 AM – 5 PM
Entry fee: INR 900 per person
9. Nishiasakusa: Indulge In Okonomiyaki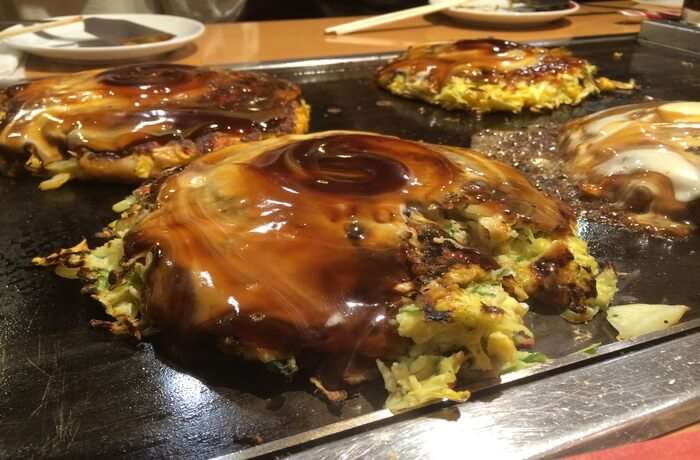 Okonomiyaki is a popular savory pancake dish that is filled with various vegetables and drizzled with amazing sauces. The best place to try this lovely dish is at the Sometaro restaurant in Asakusa. One of the best things to do in Tokyo, Japan is to visit this splendid restaurant that specializes only in Okonomiyaki dishes. It is located near the famous Sensoji Temple, making it easier for visitors to spot this amazing restaurant. Okonomiyaki is cooked in the presence of the customers on the iron girdle attached to their tables which causes the air around to be a bit stuffy.
Location: 2 chrome 2-2, Nishiasakusa, Taito, Tokyo
Timings: : 12 noon – 10:30 PM
Cost for two: INR 2000
Suggested Read: This Library Hostel In Japan Is The Perfect Cocoon That Every Bookworm Dreams Of!
10. Nagasaki Atomic Bomb Museum: Take a trip down history!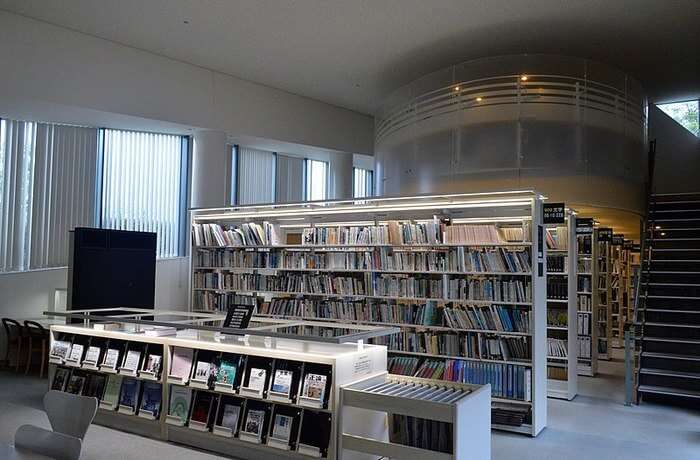 Japan is the only country in the world to have been hit by a nuclear bomb during World War II. The tragic day of August 9, 1945, is still remembered all over the world. To honor of those who lost their lives in the incident and the efforts of the Japanese Government to spread the awareness about the repercussions of the weapon used in the regions of Hiroshima and Nagasaki, led to the establishment of the Nagasaki Atomic Bomb Museum. The museum hosts an exhibition room, a video room, a bookshop and a refreshment room where one can spend some time reminiscing the unfortunate event.
Location: 7-8 Hiranomachi, Nagasaki, Japan
Timings: : 8:30 AM – 5:30 PM
Entry fee: INR 250 per person
11. Ise Grand Shrine: Surround Yourself With Peace & Tranquility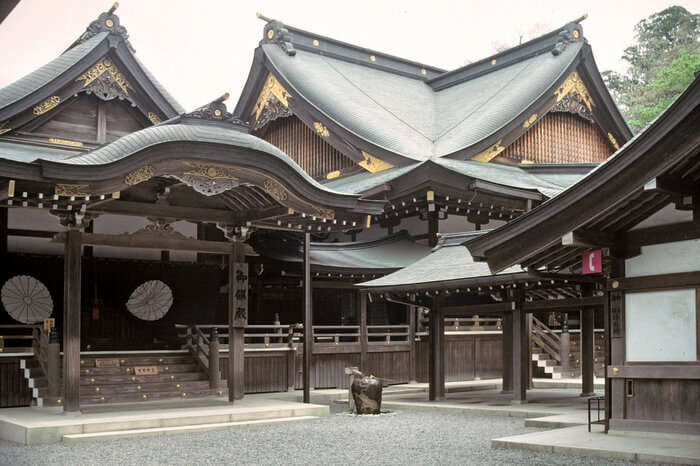 Located in the heart of a sacred forest, Ise Grand Shrine is dedicated to the sun goddess. Also known as Ise Jingu or simply Jingu, this Shrine complex blankets numerous Shinto shrines centered on two main shrines, Naiku and Geku. The interesting fact about this place of worship is that there are no nails used in the construction of any of the shrine buildings. Instead, solid cypress wood is used in the construction of these buildings and joined wood is used instead of nails. Visiting the shrine is one of the top things to do in Japan amongst the travelers and locals alike owing to the shrine being important and holiest sites in the country.
Location: Ise, Mie Prefecture, Japan
12. Nishiki Market: For All The Foodies Out There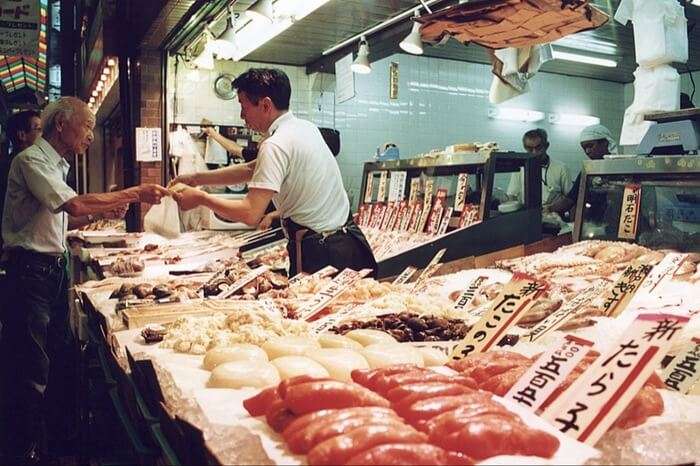 Exploring the Nishiki Market falls under the checklist of cool things to do in Japan. This food market is usually filled with any and every kind of people ranging from locals to visitors. Almost all the produce that is sold in this market is organic and locally grown by the sellers themselves. One can find everything related to food in over a hundred stalls and shops lining the covered street. Fascinating ingredients, enticing street food, and every kind of interesting tableware are seen on display in the stalls. Nishiki market reflects an overwhelming choice and fragrance of different foods and beverages that one encounters.
Location: Nakagyo Ward, Kyoto, Japan
13. Tempozan Ferris Wheel: Witness The Aerial View Of The City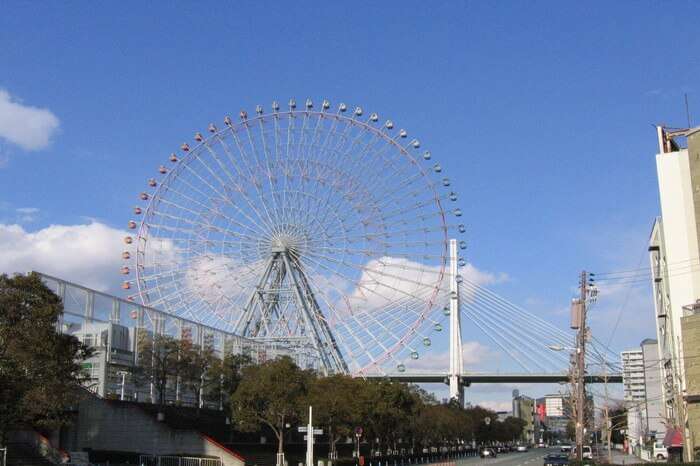 One of the world's largest Ferris wheels, views from Tempozan Ferris wheel are a feast for the eyes. Providing a picturesque and panoramic view of the surroundings including Mount Ikoma on the east, the Akashi Kaikyo Bridge on the west, and the Rokko mountains to the north, this Ferris wheel will surely take your breath away. The colorful light displays, approximately 15-minute long ride through the sky, and the mesmerizing aerial views make this one of the best things to do in Japan with kids who get fascinated and curious about little things.
Location: Osaka, Japan
Average Cost: INR 500
14. Oirase National Park: Admire The Beauty Of Nature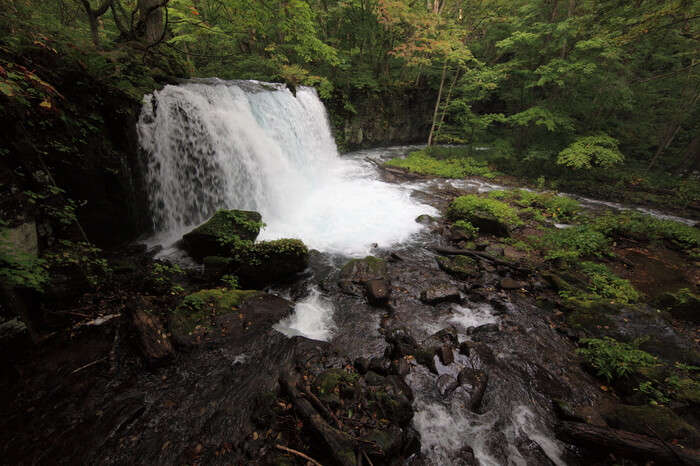 There are no words enough to describe the beauty of this National park. Colors of the trees changing from lush green in spring to incredible shades of red, yellow, and orange in autumn the flora in the national park will take your breath away. Picturesque Oirase stream flows on the Oirase Gorge with numerous waterfalls falling down into the stream along its length. Oirase National Park is paradisiacal for visitors seeking a location for hiking and camping amid deep natural woods.
Location: Towada, Aomori, Japan
Suggested Read: 7 Japan Hill Stations That Are More Than Just Picturesque Landscapes
15. Kiyomizu-Dera Temple: Feel The Spiritual Vibes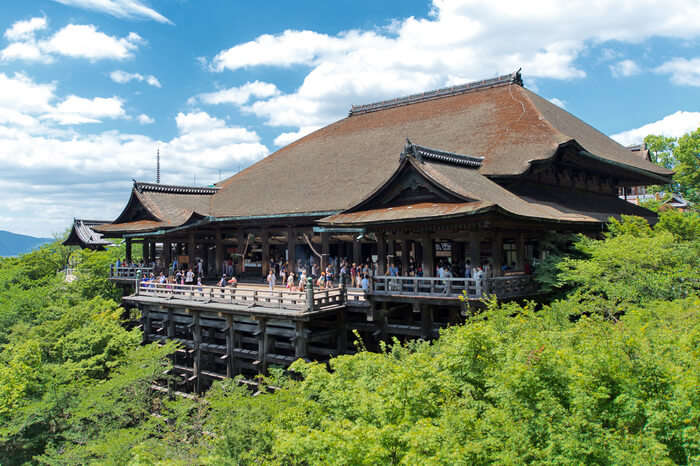 With a rich and intriguing history, Kiyomizu-Dera temple is one of the most celebrated temples in the city. Located halfway up Mt. Otowa, this temple houses a deity of great mercy and compassion, Kannon. A large number of travelers and locals visit the temple to pay their respects. It is believed that Kannon embodies your feelings of gratitude, tranquil daily lives, and your thankful hearts.
Location: Kyoto, Japan
Suggested Read: Solo Travel In Japan: 10 Tips To Remember Before You Pack Your Bags
16. Hot Spring Bath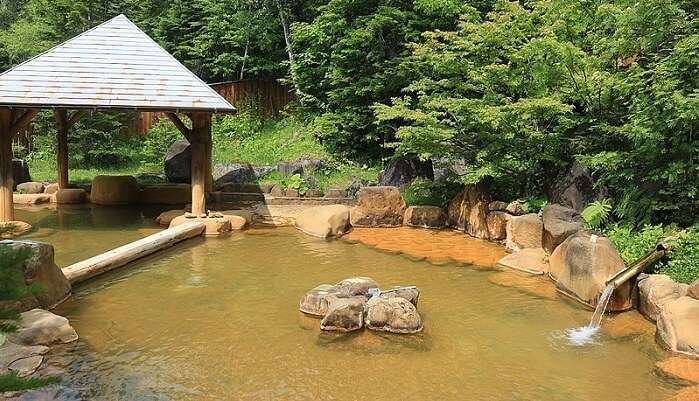 One of the top things to do in Japan is taking a hot spring bath or onsen. It is a huge part of the Japanese culture and there is no reason why you should experience it for yourself unless you are shy. You will find a number of hot spring baths across the country separate for males and females. You can enjoy the experience outdoors or indoors. It is up to you.
Location(s): Kusatsu Onsen, Lake Kawaguchiko, Yufuin Onsen
Suggested Read: 8 Japanese Desserts That Will Get You Swooning!
17. Geisha Dance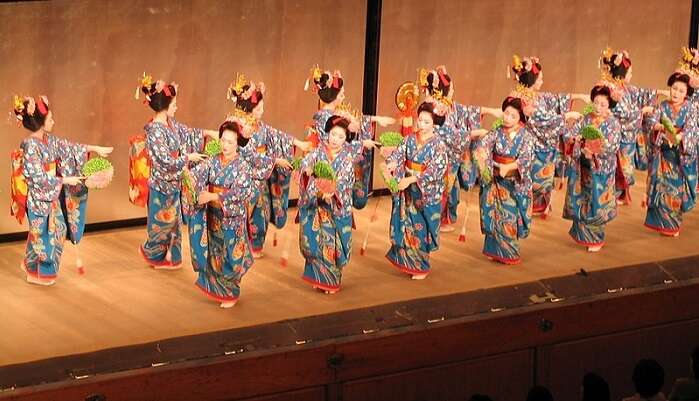 If you have read the novel and also watched the movie 'Memoirs of Geisha', now it is time to experience it in real life. Your trip to japan is a wonderful opportunity for you to add this to your experiences. The graceful geishas wearing brightly colored costumes and flowers in their hair put up a spectacular show for their spectators. It is one of the most popular things to do in Kyoto and you must go watch one.
Location: Miyagawacho
Suggested Read: 7 Best Indian Restaurants In Japan Serving The Authentic Flavors
18. Ride A Bullet Train

Image Credit: yuyuyaya76 for Pixabay
One of the first things that comes to mind when thinking about Japan is the bullet train. Why not ride one when you are in Japan? If you are looking for things to do in Tokyo,. Not only will it take you places but also give you a fun ride experience. These bullet trains or shinkansen travel at a speed of 320 km/hr that must be some experience. However, ridings these bullet trains a bit expensive.
Routes: Tokyo – Kyoto, Osaka – Fukuoka
Suggested Read: Japan In January: Take A Trip To This Winter Wonderland
19. DisneySea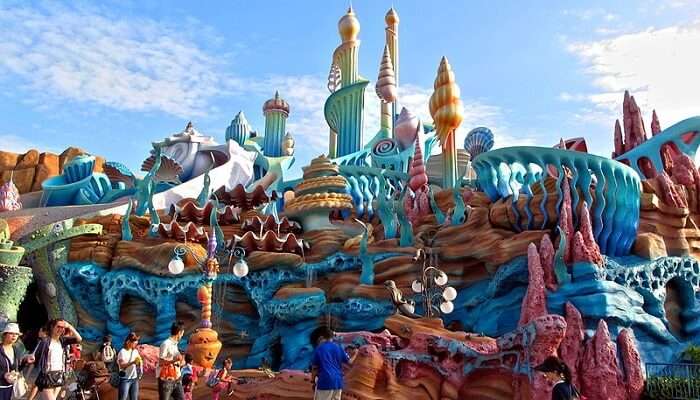 Another one of the things to do in Tokyo is visit the DisneySea. It is one of the best Disney theme parks where you can easily spend an entire day. From fun rides to more adult-oriented attractions, this place has something for all. You can also enjoy watching a Broadway Show or drinking cocktails from 1920's. It is only 30 minutes from central Tokyo. There is a Disneyland Tokyo Park right next to it. You may actually want two days in a row to explore them both.
Location: 1-13 Maihama, Urayasu, Chiba 279-0031, Japan
Suggested Read: 7 Japanese Temples: Marvel At The Architectural Beauty Of These Ancient Buildings
20. Universal Studios: Visit The Harry Potter World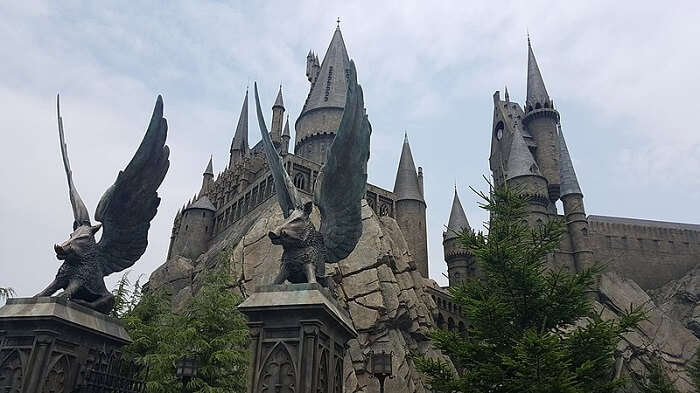 For those who have grown up watching or reading Harry Potter, here is a treat for you. Universal Studios in Japan has a whole world dedicated to Harry Potter. If this does not excite you Potter Heads, then what will? Enter the world of wizard with cobbles streets, drink butterbeer, and take a walk through Hogwarts. There are other fun rides in the park if you are ever able to come outside of the wizard world.
Location: 2 Chome-1-33 Sakurajima, Konohana Ward, Osaka, 554-0031, Japan
Suggested Read: 8 Japan Zoos To Experience Wildlife On Your Next Trip To The Archipelago
21. Robot Restaurant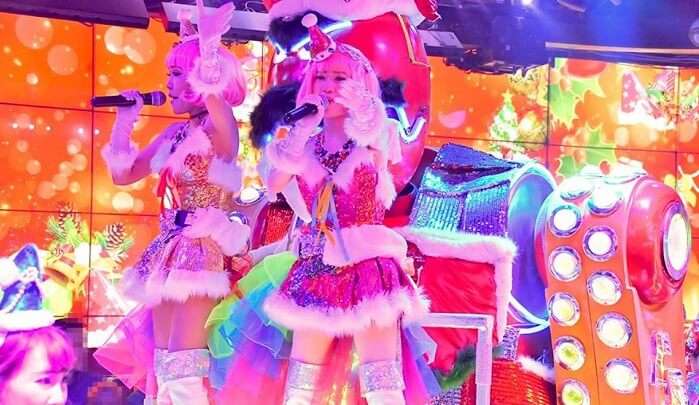 If you do not mind obnoxious and loud places, then you should make your reservations at Robot Restaurant. Do not get confused by the name because it is not a restaurant. It is a place featuring high-energy robots that put up a great show for you. Get ready for a bizarre experience complete with dragons, ninjas, robots, blue haired dancers, and neon lights.
Location: Japan, 〒160-0021 Tokyo, Shinjuku City, Kabukicho, 1 Chome−7−7 新宿ロボットビル B2F
Suggested Read: Know The Best Ways Of INR To Yen Conversion Before Planning A Trip To Japan
22. Shibuya Crossing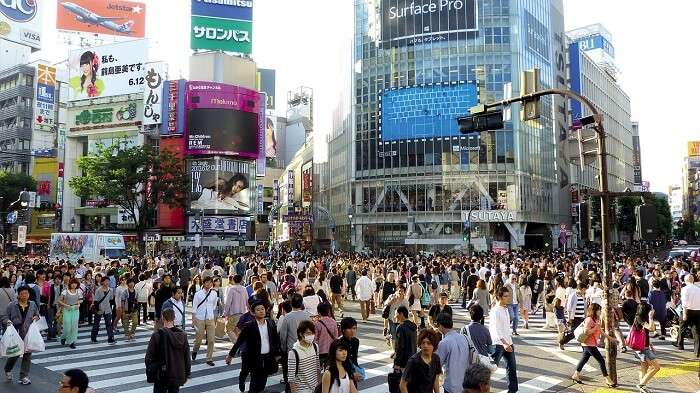 Here is an idea for you: make a time lapse of people crossing the famous Shibuya street and post it on Instagram. It is maddening. Why wouldn't it be when there are about 2,500 people crossing the street when the light changes? Shibuya has the fame for being the busiest crossing in the world. The best time is the night time when all the neon lights are lit up.
Location: Tokyo, Japan
Suggested Read: Spas In Japan: 5 Handpicked Places Which Will Be Ideal For A Relaxing Spa-cation!
23. Drink Matcha Tea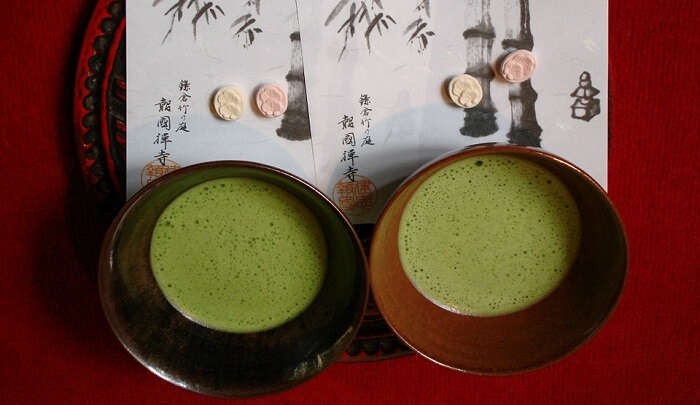 Image Credit: patrik671 for Pixabay
Health freaks must already know what Match Tea is and cannot stop raving about it. If you have never tried it before, then make it a point of adding it to your experience. The powdered green tea has more flavors than a regular tea and is usually had with wagashi, a sweet made from rice, soybean, and sugar. You can have it in any of the traditional tea houses in Japan.
Suggested Read: Summer, Art, Music: No Dearth Of Tokyo Festivals To Get Closer To The Japanese Culture!
24. Tea Ceremony: Learn The Art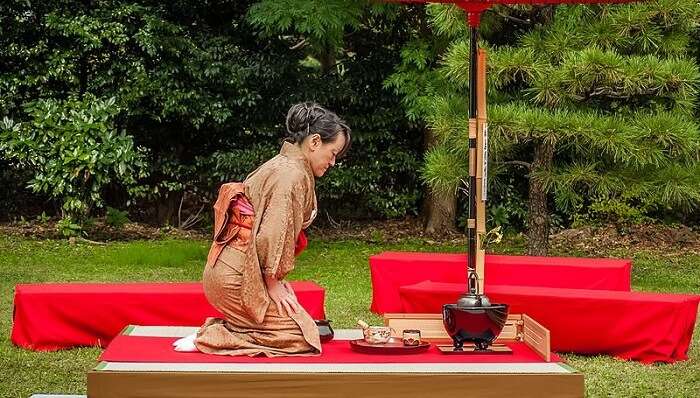 Tea is also an important part of the culture so much so that you will find a whole ceremony dedicated to tea. The tourists can learn the art and tradition of tea ceremony wherein they are taken through a ritual, learn appropriate phrases, appreciate tea bowl, and most importantly, learn the concept of ichi-go-ichi-e i.e. cherishing the moment as it won't happen again. Frankly, most of us have forgotten to be in the moment.
Location(s): Golden Temple Kyoto, Bonsai Museum Tokyo
Suggested Read: A Handbook Of 10 Tokyo Travel Tips For A Butter-Smooth Japanese Escape!
25. Have Sushi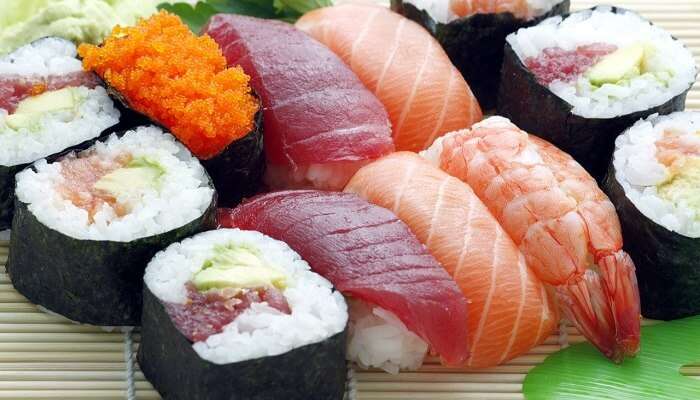 Image Credit: Design n Prin for Pixabay
This should be obvious as sushi is one of the signature dishes of Japan. You may have tried it before but Japan will give you a more authentic experience.you may even have to follow some rules. Sushi comes in all forms, even vegetarian. So, make it a point to try each one of it.
Location(s): Toyosu Fish Market, Sukiyabashi Jiro Roppongi
Further Read: Travelers Will Now Have To Pay A Sayonara Tax When Leaving Japan
Japan is not only an archipelago of islands but also a culmination of beautiful landscapes, culinary experiences, and cultural heritage. These unusual things to do in Japan will surely make you want to spend forever in the alluring islands! Plan your trip with TravelTriangle to the Land of the Rising Sun today!
Disclaimer: TravelTriangle claims no credit for images featured on our blog site unless otherwise noted. All visual content is copyrighted to its respectful owners. We try to link back to original sources whenever possible. If you own the rights to any of the images, and do not wish them to appear on TravelTriangle, please contact us and they will be promptly removed. We believe in providing proper attribution to the original author, artist or photographer.
Please Note: Any information published by TravelTriangle in any form of content is not intended to be a substitute for any kind of medical advice, and one must not take any action before consulting a professional medical expert of their own choice.
Frequently Asked Questions About Things To Do In Japan
Is Japan expensive?
There are fables of Japan being an expensive country and if you are planning for a luxury trip then it will be. If you plan on staying in expensive hotels and eating out and traveling a lot then Japan tends to be expensive. However, if you plan for a budget trip and stick to it then it is just fine.
What can I do in Japan?
There are many interesting things to do in Japan. From feeling spiritual and getting blessed at the Kiyomizu-Dera Temple to trying out some scrumptious delights at Nishiki Market, getting to know about history at Nagasaki Atomic Bomb Museum to getting a Ninja experience at Ninja Museum there is a lot you can do.
What is Japan known for?
The land of the rising sun is known for the many amazing places to visit in Japan. Mt. Fuji, Tokyo, Osaka, Hiroshima, Kyoto and many others are what adds to the charm of Japan. It is also known for its traditional arts, calligraphy, tea ceremonies and for being home to many UNESCO World Heritage sites.
Is Japan a safe country to visit?
Yes, Japan is a very safe country to visit. In fact, it is one of those places that you must visit. However, there are some areas that you should try and avoid.
What is the famous food in Japan?
The world-famous and something that was born in Japan, Sushi is one of the most famous foods in Japan. Miso Ramen, Takoyaki and Tempura are some of the other famous food items.
What can I shop for in Japan?
Matcha (Green Tea), Kendama, Koinobori, Sensu, Wagashi, Koma and Yukata are some of the many things that you can shop for in Japan.
How old is Japan?
Research suggests that Japan was inhabited in the Upper Paleolithic Period. Chinese history texts from the 1st Century AD mention Japan.
Is Japan a Buddhist country?
Buddhism in Japan was officially introduced as early as 552 CE. Even today there are popular Buddhist schools in Japan.
---
Looking To Book A Holiday Package?
Book memorable holidays on TravelTriangle with 650+ verified travel agents for 65+ domestic and international destinations.
---
People Also Read:
Things To Do In China Things To Do In Vietnam Things To Do In South Korea