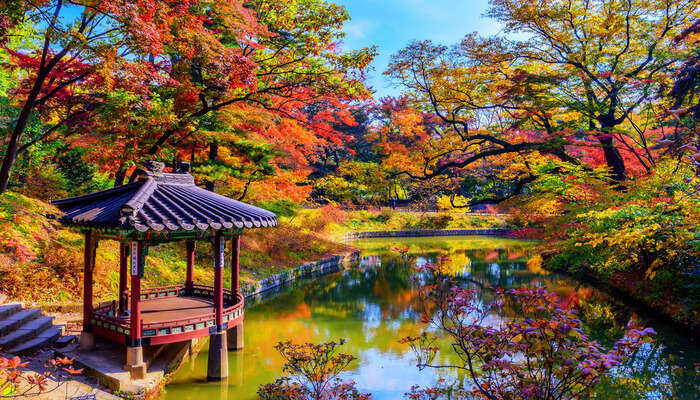 Korea, the beautiful destination that lies in East Asia, bordering Russia to the northeast, China to the northwest, and Japan to the east, offers an amazing experience with its panoramic landscapes and 5000-year-old culture and history. Autumn in Korea is like welcoming another spring when every leaf appears to be like a flower. One can witness the majestic view of how perfectly shaped red maple leaves spiral gently to the ground and joins the blanket of crinkled yellow. It's the time when the entire peninsula experiences refreshingly cooler weather.
In Korea, autumn falls between the months of September to November, offering amazing weather and beautiful autumn foliage. If you are planning an excursion to Korea then don't miss out on the incredible fall colors in this mesmerizing place.
Quick Links To Explore Autumn In Korea
Autumn In Korea: Temperature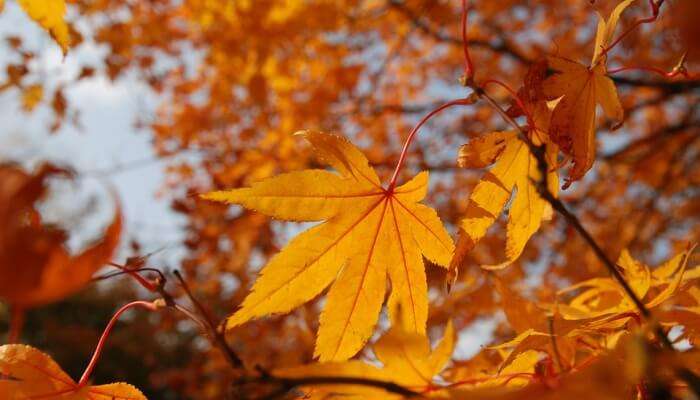 Autumn in Korea is mostly sunny with warm afternoon highs. One would feel a huge difference between the day and night autumn temperature in Korea. Following are the details of temperature during autumn:
September- Average 20°C, Maximum 26°C, Minimum 15°C
October- Average 13°C, Maximum 19°C, Minimum 7°C
November- Average 5°C, Maximum 11°C, Minimum 0°C
One must check the weather forecast for accurate weather information and the indication of rain in Korea.
---
Looking To Book An International Holiday?
Book memorable holidays on TravelTriangle with 650+ verified travel agents for 65+ domestic and international destinations.
---
Autumn In Korea: What To Wear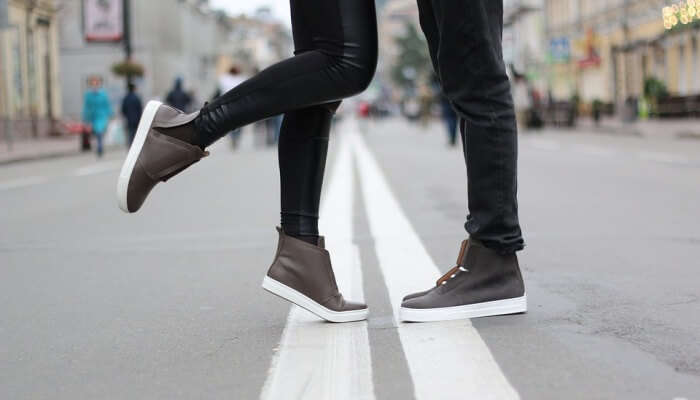 If you are planning an expedition to Korea in the month of September or October then one of the most comfortable autumn outfits in Korea would be a warm, lightweight jacket. Whereas, November is comparatively colder and one must surely carry a thick winter coat. Don't forget to carry boots, long-sleeved t-shirts or sweatshirts, cardigans, and thick socks.
Must Read: Korean Food Guide: 15 Tasteful Korean Dishes For An Epicurean Delight!
9 Places To Witness Autumn In Korea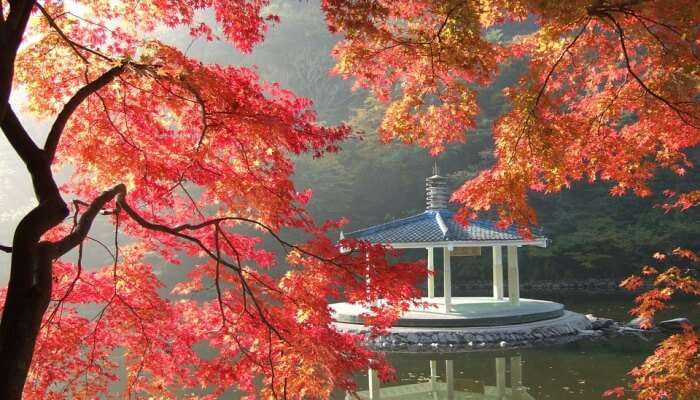 Every season has its own perks but autumn is the season when one can witness the multi-colored magic of surrounding verdures transforming into a red and orange wonderland. If you are planning to visit this beautiful peninsula, then check out the following best places to explore during autumn in Korea:
1. Asan Gingko Tree Road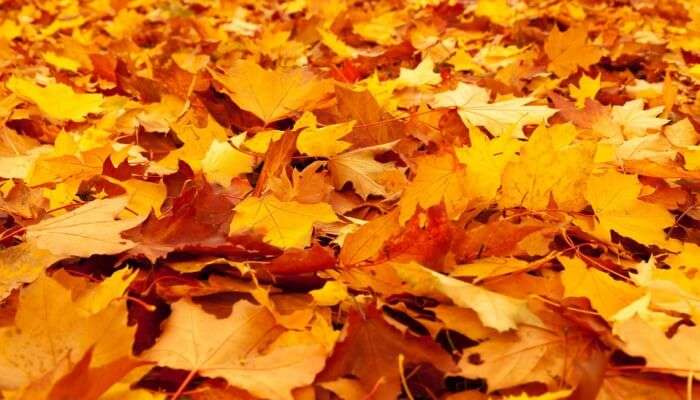 The Asan Gingko Tree Road is believed to be the epitome of all fall scenery. It is a long avenue lined with towering trees and the leaves of these trees turn a gorgeous golden yellow during autumn offering the panoramic landscapes. One might feel as if its a yellow brick road brought to life! You can either walk down the road or go for a drive to explore the enticing beauty of this road.
Location: 259-2 Baekam-ri, Yeomchi-eup, Asan-si, Chungcheongnam-do, South Korea
How to reach: One can take a subway from Seoul Station to Baebang Station which will take nearly 2.5 hours. Later, take a taxi to reach Asan Gingko Tree Road. The other way to reach here is by taking a KTX train from Seoul Station to Asan Station and then take a cab to Asan Gingko Tree Road.
Suggested Read: Bukchon Hanok Village: Know The Historicity Of This Korean Village
2. Changdeokgung Palace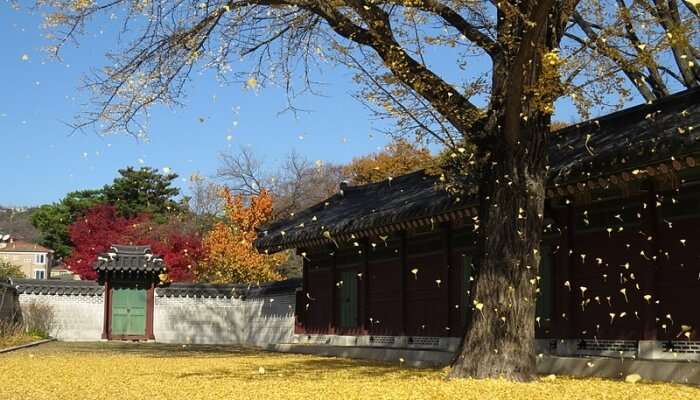 Established in the year 1405, Changdeokgung Palace was the second royal villa that was built after the construction of Gyeongbokgung Palace. Being the principal palace for many kings of the Joseon Dynasty, it is the most well-preserved among the five remaining palaces of the Joseon Dynasty. The palace is located in the heart of Seoul and the Secret Garden within the palace offers mesmerizing vista. It was a place for olden royalty to get some relaxing moments within the boundaries of this Secret Garden. The garden is shrouded in overhanging foliage amidst the tranquil ambiance. It is one place away from the hustle and bustle of city, showcasing a perfect glimpse of autumn in Korea.
Location: 99 Yulgok-ro, Waryong-dong, Jongno-gu, Seoul, South Korea
How to reach: One can take a 5-minute walk from Exit 3 of Anguk Station to reach Changdeokgung Palace.
Suggested Read: Banpo Bridge: All You Need To Know For Your Visit To South Korea's Marvelous Attraction!
---
Planning your holiday but confused about where to go? These travel stories help you find your best trip ever!
Real travel stories. Real stays. Handy tips to help you make the right choice.
---
3. Nami Island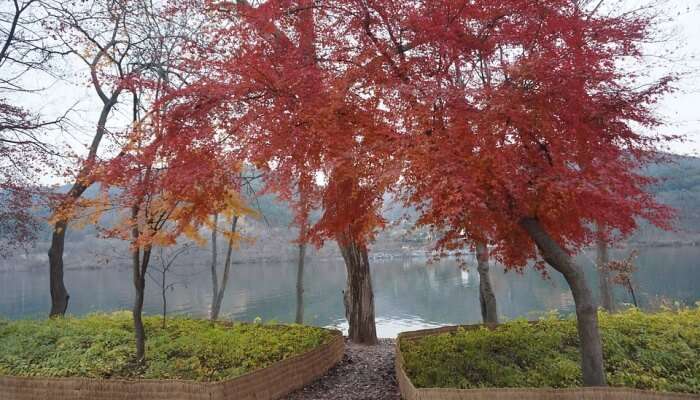 Nami Island is locally known as Namiseom Island that was formed due to the construction of Cheongpyeong Dam. The island houses the grave of General Nami who led a great victory during the reign of the 7th king of the Joseon Dynasty. It is the filming location of the famous Korean drama 'Winter Sonata' and ranks in the topmost position in every tourist's wish-list. One can stroll down the avenue of honey yellow trees and watch the sunlight reflecting off the surface of the Han River. You can also give an adventurous twist to your holidays in Korea by indulging in some water sports activities here.
Location: Chuncheon, Gangwon Province, South Korea  
How to reach: One can take a train to Yongsan Station and then take the ITX train to Gapyeong Station. From there get transferred to Gapyeong Wharf and take a ferry or a zip line to Nami Island.
Suggested Read: Top 10 Reasons To Visit South Korea & Have A Blast With Your Family!
4. Seoraksan National Park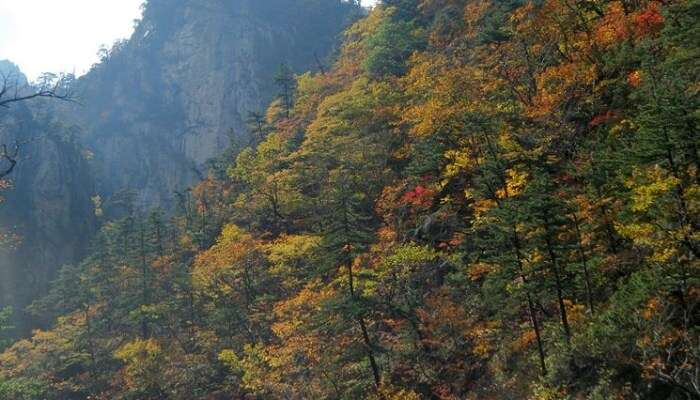 Seoraksan is one of the most beautiful mountains in Korea that surrounds the Seoraksan National Park which is known for its panoramic views, clear mountain streams and vibrant flora and fauna. An expedition to the Seoraksan National Park during autumn will make you experience the creeping branches full of red maple leaves. One can choose hiking trails or hop unto the cable car that is connected to the top of Mt. Seoraksan. Taking a short 5-10 minute hike from the top of the mountain to Gwongeumseong Fortress will enthrall you with its enticing beauty.
How to reach: One can take the subway to Gangbyeon Station and head to DongSeoul Bus Terminal to board an express coach to Sokcho. From Sokcho Bus Terminal, take a bus to Seorak-dong.
Suggested Read: Korean Nightlife: 10 Awesome Places To Visit As The Sun Goes Down
5. Jeonju Hanok Village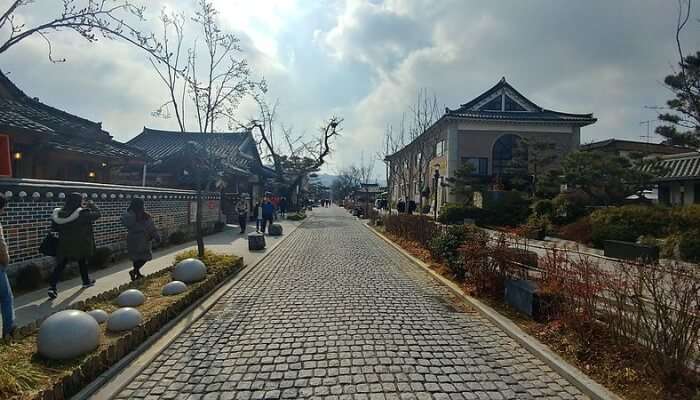 Jeonju Hanok Village is located in the city of Jeonju and is among 735 traditional Korean hanok houses. The village overlaps Pungnam-dong & Gyo-dong and features the historical charm and traditions of Korea. One can rent a hanbok that's the traditional Korean costume and explore the village's numerous alley established amidst over 800 houses. You can also grab the local delicacies and even spend a night in one of the traditional houses. These houses have a sub-floor heating system, ensuring that the floor remains warm irrespective of the temperature outside.
Location: 99 Girin-daero, Pungnamdong 3(sam)-ga, Wansan-gu, Jeonju, Jeollabuk-do, South Korea
How to reach: One can take an express bus from Seoul Gosok Bus Terminal to Jeonju Express Bus Terminal and head to Jeonju Hanok Village via taxi from Jeonju Terminal.
Suggested Read: 6 Places To Visit In Seoul For A Spellbinding Trip To South Korea
6. Bulguksa Temple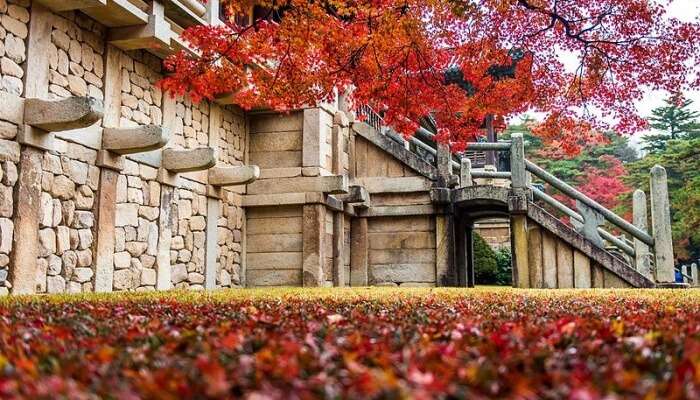 Bulguksa Temple was designated as a World Cultural Asset by UNESCO in 1995. It represents the relic of Gyeongju and was constructed in 528 during the reign of Silla Kingdom. The temple underwent numerous renovations between the 10th century to the 16th century and comprises of numerous cultural relics such as Dabotap Pagoda, Seokgatap Pagoda, Amita Pagoda, Saritap Pagoda and a lot more. One can witness the traditional tea ceremony and cherish the opportunity of waking up at the crack of dawn together with monks and explore the hallowed temple grounds. You can wander around the wooden and stone structures while admiring the vibrant red foliage.
Location: 15-1 Jinhyeon-dong, Gyeongju, Gyeongsangbuk-do, South Korea
How to reach: One can take the KTX from Seoul Station to Singyeongju Station to reach Bulguksa Temple.
7. Deoksugung Stone Wall Road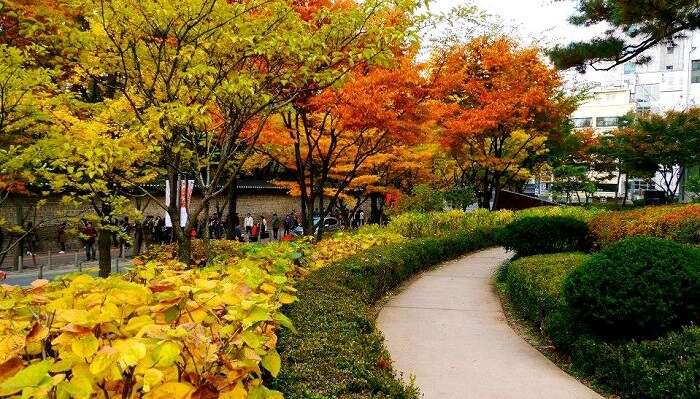 Image Source
Image Link- https://www.facebook.com/koreatourism/photos/a.10151929787967492/10151929796162492/?type=3&theater
With trees of yellow, orange, and red hues forming a canopy along the stretch of Deoksu Palace to Jeingdong Theatre, Deoksugung Stone Wall Road is an ideal destination for a romantic stroll along the path in the autumn period in Korea. Attracting both the locals and tourists alike, this Stone Wall Road has an extremely fascinating legend attached to it. It is believed that the couples who stumble upon the road together and pass across this path will eventually end their relationship. But numerous couples walk down to lane to defy this myth.
Location: 99 Sejong-daero, Seosomun-dong, Jung-gu, Seoul, South Korea
How To Reach: Take an exit from gate number 2 of the City Hall Station
8. Naejangsan National Park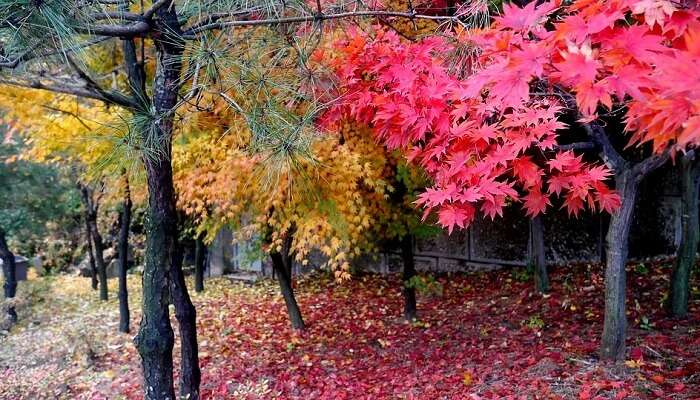 Boasting about numerous beautiful trees covering the floors, Naejangsang National Park is one of the most famous and iconic spots to enjoy autumn in South Korea. The paths surrounded by red and yellow leaves on both sides offer magnificent views of the wonders of mother nature. The National Park hosts a Maple Tree festival every year, simply adding to an already amazing experience. The Park provides an amazing spot to enjoy a picnic with some music and surreal views beneath a canopy formed by the towering, colorful foliage.
Location: 936 Naejangsan-ro, Naejang-dong, Jeongeup, Jeollabuk-do, South Korea
How To Reach: One can reach Naejangsan National Park by taking a subway line from Seoul Station to Yongsan Station then transfer to the KTX till Jeong-eup Station followed by boarding a local bus to the National Park.
9. Samcheongdong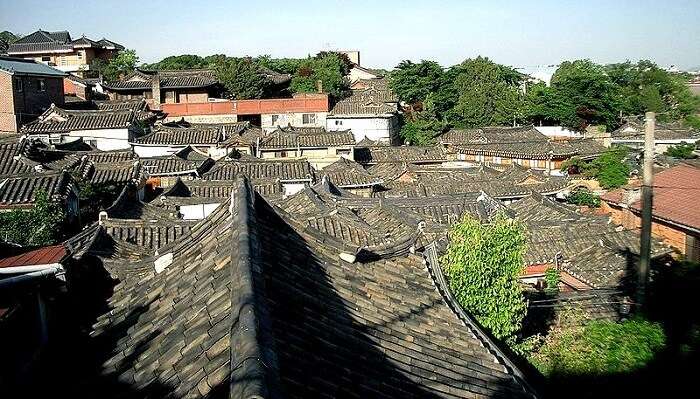 Often tagged as a hipsters hub in Seoul, Samcheongdong houses an impeccable number of cafes, art galleries, and vintage shops. This destination offers ideal spots for those travelers who just want to lay back and enjoy the world pass by. One can go and enjoy window shopping, vintage shopping, or just simply grab a cup of coffee and observe the people passing by under the colorful and vibrant trees of the country.
How To Reach: Take an exit from gate 1 of Anguk Station
Further Read: 8 Hotels In South Korea That Are All About Class, Comfort, And Convenience!
Are you planning to visit South Korea this autumn? Autumn in Korea makes one witness the vibrant flora and fauna amidst the serene landscape making your stay unforgettable. Book a trip to Korea through TravelTriangle to experience the enticing beauty to this magnificent place during autumn.
Frequently Asked Questions About Autumn In Korea
Q. What months are autumn in Korea?
A. Months from September to November are the autumn months in Korea.
Q. How cold is autumn in Korea?
A. The autumn is pleasantly cool in Korea. Initially the temperature ranges somewhere around 20 degrees Celsius, but as the autumn ends, the temperature rises up till 10 degres Celsius.
Q. When is autumn in Korea 2023?
A. Autumn in Korea in 2023, falls between the months of September to November.
---
People Also Read
Hiking In Azerbaijan Autumn In Japan Autumn In Jammu & Kashmir