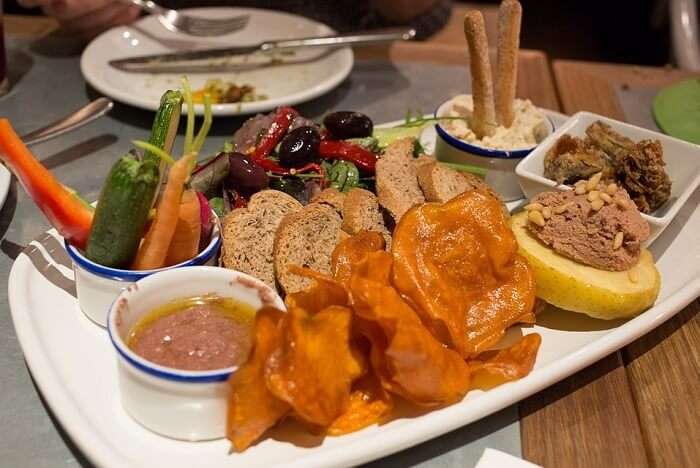 The city of Barcelona has so much history and culture lining up its streets that it ends up featuring in every bucket list. From the formidable architecture of Gaudi and other masters to the sandy beaches and art treasures like Museu Picasso, the city has something for everyone. Barcelona food is another big feature of the city, with specialities like Paella and drinks like Cava making the tourists go gaga over the ways of this beautiful place. Add to that innovative platters like tapas and you have yourself a food heaven. The food prices in Barcelona are not that high which makes it quite easy to experiment and explore.
Although, the food in the city is primarily catering towards non vegetarians, there are many options for vegans and vegetarians as well. Seafood dominates and tomatoes are used quite in abundance along with garlic and onions to create flavours. Read on to know more about Barcelona food that you should definitely try once you are in the city.
Top 10 Barcelona Foods
1. Pa amb Tomaquet
Tapas are a prominent feature on the Spanish cuisine, and definitely one of the food to try in Barcelona. The city has a number of good restaurants with tapas to offer. One prominent dish that stands out from all others is Pa amb Tomaquet, or bread with tomato. The bread is greased with olive oil, tomato juice, and crushed garlic, which is then popped in the oven and you have a beautiful dish ready to be savoured any time of the day!
Additional Info: Best thing about tapas is the wide variety of options you get, which lets everyone from vegetarians to non vegetarians enjoy the meal.
Where to try: Bar Tomas, Barcelona
Must Read: Barcelona In Winter: A Complete Account To Help You Plan A Wintry Spanish Spin
2. Paella
This is the answer to every question asking what food is Barcelona known for. Think lots of rice and seafood and you would have yourself delicious Paella. The dish originated from Valencia region, but has become a popular addition to the Catalonian cuisine. There are different versions of it like the fideua, which is prepared using thin noodles unlike paella which is made of rice. Both the dishes have squids, prawns, shellfish, and other kinds of seafood. However, when the dish originated, beans and meat was used. Another prime feature of paella is the flat, wide pan in which it is cooked and served, which makes it a feast – almost communal – kind of dish!
Where to try: Kaiku, Barcelona
3. Fricando
A mainly stew-kind of dish, Fricando is native to the Barcelona region. An intimate part of the Barcelona food culture, the dish is prepared by mixing meat and mushrooms in a thick gravy. A family gathering is usually incomplete without having casserole of this delicious meat gravy with loaves of bread. Normally white wine or brandy is used to reduce the rich sauce and the meat used is veal or beef. You can also try the meatless version using different kinds of vegetables, peppers and heaps of mushrooms as well. The dish is very different from the traditional European take on meat dishes and tastes somewhat like a meat casserole.
Where to try: Can Paneda, Barcelona
Suggested Read: Celebrate Christmas In Barcelona For An Amazing Insight Into The Spanish Traditions
4. Calcots
An unusual street food for sure – Calcots are roasted greens. Yes, on the streets of Barcelona, you will come across stalls, barbecues serving calcots with delicious sauces. Oh, and usually gloves are used to eat the dish. Calcots in fact are a type of green and sweet-tasting onion, somewhat like spring onion, but quite bigger, which are grown in this region. This beautiful vegetable is then barbecued and served as a snack on the streets. The dish is a seasonal one, with winters being the high time for this amazing spectre. The salsa served with calcots is made of almonds, garlic, peppers and tomatoes.
Additional Info: Do visit the local markets like the Boqueria market to check out fresh calcot in its natural state.
Where to try: Best place to try calcots is the countryside, which makes for a great Barcelona food tour. However, any street stall is more than enough for a little calcot treat in December.
5. Mato
No one goes to Europe and come without tasting the hundreds of different kind of cheeses native to different cities and countries, which is why certainly a good food in Barcelona to try is this delicious cheese which melts in the mouth. Although it is Switzerland, Belgium or even France, which are most famous for their cheeses, Spain itself has a lot to offer when it comes to the milky treat. One of such cheese is Mato. This soft and sweet cheese can most closely be defined like a ricotta, which makes it a must-try for most people. It is primarily used as a dessert in the area, served with figs, walnuts and honey. Made of goat's milk, this cheese should definitely be tried once in the Catalonia region.
Where to try: La Pubilla
Suggested Read: Barcelona In December: 10 Must-Have Experiences That Will Make Your Winter Trip More Magical
6. Escalivada
Another vegetarian delight – this colourful, healthy and delicious dish is what you need to understand and explore the Spanish cuisine better. There are so many different versions of it available – hot or cold, using different ingredients ranging from red and yellow peppers, eggplant or even tomatoes and onions. The vegetables are grilled in an open oven which lends the dish a smoky flavour. Olive oil is drizzled on top after putting it all on bread along with garlic, salt and pepper. Sometimes, you can also have anchovies added to it, which takes it up several notches. For sure a definite entry on every Barcelona food guide!
Where to try: Sesamo, Barcelona
7. Bacallà amb samfaina
Due to its proximity with sea, Catalonian food is full of varieties of dishes made of produce from the sea. You will see a lot of dishes made of squids, fish, shellfish or cod – which is the case here as well. Cod is usually salted for three days before eating in this area. One of the most popular food in Barcelona is this dish made of cod fish topped with a thick sauce prepared with onions, tomatoes, garlic and different vegetables. This is the dish to try if you like something like Bolognese or Ratatouille. It is a delicious mix, where tomatoes and fish definitely dominate the flavour.
Where to try: Bodega Biarritz, Barcelona
Suggested Read: Barcelona In October: Experience The Grandeur In The Rusty Colors Of Fall
8. Bombas
Another type of tapas, but definitely worth a mention just for the history, is this delicious dish. Bombas, as the name makes clear is a reference to bombs or grenades that were being used in the area against the ruling regime during the Spanish Civil War. A local chef was inspired by the fight and came up with a potato dish which draws its inspiration from the shape of the bombs itself. The croquette is almost as big as a tennis ball. It is thus served with a red (spicy) and a white (creamy) sauce. One representing the fuse lighting the grenade and the other representing the fire that was to follow. Although one does not get proper Asian or Chinese food in Barcelona, dishes like this are tasty enough for survival.
Where to try: La Cova Fumada, Barcelona
9. Esqueixada de bacallà
Another dish featuring the cod or bacalla as the natives call it. This is one of the best food in Barcelona that you can try. A local, authentic dish, this is basically a salad which is made of shredded fish, mixed with peppers, onions, olives (ofcourse), tomatoes and a dab of olive oil. Served with romesco sauce, this is a zesty, tangy dish for hot summer nights. The salted cod is definitely one of the most used ingredients of the Catalonian cuisine, which makes the dish a solid, genuine flavour.
Where to try: La Vinateria del Call, Barcelona
Suggested Read: A Guide To Barcelona In March: A Traveller's Paradise
10. Crema Catalana
A Spanish take on Creme Brulee, this is the best dessert in the area no doubt. A vanilla custard is flavoured with lemon zest and cinnamon and the top is caramelised by putting the dish in a broiler. Mind you, no flames are used in this one. The French and Catalans have been arguing over who came up with the dish, but we are just glad that someone did. This creamy, sweet, smooth texture is all you need on balmy nights with a glass of wine or cava.
Where to try: Pastisseria Escribà, Barcelona
Further Read: 8 Ravishing Water Parks In Barcelona To Stay Cool And Beat The Heat!
So, how do you feel about trying Barcelona foods? If you haven't yet experienced the heavenly tastes of these exclusive dishes, plan a trip to Spain right away and indulge in the fun of savouring the best Spanish dishes Barcelona offers that you'll remember your whole life!
---
Looking To Book An International Holiday?
Book memorable holidays on TravelTriangle with 650+ verified travel agents for 65+ domestic and international destinations.
---