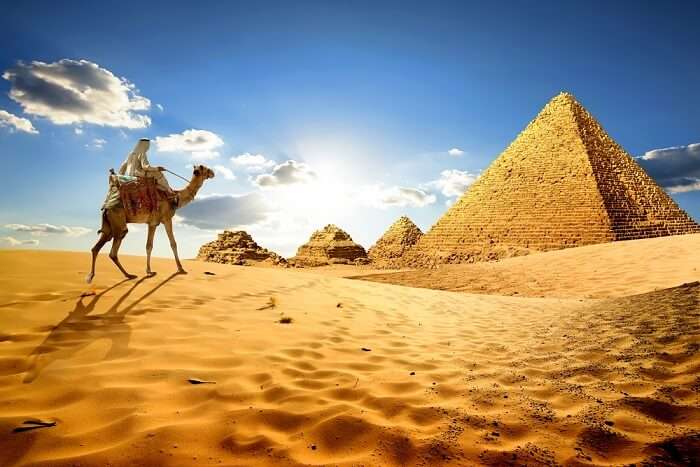 Egypt is known for its mighty Nile River, magnificent monuments, it's beguiling desert and let's not forget the lush delta. Egypt has so much to offer to travelers looking for a country with a mix of diverse activities that combine culture, history, and adventure. So, don't think twice because we've made the perfect tour guide of Egypt to give you a dose of travel inspiration, that will charm you into taking a trip to Egypt in no time.
Scroll down and find out what the ancient country has to offer to just about any kind of traveler.
Best Time To Take A Trip To Egypt
The best time to visit Egypt would be from October-April because during these months the weather is extremely pleasant, which makes it easier for you to explore the ancient city and visit the monumental sights.
However, December and January are considered to be as the peak season, this is when all the iconic sights get extremely crowded with tourists. But, if you can handle a lot of crowd then visiting Egypt during Dec-Jan is simply perfect too.
How To Reach Egypt
Image Source
Egypt is very well-connected and it has multiple airports which makes it extremely accessible and easy to travel for you to make your way to the historic sites. Depending on your travel plan, we would suggest you land in the most closest location, considering where you would be spending most of your time.
But, the best way to reach Egypt is by air, you can either land in the Cairo International Airport or Luxor International Airport, which are the main airports in Egypt. After which, you can easily hail a cab or a bus from the airport, and make your way to your hotel freshen up, eat and head out to explore the ancient marvels of Egypt.
If you have more time on your hands, then you can even plan on reaching Egypt by taking a cruise with your friends and family, and make your trip to Egypt even more memorable.
Must Read: 9 Most Magnificent Egyptian Monuments That Will Put You In A Trance
Ideal Duration Of A Trip To Egypt
If you've taken time off strategically from work to plan a trip to Egypt, then just staying 2 or 3 nights will not cut it. The ideal duration of stay should be at least a week or two, because there is just so much to explore in Egypt. Then, you would have ample time to visit different locations, and would also equally enjoy some alone time in Egypt. So make sure you are planning your trip to Egypt accordingly, because what's the point of traveling so far when you don't have enough time to enjoy the sights, sounds and take full advantage of the cost of trip to Egypt entirely.
5 Best Places To Visit In Egypt
If you ask us almost anywhere in Egypt is a good place to visit. But, we have a made a list of the 5 best places to visit in Egypt, which will definitely not fail to impress you.
1. Pyramids of Giza
This one of the last surviving Seven Wonders located in Egypt, the Pyramids of Giza, is recognised globally. These pyramids were built as tombs for the great Pharaohs of Egypt, they were guarded by Sphinx, which are simply stunning from every angle. This ancient site is simply beautiful and it will leave you wondering how did they even build these magnificent structures without the help of any machinery. Today, these sites are visited by millions of tourists from all over the world to witness Giza's iconic monuments of history. So, make sure to add Pyramids of Giza to the list of places to visit in Egypt.
Suggested Read: A 4000 Year Old Tomb In Egypt Has Just Been Opened For Public & It'll Leave Your Mind-Boggled!
2. Cairo Egyptian Museum
If you are a history buff or someone who appreciates meticulous craftsmanship used to make the ancient monuments of Egypt, then Cairo's Egyptian Museum is the perfect place for you. This museum is considered to be one of the most famous museums in the entire world, it is filled with countless relics which will teleport you back in time. The section upstairs has the most fascinating royal mummies and the glory of the great King Tutankhamen. Almost every nook and corner of this museum is bound to captivate you with its ancient history, so don't miss out on paying this museum a visit.
3. White Desert
Have you ever seen a White Desert in your life? Well, Egypt has the most surreal White Desert that you can ever imagine. The White Desert is filled with chalk shaped mountains which create the look of small snow caps or mushrooms in the middle of sand. White Deserts' landscape is will feel like you've just stepped into a science fiction novel, or movie. This place is must see for all desert lovers, nature lovers, adventure seekers, and just about anyone who likes visiting the most unique sights nature has to offer.
Suggested Read: 20 Unique Things To Do In Egypt That No Travel Guide Will Ever Tell You About
4. St. Catherine's Monastery
This tranquil monastery is located at the foot of Mount Sinai, also known to be the place where Moses received the Ten Commandments. This monastery features the most holy collection of religious art, iconography and manuscripts, which you can see on the on-site museum. To reach this monastery, you would have to take a hike up the beautiful Mount Sinai. After which, you can either catch the sunrise, or, sunset depending on the time you started making your way up the mountain. Whether you are alone or on a holy family trip to Egypt, St. Catherine's Monastery is a must-see.
5. Alexandria
If you are missing doing a bit of shopping or starting your day savouring a cappuccino in a cafe, then Alexandria is just up your alley. Alexandria, was founded by Alexander the Great and was also considered to be the home of the stunning Cleopatra. This city is one of the most European cities located in Egypt, the atmosphere is simply wonderful and pleasant where you spend your time just relaxing by the seashore and taking strolls. If you want to go shopping then this place is just perfect to do so with its souk.
5 Best Things To Do In Egypt
Other than charming attractions, Egypt is also loaded with thrilling activities that travelers love to engage in during their trip. Which one of these would you like to try?
1. Go with the flow at the Nile River
Visiting this incredible river is truly great, because without this river there would literally be any sign of fertile land, food and even electricity. The Nile River is a great provider r Egypt, and the best part is that the river can also be seen from many of the ancient monuments as well. So, when you are in Egypt make sure you visit the great Nile River and appreciate its beauty. And, who wouldn't want to visit the Nile River, it is simply the most breathtaking place to be at.
Suggested Read: 17 Mystical Places To Visit In Egypt, The Gift Of The Nile!
2. Visit the pyramids, tombs and temples
Let's state the obvious, anyone who is thinking about planning a trip to Egypt, has definitely thought of visiting the majestic pyramids, tombs and temples of Egypt too. These monumental sites are visited by people from all over the world. Some of the most popular sites would be the Pyramids of Giza, Abu Simbel, Valley of the Kings, Luxor's Karnak Temple and Temple of Osiris just to name a few. So make sure to add these sites to your list when you are planning a trip to Egypt pyramids.
---
Planning your holiday but confused about where to go? These travel stories help you find your best trip ever!
Real travel stories. Real stays. Handy tips to help you make the right choice.
---
3. Sip on some tea on a riverboat restaurant
Aswan is known to be one-of-the most tranquil towns located in Egypt. This town is just perfect to relax and unwind, before you make your way home. You can take a river ferry to Elephantine Island, and take a stroll in the colourful streets of the Nubian villages in Egypt. After which you can hitch a ride on a camel's back and visit the desert monastery of St. Simeon located on the East Bank. And last but not least watch the sunset on one of riverboat restaurants here in Aswan, while you sip some delicious tea and pass by the Egypt's most historic monuments and temples enroute.
4. Work on your tan in South Sinai
Egypt has some of the most beautiful beaches in the South Sinai region located on the South Sinai Peninsula. Sharm el-Sheikh is filled with resorts which will make you feel like you are in a European city. It is full of international restaurants, bags and lots of activities which is plenty to keep any traveler entertained during their visit. If you are looking for a low-key beach town, then Dahab is perfect for that, it has many budget friendly desert excursions and sea adventures that you can take part in. South Sinai is known to be one of the most beautiful diving destinations in the world, so if you are looking to explore beautiful coral and the marine life in Egypt, then is location is ideal for it.
5. Shop like never before at the Khan el-Khalili souk
If you are looking to shop for some trinkets and souvenirs, then the Khan el-Khalili souk is apt for you. The market is surrounded by some of the most beautifully preserved architecture dating back to the old Islamic empire. There is plenty to explore and shop here you can find tiny workshops of coppersmiths, and stall filled with textiles, ceramics, spices and perfumes. We are sure that you will definitely find a thing, or two to take home with you here.
The Best Accomodations In Egypt
There are many beautiful locations available in Egypt which will suit any traveller looking for comfort, convenience and some culture. Here are the 5 best accomodations that you can stay when you are planning a trip to Egypt.
1. Hilton Luxor Resort & Spa
This luxurious property is truly one of a kind, it is located on the banks of the Nile River. And, the hotel is known for its world-class service and facilities offered to their guests such as chic rooms, spa, infinity pools and lets not forget the tranquil location. This is the perfect place which is close to iconic monuments, the Nile River and your heart. You can come back after a long day of exploring Egypt and head down to the spa and get a relaxing massage to ease those tight muscles. This is the best place for travellers who are looking for comfort, luxury and convenience in the city of Luxor.
Suggested Read: Newly Discovered 4,400-Year Old Tomb In Egypt Is Stealing Giza's Thunder Big Time
2. Four Seasons Hotel Alexandria
Four Seasons Hotel Alexandria is located just a 2 minutes away from the beach, this place is perfect for anyone who loves spending time by the sea. This hotel overlooks the beautiful waters of the Mediterranean Sea and offers its guest a spa, outdoor pool, amazing restaurants on terraces with great views and ofcourse free Wi-fi which will keep anyone entertained. So if you are looking forward to indulge in some great local cuisine with international standards, shopping and water activities then this place should do the trick.
3. The Royal Savoy Sharm El Sheikh
This amazing property is conveniently located close to the Sharm el-Sheikh International Airport, which means you don't have to travel much to reach your home for the next couple of weeks. You are basically in the city center, so there is lots to do such as going diving to explore the 250 different types of corals, or just spend time laying on the beach while you sip on exotic cocktails from one of the beach bars here. This place will never disappoint you in terms of its service, location, activities, and luxury.
Further Read: 10 Best Honeymoon Places In Egypt To Visit In 2022 For A Romantic Stint By The Pyramids
The list just keeps on getting better and better on what you can do during your trip to Egypt this year. So, don't think twice. Just book your trip to Egypt and escape to this ancient paradise of charm and mysticism!
---
Looking To Book A Holiday Package?
Book memorable holidays on TravelTriangle with 650+ verified travel agents for 65+ domestic and international destinations.
---