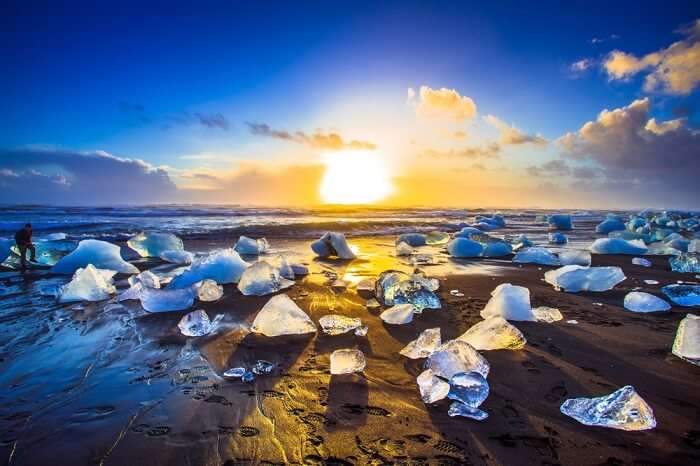 Iceland is home to some of the most enchanting beaches in the world. The beaches in Iceland offer some of the most picturesque views in the world, be it the Northern Lights, the Blue Lagoon stunning beaches and a one of a kind experience. What more could you ask for? Iceland has it all.
Iceland is an island located at the edge of the Arctic and choosing one beach to be the best is just impossible, because the Iceland beaches are simply captivating. It is a destination which will definitely leave you star-struck with its magnificent beaches, and the famous Northern Lights.
The Best Time To Visit The Beaches In Iceland
The best time to visit these beaches is during the summer when you can also see the sun at midnight. This will also help you keep warm in Iceland. But, in the winter these beaches transform into the most beautiful sights ever, as they completely covered in snow.
The views in Iceland will never let you down anytime you plan on visiting this place. This is one place which is known for its untouched landscape, magnificent glaciers and home to some of the most friendly people. February, March, September and October are the months typically visited by tourists to get a glimpse of the Northern Lights.
10 Of The Most Enchanting Beaches Of Iceland
To get you started, we have created a list of the 10 best beaches in this gorgeous country that will definitely blow your mind with their stunning views.
Black Sand Beach
Diamond Beach
Nautholsvik Beach
Solheimasandur Beach
Stokksnes Beach
Dyrholaey Beach
Ytri-Tunga Beach
Djúpalónssandur Beach
Rauðisandur Beach
Búðir Beach
1. Black Sand Beach
The Black Sand Beach in Iceland, located on the south coast of Iceland is famous for its black sand beach. Which gets its color from the volcanic ash. It's safe to say that it feels like you're on a different planet altogether when you are at the Black Sand Beach in Iceland. The Black Sand Beach in Iceland is surrounded by the rocky basalt columns. Many of the Icelandic beaches are known to have black, golden and even red-colored sand beaches due to volcanic ash mixing with the sand.
This is also one of the many reasons for tourists to flock to the beaches in Iceland from across-the-globe every year. However, whenever you do plan on visiting the Black Sand Beach in Iceland, it is best to check the weather and make sure you always carry supplies with you such as warm waterproof clothes, food, phone, a tent, extra blankets, flashlights and lastly don't forget to bring your camera.
The weather in Iceland is quite unpredictable when the wind and waves are known to change rapidly during the winters. As much as you are tempted and mesmerized by the beauty of the landscape make sure to stay safe and sound during your visit here.
Location: Reynisfjara
Must Read: Iceland In December: 15 Experiences For Having The Best 2021 Winter Vacay Ever!
2. Diamond Beach
The Diamond Beach in Iceland is one of the most visited and popular beaches in Iceland. It gets its name from the beautiful huge blocks of ice, which wash up on the beaches shoreline from the Jökulsárlón Glacier Lagoon. And, the best part is that these chunks of ice, look just like huge ice diamonds rocks. This place is by far one of the most unique places on earth and where else would you be able to see a beach filled with ice diamonds.
Since the beach is located by the Jökulsárlón Glacier Lagoon you can also pay the lagoon a visit along the way. This Breiðamerkurjökull glacier belongs to the Vatnajökull Glacier National Park, and some of the huge blocks of ice are more than 1000 years old.
Visiting this beach is like stepping into a magical world, which is waiting to be explored by you. And if you are lucky you will definitely see a few seals swimming in the water, or relaxing on the beach. So, make sure you visit Diamond Beach in Iceland.
Location: Jökulsárlón Glacier Lagoon, South-East Iceland
3. Nautholsvik Beach
Nautholsvik Beach is one of the most popular sandy beaches located in Iceland's capital Reykjavik. The most awesome thing about this beach is that it's a thermal beach which is heated by water that flows directly into the bay. So, feel free to take a dip in the water without a worry because the water is warm enough to enjoy swimming and bathing as well.
This beach also has 2 freshwater pools and has public amenities which is well suited for families as well. However, surfing isn't allowed on the beach due to safety reasons. If you would like to enjoy some time relaxing and bathing in the water, then you should definitely come to Reykjavik and pay Nautholsvik Beach a visit.
Location: Reykjavik (Greater Reykjavik Area)
Suggested Read: Did You Know? You Can Take The World's Only Active Volcano Tour In Iceland!
4. Solheimasandur Beach
The Solheimasandur Beach in Iceland is located just ten minutes away from the Skogafoss Waterfalls. The beach is also home to a plane wreck, so if this isn't tempting enough, then we don't know what is! You can easily hike up to the plane wreck which lays on this Black Sand Beach in Iceland.
Don't worry there isn't a sad story behind this plane crash, as everyone on-board survived the crash, making this visit even sweeter. Solheimasandur Beach plane wreck is about 4 miles back and forth from the Ring Road. Make sure you wear proper shoes while visiting this beach, as you would be walking on the rocky black sand on your hike to the wreck.
Location: Solheimasandur, Iceland
5. Stokksnes Beach
Stokksnes Beach is located in the southeast coast of Iceland. The best part about this beach is that you can see a giant mountain kissing the sea, resting proudly on a black sand beach. The views here are to literally to-die-for and you will definitely be in awe with your first view of the beach and the proud mountain on the black sandy beach.
Pictures definitely don't do any justice to what this beach has to offer it is just wickedly mesmerizing views. Stokksnes Beach is also a great place for seeing the renowned Northern Lights due to the beach being dark in color.
Stokksnes Beach is also free from tourists and secluded, so if you want to enjoy breathtaking views surrounded by nature's untouched beauty, then you should definitely pay Stokksnes beach. There is a small fee to pay to enter Stokksnes beach, but it is totally worth it to get the chance to view this beautiful location.
Location: Vestrahorn
Stokksnes Peninsula fee: INR 488.05
Reykjavik to Stokksnes Beach by car: 6 hours
Suggested Read: Let Us All Raise A Toast To Iceland's Beer Spa!
6. Dyrholaey Beach
Dyrholaey Beach is nothing like the other black sand beaches of Iceland. It is one of the most famous beaches in Iceland, known to be filled with huge ice rocks floating on the water surface. And, these aren't small rocks. So don't be surprised to see huge ice blue blocks floating around, which reflect the colors of the sky and the sun rays. The beach is can be seen in two ways from higher points looking down at the beach or from the lower part of the beach by the shoreline.
Dyrholaey Beach is filled with spectacular viewpoints, so you can enjoy watching a beautiful sunrise or a stunning sunset. At the Dyrholaey Beach, you can expect to get a birds-eye view here Beach you are at a high altitude level. The natural arches carved into the rocks standing tall in the water will definitely get your attention.
Dyrholaey Beach is closed during 1st-12th of May and then has limited access until the middle of June. During nesting season, the lower part of the beach is open for cars, while the higher path is only open for people to explore by foot. So, it is best to keep all of these aspects in mind, before you make your way to Dyrholaey Beach. You can also spot puffins and the famous Arctic terns which nests here too during the summertime.
Location: Vik
Suggested Read: An All-Paid Trip To Iceland For 3 Months! This Summer Wow Air Is Offering The Coolest Job Ever
7. Ytri-Tunga Beach
Ytri-Tunga Beach is located on the south coast of Snæfellsness, this beach is known to have a glistening golden color shoreline. It is surrounded by wild grass and low dunes giving this beach its unique look. This beach is also home to a colony of seals which can be seen sitting and laying on the rocky parts located on the beach. Ytri-Tunga's golden colored sand beach is a sight you shouldn't miss out on when you are in Snæfellsness.
Location: Snæfellsness
8. Djúpalónssandur Beach
Djúpalónssandur Beach is located on the south coast of Snæfellsness, which is just about 124 miles away from Reykjavík. It is known to have some of the most beautiful cliffs which are some of the most unique and bold formations that you can see during your visit to Iceland.
While you are visiting Djúpalónssandur Beach you can also get the chance to get a glimpse of the beautiful Snæfellsjökull icecap glittering in the distance. This beach is also known as the "Black Lava Pearl Beach".
Location: Snæfellsness
Suggested Read: 18 Magical Reasons To Visit Iceland That You Just Can't Say No To!
9. Rauðisandur Beach
Rauðisandur Beach stretches a glorious 10 km from the well-known Látrabjarg bird-cliff in Westfjords, 390 km (243.three mi) from Reykjavík. And, if you want limitless expanses of the golden sand in a secluded and unspoiled location, this is the beach you should definitely visit!
Rauðisandur is not easily accessible, but it is definitely worth paying a visit. If you are visiting the beach during summer you can spot puffins at the famous Látrabjarg bird-cliff. Rauðisandur also means 'red sands', and the rich golden sand here surely has plenty of red hues. If you see the seashore in a softer light, then you can definitely notice why some say this Icelandic beach is pink in color.
Location: Westfjords
10. Búðir Beach
If you are in Snæfellsness, then you should definitely visit Búðir Beach located on the western tip of the Snæfellsness Peninsula. This charming beach is one of a kind. It was once a fishing village, but it was soon abandoned in the 19th century. So, you can imagine what this place might look like!
Apart from the beach, there is a little black church and a hotel that is situated just a small walk away from the beach. Imagine just laying here and losing track of time, enjoying the gifts of nature.
Búðir Beach has a yellow colored sandy beach and a few lava rock formations that frame the beach. You will also get the chance to see a few seals enjoying their time here, and I mean who wouldn't want to call this place their home. You can also enjoy a small picnic here if you are visiting Iceland during summertime.
Location: Snæfellsness Peninsula
Further Read: The Retreat At Blue Lagoon Iceland Has A Perfect Escape Plan For Summers & We're Packing Already!
Definitely idyllic, these enchanting beaches in Iceland are known to leave a lasting impression on anyone who visits them. So, don't think anymore, pack your bags, and just visit the best beaches here. Let us help you organize the most memorable trip of your life to Iceland!
---
Looking To Book An International Holiday?
Book memorable holidays on TravelTriangle with 650+ verified travel agents for 65+ domestic and international destinations.
---