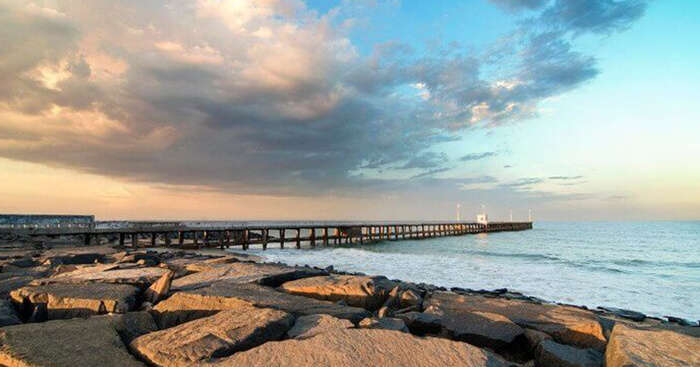 When you are planning a beach retreat, it is perhaps the best thing to do when the dullness associated with the ordinary routine starts weighing on you. It is true that every person in this world needs a break from the usual grind of work. But sometimes it becomes hard for one to consider the consequences early in life resulting in getting stuck on square one for too long. The solution is pretty simple and very ubiquitous too! Forget about the long vacations, these beaches near Chennai are an excellent way of breaking the chain of the usual drill. Beautiful seaside, sandy shores, and cool breeze all these sound tempting right? So, offer yourself a little break by immersing in these escapades and weave memories for a lifetime.
14 Beaches Near Chennai
Here are some of the places that offer pristine beaches you can visit without any hassle. Read about them in detail and include them on your next escapade!
Pondicherry
Mahabalipuram
Poompuhar
Karaikal
Manginapudi Beach
V.G.P. Golden Beach
Suryalanka Beach
Thengapattinam Beach
Marina Beach
Vodarevu Beach
Elliot's Beach
Thiruchendur
Sadras Beach
Covelong Beach
1. Pondicherry

This French capital of India will make you feel like you are someplace out of India when you visit places like the Rock Beach, Pondicherry Beach, Tranquillity Beach or the Botanical Gardens. And the finest place to see Pondicherry with the same notion is to visit Auroville and Sri Aurobindo Ashram where people from all over the world come to seek religiousness through yoga and meditation. Pondicherry was known by the name Vedapuri and this place is also believed to be the house of the revered sage, Saint Agasthya. Pondicherry had trade associations with Rome during the 1st century AD. The exceptional location of Pondicherry took the attention of Portuguese, Dutch, English, and French.
Things To Do In Pondicherry: Beach strolls and nature walks
Ideal For: All- Couple, Group, Solo, Family
Weather: 14° C
Location: Mussoorie, Uttarakhand, India
How To Reach Pondicherry: The nearest airport is at Chennai, which is about 148 km away. Pondicherry is connected by bus with Chennai.
Must Read: 16 Adventure Sports In Chennai That You Should Try To Kick In That Adrenaline
2. Mahabalipuram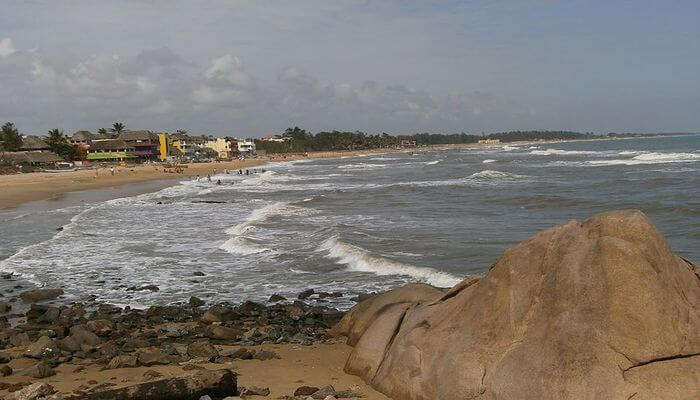 Mamallapuram or Mahabalipuram, as it is eminently known, is generally important and well-loved tourist location situated on the Coromandel Coast along the Bay of Bengal, beaches near Chennai. Well sculpted temples and astound cut caves are also famous. Once the home of the famed demon king Mahabali, Mahabalipuram was later retitled Mamallapuram. The serenity, the appealing atmosphere and the striking setting with many beautiful white sandy beaches dotted with casuarina trees are all reasons as to why one would want to visit this delightful town.
Some renowned tourist spots include the UNESCO world heritage site Group of Monuments like the Shore Temple and the Five Rathas, the Crocodile Bank which is home to some of the species of alligators and crocodiles, and the beach resorts in Kovalam and Sadras.
Things To Do In Mahabalipuram: Shore Temple, the Five Rathas, and beach walks
Ideal For: All- Couple, Group, Solo, Family
Weather: 14° C
Location: Mahabalipuram, Tamil Nadu, India
How To Reach Mahabalipuram: Chengalpattu (22 km) is the nearest railway station. However, Chennai railhead (60 km)
Suggested Read: Chennai In December: See What All You Can See And Do To Make Your Trip An Exciting Affair
3. Poompuhar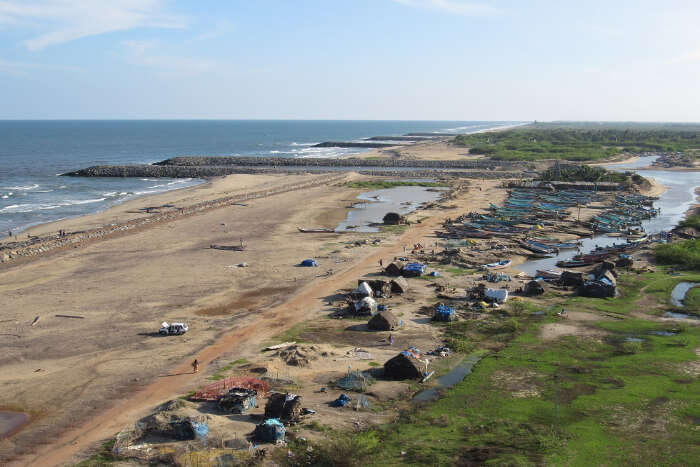 Poompuhar Beach is an expected and oldens beach located in Poompuhar, Chennai, India, along the Bay of Bengal. The seashore starts from the Kaveri river and spreads around 3 km north side towards Neithavasal. The sand of this coast spreads out around 3 kilometers.
Things To Do In Poompuhar: Zion Church, Silapathikaram Art Gallery, Town Gateway and beach walks
Ideal For: All- Couple, Group, Solo, Family
Weather: 14° C
Location: Poompuhar, Tamil Nadu, India
How To Reach Poompuhar: Poompuhar is well connected to Chennai and other cities by road, and hence you can easily approach it by road.
Suggested Read: 12 Places For Trekking Near Chennai: Gear Up For Ultimate Thrill And Fun
4. Karaikal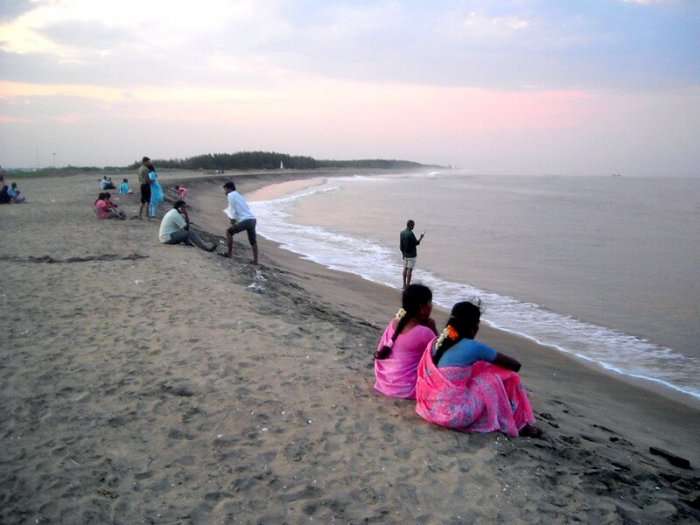 Karaikal in the Union the the territory of Puducherry is a captivating holiday destination to visit, especially for those interested in history and for those who are looking for sun, sand, and solitude. The region has had strong effects of both Indian dynasties as well as the French government that took over control in the past, giving it a flavor that is quite unlike any other.
Things To Do In Karaikal: Thirunallar Saneeswara Bhagavan Temple, Karaikal Beach, and beach walks
Ideal For: All- Couple, Group, Solo, Family
Weather: 14° C
Location: Karaikal, Tamil Nadu, India
How To Reach Karaikal: Poompuhar is well connected to Chennai and other cities by road, and hence you can easily approach it by road.
Suggested Read: 23 New Year Parties In Chennai: The Ultimate List Of Events
5. Manginapudi Beach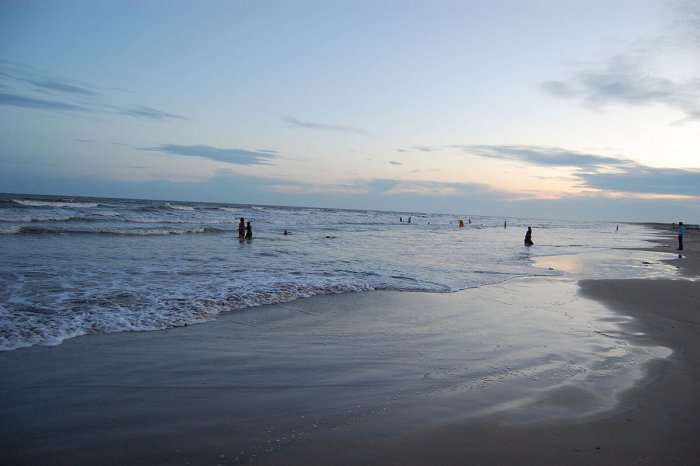 Very little seaside area is available near Vijayawada, therefore, there are very few beaches near Vijayawada, to travel. But the beaches near Vijayawada is utterly stunning and is prevalent for its tranquillity and quiet atmosphere. People visit here to observe the beautiful sunrise and sunset and boast of long gives of golden sands. The lengthy coastline makes it ideal for long walks and to bask in the sun. At some of these beaches near Chennai, you can also find fishermen at work.
Things To Do At Manginapudi Beach: Panduranga Swamy Temple, The Lighthouse, Temples of Lord Shiva, Shopping in Machilipatnam, Dattashram, Machilipatnam Church, Sai Maharaj Devalayam
Ideal For: All- Couple, Group, Solo, Family
Weather: 29° C
Location: Manginapudi Beach, Tamil Nadu, India
How To Reach Manginapudi Beach: Poompuhar is well connected to Chennai and other cities by road, and hence you can easily approach it by road.
Suggested Read: 8 Hotels In Chennai That Reeks Of Luxury And Comfort To Make The Vacay Extra Special!
6. V.G.P. Golden Beach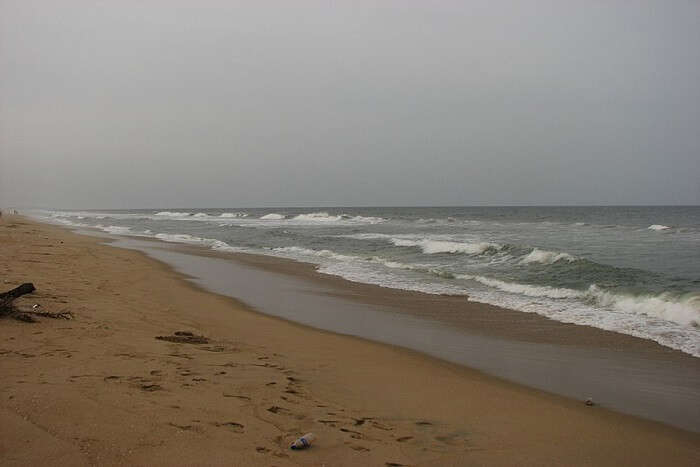 Considered as one of the uncontaminated and gorgeous beaches near Chennai, VGP Golden beach is one of the most popular destinations in the area by family and friends. This beach is a part of the VGP Universal Kingdom, which is a well-known amusement park and lies on the East Coast Road. This mesmerizing beach is an appealing part of the Bay of Bengal, with its even and silver sand situated on Marina, the second extended beach in the world. The rushing waves of the beach and the influential wind are like music to ears adding to the allure and exquisiteness of this place. The place is also regarded as harmless for one to pander in the act of bathing and swimming in the freshwater shower. Due to its unspoiled beauty and quaint landscape this beach is highly preferred by the masses and is also used as a shooting location for movies frequently.
Things To Do V.G.P. Golden Beach: VGP 2000 millennium Tower, Paneer fort and the Statue Man and beach walks
Ideal For: All- Couple, Group, Solo, Family
Weather: 14° C
Location: Injambakkam, Chennai, Tamil Nadu 600115, India
How To Reach V.G.P. Golden Beach: Poompuhar is well connected to Chennai and other cities by road, and hence you can easily approach it by road.
Suggested Read: 20 Most Romantic Restaurants In Chennai That Are Perfect For Your Next Date
7. Suryalanka Beach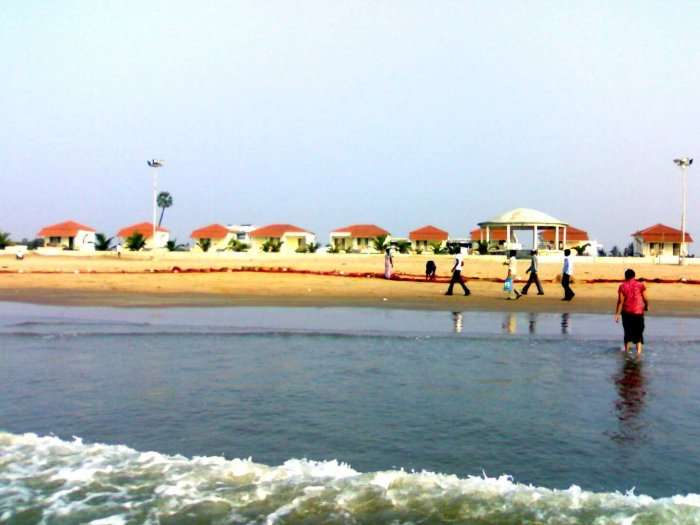 Suryalanka Beach is a widely held beach situated near Bapatla near Guntur. The beach is famed for the comprehensive views of the sun, sea, and sand. It is also ideal for swimming. Suryalanka Beach is the seamless weekend getaway beach to spend time with friends and families. The natural beauty of the beach is the chief draw for people, who are looking to refresh and revitalize themselves. The shore of the beach is extensive and voluminous. The Suryalanka Beach overlooks the quartz blue waters of the Bay of Bengal.
This beach is fairly safe for swimming and sunbathing is another common activity. Sunrise is very stunning at this beach. The main tourist attraction of the beach is sightseeing for dolphins in the month of November.
Things To Do Suryalanka Beach: Bhavanarayana Swamy temple, and beach walks
Ideal For: All- Couple, Group, Solo, Family
Weather: 24° C
Location: Suryalanka Beach, Andhra Pradesh India
How To Reach Suryalanka Beach: Vodarevu Beach is 28 km from here and can be visited together.
Suggested Read: 28 Famous Temples In Chennai That Are Artistic, Spectacular And Divine!
8. Thengapattinam Beach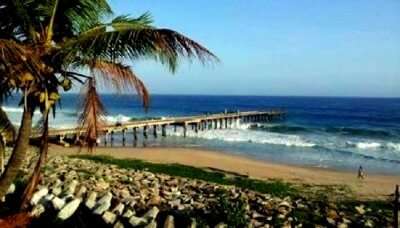 Image Credits: TripAdvisor The bottom most tip of this country, Thengapattinam Beach is perhaps among the best beaches near Chennai that you can visit in Kanyakumari. Also famed as Cape Comorin, Kanyakumari is also amongst the popular pilgrimage spots to visit when touring around the southern region. Dotted with nodding coconut groves, an enigmatic coastline, and pristine blue waters, this is a popular choice amongst those who wish to embrace a true experience of the beach. The picturesque beauty of this spot makes it look like right out of a postcard.
Things To Do At Thengapattinam Beach: Thirparappu Falls, Vivekananda Rock Memorial, Thanumalayan Temple
Ideal For: Group, Family
Weather: 22° C
Location: Thengapattanam, Kanyakumari, Tamil Nadu 629173
How To Reach Thengapattinam Beach: Thengapattinam Beach is close to Thengapattanam Pozhi and can be easily reached by a cab or an autorickshaw.
Suggested Read: 16 Road Trips From Chennai For The Roadie In You
9. Marina Beach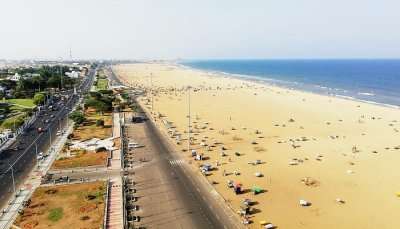 Image Credits: wallpaperflare Located just a few kilometers from the city, Marina Beach is famed for being the second longest beach not only in this country, but the entire world. The beach runs approximately 13 kilometers and is amongst the best beaches near Chennai as per the locals and tourists. The best time to visit this beach is either during the wee hours of the day or late evening. This is because the sunrise and the sunsets from this beach are a view to not miss out on. The stunning shades of pink, blue, and yellow merging together does form a picturesque painting-like view.
Things To Do At Marina Beach: Anna Park, Tomb of M.G. Ramachandran, Statue Of Labour
Ideal For: Family, Groups, Couples
Weather: 23° C
Location: Tamil Nadu
How To Reach Marina Beach: The best way to reach will be to take the MRTS train, then a train to the lighthouse, and cover the remaining distance walking.
Suggested Read: 14 Offbeat Chennai Getaways: Escape The Maddening Crowd
10. Vodarevu Beach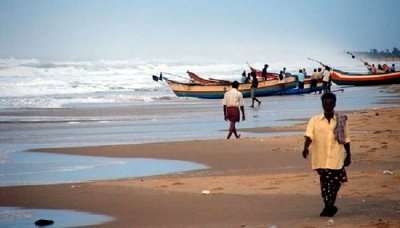 Image Credits: TripAdvisor Sitting on the coastline of Bay Of Bengal, Vodarevu Beach is a beautiful escape from the hustle and bustle of city life. This is a popular tourist destination in the town of Vijayawada and witnesses a constant flow of tourists clamouring all year round. This beach earned its fame by virtue of offering some of the most picturesque natural wonders in the form of sunsets across the sea that are spread as far as the eye can see. The tranquility, the ancient charm from the lighthouse, the chance to enjoy boating, and the several thrilling water sports make it one of the most exciting beaches to visit. T
hings To Do At Vodarevu Beach: Swimming, boating, The Sip and Dip Cottages, Jolley Home Resort, Ramapuram Beach Resort
Ideal For: All- Couple, Group, Solo, Family
Weather: 22° C
Location: Chirala, Andhra Pradesh
How To Reach Vodarevu Beach: Distance from Vetapalem railway to Vodarevu beach is 15 km, you can hire a cab or auto.
Suggested Read: 20 Best Waterfalls Near Chennai That Should Be On Your Travel Itinerary
11. Elliot's Beach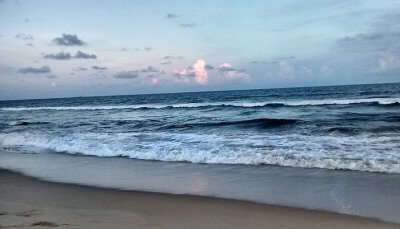 Image Credits: Karthikeyan Rathinam for Wikimedia Common Another one of the popular beaches near Chennai, Elliot's beach is located just a few kilometers from the city and hence, proves to be an impeccable spot for a quick getaway. This beach is famous for offering a complete leisure experience to travelers, making them enjoy some time off. This beach is commonly known as 'Bessie' among the locals there and has serenity exuding from its every corner. You can mainly find the younger generation strolling around the beach, soaking in the peace and beauty that it has to offer.
Things To Do At Elliot's Beach: Ashtalakshmi Temple, Velankanni Church, beach walk
Ideal For: All – Couple, Group, Solo, Family
Weather: 24° C
Location: Besant Nagar
How To Reach Elliot's Beach: Elliot's Beach has great network and transportation options from Chennai.
Suggested Read: Chennai Shopping: 21 Places Where You Can Splurge Your Money
12. Thiruchendur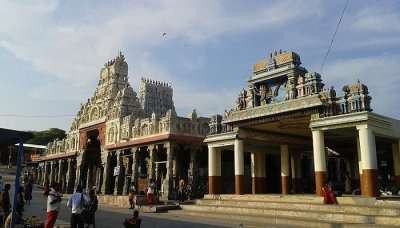 Image Credits: Ssriram mt Sitting in the proximity of Kanyakumari, Thiruchendur is a tiny coastal town that is famous for being a pilgrimage destination. Located in the Gulf of Mannar, this town is home to the famous temple of Lord Murgan which attracts hundreds of pilgrims all year round. This coastal town exudes old world charm and has some outstanding examples of Dravidian architecture covering its floor. Apart from the incredible temples, this town is also known for its extremely exciting and colorful festivals that take place here.
Things To Do In Thiruchendur: Attend festivals, beach walk, Aarumugaswamy, Padai Veedu
Ideal For: Family, Group
Weather: 21° C
Location: Tuticorin, Tamil Nadu
How To Reach Thiruchendur: Nearest airport is Tuticorin Airport. There are cabs easily available to cover the distance.
Suggested Read: 14 Best Beach Restaurants In Chennai For A Dinner Date With Views
13. Sadras Beach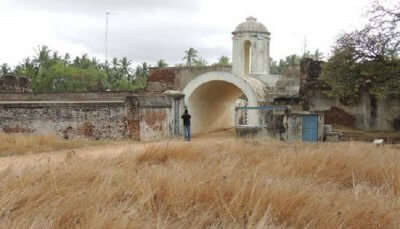 Image Credits: TripAdvisor This destination is a beach resort and offers the fine blend of a serenity and comfort in the arms of mother nature. Swaying palm trees, glittering white sand, and the cerulean waters makes this destination wholesome. You can also observe several Dutch ruins covering the floor of this destination. The lush greens that surround this beach are truly mesmerizing and can leave you in awe of mother earth. So, for a perfect beach experience, this is perhaps amongst the most popular beaches near Chennai.
Things To Do At Sadras Beach: Dutch Fort, Dutch cemetery, beach walk
Ideal For: All – Couple, Group, Solo, Family
Weather: 22° C
Location: Mahabalipuram
How To Reach Sadras Beach: When traveling to Chennai from Pondicherry via road, it is the best to take a turn from Vengambakkam Junction that will take you straight to the beach.
Suggested Read: Nightlife In Chennai – What's Hot And What's Not
14. Covelong Beach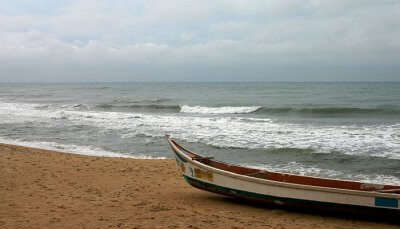 Image Credits: Prateek Rungta for Wikimedia Commons Located in the middle of Chennai and Mahabalipuram is this gem of a destination was initially a fishing village and in the present day, it is a well-known beach resort. One of the popular places to visit, this destination exhibits an old seaport that existed here and hence, has a touch of old-world charm latched to itself. If you plan to visit a few beaches in the southern part of the country, you should definitely consider paying a visit to Covelong Beach. There are also several water sports that you can enjoy in this spot.
Things To Do At Covelong Beach: Swimming, WindSurfing, Shore Temple, Pancha Rathas
Ideal For: All – Couple, Group, Solo, Family
Weather: 22° C
Location: Mahabalipuram
How To Reach Covelong Beach: The best way to reach Covelong from Chennai is by road, a journey of around 45 minutes by car.
Further Read: 53 Tourist Places Near Chennai: Reasons To Look Forward To Your Weekends In Chennai
One of the most perfect things to do after a long and hectic day is to take a stroll along the beaches. Although city life brims with a cascade of colorful activities, beaches provide a healing touch to the soul. The coastal getaways tucked away from Mysore are nothing short of an unexplored cosmos. The beaches near Chennai make a picture-perfect holiday destination for the coming weekend and organizing them correctly is one of the greatest ways to enjoy your stay.So, here are some of the beaches that you can visit while visiting Chennai and expand your horizons. They offer fun & entertainment at their best. It is also very easy to reach them. So, don't think too much and plan a trip to Chennai now!
Disclaimer: TravelTriangle claims no credit for images featured on our blog site unless otherwise noted. All visual content is copyrighted to its respectful owners. We try to link back to original sources whenever possible. If you own rights to any of the images and do not wish them to appear on TravelTriangle, please contact us and they will be promptly removed. We believe in providing proper attribution to the original author, artist or photographer.
Please Note: Any information published by TravelTriangle in any form of content is not intended to be a substitute for any kind of medical advice, and one must not take any action before consulting a professional medical expert of their own choice.
Frequently Asked Questions About Beaches Near Chennai
Which is the cleanest beach near Chennai?
Cleanest Beach near Chennai – Besant Nagar Beach.
Which ocean is in Chennai?
Chennai is the capital city of Tamil Nadu entices many people either as tourists or as part of its enormous workforce.
Is Chennai good for water sports activities?
Yes, a varying number of water sports activities are available in Chennai. There are various options for you to check out.
Are adventure sports expensive in Chennai?
Not really. The prices for these activities are justified, so you know that you aren't paying pointlessly.
Is the weekend enough to enjoy the adventure sports at beaches near Chennai?
Yes, as most of the adventure sports are in Chennai nearby places.
How far is Mahabalipuram from Chennai?
Mahabalipuram is located at a distance of about 55 km from Chennai.
How far is Pondicherry from Chennai?
The aerial distance from Chennai to Puducherry is 143 km while the the road distance between Chennai to Puducherry is 173 km.
---
People Also Read:
Beaches Near Mysore Beaches Near Coimbatore Beaches Near Bangalore