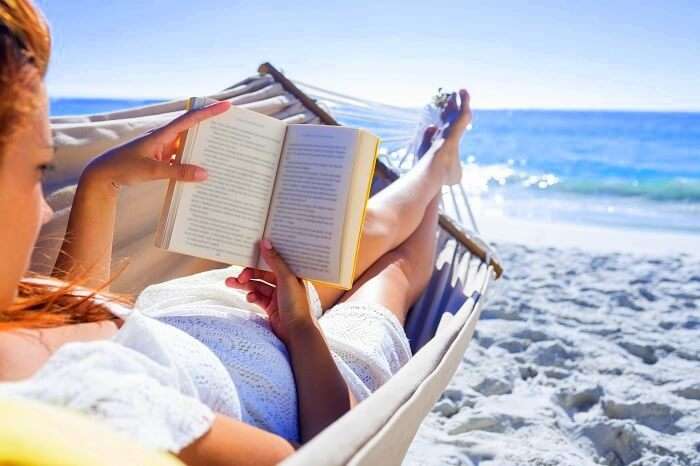 One of the most satisfying things a person can do on a vacation is to read a book. It doesn't matter if you are facing the majestic valley or the ocean waves, if you're a reader at heart, all you need is the sweet company of a words and we have just the perfect partner for you. Here's a list of top 15 books to read on a holiday. Choose wisely!
1. Into The Wild by Jon Krakauer

A riveting tale of how a young man from a well to do family leaves all his material possessions gives all his money to charity and hitchhikes into the wilderness north of Mt. McKinley. How he came to die is what is the crux of "Into The Wild". As a reader, I would suggest you to be cautious if you think you aren't ready to understand the complexities of why the protagonist did what he did. And yes, this tragic tale isn't that easy to read sort of a vacation book, but it will surely change the way you look at life and in the end, I guess, finding a new perspective is what a vacation is all about. Enjoy with caution and don't forget to watch its amazing movie adaptation by Sean Penn.
Goodreads Rating: 4/5
Must Read: 20 Best Travel Movies That Will Ignite The Wanderlust In You
2. Eat Pray Love by Elizabeth Gilbert

Sooner or later, life comes crashing down and we all need to go on a trip of self-discovery. Eat Pray Love is about that trip. It is about a woman in her mid-thirties who has gone through a painful divorce and a failed relationship and is now looking for answers to her questions on life. A voyage for finding pleasure, spirituality and a balance between the two. The book will take you deep into the realms of self-discovery and connect with you in a way life wants to. Starring Julia Roberts, the novel has also successfully made it to the big screen is a treat for both readers and cinema lovers. A perfect book to read on a holiday.
Goodreads Rating: 3.5/5
3. The Ministry of Utmost Happiness

Another great book to read on a holiday, The Ministry Of Utmost Happiness takes you on a journey that starts from the roads of Delhi and goes all the way to the mountains. The characters are beautiful yet damaged and are most probably patched together by love.
Goodreads Review: 3.5/5
4. The Subtle Art of Not Giving A F*ck by Mark Manson

One of the best books to read on a holiday, The Subtle Art Of Not Giving A F*ck explains in a subtle and yet sometimes explicit manner that why having a positive attitude all the time is not a good thing. Embracing the change and the fact that we are flawed human beings according to the author is the first step in understanding ourselves and cultivating an attitude of self-development. The book also talks about prioritizing the number of f*cks or (damn) we give to the things in our life so that we can focus on only those things that are important. Overall, this is a must-read for all people who need some motivation in their life to face their problems and also for those who have simply ran out of f*cks to give.
Goodreads Rating: 4/5
5. Looking For Alaska by John Green

A coming of age novel and also the first one by famous author John Green, Looking For Alaska, is about a teenager who has led a very uneventful life and who is obsessively inspired by the last words of the poet Francois Rabelais "the Great Perhaps". To find what life has in store for him, he goes to a boarding school and falls in love with a girl called Alaska Young. The story of how he intertwines and experiences the suffering of the girl and her unexpected death is what makes the book such an intriguing read. The uncovering of the reason behind her death and how he deals with it is what the book is all about. For someone who has ample time to go back in their teenage years and understand the feeling of not understanding anything, this is one of the best books to read on a holiday.
Goodreads Rating: 4/5
Suggested Read: 5 Contemporary Books That Will Inspire You To Travel To India
6. A Brief History of Time by Stephen Hawking

A book that will make you feel smarter and dumber at the same time, A Brief History Of Time talks about everything a nonscientist must know about the universe. From the origin to its structure to the Big Bang to the various theories, this is one of the shortest and yet most knowledgeable books to read on a holiday.
Goodreads Rating: 4.1/5
Suggested Read: Make Your Reservations At The Upcoming World's Largest Underwater Restaurant In Norway
7. The Palace Of Illusions by Chitra Banerjee Divakaruni

The Palace Of Illusions gives a reimagined Mahabharata tale from the point of view of Panchali, the wife of the five Pandavas. The book explores war, her relationship with her husbands, her friendship with Krishna, and her secret attraction to the most dangerous enemy of her husbands. Relevant in a war-torn time like now, the book reimagines what the complexities of war and life and gives us a glimpse into the balancing act of the wife.
Goodreads Rating: 4.1/5
8. Foundation by Isaac Asimov

The science fiction book from which major cinematic and literary marvels like Star Wars and Star Trek took inspiration. The founding piece of literature that gave way to a wonderful world of science fiction. Foundation, a trilogy is about reducing the upcoming doom of the Galactic Empire from 30000 years to 1000 years and tells the story of how Doctor Hari Seldon, a renowned mathematician aims to prevent it through the Seldon plan that would continue even after his death. A gripping story divided into various timelines, this is one hell of a book to read on a holiday.
Goodreads Rating: 4.1/5
Suggested Read: 10 Marvelous Rock Formations In The World Which Will Leave You Mesmerized!
9. The Lowland by Jhumpa Lahiri

The Lowland is a gripping tale of two brothers and the choices they make. While one of them becomes a Naxalite and dies, the other goes on to study in the USA and take care of his brother's wife. A tale of destruction and a new beginning and all the intimate thoughts in between, The Lowland will grip you with its portrayal of the Indian politics and Naxalite uprising and the way it affected the lives of two brothers and one brilliant woman.
Goodreads Rating: 3.8/5
10. 1984 by George Orwell

A remarkable book to read on a holiday, 1984 by George Orwell takes you in a world ruled by bureaucratic and totalitarian forces. The nightmare that it induces and the restrictions on individuality that it shows in a way depicts the impact of a government where your every action is being watched. Remember Big Boss is watching? Yep, it's been taken from this novel only.
Goodreads Rating: 4.2/5
11. Animal Farm by George Orwell

Another masterpiece by George Orwell, Animal Farm is a story about mistreated and overworked animals who aim to make a society that is just, progressive and equal in all aspects. A satire of epic proportions, the story of how what the animals intended and how it came out be a totalitarian affair is something that is more than relevant in today's times. The fact that how the most peaceful rulers turn out to be the cruelest oppressors is something worth noticing. This book will tickle your funny bone and at the same time make you realize the power of manipulation that the world applies.
Goodreads Ratings: 4.2/5
12. The Adventures of Huckleberry Finn by Mark Twain

A book with a theme questioning race, identity, and society, The Adventures of Huckleberry Finn at its core is a fun read that will probably take you back to your childhood. To be civilized or not to be civilized is what it explores but in its very essence, you will love the shenanigans that the protagonist indulges in.
Goodreads Review: 3.8/5
13. The Great Gatsby by F. Scott Fitzgerald

Live the Great American Dream as you indulge in the Great Gatsby and also feel the pain of not being able to get the one thing that you desire the most. Set in the prohibition era of USA, the Great Gatsby is a tale of love, lust, ambition, and of course Jay Gatsby, the man who had everything and yet nothing. Short and crisp, this is one of the perfect books to read on a holiday.
Goodreads Rating: 3.9/5
Suggested Read: These Iconic Cities With Old World Charm Will Soothe Your Heart's Craving For Nostalgia
14. One Thousand and One Nights

Remember Aladdin, Alibaba, and Sinbad The Sailor, enjoy all of these tales and more in this collection of choicest stories from India and the Middle East. Really, there's nothing much to say about this beautiful book other than to read it on your coveted vacation.
Goodreads Review: 3.8/5
15. David Copperfield by Charles Dickens

From an unhappy to childhood to a happy ending and finding true love, David Copperfield is a story of man who fights the odds and becomes the person he was destined to be. It does not portray and over the top success but takes us on a journey that is full of obstacles. Inspiring in its very essence, this is one of the most enjoyable books to read on a vacation.
Goodreads Rating: 4/5
Further Read: 15 Rivers Of The World: The Most Stunning Natural Attractions
Yep, we know, we missed out on some of the most amazing books out there but hey, Plan a trip with TravelTriangle and you can always tell us your favorite book in the comment section below and let the world know too!