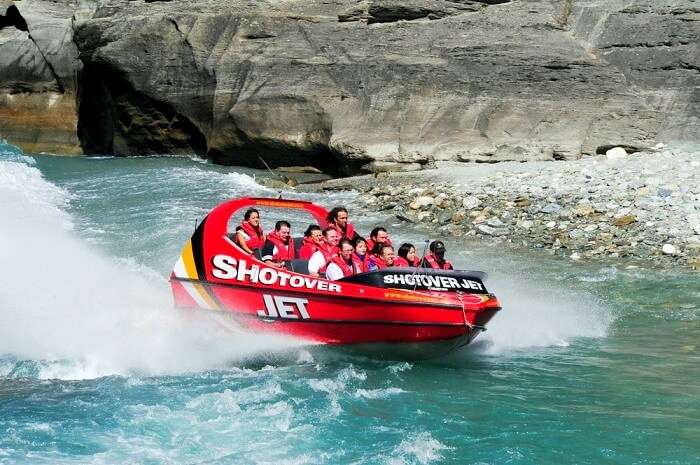 Adventure sports in New Zealand is famous all over the world for providing one of the most thrilling and satisfying experiences. No wonder, the country is titled "adventure capital of the world" since it caters to all kinds of adrenaline seekers and enthusiasts! So if you're planning a vacation to New Zealand, we would recommend you to not only seek glory in its nature but also in the amazing adventure sports there. And to help you choose the best, here's a list of top 10 New Zealand adventure tours.
10 Best Adventure Sports In New Zealand
Buckle up for the most enthalling activities this country has on offer!
1. Jet Boating In New Zealand
Suggested Read: These Hostels In New Zealand Easily Outmatch Hotels & Deliver More Bang For Your Buck!
Jet Boating is one of the most thrilling water adventure sports in New Zealand and would take you on a speedy ride through river gorges, shallow waters, past rocks, and river beds. This adventure activity is also among the popular things to do in New Zealand.
Best places to do jet boating in New Zealand: Queenstown and Canterbury, Buller and Makarora area in South Island, and Whanganui, Waikato River, and Rangitaiki rivers in North Island
Price: From $85
---
New Zealand Honeymoon Packages On TravelTriangle
Get the best of luxury and beauty on your honeymoon. Witness the magnificent New Zealand landscapes with your beloved or engage in thrilling adventure sports – rafting, bungee jumping, jet boating, and sky diving. Book memorable honeymoon packages offered by TravelTriangle.
---
2. Rafting In New Zealand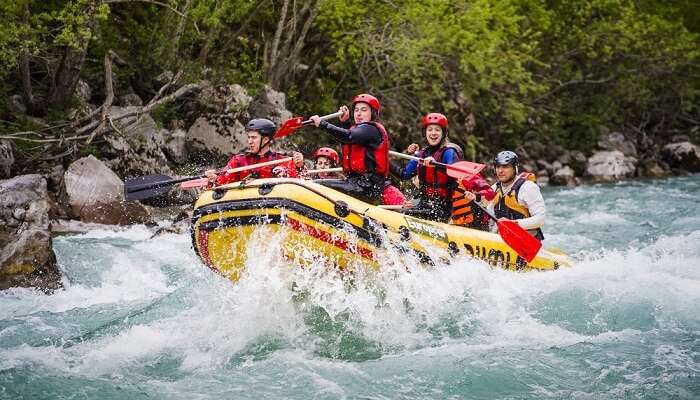 Suggested Read: New Zealand In Winter: Know How To End The Year On A Perfect Note With This Guide!
Rafting can be both an easy and extreme adventure sport in New Zealand for the country and its rivers offer experiences that range from grade 1 to 5. If you're into the extreme adventure, then we would recommend you rafting at the worlds highest commercially rafted waterfall in Rotorua (7m).
Best places for rafting in New Zealand: West Coast, Tongariro River, Queenstown, Christchurch, and Rotorua
Price: From $90 to $200
3. Heli Skiing In New Zealand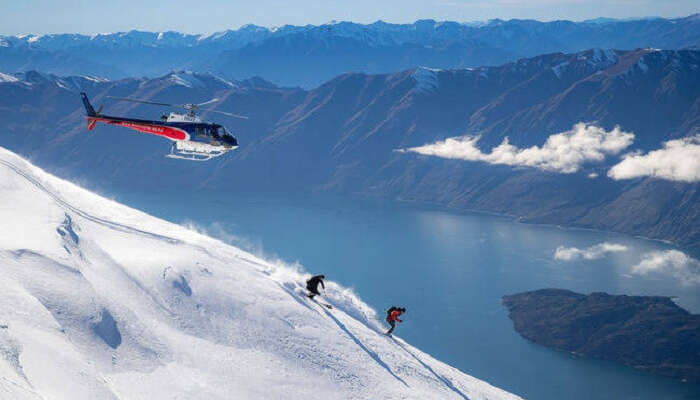 Suggested Read: Our Honeymoon Trip to New Zealand And Australia Was The Grandest Of Them All!
This New Zealand extreme sports involves a helicopter ride all the way to the top of a snowy remote hill from where one goes downhill skiing. The level of thrill going down is unimaginable and if you're one of those who knows how to ski, then this experience should not be missed at any cost.
Best place to do heli skiing in New Zealand: South Island
Price: From $990 (3 day run)
4. Canyoning In New Zealand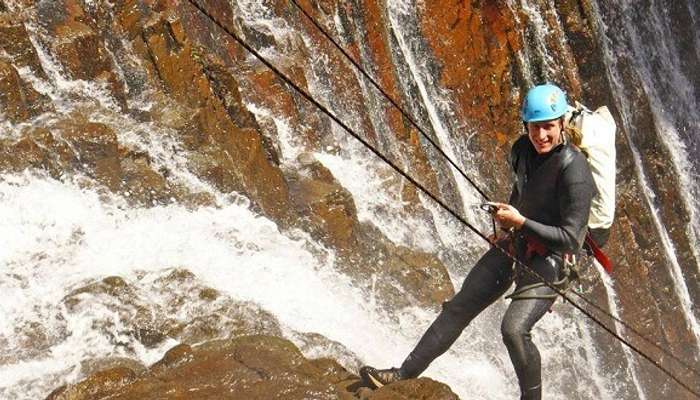 Suggested Read: New Zealand In Pictures: Capturing The Breathtaking Beauty Of Kiwiland
If you're looking for that perfect New Zealand adventure, then you must definitely try canyoning for it is one adventure sport that involves a perfect mix of adrenaline rush and natural beauty. Staged at remote mountain locations, you would have to trek through gorges, waterfalls, and swim through rock pools to reach your destination. It is a surreal and an up close way to experience nature in its raw form.
Best places to do canyoning in New Zealand: Remote mountain areas around Auckland, Canterbury, Coromandel, Nelson, and Wanaka
Price: Half day tour starts from $199
5. Off roading In New Zealand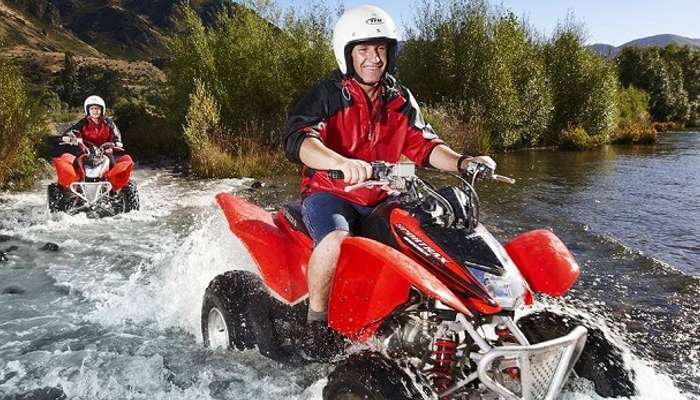 Suggested Read: The Best Of New Zealand Nightlife: Clubbing, Yacht Nights, Live Shows, And Bungee
One of the best ways to explore New Zealand is by going on an offroad driving adventure and exploring the best of nature in a mighty SUV. Pass by rivers, forests, and even indulge a ride on the sand dunes of Ninety Mile Beach in Northland. And yes, if by chance, you don't like the Range Rover experience, you are free to grab your own quad bike and do it your way!
Best places to go offroading in New Zealand: Ninety Mile Beach, Waikato, Marlborough, and Canterbury
Price: From $55
6. Caving In New Zealand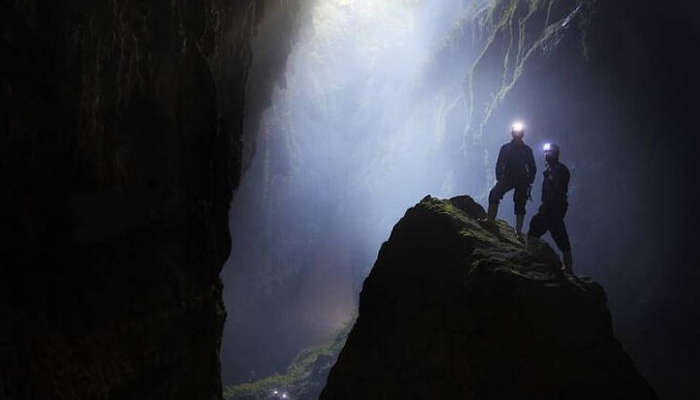 Suggested Read: Australia Vs New Zealand For Honeymoon: Compare And Pick Your Favorite!
Caving is one of the most thrilling and unique adventure sports in New Zealand. The country has an extensive network of caving system and one can either walk & explore (spelunk) or go black water rafting through its various channels.
Best places for caving in New Zealand: Waitomo caves for black water rafting and Nelson for guided underground adventures.
Price: From $340 (Waitomo Day Tour) & $149 (Black Water Rafting)
7. Zip Lining In New Zealand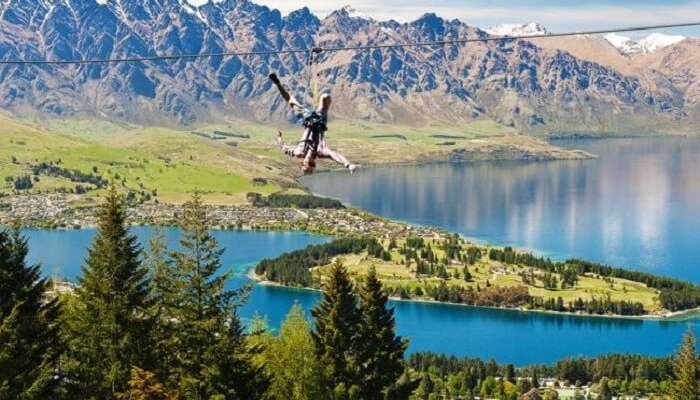 Suggested Read: 20 Best Beaches In New Zealand For A Lazy Romantic Holiday
New Zealand is one of the most interesting places in the world for Zip Lining. Here you can zip through forests, rivers, and canyons and enjoy the spectacular views and a surreal blend of nature, speed, and adrenaline rush.
Best places for zip lining in New Zealand: Waiheke Island, West Coast, and Queenstown
Price: From $150
8. Zorbing In New Zealand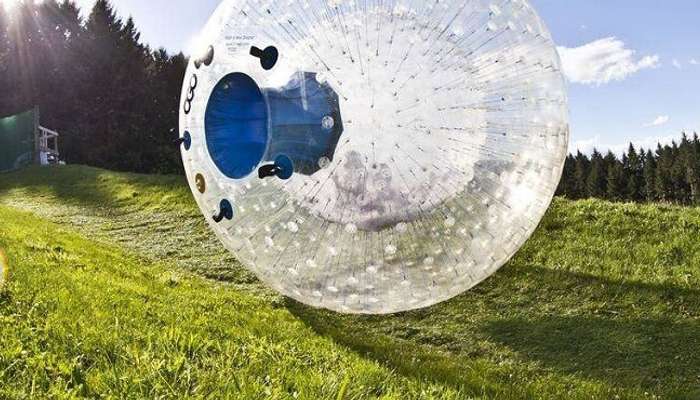 Suggested Read: Places To Visit On A 10 Day Honeymoon Trip To New Zealand
One of those adventure sports in New Zealand that is just perfect for every age group, zorbing involves you going inside a huge plastic ball and going down the hill. This experience is best enjoyed at OGO Rotorua which is the largest ballpark in the world and was invented by the same people who invented Zorbing.
Best place for zorbing in New Zealand: OGA Ball park in Rotorua
Price: From $26 (triple sharing)
9. Bungy Jumping In New Zealand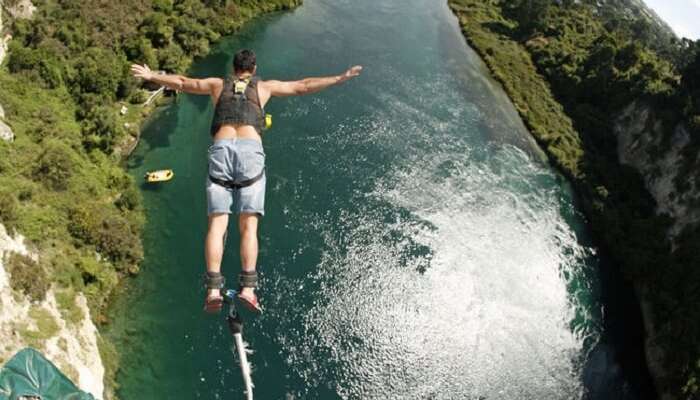 Suggested Read: 10 Places To Go Skydiving In New Zealand: Experience Thrill At Its Best
If you're on a holiday or staying in New Zealand and have not tried bungee jumping, then you have missed something very important in life. A leap of faith while doing this adventure sport in New Zealand would surely give you a lifetime of memories. You can try bungee jumping from dedicated spots and even do it from unconventional places like the Auckland Harbour Bridge or over a river. Whatever you choose, there is surely no scope for disappointment.
PS – New Zealand was the first country to introduce commercial bungy jumping – so you can guess the kind of adventure and thrill that awaits you.
Best places for Bungee Jumping in New Zealand: Kawarau Bungy Site, Nevis (New Zealand's highest), Auckland Harbour Bridge, and Taupo Bungy (over Waikato river)
Price: From $150
10. Skydiving In New Zealand
Suggested Read: 10 Fun Things To Do In New Zealand
Whether you go solo or tandem, nothing comes close to the thrill that skydiving offers and New Zealand is one of the best places to do it. For the ones who are brave at heart and willing to take that extra dose of adrenaline, it cannot get better than this.
Best places to do skydiving in New Zealand: Bay of Plenty, Wanaka, Auckland, Queenstown, and Lake Taupo
Price: From $300 (at 9000 ft) to $500 (15000 ft)
There is no doubt that New Zealand is one of the most exciting destinations in the world when it comes to adventure sports. And so if you're planning a holiday here, we would suggest you to book a customizable New Zealand Package from TravelTriangle and plan your holiday the way you want!
---
Looking To Book An International Honeymoon?
Book memorable honeymoon on TravelTriangle with 650+ verified travel agents for 65+ domestic and international destinations.
---
Comments
comments