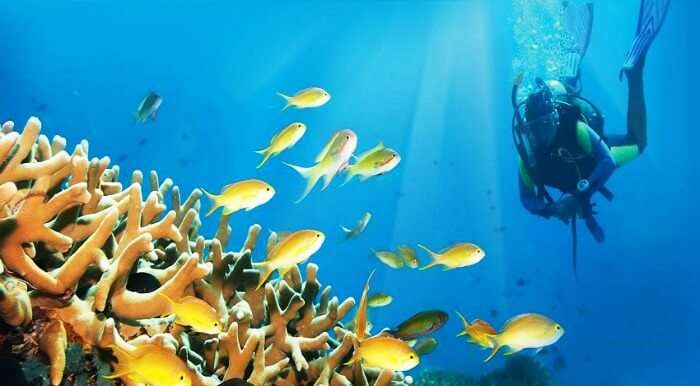 The diving enthusiast is forever looking for experiences which surpass the previous one. Considering 71% of the Earth's surface is covered with water, there are numerous places to scuba dive in the world to explore the hidden mysteries under water, each more fascinating than the next.
Look below for some of the best scuba diving destinations in the world which would make a diver's eyes pop out and the heart beat faster:
1. Sipadan Island, Malaysia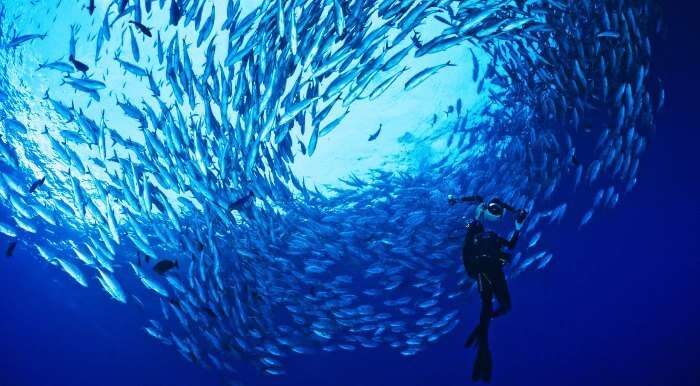 Number one on our list of best dive sites in the world is Sipadan Island in Malaysia. Getting caught in a barracuda tornado could be one thrilling experience. Be sure to catch sight of the hammerhead sharks, sponge-chomping turtles, bumphead parrotfish, trevally and manta rays cruising around, giving you company.
Depth: 5-40 m
Visibility: 30 m
Known for: The exquisite marine life which is so dense that it can at times be difficult to see the corals.
Tip: Barracuda point is the most popular diving site in this region.
Must Read: 25 Honeymoon Destinations In Malaysia To Visit In 2022 That Will Surprise Your Partner
2. Yongala, Queensland, Australia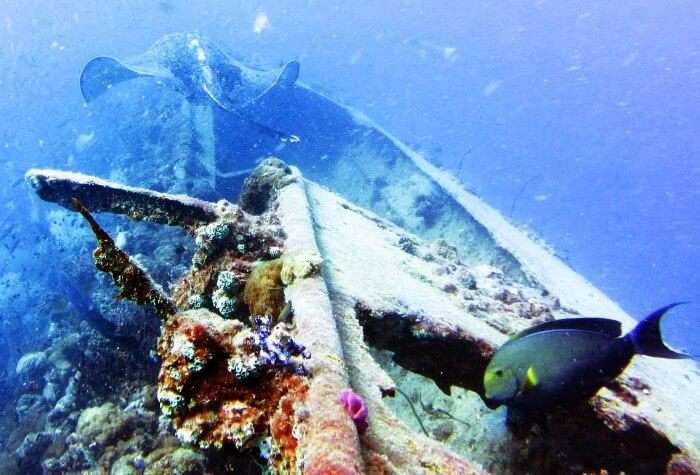 The great barrier reef is known as best place to scuba dive in the world and diving here to get a glimpse of the SS Yongala shipwreck is probably one of the most exhilarating experiences for divers. The ship sank in 1911, but today it is home to some fantastic marine life one can come across. The dive will present you with turtles, eagle rays, tiger sharks, bull sharks, giant grouper, swarms of giant barracuda and schools of bait fish to feast your eyes on.
Depth: 25-30 m
Visibility: 10-15 m
Known for: Shipwreck diving and minke whale and huge singing humpback whale sightings in winters.
3. Great Blue Hole, Belize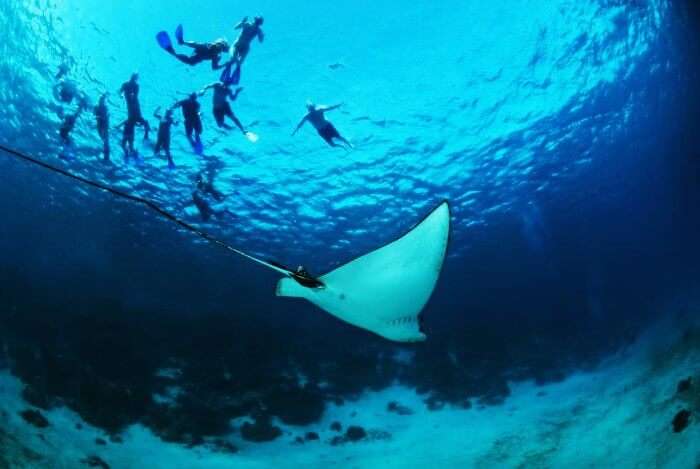 Wondrous nature at its best- the Great Blue hole is believed to have been formed in the last ice age. It's a whopping 300 m wide and 124 deep submarine sinkhole, made of limestone caverns. Where else can you get a transition from salt water to fresh water in less than 15m. Looks like one of the best diving spots in the world? Well, it sure is! The marine life in these areas includes nurse sharks, giant groupers, and several types of reef sharks such as the Caribbean reef shark and the Blacktip shark.
Depth: 124 m
Visibility: 15-30 m
Known for: The ice age wonders and the transition of salt water to fresh water in less than 15m.
4. Cayman Islands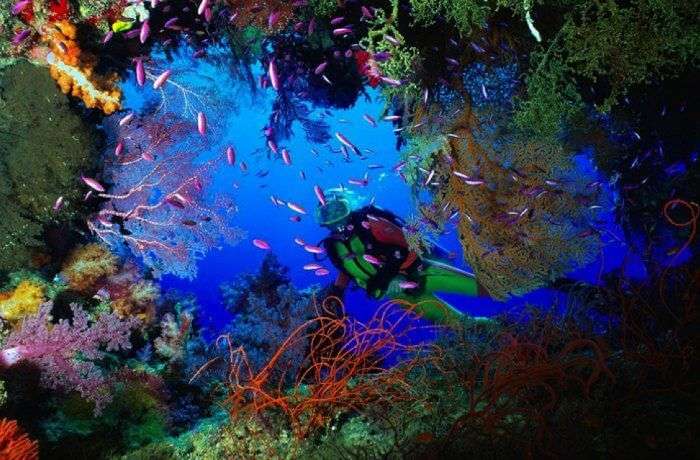 The Cayman islands brings to the ardent diver some amazing wall dives and spectacular coral reefs. The best thing about this site is its visibility, which almost seems infinite. Three world class diving sites to choose from, the Grand Cayman, the Little Cayman and the Cayman Brac, all with their distinct diving treats. The luminescent orange and lavender tube sponges and other colourful corals make it one of the best places to scuba dive in the world.
Depth: 20-1000+ m
Visiblity: 30-45 m
Known for: Night diving is an added attraction at Cayman islands at the Little Tunnels
5. Blue corner wall, Palau, Micronesia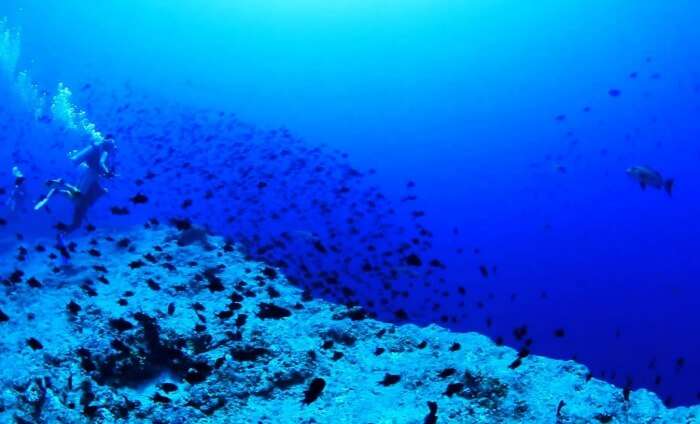 Number 5 on our list of best dive sites in the world is Palau in Micronesia. The reefs of Palau are where three of the planet's major currents meet. It is home to over 1,500 fish species and 700 species of coral and sea anemone. So look around, and all you see is the amazing underwater life: sharks, barracuda, eagle rays, Napoleon wrasse, snappers, jacks and more. There are a number of WW II wrecks down there to explore too.
Depth: 8-30m
Visibility: Upto 40 m
6. Bahamas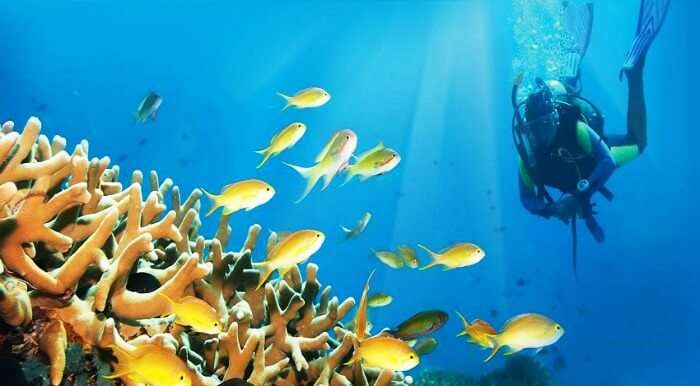 Diving in the Bahamas is like combining best of all worlds, be it vertical walls, lush and healthy coral reefs, wrecks, tunnels, caverns, blue holes, you name it. And the marine life is out of this world. What's more-it's one place where the diving conditions are ideal almost all the year round.
Depth: 6-46 m
Visibility: 30 m
Known for: The Bahamas are said to be great for some astounding night dives and blue hole diving.
7. Truk Lagoon, Micronesia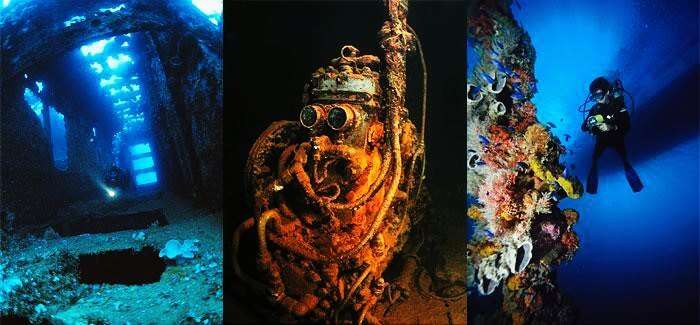 Truk Lagoon is one of the best dive sites in the world to explore the shipwrecks. It is said that an entire Japanese fleet sank in these waters during WW II. In waters devoid of normal ocean currents, divers can easily swim across decks littered with gas masks and depth. In the massive ships' holds are row upon row of fighter aircraft, tanks, bulldozers, railroad cars, motorcycles, torpedoes, mines, bombs, boxes of munitions, radios, plus thousands of other weapons, spare parts, and other
Depth: 12-50 m
Visibility: 30 m
Known for: The best shipwreck diving destination in the world.
8. Silfra, Iceland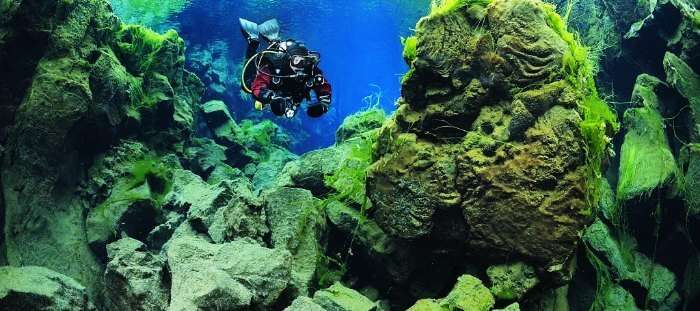 The only place in the world where one can dive between two continents- America and Eurasia. Taking a look at the tectonic plates between these two continents can be totally surreal. It sure is a chilly dive, but a round in the crystal clear waters into the Silfra Hall and the Silfra Cathedral is worth it.
Depth: 10-45 m
Visibility: 90 m
9. Maaya Thila, Maldives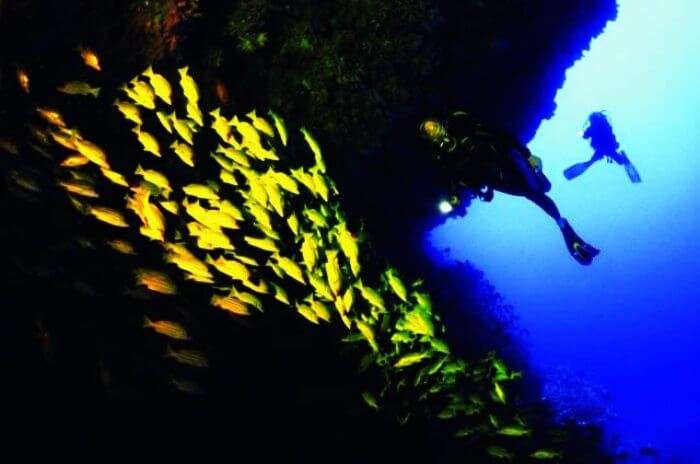 Considered as the best diving destination in the world, Maaya Thila abounds in incredible marine life. It is very aptly called the White Tip Reef Shark Capital of the Maldives. Aside of the sharks circling the reefs, there is plenty more to see- dog-toothed tuna, barracuda, blue-faced angelfish, Moorish idol, batfish, parrotfish, butterflyfish, clownfish and even stonefish and anglerfish.
Depth: 15-30 m
Visibility: 6-40 m
Must Read: 15 Exciting Water Sports In Maldives For Your Adrenaline Fix In 2022
10. Riviera Maya, Mexico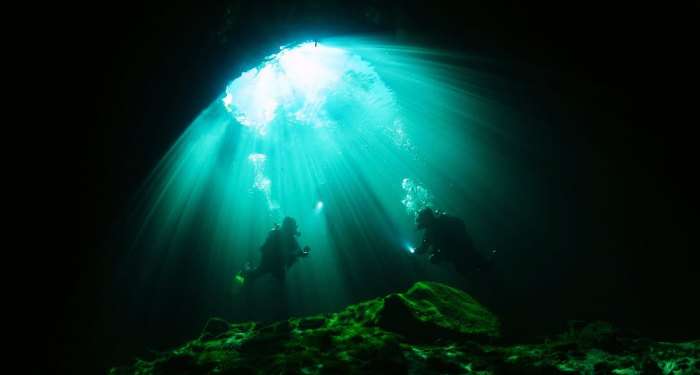 Scuba divers can make a beeline to this site blindfolded. Boasting of world's second longest reef, the Mesoamerican reef, this site offers you a wide portfolio of scuba diving activities- reef diving, deep dives, wall diving, night diving, diving with sharks and sea turtles, cave and cavern diving. This is one of the best best places to scuba dive in the world.
Depth: 10 m
Visibility: 12-27 m
Tip: Not to miss diving the Cenotes, the unique deep freshwater-filled sinkholes formed when roofs of limestones caverns collapsed.
11. Andaman Islands, India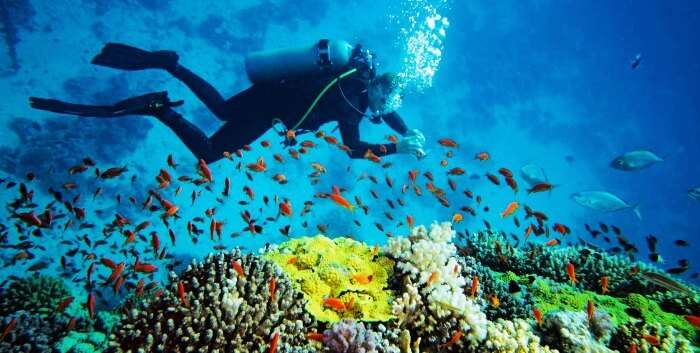 Andaman, is a jewel in the Bay of Bengal, begging to be explored. Suba diving weaving through the enthralling corals and exotic marine life here is once in a life time experience. It is one of the best scuba diving spots in the world to explore the under waters. You could snorkel with Rajan too – one of the last Ocean swimming elephants left. Not to mention the drop at the extinct volcano in the Andaman sea.
Depth: 25 m
Visibility: 20-50 m
Must Read: 14 Thrilling Water Sports In Andaman That All Adventure Enthusiasts Must Try In 2022!
12. Koh Tao, Thailand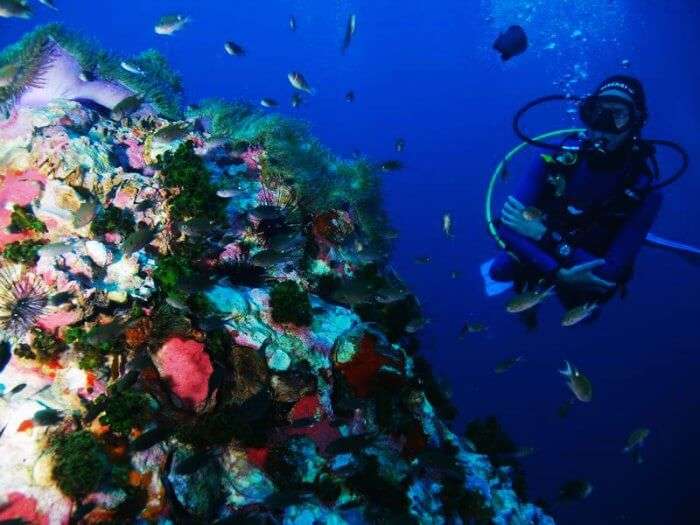 For the most incredible experience of scuba diving in the world, head to Koh Tao. Known as the best place to learn underwater diving, Koh Tao or the Turtle Island has numerous diving schools perfect for beginners as well as those keen on going advanced. What's more- the courses are cheap and the diving sites aplenty. The marine life includes stripy yellow butterfly fish, marbled emperor angelfish and red breasted wrasses among soft and hard multi-colored corals. This destination has to be on every diver's list of best dive sites in the world.
Depth: 2-18 m
Visibility: 10-25 m
Known for: Diving schools, shipwrecks and beautiful corals
Now you divers, which place would you head to from this list of best diving spots in the world?
Must Read: 12 Kickass Water Sports In Thailand For The Water Babies To Enjoy In 2022
Comments
comments