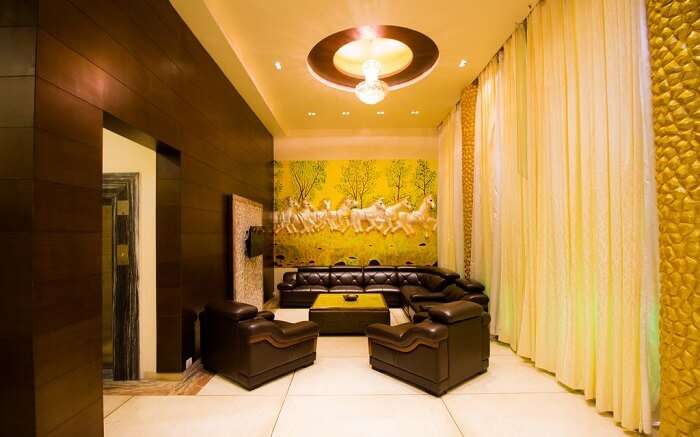 Located by the Kshipra River, Ujjain is one of the ancient and most popular Hindu pilgrim destinations in India. Bestowed with majestic temples like Mahakaleshwar and Baba Ganesh, this place pulls tourists round the year, to calm and rejuvenate their spiritual soul and mind. Owing to such large number of visitors flocking here, Ujjain has a large number of accommodations across all budgets. Here are our recommendations on the popular best hotels in Ujjain.
Hotels In Ujjain Under 5K For A Perfect Budget Holiday
While there are a lot of places to stay in Ujjain, here's a list of the best 10 hotels that offer an impeccable stay and are pocket-friendly too. Take a look!
1. Hotel Anjushree – A luxury hotel in the holy city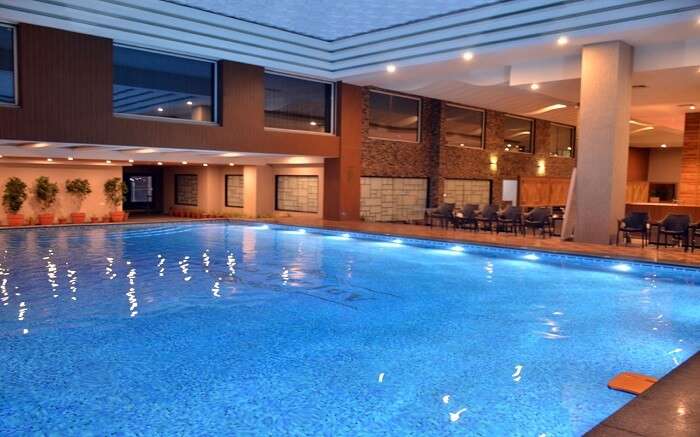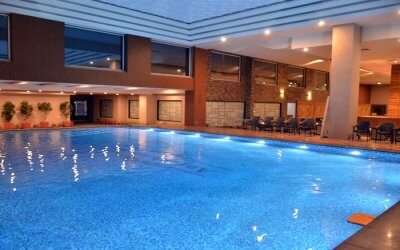 Location: 72, Goyala Khurd, Ujjain – Indore Rd, Ujjain
Hotel Anjushree is one of the 5-star hotels in Ujjain offering unmatchable facilities and services. The hotel features sophisticated rooms in various categories namely deluxe, executive and club, a refreshing outdoor swimming pool, Zivaya spa, gym and Ibiza- the nightclub to keep you engaged and entertained. Probably all these world-class amenities and unmatched hospitality has helped Hotel Anjushree to bag few prestigious awards like Better Holiday Awards and Trip Advisor's Certificate of Excellence.
What's special: The hotel has two different restaurants, one serving pure veg delicacies and another serving non-veg dishes.
Starting tariff: INR 3415/night
Website | Reviews
Suggested Read: 6 Best Restaurants In Ujjain That Treats You To The True Flavours Of Madhya Pradesh!
2. Hotel Mittal Paradise – A relaxing retreat for spiritual souls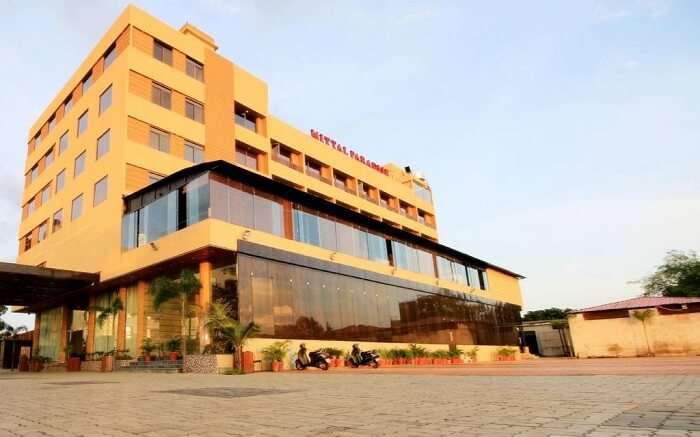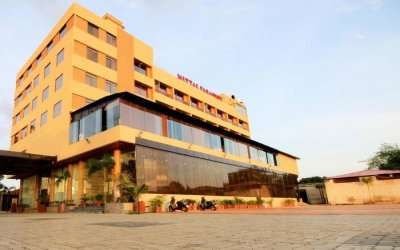 Location: Nanakeda Ring Road, Near CHL Hospital, Ujjain
Situated near Shipra River, Hotel Mittal Paradise is one of the cosiest, comfortable and best hotels in Ujjain. Featuring rooms and honeymoon suites, theme-based restaurant and lounge bar, Hotel Mittal Paradise is a great option for those looking for a chilled-out vacation. Moreover, services like a wake-up call, free shuttle to the bus stop, railway station pick-up and drop facilities and spacious work area and media hub are really appreciable and keep this hotel ahead of many.
What's special: Picturesque Kshipra river view from the hotel
Starting tariff: INR 2700/night
Website | Reviews
3. Hotel Abika Elite – Relax, unwind and indulge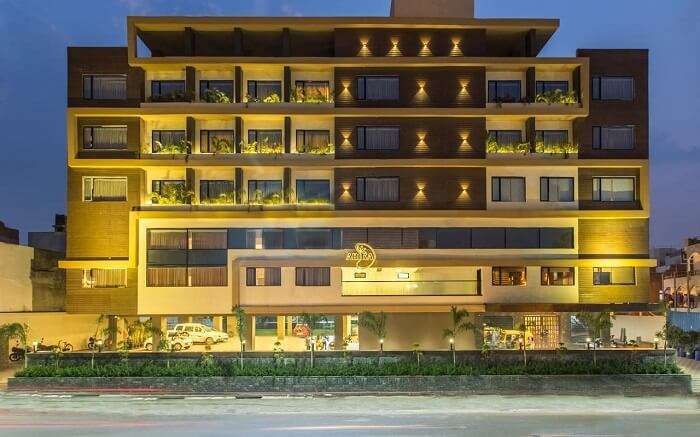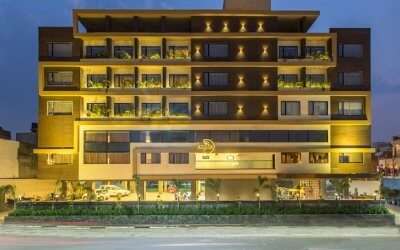 Location: No.2, 4, Nazar Ali Marg, Nijatpura, Malipura, Ujjain
Another name in the category of gorgeous hotels in Ujjain is Abika Elite. This sprawling and lavish 4 storied hotel houses 54 big and well-furnished rooms and suites, a fine dining restaurant called Lotus and impeccable service and hospitality. This is one of the most preferred hotels in Ujjain for an ultimate holiday experience.
What's special: The hotel organises customised plans of the city sightseeing tours and Jyotirlinga yatra excursion.
Starting tariff: INR 2400/night
Reviews
Must Read: 25 Places To Visit In Ujjain On Your Spiritual Journey
4. Shanti Clarks Inn Suites – A charming boutique all-suite hotel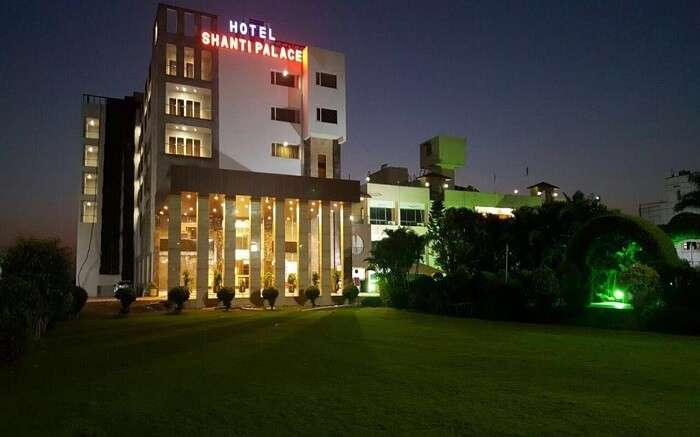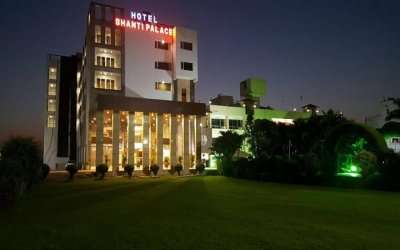 Location: Hari Phatak Ring Road, Ujjain
Prime location, cosy and spacious rooms, courteous staff and delicious food make Shanti Clarks Inn Suites one of the best hotels in Ujjain. Flaunting of 98 well-designed suites, this hotel also has marriage lawns, banquets, conference rooms, and outdoor swimming poo.
What's special: An in-house discotheque
Starting tariff: INR 2200/night
Website | Reviews
Hotels in Ujjain under 2K
5. Hotel Atharva – A tranquil retreat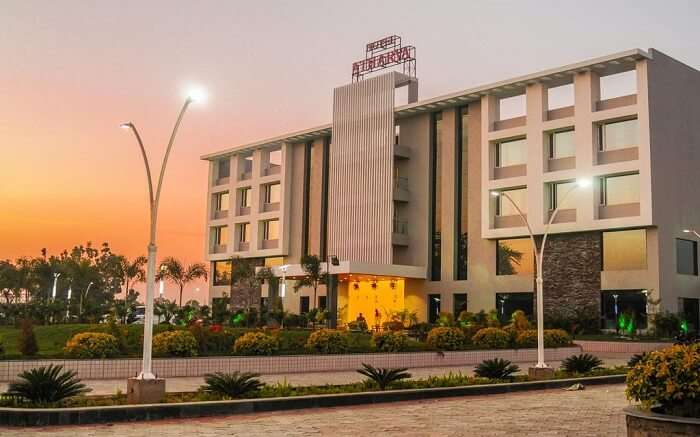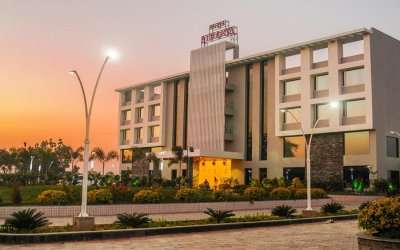 Location: Near Jantar Mantar, Mahakal Harsiddhi bypass road, Ujjain
Located near Jantar Mantar, Hotel Atharva is one of the best budget hotels in Ujjain near Mahabaleshwar temple. Surrounded by lush greenery, this hotel presents peace of mind to every guest. Moreover, with the amazing facilities like excellent food, prompt room service and helpful staff, the hotel has everything that any tourist would need.
What's special: Modak- the pure veg Indian restaurant, serving delicious food.
Starting tariff: INR 2000/night
Website | Reviews
6. Hotel Kalpana Palace – Perfect accommodation for your spiritual trip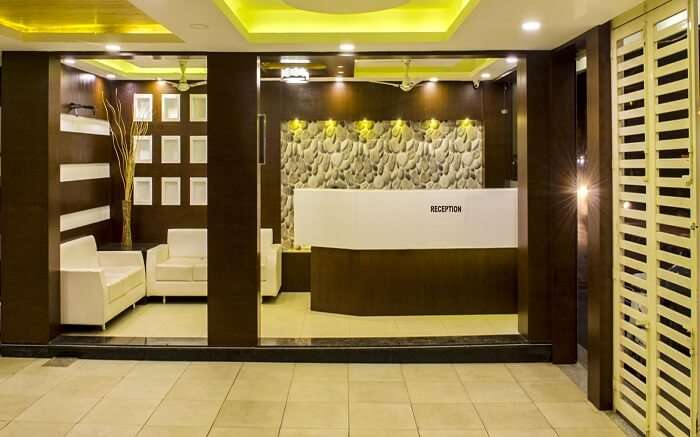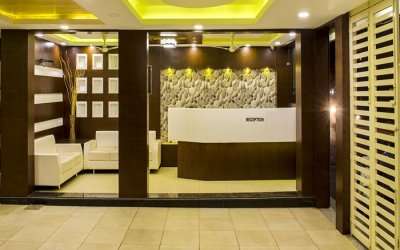 Location: 36, Near Mahakaleshwar Temple, Ujjain
If you are looking for budget hotels in Ujjain near Mahabaleshwar temple, hotel Kalpana Palace is the right choice for you. It is one of the best budget hotels in Ujjain that doesn't compromise with modern amenities and comfort. Facilities like free parking, early check-in, valet parking and power back-up not only delight guests but give a tough competition to all Ujjain hotels in this price range.
What's special: 5 minutes walking distance from the main Mahakaleshwar temple. Hence, people planning to see Bhasma Aarti in the early morning and late night can book here.
Starting tariff: INR 1800/night
Website | Reviews
Suggested Read: Mahakaleshwar Temple Ujjain: The Religious Abode For Some Spiritual Solace
7. Hotel Raghumani Palace – For a hassle-free accommodation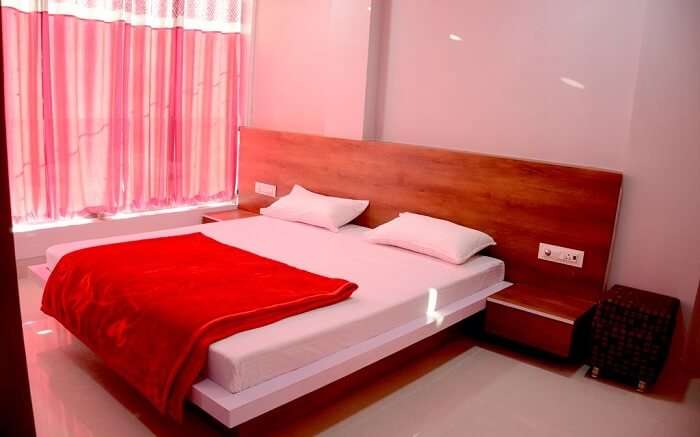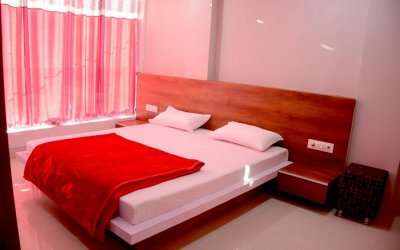 Location: Opp. Mahakal Mandir, Ujjain
Hotel Raghumani Palace is one of the best picks for travellers travelling on a shoestring budget. Situated opposite to Mahakaleshwar Temple, this hotel aims to provide all kinds of comfort to its guests with 24 hours travel assistance, parking facilities, dormitories for drivers and pure vegetarian restaurant.
What's special: Bhashma Aarti ticket booking facilities
Starting tariff: INR 1600/night
Website | Reviews
8. Hotel Satyam – The hotel with a buzzing location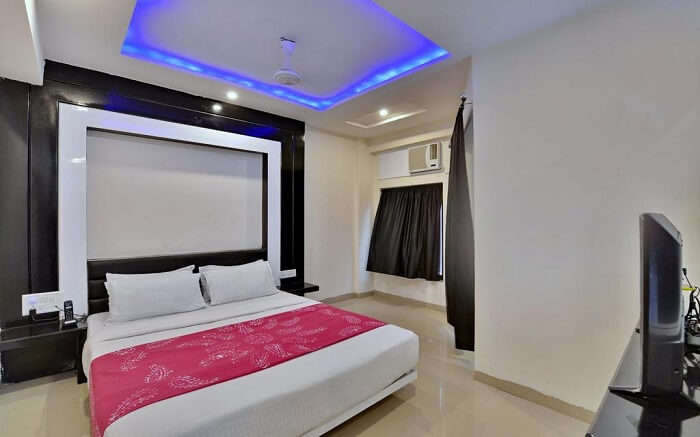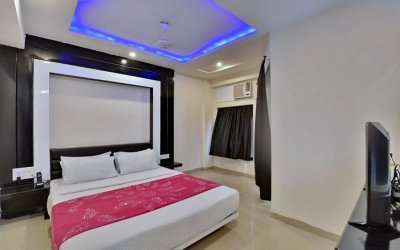 Location: 125, Adjoining Mahakaleshwar Temple, Ujjain
A fine Ujjain accommodation, Hotel Satyam is a very popular budget hotel in Ujjain that's light on the pocket and presents decent accommodation, room service and unparalleled hospitality. Being an ideal stay option for religious travellers and families, Hotel Satyam leaves no stone unturned to make your stay comfortable and safe.
What's special: The prime location of the hotel is the WOW factor. It is at a walking distance from the Mahakaleshwar temple and surrounded by shops and restaurants, hence ideal for travellers planning for temple visit as well as shopping.
Average tariff: INR 1395-2125/night
Reviews
Suggested Read: 20 Enchanting Tourist Places Near Indore To Experience The Magic Of Madhya Pradesh
9. Hotel Shreenath Palace – Value for money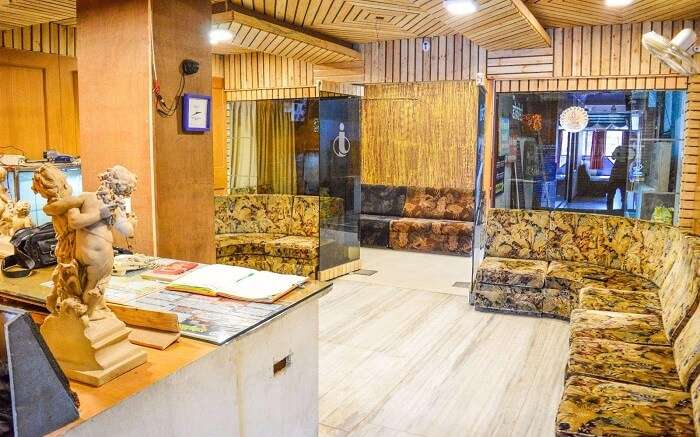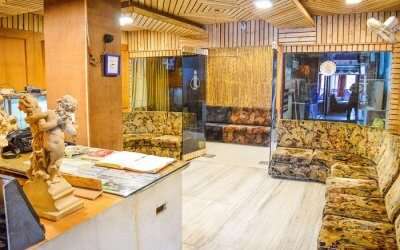 Location: Vijayvargiya Tower Chowk, Ujjain
Clean, tidy and hygienic rooms, decent room service and prompt front desk make Hotel Shreenath Palace one of the best and reliable budget hotels in Ujjain. Though the hotel does not have a restaurant of their own, guests enjoy food at New Rajkumar Restaurant, which is located right next to the property, specialising in Indian and Chinese cuisines.
What's special: Ujjain Junction railway station and Shaheed Raja Bhau Mahakal Bus Stand are just at a stone throw distance from the hotel.
Average tariff: INR 1262-1660/night
Reviews
10. Hotel Rama Krishna – Enjoy the strategic location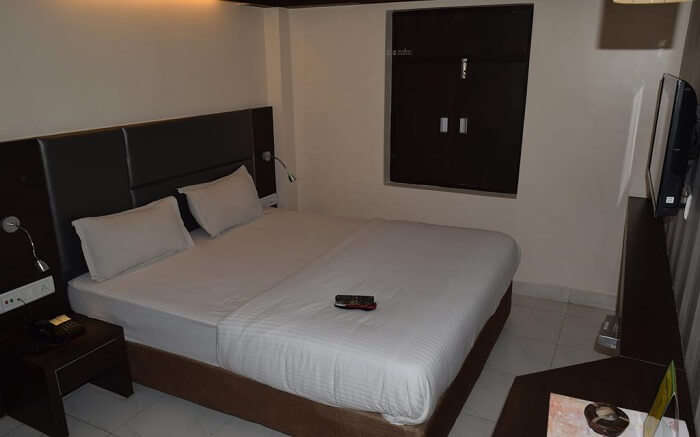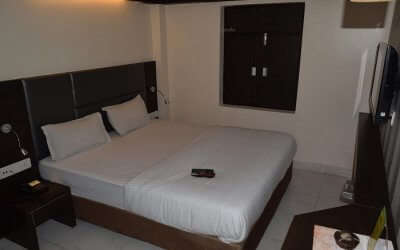 Location: Opp. Railway Station Subhash Marg, Ujjain
There are many cheap hotels near Ujjain railway station, and Hotel Rama Krishna is surely one of the most popular cheap hotels in Ujjain. It's a favourite among travellers, looking for a hassle-free and decent stay options at a low budget. Featuring 8 modern AC and Non-AC rooms, round-the-clock room service and a multi-cuisine kitchen, this hotel is the perfect stopover for a short and pleasant stay.
What's special: The hotel arranges for packed food parcels on prior requests.
Starting tariff: INR 999/night
Website | Reviews
Is your spiritual heart craving for a short vacation in Ujjain? Fret not. Look at these best hotels in Ujjain and gift yourself a pleasant retreat in the holy city.
Further Read: 4 Best Tourist Circuits In Madhya Pradesh
Comments
comments