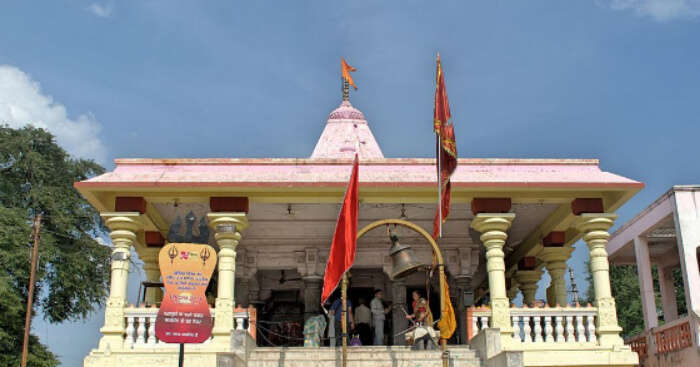 A lovely ancient city and also one of the largest cities in Madhya Pradesh, Ujjain is situated on the banks of Shipra river. The city was once the residence of King Asoka. Ujjain is dotted with many temples here that give the tourists a glimpse of the glorious past of Ujjain and of the city it used to be. It also hosts the Kumbh Mela. Ujjain is a place of high religious significance for a lot of Hindus.
Places in Ujjain that you can't miss at any cost
1. Mahakaleshwar Temple
It's one of the most famous temples in Ujjain and also one of the places to visit in Ujjain. This temple is dedicated to Lord Shiva. Also located close to the Rudra Sagar lake, this temple is one of the most important temples dedicated to Lord Shiva because it is one of the twelve Jyotirlingas, which means that it's one of the places where Lord Shiva is supposed to reside. You can also see images of Ganesha, Kartikeya, and Parvati on the walls.
2. Kal Bhairav Temple
This temple is supposed to be linked with a Tantrik cult in Hinduism, hence you will see many sadhus here who come here to practice their Tantrik meditation. There's a Shivalinga under a Banyan tree opposite Nandi the Bull. The bull here was supposed to be a present from King Daksha. This is why this temple holds a lot of importance for Hindus. You will see the most people and activity here on Mahashivratri. This is one of the best Ujjain places to visit.
3. Harsiddhi Temple
You will see a lot of Maratha influence here as for a long time this temple was in ruins until the Marathas decided to rebuild it. This temple is also believed to be one of the Shaktipeethas, which means Goddess Parvati's elbow fell here. This is one of the best Ujjain places to visit. The unique part of the temple is that it's painted entirely in red. There's also an idol of Goddess Annapurna here between idols of Mahasaraswati and Mahalaxmi.
Must Read: 4 Best Tourist Circuits In Madhya Pradesh
4. Kaliadeh Palace
This lovely palace is actually situated on an island on the Shipra river. It was built by Mandu Rulers in the year 1458 AD. There are a lot of Persian inscriptions inside this monument, there's a lot of Persian influence in the architectural style as well. Once Emperor Akbar and Jehangir also visited this beautiful palace. Now, with time the palace has become dilapidated.
5. Pir Matsyendranath
Also situated on the banks of river Shipra. This palace was constructed in remembrance of the greatest leaders of the Natha sect of Saivism-Matsyendranath. This place is ancient and was built in 6th or 7th Century BC. This is one of the most famous attractions in the city of Ujjain.
6. Kalidasa Academy
The name says it all, this academy was set up by the government in the memory of the great poet, Kalidasa. This academy is a multi-disciplinary institution where one can research Sanskrit, traditional arts, and different cultural arts as well. This Academy is very celebrated and holds many halls for music, dance, a mini stage for rehearsals and there's a large open theatre as well. Ujjain city tourist places it's one of the best places to visit in Ujjain except for temples.
Suggested Read: 10 Captivating Places To Visit In Bhopal – The City Of Lakes
7. Ved Shala, Ujjain
Established in the 17th Century it is the oldest among the five observatories in the county. This lovely structure is an outcome of great diligence and has served as a research center since ancient times. Apparently, the Tropic of Cancer passes through Ujjain. Jantar Mantar was built by Raja Jai Singh in the 17th Century. This observatory is still used actively. You will find a planetarium and a telescope to observe the stars and satellites.
8. Chintaman Ganesh Temple
Situated on the Fatehabad railway line and close to the Shipra river, Chintaman Ganesh temple is one of the oldest temples in Ujjain. Here you will also see a large Ganesh idol as well, which is very much celebrated and devoted to. The large idol is supposed to be born itself, hence it's of huge religious significance.
9. Ram Ghat
This is a very important site in Ujjain as here one of the sites of Kumbh Mela which is held in every 12 years. On a usual day, you will see devotees here who are taking a dip in the water. However, it's only on Kumbh Mela that you will see millions of people flock here.
10. Gopal Mandir
This temple is dedicated to Lord Krishna and is a great example of Maratha architecture. Located in the midst of a busy market, this is a marble-spired structure with silver plated doors. This temple was built in the 19th Century. This is one of the best Ujjain tourist places
Ujjain is one of the most mesmerizing cities with a lot of faith and devotion attached to it. While you're exploring the city, don't miss any of these popular places to visit.
Further Read: 7 Mystical National Parks Of Madhya Pradesh
Frequently Asked Questions About Places To Visit In Ujjain
Comments
comments