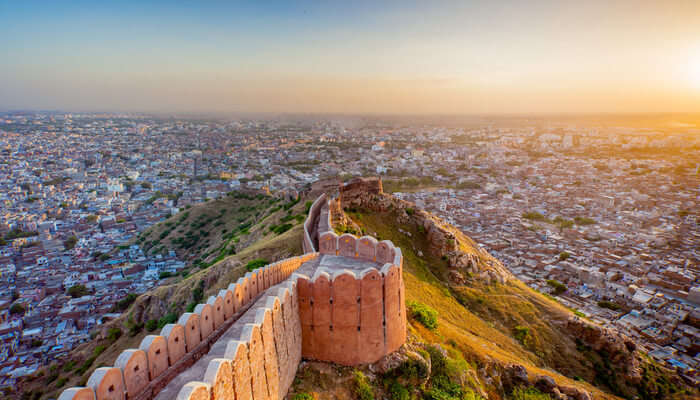 Do you long to explore and experience the flamboyant life of the Rajasthani rulers? Then you should visit Jaipur at least once in your life for sure. Popularly called the Pink City, Jaipur is one of the most famous tourist circuits in India, and rightly so. Given below are some awesome places to visit in Jaipur in summer that best reflect the royal and opulent Rajputana traditions, history, and architecture of the city. So, take a virtual tour of this famous tourist destination that offers an ideal fusion of modern and ancient culture and keeps the interest of travelers alive with its colorful and rich heritage.
15 Best Places To Visit In Jaipur In Summer
Here are some of the places to visit in summer in Jaipur that you must explore if you're visiting this cheerful and vivid city in the summer months. Be ready to be amazed by the glory and the charm of these ancient monuments and structures which speaks volumes of its rich past.  Have a look at all of them and make sure you include each one of these in your itinerary.
1. Amber Palace And Fort- A Timeless Beauty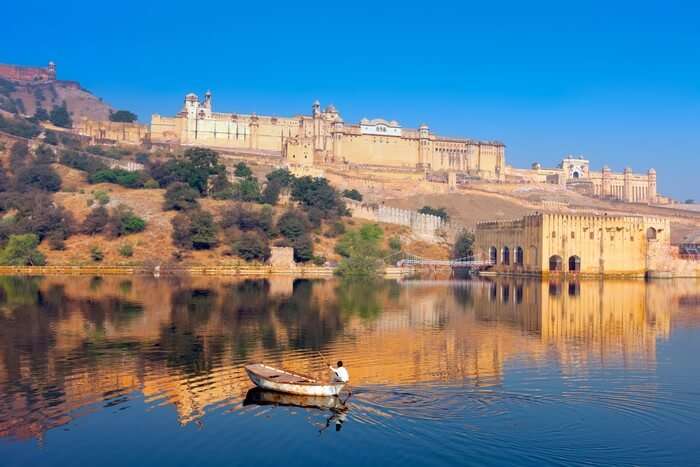 Sited in the rocky and picturesque Aravalli Hills, this epitome of beauty is undoubtedly one among the best places to visit in Jaipur in summer. The foundation of Amber or Amer fort was laid by King Man Singh I and later the construction was completed King Jai Singh. Built with the combination of white marble and red sandstone adorning this palace is nothing but sheer magnificence.
The formidable walls for defense against the enemy attacks, alluring interior designs, pitcher-perfect views of rising and setting sun, and scenic backdrop of Lake Maota contribute to the eternal glory of this place. Intricate frescos, wall paintings, and precious jewels and gems used in these paintings as well the Sheesh Mahal i.e. the 'Palace of Mirror' is most captivating to see in this timeless beauty.
Location – Devisinghpura, Amer, Jaipur
Timing – 8:00 AM – 5:30 PM
Entry price – INR 25/- Indians, INR 150/- Foreigners (with camera)
Must Read: 9 Best Places To Visit Near Sikar To Get Closer To The Rajasthani Roots In 2022
2. Hawa Mahal- The Palace of The Winds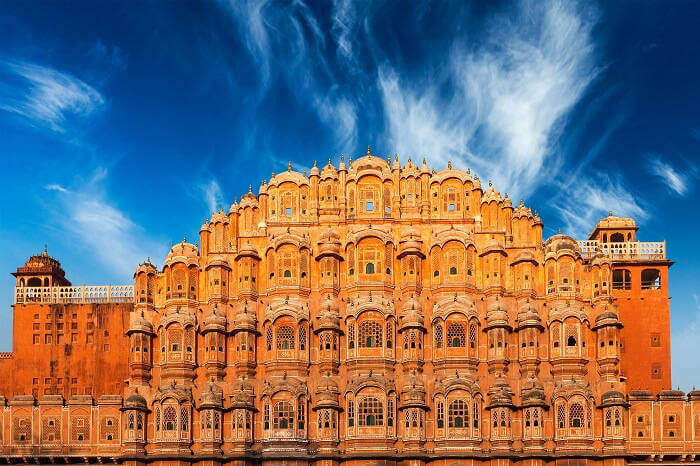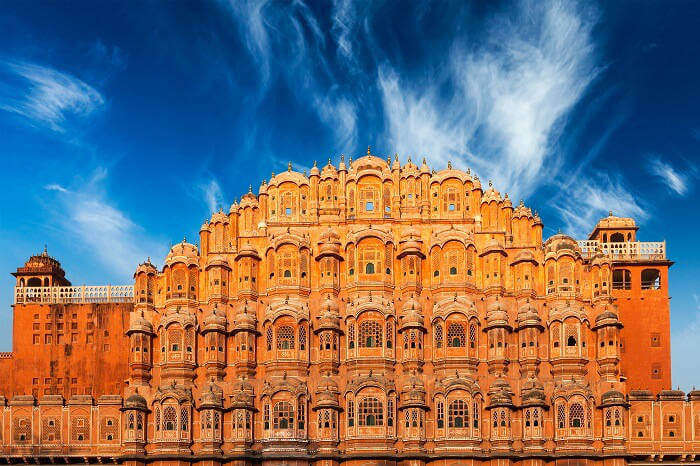 Hawa Mahal, also called the palace of the breeze/winds was constructed by King Sawai Pratap Singh in the year 1798. This palace is a 5-storey extension uniquely designed in the style of a honeycomb. Although built in the olden times, the beauty and architecture of this mahal reflect the scientific vision of the King. There are around 953 windows, the jharokhas adorned with intricate latticework. A cool breeze passes inside the place irrespective of any season which is why this palace is named Hawa Mahal and is of the best places to visit in Jaipur in summer. Another reason why this palace was built is to prevent outsiders from seeing the royal women.
Location – Hawa Mahal Rd, Badi Choupad, J.D.A. Market, Jaipur
Timing – 9:00 AM – 4:30 PM
Entry price – INR 10/- Indians, INR 50/- Foreigners
Note – Entry on monday is free and closed on friday
Suggested Read: 14 Places To Visit Near Alwar For An Enriching Rajasthan Trip In 2022
3. City Palace- An Everlasting Glory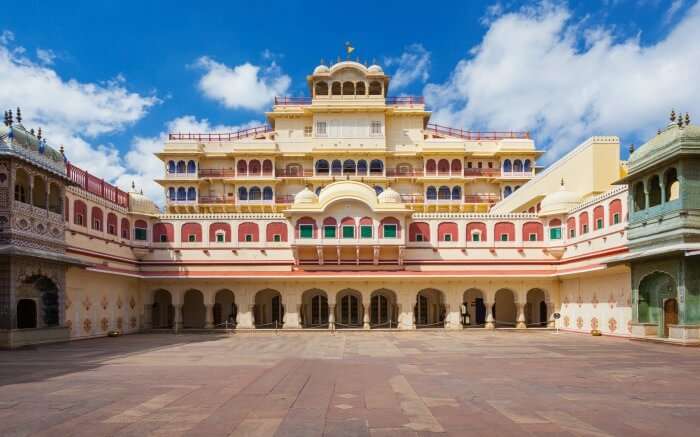 Most stunning, one of the most remarkable palaces and places to visit in Jaipur in summer is the City Palace of Jaipur. Constructed in 1729-1732, this palace sited in the center of Jaipur is designed with a blend of Mughal and Rajput architecture. Every part of this palace with minute detailing, immemorial imprints, enchanting decorations and everlasting architecture is enduring.
The large part of this palace features Mubarak Mahal and Chandra Mahal, where the attractive peacock gates, Diwan-i-Aam, Diwan-i-Khas, etc.are a must-see. A part of this mahal is transformed to a museum that displays weapons, ammunition, carriages, etc.used by Rajputs royals.
Location – Gangori Bazar, J.D.A. Market, Jaipur
Timing – 9:30 AM – 5:00 PM
Entry price – INR 40/- Indians, INR 300/- Foreigners
Suggested Read: Find Out The Best Places To Visit In Sikar: Rajasthan's Hidden Gem!
4. Jal Mahal-  The Underwater Palace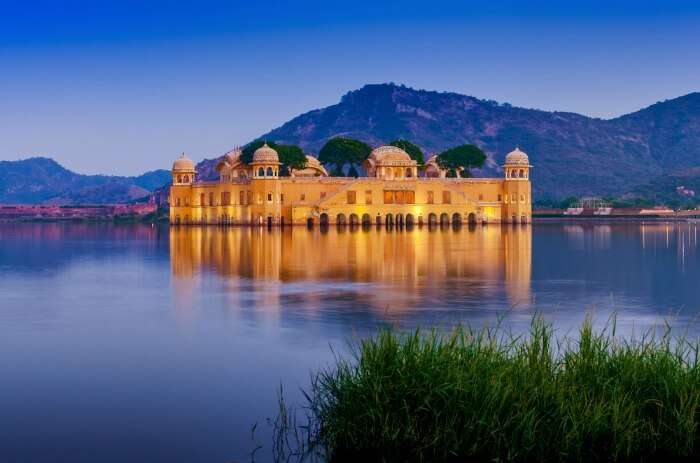 Adorned with the finest Rajputana architecture, this Water Palace or Jal Mahal is also amongst the best places to visit in Jaipur in summer. This classic fort is stationed in the middle of Lake Man Sagar, is an alluring architectural combination of Rajput and Mughal styles. Comprising of 5 floors, the 4 floors of this mahal built with red sandstone is submerged in the water when the lake is filled completely. To reach this palace, traditional boats are used. The Aravalli Hills and the clear water dotting this beauty gives scenic views of this palace. The site of the mahal is home to colourful and vibrant birds, the number of fish species and flora and fauna.
Location – Amer Rd, Jal Mahal, Amer, Jaipur
Timing – 6:00 AM – 6:00 PM
Entry price – Nil
Suggested Read: Explore Top 13 Things To Do In Sikar: The Magnificent Desert City Of Rajasthan!
5. Nahargarh Fort- Home of The Tigers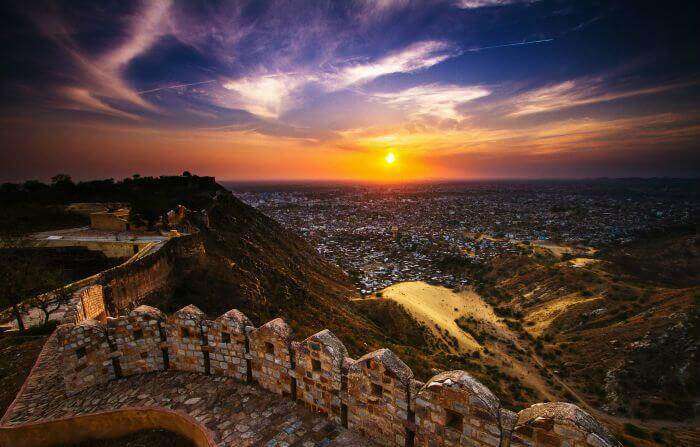 Originally named as the Sudarshan Garh, this fort was built by Jai Singh II and later renamed as the home of Tigers or Nahargarh. If you love to enjoy the scenic landscape and panoramic views of this pink city then this fort is the apt place to visit. The fort was constructed to intensify the security and it was used as safe-home to protect the wives of British during the 1857 Sepoy Mutiny.
Stationed on the Aravalli Hill's rugged promontory this fort features rooms, decorated with ceiling and wall paintings and are linked with the common corridors. Surrounded by jungle, this fort was a popular picnic destination for the royals during the summer which makes this for apt  places to visit in summer in Jaipur for travelers.
Location – Krishna Nagar, Brahampuri, Jaipur
Timing – 9:30 AM – 5:30 PM
Entry price – INR 10/- Indians, INR 50/- Foreigners
Suggested Read: Popular Cafes In Bikaner To Hangout With Your People On A Rajasthan Trip In 2022
6. Jaigarh Fort- 'The Fort of Victory'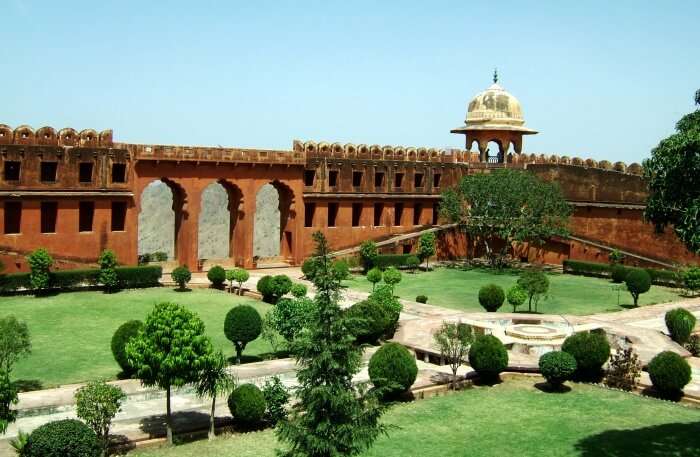 Another popular places to visit in Jaipur in summer is the Jaigarh Fort which is also the Fort of Victory, constructed in 1726 by Jai Singh II. Again, this spectacular fort is located on the rocky promontory of Aravalli Hills, also known as Hill of Eagles or Cheel ka Teela. This majestic appearance and structure of this fort stands-out among all the forts in Jaipur is no doubt worth visiting.
The 3km thick walls made of red sandstone, the granaries, storage systems and water reserves of this fort are finest instances of ancient technology and science. Kal Bhairav Temple, museum and Ram Harihar Temple are also the best places to visit here.
Location – Devisinghpura, Amer, Jaipur
Timing – 9:00 AM – 4:30 PM
Entry price – INR 25/- Indians, INR 75/- Foreigners
Suggested Read: 15 Places To Visit In Rajasthan In January 2022 Which Has Something More Than Just The Palaces!
---
Planning your holiday in Rajasthan but confused about what to do? These Rajasthan travel stories help you find your best trip ever!
---
7. Jhalana Leopard Safari- Get Close To Nature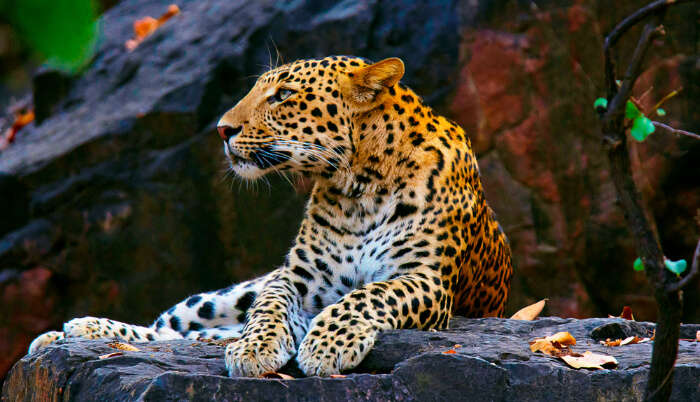 Take a tour at the Jhalana Leopard Safari which is home to more than 20 wild leopards if you are up for some adventure activity in Jaipur. Spread across a 21 sq km area, this reserve is not the only habitat of leopards but is home to deer, nilgai, hyenas, monkeys and birds too. This reserve is also one of the best places to visit in Jaipur during summer if you love birdwatching. If you are lucky, just within the range of 100m from the main gate, you can spot or catch a glimpse of leopard here. Offering real jungle adventure, this reserve is situated in the center of Jaipur, the pink city. It is one of the best places to visit in Jaipur in summer especially for nature lovers. 
Location – Malviya Nagar industrial area, Apex Circle, Malviya Nagar, Jaipur
Timing – 6:30 AM – 6:30 PM
Entry price – INR 2100
Suggested Read: Get The Rajasthani Bohemia On! 17 Amazing Shopping Places In Jaipur To Explore In 2022!
8. Sambhar Lake- Where The Sky Meets The Water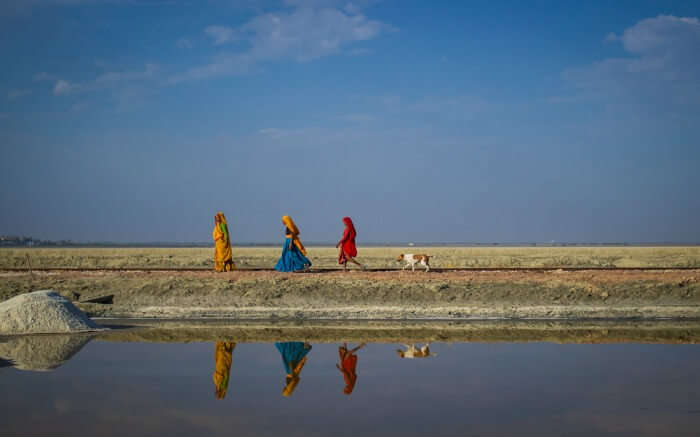 Sited merely 80 km from the Jaipur city, the Sambhar Lake and its historic town is amongst the top places to visit near Jaipur in summer for vacationers. India's largest saline water lake, the Sambhar lake is a place where the sky and water combine in sheer blue shimmer. It is also mentioned in Mahabharat.
Paradise for bird watchers, this lake attracts various flocks of different species of birds like flamingos and pelicans that come here to eat the spirulina algae from the lake. The view of this region is stunning during the full moon evenings where the moonlight reflects the silver line.
Location – National Highway 8, Kuchaman
Timing – 24 hours
Entry price – Nil
Suggested Read: 7 Places To Visit In Kishangarh In 2022: Unveiling The Best Of Rajasthan!
9. Achrol Fort- Enjoy The View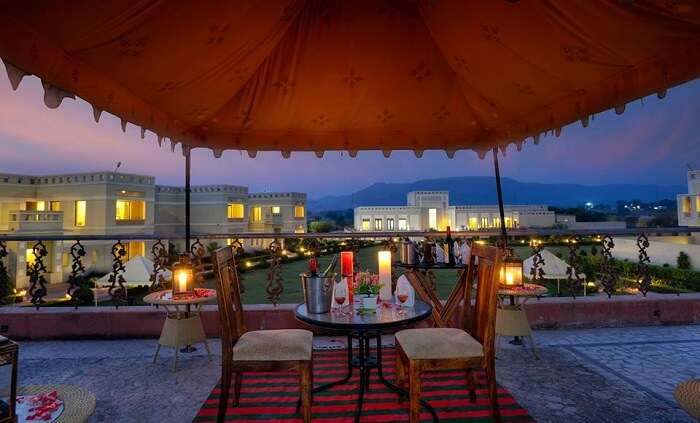 Achrol Fort is certainly of the best places to visit near Jaipur in summer if adventure, trekking, and intimacy is what you love. Located 65km off from Jaipur, this fort is basically an old haveli belonging to the Achrol Thikana family, relatives of the Jaipur's Kachhawa rulers. Dating back to 1550 AD, this fort was used for military and strategic purposes as well as used as a residential quarter. The wide 360-degree stunning views, unique and beautiful architecture and the opportunity to relish nature around make this place a must-visit.
Location – Achrol, Jaipur
Timing – 24 hours
Entry price – 600/-
Suggested Read: 14 Places To Visit In Rajasthan In Monsoon In 2022 For Those Who Love Rains!
10. Bhangarh Fort- For The Brave Hearts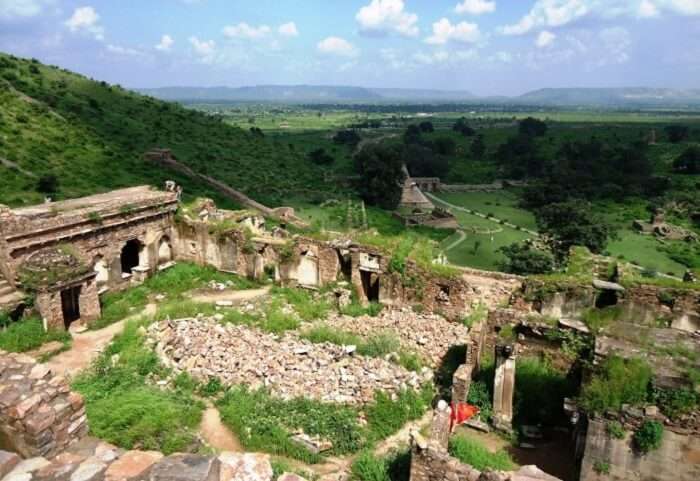 Popular as the haunted forts of Rajasthan, the Bhangarh fort is not a place for the faint hearts. Located in a tiny city with multiple temples, gates, palaces and eerie atmosphere that is just 70-80km from Jaipur, this fort is famous for its paranormal movements and tales. This 17th-century palace is haunted for generations and you can only see the fort during the day as nobody is allowed to visit the premise after dusk and before dawn.
Location – Gola ka baas, Rajgarh Tehsil, Alwar, Bhangarh
Timing – 6:00 AM – 6:00 PM
Entry price – INR 25/-
Suggested Read: Monsoon In Jaisalmer: A Guide To See The Best Sights Of The Golden City Of Rajasthan In 2022!
11. Jantar Mantar- Where Science Meets Art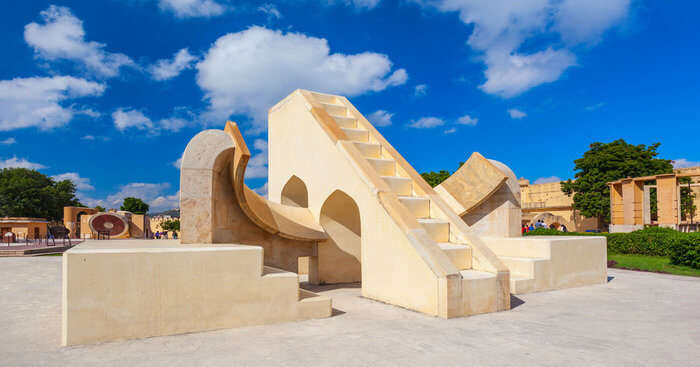 Jantar Mantar, Jaipur is yet another popular attraction that you must add to your list of itineraries.  Built in 1734 by the then Rajput king Sawai Jai Singh II, is an astronomical observatory which features the world's biggest sun dial. Finding ist place among the list of UNESCO World Heritage Sites, this beautiful site is boasts of  several astronomical instruments made entirely of stone and brass which can beat many modern day equipments in efficiency. These instruments allows us to observe and locate celestial bodies which pertain to the Egyptian study of Ptolemaic astronomy. Every evening, the place lights up beautifully making it an great place to hang out with friends and family.
Location – Gangori Bazaar, J.D.A. Market, Pink City
Timing – 9:00 AM – 4:30 PM
Entry price – INR 40/- (Indian adults), INR 15/- (Students), INR 200/- (Foreigners)
Suggested Read: 24 Must-Visit Fancy Cafes in Jaipur You Shouldn't Miss At All In 2022
12. Jaipur Wax Museum- An Epitome of Craftsmenship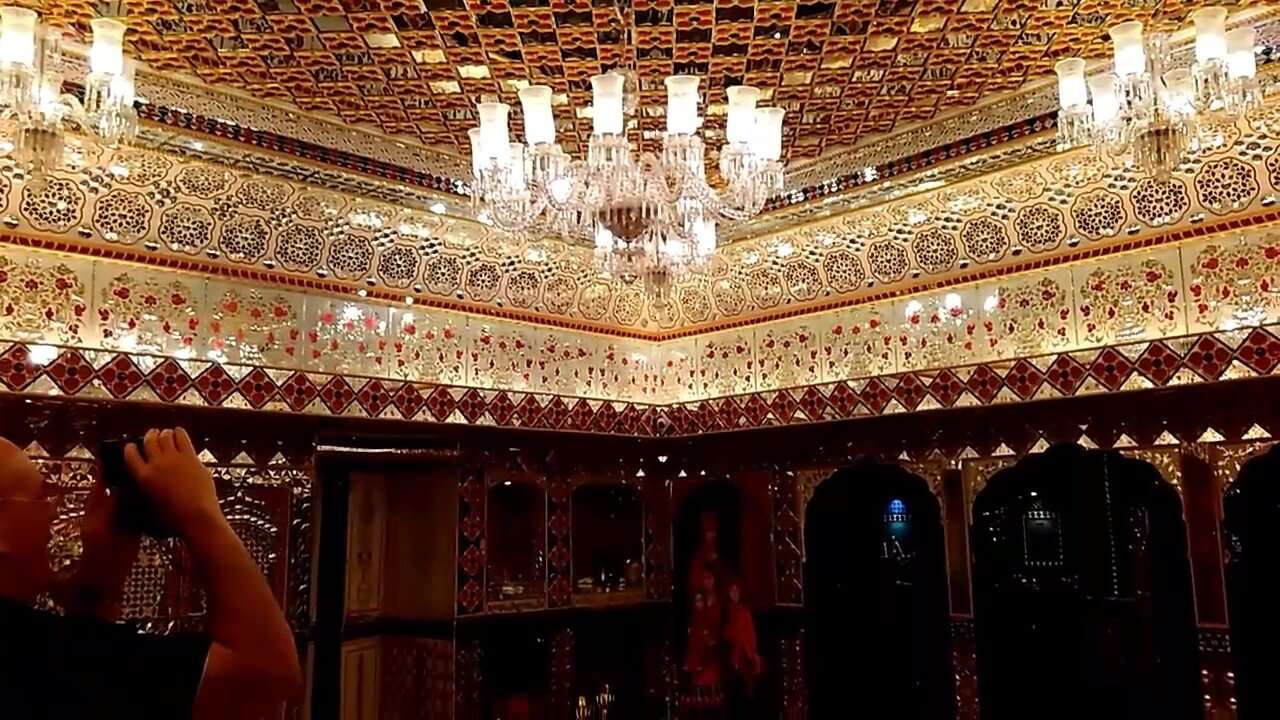 Yet another gem of a place that this 'Pink City' can be proud of its is Jaipur Wax Museum. Located within the boundries of the Najafgarh Fort, this wax museum holds the life sized wax statues of a number of renowned personalities from different domains of arts, cinema, literature, sports, history, royalties and more.  Each statue is displayed in two of its halls of teh fort namely the 'Hall of Icons' and 'Royal Darbar'. A backdrop complementing the history of the legend on display makes the figure come to life. 
Another unique section of this fort which is a major draw for tourists is the 'Sheesh Mahal' . A hall featuring intricate Thikri mirror work of more than  2.5 million pieces of glass which creates a magical display of optical illusion and is one of the best places to visit in Jaipur in summer. 
Location – Nahargarh Fort Amer Road Near Jal Mahal, Jaipur
Timing – 10:00 AM – 6:00 PM
Entry price – INR 500/- Indians, INR 700/- Foreigners
Suggested Read: 10 Best And Most Famed Museums In Rajasthan That Are A Delight To Visit
13. Galtaji Temple- 'The Monkey Temple'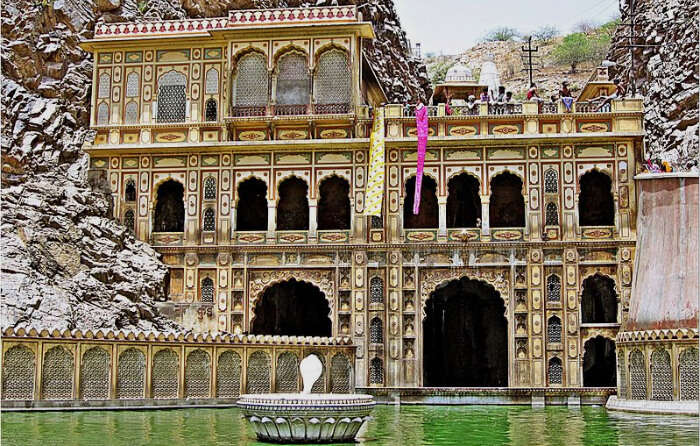 The temples in Jaipur are as majestic as its palaces and forts and the Galtaji Temple is a standing proof of it. Located on the outskirts of the city, this beautiful temple is nestled among the majestic Aravali Hills, this prehistoric temple is dedicated to Lord Krishna, Lord Ram and Lord Hanuman. The temple is adorned by beautiful paintings and unique architecture similar to the City Palace, within whose walls it is enclosed. 
The complex houses seven holy springs or 'kunds', shrines and pavillions for its visitors to explore. Its beautiful natural springs, paintings and carvings are the highlights of this temple. This temple is also called the 'Galta Monkey Temple' due to the presence of large number of monkeys within its premise. 
Location – Shri Galta Peetham, Galva Ashrama, Jaipur
Timing – 5:00 AM – 9:00 PM
Entry price – Free, (Camera INR 50/-)
Suggested Read: 19 Ancient Temples In India One Must Visit To Witness The Beauty Of The Marvelous Architecture In 2022!
14. Abhaneri Stepwell- 'Architecture At It's Best'
The Rajputs mastered the art of combining scientific and architectural excellence to create something that still leaves us amazed and gives us so much to learn from. Abhaneri Stepwell is one such example where you can admire its architectural beauty and at the same time be baffled by the perfection and the fact that they were way ahead of their time. 
Being one of the largest step wells of Rajasthan, the Abhaneri stepwell or Chand Baori Stepwell was built by the locals not only to meet up the demands of tradesmen and villagers during the summer seasons but also to conserve water. This magnificient sturcture is dedicated to Harshat Mata, the goddess of Happiness and has remained intact for more than 10 centuries. 
Location – Near Harshat Mata Temple, Abhaneri, Dausa, Bandikui
Timing – 8:00 AM – 6:00 PM
Entry price – Free
Suggested Read: Take A Peek Into The City Palace Of Jaipur: A Symbol Of Royalty & Elegance!
15. Samode Palace- Your Royal Abode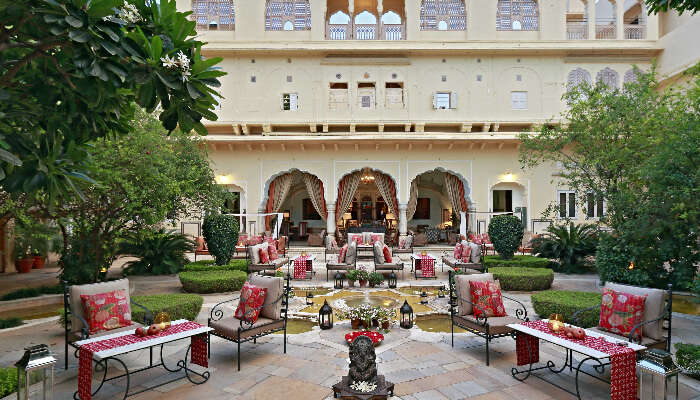 Not allpalaces in Jaipur are left at the hands of time. Some of them have been taken in good hands and are now serving the purpose of giving the opportunity to common people like us to feel what its like to live the life of a royalty. Samode Palace in Jaipur does just that and deserves a place in your listof inineries for your Jaipur trip. 
Samode Haveli is a heritage monument that was bulit atleast 175 years ago and was teh official residence for the decendents of the Samode who still resides in the palace. Part of the palace which has been converted into a hotel has seen several high profile guests such as royalties, artists, celebrities and discerning travellers who wish to be pampered like a royalty. 
Location – Jorawar Singh Gate, Gangapole Road Near, Gangapole, Jaipur
Timing – NA
Entry price – Free
Further Read: 7 Amazing Places To Visit In Rajasthan In May For A Royal Retreat!
Right from temples, palaces, markets, to safaris and more, you can find a plethora of places to visit in Jaipur in summer in this list. All these places offer a mix of nature, architecture, history, romance, and adventure to spice up your vacation in Jaipur and provide you places to visit in summer in jaipur a glimpse into the royal heritage of the Pink City. So, what are you still waiting for? Book your trip and start packing now!
Disclaimer: Some images are for representation purposes only. TravelTriangle claims no credit for images featured on our blog site unless otherwise noted. All visual content is copyrighted to its respectful owners. We try to link back to original sources whenever possible. If you own the rights to any of the images, and do not wish them to appear on TravelTriangle, please contact us and they will be promptly removed. We believe in providing proper attribution to the original author, artist or photographer.
Please Note: Any information published by TravelTriangle in any form of content is not intended to be a substitute for any kind of medical advice, and one must not take any action before consulting a professional medical expert of their own choice.
Frequently Asked Question about Places To Visit In Jaipur In Summer
What is famous in Jaipur city?
Known as the Pink City, Jaipur is the capital of Rajasthan and is famous for shopping, forts, palaces, cuisine, jewelry, and its rich cultural heritage.
What can I buy in Jaipur?
Jaipur is shoppers' elysium, Gemstone Jewelry, Lehariya Saree, carpets, pottery items, Embroidered clothes and other fabrics are famous among tourists of Jaipur.
What can we do in Jaipur at night?
After a day of sightseeing, evenings can be well spent by dining at a fine restaurant, admire the views from the Nahargarh Fort, watch a movie at Raj Mandir, hang out at Jawahar Circle Garden, Aza or Bar Palladio.
What should I wear in Jaipur?
Jaipur is a hot city, it is best to wear light cotton clothes that suit your style.
---
Comments
comments