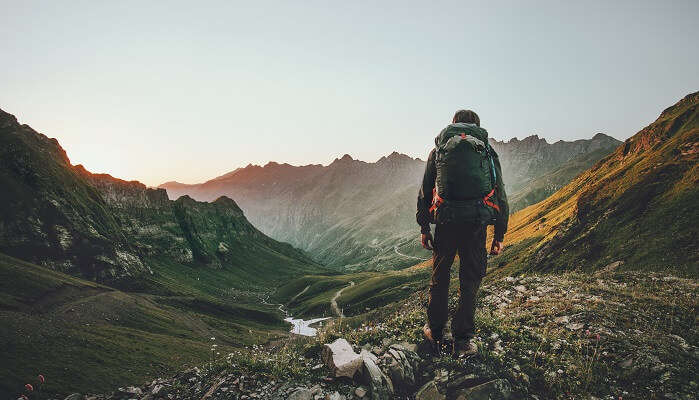 The Bhrigu Lake Trek is a high level alpine lake that is from Manali, Himachal Pradesh. It is just a three days' hike from Manali. The best part of Bhrigu Lake Trek is that you get to climb the feet of 14,000 ft. in just three days. This feat is achieved generally on the fourth or fifth day that too if they are completely trained. Thus, just imagine completing something like this in three days. The most alpine meadows start around 11,000 ft. which is above the tree line. When you start trekking, you start walking down the meadows within the first 10 minutes of the trek itself. Know more about this trek with this handy guide and enjoy the best time here exploring the adventurous trails.
Best Time for the Bhrigu Lake Trek

Trekking in Himachal Pradesh is always challenging yet one of the top priorities for trekkers due to the adrenaline charge it offers. The trek is around 11 km and it begins in Manali. The trek can either end in Manali or Vashist. 
You can start going to the Bhrigu Lake Trek from mid-May till the mid of October. The best time to go for the trek is before the month of June and after August since this is when the rains occur. There may be a probability of landslides at night. In the summers, the temperature hovers around 20-25 degrees in the daytime and falls to 5 -7 degrees at night.
If you want to do the Bhrigu Lake Trek in December, then the daytime it is around 10 degrees-15 degrees and at night it gets even lower. It can even go to 0 degrees at night. For almost half a year the lake remains frozen. You can enjoy the sight of the snow and the sun shining on the lake. The travellers can enjoy the sight of the snow even when they are going early during the summer.
Winter trekking in Himalayas can be overwhelming even for a trekker. The Bhrigu lake trek in winter is done when you are going in December. The entire region is covered in thick snow and the temperatures fall even to minus 10 degrees Celsius. Apart from that, the upper reaches are under very heavy snow! Bhrigu Lake is not at all accessible. So it is not a good idea to go on the trek in winter.
Trekking 101: 15 Things To Carry While Trekking In 2022 For Beginners!
Route of Bhrigu Lake Trek

You need to drive from Manali to Gulaba and then trek uphill till Rola Kholi. Manali (2050 m) to Gulaba (2600) to Rola Kholi (3810 m). It is around a 4-5-hour trek and is around 7 km.
Gulaba is the starting point of the Bhrigu Lake Trek and it is a 22 km drive from Manali. This place, Gulaba is on the road to Rohtang Pass. The trek starts from Gulaba and then it will go through Rola Kholi. Then, there is a steep uphill trek to Bhrigu and then back. The trek from Rola to Bhrigu Lake and then to Pandu Ropa is almost 7-8 hours of trek and is 14 km.
Cost of Bhrigu Lake Trek

The Bhrigu lake trek is not too expensive. If you want to do it, you can set aside around 6000-7000 per person. When you are booked with a tour operator, they provide a complete package that includes food throughout the trip. This accommodation is managed in the tents on a triple, sharing or double sharing basis.
The cost of this trek also includes necessary permits and fees too. As per the package, you can request a surface transfer too. Thus, while prepping up for the Bhrigu Lake Trek, the overall cost also includes the qualified guides who are experienced trek leaders and you will have support staff too.
Trekking In Kerala 2022: A Short Guide For Beginners To Have An Ultimate Experience!
Bhrigu Lake Trek: Equipment Required  

There is a list of items that you should always carry while you are on any trek. So, this list is not Bhrigu Lake trek specific but for the treks. You need to bring these for sure when you are packing for your adventure.
If you are supposed to bring the trekking gear, then you need to have a rucksack bag with an in-built rain cover. Then, have a day bag pack, head torch/light with extra batteries all the time.
When you trek, you need to wear proper footwear. You need to wear skid-free, high ankle trekking shoes. They are very important because the shoes should not give any blisters.
Wear quick-drying t-shirts or comfortable clothing. You can wear full sleeves shirts or sweatshirts for trekking.
When you are high up on a mountain, it is your skin that goes dry in no time. Thus, there is a lot of requirements for sunblock creams because they help your skin never go dry. Also, you should consider having a lip balm and face moisturizer.
Always carry glucose powder because that can give you instant energy. You can also carry nuts or chocolate bars that are easily carried. Do not bring any suitcases while you are coming to trek.
What to See During Bhrigu Lake Trek

Mountaineering in Himalayas is always going to acquaint you with a different world. When you are making it to the destination via a trek, you will understand that Bhrigu Lake is between the ridges of two high altitude peaks. If you see, the lake takes a lot of different forms. Sometimes it turns blue or green or sometimes it has ice floating on its service. Sometimes, during the months of winter, it is completely frozen.
When you go in the monsoon time, you will find some grass and flowers around the lake. It is worth doing this trek just to see the breathtaking view of the lake.
Once you start trekking, you will step into the meadows. There, you can see some of the major peaks that you have only read about in books. You will see Ladakhi, Shitidhar, Hanuman Tibba when you are walking on the grasslands. But when you are at the top, you will see Indrasen, Deo Tibba as well. When there is clear weather, you can observe the Dhauladhar and Pir Panjal ranges too.
Trekking In Darjeeling 2022: Top 9 Trekking Routes For An Thrilling Holiday In The Tea Hills
General Itinerary For Bhrigu Lake Trek

Day 1: It is a complete 4-day trek from Manali and then you have to complete the registration process. You can drop all the bags at the camp you have booked. Your camp must provide you with some activities that will help you acclimatize well. You should never start trekking the moment you reach Manali. You can simply enjoy the activities that are organized by your camp. You can go to the Jogni Waterfalls which is around 1.5 hours. You can come back in the evening and relax and prepare for your next day.
Day 2: Drive from Manali to Base Village or you can trek to the base campsite. You can meet your trek representative and they will take you to the base village. From here you will have to trek from your campsite to the base camp. The ascending trek here is moderate and will take around 3-4 hours to reach. The base campsite is amazing and you can get a view of Solang Valley. Then, you will have an overnight stay in the tents at the Campsite.
Day 3: Bhrigu Lake Trek is around 11 km and takes about 9 hours to trek. So it is better to start with having breakfast. You can always pack lunch and eat it midway. The trek will be taking around 3-4 hours just one way. Once you reach the lake site, you can simply adore the site of the lake and then you can click loads of pictures.
Post clicking pictures and admiring of scenic beauty, you can start your descent. Again it will take around 3-4 hours to trek down to the base camp. After reaching the camp, you can take a rest in your respective tents. You can also enjoy some fire and dinner at night.
Day 4: You will have to start descending to the base village and check out of the tents. You can take the vehicle back to Manali and the journey ends here.
Reason to Not Miss the Bhrigu Lake Trek

1. First, it is easy to access from Manali. And the second, it is one of the most beautiful treks in Manali. You have access to a beautiful lake when you climb and mostly the trek is through forests and meadows.
2. If you are someone who loves the idea of treks and wants to see if it is working well for you, then you can easily do it because it is a trek for beginners.
3. The maximum altitude you are going to climb is 14,000 ft. This trek is a complete must-do list made by potential trekkers.
4. You may explore yourself and you can understand your capabilities while you are on this trek. If you wish to explore the unseen trails, this could be the right place to start.
Top Places For Trekking In Sri Lanka For The Thrill Seekers!
Tips for Trekking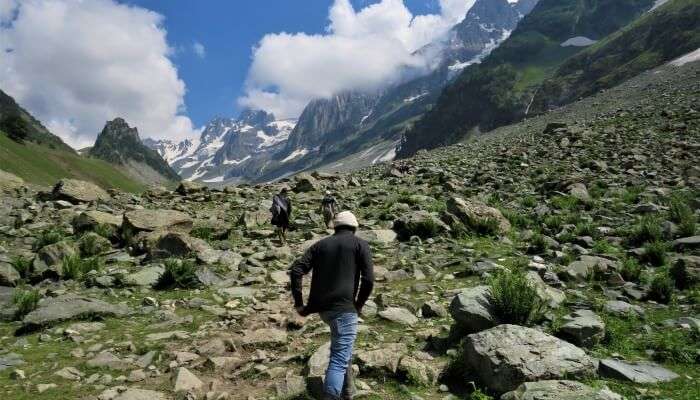 Here are a few tips for trekking in Bhrigu lake and things you should keep in mind beforehand:
Choose an easy rrek route for the first trek
Do proper research for your trek – know your location
Start training early
Don't forget to pack the correct footwear
Carry weight preferably a backpack and walk for practice
Pack essential emergency items like a first-aid kit, bandages, and medication for headaches, dysentery etc.
Keep a down jacket, sweater, woollen trousers and rain gear
Carry surgical tape, antiseptic cream, sun cream, etc.
Toilet kit with extra towels, toilet papers and soap
Torches with extra batteries
Pocketknife and winter duffel bag
Go for the Bhrigu Lake trek in January if you want to witness snow
How to Reach Bhrigu Lake

By Air: Bhuntar Airport which is situated in Kullu. This is situated around 52 km away from Manali. There are local taxi services you can take which are available. Bhuntar to Manali can cost you around 1650 if it is a 7 seater car. It may cost less if it is a sedan or a smaller vehicle. You have flights from Delhi to Kullu and Chandigarh to Kullu.
By Road: The major cities from Manali are Chandigarh (312 km) and New Delhi (553 km). If you are coming to trek to Bhrigu Lake, then you can take the bus from Delhi to Manali and then go to the campsite.
22 Monsoon Trekking Destinations Near Mumbai & Pune You Must Plan In 2022
Thus, the Bhrigu Lake Trek is going to be a very great experience provided you simply love nature and the treks. Be sure to prepare yourself physically and mentally. After all this what are you waiting for more than this? This is the perfect place for the adventure junkies to immerse themselves in the lap of nature. So, when you're enjoying a vacation in Manali make sure to not miss out on the Bhrigu Lake Trek.
For our editorial codes of conduct and copyright disclaimer please click here. 
Frequently Asked Questions About Bhrigu Lake Trek
Is Bhrigu Lake Trek difficult?
Although it is termed easy and it is an ideal climbing to the altitude, it is a great trek for both beginners and experienced trekkers. If you are a first-timer, then it may get very rigorous and thus you need to read extensively about the trek. Apart from this, learn to maintain a good physique and stamina before you begin the trek.
How long is Bhrigu Lake Trek?
The Bhrigu Lake Trek is spread into three-day trek. The first say, you take 1.5 km because it is just a 3km trek. The third day, you will have to cover around 10-11 km where the trekkers try and complete by 8 hours. The average distance you trek is around 5-6 kms and the time taken is 4 hours.
How do you get a Hampta Pass?
To reach Hampta Pass, you need to go to Jobri by crossing Prini. Then it is a 2-day trek to Hampta Pass and then another day will take to go to Chatru or Jobri if you are an excellent trekker
How do I get to Bhrigu Lake from Manali?
The Bhrigu Lake is at a distance of 24 km away from Manali. You need around 4 days to trek to Bhrigu Lake and come back. The trek starts at Gulaba, the starting point and then you can start your trek from up there.
How can you reach Manali from Beas Kund?
If you want to do the trek to Beas Kund, it starts from Solang which is 12 km away from Manali. Catch a local bus from Manali bus stand for just INR 27 or you can book a taxi. The timings to Solang Valley are 8 AM, 10.30 AM, 1.30 PM and 3.30 PM.
Is Kheerganga Trek open now?
Yes, you can go for Kheerganga Trek now but the starting point is in Barshaini.
People Also Read: