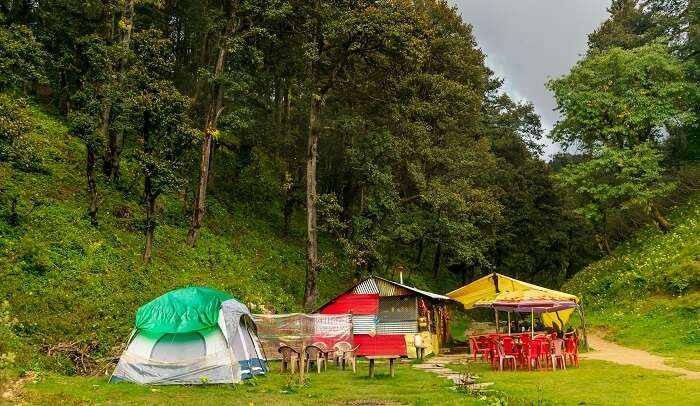 Away from the hustle bustle of monotonous daily life, the calm breeze and serene beauty welcomes you to the lap of nature. Kullu is located on the banks of River Beas that serves as a spectacular spot in the Kullu Valley. The place was earlier known as Kulanthapitha that means the end of the habitable world. The valley is known as silver valley for the enchanting landscape it offers. Bounded by deodar clad hills of Greater Himalayas, Kulu is the ultimatum of gorgeous landscapes. Apart from the scenic surroundings, camping in Kullu is also famous for wide range of adventure activities and camping.
Best Time For Camping In Kullu
Kullu is considered as being the camping heaven for the adventure enthusiasts. In the summer time, the highest temperature rises as high as 25 to 37 degrees which serves as the best time to visit Kullu for enjoying adventure activities and camping. Summer starts from March which continues till June. Visiting this place depends on what you want to do. If you intend to enjoy snowfall, November to March is the best time to visit. Kullu witnesses the lowest temperature range of 4 to 20 degree Celsius in the months of December to January. Thus, the months of May to June serve as the best time to visit Kullu for everyone. Not only can you cherish the camping experience but also the beauty of nature.
10 Best Camps In Kullu
Thinking of camping in Kullu? If yes, then here we bring to you some of the best camps you must opt for on your vacation.
1. Wildwood Camping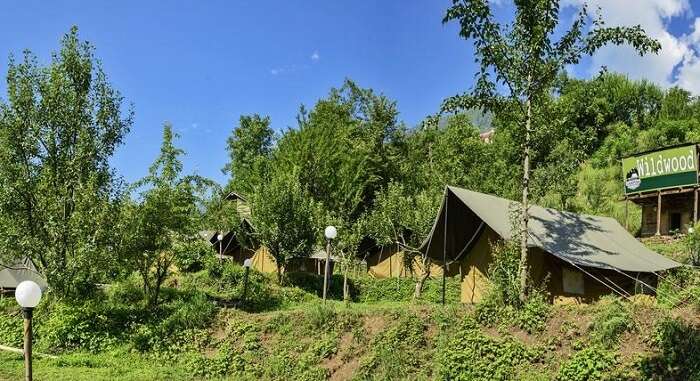 The camping is situated in front of the lake and lets you experience the truest form of beauty and wildness. Wildwood camping offers you doom and vintage tents along with attached bathrooms. The tents are well equipped with spacious beds and sitting areas. While soaking in the basking sun and the beauty of nature gear yourself for experiencing the most thrilling sports. Visitors can also enjoy bonfire at the end of the day while singing the melody tunes. You can experience natural freshness with delicious food while enjoying the riverside camping in Kullu that is bound to exceed your expectations.
Price: Starts from INR 3,500 onwards
Facilities: Free Parking, restaurant, free breakfast, children activities
Location: Near Bandrol Fruit Market, Bandrol
TripAdvisor Rating: 5/5
TripAdvisor Reviews
Must Read: 28 Best Places To Visit In Kullu That Add The Much Needed Charm To A Delightful Stay!
2. Camp The Jungle Edge By Bedweiser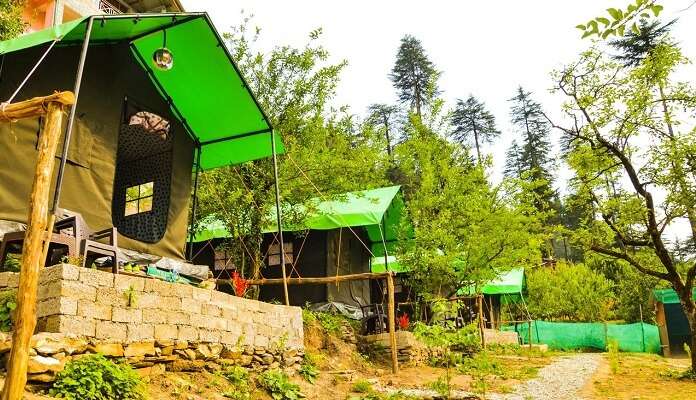 Camp the Jungle Edge is located in between the lust green mountains which is situated very close to Kullu. By rendering the most extravagant feel of staying close to nature, the camp serves as the best treat to adventure enthusiasts. Experience true form of camping with Camp the Jungle Edge which serve as the best adventure for camping enthusiasts. The property comprises of its own zip line. This beautiful combination of nature and cozy accommodation is the ideal way to experience camping at its best. With a wide range of activities and facilities, the place promises to be the heaven for camping seekers.
Price: Starts from INR 3000 onwards
Location: Kullu-Naggar Road Village Sarsai, Kullu
Facilities: Free High Speed WiFi, pets allowed, free breakfast, restaurant
TripAdvisor: 4/5
Suggested Read: 13 Best Places In Manali For Honeymoon Couples Visiting The Hill Station In 2022
3. Padam Bal Adventure Camp & Co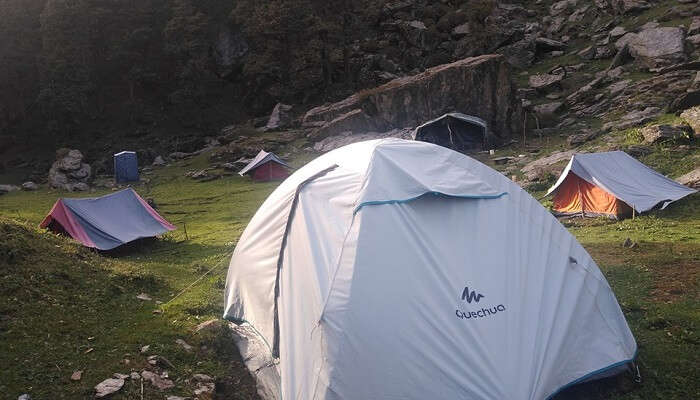 Padam Bal Adventure Camp & Co is one among the best places for camping in Kullu. Located in serolsar lake, the place is the best combination of nature. It is situated at a distance of 5 km that one can trek from Jalori Pass. The camping arena promises to offer an exciting and worthy camping experience in Thirthan valley. Offering world class amenities, the camp looks forward to cater to the interests of one and all. Their service includes accommodation, food and local guidance of the surrounding tourist places of interest. Apart from enjoying the mesmerizing beauty, visitors can also experience a wide array of adventure activities that include hiking, trekking and so on. Visitors can choose from their two divisions of smoking and non smoking rooms.
Location: Serolsar Lake Jalori Pass & Serolsar Lake, Kullu
Facilities: Free high speed WiFi, free breakfast,
Price: Starts from INR 2500 onwards
TripAdvisor Rating: 5/5
TripAdvisor Reviews
Suggested Read: 7 Vibrant Manali Festivals That Make This Resort Town Even More Amazing
4. Camp Chrysalid Tirthan River Valley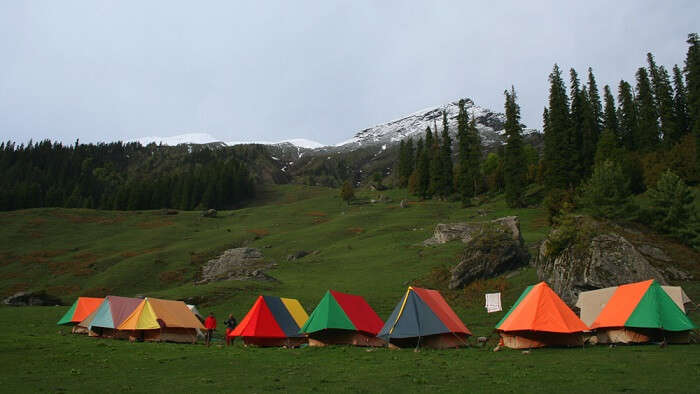 Stay closer to nature with your stay in Camp Chrysalid Tirthan River Valley while you relax in the environment. The camps are beautifully decorated comprising of separate washrooms in the vicinity. The staff is extremely courteous and energetic and lets you plan all adventure activities without facing any difficulty. As it is located at edge of Great Himalayan National Park, it lets you witness greenery in the surroundings while lets you experience peace. The rooms are not only beautiful inside but also on the outside. These offer excellent breathtaking views and a serene ambiance away from the bustling noises of the city.
Location: Sai Ropa, Tehsil Banjar, Kullu
Facilities: breakfast, free parking, room service, free high speed WiFi internet, non smoking hotel, restaurant
Price: INR 3225 – 4100 onwards
TripAdvisor Rating: 5/5
Suggested Read: Manali In January 2022: Know What Makes It A Great Time To Explore This Paradise
5. Shiva Shanti Camps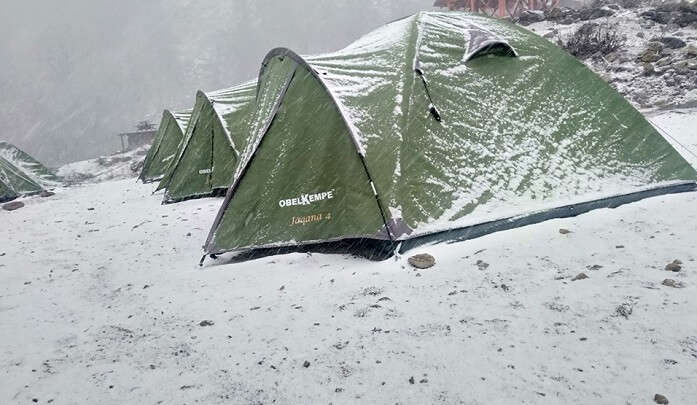 If you wish to experience beauty of the nature in its truest form, Shiva Shanti camps is the ideal option of stay to opt for. There are varied camping tents that seek the open and broaden the minds of every single traveller. Surrounded by wild trees, the camps are an ideal treat on its own. The place surrounds a few nearby attractions that include Bijli Mahadev temple Dhakpo Shedrupling Monsatery and Jagatipatt Temple. Enjoy your night away by lighting a bonfire amidst the cool weather and solitude. You can also enjoy nature walks by walking down the greens of the mesmerizing valleys in Kullu.
Location: Sultanpur road, Kullu
Facilities: Bonfire, taxi service, food, music, customized parties
Price: Starts from INR 1100 onwards
TripAdvisor Rating: 3.5/5
TripAdvisor Reviews
Suggested Read: 15 Homestays In Manali You Must Consider Staying In For Your 2022 Vacay
6. Family Adventure Camping, YHAI, Seobagh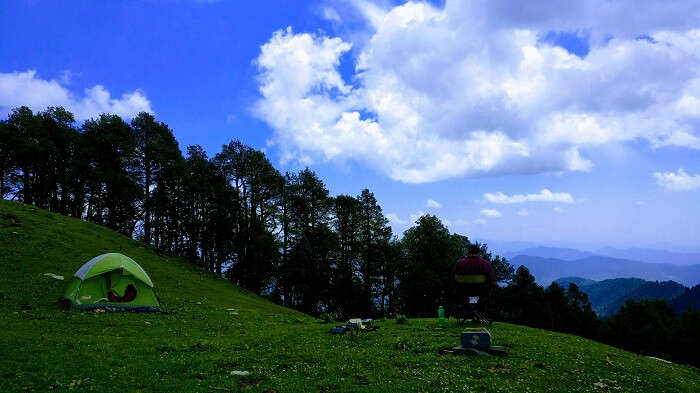 YHAI family camping is the best that you could give to your family. The spacious tents are ideally built to accommodate a family of four. Alongside, a group of four friends can even venture out to enjoy camping in this place. It offers the perfect getaway from the chaotic hustle bustle of the city life. With courteous staff and varied facilities, the camp achieves to impress one and all. The location offers great views and is situated amidst the beautiful valleys and wild trees. Lose yourself to the wilderness of nature and spend a night here to experience nature closer to yourself.
Location: Seobagh, Kullu
Facilities: Free high speed WiFi, free parking, free breakfast, restaurant
Price: Starts from INR 1100 onwards
TripAdvisor Rating: 3.5/5
TripAdvisor Reviews
Suggested Read: 30 Places Near Manali That Are Perfect For A Dreamy Holiday In The Hills In 2022
7. Soli Tree Camps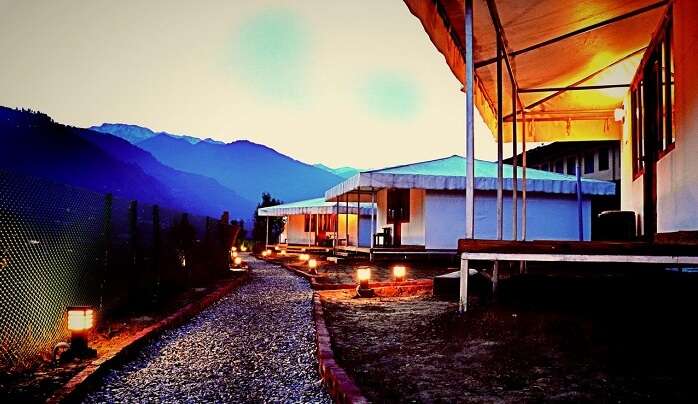 Soli Tree camps are located in Kais Village in Kullu. Surrounded by beautiful mountains, the abode in the Himalayas promises to be a wonder land for the camping lovers. It offers a one in a kind experience offered with bountiful nature. By listening to the mesmerizing rhythm of river Beas, the camps promise to attract adventure enthusiasts of all kind. It offers offbeat accommodation the guests who are looking for attaining a calm and quiet retreat from the chaotic hustle bustle of the city. The place offers well furnished luxury tents that keep the comfort of the guests in priority. Apart from the beautiful stay, best camping in Kullu also offers a wide range of activities specially curated for the travellers that includes river rafting, nature walks, hiking, trekking, mountain biking, picnics and so on.
Location: Village Kukerseri, P.O Kararsu, District Kullu
Facilities: Barbeque, housekeeping, free parking, room service, attached washrooms
Price: INR 4000
TripAdvisor Rating: 5/5
TripAdvisor Reviews
Suggested Read: Two New Electric Buses From Manali To Rohtang Are All Set To Depart. Ready To Board?
8. Fly In Heaven Camps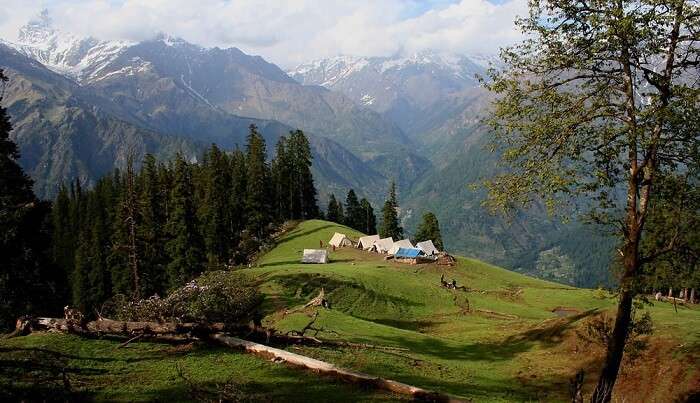 The camp is situated in the mountains which entails you to experience a great view, irrespective of you room position. Nestled among the purest form of nature, the camps serve as your ideal getaway for an adventurous tour. The tents are spacious enough to accommodate two individuals in double bed. The outdoors will welcome you to the paradise of hills where clouds will meet you halfway. Enjoy sumptuous delicious hot food made by maintaining maximum hygiene and quality. Enjoy adventure activities in the duration of your adventure camping and utilize the outing to its maximum potential.
Location: Jana village, near Jana waterfall, Kulu
Facilities: Double sized bed, toiletries, fan, 24 hour room service, housekeeping, doctor on call, reception,
Price: INR 1499 onwards
TripAdvisor Rating: 3.5/5
TripAdvisor Reviews
Suggested Read: Trekking In Manali: A Tryst With The Best Of Himalayan Trails
9. Tirthan Apple Bite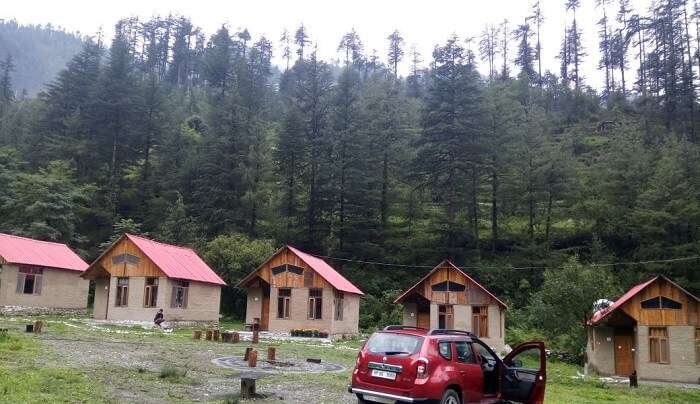 Tirthan Apple Bite is located near Tirthan River in tranquil Himalayan foothills of Bijhi which is a hill station that is situated near the northern end of Kullu Valley. The camp consists of mud huts that are built with antique style along with wooden palling and clay wall. The homestay offers healthy environment which serves as a great accommodation for family. It also serves freshly made local food which is a must try for the food lovers. The huts are equipped with all modern amenities such as clean beds, seating space, modern toiletry, outside sitting space, bathroom with shower. Along with it, the adventure activities can be explored to its full potential. Enjoy bonfire while camping in Kullu at night while spending valuable time with your loved ones.
Location: Tirthan Valley, Banjar
Facilities: local food, restaurant, laundry services, hot and cold water, free car parking, trout fishing
Price: INR 5500 per person
TripAdvisor Rating: 4.5/5
TripAdvisor Reviews
Suggested Read: 20 Extreme Adventure Sports In Manali That Will Get Your Heart Racing
10. Royal Himalayan Adventure Camp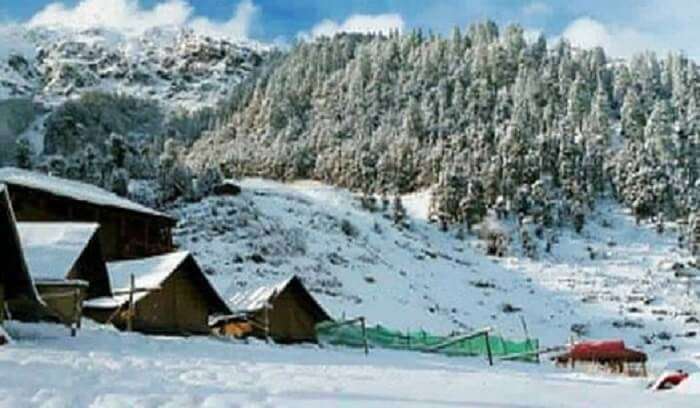 The adventure camp ideally accommodates 3 adults in one room with its spacious tents. Double size bed makes it easier for families to adjust and accommodate. Guests can enjoy free breakfast which is an attractive amenity of this camp. Along with these, enjoy the wilderness of the camp by indulging into adventure sports that are a must try while camping in Kullu Himachal. End the day by having a bonfire with your friends and create the everlasting memory of a lifetime. Enjoy breathtaking scenic views from your tents, while in winters; be ready to be witness snow capped hills in its highest glory.
Location: Village Kashada po Bradha Dist, Kullu
Facilities: Free breakfast, bonfire
Price: INR 2700 onwards
Website
Further Read: 15 Best Restaurants In Manali That Serve Extraordinary Treats
Kullu offers a calming and relaxing setting, away from the monotonous daily life while taking you close to nature. Camping in itself is an exciting adventure activity that is a lot of adventure seekers tend to not miss out on. Moreover, camping in Kullu is the next best thing that an adventure enthusiast can experience. So, plan a trip to Kullu with your loved ones and enjoy the thrill on your vacation.
Frequently Asked Questions About Camping In Kullu
What is the ideal time to go camping in Kullu?
The ideal time to visit Kullu for camping is in summers, in the months of March to June.
What facilities do the camps in Kullu offer?
The camps in Kullu offers a wide array of facilities which includes free high speed WiFi, restaurant, complimentary breakfast, bonfire, adventure activities, free parking, local food, attached toilet with modern toiletries and so on.
Are camps in Kullu affordable?
Yes, the camps in Kullu are affordable as the price range starts from as low as INR 900 and goes up till INR 5000. You can choose tents as per you budget and preference.
Can camping be done in Kullu in winters?
Yes, camping can be done in winters in Kullu although it is not the ideal time to. Camping in cold exposes you to extreme harsh weather conditions. It also leads to potential hardships of performing adventure activities such as hiking, trekking and so on.
What kind of gears is ideal for winter camping?
Winter camping requires several gears including a sleeping bag, sleeping pads, stove for bearing extreme weather conditions. A coat, fleece pants, waterproof jacket and a stick to walk on snow is a must.
Can I get food in the tents?
Yes, you can get food in the tents as the camps have restaurants and in house cooks who cook hot delicious meals for you. Most of the camps offer complimentary breakfast.
---
People Also Read: