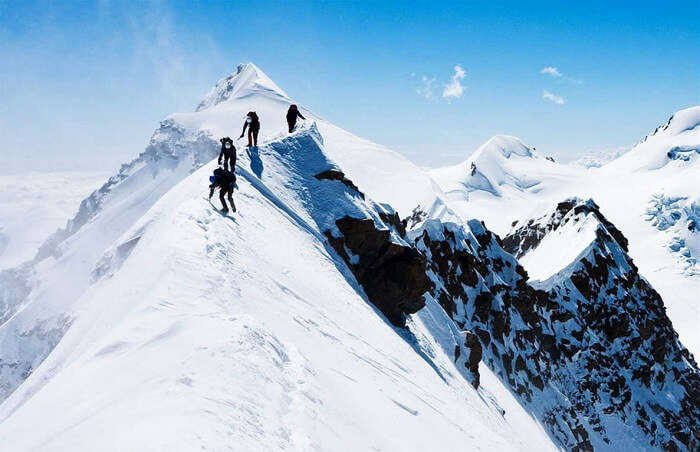 Much famed as the "Nature Lover's Paradise", Kullu treats the travelers with an alluring open valley that offers panoramic views of the majestic hills. Covered with deodar and pine trees, Kully is situated at an height of 1,230 meters engulfed with lush greenery, pristine river streams, and a wonderful climate. Perched in the lap of nature, the town is a pure bliss to explore and these places to visit in Kullu prove just that.
12 Best Places To Visit In Kullu
Here's what all you can explore in the charming town of Kullu with your friends and family. Don't forget to include them all on your Himachal tour itinerary for a revitalising yet fun holiday:
Great Himalayan National Park
Raghunath Temple
Bijli Mahadev Temple
Pandoh Dam
Manikaran
Friendship Peak
Chandrakhani Pass
Bhrigu Lake
 Bhuntar
Naggar
Jagannathi Devi Temple
Gauri Shankar Temple
1. Great Himalayan National Park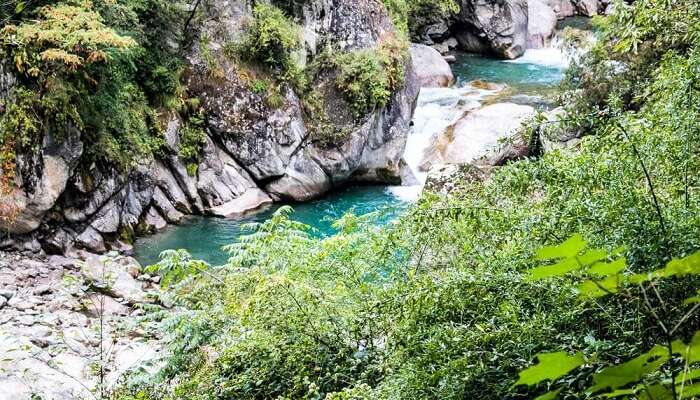 Spread over an area of 754 square kms at an altitude of 6000 meters, the Great Himalayan National Park is a UNESCO World Heritage Site that was established in 1984. Featuring four valleys named Sainj Valley, Tirthan Valley, Jiwa Nal Valley, and the Parvati Valley, Great Himalayan National Park is one of the best tourist attractions in Kullu. They are all famous for their natural and scenic beauty and the park is home to more than 375 species of fauna, 31 species of mammals, and 181 species of birds. Being one of the must-visit places to visit in Kullu, the National Park is also a wonderful place to relax and unwind.
Location: Kullu District, Shamshi, Himachal Pradesh 175126
Timings: 24 Hours
Must Read: Explore The Himalayas: 13 Best Places To Visit In Himachal Pradesh
---
Himachal Holiday Packages On TravelTriangle
Head to Himachal to witness lush valleys surrounded by snow-capped hills. Indulge in skiing, paragliding, and other adventure sports. Book holiday packages inclusive of airport transfers, cab, resort, sightseeing, and meals to Shimla, Manali, Kasol, Dharamshala, and more.
---
2. Raghunath Temple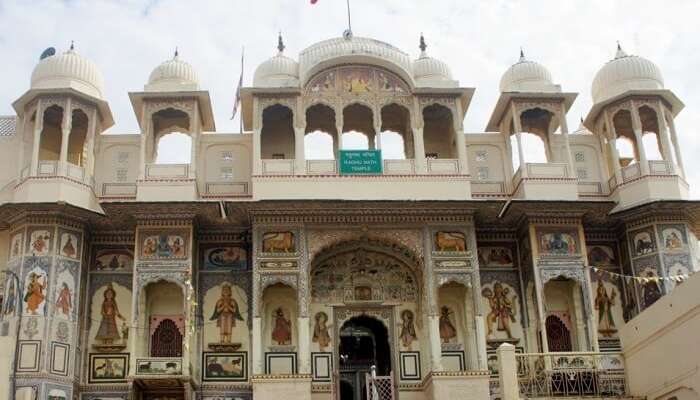 The Raghunath Temple is one of the famous Kullu tourist spots that is encircled by lush greenery all around. People also believe as per the ancient legend that the idol of Lord Raghunath which has been placed inside the temple is said to be the same one which was used by him. This temple is one of the oldest temples in the valley of Kullu, and is much famed amongst the locals and the tourists alike.
Location: Near Post Office, Sultanpur, Kullu, Himachal Pradesh 228001
3. Bijli Mahadev Temple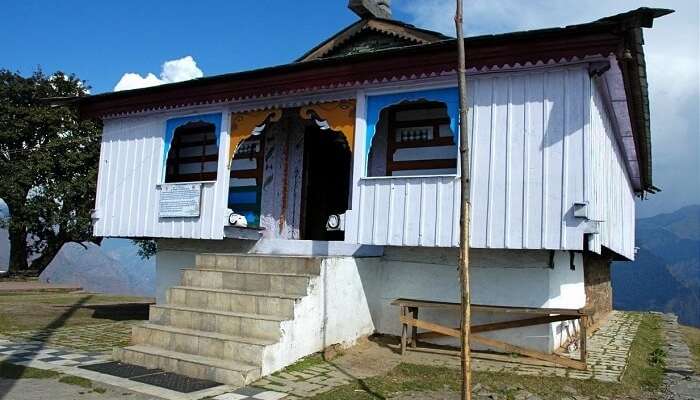 The Bijli Mahadev Temple is one of the famous Kullu points of interests. From being a famous place where the lightning strikes to a huge Shiva structure, and from the surreal surroundings to some of the best sceneries of Kullu, the temple is captivating to bits. It is said that the temple also houses a Shiva Linga which was broken into pieces by lightning that were later joined back together by a temple priest using butter. The temple can be reached by a strenuous trek of about 3 kms long through the pine trees.
Location: Kullu Valley, Kullu, Himachal Pradesh
Suggested Read: 7 Best Hotels In Chail: Best Of Himachali Hospitality, Luxury, And Beauty
4. Pandoh Dam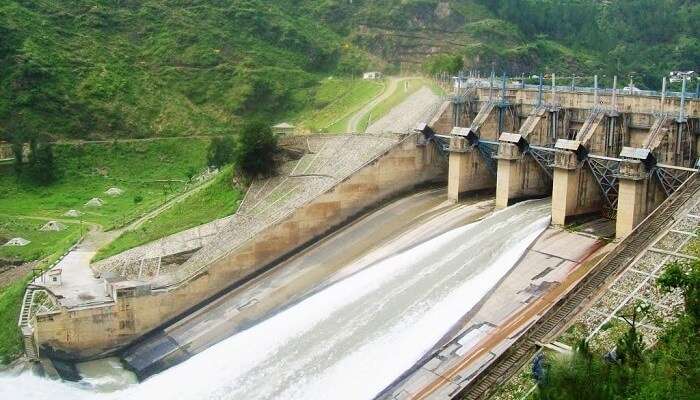 Constructed on the River Beas, the Pandoh Dam is an embankment Dam that lies in the Mandi district of Himachal Pradesh. It is among the famous places to see in Kullu, and one of the famous man-made lakes is created by the dam that draws a many travelers to the town. The sight of water being released from the dam is spectacular indeed, and treats one's eyes with refreshing views. Also, do not miss out on experience rafting in the lower bed of the lake.
Location: Mandi, NH 21, Manali, Manali Tehsil, India
5. Manikaran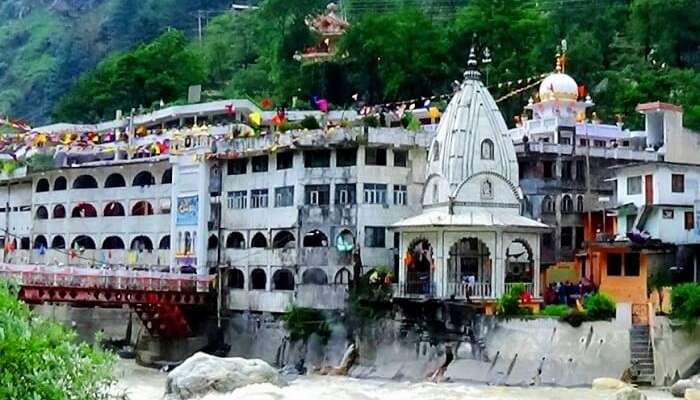 Manikaran is located in the Parvati Valley and is known for being an important pilgrimage destination for both Sikhs and Hindus. The hot springs, religious attractions, and beautiful surroundings draw the tourists from far and wide. According to the Sikhs, Guru Nanak Ji performed several miracles, and Hindus believe that Lord Shiva and Goddess Parvati stayed for almost 1100 years at this well-known Kullu tourist spot. This Gurudwara is also mentioned in the 'Twelfth Guru Khalsa' by Giani Gian Sikh which makes it more significant for its disciples.
Location: Parvati Valley, Kullu District, Himachal Pradesh
Suggested Read: 20 Best Hill Stations In Himachal To Experience Pure Bliss
6. Friendship Peak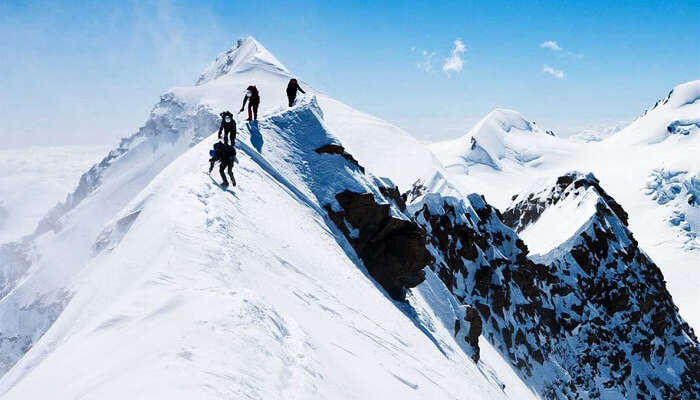 Friendship Peak is one of the many places to visit in Kullu Manali which is famous for offering umpteen number of opportunities for trekking. Standing tall at an elevation of 5,289 meters in the Pir Panjal Range of Himachal Pradesh, trekking to the Friendship Peak will take you on a journey through the beautiful Solang valley, alpine meadows, thick forests, colorful orchards, and gushing streams. Moreover, it is a thrilling journey to climb such a steep altitude over the thick bed of snow and walking over glaciers and narrow ridges.
Location: Pir Panjal Range, Beas Kund Area, Manali, Manali Tehsil, India
Suggested Read: 10 Exciting Things To Do In Kangra That Are Sure To Leave You Wonderstruck
7. Chandrakhani Pass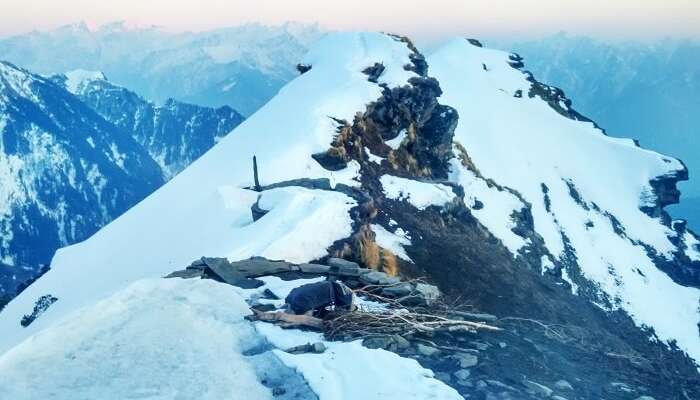 Set on the left banks of River Beas, the Chandrakhani pass is one of the famous places to see in Kullu and enjoy the scenic beauty of nature. The valley has fertile fields, evergreen thickets, and crystal clear gushing waters. Perched at a height of 3600 meters in the Parvati Valley, the Chandrakhani pass is a favorite paradise for those who seek natural beauty with the massive mountains and valleys in the backdrop.
Location: East of Katrain, Kullu 175101, India
Suggested Read: 7 Vibrant Manali Festivals That Make This Resort Town Even More Amazing
8. Bhrigu Lake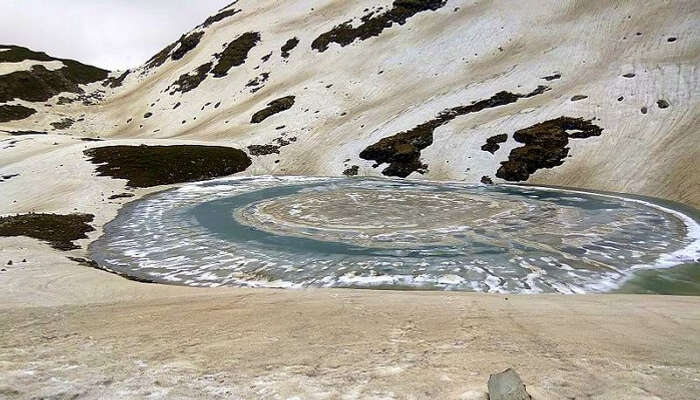 Imagine blue waters amidst white snow that too on mountains? Wouldn't be an amazing sight to see? If you are willing to see this sight yourself then you can visit Bhrigu Lake in Kullu. It is one of the perfect places to be if you are looking for a short weekend trek. The lake is situated at an impressive altitude of 14,000 feet which gives an amazing view of valleys covered with snow in winter.
Location: Kullu, Himachal Pradesh, India
Suggested Read: The Best Celebrations of Dussehra In India In 2019: From Kullu Dussehra To Dussara In Mysore
9. Bhuntar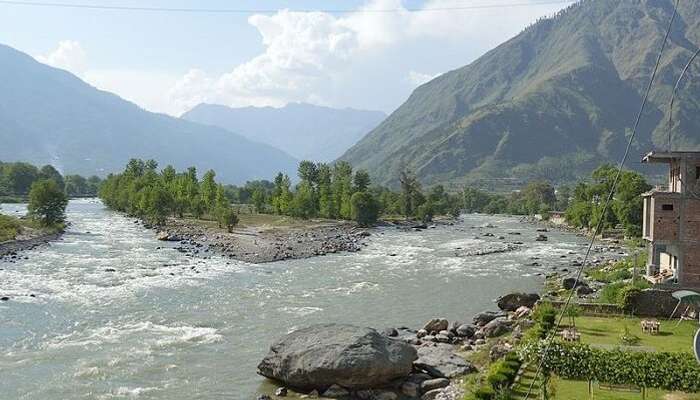 Generally overlooked as a town in Manali, Bhuntar is one of the top places to visit in Kullu. If you want to have an ideal break away from the Manali crowd then Bhuntar is the place to be. The town not only houses an airport but also ATMs. Bhuntar never falls short of basic services and surprises tourists with the ease-of-living.
Location: Kullu, Himachal Pradesh
10. Naggar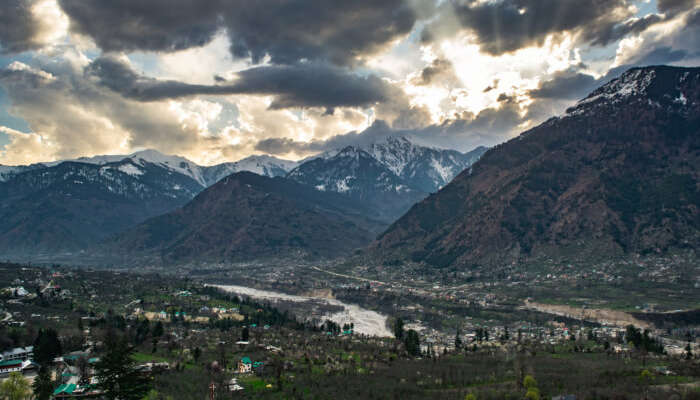 Looking for a quaint town in Kullu? Look no further than Naggar which is an unexplored town in the Kullu district. The town gives you plenty of time to explore the lanes yourself and enliven yourself in the mountains. It is one of the best retreats in Kullu where you can spend as many days as you want.
Location: Kullu, Himachal Pradesh
Suggested Read: 12 Snowfall Places In Himachal Pradesh: A List For Your 2019 Trip
11. Jagannathi Devi Temple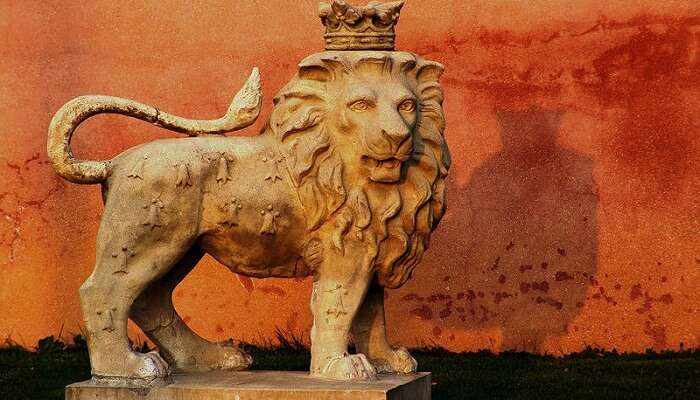 Jagannathi Devi Temple is another amazing place to visit in Kullu which has a legend attached to it. It is believed that a shepherd boy was playing a tune on his flute and he saw two girls dancing. He was able to catch one of the girls who turned out to be a goddess. She decided to settle down in the village and thus the temple was named after her.
Location: Bhekhli Rd, Bhekhli, Himachal Pradesh 175101
12. Gauri Shankar Temple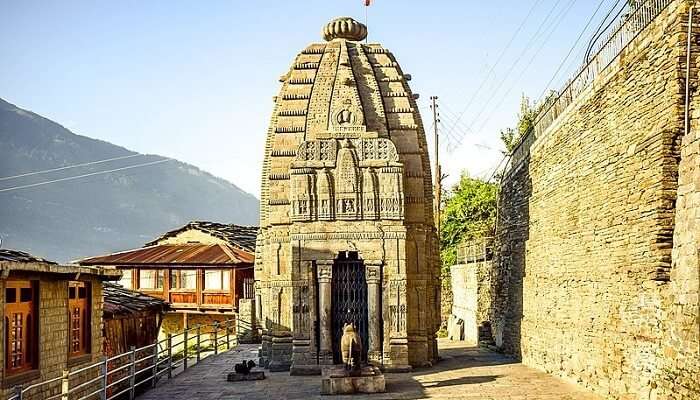 Nestled in the Dashal Village of Kullu District, Gauri Shankar Temple is one of the most revered temples in Himachal Pradesh. This Shivaite Temple can be dated back to the 12th century AD and is built in a shikara style and owing to the architecture, it is quite famous among tourists. This ancient temple is dedicated to Lord Shiva and Goddess Parvati.
Location: Naggar Castle Rd, Naggar, Himachal Pradesh 175130
Further Read: 10 Best Homestays In Himachal Pradesh That'll Make You Fall In Love At First Sight!
Kullu has always been one of the most famous and favorite hill stations in the North for all the travelers. And if you are one of those who are yet to explore this paradise, this would be the right time plan a customizable Himachal tour with TravelTriangle and get going to discover the charm of these best places to visit in Kullu!
Frequently Asked Questions About Kullu
Q. What is there to see in Kullu?
A. There is plenty to see and do in Kullu and Manali. The best places to visit in Kullu include the Great Himalayan National Park, Raghunath Temple, Bijli Mahadev Temple, Pandoh Dam, Manikaran, Chandratal Lake, Friendship Peak, Chandrakhani Pass, Gauri Shankar Temple, Bhrigu Lake, and many more.
Q. What is special in Kullu?
A. Kullu is famous for a lot of things including than its awesome weather, pine and deodar trees, and its majestic hills. Kullu is a favorite spot of adventure enthusiasts since it offers a variety of adventure activities like trekking, river rafting, mountaineering, paragliding, wildlife watching, and hiking over the Himalayan glaciers and hills. There are also various popular attractions here that people love to explore including the Great Himalayan National Park, Chandratal Lake, Bhrigu Lake, Manikaran, and more
Q. Which place is better Kullu or Manali?
A. There is no comparison between the two since both of them offer something unique to travelers, be it in terms of sightseeing, adventure, views, food, or culture. Essentially, these are not two different places since they are located close together and overlap each other. In fact, even travelers like to address them as a single town and call it "Kullu Manali". It is one of the most visited and popular hill stations in Himachal Pradesh in North India.
Q. What is the famous food of Manali?
A. The traditional and local food of Himachal that you can try in Manali and Kullu include specialties like Madra, Dhaam, Tudkiya Bhath, Bhey, Chha Gosht, Siddu, Babru, Aktori, Kullu Trout Fish, and Mittha. You can also find a variety of Tibetan dishes here like Thukpa, Momos, Thingmo, and Thentuk. Other than the local food, travelers will also come across a number of chic and classy cafes in Manali owing to the large influx of foreign tourists that frequent this popular hill town in Himachal. These famous cafes serve items pizzas, banana pancakes, apple pies, samosas, aloo tikkis, bread pakoras, and pav bhaji.
Q. What can I buy in Kullu?
A. Some of the best things to buy in Kullu include Tibetan and Himalayan handicrafts, woollen clothes, Kinnauri and Kullu shawls, souvenirs and gift items in the form of Tibetan prayer wheels, Kullu caps, Thangkas, Dorjes, and more.
Q. How can I go to Kullu?
A. The Kullu valley in Himachal Pradesh is well connected to other parts of India. The nearest airport to Kullu is the Kullu-Manali airport (Bhuntar Airport) which receives regular flights to and from major Indian cities like Delhi and Chandigarh. The nearest railhead is the one at Joginder Nagar which is located around 100 km from Kullu. One can easily hire a cab or board a state-run bus from the airport as well as the railway station to get to other places in Kullu and Manali. You can also travel to Kullu by road from other cities and towns in North India like Delhi, Jaipur, Agra, Chandigarh, Pathankot, Ambala, and Palampur by bus, cab, or your private vehicle.
---
Looking To Book A Holiday Package?
Book memorable holidays on TravelTriangle with 650+ verified travel agents for 65+ domestic and international destinations.
---
People Also Read:
Places To Visit In Manali Places To Visit In Kasol Places To Visit In Gulmarg
Comments
comments