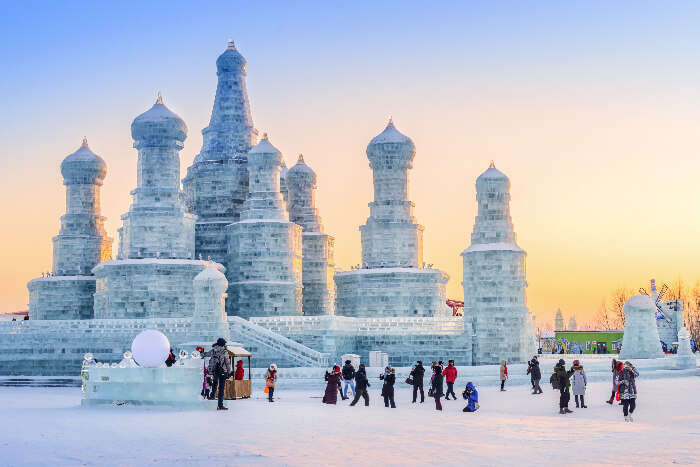 Associated with Finland are pictures of lush forests, frozen tundra, rusty cabins, and fireplaces. But more than that, the country is a treasure house of beautiful castles as well. It is amazing to think that a chair that seems ordinary today used to be the epicenter of a country centuries ago. We have curated a list of castles in Finland that are absolutely impressive and should be paid a visit during a trip to this country.
9 Most Beautiful Castles In Finland
Apart from the fact that they seem to have come straight out of a Disney movie, these castles come with a rich history as well. Here they are:
1. Olavinlinna
There cannot be a conversation on castles in Finland without mentioning this one! Olavinlinna castle in Finland is one of the largest and best-restored castles, making it an extremely popular day trip destination. As the name suggests, it is inspired by St. Olaf and stands tall and mighty on an island on Lake Saimaa. The reason behind its construction was a military one and it was strategically built near the Russian border to defend Finland from any attacks. A lore about a doomed romance between a Finnish maiden and a Russian soldier is famous in regards to this castle.
Location: 57130 Savonlinna, Finland
Timings: 9 AM – 6 PM
Entry Fee: 835 INR
Must Read: 12 Most Fascinating Places To Visit In Finland To Explore The Unspoilt Paradise In 2022
2. Turku Castle
Don't let the small exterior of this southwestern castle fool you into thinking that it lacks anything that makes it a majestic Finnish monument. There are dozens of rooms in this castle that been around since 1280. It is interesting to note that the construction of this castle coincides with the time the city Turku was founded. Historically, its purpose was to serve the Finnish Army by serving as a military fortress but was later transformed into a residence of the Swedish royal family. The many antiques on display showcase the lavish lifestyle of the then-reigning Swedish royalty.
Location: Linnankatu 80, 20100 Turku, Finland
Timings: 10:00 AM – 6:00 PM
Fee: 1100 INR for adults
3. Häme Castle
One of the better preserved Finnish castles that deserves a mention higher up in this list is Hame Castle. The fact that marks a line between Hame and many other castles is the fact that it was constructed out of brick rather than stone which gives it an exquisite red-brown exterior. Not only that, but this castle also holds within its door centuries of history! It was constructed in the 17th century, amidst wilderness. Gradually, a small town took roots around the castle. Moreover, there is enough proof to suggest that this was a fortress of the Eastern Defence Line which was around in the 1290's, making it another former military fort in the region.
Location: Kustaa III katu 6 | Helsinki, Haemeenlinna 13100, Finland
Timings: 10:00 AM – 4:00 PM
Fee: 835 for adults, 420 for children
Suggested Read: This Sled Hotel In Finland Lets You Move Around For The Best Views Of Northern Lights!
4. Raseborg
What stands in ruins today, was one of the most stunning castles in Finland in the 14th century. It was constructed in 1374 and its name is a reminder of its age. 'Borg' is a Swedish word that translates to 'castle'. Raseborg Castle was initially was an administration center for the south-western part of Finland which was a very important trading route back then. In the 1550s, King Gustavus announced that the castle was not fit to defend attacks from new firearms and hence, it was abandoned. However, you can still see the round corner tower today and the foundations of other buildings that stood here decades ago.
Location: Raseborgs Slottsväg, 10710 Snappertuna, Finland
Timings: 10:00 AM – 5:00 PM
Fee: 600 INR for adults, 400 INR for children
5. Kastelholm
One of the best castles in Finland, Kastelholm is a stunning white castle which stands on the Aland islands in the Baltic Archipelago. It was constructed in 1384 to serve a two-fold purpose, one of acting as a fortress and the other of being an administrative center. In fact, it also served as a maritime outpost between Sweden and Finland for a long time. However, the Islanders did not appreciate the idea of a bailiff's rule over them and since the islands were difficult to defend, it lost its importance somewhere in the 17th century. Since it wasn't built to withstand firearms and wasn't restored, it is now in a state of partial ruin.
Location: 5 Tosarbyvägen, Kastelholm 22520, Åland Islands
Timings: Open 24 hours
Suggested Read: 10 Must-Visit Places For A Finland Honeymoon As Romantic As The Northern Lights!
6. Lumilinna Castle
This castle definitely needs to be paid a visit since it is one of the most unique castles in Finland. It is built out of snow and will leave you in awe of its beauty! It is located in the town of Kemi and it is rebuilt using snow and ice from the Gulf of Bothnia. Although no history is associated with this castle, the fact that it is the biggest snow castle in the world makes it worth a visit! Some of the best ice sculptors from across the world are invited here each year to design and remake the castle. The structure is complete with a chapel, ice bar, restaurant, library, and many bedrooms. You can even stay in one of the rooms which is always at a -5 degree temperature!
Location: Lumilinnankatu 15, 94100 Kemi, Finland
Timings: 10:00 AM – 6:00 PM
Fee: 1800 INR for adults, 1080 INR for children
7. Kajaani Castle
Located right in the middle of Kajaani, in the park beside the river, one can spot the northernmost stone castle in the world. It was constructed in the 17th century near the eastern border in the wilderness. Visit the Kajaani castle to go back in time and listen to the stories of the people who lived in this wilderness centuries ago and defied hunger, cold and enemies. The castle ruins make for great day trips and while it is old, and surrounded by biting cold, the mere feeling of going back in time with these ruins is worth all the while. So, don't miss this island on your trip to Finland.
Location: Linnankatu 27, 81700 Kajaani
Entrance fee: The Kajaani Castle ruins are open to visitors free of charge all year round
Suggested Read: Glass Igloo In Finland: A Dream Stay That Must Be In Your 2022 Bucketlist
8. Oulu Castle
Historians from around the world have been intrigued by Finnish culture and history and the Oulu Castle is a living proof of this fact! It was constructed way back in the 16th century but with the burning of the original wooden structure in the late 18th century, the Oulu School of Sea Captains led its reconstruction in 1875. The view from the top is stunning, and the in-house cafe whips up excellent coffee. Along with excellent warm beverages that can be enjoyed with the view, the castle also packs a solid history and has a cultural significance in the country.
Location: Linnansaari 1, 90100 Oulu, Finland
Timings: 8:00 AM – 6:00 PM
Fee: 918 INR for adults
Suggested Read: This 'GoT' Ice Hotel In Finland Is The Ultimate Place To Live Like The Lady or Lord Of Winterfell
9. Suomenlinna
It is a Unesco World Heritage Site, which is to say that it has strong links with the culture of Finland. It has a military architecture which, when paired with the sprawling pastures, is a sight to behold. This sea fortress is one of the top tourist attractions in the country. It can be visited all year by taking a ferry, run by the public transportation department of the city. The ferry can be taken from the Market Square. During summers, guided tours are offered here in a variety of languages, namely – Finnish, Swedish, English, Russian and also Chinese.
Location: 00190 Helsinki, Finland
Timings: 10:00 AM – 4:00 PM
Further Read: 10 Best Airports In Europe For An Enjoyable Journey To Your Dream Destination
The above listed nine castles in Finland are a reason enough for you to pack your bags and get set for the ultimate Finnish holiday. While we wholeheartedly support your endeavors, do make sure your that your itinerary has everything you must see in the land of thousand lakes.
---
Looking To Book An International Honeymoon?
Book memorable honeymoon on TravelTriangle with 650+ verified travel agents for 65+ domestic and international destinations.
---