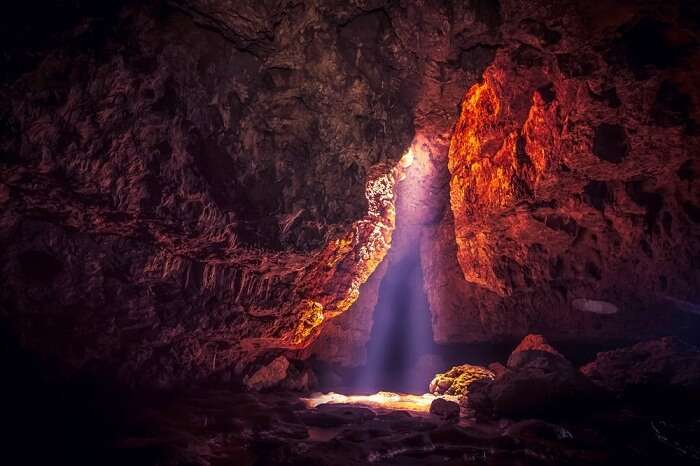 There is a lesser known thrilling activity on the block called Caving or Spelunking, wherein you explore the wild, unexplored caves and study their geography and environment.
Your next question would be – 'Where in India can you pursue this adventure activity?'

And, my answer would be the Caves in Cherrapunji!
Clandestine in the hills of Garo, Khasi, and Jaintia Hills, Caves in Cherrapunji are among the longest caves in India and the world. There are more than 750 caves in Meghalaya, out of which only 150 have been partially and fully explored.
Made from limestone and sandstone over a period of thousand of years due to abrasion from underground water, these caves in Cherrapunji are also home to remarkable creations of nature including the nocturnal bats.
Our ancestors have spent an era living in the caves. That is how the Stone Age began. And once again, it is time to turn into a caveman.
Here is your guide for Cherrapunji Cave; what all to see, how to reach, and how much time to spend:
Caves in Cherrapunji
Keep one thing in mind while visiting caves near Cherrapunji. Wherever there is a waterfall, there is a cave smoke screened behind the falling waters.
1. Mawsmai Cave
2. Krem Mawmluh Cave
3. Arwah caves
4. Krem Liat Prah
5. Seven Sisters Falls
6. Balphakram National Park
7. Double Decker Living Root Bridge
8. Nohkalikai Falls
1. Mawsmai Cave
Suggested Read: 11 Reasons To Visit Cherrapunji In 2022 That Make It A Heaven On Earth
Mawsmai Cave, Cherrapunjee is a major crowd puller. The lime and sandstone caves in appear as a gateway to another world though only 150 m section is open for the tourists. The stalactites and stalagmites formations in the cave will leave you spellbound. They are located just 6 km outside Cherrapunji and can be reached easily by car.
Entry Fee: INR 20
Timing: 07:00 AM to 04:00 PM
Time to spend: 15-30 mins
2. Krem Mawmluh Cave
The fourth longest cave in India, caving through Krem Mawmluh Cave will provide you an experience of a lifetime. It is a grade 2 cave in Meghalaya, spanning through 7 km, which takes you through some of the difficult sections. If wading through bone chilling waters up to your waist, maneuvering through difficult, pointy sections, and carefully avoiding slippery surface sound like an adventure to you, then sign up for it right away. The caves in Cherrapunji are even home to the rare species of bats.
Entry Fee: INR 20
Timing: 07:30 AM to 04:00 PM
Time to spend: 1 hour
3. Arwah caves
Arwah Caves is a gateway to whole another underground world. The dark and dank atmosphere adds to thrill as you crawl through the caves. The cave is so narrow in some sections that you will have to squeeze your body like an acrobat to make it to the other side of the cave. Do not forget to admire the 'limestone masterpieces' formed along the walls and ceilings of the Arwah Caves.
Entry Fee: INR 20
Timing: 07:30 AM to 04:00 PM
Time to spend: 30 min- 1 hour
4. Krem Liat Prah
Suggested Read: Breaking Records: World's Longest Sandstone Cave Just Got Discovered In Meghalaya!
A little further from Cherrapunji, Krem Liat Prah are the longest caves in Cherrapunji in India with the explored distance of 30 km. The interesting feature of the cave is its enormous trunk passage, known as the Aircraft Hangar. The cave is rich in rock formations colored in orange, red, black, grey, blue, green and white.
Entry Fee: INR 20
Timing: 07:30 AM to 04:00 PM
Time to spend: 1-2 hours
Best Time To Go
Cherrapunji is a high rainfall region which receives rainfall throughout the year. However, the best time to go see caves in Cherrapunji would be from October to May when the weather is pleasant and cool.
The ideal temperature remains 22 degrees Celsius throughout the day. You could experience little showers in the day.  After all, Cherrapunji is the wettest place on earth.
Places to visit around Cherrapunji
1. Seven Sisters Falls
Suggested Read: 16 Scenic Waterfalls in Meghalaya That'll Leave Your Mesmerized In 2022!
The engrossing waterfalls are a must-see tourist spot in Meghalaya and can be spotted from Mawsmai Eco Park. The waterfall is separated into seven different streams over the cliff and each stream is named after the seven Northern states. Hence, the name of the fall. The views of the waterfall looks gorgeous, especially in monsoons when a cloud hovers over the waterfall.
How to reach: The falls are just a few kilometers ahead of the caves in Cherrapunji. If you are heading to Mawsmai, put Maswmai Eco Park on your list too, the place from where the waterfalls are visible.
2. Balphakram National Park
Often compared to Grand Canyon National Park, Balphakram National Park in Meghalaya is home to a wide variety of flora and fauna. Located to south of Garo Hills, it is a famous habitat of barking deer and the golden cat. The spooky land is also full of mystical trails and supernatural phenomena which cannot be explained by science and logic. However, the Garo tribes hold this place with great religious importance.
How to reach: The park is 218 km from Shillong. But you ought to put this place on your Shillong Trip list.
3. Double Decker Living Root Bridge
Suggested Read: The Ever Growing Living Root Bridges, Meghalaya – A Nature's Marvel In The Northeast
Have you ever crossed a bridge made entirely of living roots? Double Decker Living Roots Bridge is an astounding creating of Mother Nature which gives man's concrete marvels a run for their money. Crossing the living roots bridge is an experience you won't forget for your lifetime.
How to reach: It is located in Turna village, 20 km from Cherrapunjee. You can either take a local bus or hitchhike. There are traveller's hut for INR 400/day with all the basic facilities in case you want to stay and spend a night here.
4. Nohkalikai Falls
Located in the east Khasi Hills, Nohkalikai Falls are another gem in the land of waterfalls. It is the highest plunge waterfall in India with a height of 1,115 ft. The gushing waters of the falls looks absolutely breathtaking, especially in the monsoons. There is even an interesting legend behind the story of waterfalls. Do not forget to ask the locals about it.
How to Get There
By Air
The nearest airport to Cherrapunji is in Shillong, 91 km away. There are frequent buses between Shillong and Cherrapunji. You can either take a bus or hail a taxi from Shillong Airport
The next closest airport is in Guwahati, 165 km away. You can take a taxi from the Guwahati airport to reach Cherrapunji.
By Train
The closest rail head to Cherrapunji is in Guwahati. You can take a taxi from outside the railway station. It takes about 4 hours to reach Cherrapunji from Guwahati.
By Road
Cherrapunji is well connected to major cities of Assam and Meghalaya. There are frequent state and private buses from Shillong.
Where to stay
Hotels in Cherrapunjee are scarce. But you can still find local homestays and 3-star resorts for your accommodation. Here are the best places in Cherrapunjee where you can stay.
Cherrapunjee Holiday Resort
Suggested Read: 10 Best Hotels And Resorts In Shillong That Will Entice You To Explore Meghalaya!
Even though it is located outside the city centre, the cordial and natural surroundings make it worth a stay. Tucked in a location surrounded by clouds, it lets you have a rendezvous with the nature. The staff is courteous and helpful. The resort is located within walking distance to root bridge treks. They will even arrange a chauffeur for you.
Address: Laitkynsew Village, Cherrapunjee (Sohra), Meghalaya 793108
Tariff: INR 1,700- INR 3,000
Cherrapunji is an offbeat destination with so many unexplored treasures to see. Be it your honeymoon, a family vacation, or a trip with friends, let TravelTriangle help you plan an exotic getaway with customized North East Tour Package tailoring all your travel needs.
Disclaimer: TravelTriangle claims no credit for images featured on our blog site unless otherwise noted. All visual content is copyrighted to its respectful owners. We try to link back to original sources whenever possible. If you own the rights to any of the images, and do not wish them to appear on TravelTriangle, please contact us and they will be promptly removed. We believe in providing proper attribution to the original author, artist or photographer.
Please Note: Any information published by TravelTriangle in any form of content is not intended to be a substitute for any kind of medical advice, and one must not take any action before consulting a professional medical expert of their own choice.
Frequently Asked Questions About Caves In Cherrapunji
How many caves are there in Meghalaya?
Meghalaya is a destination that is one of its kind. Blessed immensely by mother nature, this destination reeks of tranquility and peace. Home to numerous mysterious spots, Meghalaya hides around 750 caves with only 150 to have been fully or partially explored.
Which are the longest caves in Meghalaya?
Cherrapunji is known for many long caves that are definitely the iconic landmarks of Cherrapunji. Located about half a kilometer from Cherrapunji is the fourth longest cave in the country and longest cave in Meghalaya and is known as Krem Mawmluh.
Is Cherrapunji in Assam?
Known as the wettest land in the country, Cherrapunji is not located in Assam, in fact it is sitting in the heart of Meghalaya- one of the lush green states of North East India.
What is the deepest cave in Cherrapunji?
Located just a few kilometers from Cherrapunji is one of the main attractions of Cherrapunji known as the Mawsmai Cave. These caves are made up of limestone and are the deepest caves near Cherrapunji.
Does it rain daily in Cherrapunji?
Possessing highest annual precipitation levels worldwide, Cherrapunji is a destination that experiences rainfall all year long. Although, the amount of rainfall increases during the actual monsoon months i.e. June to September and it is best to avoid Cherrapunji in these months.
How do I get to Cherrapunji?
Cherrapunji is one of the popular destinations amongst travelers and is easily accessible. The nearest airport and railway station to Cherrapunji is located in Guwahati which is around 180 kilometers from Cherrapunji. Once in Guwahati, one can easily make use of the public road transport or hire a private vehicle.
What is the best time to visit Cherrapunji?
Offering just one season throughout the year, Cherrapunji does not experience any month without rainfall. The amount of rainfall might differ, but it rains every month mainly during the night. It is better to avoid Cherrapunji during peak monsoons i.e. June to September and pay a visit during other months.
What is Cherrapunji famous for?
Cherrapunji is famous for its centuries old living bridges. The people of Cherrapunji have spent hundreds of years to develop various techniques for growing the roots of trees into such large bridges.
Comments
comments