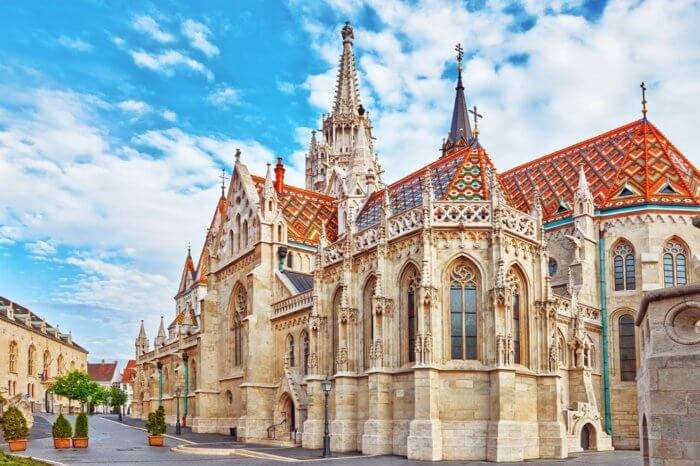 Hungary is a beautiful place in Europe. If you are a backpacker or a budget traveler, then this European country is a great start! There are many beautifully constructed buildings in Hungary. In fact, you ought to see its state buildings, old hospitals and other memorials constructed here in Hungary. The country is seriously a treat for the building and the architectural lovers. Here is an intricate list of top churches in Hungary which you should definitely visit. This is because there are a lot of variations in the Hungarian churches. They are a few Hungarian reformed church and there are also a few other churches you need to pay a visit to understand the quirky mix of tradition and modernization.
Top 10 Churches In Hungary
Here are some of the most interesting and beautiful churches in Hungary you cannot resist to visit. Keep scrolling down and read along!
1. Holy Spirit Catholic Church
This Holy Spirit Catholic church is one of the best churches in Hungary. An organic architect called as Imre Makovecz designed this beautiful church in 1988. The interesting part of this structure is it is made entirely of wood. See, the churches in Hungary are very intriguing and interesting.
Location: Hősök tere, 7030, Paks, HU
Timings: 9AM-9PM
Must Read: Buda Castle: Rejuvenate Your Senses With Charming Views Of The Hungary Beauty
2. Matthias Church
Matthias Church is situated in the Castle District which is in Budapest. This Church is named after the King Matthias who was one of the best Hungary's Kings in the medieval times. The original building was built in the Roman style in 1015 AD. But the building was destroyed by Mongols in 11th century when they invaded Budapest. This is a Roman catholic church which is in the place called as Fisherman's Bastion. The current building which is rebuilt again was after the invasion. The building was built in the second half of the 14th century. It has 3 bells and is also the seventh largest church in the whole of Hungarian country.
Location: Budapest, Szentháromság tér 2, 1014 Hungary
Timings: NA
3. Sziklatemplom
The cave church or the sziklatemplom (translation) is in the Gellert Hill Cave in Budapest. It was constructed in the early 20th century (1931). This church is of the Order of Saint Paul the First Hermit, a monastic order which goes back in the 13th century. This church was closed when it was the era of communism. But once, the communist era was gone, then the order reopened it to the public again. During the time of the communist era, this was used by the national ballet academy as dormitory.
Location: Budapest,1118 Hungary
Timings: NA
Suggested Read: 8 Souvenirs That Make Shopping In Hungary An Experience Worth The Time, Money, And Efforts
4. The Votive Church & The Our Lady Of Hungary Cathedral
This church in Hungary and the Cathedral of Our Lady of Hungary is situated in the south Hungary. This beautiful church is in the Szeged, South Hungary. This building goes back to the 20th century where its construction begins in 1913. Due to the First World War in 1914, the construction was paused and then later continued till 1930. In Hungary, this is the 4th largest building in terms of area and size.
There is an interesting story about why this church was built in the Szeged city. It seems that there was a huge flood which almost destroyed the inhabitants over there. Almost all of the town's population was wiped out. The survivors swore to build a church in the same town. Hence, this church came into existence.
Location: Szeged Hungary
Timings: 7AM- evening
5. The Zsambek Monastery Church
Another ruin of the great Hungarian church, the Romanesque church is situated in the peaceful town of Zsambek. This was built in the early 13th century and was basically a church for a particular family of Maynard. But after a while, the church was given to another set known as the Pauline fathers. Then, this church was rebuilt again in the Gothic Style. But, this church had a certain stroke of bad luck when it was destroyed by the Turks when they ruled in Hungary in the 18th century and then again came down when there was an earthquake. After that, it was deserted.
Location: Zsámbék, Corvin János u. 5, 2072 Hungary
Timings: 9 AM- 6 PM
Suggested Read: 10 Exhilarating Festivals In Hungary That'll Make Your Holiday Experience Unforgettable In 2022!
6. Holy Spirit Church, Heviz
This one of those Hungarian churches which is the most beautiful. Also, this particular church is the largest in the whole of Heviz. This church is so big that a 1000 people can be seated in it. The designer, Janos Bocskai was definitely a great person who made such a spacious building. The construction of the 1000 seat church started in 1996 but it took almost 3 years to make. Also, you have seven towers which represent the seven pious gifts of the Holy Spirit.
Location: Hévíz, Zrínyi Miklós utca, 8380 Hungary
Timings: 9 AM- 6 PM
7. Downton Candlemas Church
This church of the Blessed Virgin Mary is in the pretty town of Pecs. Before this building, there was a mosque here known by the name of the Mosque of Pasha Qasim in the 16th-17th century. This mosque was there in the times when the Ottoman Empire and Occupation was prevalent. This Mosque was built by the Pasha himself between 1543-1546. But after that, it was converted into a church in the 18th century around 1702. The building used to possess a minaret but due to relational difference of opinions, that minaret was demolished by the Jesuits in 1766.Here is some extra information which might be of some help:
Location: Pecs, Hungary
Timings: 8.00 AM-8.00 PM
Suggested Read: Hungary In Winter 2022: Come To Enjoy The Scenic Views Of Snowcapped Landscapes
8. Assumption Cathedral
This cathedral is located in the city of Vac and is by far one of the largest cathedrals in Hungary. The first cathedral was built in the 107 year but it was completely destroyed in the 14th century. Then, the construction work again started centuries later i.e., in 18th century and finally completed in 1777. This church was once brought down by the Mongol invasion.
Location: Vac, Hungary 1051
Timings: 7.30 AM- 7.30 PM
9. St Stephen's' Basilica
The St. Stephen's Basilica which is situated in the center of Budapest is the largest church in the Hungarian city. This building was named after the first Hungarian king, King Stephen. Also, this basilica is one of the most important church building in the whole of Hungary. Also this was built by the most talented architect Miklos Ybl. It took almost 5 decades to complete this building and was completed in 1905.
Location: Budapest, Szent István tér 1, 1051 Hungary
Timings: 8AM- 8PM
Suggested Read: 17 Best Places To Visit In Hungary In 2022, The Crown Jewel Of Europe!
10. Esztergom Basilica
This is one of the largest churches in Hungary. There were a few churches which were built on the same scale but they were all destroyed by the intruders in the Hungarian history. But this one was constructed by Janos Pach but it was completed by Jozsef Hild.
Location: Esztergom, Szent István tér 1, 2500 Hungary
Timings: 9 AM-9 PM
Further Read: Hungary Nightlife: 10 Places Where You Can Twist & Twirl All Night Long
Thus, these are the best churches in Hungary which are listed above. You can visit these when you are heading to Hungary. So, get packed and book your Trip to Hungary right away!
Frequently Asked Questions About Churches In Hungary
What is the full name of Basilica of Esztergom church in Hungary?
The Cathedral and Primatial Basilica of the Blessed Virgin Mary Assumed Into Heaven and St Adalbert is the full name of Basilica of Esztergom church in Hungary.
In what architectural style the churches in Hungary are built?
Churches in Hungary are built in Baroque, Classical, Gothic, Gothic Revival, Neoclassical, and Neo-Gothic, Ottoman, and Romanesque Revival architectural style.
Do churches present in Hungary are with affiliations?
Yes, most of the churches are having affiliation from Roman Catholic, Serbian Orthodox, and United Protestant denominations. A few of the minor churches do not have any affiliation.
What are the timings of churches present in Hungary?
The cultural heritage churches, which are also National Monuments, are open to the public and tourists from 09:00 AM to 05:00 PM. The other church time varies and few of them are open on Sundays only in Hungary.
Can a tourist take his or her photo cameras inside the churches of Hungary?
Yes, there are no restrictions to take photos of a church present in Hungary by a foreign tourist.
Is there any dress code to follow to visit a church in Hungary for the tourists?
No, you can visit a church in a formal and casual dressing in any of the churches present in Hungary.
Can a tourist of any religion and ethnicity visit a church in Hungary?
Yes, there are no restrictions for tourists of any religion and ethnicity visit a church in Hungary.
---
Looking To Book An International Holiday?
Book memorable holidays on TravelTriangle with 650+ verified travel agents for 65+ domestic and international destinations.
---