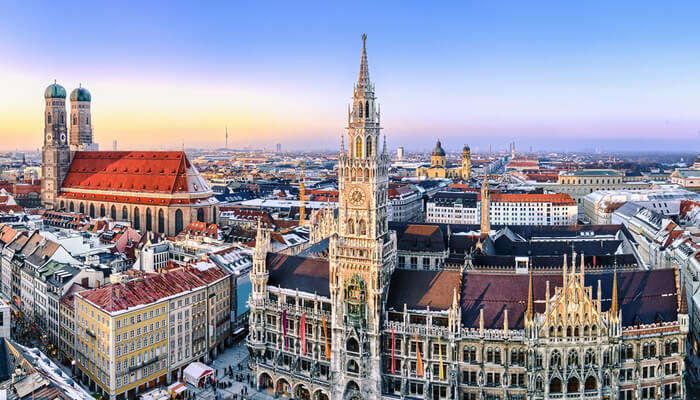 Positioned in southern Germany, Munich is the Bavarian capital that exhibits authentic amalgamation of history and architectural beauty. However, to experience the essence of this subtle yet glorious combination, you must visit the churches of this historic metropolis. There are quite a few churches in Munich that speak of this city's past and will blow your mind with their grandiosity. Here are some of the best choices to visit while exploring this magnificent city on your next German trip.
10 Magnificent Churches In Munich
While there are more than 20 beautiful churches in this Bavarian city, we've brought you the best 10 of them to start with.
1. St. Michael's Church
Image Credit: Saipano for Pixabay
Constructed between 1583 to 1597, during the Renaissance to Baroque transition, St. Michael's Church is one of the oldest churches in Munich. Built by William V, Duke of Bavaria, this Jesuit church is centrally located. This sacred site features early Baroque architecture, including ornaments and collections of art. Apart from exhibiting the bronze statue of Duke William of Bavaria, there are several other Bavarian rulers' statues marvelled here.
Location: Neuhauser Str. 6, 80333 München, Germany
Timings: 8:00 a.m. to 7:00 p.m. (Wednesday, Thursday, Saturday); 10:00 a.m. to 7:00 p.m. (Monday, Friday); 7:00 a.m. to 10:15 p.m. (Sunday); 8:00 a.m. to 8:15 p.m. (Tuesday)
10 Museums In Munich That Are A Treasure Trove Of German History
2. St. Boniface's Abbey
Image Credit: Wikimedia Commons
Founded in 1850 by the Bavarian King Ludwig I, St. Boniface's Abbey lies in Maxvorstadt and houses numerous galleries and cultural sights. This Byzantine-styled monastery features the tomb of King Ludwig I and his queen, Therese of Saxe-Hildburghausen. Reviving the country's cultural essence while restoring the monasteries destroyed during World War II was the cornerstone of St. Boniface's Abbey. Presently, several monks work in pastoral care, educational & scholarly fields, and also look after the homeless.
Location: Karlstraße 34, 80333 München, Germany
Timings: 8:00 a.m. to 5:00 p.m. (Monday to Friday); 10:00 a.m. to 12:00 p.m. (Sunday); closed on Saturdays
3. Trinity Church
Image Credit: Zairon for Wikimedia Commons
The Trinity Church, also known as Dreifaltigkeitskirche, established between 1711 and 1718, is famed as Munich's first baroque-styled church building. The highlight of this Catholic monastery church is the dome fresco designed by a famous German architect and painter, Cosmas Damian Asam and his brother. Lying near Lenbachplatz, the church enjoys a central location allowing visitors easy access from any part of the city. Additionally, one can reach here within 10 minutes while boarding the U-Bahn or the S-Bahn (rapid transit railway) from the central station.
Location: Pacellistraße 6, 80333 München, Germany
Timings: NA
7 Haunted Places In Munich Where You Can Have A Rendezvous With Ghosts
4. St. Luka's Church
Image Credit: High Contrast for Wikimedia Commons
St. Luka's Church lies on the banks of the Isar river, between Mariannenplatz and Steinsdorfstraße. Designed by Albert Schmidt and constructed between 1893-1896, St. Luka's Church takes pride in being the only pre-World War II Lutheran parish church and resides in the historic region of central Munich. Further, the striking features of the church are the 64-meter high dome and two eastern bell towers that captivates visitors. It is one of the best churches in Munich.
Location: Thierschstraße 28, 80538 München, Germany
Timings: 10:00 a.m. to 5:00 p.m. (Monday to Sunday)
5. Salvatorkirche
Image Credit: Dusselmann for Wikimedia Commons
Salvatorkirche, also known as the Church of St. Salvator is a Greek Gothic church in the old town. A former cemetery church of the Frauenkirche or the Cathedral of Our Blessed Lady, Salvatorkirche prominently possesses late Gothic architecture that comprises the usage of baked red bricks. Constructed in 1493, the church experienced several reconstructions and modifications in the early 19th century. Moreover, Leo von Klenze, the German architect renovated the church for the operations of the Greek community.
Location: Salvatorstraße 17, 80333 München, Germany
Timings: NA
Munich In January: Guide To The City Fondly Called Florence On The Isar
6. Burgersaalkirche
Image Credit: Rufus46 for Wikimedia Commons
Burgersaalkirche, also known as Citizen's Hall is among the best churches in Munich designed by Giovanni Antonio Viscardi between 1709-1710. The façade of the church is distributed into two floors. The lower church is a three-aisled hall, earlier occupied for the congregation's painting works. Besides this, the upper church features two spacious stairs leading in opposite directions. The walls of the church feature marbled composite pilaster groups, instantly captivating visitors.
Location: Kapellenstraße 1, 80333 München, Germany
Timings: 9:00 a.m. to 7:00 p.m. (Monday to Saturday), closed on Sundays
7. Asamkirche
Image Credit: Wikiolo for Wikimedia Commons
Also called the Asam Church, the religious site is the late Baroque church positioned in the heart of Munich. Two brothers, namely Cosmas Damian Asam (painter) and Egid Quirin Asam (sculptor) built this stunning piece as their private church. They dedicated it to St. John of Nepomuk, the one believed to be the protector of Bavaria. Interestingly, the ceiling fresco portrays the life of the saint. Another element that makes it one of the best churches in Munich is the iconic interior segregated into 3 layers. The lowest layer features church benches and mid section is reserved for the king, flourished in white and blue. The topmost comprises the ceiling that is well-lit to depict God and eternity.
Location: Sendlinger Str. 32, 80331 München, Germany
Timings: 9:00 a.m. to 6:00 p.m. (Saturday to Thursday); 1:00 a.m. to 6:00 p.m. (Fridays)
Autumn In Munich: Your Personal Guide For An Extraordinary Germany Holiday
8. Cathedral Church Of Our Lady
Image Credit: Diliff for Wikimedia Commons
Popularly known as Frauenkirche or Dom Zu Unserer Lieben Frau, the Cathedral Church of Our Lady is one of the largest hall churches in Germany. The gigantic hall features three sectors and 22 octagonal pillars. There are also 20 chapels inside the church dedicated to apostles, saints, and trade guilds. This Gothic-inspired cathedral featuring red bricks took nearly 20 years to complete. Although the building possesses a subtle design without any rich Gothic ornamentation, it still manages to entice visitors with its historical significance and minimalist architecture.
Location: Frauenplatz 12, 80331 München, Germany
Timings: 8:00 a.m. to 8:00 p.m. (Monday to Saturday), 9:30 a.m. to 8:00 p.m. (Sundays)
9. St. Peter's Church
Image Credit: Steffen Flor for Wikimedia Commons
Located on the southern part of the Marienplatz, St. Peter's Church or Peterskirche is the oldest parish church in Munich. Showcasing marvellous Gothic-styled exteriors and imposing Baroque-influenced interiors, this iconic church was built around the early 11th century. As the building expanded in later years, it experienced numerous alterations. To reach the top and enjoy stunning views of the Munich's cityscape, you need to climb more than 300 steps which is quite worthwhile.
Location: Rindermarkt 1, 80331 München, Germany
Timings: 7:30 a.m. to 7:00 p.m. (Monday to Sunday)
5 Best Beaches Near Munich For A Tour Down The Mesmerizing Landscapes In 2022
10. Theatine Church
Image Credit: Martin Falbisoner for Wikimedia Commons
Established between 1663 and 1690, Theatine Church is a famous Catholic church in Munich positioned in southern Germany. Like many churches in the city, Theatine Church showcases high-Baroque style designed by the Italian architect, Agostino Barelli. However, his successor, Enrico Zuccalli, later added two 216.535 ft. high towers. The yellow-colored building has a strong Mediterranean appearance that gives it an alluring appeal.
Location: Salvatorplatz 2A, 80333 München, Germany
Timings: 7:30 a.m. to 8:00 p.m. (Monday to Sunday)
Exhibiting pure beauty and a peaceful aura that will lure you right in, these churches in Munich definitely deserve a place in every traveler's Munich holiday itinerary. What are you waiting for? Book your trip to this fascinating city right away to explore and experience all that it offers.
Disclaimer: TravelTriangle claims no credit for images featured on our blog site unless otherwise noted. All visual content is copyrighted to its respectful owners. We try to link back to original sources whenever possible. If you own the rights to any of the images, and do not wish them to appear on TravelTriangle, please contact us and they will be promptly removed. We believe in providing proper attribution to the original author, artist or photographer.
Please Note: Any information published by TravelTriangle in any form of content is not intended to be a substitute for any kind of medical advice, and one must not take any action before consulting a professional medical expert of their own choice.
Frequently Asked Questions about Churches in Munich
How many churches are there in Munich?
When talking about the catholic churches in Munich, the beautiful Bavarian capital houses more than twenty elegant churches.
Which one is the oldest church in Munich?
St. Peter's Church is considered to be the oldest church in Munich.
Why are the churches of Munich so famous?
The churches of Munich are especially famous because of their historical importance and astounding structural beauty.
What is the name of the largest church in Munich?
Dom Zu Unserer Lieben Frau, also known as Frauenkirche, is the largest church and one of the most prominent landmarks in Munich.
Which style of architecture do the churches of Munich generally exhibit?
Most of the famous churches in Munich are generally made in a sophisticated architectural style of Bavarian Romanesque.
Which one is the most popular church in Munich?
St. Peter's Church and the St. Michael's Church are known to be quite popular among the tourists.
When do the churches of Munich open?
Most of the churches generally open at 9 AM in the morning. However, during the holidays, the timetable generally gets slightly changed.
Do I need to maintain any dress codes while visiting the churches in Munich?
No, you do not have to maintain any distinctive dress code for visiting the churches. As long as you are wearing decent clothes, the members of the churches will not restrict you from entering.
Do the churches in Munich ask for entry fees?
There are a few churches in Munich which usually ask for a small entry fee. However, most catholic churches here are free to visit.
Do the churches in Munich organize any events?
Yes, churches in Munich host events during the festive season, especially in winter. If you want to savor the cultural beauty of the Bavarian capital, then make sure to visit during the months of November to February.
People Also Read:
Churches in Colombo Sri Lanka Churches In Toronto Churches In Hong Kong
Comments
comments