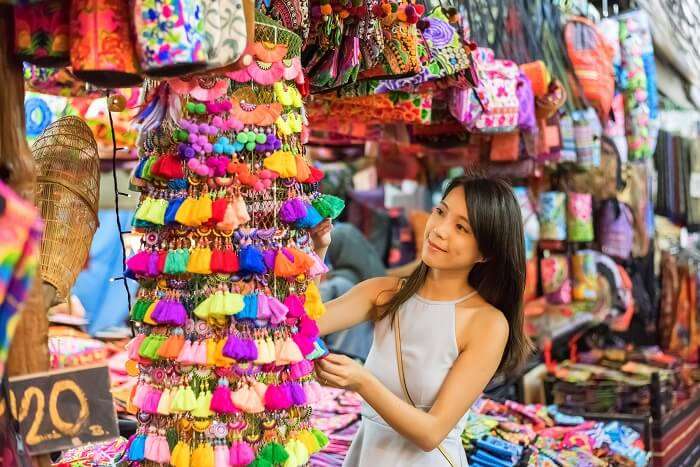 Thailand is known to be one of the most favourite shopping destinations across the globe because it has everything from traditional Thai products and antiques to silk products and incredible ornaments. Thailand shopping is one of the main reasons catering to the huge tourist population in Thailand. Besides being an ideal destination for friends, family, and couples, Thailand is also a shopper's paradise beyond a doubt.
A Snippet Into Thailand Shopping
Thailand has a really impressive superfluity of products, jewelry, textiles and other items that are hard to find elsewhere. Follow this Thailand shopping guide for the best recommendations on what to buy in Thailand and where to take a piece of this paradise home with you.
Here are the answers to all your questions pertaining to what to shop in Thailand, most of which will go easy on your pocket!
What To Buy In Thailand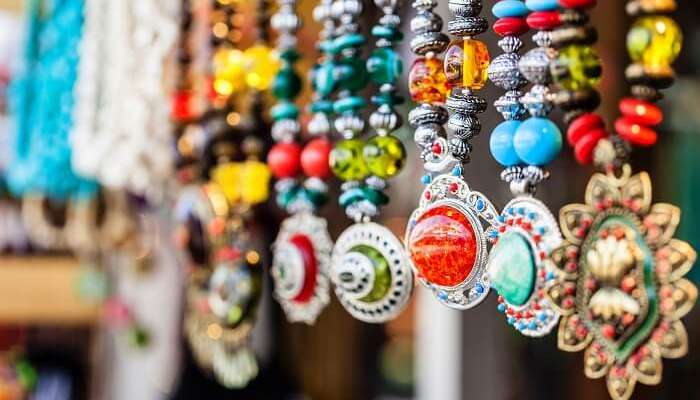 With the numerous lively and colourful places for shopping in Thailand, you can go for high market names and amazing bargains at once. For blissful shopping experiences, Thailand caters to the customers of every kind with fancy malls, weekend bazaars, night markets, and floating bazaars.
With an awe-inspiring plethora of Thai products, the Land Of Smiles is a shopper's paradise. Every mall, street market, and weekend bazaar is full of goods to surprise you. Following are some of the products to buy here. Make sure to bring along a huge, empty suitcase on your Thailand trip!
Some of the best things to buy in Thailand include: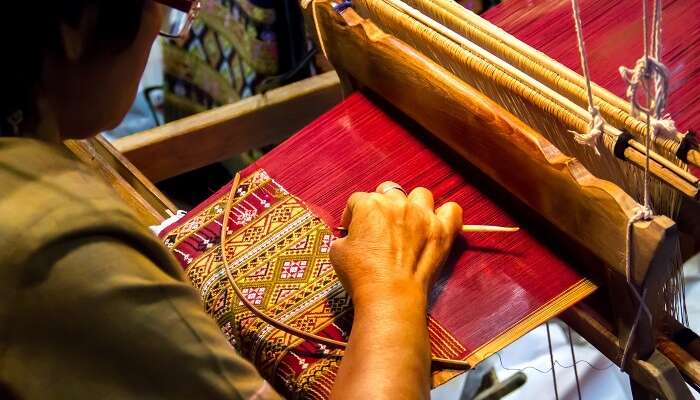 Must Read: Pratunam Shopping: A Guide To The Best Shopping Hubs In Bangkok!
Thai Spices and Sauces: Enjoy authentic and unique flavors at home
Elephants as Souvenirs: Wooden and home decor items with carvings of elephants, the symbol of Thailand
Thai Silk: Wheel the deals in a wide variety of silks in Thailand. Silk products are a must buy on a trip to Thailand
Handmade Thai Jewelry: Thailand has an impressive collection of exquisite jewelry. Ornaments are one of the best items to buy in Thailand
Ceramics and Pottery: Bencharong Porcelain and Sangkhalok stoneware are the two most famous ceramics offered by shops in Thailand
Wooden Furniture and Carvings: Fancy wooden carvings and furnishings made up of teak in Chiang Mai, the furniture capital of Thailand
Thai Food, Snacks, and Sweet Treats as Souvenirs and Gifts: Gift your friends some coconut candies, sweet bites, dried durian, and chocolates in the shape of traditional Thai Tuk Tuk. Travelers can indulge in a culinary experience at the many Indian restaurants in Bangkok
Muay – Thai Shorts: You do not need to actually learn boxing to buy these boxing Muay-Thai shorts while shopping in Thailand
Wickerwork: An exclusive Thailand buy is Wickerwork. Local plants like bamboo, rattan, and bulrush are turned into beautiful carvings and woven handbags
Thai Loincloth: Made up of either cotton or silk, Thai Loincloth is very versatile and has been a part of Thailand clothing since ancient times
Antiques: Buy elegant antique silverware, wooden carvings, pottery, and more from some reputed shops and spoil the antique lover in you
The tour is ending soon and you do not have the time for a detailed research for where to buy the above listed goods in Thailand? Worry not. We got it all for you right here!
Suggested Read: Celebrate Christmas In Thailand In 2018 To Bask In The Joys Of Festivities
Shopping In Phuket
Shopping in Phuket is a blissful experience as the city has a wide variety of markets ranging from vibrant night markets, village food markets and street stalls to extraordinary supermarkets and fancy malls which provide branded products.
What To Buy In Phuket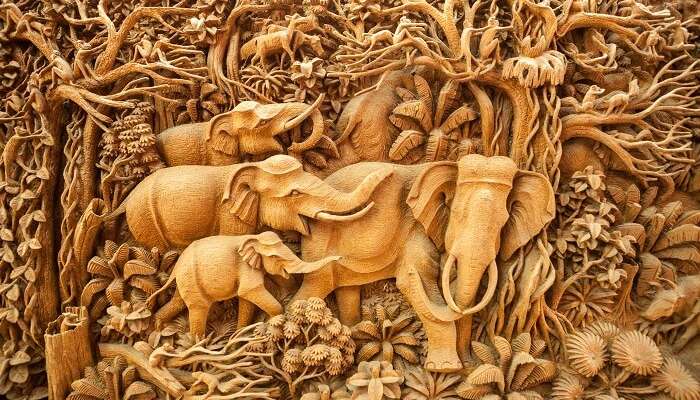 Listed below are some souvenirs you cannot leave Phuket without.
T-shirts and Singlets: Glow-in-the-dark, full moon party t-shirts, and Chang Beer singlets, the Phuket Weekend Bazaar has it all. T-shirts and singlets are among the many cheap things to buy in Thailand when the items are famous across the seas as well
Elephant and Frog Figurines: Get back home from Thailand with these significant items which have elephants carvings/prints and are made of either lacquered wood, stone, or metal. Adorn your house with either a frog or an elephant facing the doorway to bring good luck
Silk and Other Fabric: Countless dedicated shops and street markets offer an amazing variety of products made up from silk, cotton, and batik fabric. Moreover, Phuket is famous globally as an exporter of silk. You will easily find, silk sarees (oh yes!), ties, cushion covers, scarves, tablecloths, and more in almost every shop in Phuket
Spa Products and Soap Flowers: Take home some really good massage experiences and fragrant orchids in the form of soaps from your Thailand tour. Thailand is renowned for relaxing spa massages across the world
Where To Shop In Phuket
There are myriad places to shop in Phuket.
Phuket Weekend Market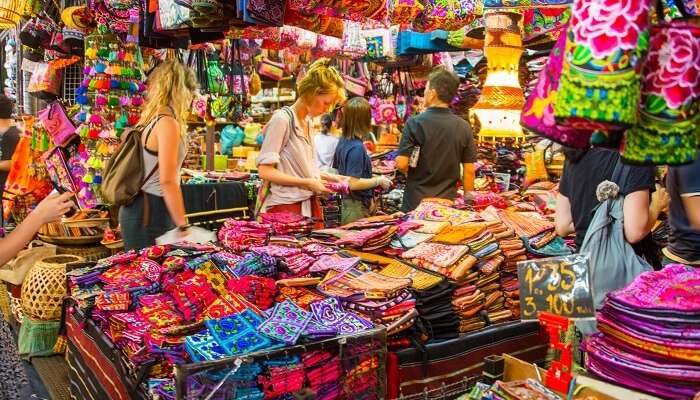 Suggested Read: Thailand Street Food: A Gastronomical Guide To The Best Local Dishes And Where To Find Them!
Impressively large, the Phuket Weekend Market is one of the best places to shop in Phuket. It's divided into two sections, covered and open, wherein the covered section has secondhand goods for the penny pinchers and the open section has new items like fashion accessories, watches, shoes, bags, and more.
Location: Along Chao Fa West Road, 1 kilometer South of CentralFestival Shopping Mall
Must Buy: T-Shirts and Singlets, Shoes, Local food
Opening Hours: 4 PM to 9 PM, Saturday and Sunday
Jungceylon Shopping Mall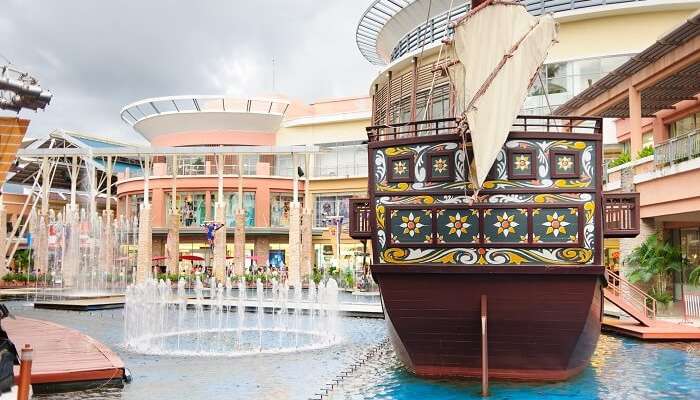 An exquisite hub of everything that might delight a shopaholic's heart is the Jungceylon Shopping Mall. From extravagant shopping places to exquisite restaurants to feed your bellies, the mall has everything you need.
Location: 199 Rat-U-thit 200 Pee Road, near Bangla Road, Patong
Famous Shops: Shopping Arcade, Robinson and Big C
Famous Restaurants: The Irish Times Pub, Au Bon Pain, Cafe 101, Cafe Nero, Churrasco, Irish Wine & Beer and more.
Places To Do Leisure Activities: SF Cinema City, Shell World Museum And Shop, Strike Bowl, Gaming Arcade, Mega Force, and many more.
Opening Hours: 11 AM to 10 PM
Must Read: 10 Top Things To Do In Ayutthaya For Witnessing The Lesser Known Side Of Thailand
Phuket Walking Street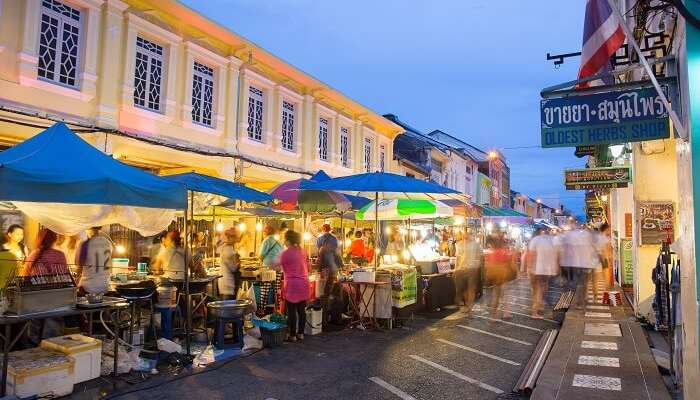 Suggested Read: 10 Hotspots Of Nightlife In Krabi Every Party Freak Must Visit
One of the biggest in the town of Phuket, Phuket Walking Street is famous for Thai souvenirs and food. It got a wide variety of food from Barbecued squid, chicken, and pork to fruit juices, ice creams, and khanoms. Moreover, Phuket Walking Street is an ideal platform for beginners to showcase their entrepreneurial skills.
Location: Thalang Road in Phuket Old Town
Opening hours: 4 PM to 10 PM, All Sundays
Unique Picks: Customized T-shirts, Knitted Dolls and Marinieres
Central Festival Phuket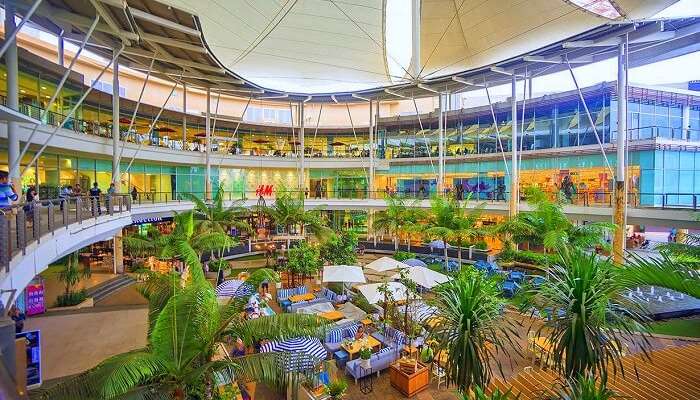 Image Source
You can happily spend a complete day at Central Festival, shopping and watching the latest movies. It is home to around 120 shopping outlets and is rightly known as the shopping hub of Phuket. When here, one can go crazy shopping in outlets like The Central Store, B2S (Books to Stationary), Supersports, and more.
Location: On the Bypass Road in Phuket Town
Timings: 10:30 AM to 10 PM, All days
Shopping In Bangkok
The capital of Thailand is the perfect place to delight a traveler's soul. Bangkok has got everything from traditional antiques and unique lacquerware to designer jewelry and beautiful stoneware to take home as souvenirs. Besides being one of the famous places to visit in Thailand, Bangkok is also one of the prominent Thailand shopping places.
What To Buy In Bangkok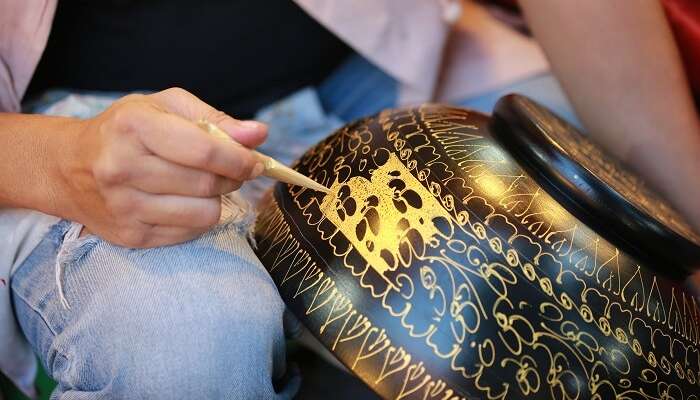 No Bangkok trip is complete without souvenir shopping for your friends and family. Don't leave Bangkok without the following things.
Gemstones And Jewellery: Thai jewelers can easily turn gold, silver, and platinum into delicate settings and can mould them into any traditional or trending design on customer demand
Lacquerware: One of the most beautiful creations of Thai craftsmen is lacquerware where they are flawlessly transformed into glossy black lacquer from wooden items
Antiques: Thai and Burmese antiques are famous across the globe
Ceramics: With a great historical significance, ceramics are produced in abundance in Bangkok. Originated in China, ceramics were modified by Thais
Best Places To Shop In Bangkok
Shopping centers in Bangkok are countless in variety. Bangkok has some of the best Thailand shopping places with everything for the spendthrifts as well as the penny pinchers. Some of these are:
Central World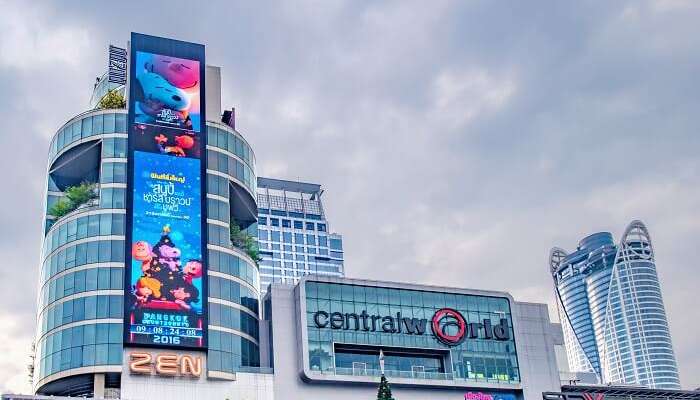 Suggested Read: 11 Remarkable Things To Do In Krabi: The Ultimate Bucket List
Central World is a seven floor shopping paradise which is hard to miss on a Thailand tour. With more than 500 stores placed in a way to make your shopping experience convenient, Central World offers everything from shopping, dining, to an amazing entertainment and nightlife.
Location: 4,4/1-4/2 4/4 Ratchadamri Rd, Pathum Wan, Bangkok 10330
Opening Hours: 10 AM to 10 PM, All days
Must Buy: High tech gadgets, furniture, branded fashion accessories, spa massages, books
Chatuchak Weekend Market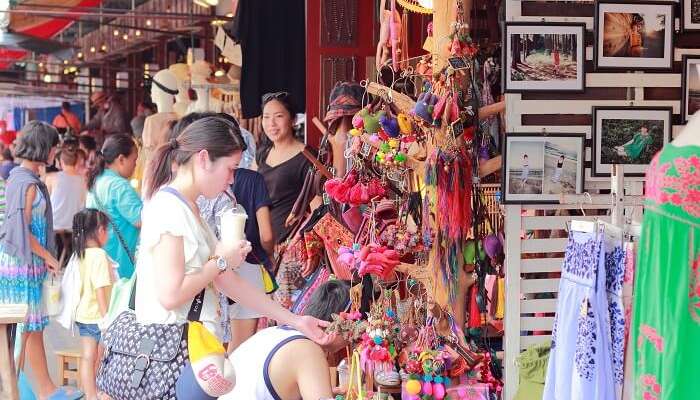 Chatuchak Weekend Market is a fascinating place in Bangkok to visit on a Sunday evening. The market boastfully houses more than 8000 shops which host products of all kinds. There are more than 500 food stalls attracting an equal amount of attention from shopaholics and street food lovers.
Location: 587/10 Kamphaeng Phet 2 Rd, Khwaeng Chatuchak, Khet Chatuchak, Krung Thep Maha Nakhon 10900, Thailand
Opening Hours: 7 AM to 6 PM – Wednesdays and Thursdays | 6 PM to 12 AM – Fridays | 9 AM to 6 PM – Saturdays and Sundays
Must Buy: Handicrafts, pets and pet accessories, antiques, and ceramics
Suggested Read: 5 Best Nude Beaches In Thailand That One Cannot Afford To Miss
Chinatown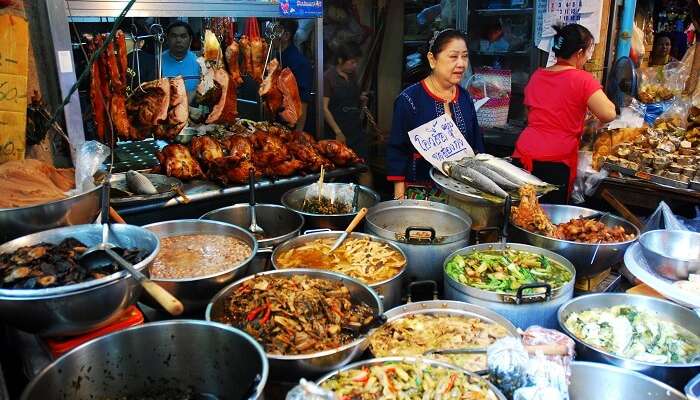 Chinatown Market is among the most prominent Thailand shopping places. It is a smart amalgamation of many lanes and markets in Bangkok. Thais like to group their stores so as to ease the customer's shopping experience. Visit this one big flea market and you would not need to go elsewhere for shopping.
Location: Yaowarat Road, Bangkok
Prominent Places: Old Siam Plaza, Pahurat (Little India), Sampeng Lane, Saphan Lek Market, The Thieves Market and more.
Must Buy: Flowers, musical instruments, trinkets and sandals, wholesale markets of fabric and clothing
The list does not end here. Terminal 21, Victory Monument Market, MBK Center, Pratunam Market, Union Mall, Siam Paragon and Pantip Plaza are some more shopping places in Bangkok that one must explore.
Best Night Markets In Bangkok
Many markets are open till late in Bangkok and are thus called night markets. Shop till you drop in the best night markets in Bangkok. Indulge in the happy spirits with good food, vibrant shopping options, and a starlit sky.
Rot Fai Market, Srinakarin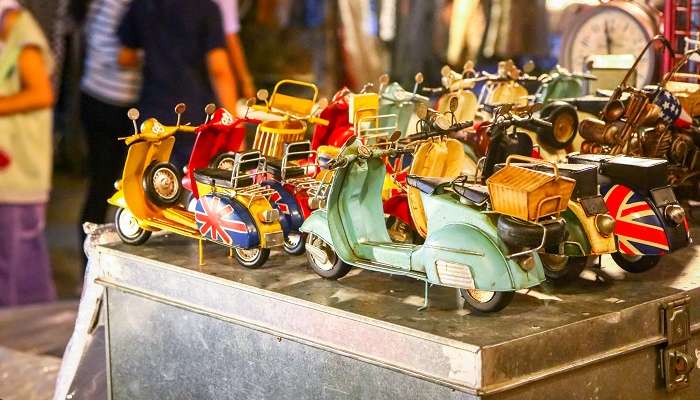 Suggested Read: 15 Spectacular Things To Do In Koh Samui
A huge open-air bazaar in Bangkok which caters to all your needs and provides entertainment like never before. The main highlight of Rot Fai Market is the street food available there. While intriguing the amazing array of goods available in this night bazaar, randomly jump into ice cream parlours, drink stands with foaming Thai iced tea and coffee, barbecue stands with sizzling meat and Fried noodle stalls.
Location: Srinakarin Road Soi 51 (Behind Seacon Square)
Opening Hours: 5 PM to midnight, Thursday to Sunday
Asiatique the Riverfront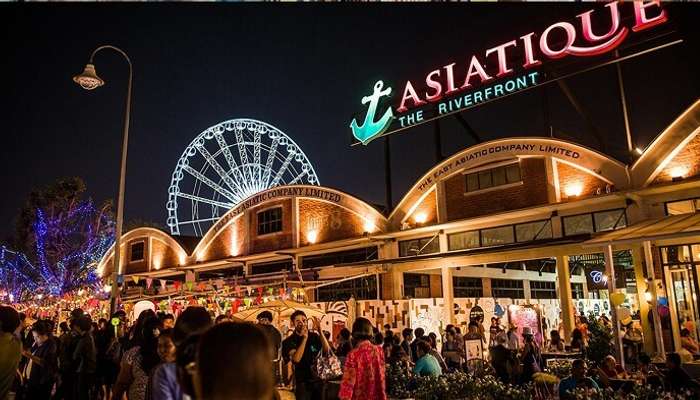 Go shopping in Asiatique, the riverfront to witness the glorious combination of a night bazaar and a mall. Night bazaars and malls hold equal importance in the list of Thailand shopping places. The boutiques and fancy stores here are complemented by a beautiful decor and live singing.
Location: Charoenkrung Soi 74-76, Bangkok
Opening Hours: 5 PM to midnight
Shopping in Krabi
Like Bangkok and Phuket, Krabi also has some really good Thai stuff for vacationers. Go for Thailand shopping in Krabi and you would not be disappointed with the great amount of colourful and vibrant fashion brands along with some decent boutiques in the countryside. Krabi boasts of various markets and stores wherein some are extremely popular and some are tiny yet innovative. Shopping in Krabi is one of the best things to do on your Thailand tour.
Krabi Town Walking Street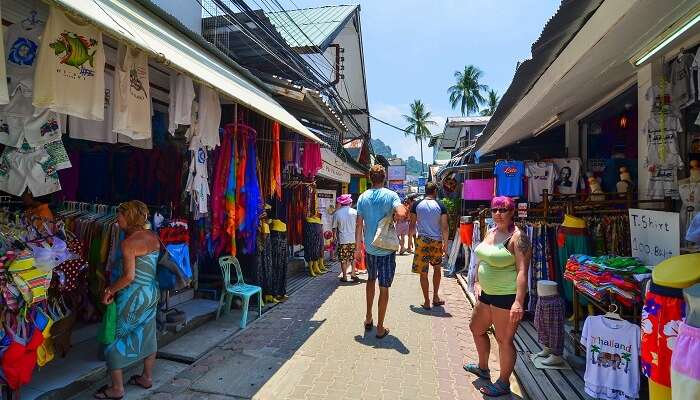 Krabi Walking Street or Krabi Night Market is the place where local artisans come from South Thailand to showcase their talents. Mouth watering food options and a wide variety of Thai products from over 50 stalls is what makes Krabi Night Market special.
Location: Soi Maharaj 8, Behind Vogue Departmental store
Opening Hours: 5 PM to 10 PM, Fridays, Saturdays and Sundays
Must Buy: Fashionable t-shirts, gardening tools, handbags, and oyster pearl jewelry.
Maharaj Market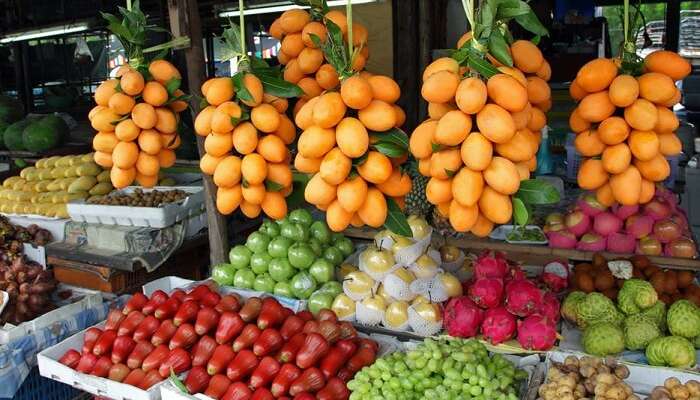 Suggested Read: 11 Things To Do In Pattaya For A Dream-Come-True Vacation
In a country of night markets, Krabi offers a morning market to its people and tourists. Maharaj Market is always working and deals with things of daily use. You might need to brush up your haggling skills to wheel the deal.
Location: Soi 7, off Maharaj Road in downtown Krabi
Opening Hours: Best time to visit is 6 AM to 12 noon
Must Buy: Fresh vegetables and fruits, spices, meat, seafood, rice, and more.
Vogue Departmental Store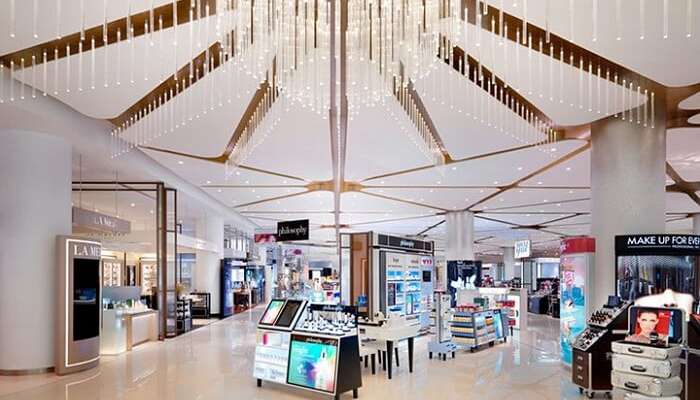 This three floor suburb gets you everything you might need to buy on your Thailand trip. The first floor has boutiques, gold jewelry stalls, and dining areas. The second floor accommodates all the fashionable brands, namely, Levi's, Arrow, Adidas, Camel, and more. Whereas, the basement is home to all the cheap things to buy in Thailand.
Location: Maharaj Road in downtown Krabi
Opening Hours: 9 AM to 11 PM
Other places to shop in Krabi include the Nopparat Thara Plaza, Ao Nang's Catalunya Walking Street, Railay Walking Street, Sabai Ba Bar and Souvenir Shop and Krabi Airport Road Supermarkets and Shopping Malls.
Shopping in Pattaya
Retail therapy is always a good option to get out of our mundane lives. Shopping in Thailand is made easy with a varied list of malls, markets, bazaars, and stalls, and Pattaya has no dearth of the same.
Central Festival Pattaya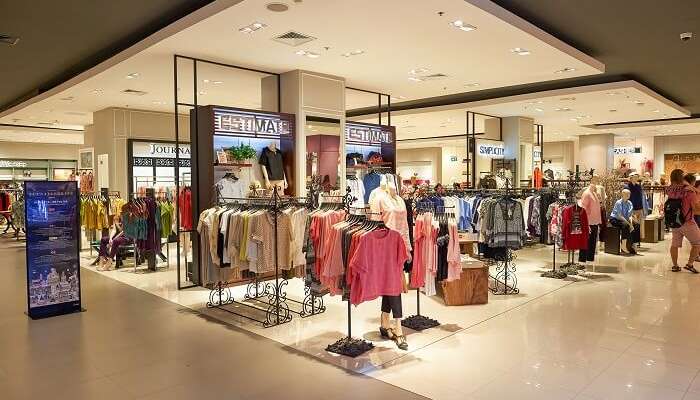 Coming into existence a few years back, Central Festival Mall has taken over the skyline of Pattaya. A home to more than 300 stores, this structure might be the tallest on the beachfront. Like other Thailand shopping places, this place also has stores with high street fashion brands and delicious dining delicacies.
Location: 333/99, Moo 9, Pattaya Beach Road, South Pattaya
Opening Hours: 11 AM to 11 PM
Royal Garden Plaza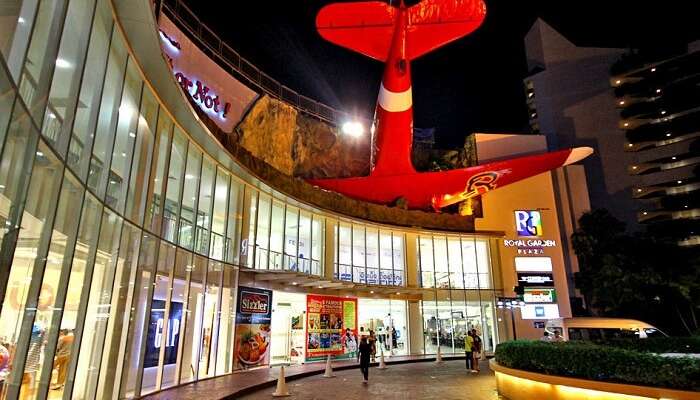 Image Source
One of the most distinctively built landmarks in Pattaya is the Royal Garden Plaza. It accommodates in it a museum on one floor and the other floors consist stores with high fashion brands and some regular places to eat as well. Catering to its uniqueness of structural design, it is one of the famous places that attracts tourists.
Location: 218, Pattaya Beach Road, South Pattaya
Opening Hours: 10:30 AM to 11 PM
Pattaya Floating Market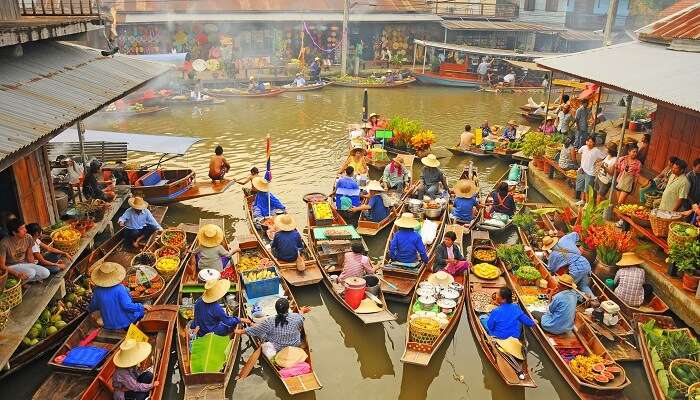 A very popular attraction in Thailand and an amazing place for souvenir shopping, the Pattaya Floating Market is one of the best places for shopping in Thailand. This market in Pattaya offers good quality handicrafts, jewelry, and other Thai products. Other than the shopping experience, the entire market in tiny boats is an incredible sight to witness over the water of Thailand. Apart from shopaholics, this is also the favourite spot for all photographers in Thailand.
Location: 451/304, Moo 12, Sukhumvit Road, Pattaya
Opening Hours: 10 AM to 11 PM
Pattaya Night Bazaar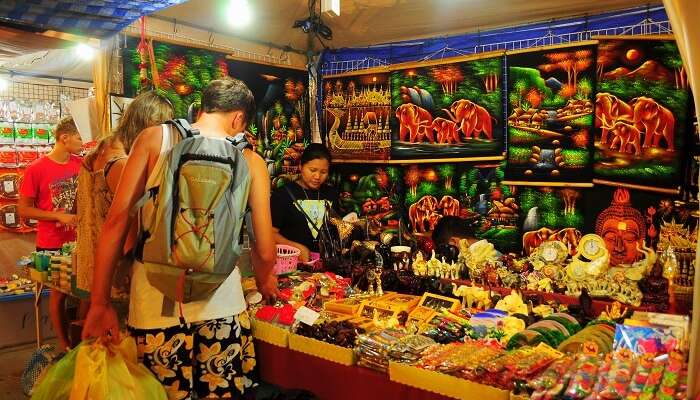 Suggested Read: Pattaya Vs Phuket: Which Vacation Spot Is Better?
From a basic street market to a fully air-conditioned and organised market, Pattaya Night Bazaar has come a long way. It sells everything that a typical street market should and has some luggage stalls and tailor shops in addition. Shopping is always a bliss when done in the rightful ambiance, a.k.a, the Pattaya Night Market.
Location: Pattaya Second Road, South Pattaya
Opening Hours: 8 AM to 11 PM
Other places in the list of shopping places in Pattaya are Thepprasit Road Night Market, Mike Shopping Mall, Central Centre, Mimosa, and Outlet Mall.
Shopping In Khao Lak
Khao Lak is a developing town in Thailand with beautiful lands, serene beaches, and a thick forest cover. The markets present in Khao Lak are ideal for the locals as well as travelers.
Bang Niang Market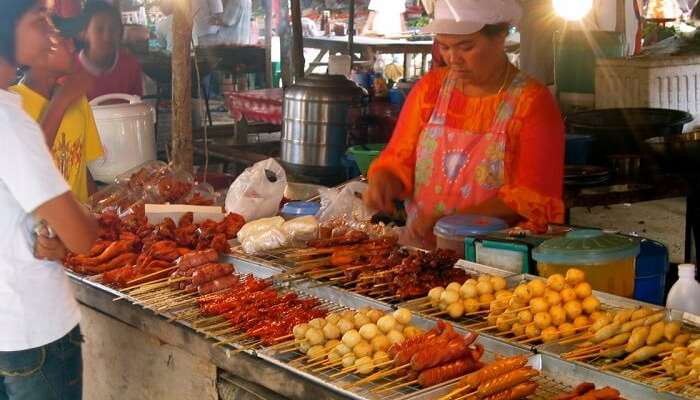 Image Source
Sample a great deal of the local Thai street products at Bang Niang Market. This market in Khao Lak is beautifully set and offers a great range of products from handicrafts, jewelry, handmade bags, to souvenirs that you can take back home.
Location: Phetkasem Road, Bang Niang.
Opening Hours: 3 PM to 7:30 PM
Nang Thong Supermarket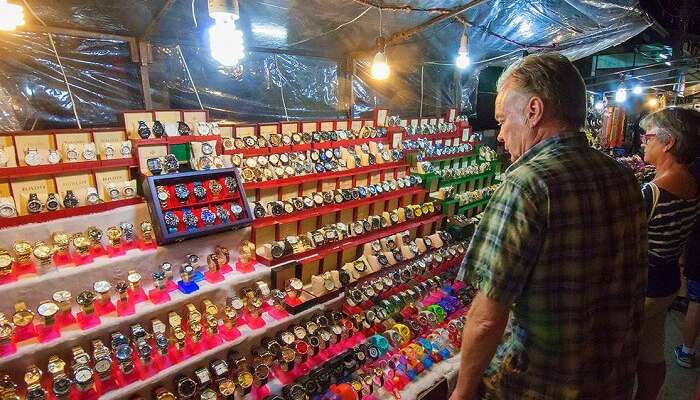 Image Source
On a holiday in Khao Lak and out of toiletries/baby diapers or juices? Head to Nang Thong Supermarket. This medium sized place has got everything you might need on a holiday in terms of basic needs.
Location: Phetkasem Road, In the middle of La On Village
Opening Hours: 9 AM to 9 PM
Khuk Khak Fresh Market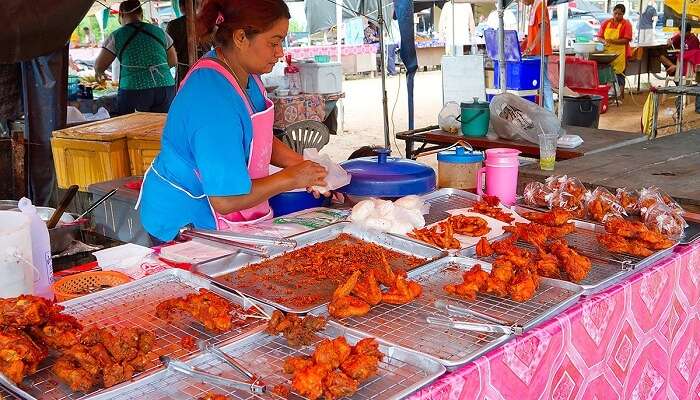 By now we know that street food is the essence of all the markets in Thailand, be it night bazaars or weekend bazaars or fresh markets. Khuk Khak Fresh Market is another one of the markets of South Thailand that showcases the exotic way of living there and the amazing street food options.
Location: Khuk Khak Bus Station, Phetkasem Road, 3 kilometer North of Bang Niang.
Opening Hours: Early morning to late afternoon, daily
Other famous markets in Khao Lak that will give you the true taste of shopping in Thailand are Khao Lak Centre Point Bazaar and shops that offer tailor-made clothing.
Further Read: Pattaya Nightlife: 15 Popular Nightclubs, Go-Go Bars & More For A Truly Lit Experience!
Fill your hearts with satisfaction as you shop in the lively streets of Thailand. With these exclusive options for Thailand shopping, you'll surely be coming back with more bags than the ones you took on your trip. Craving for some retail therapy already? Book your trip to Thailand and get going on those high spirited roads of Thailand brimming with treasures that you can loot.
Frequently Asked Questions About Thailand Shopping
Q. What are the best cheap things to buy in Thailand?
A. Shopping in Thailand is ideal for both, the spendthrifts as well as the penny pinchers. For those who wish to spend wisely and still want to take every kind of Thailand souvenirs home, they can buy lacquer products, carved wooden furniture, gemstones, and precious jewelry from the various cheap places mentioned above.
Q. What snacks can one buy from Bangkok?
A. To get a true taste of Thailand's culinary delights, one can buy Durian chips, Bento Squid, Phad Thai Sauce, Crispy Pork Sticks, and more from almost every departmental store in Bangkok.
Q. What are the best places for clothes shopping in Bangkok?
A. Head to Platinum Fashion Mall, Victory Monument Market or Ratchada Night Market in Bangkok to buy the desired clothing and not burn a hole in your pockets. Make sure you bargain well when grabbing your favourite attires from these markets.
Q. What is Thailand famous for?
A. Thailand is world famous for its spa massages, beaches, Buddhist temples, nightlife, and, of course, shopping. It offers a range of unique Thai products that you might not find elsewhere, the likes of which include Thai Silk, Lacquerware, carved wooden furniture, precious gemstones, Batik prints, food products, are others.
Looking To Book An International Holiday?
Book memorable holidays on TravelTriangle with 650+ verified travel agents for 65+ domestic and international destinations.
---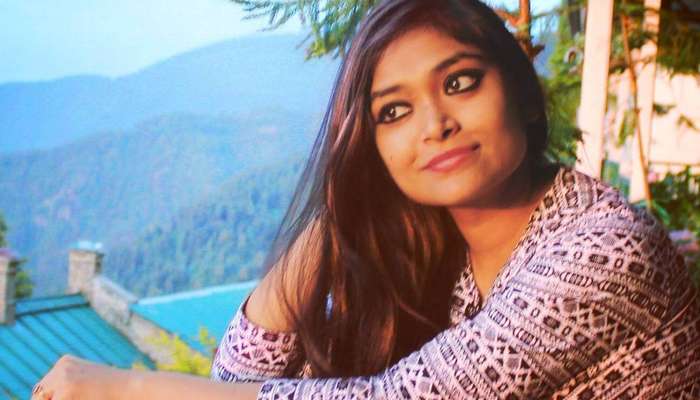 Comments
comments