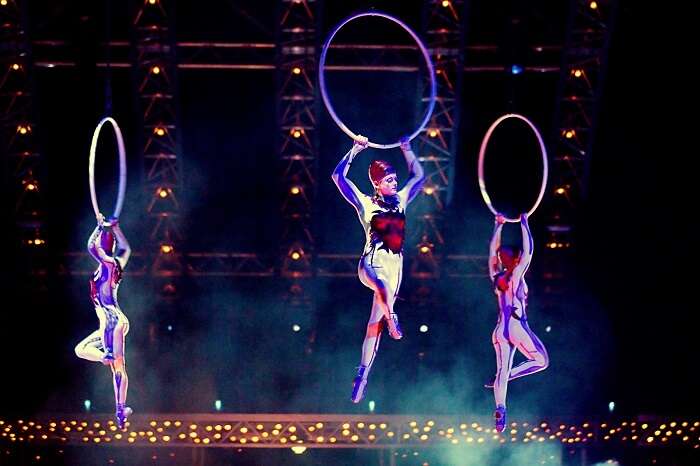 Mumbai is the destination to head to this November! Wondering why? Well, a treat awaits all drama buffs, theatre aficionados, and visual art lovers – Cirque du Soleil is now coming to India!
What is Cirque Du Soleil?
Cirque du Soleil is the biggest theatrical production of the world and it is all set to make its debut here in India in November with its 43rd original production 'Bazaar'. Blending circus acts with street entertainment, these performers are a total charmer! The dramatic sets of their plays, captivating performances, and quirky costumes as they sway in a mix of acrobatics and dance would transport you to another world of fantasy altogether.
Suggested Read: This Spectacular Mumbai Landmark Is Now India's 37th UNESCO World Heritage Site!

Finn Taylor, the senior vice president of Touring Shows, Cirque du Soleil, shares that his idea of 'Bazaar' is to be able to open new markets all across the globe. He says that their reason of existence is to bring forward art to the world and by coming to India they are taking a step forward in the direction of their goals.
Mumbai, the Indian capital of entertainment, is all set to welcome this enthralling Canadian troupe. Also, the show being launched in Mumbai would be a great boost to the 'Visit Maharashtra' tourism initiative because this four-decade-old production flaunts an annual turnover of USD 1 billion and also an annual sale of 10 million tickets.
The production has partnered with BookMyShow for their world premiere here. So keep checking for updates on the ticket prices and show timings and do not miss this opportunity, after all, who doesn't love a bit of magic, drama, and music in their lives!
Book your trip to Mumbai this November and be transported to a different realm in our very own City of Dreams.
Further Read: With New High-Speed Corridor, Travel Time Between Mumbai & Nagpur Reduces By 5 Hours