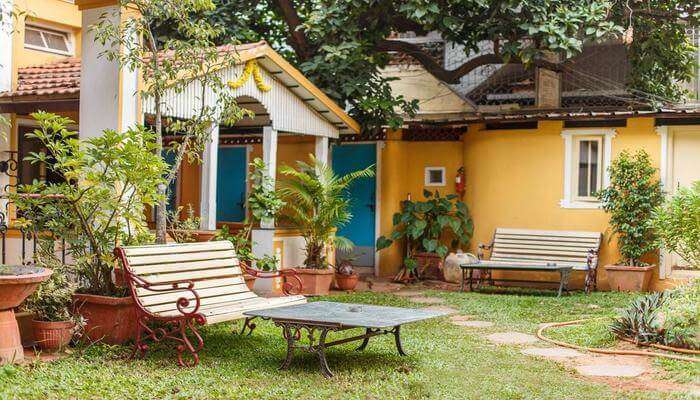 When talking about tourist attractions, the Silicon Valley of India comes with a plethora of options. Known as the third largest Indian city, Bangalore is widely adored by the people because of its pleasant weather, serene lakes, and scenic parks. However, to enjoy the true essence of the metropolis, you would have to sojourn amidst them. So, to help you to find the perfect place to stay in Garden City, we will be talking about the best cottages in Bangalore in this article. So, make sure to go through it thoroughly before making your itinerary.
8 Top Cottages In Bangalore
With an exquisite look and abundance of amenities, these cottages of Bangalore truly personify the word – classy. Here is a list of some of them which can help you to find solace amidst the bustling crowd of Bangalore on your vacay.
1. Astam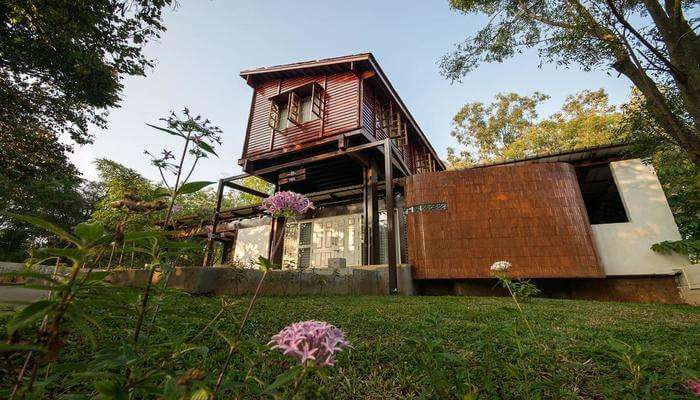 When talking about the best wooden cottages in Bangalore, the first name that comes to the mind is Astam. Located on the outskirts of the Garden City, this beautiful cottage is a perfect peaceful getaway for both the families as well as the couples. All the rooms of the cottage come with a separate dining area, a sofa, and a highly-furnished kitchen where you can make anything and everything.
The small yet eye-catching villa also has a terrace, where you can spend some personal me-time. If you want to explore the surroundings of the cottage, then Astam can also arrange a car rental service for you.
Location: Villa 82 Silver Oak Resort, Doddaballapur main road Rajanankunte, Bengaluru, Karnataka 560064
Google Rating: 5/5
New Year Parties In Bangalore (2022): 28 Top Venues
2. Legacy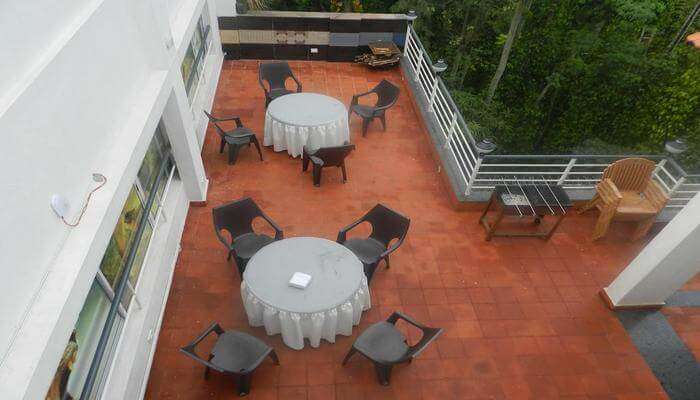 One of the newest cottages of Bangalore, Legacy is yet another place where you can enjoy a great homestay. Situated in the Anchepalya district of Bangalore, Legacy offers free WiFi, a highly-embellished kitchen, and a flat-screen TV to all of its visitors. Aside from that, it also has a separate swimming pool where you can rejuvenate yourself. If you are looking with a cottage with private pool in Bangalore, this is it. 
A terrace is also available in this amazing 5bhk flat, which can help you to disentangle your thoughts and spend some precious me-time. Also, you can enjoy both a buffet meal system and a vegetarian breakfast during your stay in the cottage. Almost all of the tourist attractions, such as Cubbon Park, Chinnaswamy Stadium, and Indian Institute of Science, of the place are located quite nearby the cottage. This is yet another factor, which makes it one of the top cottages in Bangalore.
Location: No 333, Nova Miller, Thimmaiah Rd, Opp KSFC Bank, Govinda Chetty Colony, Vasanth Nagar, Bengaluru, Karnataka 560052
Google Rating: 4.2/5
3. Serene Mist Resort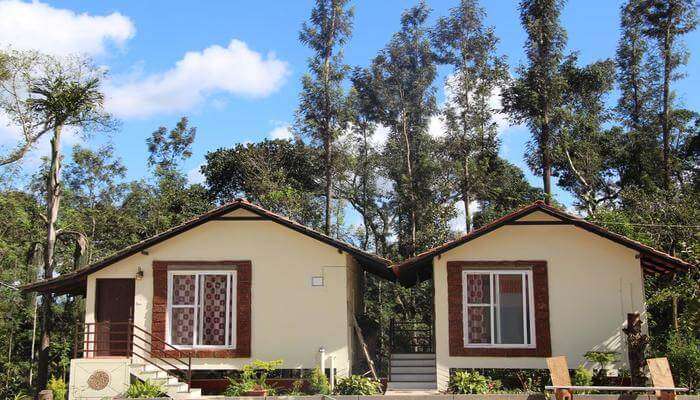 Located around 25 km away from the city, the Serene Mist Resort should be perfect for you if you are thinking to spend an ideal cottage stay in Bangalore, immersed in a mini-vacation surrounded by many places to see in Bangalore. The cottages of the resort are great for waking up to see a magnificent view of the mountains and inhaling the fresh air of lush vegetation. Like most of the cottages in Bangalore, this one too comes with a large pool.
Aside from that, you can also enjoy some of the common amenities, such as free WiFi, flat-screen TV, etc, here. The resort is also known to be pet-friendly. However, make sure to let them know in advance that you are bringing a furry friend with you.
Location: PB-23, Aldur, Bannur, Karnataka
Google Rating: 4.2/5
29 Enthralling Spots For Camping Near Bangalore That Are Worth A Visit In 2022!
4. The Bougain Villa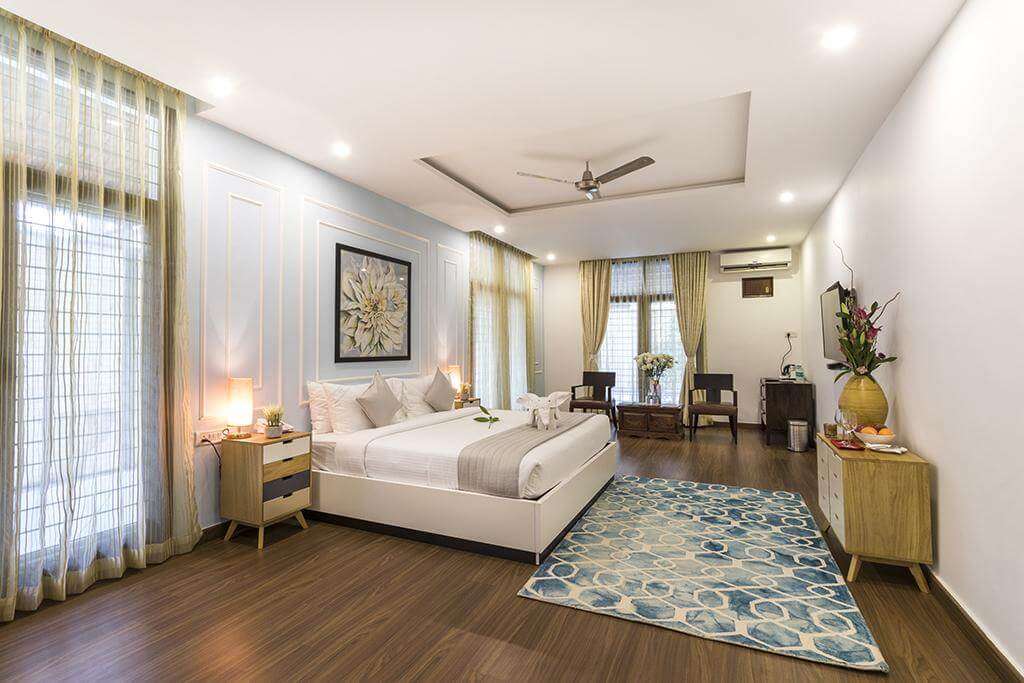 Boasting an exotic view of a lush garden, the Bougain Villa comes with four bedrooms, an eye-catching balcony terrace, and a wide seating area. Here, you can enjoy numerous common accommodations like free WiFi, free car parking, and luxurious meals.
What makes it one of the best family cottages in Bangalore, is the separate kid's play area where numerous children's books and DVDs are kept. If you have decided to stay here, then you will be able to visit numerous famous tourist attractions of Bangalore, such as Bangalore Palace, Indira Gandhi Musical Fountain Park, etc.
Location: Lavelle Road, 13/A, 1st Cross Rd, Bengaluru, Karnataka 560001
Google Rating: 4.5/5
5. Mango Mist Resorts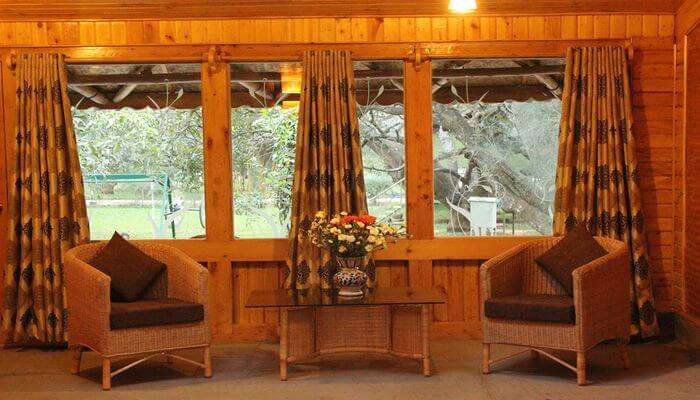 Ruling over 10 acres of mango groves, the Mango Mist Resorts provides some of the best cottages in Bangalore for couples. It is only 19 km away from the serene Thottikallu Waterfall and 10 km from Bannerghatta Zoo. Accommodations of this place range from exquisite huts to rustic cottages. However, no matter where you are thinking to stay, you will be able to enjoy all the basic amenities, such as Free WiFi, minifridges, and flat-screen TVs.
A few accommodations also have a private plunge and whirlpool tubs. However, they are a little bit pricey. The resort also has a bar and a large swimming pool where you can spend some quality time with your friends.
Location: Survey No 33&37, Harapanahalli Jigani Hobli, Anekal, Taluk, Bengaluru, Karnataka 560105
Google Rating: 4.2/5
8 Luxury Resorts Near Bangalore For A Lavish Weekend Escapade!
6. Villa Serena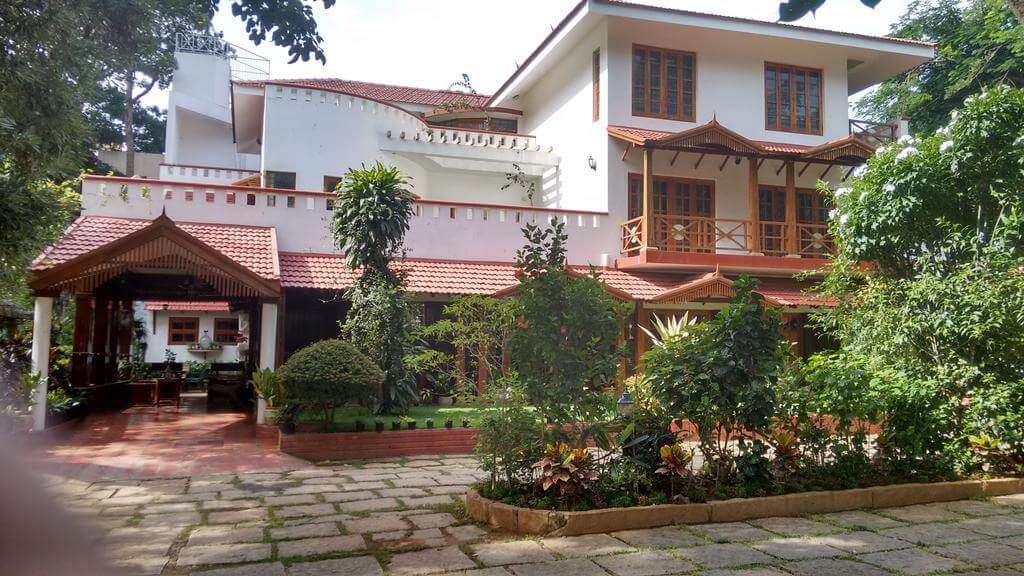 Located at the heart of Bangalore, Villa Serena offers a plethora of amenities, such as free WiFi, shared lounge, and air-conditioned rooms, to the travelers. Aside from that, it also features a private parking space and a shared kitchenette. The kitchen of the villa comes with a refrigerator, a microwave, and an oven, which are perfect for preparing any kind of delicacies. This place is also surrounded by some of the best street food in Bangalore. 
However, the factor, which makes it one of the best honeymoon cottages in Bangalore, is its living rooms. It has both a separate dining space and a large seating area. All of the rooms also come with an attached bathroom, which has a shower and a bidet.
Location: Chemmanur Enclave, Namjoshi Road (Basava Nagar main Road), Basavanagar, Bengaluru 560037, Karnataka 560037
Google Rating: 4.8/5
7. The Whitefield Inn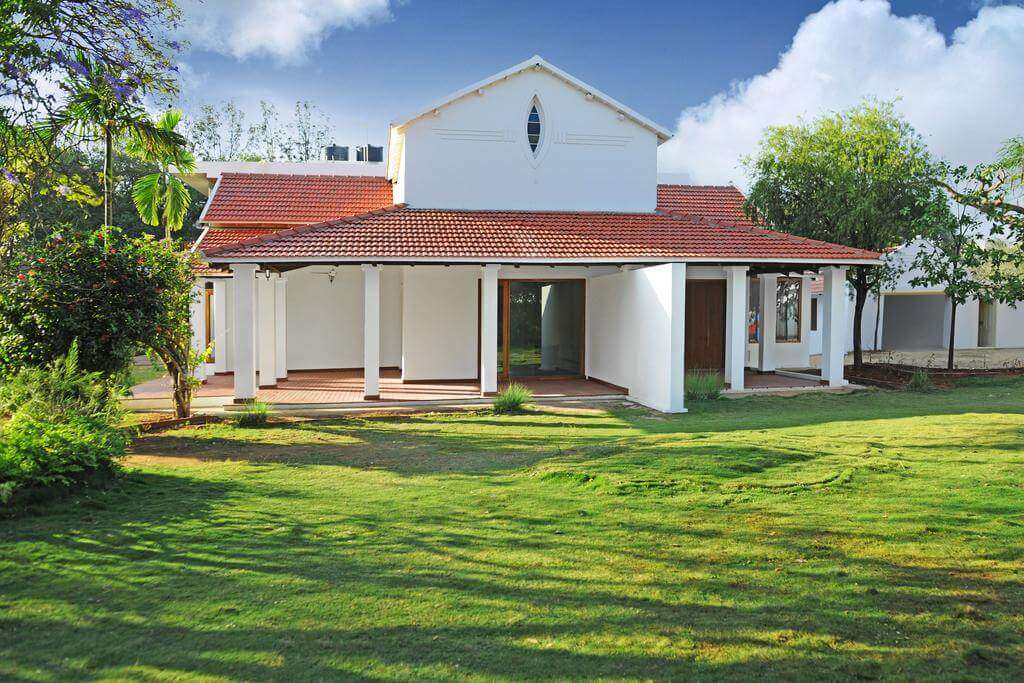 Situated only 18 km away from the world-renowned Brigade Road, the Whitefield Inn comes with five large bedrooms and six bathrooms. All the rooms of the cottage are equipped with free WiFi and a flat-screen TV with a plethora of cable channels.
Aside from that, the resort also has a separate dining area and a highly-furnished kitchen. The property also offers a free private parking system and a lush garden. Apart from that, here, you will also get to enjoy some me-time on the wide terrace of the villa. The Whitefield Inn is also known to be one of the best pet-friendly cottages in Bangalore. But call ahead before you bring along your furry friend.
Location: 406, Outer Circle, Dodsworth Layout, Whitefield, Bengaluru, Karnataka 560066
Google Rating: 4.8/5
25 Best Restaurants In Bangalore That Are Perfect For A Food Spree In 2022!
8. Casa Cottage Hotel

Set in a charming uptown area, the gorgeous Casa Cottage Hotel is only around a 10-minute walk away from the Brigade Road. Another famous attraction of Bangalore, Lalbagh Botanical Road, is also located only 5 km away from the hotel. Therefore, if you have to come to Bengaluru to visit these places, then Casa Cottage Hotel would be the perfect place for you to stay.
The rooms of the Casa Cottage Hotel are highly-spacious and offer flat-screen TVs with satellite channels as well as free WiFi connectivity. If you want more amenities, then you can also opt for the upgraded rooms of this place. With them, you will be able to enjoy numerous other benefits, such as separate living areas and minifridges.
Location: Post Office, 2, Clapham Street, behind Richmond Town, Richmond Town, Bengaluru, Karnataka 560025
Google Rating: 4.2/5
We hope you have found your dream abode with the help of this list of the best cottages in Bangalore. Now all that is left for you to do is book an awesome-sauce holiday in Bangalore so that you can enjoy a stay at these utterly charming cottages that offer top-notch facilities and homely comfort to visitors.
For our editorial codes of conduct and copyright disclaimer, please click here.
Frequently Asked Questions About Cottages In Bangalore
Is Bangalore safe for travellers?
Yes, Bangalore is known to be quite safe for travellers as the incidents of organized crime are almost non-existent. However, cases of thieveries are still quite common in the suburban areas of the city. So, if you are staying at any of these places, then make sure to exercise caution when strolling, especially during the nighttime.
How many days do we need to spend in Bangalore?
The city of Bangalore comes with a lot of famous tourist attractions. Therefore, if you want to visit all of them, then you would have to spend at least three to four days in the city.
Can touring in Bangalore be expensive?
There are many tourist attractions in Bengaluru where you would not have to spend any money for visiting purposes. However, if you want to also enjoy the exuberant nightlife of the city, then your tour might get a little bit expensive.
What is the best place to stay in Bangalore?
Known as one of the busiest cities in India, the metropolis of Bangalore houses a lot of hotels and resorts. However, if you want to enjoy the real spirit of touring, then you would have to stay in the cottages of Bangalore.
What are some of the must-visit places in Bangalore?
Bangalore has a lot of tourist attractions that are a must-visit for you. But, if you are visiting the Garden City for the first time, then make sure to visit the Bangalore Palace and St. Mary's Basilica Church during your stay.
Why is Bangalore so famous among the travellers?
The city of Bangalore is mainly famous among travellers because of its scenic gardens and highly-embellished architectural structures.
What are the best cottages In Bangalore with a pool
Some of the best cottages in Bangalore with a pool are Clarks Exotica Convention Resort & Spa, Palm Meadows Club and Wonderla Resort among others.
What are the best cottages In Bangalore?
Some of the best cottages in Bangalore are 1. Astam · 2. Legacy · 3. Serene Mist Resort · 4. The Bougain Villa · 5. Mango Mist Resorts · 6. Villa Serena
---
Looking To Book A Holiday Package?
---
People Also Read:
Cottages In Darjeeling Cottages In Nainital Cottages In Gangtok