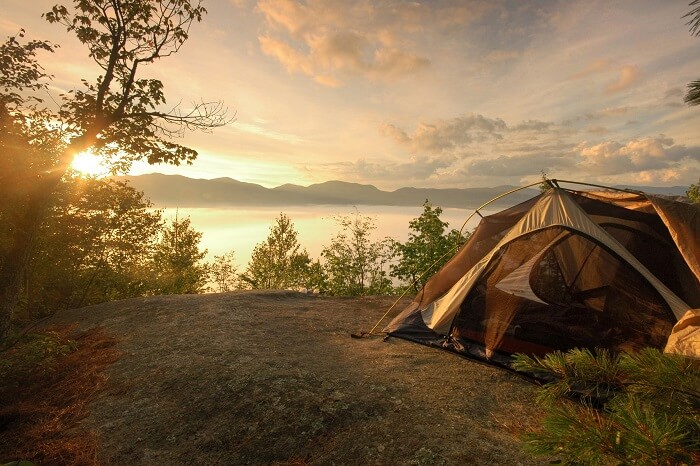 Thanks to the fast-paced city life of Bangalore, the localities are always looking for a weekend retreat and break from the hectic schedules. But the long list of weekend getaways from Bangalore offers them the solace that they are looking for. And while the luxury resorts by the lake & the posh homestays by the coffee plantations have taken a sideline, camping near Bangalore is suddenly on a rise.
There are quite a few camping spots near Bangalore. Some offer tent accommodation, others provide log huts or jungle huts, while still others offer the option of pitching personal tents too. Here is an elaborate list of camping near Bangalore. Check them out.
Best Places To Camp In Bengaluru Within 200 km
Don't want to go too far away from Bangalore? Here are some options where you can reach in just a few hours to enjoy a camping trip.
1. Manchinbele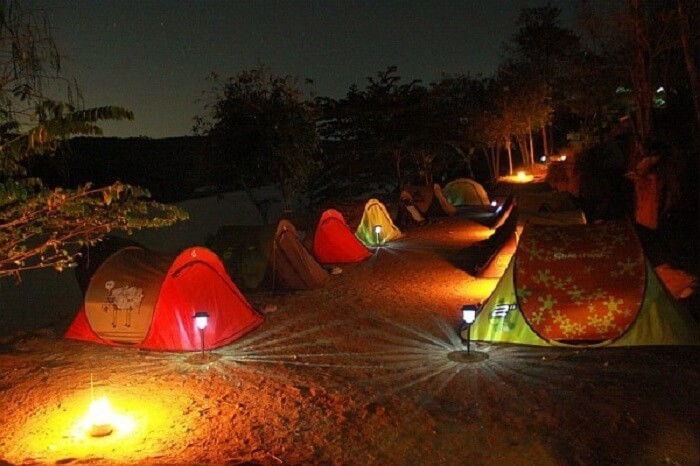 Distance from Bangalore: 40 km
A famous weekend camping destination near Bangalore, Manchinbele offers breath-taking beauty and views of the Manchinbele Lake. This weekend getaway offers ultimate fun during family outings as well as corporate activities.
Things to do: Paintball, rope course (wild woozy, log swing, multi-vine, horizontal ladder, tightrope walk), and watersports (kayaking, canoeing, swimming, and raft building)
Tariff: INR 1500 per person for day outing | INR 2500 per person for overnight camping
Camping resorts: Camp Manchinbele and Extreme Zone Getaways
Suggested Read: Summer In Bangalore: 5 Cool Ways To Beat The Heat In 2019
---
South Weekend Holiday Packages On TravelTriangle
A trip to South India has a lot to offer – from tranquillity of forests to charm of sizzling beaches and from lost kingdoms to chills of a hill station. Visit Kerala, Coorg, Ooty, Mysore, or Kodaikanal. Book holiday packages inclusive of airport transfers, cab, resort, sightseeing, and meals.
---
2. Ramanagara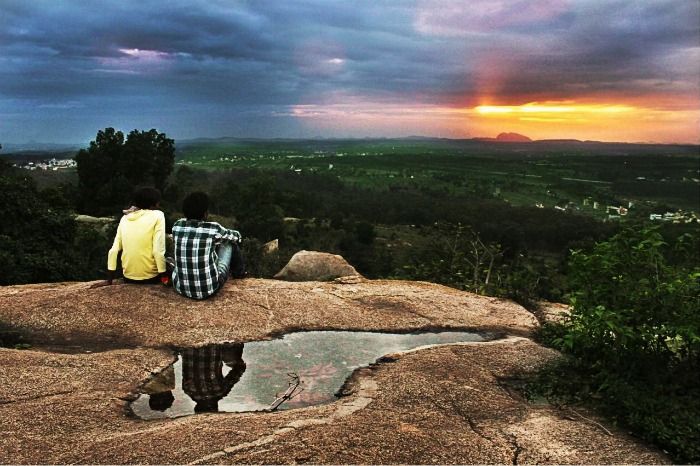 Distance from Bangalore: 50 km
The shooting site for the cult movie Sholay, Ramanagara is yet another popular campsite near Bangalore. Its rugged topography, barren landscape, and rocky granite outcrops have made the place heaven for rock climbers. It is also an idyllic destination for a fun-filled night camping experience.
Things to do: Ziplining, jumaring, rappelling, archery, kayaking, and paddle boating
Tariff: INR 1200 per person per day
Camping resorts: Ramanagaram Adventure Camp
Suggested Read: The Ultimate Weekend Getaway Destinations From Bangalore
3. Bananthi Betta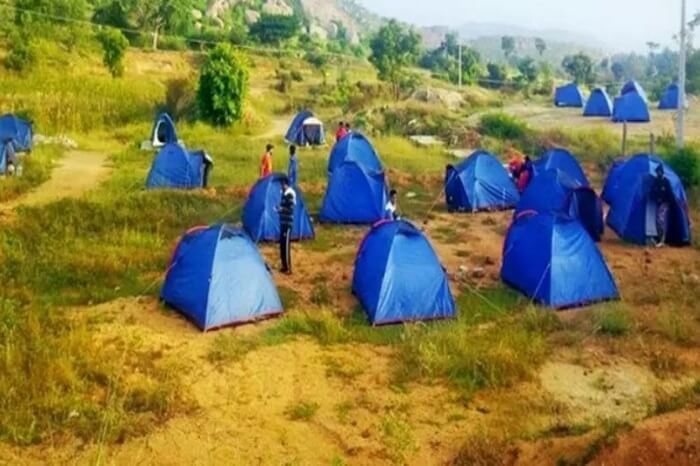 Distance from Bangalore: 55 km
Bananthi Betta, located mid-way between Konanadoddi and Kyathanahalli, is one of the offbeat trekking and camping places near Bangalore. The place is bordered by lush green hillocks and an unknown streamlet flowing downslope. The untouched beauty and biodiversity of the surroundings ensure a peaceful retreat to the Bangaloreans.
Things to do: Balance walk, ladder walk, target shooting, trekking, boating, treasure hunt, and rappelling
Tariff: INR 1500 – INR 1750 per person per day
Camping resorts: Aventura India
4. Kanakpura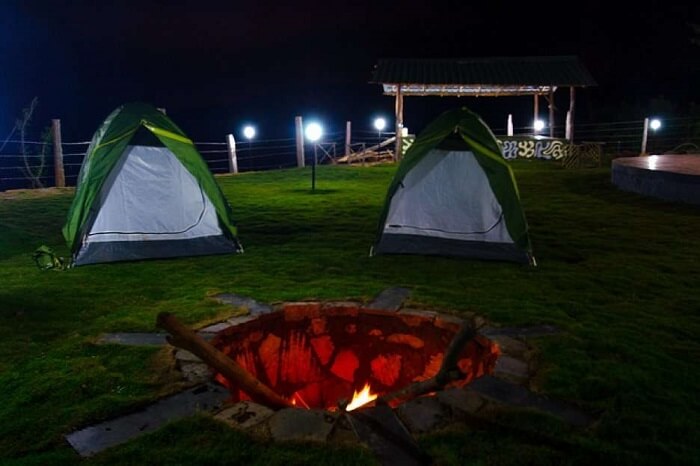 Distance from Bangalore: 63.7 km
Located by the sparkling Hosa Doddi Lake, this camping site of Kanakpura offers enthralling beauty and thrilling feeling. It is surrounded by Bananthimari forest region and is perfect for relaxation & rejuvenation.
Things to do: Acid walk, ice walk, bonfire, tent pitching, zip lining, and boating, kayaking, & coracle riding in the lake
Tariff: INR 1700 – INR 2000 per person per day
Camping resorts: Nature Adventure Camp
5. Savandurga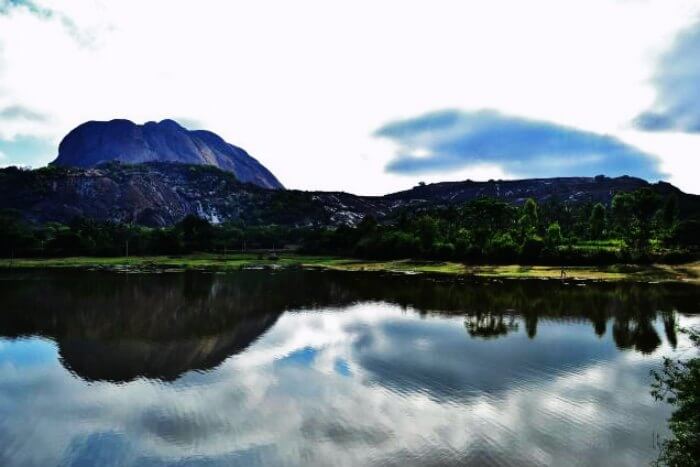 Distance from Bangalore: 69.4 km
Located on the Ramanagaram-Magadi Road, the picturesque location of Savandurga is known for granite cliffs and caving adventure. Appropriate for adventure sports and corporate team building activities, Savandurga is an ideal place for one-day camping near Bangalore.
Things to do: Rappelling, high-rope traversing, kayaking, night trekking, and climbing up to Kaprigudda & Bili Gudda peaks
Tariff: INR 1200 per person per day
Camping resorts: Camp Extreme Zone
Suggested Read: You Don't Need To Skip Office To Visit These 10 Amazing Places Near Bangalore
6. Anthargange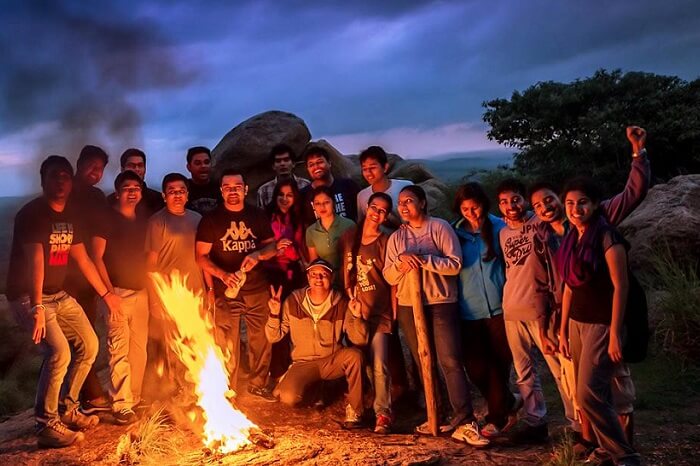 Distance from Bangalore: 70 km
Anthargange is an ideal site for caving and night camping near Bangalore. This place is a part of Shatha Shrunga mountain range and comprises of rocky outcrops that are ideal for trekking & mountain hiking. And the series of caves formed out of volcanic rocks here is a unique offering of Anthargange.
Things to do: Night trekking, caving, bonfire, and stargazing at midnight from the peak
Tariff: INR 1050 per person per day
7. Nachikuppam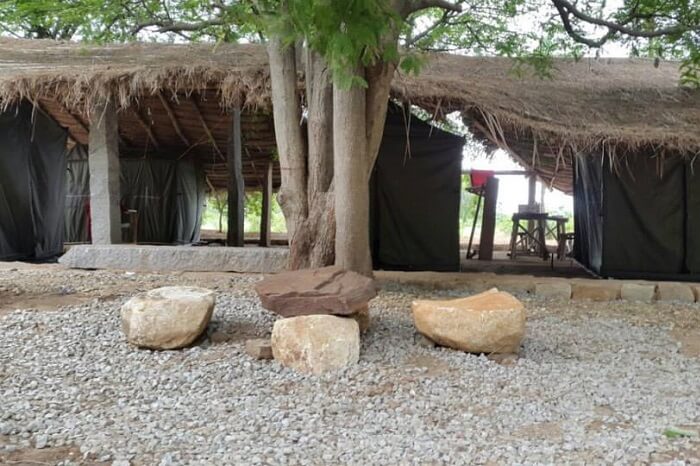 Distance from Bangalore: 75 km
Nestled amid the hills of Krishnagiri, Nachikuppam is a quaint site for forest camping near Bangalore. The place overlooks a picturesque lake and offers amazing tent accommodation, make-shift kitchen, captivating adventurous activities, and a lot more. Some of the camps are powered by solar energy. There is also an ancient temple on the hilltop and numerous mango farms around the campsite.
Things to do: Trekking, nature walks, bird watching, boating, and barbecue dinner
Tariff: INR 7300 per person for a 2-day package
Camping resorts: Camp Linger and Nachikuppam ECR Camp
8. Bheemeshwari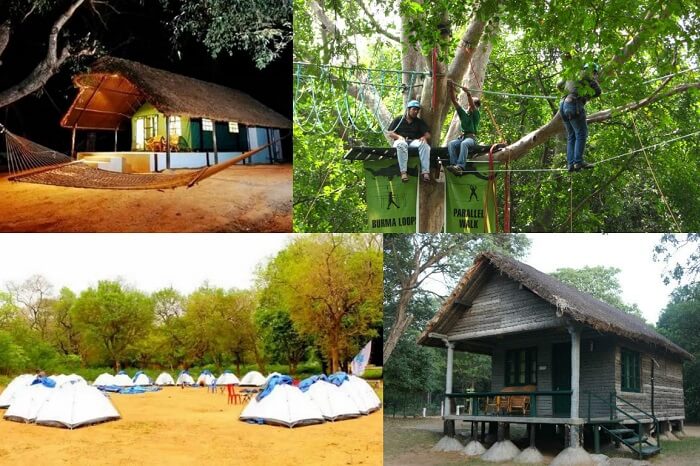 Distance from Bangalore: 100 km
Blessed with wildlife, exotic flora, and picturesque landscape, Bheemeshwari is a hot favorite destination amongst the adventure enthusiasts and nature lovers. This adventure hotspot is located by the banks of River Cauvery. Travelers can spot many wild animals, including grizzled giant squirrel, jackals, wild pigs, elephants, leopards, and spotted deer.
Things to do: Rafting, kayaking, mountain biking, rope walking, bird watching, and jungle safari
Tariff: INR 5000 – INR 6000 per person for 1 night & 2 days
Camping resorts: Adventure & Nature Camp, Jungle Lodges, and Galibore Fishing Camp
9. Doddamakali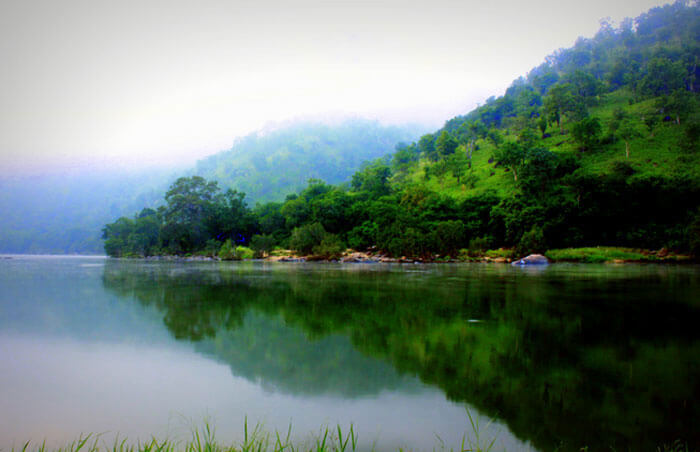 Distance from Bangalore: 113.2 km
Located on the banks of Cauvery, this quaint campsite offers solemn peace and rejuvenation to all. Doddamakali is the habitat to a plethora of birds & wildlife and exotic flora. Travelers and bird watchers can frequently spot kingfisher, black-bellied river tern, osprey, and grey–headed fish eagle. Animals like leopard, elephants, sambar, jackals, and grizzled giant squirrel can also be seen around the camp.
Things to do: Coracle rides in Cauvery, fishing, angling, bird watching and exploring untouched trails.
Tariff: INR 6500 – INR 10000 per person per day; depending on the type of accommodation.
Camping resorts: Doddamakali Nature Resort and Fishing Camp
Best Places to Camp in Bengaluru Within 300 km
If you have already explore all the above places, then maybe you should icnrease your radius and check these camping places on the radar.
10. Sakleshpur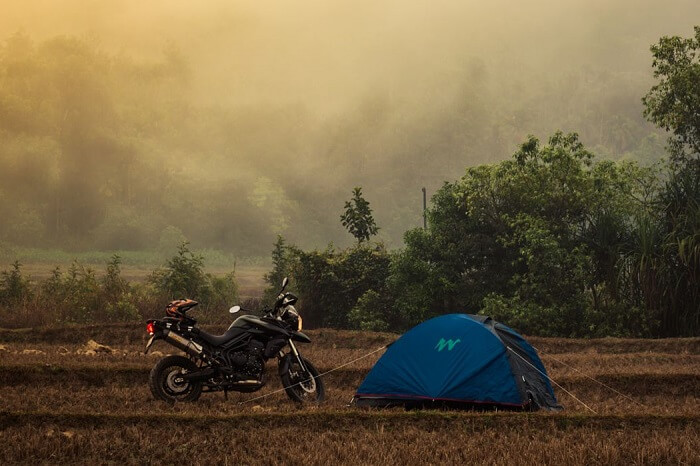 Distance from Bangalore: 220 km
With lush green Western Ghats in the backdrop, Sakleshpur is an ideal site for camping near Bangalore. It is spread over a vast area that is covered with exotic flora and fauna. In addition to being listed as one of the 18 most diverse spots in the world for exquisite flora and fauna, Sakleshpur also offers splendid riverside homestays and mesmerizing waterfalls.
Things to do: Plantation walks, Jeep safari, biking, horse trekking, and archery
Tariff: INR 2500 per person per day
Camping resorts: Quest Adventure, Sakleshpur Adventure Camp, Wild Wagtail, and Malnad Times
Suggested Read: 21 Road Trips From Bangalore You Must Plan With Your Friends
11. Masinagudi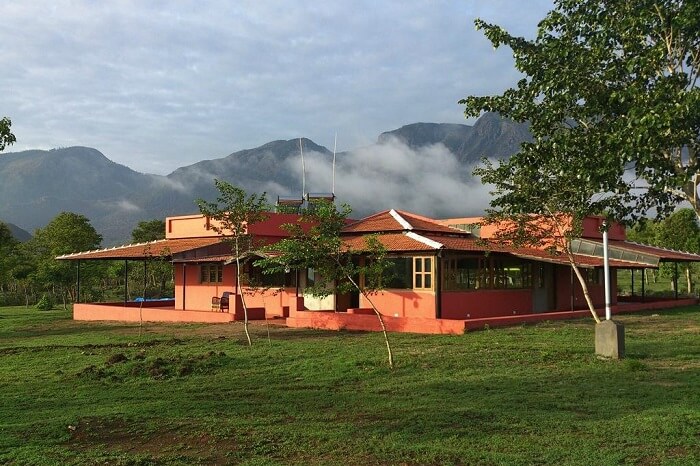 Distance from Bangalore: 245 km
Masinagudi, one of the enthralling camping places near Bangalore, is fenced by the Bandipur forest and the lush green Mudumalai ranges. With its green surroundings, views of the lofty Nilgiris at a distance, and refreshing tranquility, this place is a camping paradise for adventure lovers and nature enthusiasts.
Things to do: Forest trekking through Mudumalai Wildlife Sanctuary, wildlife spotting, campfire, rock climbing, and mountain hiking at Needle Hill
Tariff: INR 3500 per person for the 3-day camp
Camping resorts: Jungle Retreat, Jungle Trailz, Greenwood Nature Camp, and Bear Mountain Jungle Resort
12. Kalhatty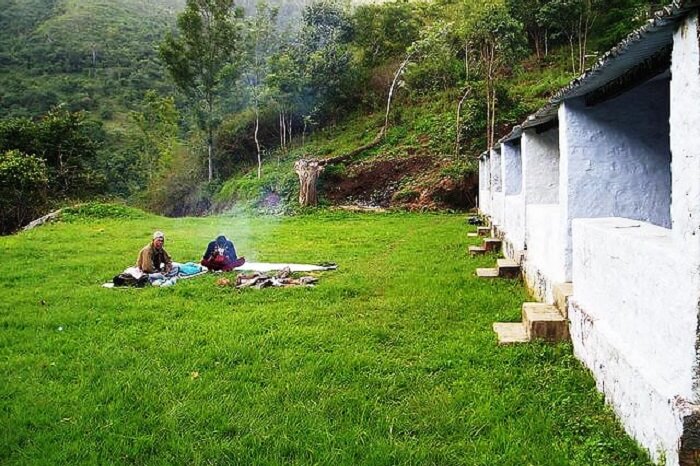 Distance from Bangalore: 259.8 km
Located near Ooty, Kalhatty is a serene camping place that is surrounded by dense forests and sparkling waterfalls. Kalhatty is known for tea, coffee, & spice plantations, Kalhatty Castle, and Rose Mary cultivation. Though there numerous homestays that offer accommodation, but nothing beats camping at this enchanting site.
Things to do: Campfire, trekking, jeep safari, rock climbing, and fishing
Tariff: INR 4000 for two people; inclusive of all meals
Camping resorts: Kalhatty Jungle Camp
Suggested Read: 10 Spectacular Waterfalls Near Bangalore Straight Out Of A Wonderland
13. Coorg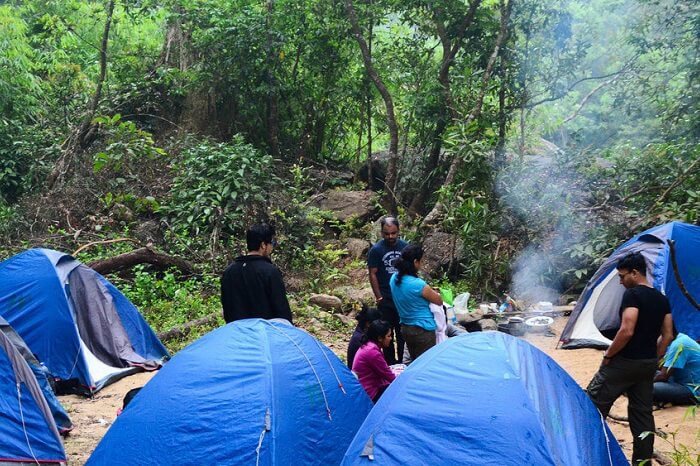 Distance from Bangalore: 268 km
One of the most picturesque hill stations near Bangalore, Coorg is an ideal weekend getaway from Bangalore. Travelers can also find aromatic coffee & spice plantations and the Harangi backwaters here. But it is the natural splendors and the numerous fun-filled activities that make it a perfect site for camping near Bangalore.
Things to do: Jungle safari, trekking, kayaking, nature walks, and exploring the various places to visit in Coorg
Tariff: INR 1650 – INR 2000 per person per day
Camping resorts: Jungle Camp Kushalnagar Resorts and Camp Coorg
Suggested Read: 10 Best Resorts In Coorg For A Luxurious Stay
14. Wayanad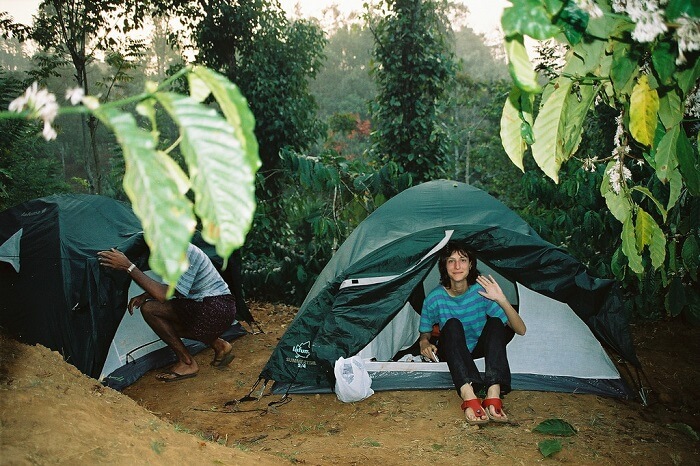 Distance from Bangalore: 278.5 km
Wayanad has some appealing luxury camp stays amongst nature with all modern facilities that have made camping a luxury affair altogether. In addition to its tea plantations, the quaint destination is also popular for the Chembra Lake and the alluring waterfalls – Meenmutty Waterfalls and Soochipara Falls.
Things to do: Trekking, angling, and swimming
Tariff: INR 3000 – INR 5000 per person per night
Camping resorts: Blue Mango, Hill District Club, Seagot Banasura Island Resort, and Wayanad Adventure Camp
Must Read: 10 Wayanad Tourist Places For An Extended Delectation
Best Places to Camp in Bengaluru Beyond 300 km
Go beyond the distance and check these exciting camping places near Bangalore out. Distance mwans nothing when you love nature, does it?
15. Vadanamelli Beach, Chennai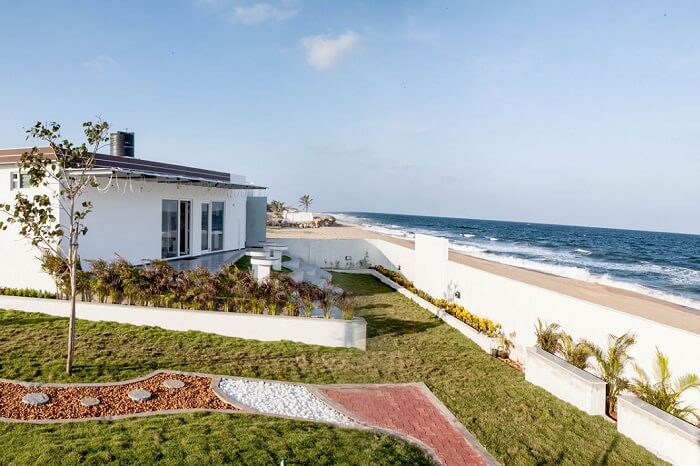 Distance from Bangalore: 363 km
Often accessed for adventure or pure relaxation, this is an offbeat site for camping near Bangalore. The beachfront site also has sea facing villas that offer jaw-dropping beauty. One can also explore Crocodile Bank, Shore Temple, and Old Mahabalipuram Light House located nearby.
Things to do: Paragliding, surfing, karting, and paintball
Tariff: INR 10,000 per day for a couple inclusive of all meals and activities
Camping resorts: B'S Hive On The Beach Camp – Kadal
Other Best Spots For Camping Near Bangalore
We found more spots for camping near Bangalore for you. Are you ready to take the challenge and tick each of them off your list?
16. Nandi Hills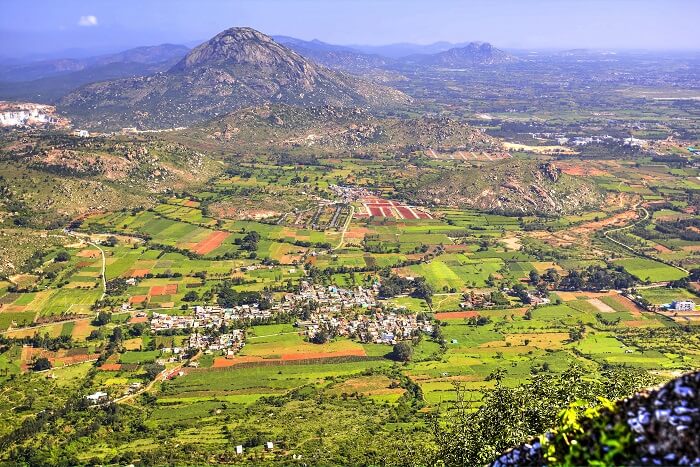 The list is incomplete without making mention of Nandi Hills. The place is already among the most favorite getaway amongst Bangaloreans. Its proximity and verdant greenery make it one of the best places for overnight camping near bangalore. It is just 60 km away from the city and can easily be reached by car or bike. It is a perfect place for a group of friends to hang out.
Things to do: sunset trekking, kayaking, rope courses, and cycling.
Tariff: INR 1,100
Camping Resorts: Nandi Hills Adventure Camp
17. Chikmagalur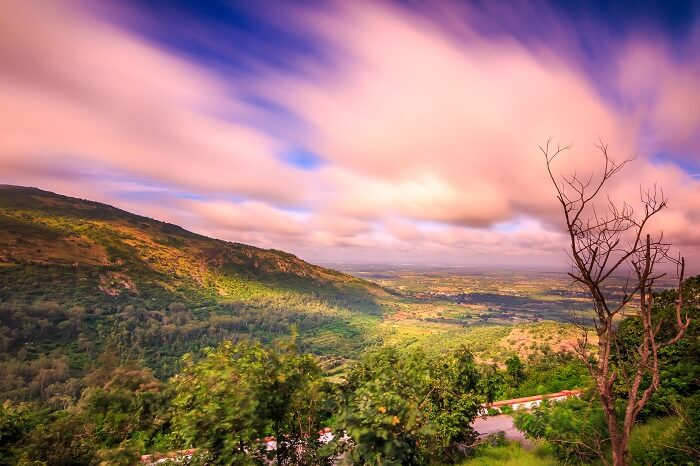 If you are looking for a place where you can go camping under the stars near bangalore, then Chikmagalur is a great option. Located in the Western Ghats, you will be greeted with lush greenery and sound of birds chirping. Wake up to the beautiful views around you. The place has got ample of biodiversity where you can spot a variety of species of birds and animals.
Things to do: Fishing, coracle ride
Tariff: INR 3,500
Camping Resorts: Get Beyong Limits
18. Kemmanagundi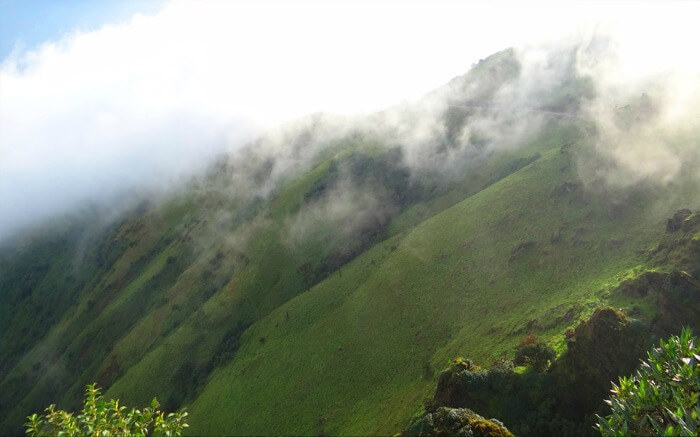 Connect with nature and enjoy breathtaking views of the sunset at the campsite of Kemmanagundi. Explore around and stumble upon picturesque waterfalls. Lay your eyes on the multiple peaks and hills of Baba Budan Giri Range. No wonder it used to be the favorite summer retreat of Krishnaraja Wodeyar who then donated this hill station to Government of Karnataka. It is indeed one of the best places for luxury camping near Bangalore.
Things to do: Trekking, hiking
Tariff: INR 3500
Camping Resorts: There are a number of homestays located right amidst nature.
19. Ombattu Gudda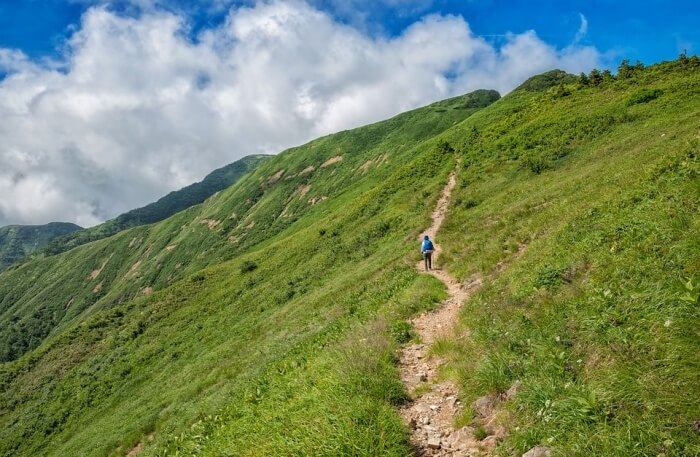 Located in the Byrapura estate of Karnataka, Ombattu Gudda is one of the best places for self camping in Bangalore. Situated on the borders of Hassan and Chikmagalur, this place offers striking landscapes. Ombattu Gudda means nine hills and the campsite is et on the highest peaks of Western Range. So you can enjoy exhilarating views of the entire hill range and surroundings. It is one of the most difficult treks in Karnataka.
Things to do: Trekking
Tariff: INR 2500
Camping Resorts: Tents
20. Dandeli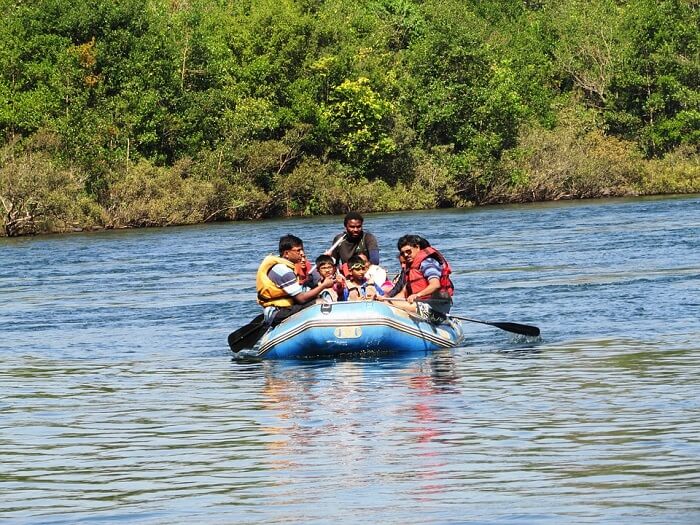 Served best for the last, Dandeli near Bangalore is the hub of adventure sports. Set on the banks of the mighty Kali River, Dandeli is your gateway to the extreme wilderness. Youngsters come all the way here to enjoy myriad adventure activities. It is known for its diverse wildlife and stalagmite caves.
Things to do: River rafting, caving, kayaking
Tariff: INR 950 onwards
Camping Resorts: Dandeli Jungle Camp – Pradhani
Further Read: 10 Off-The-Wall Weekend Destinations Which Every Bangalorean Must Try
The locations listed above as the best camping spots near Bangalore seem enthralling and are surely worth a visit on any of the weekends. It is advisable to book one of the camping resorts and pack all the necessary stuff needed for this adventure activity. So, when are you planning a trip to Bangalore?
---
Looking To Book A Holiday Package?
Book memorable holidays on TravelTriangle with 650+ verified travel agents for 65+ domestic and international destinations.
---
Comments
comments