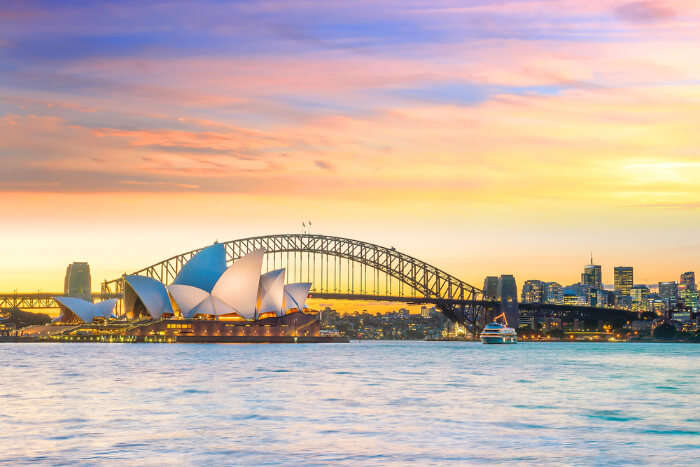 Sydney maintained its identity for several years as one of the most iconic and amazing cities of Australia. Many consider this city as the cultural capital of the nation and all thanks to the highly recognizable sights which includes the eye-catching Sydney Opera House. A trip planned to explore Sydney will come up with the opportunities where you can get the scope to enjoy many day trips from Sydney. It is important for a travel freak to know about the best day trips from Sydney. Just scroll down to know about the Sydney day trips ideas.
7 Select Day Trips From Sydney
The best part of these destinations is that you can cover them and get back to Sydney either on same day or in just a day's time. If you are looking for weekend two-day trips from Sydney then there are many options for you as well:
1. Palm Beach- Ultimate panoramic coastal views

Distance from Sydney: 44 km
Palm Beach should be a must to visit destination in your Australia travel package for its panoramic coastal views, bright and sunny weather and its infamous surf. It's just a one hour drive from the Sydney's CBD towards Northern beaches. It's an ideal hotspot for relaxing beach day trips from Sydney. Enjoy the Pittwater kayaking Tour followed by cruising on the crystal waters. If you are searching for day trips from Sydney for seniors, this is a great option.
Places to see at Palm Beach: Henry Morrison Flagler Museum, Worth Avenue, Lake Worth Inlet and Norton Museum of Art.
Must Read: 10 Sydney Travel Tips To Make Your First Vacation As Memorable As Possible
2. Hunter Valley- Australia's prime wine-production region

Distance from Sydney: 130 km from South West of Sydney
Hunter is one of the notable regions for wine-production, having 150+ wineries in its possession. It's a 2 hours drive from Sydney and you are here in the land of amazing wines which is known for offering the finest range of Shiraz and Semillon. If you are here for 2 days then stay at the beautiful Sebel Kirkton Park, which is one of the amazing country manor located overlooking the gardens and vineyards covering 70 acres of land.
Places to see at Hunter Valley: Wollemi National Parks, Hunter Valley Gardens and Tomaree National Park
Suggested Read: Top 10 Indian Restaurants In Sydney Which Are Famous For Their Desi Flavours
3. The Blue Mountains -Nature's Paradise

Distance from Sydney: 62.4 Km Via M4
One of the best destinations for day trips from Sydney by train is the Blue Mountains, National Park. The park is given this name because of the blue haze which lies above the mountains. The haze appears due to the existence of some several thousands of eucalyptus plants which are releasing the scented oil very gently right into the air. The unspoiled wilderness of this park will make you feel mesmerized with its beauty.
Places to see at the Blue Mountains: Wentworth Falls, Three Sisters, Katoomba Scenic world and Mount Solitary
Suggested Read: Shopping In Sydney: Top 10 Places In The City For Luxury & Street Shopping
4. Wollongong & Kiama- The Picturesque coastal suburb:

Distance from Sydney: 90 Km from South of Sydney
The awe-inspiring view of the coastal suburb of Wollongong will surely make you feel blessed. Moving a few miles further to this you will reach Kiama. In case you still didn't add these spots in your weekend destinations list, then do it on an immediate basis. When you will be driving through the Grand Pacific Drive, ensure to give a stop at the Sea Cliff Bridge to get the glimpse of the breathtaking view of this beautiful bridge and this coastline. This destination will be the perfect choice for day trips from Sydney for families.
Places to see at Wollongong & Kiama: Port Kembla beach, Nan Tien temple, Kiama Lighthouse, and Kiama Blowhole.
Suggested Read: Winter in Sydney: 8 Things To Do When Sydney Is At Its Magical Best
5. Kangaroo Valley- A perfect escape to nature:

Distance from Sydney: 156 km from Sydney CBD
It is another lovely destination which will surely attract the true lovers of awesome taste wines. You can visit the Yarrawa Estate Winery to taste the jams which are locally made. Gastronomic culture of this place gave it the name of Kangaroo Valley. Hampden Bridge's Victorian architecture will surely impress you. A visit to the Flavors of the Valley Foodie Trail you will get the scope to learn different styles of Gourmet cooking in Australia. It is one of the romantic day trips from Sydney.
Places to see at Kangaroo Valley: Yarrawa Estate Winery and Hampden Bridge.
Suggested Read: Explore These 8 Places Near Sydney That Are Perfect For An Adventurous Day Trip
6. Stanwell Park- The spot of first box kite flight:

Distance from Sydney: 64 km from Sydney CBD
Stanwell Park is known for being the very first spot of box kite flight is now a hot destination for enjoying paragliding as well as the activity of hang gliding. The region is developed surrounding the Bald Hill. If you are looking to spend a casual date with your love then move to the Wodi Wodi walking track for excellent coastal views. Enjoy swimming in the golden beaches. It's an Ideal choice for romantic day trips from Sydney.
Places to see at Stanwell Park: Stanwell Park beach, Illawarra Escarpment, and Stanwell Park beach reserve.
Suggested Read: Kickstart A New Phase Of Your Life With An Awesome Honeymoon In Sydney
7. Mermaid Pools- The land of idyllic pools and springs

Distance from Sydney: 100 km from Sydney CBD.
The Mermaid Pools can be defined as a series of some idyllic pools as well as springs which are completely fed by the rivers arising from the famous Tahmoor Gorge deep located in the midst of the Australian bush. Reaching the spot it's a true adventure as here you need to trek down the steppe rocks to arrive. The "See Through Pools" is the main highlight of this adventure trip. The formations of underwater rock here will completely impress you about nature's mind-blowing creations. It is an amazing spot for day trips from Sydney in winter.
Places to see at Mermaid Pools: Mermaid Pools are the main attractions of this place
Further Read: Best Airports In Sydney That'll Let You Tour The City's Most Extra Features!
There are several other destinations which will be ideal for day trips from Sydney for seniors. If you have senior people in your family or group, then a weekend vacation in any of the beachside areas from Sydney can be a wonderful experience for all. Learn all you must know about the country as planning should be made in advance if you are visiting Australia, especially if it is this beautiful city.
Frequently Asked Questions About Day Trips From Sydney
Where can one go 2 hours in Sydney?
Port Stephens, Pokolbin, Kiama, Katoomba in Blue Mountains are some of the palces that can be reached in 2 hours from Sydney.
What are best day trips from Sydney to Canberra?
Canberra to Sydney is a day trip in itself where you will get to experience Australian War Memorial, Parliament House, the National Museum and the Lodge, home to the Prime Minister. If you are looking for day trips from Sydney by train, Canberra is one place where you can go.
People Also Read:
Day Trips From Pattaya Day Trips From Bali Day Trips From Melbourne