Goa has always been a favourite destination for people looking for the best casinos. It is one of those states in India where gambling is legal. Casinos in Goa are popular worldwide mainly known for their high energy, good food, delicious drinks, and great music.
Let's not forget about the huge variety of games that are offered by these casinos. In short, Goa is the perfect place for all casino lovers. Throughout the year, visitors flock the place to enjoy and wreck the casinos. You can enjoy as much gambling as you want in Goa and that too without any fear. If you want the best casino experience then you should consider visiting Goa.
15 Best Casinos In Goa
If you are visiting Goa for the first time, chances are you don't have any idea about the casinos there. Goa is home ot a number of casinos, to spoil you with choices. To help you out, we have shortlisted some of the top casinos in Goa.
1. Deltin Royale Casino – It's A Grand Affair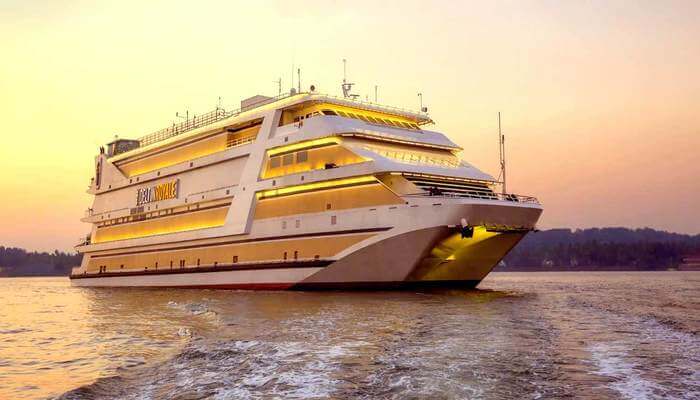 Image Source
This is one of the most popular and best casino in Goa. The grand setting of the casino is what draws the players. We simply cannot ignore the fact that this casino royale in Goa floats on a luxury cruise in the waters.
The casino is mainly known for its huge collection of games and luxury arrangements. This place is no less than a paradise for casino lovers. Apart from a huge collection of games, you can enjoy the amazing combination of drinks and food with a great ambiance.
Where: Panjim, Goa
Timings: 24/7 open
Cost: Rs 2000 for Monday-Thursday and Rs 3000 for Friday-Sunday
7 Best Places For Camping In Goa For An Enchanting And Rejuvenating Experience
2. Casino Pride – All Onboard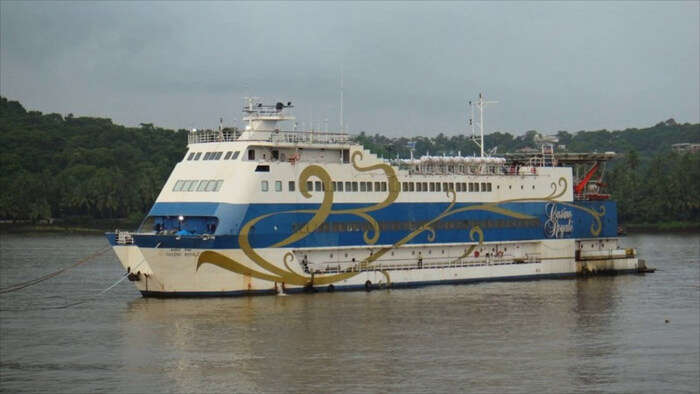 Image Source
We have yet another casino on the cruise which happens to be the pride of Goa. This is probably one of the best casinos you have ever been to. The casino is huge and can accommodate a large number of guests. With its royal setting and a great variety of games, you are sure to enjoy your experience here.
One of the good things about the casino is that they also have arrangements for kids. While adults indulge themselves in their favourite casino game, kids can enjoy various electronic games.
Where: Panjim, Goa
Timings: 24/7 open
Cost: Rs 1500 for Monday-Thursday and Rs 2000 for Friday-Sunday
Scuba Diving In Goa Is An Experience That Goes Beyond An Adventurer's Imagination
3. Dunes – The Casino

Claiming to be the only casino on land, Dunes-The Casino is located in the  Zuri White Sands which is one of the beach resorts in Goa that offers the widest range of games. The casino keeps its guests entertained with exciting video games, pool tables, apart from the regular card games. 
The secluded location of the resort in the midst of palm trees, complete with waterfall, kids pool, swim-up bar and bridges makes it a great place to spend a relaxing day with your family and pamper yourself to some world class luxuries. 
Where: Panjim, Goa
Timings: 24/7 open
Cost: Rs 700 per person
Trekking In Goa: 14 Trails That Are Ideal For An Adventurous Experience
4. Chances Casino – Test Your Chances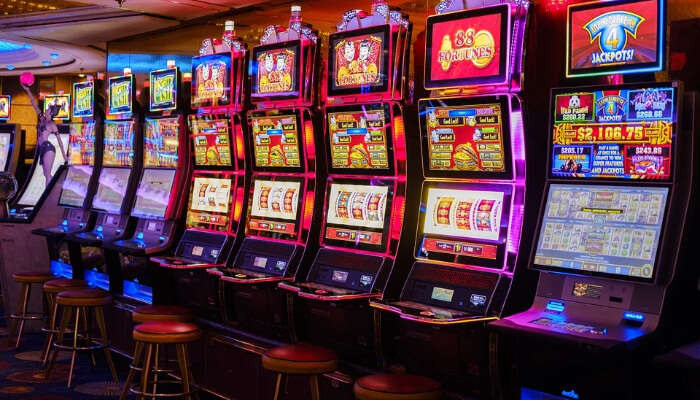 Image Source
If you want to visit one of the oldest and most majestic casino in Goa then Chances casino is an option for you. Here you can enjoy a large variety of games. The casino is quite spacious and therefore, it can accommodate a lot of people without any chaos.
The luxurious surroundings with a great ambiance, it's the perfect place to try your try on some of the popular games. If you are looking forward to spending a splendid evening then this is the place for you. You can visit the place both with your friends and family. The casino has all the required arrangements to take good care of the guests.
Where: Dona Paula, Goa
Timings: 11 am to 4 am
Cost: Rs 750 and Rs 2000 during the peak season i.e. December
Goa In Winter: 7 Happening Events & Festivals To Keep Your Eye On
---
Planning your holiday in Goa but confused about what to do? These Goa travel stories help you find your best trip ever!
---
5. Grand 7 Casino – Get Pampered with Luxury

Our next top choice is Grand 7 Casino. There is nothing about this place that you won't like. Starting from the wide gaming options to a lovely ambiance, the place has everything you need to make your evening great. The only thing that may bother you about the place is the accommodation.
This is a small casino in comparison to other casinos in Goa. But that doesn't stop the casino from being on the top. Despite its small size, it has all the arrangements that a luxury casino should have.
Where: Candolim, Bardez, North Goa
Timings: 24/7 open
Cost: Rs 1500 for Monday-Thursday and Rs 2000 for Friday-Sunday
16 Best Forts In Goa Every History-Lover Must Visit
6. Treasure Casino – Win Yourself Some Treasure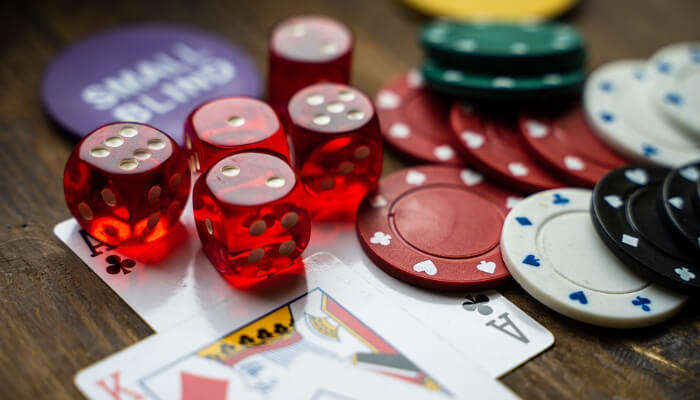 This yet another excellent place to visit with your family. The specialty of the place is the stunning view of the beach. You can enjoy your casino games while enjoying the lovely view. Also, the place has an amazing ambiance that helps attract more players.
The place remains crowded throughout the year. The good thing is that it is big enough to accommodate a lot of people. If you are looking for some great casino vibes then this is the place for you. You can enjoy the luxurious accommodations along with spa treatment and great music.
Where: Majorda Beach, Goa
Timings: 24/7 open
Cost: Rs 1500 per person
12 Lakes In Goa That Are Ideal For An Off-Beat Vacation
7. Casino Strike – Up Your Gaming Experience

If you are looking for a casino where you can play all varieties of games then you should try out Casino Strike. This is a very popular place among the gamblers. This is one of those casinos where you can enjoy a complete package of games, drinks, food, and accommodation. The casino never fails to amaze its visitors with its warm welcome style.
The luxury ambiance of the place is sure to impress you. You will also find varieties of advanced electronic gadgets out there. This is the perfect place to enhance your gaming experience.
Where: Bambolim, Goa
Timings: 24/7 open
Cost: Rs 1500 for Monday-Thursday and Rs 2000 for Friday-Sunday
Christmas Celebration In Goa Is The Perfect Way To Soak In The Festivities In 2022!
8. Casino Crown – A Gamers Heaven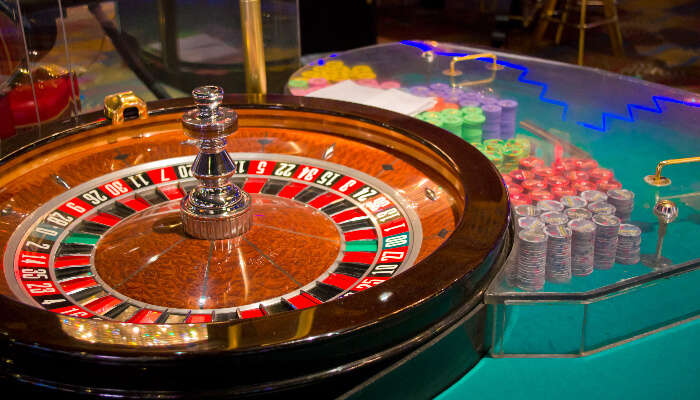 Casino Crown is one of the newest casinos in Goa. The place is new but it is worth visiting because of the extra-ordinary set-up. If you wish to enjoy your casino games in luxury then this could be the perfect place for you. It has dynamic features which attract more players to the casino.
The good thing about the casino is that it offers both electronic and traditional types of gaming experience to the players. They also have a huge collection of games to offer. Apart from that, you can enjoy the nice ambiance that helps set in just the right mood. If you are a casino lover then you must try out this place.
Where: Panjim, Goa
Timings: 24/7 open
Cost: Rs 1000 per person
7 Magnificent National Parks In Goa For An Adventurous Encounter With The Wild
9. Casino Paradise – A Paradise For Gamblers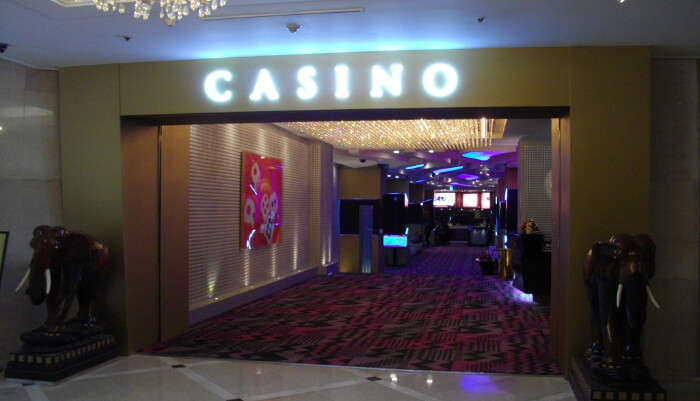 Image Source
Lastly, we have Casino Paradise which is indeed a gambling paradise for the players. Starting from a huge collection of games to a fantastic ambiance, you can get it all from this place. Here you can find some of the best and advanced electronic games. This is a fully modern casino where you can have a great evening with your family.
They also have spacious arrangements for the comfort of their guests. Other than that they are also equipped with advanced luxurious items. There is no doubt that this is one of the best places enjoy nightlife in Goa.
Where: Panjim, Goa
Timings: 24/7 open
Cost: Rs 1000 per person
5 Best Spots For Snorkeling In Goa To Experience Its Thrill First-hand!
10. Deltin Jaqk – Spoil Yourself With Choices!

Renowned as the most popular casino cruise in Goa, Deltin Jaqk is yet another franchise of the reputed Deltin Group and offers more than 350 different gaming positions. Its lavish off-shore casino is played on a cruise ship sailing elegantly on the Goan River, Mandovi.
At Deltin Jaqk you can enjoy complimentary buffet dinner with exquisite cuisines from around the globe. As an additional goodwill gesture, they even take up special requests from the diners. The Deltin Jaqk is suitable for families as well and provides dedicated children's rooms as well to ensure all guests are well taken care of. 
Where: Panjim, Goa
Timings: 24/7 open
Cost: Rs 1500 per person
19 Places To Visit Near Goa In 2022 That Offer A Spell Binding Vacation To Travelers!
11. Casino Carnival- For Everything Entertainment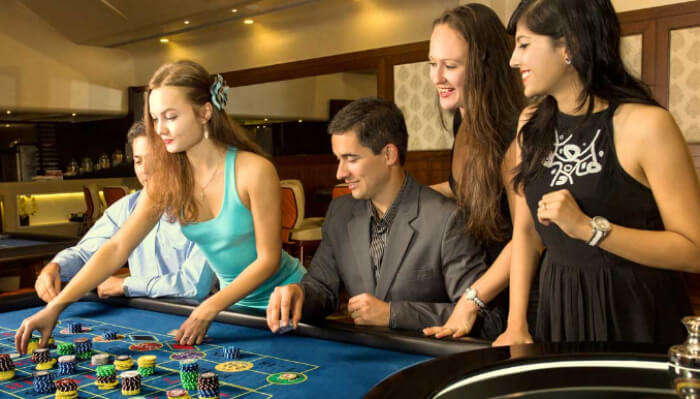 Casino Carnival is located on two different venues, one being the Goa Marriott beach and the other, a cruise casino on the Mandovi River. Known for its lavish setup, the casino is spread across 4 decks and with its  exclusive Entertainment Deck , it can easily claim to be the best casino in Goa. 
The casino welcomes guests of all age groups and has something  interesting for everyone. Decked with exclusive performances by international performers, Casino Carnival leaves no stone turned to impress its guests. Even the little ones have their own exclusive party to attend and dedicated nannies for your bundles of joy will leave you nothing to worry about. 
Where: Panjim, Goa
Timings: 24/7 open
Cost: Rs 1500 per person(Monday to Thursday)
           Rs 2000 per person( Friday to Sunday)
13 Hotels Near Goa For Travellers Of All Kinds
12. Casino Palms – A Family Thing

The best vacation is the one where you can spend some quality time with your family filled with fun, excitement and excitement, and with Casino Palms, you can do just that. An in-house casino that offers exciting games suitable for all age groups at Casino Palms is just what you need for a relaxing evening in Goa. 
Roulette, black jack,mini- flush and baccarat, machine poker and slot machines are some of the popular games that you can enjoy at the casino. While on the tables, you can enjoy unlimited food and drinks as well.
Where: Baga, Goa
Timings: 24/7 open
Cost: Rs 1000 per person(With unlimited food and non-alcoholic drinks)
         55 Best Tourist Places In Goa For A Splendid 2022 Vacay
13. Casino Dice – A Notch Ahead

Casino Dice is one of the largest casino and claims the spot of being the top casino in Goa. Located in the reputed Intercontinental The Lalit Golf & Spa Resort, it is one of the top notch resorts in Goa, the casino pampers you with excellent services and offers a wide range of exciting games like Digital Black Jack, Electroinic Roulette,  Baccarat and more.
Guests and enjoy the live music and dance performance every night by best local and interenational performers. While here, do not miss out on the gourmet spread and international malts at the exquisite restaurants of the hotel. 
Where: Canacona, Goa
Timings: 4:00 PM till mid-night
Cost: Rs 1500 per person
7 Best Amusement Parks In Goa To Spice Up Your 2022 Holidays
14. Big Daddy Jetty Casino – The Daddy of All Casinos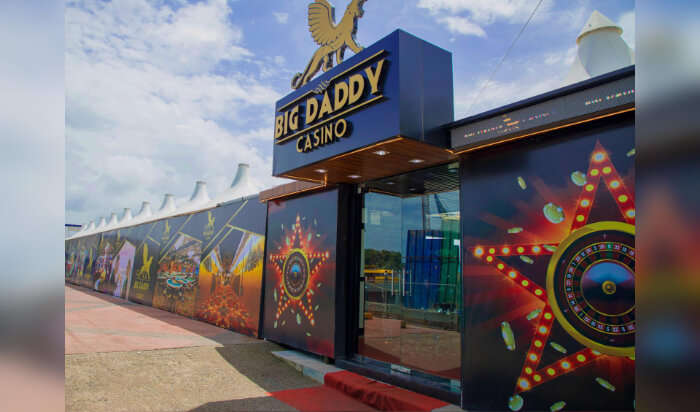 Located off the coast of Mandovi, Big Daddy Jetty casino is  one of the most lavish casino cruise in Goa. Its VIP gaming lounges need to be booked in advance if you wish to experience the world class casino experience. Suitable for all age groups, the casino even welcomes kids and has a line up of fun games, and exclusive parties for them.
Enjoy exclusive performances by internationally renowned artists and live DJ's. While here, pamper your foodie self with delectable cuisines at the restaurant and barbeque region. 
Where: Panaji, Goa
Timings: 24/7 open
Cost: Rs 2000 per person(Monday to Thursday)
           Rs 3500 per person( Friday to Sunday)
29 Most Romantic Places In Goa For Couples To Have A Lovely Time In 2022
15. Las Vegas Casino – For The Authentic Experience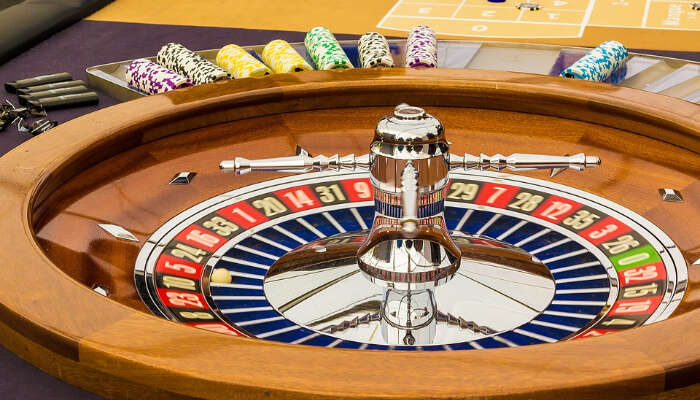 A luxury resort where a world-class casino resides provides you with an authentic gaming experience. With varied gaming options, you are also provided with delicious food and top-notch entertainment. Other recreational options can also be availed with the resort's indoor sports facilities., the swimming pools and a dedicated-exercise area.
Where: The Leela Goa Resort, Mobor, Cavelossim, Salcette, Goa
Timings: Open 24 hours
Cost: Rs 1200 per person
Tips About Casinos In Goa

Here are some useful tips you should follow when visiting any of these top casino in Goa.
Goa itself is a happening place. But if you have special plans to try out the casinos there then you are advised to carry fashionable clothes with you. The casinos here in Goa are too glamorous if you don't want to feel like an outcast make sure that you carry good clothes with you.
Many of the casinos have a dress code to follow. Before you decide to visit any of the casinos in Goa, you should find out whether they have any dress code or not.
The

Goa casino entry fees

for almost every casino remains high during the weekends. So if you want to save money then it's better to visit during the weekdays. This will help you save half of your fees.
Before you visit a casino you need to find out whether they have the games you play. Most of the casinos have a huge collection of games to offer but it's still better to check it once.
If you are travelling with your kids then you should choose a casino where they have arrangements for kids as well. This will allow you to play without getting disturbed. That's because your kid will be busy playing video games there.
You should play responsibly. You should fix a budget for your casino games so that you don't end up spending more out of excitement.
Goa Carnival 2022 Is Here To Make You Go Bonkers
There are plenty of casinos in Goa. But we have included only the best ones on the list to enhance your experience. Go to any of these casinos and have the best gambling experience of your life. If you can afford to go to a casino cruise in Goa you are sure to have a great time. So, don't think much and plan your holiday in Goa and next you know what you have to do. Don't miss the Casinos!
For our editorial codes of conduct and copyright disclaimer, please click here.
Frequently Asked Questions About Casinos In Goa
Is casino or gambling legal in Goa?
Goa is one of the very few states where gambling is legal. So if you want to play casino games in India then Goa is the place for you. Goa also has some of the world-famous casinos out there.
Do you have to follow a dress code in casinos in Goa?
Yes, you need to follow the dress code as mentioned by the casino to enter it. Make sure that you know about it so that you can dress accordingly.
What is the entry fee in casinos in Goa?
Every casino has a different entry fee. The normal rate ranges from Rs 1000 to Rs 2000. During the weekdays the fee is generally less and goes up at the weekends. However, some casinos charge a fixed price for the whole week.
How long do Goa casinos stay open?
The best thing about casinos in Goa is that they remain open for 24 hours for the whole week. Almost every casino follows the same routine except a few.
Are Goans allowed to play in Goa casinos?
As per the rules, Goans or the residents of Goa are not allowed to enter any casino. The casinos are only meant for tourists.
What is the best thing to wear to a casino in Goa?
The safest option is to stick to formal wear. This is what is permitted by most of the casinos in Goa.
Are kids allowed in Goa casinos?
Not all casinos allow kids to enter. Some casinos have video game arrangements for the kids.
What are the popular games available in Goa casinos?
You will find popular games like American Roulette, Blackjack, Baccarat, etc.in most of the big casinos. These games are quite popular with gamblers.
---
People Also Read:
Casinos In Hong Kong Casinos In Seychelles Casinos In San Francisco