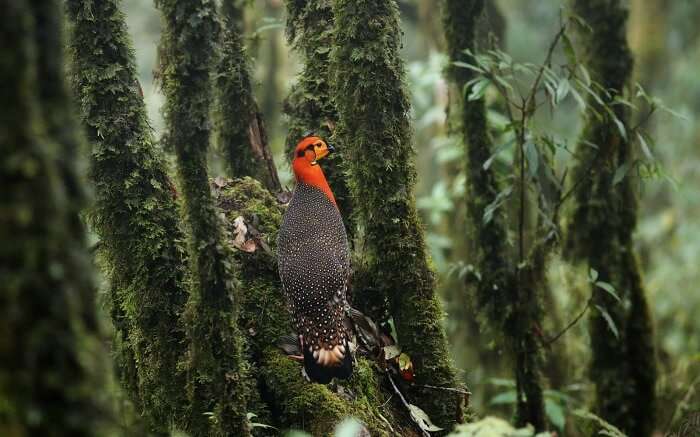 Northeast India, with plenty of diversity, is a traveler's dream destination. Explore the best of hidden nature at Eaglenest Wildlife Sanctuary located in West Kameng District of Arunachal Pradesh. Surrounded by Sessa Orchid Sanctuary to the northeast and Pakhui Tiger Reserve to the east, Eaglenest is one of the popular wildlife sanctuaries stationed at an altitude of 500 m and extending up to 3250 m.
Imposing landscapes around, vivid wildlife, vibrant flora and exciting places make Eaglenest Wildlife Sanctuary a must-visit place for nature lovers. The sanctuary forms a major portion of Kameng Elephant Reserve. So, if you have a couple of days to spare you may club the Eaglenest tour along with Kameng to make your trip a memorable one.
Location & details about Eaglenest Wildlife Sanctuary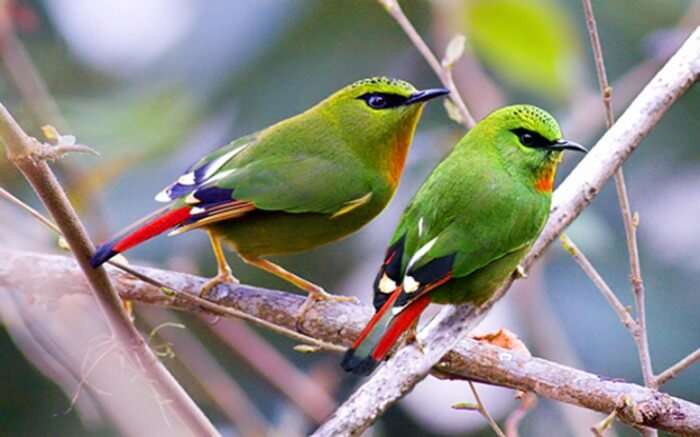 Eaglenest Wildlife Sanctuary got its name inspired from Red Eagle Division of Indian Army which had its base there in the 1950s. Even today, the sanctuary region boasts of the Indian Army presence and incorporates 218 sq km of the forest area housing rich biodiversity.
Home to some of the rare animal breeds, this wildlife reserve experiences subtropical climate. A good amount of rainfall and occasional snowfall can also be seen during winter months because of the high altitude. The sub zero temperature in winter makes Eaglenest Wildlife Sanctuary one of the most picturesque places in the northeast India.
Map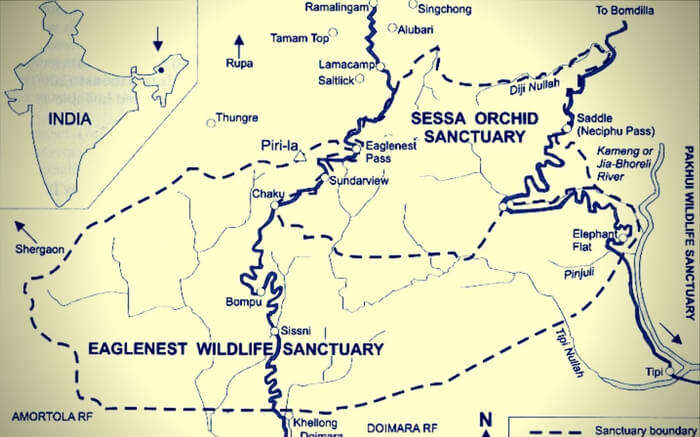 How to reach Eaglenest Wildlife Sanctuary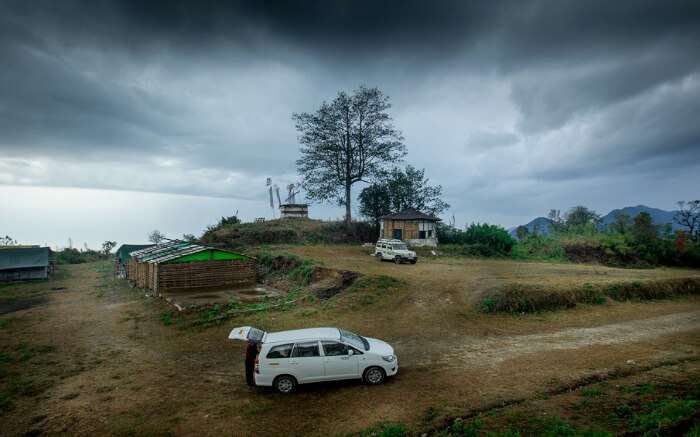 By air: Tezpur is the nearest airport to Eaglenest Wildlife Sanctuary at a distance of 150 km. Guwahati Airport (335 km) is another renowned international airport close to the sanctuary. Take a taxi to reach the sanctuary from the airport.
By rail: Bhalukpong is the nearest railhead to Eaglenest at a distance of 94 km. Hiring a cab to the sanctuary is highly recommended.
By road: Tawang-Tezpur road connects the sanctuary with popular cities like Tawang – 25 km, Tezpur – 150 km, and Bomdila – 50 km. Bus and taxi services can be easily availed from the above-mentioned cities to the sanctuary. Tezpur to Tenga is 17 km and takes around 3.5 hours to travel. Tenga is easily accessible from Guwahati or Tezpur.
Upon reaching Tenga hiring a car and retaining it is highly recommended. It is from Tenga that you leave for Lama Camp – one of the few camps that fall en route Eaglenest Wildlife Sanctuary. Sign Chung village comes right before the sanctuary's entrance. Once you make it there mention the village name to the locals and they can guide you further.
Must Read: Best wildlife sanctuaries in India
Best time to visit Eaglenest Wildlife Sanctuary

October – April is considered as the ideal time to visit Eaglenest Wildlife Sanctuary. The place experiences pleasant climate during the period and makes it easier for tourists to take up different tours and activities in the park. March – April is the time when travelers visit the sanctuary the most. As the place is crowded during the period, it is therefore recommended to book a camp in advance.
During June – September the camp is closed for public. If you are ready to brave the cold weather Mid – November – February is the time; you won't find the place too crowded.
Flora & fauna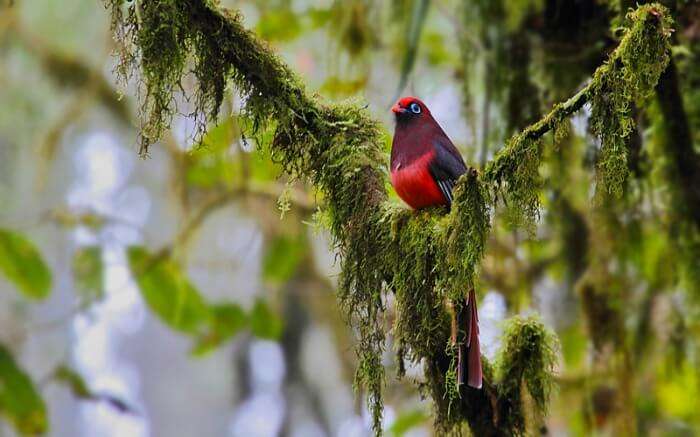 Towards the northeastern frontier of Tawang, the Eaglenest Sanctuary is a quaint nest of wildlife and birds, blessed with sweeping nature views all around. With 700 plus bird species, the sanctuary is India's top bird watching destination and is indeed a delight for every nature enthusiast.
The park shot to fame after the spotting of Bugun Liocichla – a peculiar bird species named after Bugun community. They reside in the forests of national park region. Ward's Trogon, Beautiful Nuthatch, and Wedge-Billed Babbler are other rare bird species found in the region.
In addition to the abundant number of bird species found, the sanctuary is also home to amphibians, snakes, lizards, and butterflies. Asian elephant, capped langur, Bengal tiger, red panda, gaur, and Asiatic black bear are some of the animal species found in the park. Talk about plants and the park is an eden covered by evergreen forest with bamboo, conifers, and shrubs among other numerous flora species.
Popular things to do at Eaglenest Wildlife Sanctuary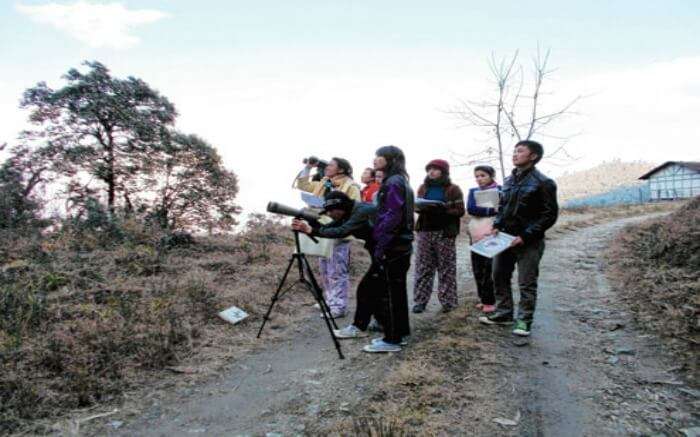 The Eaglenest Bird Sanctuary has quite a few activities lined up for you apart from the rich protected ecology that's in the offering. Take the jeep safari as you embark on a birding tour in the park region. June to October is the time when jeeps are not permitted in the national park. Some of the most popular things to do in the sanctuary are:
Birding
Trekking
Camping
Nature Photography
Must Read: North East Trip: Exploring The Soul-Stirring States Of Seven Sisters, One Brother, And A Neighbor In India!

Entry fees and Permits
Everyone must have a permit to enter Arunachal Pradesh. For Indians, it is Inner Line Permit, and for the foreigners, it is Restricted Area Permit. One can get the permit issued from the office of Deputy Resident Commissioner. Bhalukpong is the place where they check your permit. The Circle Officers at Tenga, Sing Chung, Bhalukpong or Bomdila can also issue the same to the Indian Nationals.
Divisional Forest Officer Address (the permit issuing authority):
Pakke Tiger Reserve
Seijosa. E. Kameng district
Arunachal Pradesh
Entry fee: Indians – INR 100 per day, foreigners – INR 500 per day
Vehicles charges from Tenga: INR 2000 (approximately)
Accommodation options in Eaglenest Wildlife Sanctuary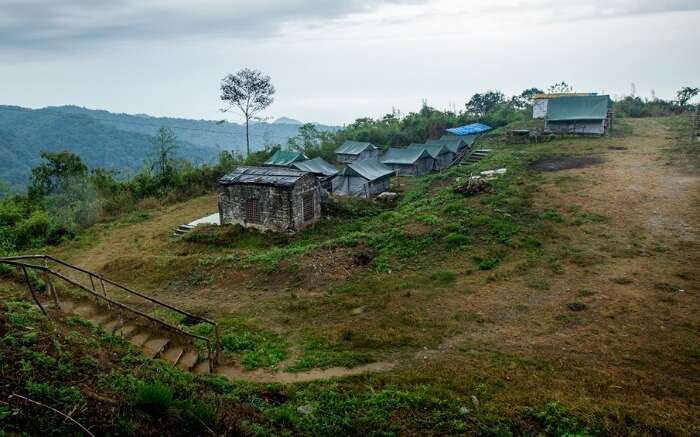 Bompu Camp, Sessni, and Lama Camp make the highlights of a stay in the Eaglenest Wildlife Sanctuary area. From Bhalukpong (nearest railhead) you come down to Lama. Stay overnight at the Lama Camp before proceeding to Bompu Camp the next day. These camps are in close proximity to the best birding spots in the sanctuary. The bird watching tours are mostly organized by these camps.
Whether you are traveling with an organizer who takes care of your stay or traveling on your own, be informed that there aren't much of stay option other than the camps. Eaglenest Wildlife Sanctuary is the best place to experience camping.
Double tent charges: INR 5600 per night (approximately)
Email: phuarung@gmail.com
Forest Rest House in Ramalingam & PWD Inspection Bungalows can be booked for an efficient stay in the woods. Singchung, Bompu, Sessni, and Kellong also have inspection bungalow for guests. Alternately, you can also stay in a hotel in Tawang or West Kameng District and ride all the way to the sanctuary.
Read what the happy travelers have to say
"Located at a distance of 25 kilometers from Tawang Township. This range is also believed to be a protection wall for Tawang. The entire range runs along the north-eastern side of Tawang Township…"
"I came with a bird group to see the special birds in this area. We were not disappointed, I got to see the specialties I was after including Sultan Tit, Beautiful Nutcracker and Himalayan Cutia, all in one mixed flock. We also saw the Bugun Liocichla and Rufous-necked Hornbill. We stayed in both Lama and Bompu camps. Bompu camp was the most comfortable and the food was outstanding…"
"I had an excellent experience. Mr. Indi Glow and his team are the people to get in touch with to organize your once in a lifetime birding experience. Expert Guide Phurpa is excellent. Also, service and staff at Bompu Camp were excellent. Food was great too…"
Eaglenest Wildlife Sanctuary is a hidden valley in the northeast guarded by hairpin bends and dreadful paths. Would you brave 'em all to visit the Himalayan beauty?
Further Read: Seven Sisters Of India – An Introductory Guide
---
Looking To Book A Holiday Package?
Book memorable holidays on TravelTriangle with 650+ verified travel agents for 65+ domestic and international destinations.
---