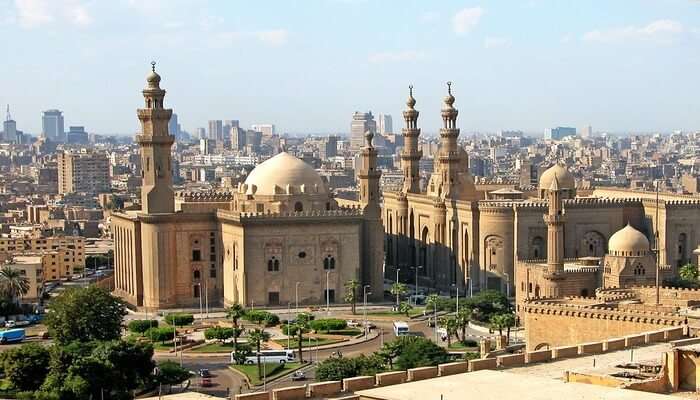 Cover Image Credit: Pixabay
Home to one of the world's oldest civilizations, Egypt is a treasure trove of ancient history and grand monuments. Tourists are drawn to Egypt in April like bees towards a honeypot. The Grand structures and millenia worth of history are not the only things that bring tourists to its shores. Egypt also has the Red Sea to thank for much of its tourist economy.
The azure waters of Sharm el Sheikh and Hurghada are home to beautiful sea life, coloured fish and spectacular formations of coral reefs. If you are planning a visit to Egypt in April, then this guide will enable you to make this process a little easier.
Weather In Egypt In April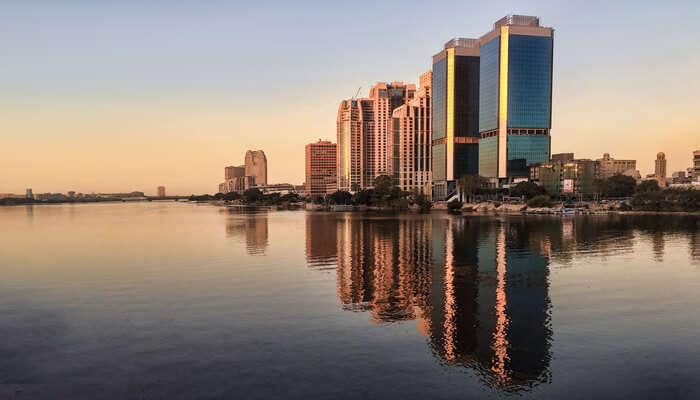 The weather in Egypt in April is warm but comfortable. Depending on which city you are in, the temperatures vary between 21 to 32 degrees Celsius. Since, April marks the end of spring the nights can still be a little nippy. The days are warm and mildly humid and there is little to no rain, so you need to pack your bags accordingly.
Things To Consider When You Visit Egypt In April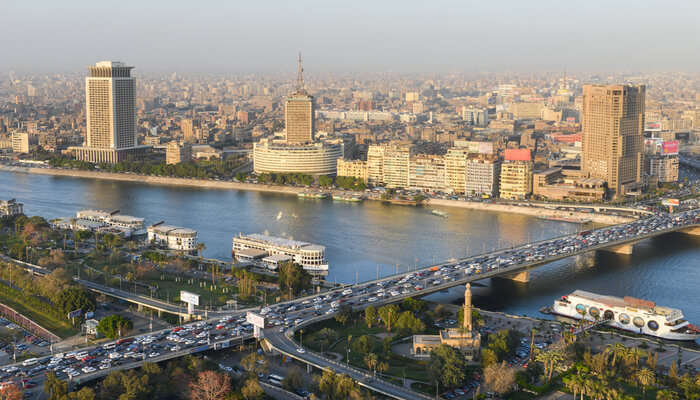 April marks the end of the spring as well as the end of the tourist heavy season. As a result, accommodation and travel is cheaper than the previous months. The souvenir markets are thinner hence, this is the best time to haggle and get the best bang for your buck. Healthwise, you need to pack sunglasses, sunscreen, hats and clothing made up of either cotton or linen.
5 Places To Visit In Egypt In April
Here is a list of the most famous tourist attractions you can visit in Egypt in April:
1. Pyramids Of Giza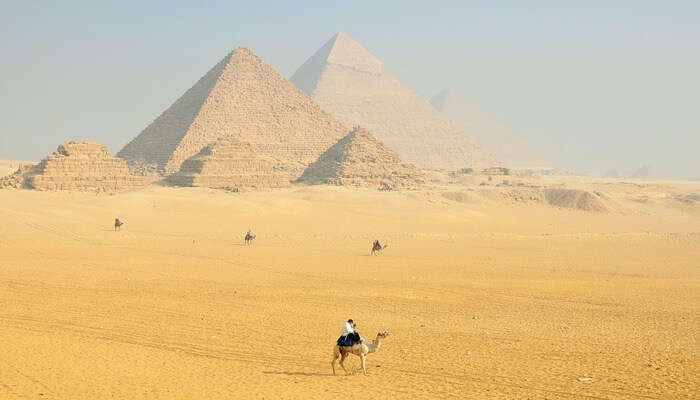 The Pyramids of Giza are one of the most visited attractions in the world. These great structures were built around 4000 years ago and are considered one of the seven wonders of the world. A group of supremely skilled masons, stonecutters and mathematicians completed the building of the pyramids known as Mycerinus, Chephren and Cheops. Most of these were made to serve as tombs of deceased Pharaohs. It is still a mystery as to how it was possible to achieve this great feat of engineering so early in civilization with such primitive tools. If you're planning a trip to Egypt in April, then this should be at the top of your list.
Must Read: 9 Most Magnificent Egyptian Monuments That Will Put You In A Trance
2. Abu Simbel Temples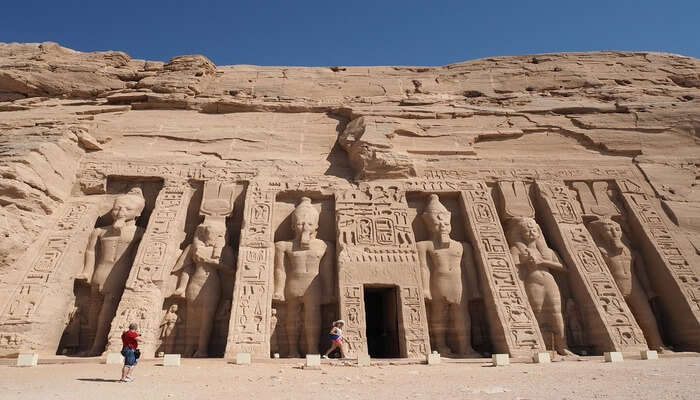 Over a few centuries, shifting sand had obscured the view of the Abu Simbel Temples from human eyes. The Swiss explorer, John Burkhardt accidentally discovered this marvel back in 1813. The Sun Temple of King Ramses II has a huge rock-cut facade. Guarding the gargantuan entrance and carved out of the side of the mountain sit four statues of Ramses II himself. The King had the temple built at such an angle that, twice a year, the sun illuminated the inner sanctum. Do make time to visit this amazing structure.
Suggested Read: A 4000 Year Old Tomb In Egypt Has Just Been Opened For Public & It'll Leave Your Mind-Boggled!
3. Luxor And Karnak Temples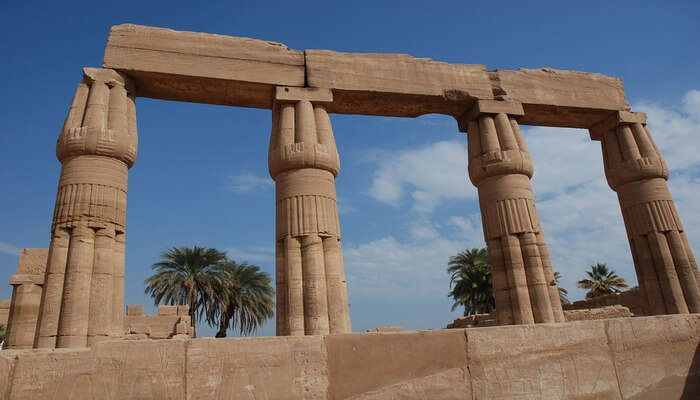 The temples of Luxor and Karnak are only second in massive popularity to the pyramids. These ancient relics combine to form one of the largest temple complexes in the whole world. Different iterations and temples were added over centuries by the different pharaohs. The temple complex is made up of 4 different sections, but only one of them, Amun-Re is open to the general public. There are a number of structures made of sandstones including statues of old kings and pharaohs that make them a wonderful sight to behold. It takes about a full day to explore the complex, so plan accordingly.
Suggested Read: 20 Unique Things To Do In Egypt That No Travel Guide Will Ever Tell You About
4. Abydos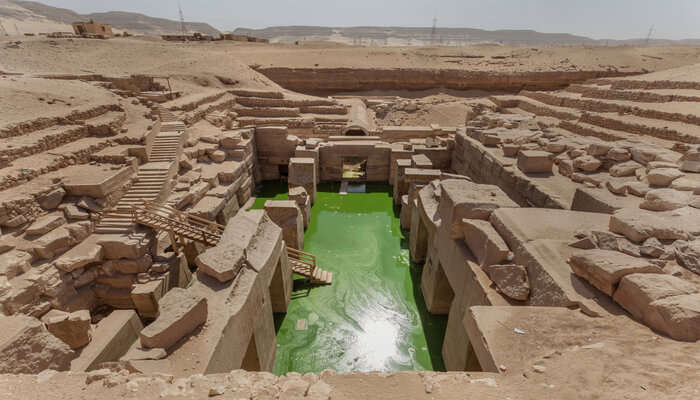 One of ancient Egypt's most interesting cities is Abydos. This city fascinates archaeologists the most in all of Egypt and we can guarantee you will share the same fascination when you visit this great city. The temple of Seti forms the focal point of the site. It contains the majority of Ancient Egypt's pharaohs. Something incredibly mysterious is revealed at every turn and every glance that you make around here. A mysterious set of hieroglyphics will surely baffle you as a visitor as it depicts, what look like, submarines, choppers and planes.
Suggested Read: Newly Discovered 4,400-Year Old Tomb In Egypt Is Stealing Giza's Thunder Big Time
5. Valley Of The Kings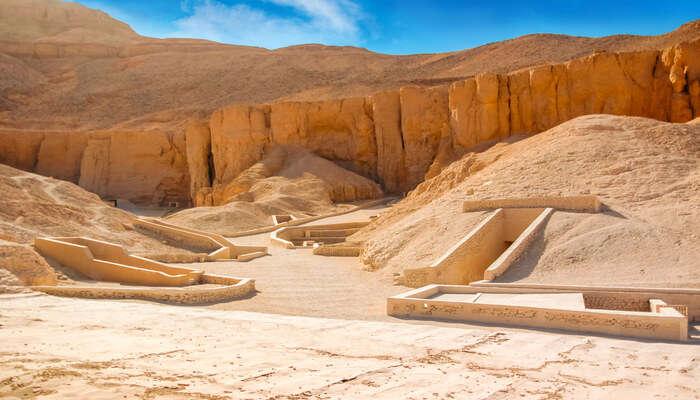 The Valley of Kings is about 4000 years old and situated in Luxor. Nowhere else is the egyptians' belief in afterlife more pronounced than this place. Constructed to store the mummies of old pharaohs enclosed in sarcophagi and lead them towards the afterlife. Some of the most popular tombs here include those of Amenhotep II, Ramses II and of course King Tutankhamun. So, pack your bags to come here, explore and gain passage into the afterlife.
Suggested Read: 17 Mystical Places To Visit In Egypt, The Gift Of The Nile!
5 Activities To Try In Egypt In April
Along with the places you visit, don't forget to try out the following things to create a memorable holiday:
1. Enjoy A Camel Ride In The Wadi Gimal National Park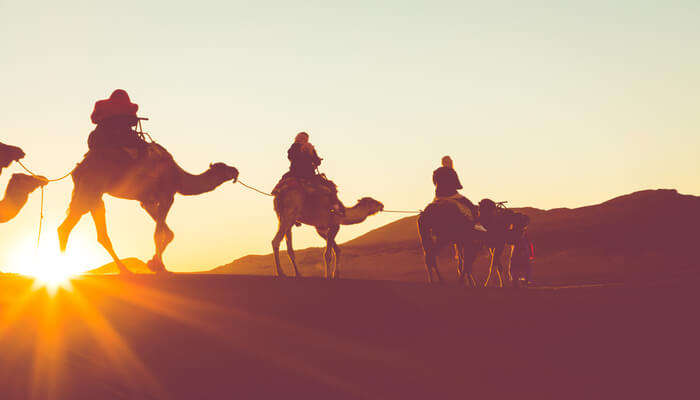 The Wadi Gimal National Park aka Valley of the Camels is about an hour from Marsa Alam. Known for its gold and emeralds in earlier centuries, Wadi Gimal still harbors a lot of treasure, albeit in the form of nature. Acacia trees, mountains and thick mangrove jungles populate the otherwise lunar scenery in the background. A camel ride in this valley gives you a chance to marvel at these wonders as well as some wild gazelles found in the area.
Suggested Read: Celebrate New Year In Egypt: Sail Into 2022 At This Egyptian Paradise
2. Go Souvenir Shopping In Port Ghalib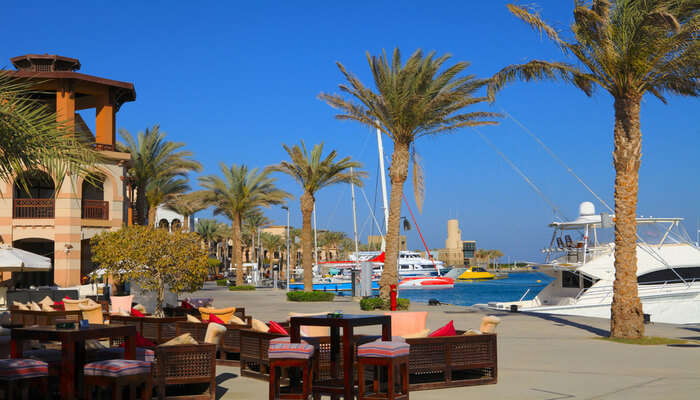 A number of gift shops are sprinkled throughout Marsa Alam. These shops sell papyrus, egyptian cotton and alabaster statues. But, you can go to Port ghalib if you are in search of souvenirs. Family-run shops are lined on the pavement selling you traditional Egyptian clothing and pottery items. You can also find jewellery and perfumes in these markets.
Suggested Read: Egypt In November: Wonderful Experiences To Try On The Land Of Pyramids
3. Bargain At The El Dahar Souk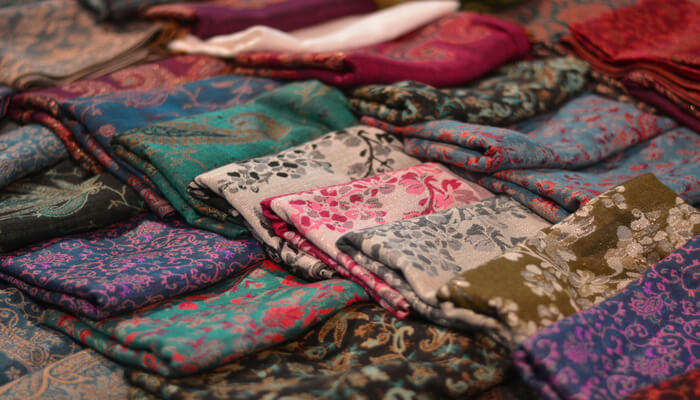 El Dahar area in downtown Hurghada gives you a proper glimpse into the life of Egyptians. Originally a fishing village, it's now home to shops lined with traditional items, old harbours and the local fish market. The labyrinth of Shops and stalls in the El Dahar Souk can be overwhelming at first but once you get used to the hustle of the market, then you can easily get something dirt cheap if you can haggle.
Suggested Read: Shopping In Egypt: 13 Places To Shop In The Country In 2022
4. Sahara Safari In A Jeep
The thought of traversing across an endless stretch of sand could be exhausting, but toss a Jeep safari into the mix and you are golden. Desert safaris will carry you across the sand dunes till you reach a local nomad Bedouin village. Here you get down for a breather and the villagers serve you with snacks and tea. Then you head out on your quad bikes to explore the surrounding desert.
Suggested Read: Egypt Wildlife: 8 Best Natural Reserves Of Egypt To Attract Every Wildlife Lover
5. Visit The St Catherine's Monastery On Mt Sinai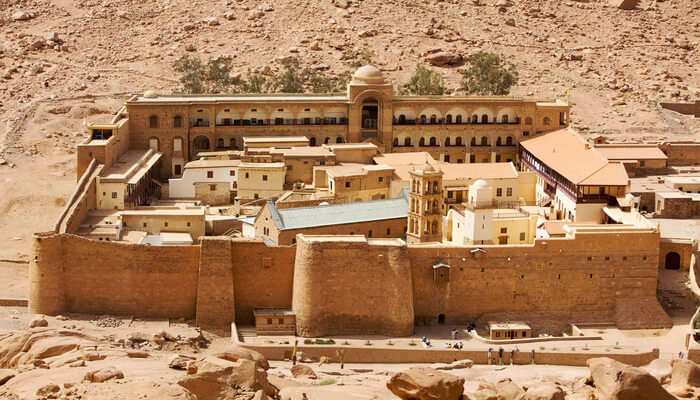 St Catherine's Monastery is the oldest Christian monastery in the world. Pilgrims are drawn to this place in hordes. It's a good 3 hour drive from Sharm el Sheikh, but pilgrims and tourists throng the place in huge numbers. The Mt Sinai collection of manuscripts also draw history enthusiasts in huge numbers. Do make time to visit here on your trip to egypt.
Further Read: 10 Best Honeymoon Places In Egypt To Visit In 2022 For A Romantic Stint By The Pyramids
Egypt in April is less crowded which gives you the perfect opportunity to explore the sites and attractions in a more natural setting. This guide has been formulated in a way to help you to acquire as much knowledge as you can to plan your next Egyptian holiday.
Disclaimer: TravelTriangle claims no credit for images featured on our blog site unless otherwise noted. All visual content is copyrighted to its respectful owners. We try to link back to original sources whenever possible. If you own the rights to any of the images, and do not wish them to appear on TravelTriangle, please contact us and they will be promptly removed. We believe in providing proper attribution to the original author, artist or photographer.
Please Note: Any information published by TravelTriangle in any form of content is not intended to be a substitute for any kind of medical advice, and one must not take any action before consulting a professional medical expert of their own choice.
Frequently Asked Questions For Egypt In April
Is April a good time to visit Egypt?
If you are concerned about weather, then the best time to visit Egypt would be during the northern hemisphere fall, winter or early spring and April comes under that!
What airport is closest to the pyramids in Egypt?
The closest international airport to the pyramids is in Cairo, which is roughly an hour's drive and 50 km away.
What are the best traditional Egyptian delicacies?
Here are a few amazing delicacies from Egypt: Ful Medames, Falafel, Koshari, Mahshi and Molokhia.
What are the top restaurants for Mediterannean food in Egypt?
SACHI Restaurant, Zööba, and Osmanly are some amazing restaurants serving Mediterannean as well as Arabic food.
Do people in Egypt drink?
Egyptians don't drink alcohol in law with Islamic traditions, but locally brewed beer is served in tourist-orientated restaurants.
How much cash can I carry to Egypt?
So, there is a limit of at least 5,000 Egyptian pounds that you are allowed to bring in or take out of Egypt.
People Also Read:
Japan In May Munich In May Greenland In May
Comments
comments