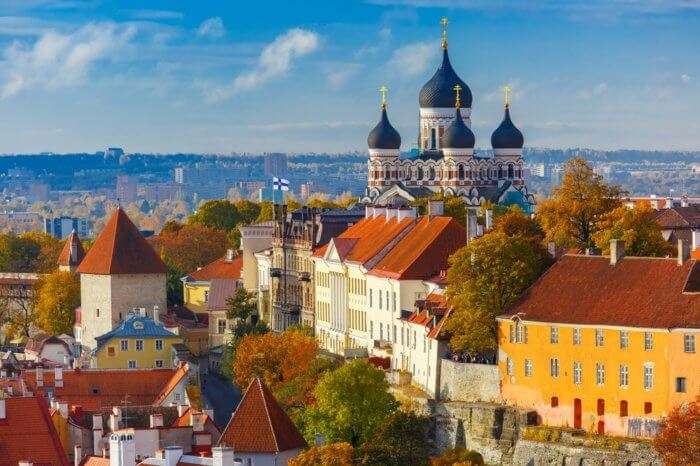 For those bitten by true wanderlust, there's nothing like unravelling the mysteries of a lesser known destination that holds a yet unexplored treasure trove of travel experiences. Exotic and enticing Estonia is a dream destination for those who love to tread the less beaten path and ditch touristy tracks for more exciting and enriching trails. Estonia offers all the charm of ancient European cities with its beautiful capital city of Tallinn and other such gems, as well the promise of an adventure-filled tryst with pristine nature in all its glorious splendour. Without burning a hole in your pocket, this gorgeous country allows you to walk through quaint cobblestone alleys, marvel at magnificent churches, stroll along picturesque beaches and hike through some of the most scenic vistas in Europe.To help you plan this trip of a lifetime, here's our comprehensive Estonia travel guide that highlights the top experiences and gives you a lowdown on the things to know before visiting Estonia.
Best Time To Visit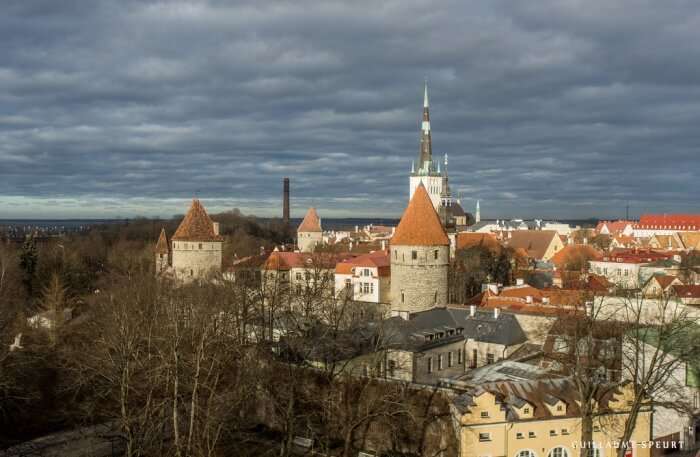 No Estonia travel guide would be complete without throwing light on the best time to visit the country for an unforgettable trip.
The summer season (June-August) is the best time with pleasant warm weather and long days.
The shoulder season of late spring and early autumn is also good as the weather is still warm and the countryside is painted in vivid hues of the spring blossoms or earthy autumn colours.
Skiing enthusiasts can visit during winter too, but they must be prepared to brave the freezing temperatures and icy-cold winds.
We suggest you to set aside at least a week to fully immerse in the myriad travel flavours offered by this charming country.
Top 6 Places To Visit In Estonia
Estonia dishes out the perfect travel recipe with the right doses of culture, history, nature and adventure. Here are the best cities for immersing in a truly Estonian experience.
1. Tallinn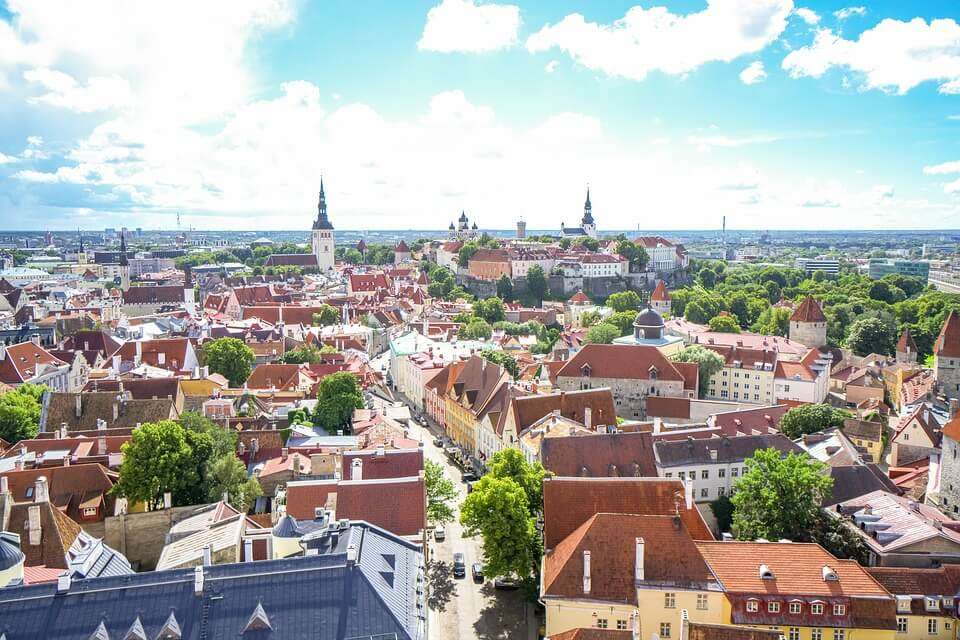 The magnificent capital city of Estonia exudes medieval charm with its UNESCO world heritage listed old town and its array of historical buildings. Cobblestone streets, buzzing market square, beer halls and quaint stores make walking through the old city a delightful experience. The intriguing bohemian streets of Kalamaja and the gorgeous parks and palaces of Kadriorg district are other fantastic places to explore as per our Tallinn Estonia travel guide.
Top sights: Town Hall, Alexander Nevsky Cathedral, Kadriorg Art Museum, Toompea Castle
Best places to stay/night: Hotel Telegraaf (Luxury; from INR 12500); Economy Hotell (Budget; from INR 3900)
Must Read : 12 Best Places To Visit In Estonia For Seeking The Ultimate Adventure
2. Tartu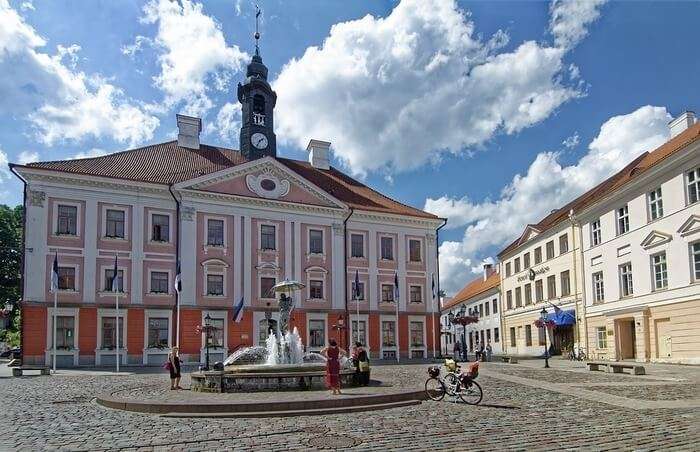 The impressive University of Tartu has firmly established this oldest city of the country as the intellectual heartland of Estonia. With its gorgeous old town and its array of 18th century buildings and the beautiful Toomemagi Hill, our Estonia travel guide wouldn't be complete without a mention of this vibrant city buzzing with youthful energy and cultural heritage.
Top sights: Estonian National Museum, AHHAA Science Centre, Tartu Cathedral, Tartu Toy Museum
Best places to stay/night: Hotel Antonius (Luxury; from INR 9800); Hotel Sophia (Budget; from INR 5400)
Suggested Read: 10 Best Airports In Europe For An Enjoyable Journey To Your Dream Destination
3. Narva

Nestled along the eastern-most frontiers of Estonia bordering with Russia, this historic city has a unique flavour with its spectacular Hermann Castle standing tall as a testimony to old times. With dominant Russian influences, the city has a character and charm of its own. Close by is the beautiful beach town of Narva Joesuu with the longest beach in the country and some superb spa resorts.
Top sights: Narva Castle, Narva Museum, Kreenholm, Resurrection of Christ Cathedral.
Best places to stay/night: Central Hotel, Narva Hotell (both from INR 3000)
4. Parnu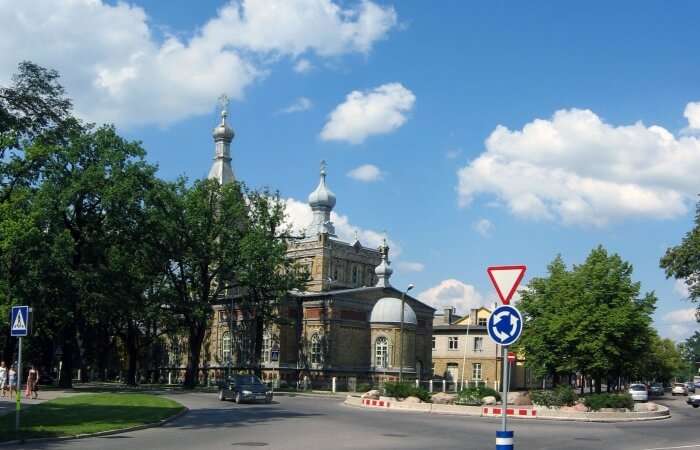 Another coastal city that can't be missed on this Estonia travel guide is Parnu. Prettily perched on the Gulf of Riga where the Parnu River meets the sea, Parnu is the perfect choice for being the summer capital of the country with its white-sand beach and vibrant beach promenade. Come evening, you can enjoy the coastal sights, pretty fountains and al-fresco restaurants along the promenade and indulge in the night-time buzz at Ruutli Street.
Top sights: Vee Park, an indoor water park is a great place for some family fun times.
5. Hiiumaa Island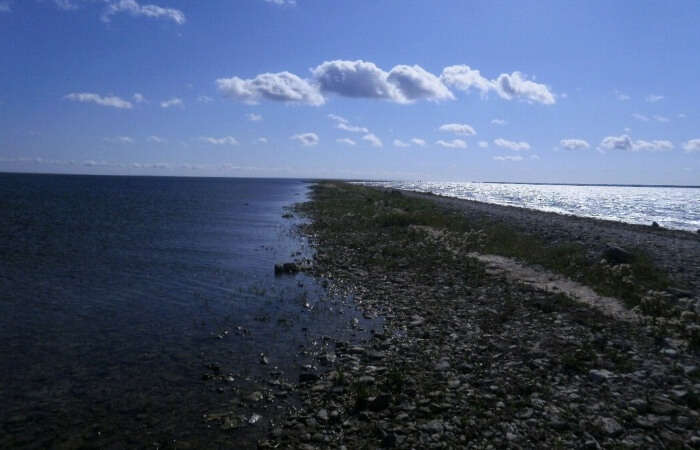 Well-connected with Tallinn by flights and ferries, Estonia's second largest island is also connected to the mainland by Europes longest ice road in winters. The serene and scenic Hiiumaa is an ideal escape for nature lovers and water sports enthusiasts. You can stroll along the tranquil shores dotted with historic lighthouses or surf the waves and hike the dense beech forests for a truly fulfilling vacation in the lap of nature.
Top sights: Kopu lighthouse, Tahkuna lighthouse
6. Saaremaa Island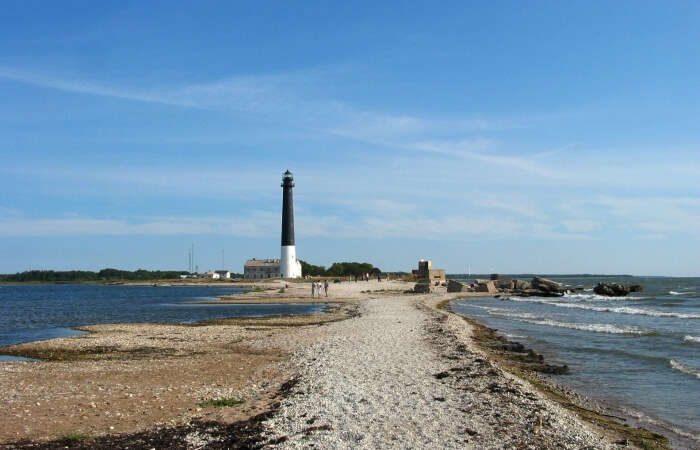 Estonia's largest island beckons travellers with its lush meadows, postcard-perfect windmills and stunningly beautiful coastal stretches. Endowed with some outstanding natural sites like the Kaali meteor crater and sprawling forests, the island is both a haven of tranquillity and a fantastic destination for outdoor enthusiasts. Explore hot springs, spot rare birds and stroll by pristine lakes as you soak in the scenic beauty of this gorgeous island.
Top sights: Kuressaare Castle, Kaali crater, Panga Cliff
Suggested Read: Winter In Estonia: 11 Amazing Places That Will Leave You Awestruck In No Time!
Best National Parks And Adventure Activities
Along with the chance to witness pristine & unique natural vistas in the lovely national parks, Estonia also offers myriad out-of-the-box activities and experiences that are sure to leave an indelible mark on your traveller soul.
1. Lahemaa National Park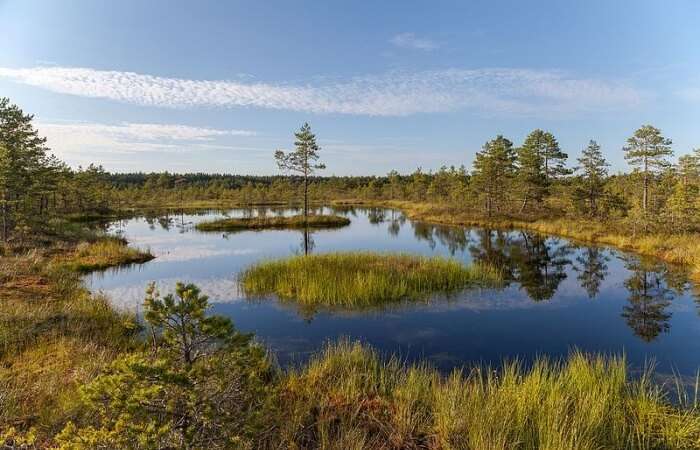 We can't you enough through this Estonia travel guide to keep half a day aside for the country's largest and oldest national park that allows you a glimpse of the country unmatched natural splendour and rich culture. Lahemaa national park, just an hour away from Tallinn, presents a breathtaking natural tapestry of scenic bogs, dense pine forests, sparkling rivers and historical manors.
Top sights: Viru Bog Trail, Oandu Forest Trail, Palme Manor museum, Sagadi Manor.
2. Soomaa National Park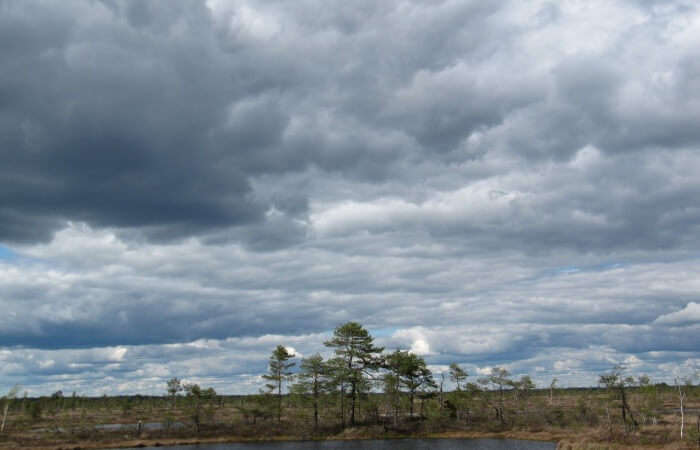 Time stands still as you walk through the mysterious bogs and bayous of Soomaa National Park and experience primeval nature in all its glory. This fascinating destination is primarily a peat bog formed by glacial melts and is home to gleaming lakes, beautiful rivers and an amazing biodiversity. You can hike along the famous Beaver Trail or explore this picturesque destination on an unforgettable canoe tour. Guided tours also offer mushroom foraging, berry picking and bird watching.
Suggested Read: 11 Popular Estonia Beaches For A Refreshing Beach Vacation
3. Bear Trails In The Wilderness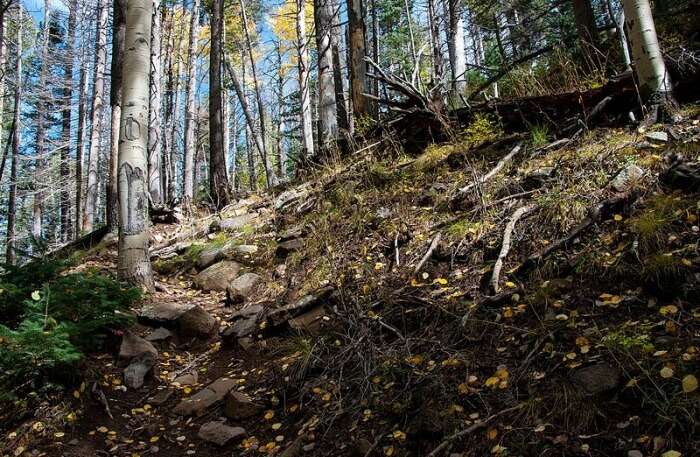 One of the best things about visiting Estonia is the chance to be amidst pristine nature and abundant wilderness. Adventure & nature enthusiasts must venture into the wild to witness bears, lynxes and wolves in the jungles. Alutaguse in the north-east offers bear watching huts and a superb chance for a rendezvous with these furry giants in the wild with the help of an able guide.
4. Dog-Sledding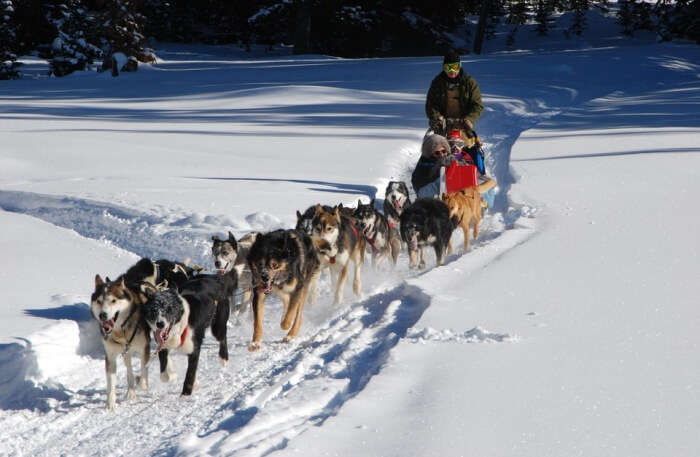 Any Estonia travel guide can't miss out on this truly unique Estonian experience and a once in a lifetime opportunity. Just half an hour away from Tartu, Heinrich Lukk's Sleddog Center offers a thrilling ride with the wolf-like Alaskan Malamutes. Nothing beats the adrenaline rush as your cart flies down the trails and rushes past lush Estonian forests. We suggest a stay at the lovely Peramaa Puhkekeskus wooden house after this adventure for a relaxed break by the lake and smoke saunas.
Suggested Read: 17 Fascinating Things To Do In Estonia For An Extraordinary Trip
What To Pack?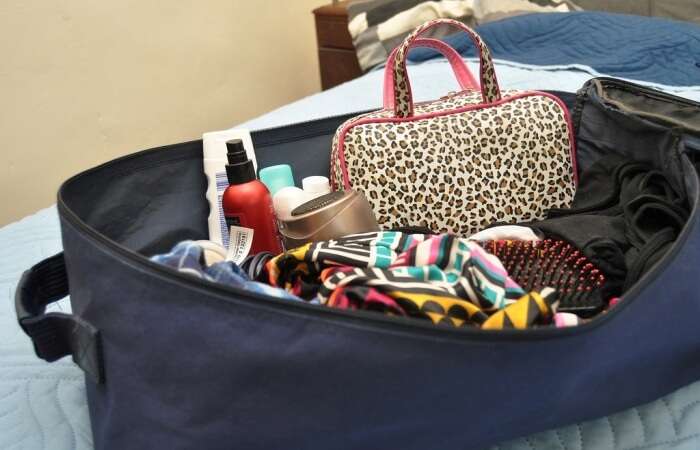 Warm clothes: Even if you're travelling to Estonia in the summers, warm clothes always come in handy as the weather is unpredictable. A summer coat or hoodie is the perfect travel companion.
Comfortable shoes: Since most old towns in the major cities have cobblestoned streets and the nature parks involve a lot of walking too, a good pair of walking shoes is a must.
Sunscreen and hats: When travelling in summers, being armed with sunscreen, shades and hats is a good idea.
A foldable umbrella: Considering the likelihood of untimely rains all through the year, a folding umbrella and waterproof backpack surely come in handy.
General Travel Tips
When exploring the capital city, the Tallinn Card comes in handy and so does a transportation smart card for commuting in the city.
The currency is Euro which is easily exchangeable and is also dispensed by ATMs
Though a large percentage of the population speaks passable English, it is good to know some useful phrase like 'Tere' (Hello), 'Aitah' (Thank you), 'Palun' (Please), 'Ja' (Yes) and 'Ei' (No).
Further Read: Experience Estonia Nightlife At Its Best By Visiting These 15 Places
Equipped with our Estonia travel guide we urge you to plan a trip to Europe and explore its gem before it transforms to a tourist-flocked destination like many others in the continent.
---
Looking To Book An International Holiday?
Book memorable holidays on TravelTriangle with 650+ verified travel agents for 65+ domestic and international destinations.
---