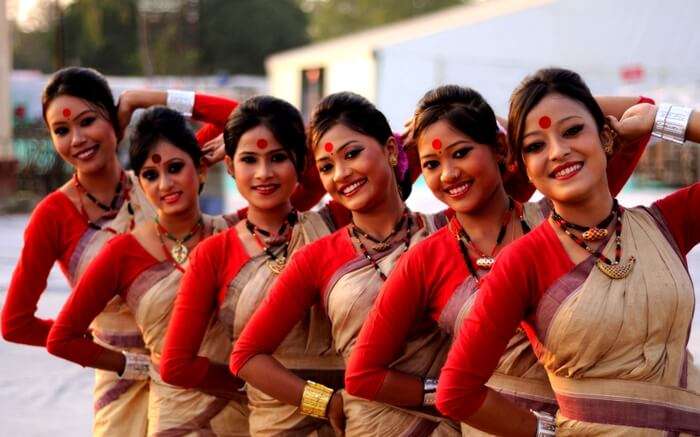 April is the time when India is basking in the afterglow of winter, the harvest season has already arrived, and spring greenery begets the flourishing greenery around. People across the country are busy celebrating festivals in April, which majorly comprise of the harvest season and occasions celebrating blooming of flowers. While the enormous amount of energy can be seen in the folks celebrating these festivals, these events also commemorate the centuries-old traditions of the region.
So whether you want to catch the vibe of cultural India or witness the unique celebrations exhibiting the rare experiences,then surely be a part of some of these festivals in April in India, and have a gala time!
14 Most Popular Indian Festivals In April
Willing to witness the craziness of Indian festivals in the month of April? Before attending any festival of the country, you must not forget to munch on the delicacies that are prepared during this period. Here are the 10 most fascinating Indian festivals in April 2021 that you mustn't miss out!
Tulip Festival, Kashmir
Baisakhi, Punjab
Bihu, Assam
Shad Suk Mynsiem, Meghalaya
Aoling Festival, Nagaland
Chithirai Festival, Tamil Nadu
Ooty Mariamman Temple Festival And Coonoor Mariamman Temple Festival, Tamil Nadu
Kadammanitta Padayani, Kerala
Mopin Festival, Arunachal Pradesh
Easter, Across India
Sankat Mochan Music Festival, Varanasi
Naba Barsha, West Bengal
Urs Festival, Ajmer
Kollam Pooram, Kollam
1. Tulip Festival, Kashmir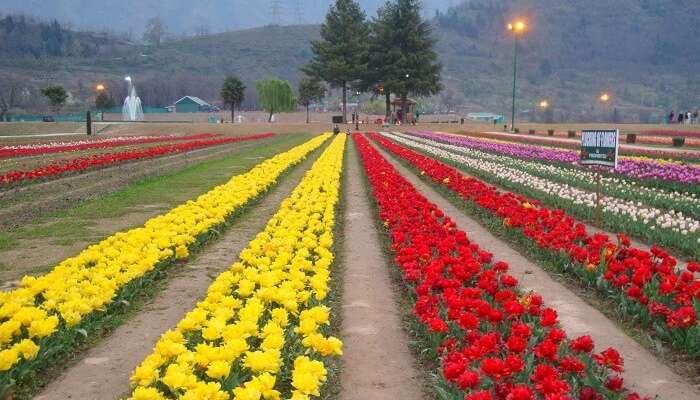 Image Source
Indira Gandhi Memorial Tulip Garden is the place where you must be headed in the month of April. Situated in the foothills of the Zabarwan range, the garden overlooks Dal Lake in Srinagar and is the proud host to Asia's largest Tulip Flower Show. During this period, this part of Kashmir valley is painted in almost every color of the spectrum. Make sure that you spot all the colorful Tulips out there. This is among the most popular April festivals in India.
It's still so cold in Kashmir in April and one can also experience occasional rainfall and snowfall here. Be prepared in advance. Such is the charm of the Srinagar Tulip Garden that it was adjudged as the second best tulip garden in the world by the World Summit Tulip Society.
Highlights of Tulip festival: Almost 48 varieties of tulips on display
Tulip Festival 2021 dates: 1- 30th April
Must Read: 23 Things To Do In Kashmir In 2021 To See The Best Of This Heaven On Earth
2. Baisakhi, Punjab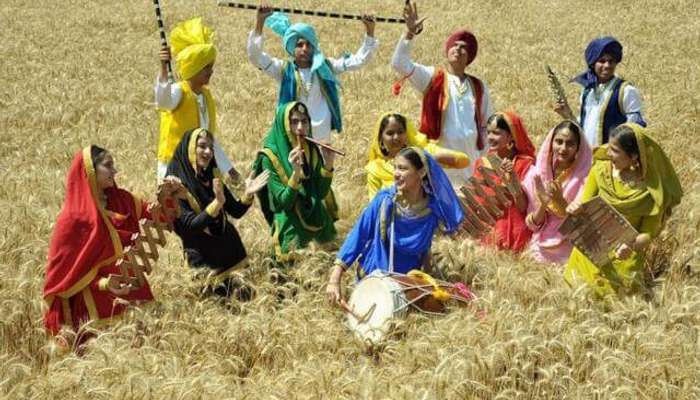 Baisakhi, primarily celebrated in Amritsar in Punjab, is one of the most popular Hindu festivals in April 2021 to be celebrated in India. The first day of the Nanakshahi calendar is celebrated as Baisakhi. Baisakhi festival falls in the month of Baisakh every year which happens to be the harvest season of Rabi crop. The archeological significance of Baisakhi is sun's entry into Mesh Rashi. This particular time is celebrated by different names across India. They are: 'Rongali Bihu' – Assam, 'Naba Barsha' – Bengal, 'Puthandu' – Tamil Nadu, 'Pooram Vishu' – Kerala and 'Vaishakha' – Bihar
Highlights of Baisakhi: Harvest of Rabi crop, music, and traditional dance
Baisakhi 2021 date: 13th April
Suggested Read: 15 Popular Harvest Festivals Of India
3. Bihu, Assam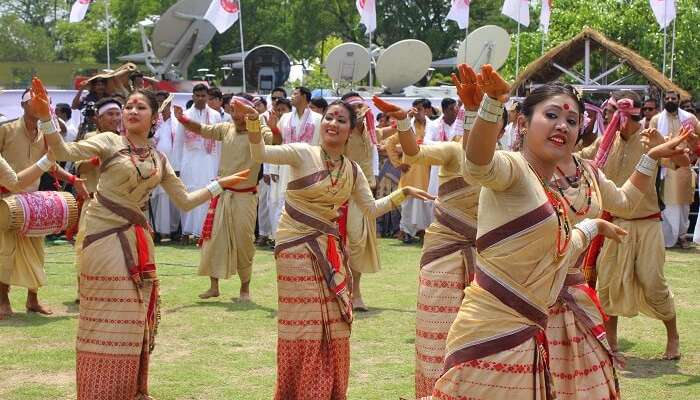 Image Source
It's the time of harvest season in most parts of India, and just like everywhere, Assam too celebrates all the hard work that has gone into the crops. Bihu, being one of the most important festivals in April, is characterized by celebrations of a lot of events, and people sitting together to reap the benefits of their hard work! Assam further relies big time on agriculture, which signals how important this April festival is for their folks. It is amongst the most popular harvest festivals of India.
Highlights of Bihu: Dance and music programs, bull-fight, birds fight, setting fire to Mijis – temporary pavilions made of wood, bamboo, and hay
Bihu 2021 dates: 15-21st April
Suggested Read: 15 Famous Festivals Of India To Bring Your Life Into A State Of Exuberance
4. Shad Suk Mynsiem, Meghalaya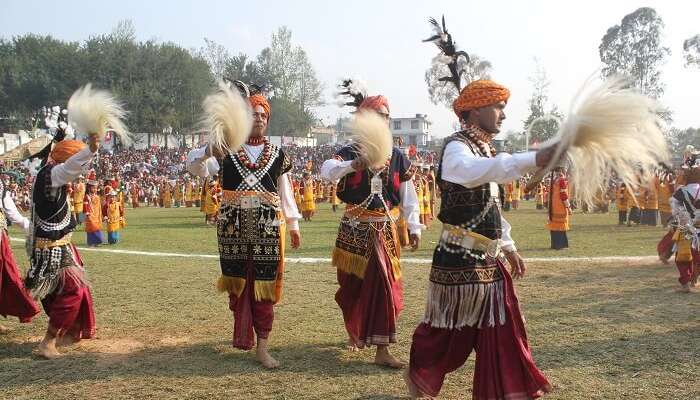 Image Source
Another of the popular festivals in April in northeast India, the Shad Suk Mynsiem is celebrated in Meghalaya. Just like most of India is celebrating the harvest time, the Khasi men and women choose to celebrate in their trademark way. This is also known as the Thanksgiving Dance Festival in this part of northeast India. Women, wonderfully decorated in the wonderful silk dress and gold ornament, while men show up in silk dhotis, waist-coats, plumed turbans and traditional ornaments to perform various rites and dance together.
Highlights of Shad Suk Mynsiem Festival: Dance and music function at Weiking ground
Shad Suk Mynsiem Festival 2021 dates: 10-11 April
Suggested Read: Here Are The Best Places To Visit In April If You're Wondering Where To Go
5. Aoling Festival, Nagaland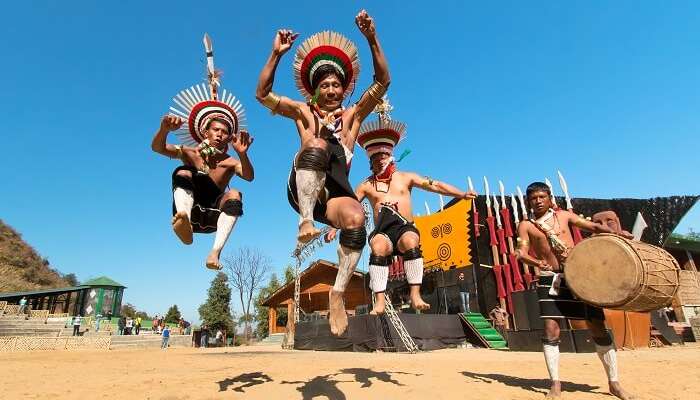 A popular festival in April to be celebrated in the Mon district of Nagaland in North East India, Aoling is the festival of the ferocious Konyak Tribes – headhunter tribes of Nagaland. They now spend most of their time doing agriculture activities, drinking alcohol, smoking opium, also hunting, which is done occasionally. They celebrate the festival to mark the beginning of spring festival every year. Various tourist circuits are organized by the operators showing the best of this part of India to the people during this time. It's so colorful and vivid out there! Make sure you add this one to your list of festivals in April 2021 in India.
Highlights of Aoling Festival: Regional dance and activities performed by men and women of Konyak Tribes
Aoling Festival 2021 dates: 1-6th April
Suggested Read: 10 Festivals That Show The Cultural Diversity Of Manipur
6. Chithirai Festival, Tamil Nadu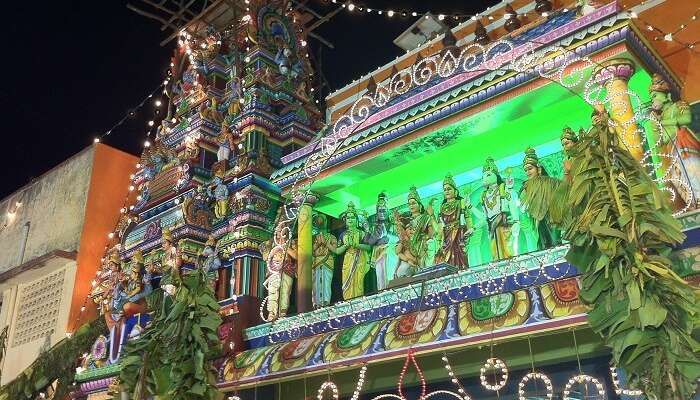 One of the religious festivals in April to be celebrated in South India, Chithirai Festival spans for almost 2 weeks! The festival commemorates the wedding of Lord Shiva (Sundareswarar) and Goddess Meenakshi (Lord Vishnu's sister). Starting with the flag hoisting ceremony, there are plenty of processions carried out during the festival. Post the wedding of the divine couple, the celebration moves to Kallazhagar Temple in Alagar Hills close to Madurai. It is also one of the most loved summer festivals of India. 
It is here that Vishnu is celebrated as the elder brother of Goddess Meenakshi. The moment Lord Kallazhagar enters the Vaigai river give gifts to the married couple (Shiva & Meenakshi) makes the highlight of the festival.
Highlights of Chithirai Festival: Coronation and precession of goddess Meenakshi, the procession of temple chariots, celestial wedding of Shiva and Meenakshi, entry of Lord Kallazhagar in the River Vaigai
Chithirai Festival 2021 dates: 15-30th April
Suggested Read: 10 Guest Houses In Nainital: Perfect Vacationing Avenues For A Wonderful Stay In 2021
7. Ooty Mariamman Temple Festival And Coonoor Mariamman Temple Festival, Tamil Nadu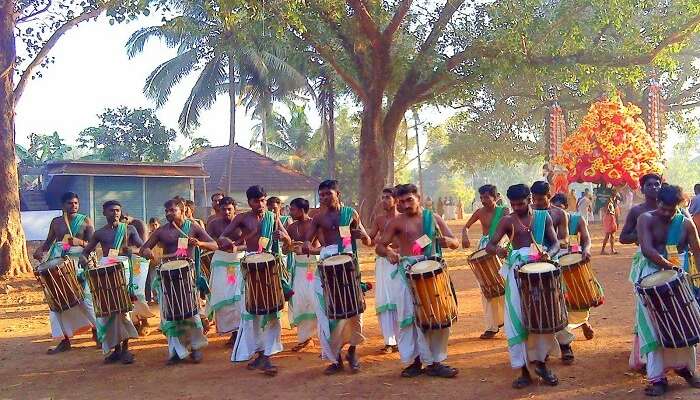 Image Source
Celebrated in the Mariamman Temples of Ooty and Coonoor, this festival commemorates Mother Durga who represents three powers called Itcha Sakti, Gnana Sakti, and Kriya Sakti. People come together to organize the festivities by holding processions across Ooty and Coonoor. And it is a visual treat to the eyes of everyone present around.
Highlights of Ooty Mariamman Temple 2021 Festival: Procession of Goddess Mariamman
Ooty Mariamman Temple Festival 2021 dates: To be announced
Suggested Read: Top 10 Summer Festivals In India You Shouldn't Miss
8. Kadammanitta Padayani, Kerala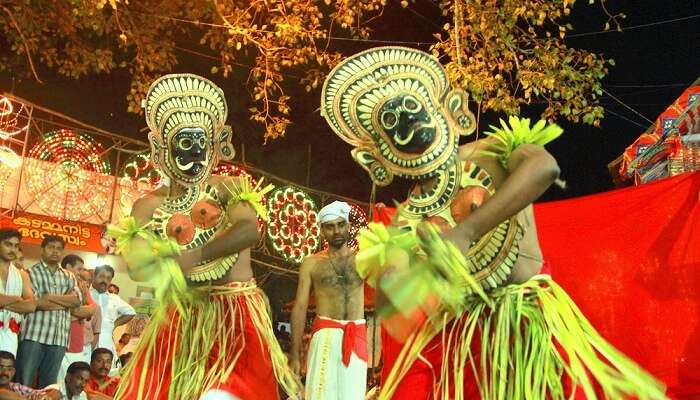 Celebrated on the first day of the month of Medam as per the Malayalam calendar, this week-long festival in Kerala is organized when it is believed that the sun comes in the constellation of Aries, as per the western calendar. During the festive time, there are plenty of events organized in Kerala which celebrates the rich culture and traditions of the state.
Highlights of Kadammanitta Padayani: Magnificent display of skills, dècor, traditions, and color
Kadammanitta Padayani 2021 dates: 14-20th April
Suggested Read: 8 Gorgeous Beaches In Lebanon That Promise A Refreshing Vacay In 2021
9. Mopin Festival, Arunachal Pradesh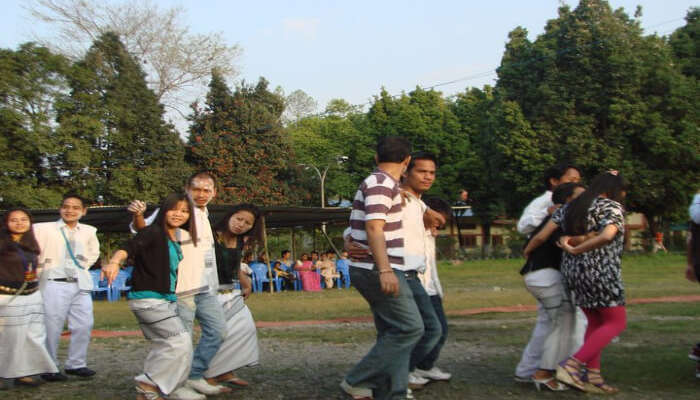 Mopin Festival of Arunachal Pradesh is another delightful celebration that makes you have an awesome time amid the captivating beauty of North-East India. It is celebrated by the people of Along, Basar, and Bame as a harvest festival and is believed by locals as a measure to keep the evil spirits away. 
Highlights of Mopin Festival: You will be witnessing locals involved in folklore dance 'popir'. Don't forget to taste the locally made rice wine called Apong. 
Mopin Festival 2021 dates: 5 April
Suggested Read: 20 Places To Visit In Arunachal Pradesh: Explore This Unexplored And Underrated Gem In 2021
10. Easter, Across India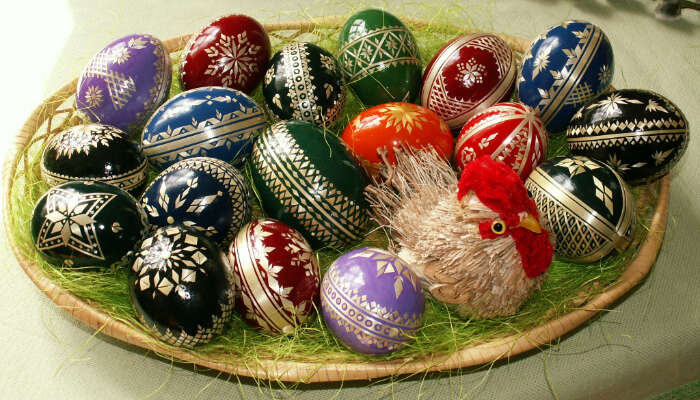 Easter is celebrated across the nation as the day of resurrection of Jesus Christ. It is the day when Jesus was raised from death and is believed that he paid penalty through his death, burial, and resurrection for the sin of others. 
Highlights of Easter: Visit any of the popular church in India and be a part of this massive celebration
Easter 2021 dates: 4th April
Suggested Read: 15 Uncommon & Unusual Festivals In India That You Should Attend In 2021
11. Sankat Mochan Music Festival, Varanasi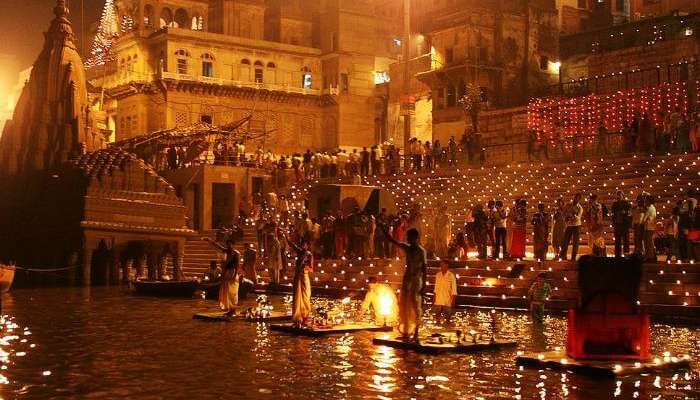 Sankat Mochan Music Festival is one of the most reputed classical music April festivals of India and attracts visitors from across the world with it exclusive line-up featuring the most eminent artists of Indian classical music. This annual festival is organised on the occasion of Hanuman Jayanti at the Ghat in Varanasi. 
Highlights of Sankat Mochan Music Festival: The festival gives you a chance to enjoy the soulful raga-based compositions by the popular classical musicians of India
Sankat Mochan Music Festival 2021 dates: 12-17th April
Suggested Read: 7 Amazing Festivals In Andhra Pradesh That No Traveler Would Want To Miss In 2021!
12. Naba Barsha, West Bengal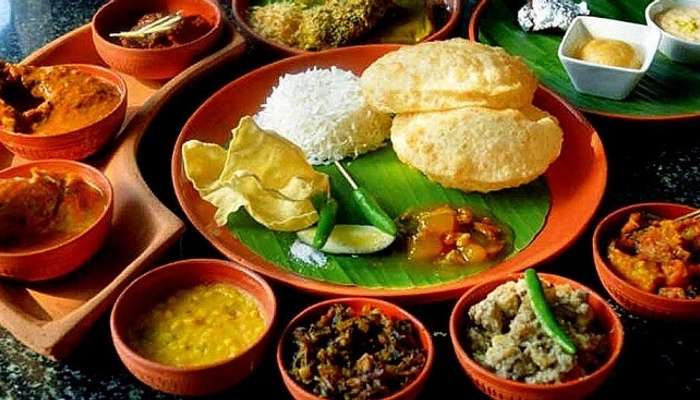 If you want to witness the true vibe of West Bengal then you can surely plan your visit during Naba Barsha, the time when the entire state welcomes the New Year according to Bengali calendar. Houses and market areas are decorated with festivity across the streets of West Bengal.
Highlights of Naba Barsha: The unique attire worn by local residents, followed by celebrations across the state
Naba Barsha 2021 dates: 15th April
Suggested Read: 14 Festivals In January In India That Reflect The Country's Rich Culture (2021)!
13. Urs Festival, Ajmer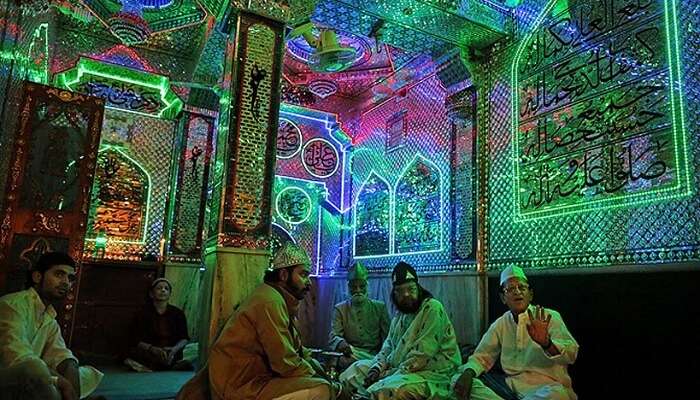 Urs is amongst the most popular festivals of Rajasthan that is celebrated in Ajmer in the memory of Sufi Saint Khwaja Moinuddin Chishti. Apart from mass prayers and other rituals, the festival also makes you listen to the exclusive Sufi Qawwalis by popular artists. 
Highlights of Urs Festival: This unique festival gives t=you a chance to witness the lifestyle and custom of the Sufi Community
Urs Festival 2021 dates: To be announced
Suggested Read: 15 Things To Do In Ajmer In 2021 That Prove It's A Paradise For Every Type Of Traveler
14. Kollam Pooram, Kollam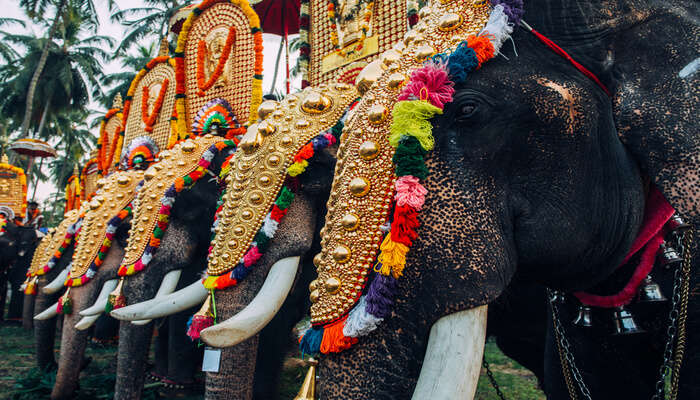 Kollam Pooram is a weeklong annual festival that is organised at Asramam Maidan in Kollam to celebrate the presence of Lord Krishnaswamy, the one who resides in the popular Sri Krishnaswamy temple. During the festival, the idol of the temple is taken on a grand palanquin which is followed by devotees performing rituals, dancers and musicians paying their tribute through their art, and decorated elephants; giving a massive outlook to the festival. This is among the most popular festivals celebrated in April.
Highlights of Kollam Pooram: The festival makes you witness the true colours of Kerala that includes local performances, rituals, food, and a lot more
Kollam Pooram 2021 dates: To be announced
Further Read: 10 Uncommon & Unusual Festivals In India
India is a country of glorious diversity and the month of April has kept plenty of hidden happiness for you. Attending the vibrant Indian festivals in April will familiarise you with the country's culture. It's time now to celebrate the festivities with family and friends! Book a trip soon with TravelTriangle!
Disclaimer: TravelTriangle claims no credit for images featured on our blog site unless otherwise noted. All visual content is copyrighted to its respectful owners. We try to link back to original sources whenever possible. If you own the rights to any of the images, and do not wish them to appear on TravelTriangle, please contact us and they will be promptly removed. We believe in providing  proper attribution to the original author, artist or photographer.
Frequently Asked Questions About Festivals In April
Are festivals celebrated during the pandemic?

As the people are adapting the new-normal and things are opening lowly, yes the festivals are being celebrated while the pandemic is still on. But take all the precautions and adhere to social distancing whenever outside.

Which Japanese festivals come in April?

Kanamara Festival, Inuyama Festival, and Takayama Festival are some of the important festivals that take place in Japan in April.

How many festivals come in April and May in India?

There are a lot of festivals celebrated across the different states of India in April and May like Baisakhi, Easter, and more.

Which festival is celebrated in April?

Aoling in Nagaland, Baisakhi in Punjab, and Bohag Bihu in Assam are some of the festivals celebrated in April with much joy.

What are the festivals in April 2021?

India's Famous Festivals and Events in April 2021 are the Tulip Festival in Srinagar, Mopin Festival in Arunachal Pradesh, Godwar Festival, Udaipur Mewar Festival, Attuvela Mahotsavam in Kerala, Tamil Puthandu (Tamil New Year) and Baisakhi Mela in Punjab.

When is Aoling festival celebrated?

The festival of Aoling will be celebrated from 1st April - 6th April. This marks the beginning of the spring season and the new year for the Konyak tribe.

What is the Tulip festival all about?

The Tulip festival marks the beginning of spring in Srinagar, it is celebrated during months of March and May when the tulip buds are ready to bloom. The festival lasts for fifteen days or a month, every year the weather decides the dates of Tulip Festival.

When is the Tulip Festival this year?

This year, the Tulip festival will be from 1st april to 30th April. But the dates vary every year according the weather and tulip buds.

What is special in April?

The particular time in April is the harvest season and it has various names across the country like 'Rongali Bihu' – Assam, 'Naba Barsha' – Bengal, 'Puthandu' – Tamil Nadu, 'Pooram Vishu' – Kerala and 'Vaishakha' – Bihar. It is the celebration of the Rabi crop.

What is the specialty of the Shad Suk festival?

The popular festival in April in northeast India, the Shad Suk Mynsiem is celebrated in Meghalaya. The Khasi men and women celebrate their trademark way and it is like their Thanksgiving Dance Festival. They have Dance and music function at Weiking ground.
Looking To Book An International Holiday?
---
People Also Read
Festivals In March Festivals In June Festivals In July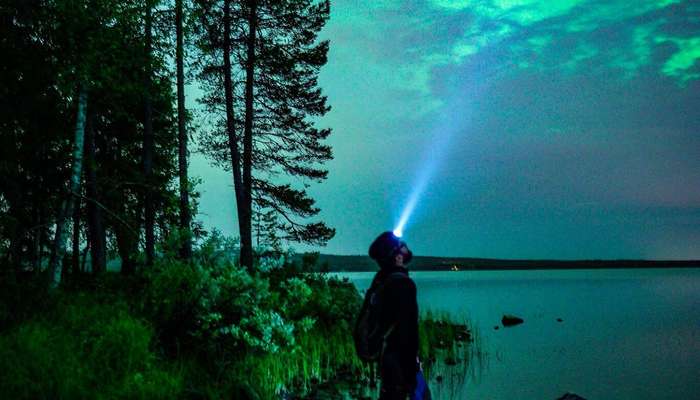 Comments
comments