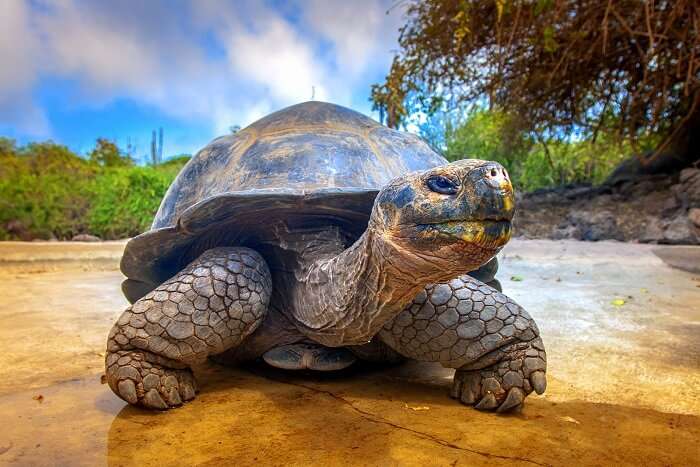 Galapagos Islands are the place to go to experience the sheer force and beauty of nature. It is here that you can see evolution take place just as Charles Darwin did more than a century ago! The slow ambling Giant Tortoise, the squawking Blue-footed Booby, the grunting sea lions, and the swift marine iguanas, all call the Galapagos Islands their home.
The Galapagos Islands are so remote that the animals have evolved without the fear of humans. They have evolved without invasive species disrupting their evolution, and it is the perfect place to witness it. Galapagos Islands animals are an attraction for the wildlife enthusiasts, who get an excellent introduction to the wonderful and weird wildlife here!
Here is a guide for travelers seeking a journey to one of the most remote places on earth – the Galapagos Islands.
Why You Should Visit The Galapagos Islands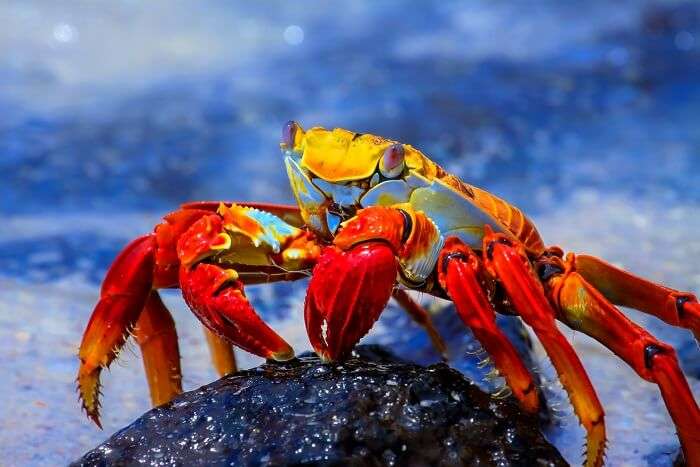 Here are some Galapagos Islands facts that will really raise your curiosity to explore this place:
The Galapagos Islands are a UNESCO World Heritage Site which have been tagged by them as a 'living museum and showcase of evolution'.
The islands in Galapagos is where Charles Darwin wrote his famous book 'Origin of Species' which kickstarted the theory of evolution.
The Galapagos Islands map feature the tiny volcanic archipelago of 19 islands and over 107 rocky islets which are teeming with wildlife.
The islands have the highest percentage of endemic animal species which you cannot see anywhere else in the world!
The remote islands are a part of Ecuador and you can combine your visit with a trip to the mainland to sample its authentic South American culture and heritage.
The islands are at a confluence of three tectonic plates creating a unique geographical location.
Best Time To Visit The Galapagos Islands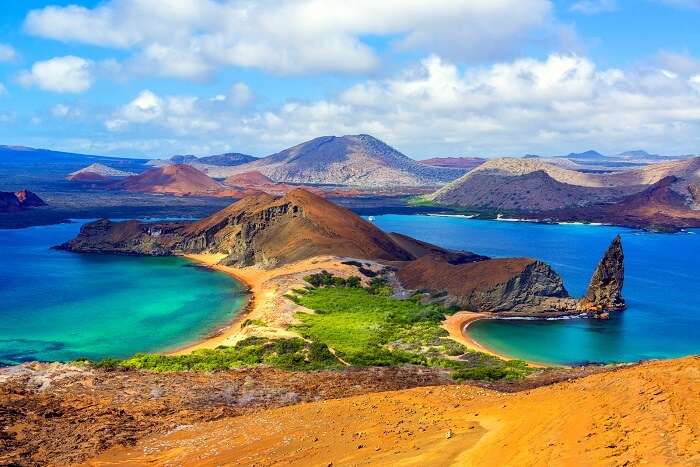 Suggested Read: 10 Destinations In U.S.A For That Perfect American Honeymoon!
The best time to visit Galapagos depends on what you want to see and experience. The specialty of the islands is that you can sight wildlife all year round at various stages of their life cycle.
There are two main seasons on the islands:
Cold and dry season (June to November):
The colder season brings the plankton up to the surface of the ocean attracting seabirds like Albatross and Penguins. The seas are also much rougher, but you can sight the humpback whales and the birth of baby sea lions in August.
Warm and wet season (December to May):
In December, you can spot the hatching of giant tortoises, while February to March is the primary breeding season on the island. The seas are also much calmer at this time and great for underwater activities. Showers are not too much, and there are short drizzles daily.
How To Reach The Galapagos Islands

The Galapagos Islands are a part of Ecuador and most airlines will have a connection via Ecuador's capital city Quito. Tame, Avianca, and LAN are the local airlines that have flights to Galapagos Islands from Quito via Guayaquil. There are five inhabited islands in the Galapagos Islands – Baltra, Floreana, Isabela, San Cristobal, and Santa Cruz. However, Santa Cruz is the most popular as a base for tours and activities and hence it's a good idea to travel to Galapagos Islands by first flying into Santa Cruz.
Top Places To Visit In Galapagos Islands
Galapagos Islands is somewhere you can get closer to the nature and wildlife. Here are some of the most interesting places to visit for the nature lovers. Make sure you do not miss out any of these places on your visit.
1. Charles Darwin Research Station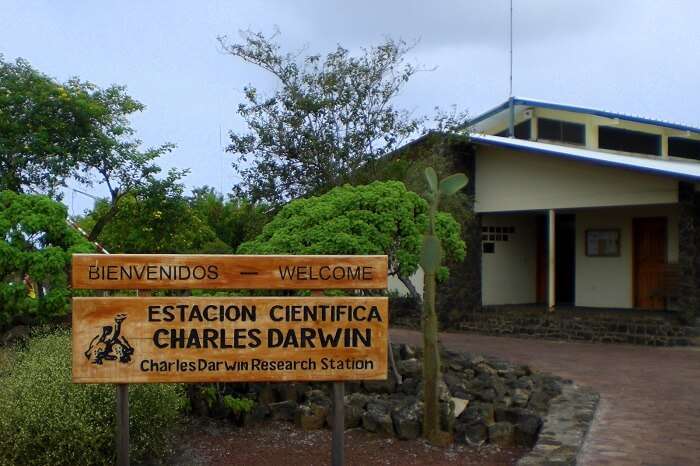 Suggested Read: 8 Costa Rica Resorts Where The Magical Nature Snuggles Sumptuous Luxury
Galapagos Islands & Darwin go hand in hand and most people first learn of the Galapagos Islands as a part of their science classes. The research station is a great place to understand the local ecology and watch the animals. Over 200 researchers and scientists work out of the station in a bid to conserve the island wildlife.
2. El Chato Tortoise Reserve

Suggested Read: 10 Best USA Hotels For A Relaxing American Vacation
Most Galapagos Islands tours make a pitstop at the El Chato Tortoise Reserve where you can sight the giant Galapagos Tortoise in their natural habitat. It is a great place to observe the prehistoric-looking creatures going about their business. It is best to go with a guide as the area is expansive and one can easily get lost in the thick vegetation.
3. Los Tuneles

Image Source
One of the main Galapagos Islands points of interest is the area of Los Tuneles on the island of Isla Isabela. The area has several lava formations that appear like tunnels and have become a sanctuary for the local wildlife. You can access the area only through a boat ride and ideally you can snorkel and swim here and will have the opportunity to see manta rays, turtles, sea horses, and even white-tipped sharks.
Top Things To Do In Galapagos Islands
Your trip to Galapagos Islands brings to you countless activities to look forward too. These include tours and other water and land adventure activities. Be a sport and experience all of them.
1. Wildlife tours

Suggested Read: Iguazu National Park: A Heaven Which Lies On The Border Of Argentina, Brazil, & Paraguay
The Galapagos Islands animals are mostly endemic, that is, they are not found anywhere else in the world. The unique animals that are on the wishlist of most travelers are the Giant Tortoise and Marine Iguanas. The area is also famous for its birdlife, and some of the unique species are Blue-Footed Booby, Galapagos Penguin, Waved Albatross, and Darwin's Finches.
2. Snorkeling and diving

The Ocean is as rich in wildlife as the land on the islands of Galapagos and water activities like snorkeling and diving are the best ways to explore the region. You can sight interesting sea animals like fur seals, sea lions, whales, dolphins, and Green Sea Turtles.
3. Hiking on the islands

Few of these islands are small without much infrastructure, and hence access to some of the best places is on foot. You can hike in the world's second largest crater of Sierra Negra on Isabela Island or explore the Lava Tunnels on Santa Cruz Islands. Every island has unique hiking spots and walking trails.
---
Planning your holiday but confused about where to go? These travel stories help you find your best trip ever!
Real travel stories. Real stays. Handy tips to help you make the right choice.
---
Awesome Places To Stay In The Galapagos Islands
1. Red Mangrove Eco Luxury Hotel

Suggested Read: 10 Exotic Panama Islands For Your Lg-Awaited Tropical Retreat In 2022
A Galapagos Island vacation can be busy with a lot of activity tours and the best way to end the day is to relax in a luxurious hotel with amazing amenities. The Red Mangrove has a unique location that is surrounded by mangroves and the ocean; and you can view the wildlife right from your room. You can even encounter sea lions resting on the lounge chairs in the restaurant!
Location: Avenida Charles Darwin, Puerto Ayora 200350, Ecuador
Starting price: INR 25,000
Google rating: 4.4 | TripAdvisor rating:: 4.5
Website | TripAdvisor Reviews
2. Mi Caleta Inn

Image Source
The Mi Caleta Inn is popular among tourists due to the hospitality of its husband-wife owners who do a fabulous job of taking care of their guests. The Inn is a bit away from the town and offers a peaceful stay. It is also close to the Darwin Station which is useful if you are volunteering or visiting the place. One of the cheapest places in town, it offers 100% satisfaction!
Location: Daphne y Petrel | Barrio El Edén, Puerto Ayora 200350, Ecuador
Starting price: INR 4,000
Google rating: 4.9 | TripAdvisor rating:: 4.5
Website | TripAdvisor Reviews
Suggested Read: This Island In South America Is The World's Most Dangerous Place
Tips For Visiting The Galapagos Islands

As a wildlife enthusiast you should understand that animals are unpredictable and sighting is not guaranteed, so be patient and you just might be rewarded with excellent views!
It is ideal to go on a guided group tour of the Galapagos Islands. There are many islands and you will need expert guidance on the things to do and places to see.
The Galapagos Islands are ecologically sensitive and its important to choose sustainable accommodation and travel responsibly while in the area.
Most of the transactions on the islands are cash only so ensure you carry enough from the mainland.
The islands require you to be fit as you will be doing a lot of walking and swimming. If you need special medication, ensure you are carrying it with you along with a valid prescription.
Further Read: Street Food Around The World That Is Too Good To Say No To!
No words can do justice to the best of Galapagos Islands, unless you are face to face with a Giant Galapagos Tortoise and are watching the massive animal up close! So, plan your trip to USA and head out on a journey of a lifetime!
---
Looking To Book A Holiday Package?
Book memorable holidays on TravelTriangle with 650+ verified travel agents for 65+ domestic and international destinations.
---