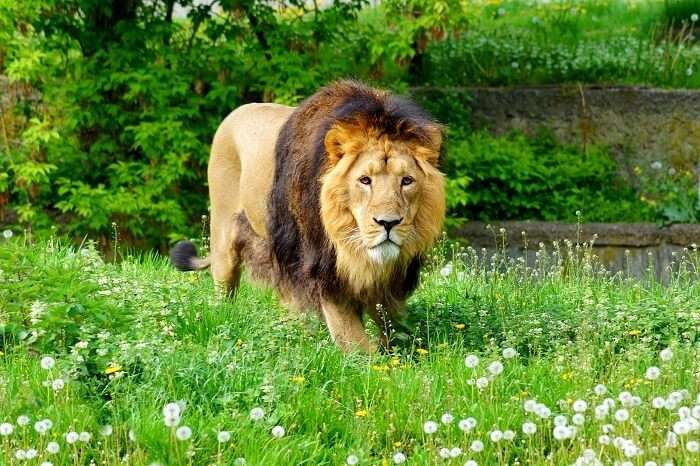 Be one with nature at Gir National Park, the royal kingdom of Asiatic lions and essentially the only place on earth where these majestic beasts roam free. Gir is the most celebrated wildlife sanctuary in India and a magnificent abode for all nature lovers and wildlife photographers. It is an arid ecoregion of the Kathiawar-Gir dry deciduous forests that stretches across Gujarat, Rajasthan, and Madhya Pradesh.
Head to the Gir Wildlife Sanctuary for the adventure of a lifetime! Spot India's wildest beasts in action, explore the breathtaking landscapes of Gujarat, discover remote civilizations still living deep within Indian jungles harmoniously, and understand the importance of protecting the ecological balance on your thrilling retreat.
Gir National Park Information

Area: 1,412 square km
Location: Gir National Park and Wildlife Sanctuary, Gujarat 362135
Geography: Teak dominated rugged hills with high ridges, densely forested valleys, and sprawling grassy plateaus. The area falls under the Kathiawar-Gir dry deciduous forests with a mix of dry deciduous scrub forest and dry savannah forests.
Gir National Park Website | Gir National Park TripAdvisor Reviews
Must Read: 17 Famous Festivals In Gujarat To Celebrate In 2022 With Joyous Fervor
Best Time To Visit Gir National Park

The best time to visit Gir National Park is the winter season, that is, between December and March. Winters in Gujarat is the time when temperature is usually around 20 degree centigrade and ideal for the various activities in the park like safari.
Summers are an ideal time for photography in a Gir forest tour and to view most of the animals out in the open, but are still avoided by many travelers as the heat here can turn intolerable.
Monsoons are the least suitable time to visit as animals remain within their shelters during this time and a safari is not possible in the rains. Therefore, the park remains shut for tourists from 16th June till 15th October every year.
Suggested Read: 20 Gujarati Dishes That Will Always Have A Sweet Spot In Your Heart!
Gir National Park: Obtaining Entry Permit

The entry permit for Gir Sanctuary can be obtained at the Sinh Sadan Orientation Centre, the Forest Department Guest House located 5 minutes away from the park's main gate. The Centre is open from 7 AM to 11 AM in the morning, and from 3 PM to 5:30 PM in the evening.
The entry permit can also be obtained online from the park's official site in order to avoid the hassle of standing in queues at the Orientation Centre. One pass admits 6 persons, with extra charges for an extra child between 3 to 12 years old.
Entry Fee/Permit Charges

Other charges:
Photography Fee: INR 100/- (for one camera in a group of 6 persons)
Guide Fee (4 hours): Rs 100/- (per group of 6 persons)
Tips For Acquiring Permit Online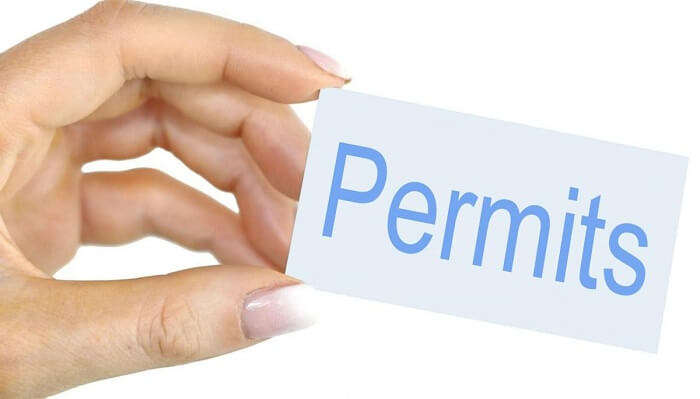 Here are a few helpful tips for acquiring entry permit online for your Gir Adventure trip:
Apply for the permit 90 days prior to the date of your visit to avoid last minute inconveniences.
Before applying, make sure you have soft copies of a valid photo ID of each individual making the trip with you (max 6 people)
E-permit does not include charges like Guide Service, Vehicle Service, and Camera Fee
E-permits are refundable only for Gir Jungle Trail
You must report to your safari point 30 minutes prior to departure to complete last minute formalities
Get your Gir Entry Permit here!
Suggested Read: 8 Fascinating Things To Do In Vadodara In 2022 That Let You Taste The Good Life In Gujarat!
Average Budget For Gir National Park Trip
Here's a breakdown of how much it can cost per person for various aspects of a trip to Gir like transfers, accommodation, food, safari, and other tidbits like shopping.

Avg Flight Rate (round trip): INR 7,600/-
Avg Accommodation: INR 3,300/-
Transfers: INR 1,000/-
Meals: INR 600/-
Safari: INR 600/-
Miscellaneous: INR 300/-
Note: Flight rates are not included in the budget given above as they may vary on the traveler's destination and time of booking. Also, 'Transfers' here indicate transportation from Junagadh to Gir and then getting around in Gir.
Suggested Read: 10 Best Places To Visit In Gujarat In Summer For An Enthralling Holiday In 2022!
Flora And Fauna In The Gir National Park

Other than the 400 Asiatic Lions and 300 Leopards, the park has 38 species of mammals, 37 of reptiles, 300 species of birds, and over 2,000 species of insects, along with a diverse range of plant species.
Animals: Asiatic lions, Indian Leopards, Indian Cobras, Sloth Bears, Golden Jackals, Indian Palm Civets, Striped Hyenas, Indian Mongoose, Ratels, Desert Cats, Rusty-Spotted Cats, Chital, Nilgai (or Blue bull), Antelope, Indian Gazelle, Sambar, Four-Horned Chinkara, Wild Boar, Blackbucks, Langur, Porcupine, Black-Naped Hare, Pangolin Marsh Crocodile, Tortoise, Monitor Lizard, Pythons.
Birds: Vultures, Sarus Crane, Lesser Florican, Crested Serpent Eagle, Brown Fish Owl, Crested Hawk-Eagle, endangered Bonelli's Eagle, Rock Bush-Quail, Indian Eagle-Owl, Black-Headed Oriole, Pygmy Woodpecker, Crested Treeswift, Indian Pitta
Fauna: Teak, Khair, Dhavdo, Timru, Amla, Samai, Simal, Khakhro, Asundro Jambu, Umro, Amli, Vad, Kalam
6 Things To Do In Gir National Park
From thrilling safaris, crocodile farms, serene lakes, to ancient temples, there are a plethora of things to explore and activities to indulge in at Gir, one of the top wildlife sanctuaries in Gujarat:
1. Engage In Gir Jungle Trail Safari

Embark on a thrilling journey inside the wildest part of the country. There are 3 different safari timing slots to suit your preferences, each of which lets you spot an incredible range of wild animals and birds, including Asiatic lions and leopards to keep your excitement levels soaring sky high at all times! These safaris are conducted in jeeps, gypsies, or canter (open safari buses).
Gir Jungle Trail safari is essentially a combination of jeep safaris and guided Walking Safaris to provide travelers with the most adventurous and knowledgeable experience of traversing through a dense Indian forest while also spotting wild animals.
The morning safari gives you mesmerizing views of the sunrise, other than great chances of spotting the Asiatic lions. Gir is the perfect place to spot the king of the jungle in action.
Safari Time Slots: 6 AM to 9 AM | 9 AM to 12 PM | 3 PM to 6 PM
Entry fee for Indian visitors: INR 800/- per group of 6 persons | INR 100/- per extra child
Entry fee for Foreign visitors: INR 4,800/- per group of 6 persons | INR 1,200/- per extra child (for a complete fare breakdown, refer to the chart above)
Suggested Read: 17 Historical Places In Gujarat That Uncover A Legendary Past
2. Go On A Short Safari At Gir Interpretation Center, Devalia

Located approximately 12 km from the Gir Sanctuary, this fenced enclosure with a double-gate entry system is ideal for a quick Gir forest tour. The park has been created with an aim to facilitate a deeper understanding among travelers of the Gir ecosystem so that they can see the light about the need to protect our biodiversity.
It also helps enhance chances of wildlife spotting, especially of prominent animals like lions and leopards. There is also a small shop inside the park where you can buy knick-knacks like caps, tees, coffee mugs, stationery items, keychains, calendars, & more.
Safari Time Slots: 8 AM To 11 AM | 3 PM To 5 PM
Entry fee for Indian visitors: INR 150/- per group of 6 persons
Entry fee for Foreign visitors: INR 2400/- per group of 6 persons
How to get to Devalia: Hire a Khatra for INR 200/- from the Gir Sanctuary and follow the SH26, the main highway skirting the park before taking a right onto the SH100A.
Suggested Read: 15 Museums In Gujarat To Redefine Your Trip In 2022
3. Meet Baby Crocs At Crocodile Breeding Farm

Gir has the largest population of marsh crocodiles as compared to anywhere else in the country. Post adopting the Indian Crocodile Conservation Project in 1977, Sasan Gir, in collaboration with the Gujarat State Forest Department now uses a small area near the reserve itself for breeding and caring for crocodiles.
The Crocodile Rearing Centre near the Sasan Gir Reserve is an interesting place to learn about crocodile breeding and to watch these tough reptiles bask in the sun or catch a prey. Do not wade in the water and be careful when photographing crocs here as they are extremely irritable.
Getting there: It's located inside the Forest Department office complex and is walking distance from Sinh Sadan Orientation Centre
Timings: 8:30 AM to 6 PM
Entry fee: Free
Suggested Read: 52 Intriguing Tourist Places In Ahmedabad For Your Gujarat Getaway In 2022
4. Gaze At The Vast Horizons Over Kamleshwar Dam

Image Courtesy: Paramvir Singh
Built over the Hiran River, Kamleshwar serves as the lifeline of the reserve area. The dam is located inside Sasan Gir premises National Park and is surrounded by an enormous variety of marsh crocodiles and other reptiles. It's the first pit-stop in the park while on a Gir National Park safari where one can climb the watchtower and gaze at stunning panoramic views of the park, the lake, and some of the best the tribal villages in Gujarat.
It's a brilliant place for photographers as they can get lush green views of the park and it's surroundings, get great shots of animals sneaking up on their prey, capture birds perched high up in the trees, and capture tranquilizing reflections of the dawn on the lake waters.
Getting there: Located in the park premises and is the first stop on any Gir National Park safari
Timings: 8:30 AM to 6 PM
Entry fee: Free
Suggested Read: 5 Jain Temples In Gujarat That Are A True Architectural Marvel!
5. Seek Lord's Blessings At Tulsi Shyam Temple

Dedicated to Lord Krishna, Tulsi Shyam is a well-known temple located inside the Gir park. The temple houses a 3,000 year old idol of Lord Krishna made out of back stone. Near the temple are hot sulfur springs that are believed to have healing powers. Another attraction that draws people to this temple is the stretch of road near the temple famed for its Gravity Hill phenomenon. People make a sure shot visit to this temple where major hot springs near to the temple are the other major attraction.
Getting there: It is located at the SH 104 highway and borders Amreli and Gir Somnath district
Timings: 6:30 AM to 7 PM
Entry fee: Free
Suggested Read: 6 Best Waterfalls In Gujarat For A Super Cool 2022 Vacation!
6. Visit Tribal Settlements In The Park

Visiting the tribes residing inside the park is perhaps one of the best things to do in Gir National Park. The Maldharis Tribe Visit & Siddis Tribal Visit will bring you one step closer in understanding the bond humans shared with their natural environment in the past, and still do in many parts of the country before the advent of technology and urbanization.
Maldhari Tribal Settlement:
This is a highly religious pastoral community that migrated to Gir around 125 years ago despite obvious dangers and lack of infrastructure. Since then, they have been brilliantly coexisting with the park's wild beasts, even lions. They believe cattle lost the park's predators are offerings or 'prasad' in exchange for living in another's homeland. Now an integral part of the forest area, these vegetarian tribesmen live in settlements called 'nesses' and practice cattle rearing to sustain themselves.
Siddis Tribal Settlement:
The Siddis are India's only African settlement that migrated here 800 years ago and have called the country their home since then. Apart from Gir in Gujarat, these tribes also reside in small pockets of the villages of Karnataka, Hyderabad, and Maharashtra. In Gir, it's a strictly agricultural village where the tribesmen live harmoniously with their natural surrounding and wilderness.
Getting there: The tribes are located within the park and you must accompany guides to enter the tribal villages.
Timings: Anytime but with a guide
Entry fee: Free
4 Places To Stay In Gir National Park
From budget hotels to luxurious resorts, there are plenty of accommodation options near Sasan Gir.
1. Daksh Resort Sasan Gir
Welcome to one of the most luxurious resorts in Gujarat. Immerse yourselves in the natural essence of Gir with stay at Daksh Resort, a well-known farm based dwelling near the park designed to give guests the feel of living amidst nature. Counted among the best budget Gir National Park resorts, Daksh is an all time favorite farm resort of nature and wildlife lovers as well as photographers who visit Sasan Gir. Along with comfortable rooms, the resort has ample amenities for visitors like pool, restaurant, activities for children, free WiFi, free parking, airport transfers, and more.
Location: Chitravad Road, Behind Devaliya Park, Sasan Gir
Prices starting from: INR 1,992/- per person
TripAdvisor Rating: 4.5 | TripAdvisor Reviews
Suggested Read: 51 Incomparable Places To Visit In Gujarat For A Memorable Trip In 2022
2. The Gir Garden
Offering a perfect blend of natural beauty with top-class services, Gir Garden Resort is among the most amazing budget Gir National Park hotels. The hotel property is surrounded by a charming mango orchard and is situated on the banks of the Hiran River, which is why it is a perfect escape for those seeking peace and rejuvenation. Other than natural splendour, the hotel is equipped with world class facilities like pool, restaurant, free parking, free WiFi, airport transfers, and kitchenette rooms.
Location: Chitrod Village, Sasan Gir 362135
Prices starting from: INR 2,699/- per person
TripAdvisor Rating: 4.5 | TripAdvisor Reviews
Suggested Read: 7 Thrilling Picnic Spots In Gujarat That Are Worth Visiting In 2022 With Your Fam!
3. Lords Resorts Sasan Gir
The resort boasts of 56 well furnished rooms with 44 deluxe, 8 studio & 4 suites. One of the best Gir National Park resorts, the magnificent property is located merely 2 km away from the 1st entry gate of Gir Sanctuary. Their wide range of impeccable facilities like a multi cuisine restaurant called BluMini Bar, in-house laundry, valet service, snack basket in rooms, business center, fitness centre, children activities, airport transfers, free parking, and free WiFi are sure to blow your mind!
Location: Sasan Junagadh Road, Village Bhalchel, Tal. Mendarda, Sasan Gir 362135
Prices starting from: INR 3,020/- per person
TripAdvisor Rating: 4.5 | TripAdvisor Reviews | Website
Suggested Read: 16 Magnificent Temples In Gujarat For A Divine Holiday In 2022!
4. The Fern Gir Forest Resort
The most remarkable of luxury resorts near Gir, Fern is an epitome of grandeur, elegance, and style. Nestled in the thick, lush green jungles of Sasan Gir amidst picturesque hills, green fields, and gorgeous landscaped gardens, Fern Resort offers a surreal holiday experience to couples, families with kids, and adventure seekers.
The resort boasts of 40 spacious and opulent rooms including suites, villas, cottages & luxury tents, each offering serene views of River Hiran flowing by. With remarkable facilities like Sohum Spa near the river, a state-of-the-art gymnasium, jacuzzi, pool, laundry, concierge, business centre, free parking, free WiFi, airport transfers, and a renowned, lavish restaurant, this place will make you forget all troubles of the world.
Location: Sasan Gir, Gir Sanctuary 362135
Prices starting from: INR 5,527/- per person
TripAdvisor Rating: 4.5 | TripAdvisor Reviews | Website
Tip: You can also opt for the dormitory in the Sinh Sadan Guest House for INR 50/- per person if you're looking for extremely inexpensive Gir National Park hotels.
2 Amazing Restaurants In Gir National Park
Since it is located in Gujarat, Sasan Gir has mostly vegetarian restaurants. But one can find non-vegetarian options inside resorts and hotels located around the park premises.
1. Hotel Aditya for pure vegetarian delights

This pure vegetarian restaurant serves a delightful 17-item Gujarati Thali to its visitors for the most authentic Gujju dining experience. One can enjoy cuisines ranging from Punjabi, South Indian, as well as Gujarati to its visitors. The diner has a very mild, soothing ambience with comfortable seating. Reputed for serving the most hygienic and quality food in the area, Hotel Aditya is a must visit for all vegetarian foodies visiting Gir.
Location: Sasan Somnath Highway Station Road, Talala Gir, Sasan Gir 362150
Average Cost: INR 300/- per person
TripAdvisor Rating: 4.5 | TripAdvisor Reviews
Suggested Read: 6 Best Hotels In Gujarat For A Luxurious Stay In The Gujjuland
2. ZAIKA, Fern Gir Forest Resort for delectable non-veg cuisine

With a spectacular ambiance and lavish setting, Zaika in Fern Gir Forest Resort is the perfect place in Gir for some lavish dining while banking on spectacular views of the Gir Sanctuary and Hiran River flowing by. Newly-opened and absolutely extravagant, the restaurant provides incredible gastronomical experiences to diners with a variety of specialized non-vegetarian cuisine.
Location: Fern Gir Forest Resort, Sasan Gir, Gir National Park 362135
Average Cost: INR 1,000/- per person
Website
General Tips For Trip To Gir National Park

Here are a few tips to keep in mind while visiting the Gir National Park:
Do not feed, or disturb the wildlife.
Carry lots of water and field guides to learn about your surroundings
Do not scare the wildlife with quick or sudden movements
Smoking is not allowed as cigarette butts may arouse forest fire
Walking or hiking is not allowed in the park. For safety reasons, stay in a vehicle with a guide
Picking plants or insects prohibited; do not remove anything from the park
No flash or intrusive photography allowed
Do not litter. Trash can only to be disposed in proper receptacles.
Use designated areas only. picnicking or camping are not allowed
Refrain from taking any hunting devices or other weapons
How To Reach Gir National Park?

By Air: The nearest airport to Gir is located at Diu at a distance of 92 km from the park reserve area. After Diu, the next closest airport to Gir is at Rajkot, located approximately 160 km away. Both these airports are well connected to cities like Delhi, Mumbai, Chennai, Kolkata, and Ahmedabad. Tourists can catch daily flights to these two destinations from any of these cities and reach Gir through train, bus, cab, etc.
By Rail: One can take a train to the Junagadh Junction railway station in Junagadh. The station is also connected to major cities, along with Ahmedabad and Rajkot. From Junagadh station take the Saurashtra Mail train to Badodar, from there the train to Sasan Gir. Taxi services and buses also ply from Badodar to Sasan Gir.
By Road: Many GSRTC AC bus services also ply from major points like Rajkot, Somnath, and Junagadh to Gir. Junagadh is a mere 60 km from Gir and is the most common base for travelers going towards Sasan Gir. If not GSRTC, then a lot of private companies also run AC buses from these places. If not bus or train, then one can indulge in a scenic road trip all the way to Gir from points like Rajkot and Junagadh.
Distance from Junagadh to Gir National Park: 77 km
Travel time from Junagadh to Gir National Park: Approx. 2 hours
Distance from Rajkot to Gir National Park: 165 km
Travel time from Rajkot to Gir National Park: Approx. 4 hours
Distance from Diu to Gir National Park: 65 km
Travel time from Diu to Gir National Park: Approx. 2 hours
Distance from Ahmedabad to Gir National Park: 349 km
Travel time from Ahmedabad to Gir National Park: Approx. 7 hours
Further Read: Top 51 National Parks In India In 2022: A List You Just Can't Ignore!
Greet some wild beasts like the fearless Asiatic lions on an adventure packed trip to Gir National Park. Book your exciting Gujarat holiday NOW and get ready to be part of a lifelong adventure. Watch the lions roar to the beauty of the national park. We would be very glad to hear about your experiences to the park! 
---
Looking To Book A Holiday Package?
People Also Read
Manas National Park Jim Corbett National Park Silent Valley National Park
---