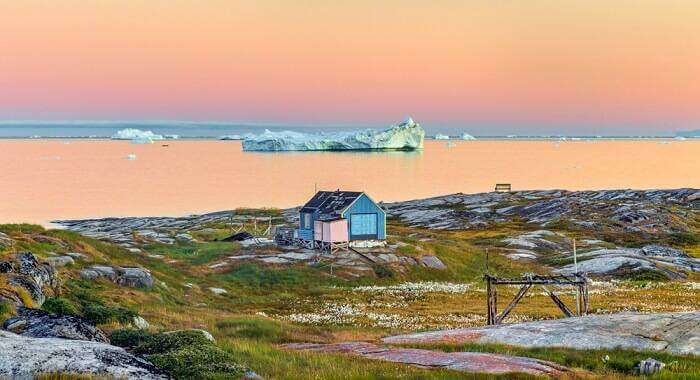 Summers are the ideal time to visit the beautiful country of Greenland in the far north. Although the captivating Northern Lights can be witnessed only during winters, Greenland in August has a lot more to offer to visitors looking for a unique experience. With a little warmer climate to facilitate a comfortable stay in the country, Greenland in August is a place of nirvana for those looking for an adventurous hike or a good wildlife safari. This little guide on what to do in Greenland in August helps one plan their next trip to this wonderful country in the Arctic.
Weather In Greenland In August

Greenland's summers are not all sun, sand, and beach. Though technically, August qualifies as a summer month in Greenland, the climate in Greenland in August isn't warm and the temperatures stay around 10℃ which is the hottest considering its position in the Northern Arctic circle. The sun finally sneaks out after spilling darkness during the winters and decides to stay for 2-3 months without setting. Weather in Greenland in August is comfortable and warm owing to its relative low humidity even when covered in snow. A lot of vegetation breaks out in the southern region.
Things To Do In Greenland In August
Have the best time on your trip by indulges in the experiences mentioned below if you want to have an awesome vacation:
1. Ilulissat

Spend a day in Ilulissat on your trip to Greenland in August. Surrounded by the splendid beauty of ice caps and mountain landscapes, the town of Ilulissat is one of the most visited places in the country. The Icefjord is a World Heritage Site and is situated just 10 mins away from the airport. One can visit this exquisite place to witness the gigantic icebergs floating across the glacial waters. Not many establishments can be seen in the area except for a pathway and a few benches. However, the town center has a lot of restaurants that excel in serving the local dishes to the visitors.
Must Read: 7 Days In Spain: Witness The Splendid Sceneries Of The Second Largest European Country!
2. Hiking

Hiking is the most sought-after activity in Greenland during the summers. Greenland has no shortage of mountainous terrains and many tours and travel groups arrange exclusive hiking trips around the east and west Greenland. With little or no civilization around, hikers can explore the untouched nature and indulge in some soul searching activity. Tents can be pitched anywhere and purple flowers that grow around the boulders form a pleasant company. Ilulissat and Tasiilaq are the most popular sites for hiking.
3. Viking County

It is no secret that Greenland was one of the earliest lands to be inhabited by the prehistoric human population. South Greenland is known for its Norse ruins dating back to 13th century. A whole Viking community was known to dwell in this region centuries ago and the proof still exists despite the harsh climatic conditions. Visit Greenland in August to explore these amazing ruins by the ocean and get an insight into the Viking rule in the country.
Suggested Read: Paragliding in Austria: Head to these amazing destinations in the heart of europe!
4. Sailing or Kayaking

Since summers in Greenland tend to melt a small portion of ice and snow in the coastal regions, Sailing in the ocean is an interesting activity as one can come across various Arctic wildlife such as whales, seals, walruses and polar bears. As getting into the water is out of the question because of the Greenland temperature in August, kayaking and sailing are the suitable options for those looking for water sports. Summers also give rise to the untouched pure glacial waters of the Blue River where one can experience kayaking while keeping an eye out for the rare Arctic species.
5. Midnight Sun

One of the experiences you should add to your bucket list is experiencing the midnight sun. Greenland is a basket of rare natural occurrences and Midnight Sun literary helps one lose track of their time. Once the sun rises in the spring season, it stays out high in the sky for months together without setting in the evenings. The land is filled with brightness even during the nights and people can actually be spotted enjoying a picnic in the middle of the night. This leads to a change in their time zone which is why the people of this Scandinavian country follow the Greenland Time.
Suggested Read: Museums In Austria: 8 Amazing Storehouse Of History And Art In The Heart Of Europe
---
Planning your holiday but confused about where to go? These travel stories help you find your best trip ever!
Real travel stories. Real stays. Handy tips to help you make the right choice.
---
6. Wildlife Tours

Visit Greenland in August to experience the best wildlife safari tours as the sun brings the rarest of the Arctic species out of their habitat. Hiking across the Tundra region allows one to spot the Arctic fox, musk ox, reindeers and mountain hares in herds. The coastal regions, especially the Disko Bay in the east, is ideal to spot seals and polar bears drifting south on a piece of ice. Apart from these, whales, walruses, and white-tailed eagles are a common sight near the shores.
7. Local cuisine

People of Greenland are very warm in welcoming visitors. If one decides to stay in a local homestay rather than a hotel, they are lucky enough to experience the homemade Greenlandic coffee and cakes. This aside, the hotels and restaurants serve superior quality food based on the local produce such as crowberries, angelica and fine cuts of reindeer meat. A must try dish in Greenland is the suaasat which is a seafood soup. Fish and whale meat are also commonly found in restaurants. Foodies should really give a try to the local cuisine on their trip to Greenland.
Suggested Read: 17 Spots For Snorkeling In Europe Every Underwater Enthusiast Must Visit
8. Shopping

When in Greenland, go on a shopping spree. Travelling this far north and experiencing a once in a lifetime phenomena needs to be remembered. Apart from the pictures and videos, one can buy some souvenirs and take home the memories of visiting Greenland. Greenland is famous for skincare products made out of the local herbs and other produce. One can even pick up the colorfulTravelingssories or beautiful kitschy glasswork. Jewelry made out of walrus horns is a piece of art. Warm clothes of musk ox wool are rare and expensive but make a good investment.
Suggested Read: Sweden In March: 10 Eye-Catchingly Beautiful Places To Visit In Europe's Svedala
How To Reach Greenland

Image Source
Though August in Greenland constitutes as a summer month, the country is not accessible by land. It's far off location in the map and the weather pattern makes it hard to build a land route that connects Greenland to the rest of the world. The ideal way to reach Greenland is to fly from either Iceland, Denmark or Canada. Greenland has 5 major airports that get flights from Iceland and Denmark twice every day. So, the simplest way to travel to Greenland from India is to get a flight to Copenhagen and hop on to a connecting flight by Air Greenland or Air Iceland to the capital city, Nuuk. Summers are also a good time to take a cruise down the Atlantic and the Arctic Ocean in order to reach Greenland.
Tips For Visiting Greenland In August
Keep these helpful tips in mind before you plan a trip to Greenland to have a hassle-free and comfortable holiday:
An independent visa is required to enter the country.
Carry medications and first aid kits along.
When hiking, use maps or trackers as it is easier to get lost in the wilderness.
Do not venture out in bad weather.
Hunting and poaching of the Arctic species are illegal for a tourist.
Danish Krones is the currency used in the country.
Though the official language of Greenland is Danish, English is widely understood.
Further Read: 13 Frolicsome Beaches In Europe For All The Excited Beach Bums Across The Globe
The ice-filled country turns into a paradise during the summer months as there is a great influx of tourists and even the locals venture out to enjoy the sunshine while it lasts. Greenland is God's most well-kept secret when it comes to the beauty of the land and its inhabitants. Unfortunately, the wildlife of Greenland is on a verge of extinction due to global warming. Plan an international trip to Greenland in August and have a great time on your holiday.
Frequently Asked Questions About Greenland In August
Q. What is the best time of year to visit Greenland?
A. The best time to visit Greenland is during the summer time from June until August.
Q. Is Greenland expensive to visit?
A. Yes, Greenland is quite expensive to visit.
Q. Does Greenland have 4 seasons?
A. No, Greenland doesn't experience 4 seasons. In fact, one is lucky to experience three seasons here.
---
Looking To Book A Holiday Package?
Book memorable holidays on TravelTriangle with 650+ verified travel agents for 65+ domestic and international destinations.
---
div.nav-links {
display: block;
float: left;
width: 100%;
padding: 0 20px 10px;
}
div.nav-links a {
display: inline -block;
float: left;
margin-right: 4px;
font-size: 13px;
webkit-box-sizing: content-box;
-moz-box-sizing: content-box;
box-sizing: content-box;
-o-text-overflow: clip;
text-overflow: clip;
text-decoration: none !important;
margin-top: 5px;
border: 1px solid #c8c8c8;
font-style: normal;
border-radius: .25em;
padding: .2em .6em .3em;
line-height: 23px;
}
div.nav-links a:hover {
background-color: #009688;
color: white;
}