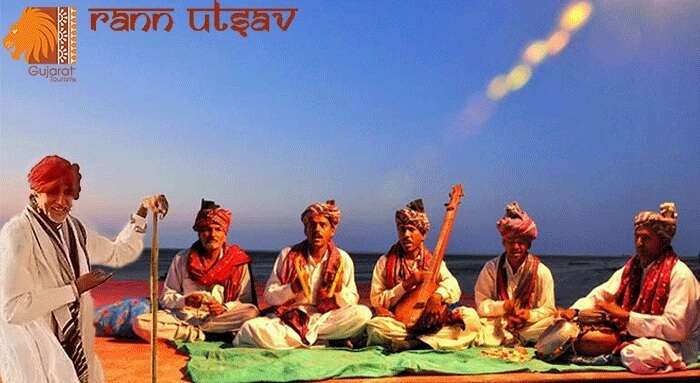 One of the biggest salt deserts in the world, the great Rann of Kutch in the Gujarat state of India is known not only for its natural splendor but for what its inhabitants have created – The Rann Utsav. Magnificent is the word that one could simply use and glorify the natural beauty of Kutch unless there was this sin-worthy canvas of culture, profusion of art forms, and an overabundance of life.
For some, winters can be cruel and monotonous and for the rest – a perfect excuse to advent to the desert of Kutch during the most mesmerizing months of the year in India. Hence it is in this tempting crisis, we take up the cause to introduce you to this celebration of colors, cultures, and expressions.
Quick Links To Know Everything About The Desert Fest
When Does The Rann Utsav Start?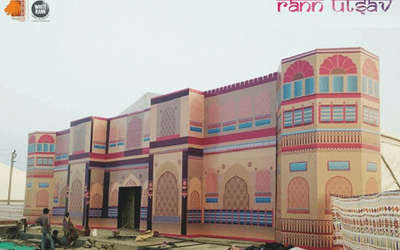 Organized by the Tourism Department of Gujarat, Rann Mahotsav is a grand winter rendezvous. It takes place when the air is crisp and the moon is at its fullest. The Kutch Rann Utsav 2019-20 dates are from Oct 28th, 2019 to March 12th, 2020.
And The Venue? It's At Dhordo.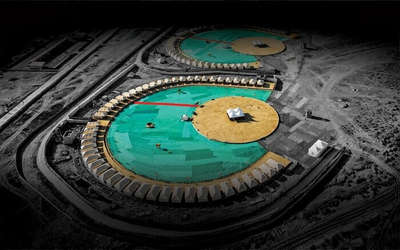 The expanse of the celebrations is more grand than one can think. It begins in Bhuj, and the entire district goes gala during the celebrating months. The finale of the festival is put up at Rann Utsav tent city, a city made of more than 400 AC and non-AC tents. It is set up near a small village called Dhordo, easily accessible from the Bhuj airport.
Must Read: 10 Famous Festivals In Gujarat Celebrated With Joyous Fervor
The Great Grand Fiesta: What Should You Expect?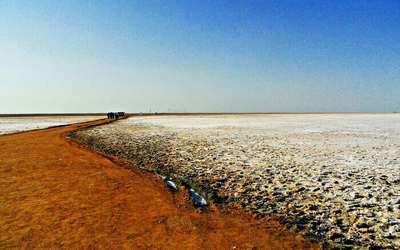 This idyllic geographical marvel with its 7,505 square miles in the Thar Desert is a sensational salt marsh with a sparkling panorama of white sands across the horizon. And it stays hibernated under water till the festival preparations start. Seems like nature preserves the beauty only to celebrate this great infusion of life and its diverse forms.The Tourism Corporation of Gujarat Limited ensures a lifetime of experience and memories to cherish. From hogging to shopping, the Rann Utsav in Gujarat has everything covered under its myriad offerings of folk dances, handicrafts, sightseeing, star gazing and several other adventures.
Things To Do At The Rann Utsav 2020
And it truly does not digress from what is promised. There is a lot one can do while at one of the greatest desert festivals in Asia.
1. Go On A Date With The Moon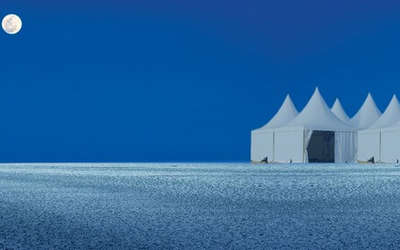 White expanse of serene sand under the full bloom of the moon – trust us, it gets more romantic than words. And add to that a cultural fiesta. Rann Utsav of Kutch will impress you to the core. You can spend time watching the moon.
Tips: The best time to witness the white desert is during the full moon. You checkout the full moon dates during the festival on their website and make your bookings accordingly.
Suggested Read: 10 Places To Visit In Rajkot For A Nature-Historical Treat To The Senses!

2. Enjoy A Cultural Fiesta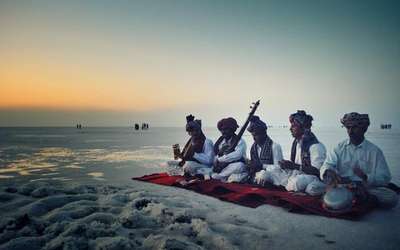 Of all the things to do in Rann Utsav, attending the cultural fiesta hosting folk artists from all corners of Gujarat is a must. They perform almost everywhere and every moment. You can actually live those imaginations of a bonfire in the desert while you dance to the tunes of true folk music the fervor of which, extends beyond all things to do.
Facts: The Palace of Mandvi is another marvelous catch there. Visit Narayan Sarovar, Koteshwar and Dholavira while in Kutch during the Rann festival.
Suggested Read: 10 Historical Places In Gujarat That Uncover A Legendary Past

3. Sightseeing And Adventurous Tours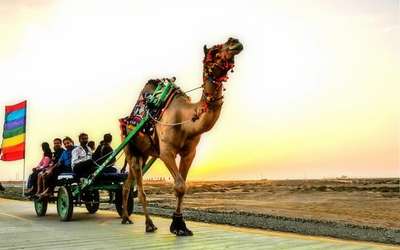 There are innumerable range of experiences in the Rann Utsav. One can go for a solo ride on the desert on a DPV (Desert Patrol Vehicle). Desert safari is another exhilarating activity to look out for. The festival also has moderate adventure rides for kids. And the fun doesn't end here, as for that extra edge experience, you can also enjoy a hot air balloon Kutch, priced differently by various operators.
Activities: Desert safari, visit Skyzilla for aerial adventure sports like ziplining and more, Chess, Carrom, Camel ride, paintball, star gazing
Suggested Read: Top 8 Places To Visit In Gujarat During Monsoon To Enjoy This Season In 2020

4. Birding Above Kutch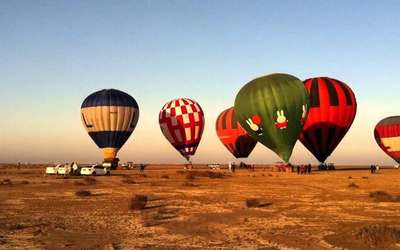 Take a hot air balloon ride and we dare you to recover from it. The experience of overlooking the vibrant hues of the salt sand from the top is so enchanting that you will develop a compulsion to talk and think about it. Rann Utsav 2019-20 is going to be much fun!
5. Beaching In Mandvi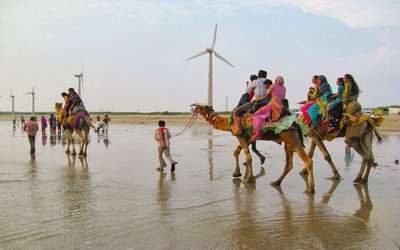 Spend some time while the blues touch the sky at the horizon. Do visit the nearby villages of Bhirandiyra, Khavda, and Gandghi-Nugam as they arrange workshops for amazing handcrafted textile and fabrics. Remember Rann Utsav 2019-20 dates and plan accordingly so that you don't miss out on such things!
Tips: Visit the local villages to explore the art and craft industry. You can also get the handicrafts at slightly lower prices.
Things to buy:
Rogan Art: Oil based painting.
Copper Bells.
Lacquer.
Embroidered garments with mirror-work.
Chunky silver jewellery.
Gold Jewelry.
Bandhini sarees or dupattas.
Ajrakh block printing shawls
Suggested Read: A Romantic Trip To Gujarat: Exploring The Rann Of Kutch!
6. Shopping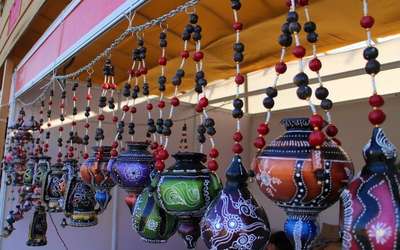 If you scrolled till far to look if there are any Rann Utsav shopping options, the fair has your bags covered. The options will make you go crazy. Exotic handcrafted Gujarati articles, leather articles, splendid silverware, intricate Kutchi embroidery, and beautifully crafted ornaments – either let them feast upon your wallet or allow your eyes to have a feastful time.
Facts: A number of skilled artisans from nearby villages like Bhirandiyra, Khavda and Gandghi-Nugam conduct workshops on preparing local handicraft items.
Main markets of Kutch:
Roopalee Handicrafs
Bandhini Bazar
Khamir crafts store in Bhuj
Rainbow Textiles in Ganghara
Shrujan-threads of life
Aslam's collection on the outskirts of Bhuj
7. Indulge In The Food At Rann Utsav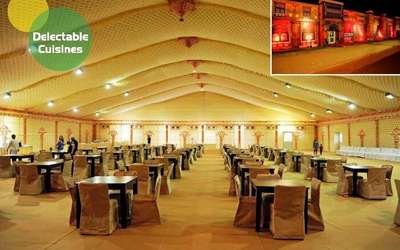 This is a must because after all, the fabulous food options here are just what you need to make your experience more memorable. Well we have a feeling that the organizers are passionate foodies and know the needs of insatiable appetites and hungry taste buds. Two magnanimous dining halls serve scrumptious authentic Kutchi cuisine. Besides, there are food corners that cater to the hunger calls at the odd hours of night.
Must try: In the villages, staple foods include bajra and milk, bajara na rotla with curd and butter milk is very common.
Suggested Read: 40 Places To Visit In India Before You Turn 30
---
Planning your holiday but confused about where to go? These travel stories help you find your best trip ever!
Real travel stories. Real stays. Handy tips to help you make the right choice.
---
State-Of-The-Art Facilities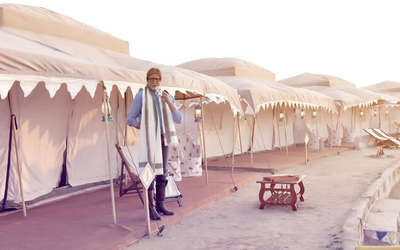 The tent city created near the Dhordo Village is one perfect management of a temporary human settlement. The AC and non-AC tents are equipped with all possible amenities that one can think and ask for. Room heaters, round the clock supply of warm water in the middle of a desert, shopping complex for all your needs, exhibition center, adventure one and two humongous dining halls – no requirement is left unanswered here.
Suggested Read: 10 Incomparable Places To Visit In Gujarat
How To Reach
Well for starters, Bhuj has an airport which is 86 km away from Dhordo- the tent city. Bhuj is also the nearest railhead. However, if you are traveling from Mumbai, Kutch Express will take you to Gandhi Dham and again, Dhordo is 135 km from here. The road connectivity is not an issue and all the major cities of Gujarat are well commuted by state-run transport buses.
All set? So just before you pack up, here are a few checks.
Book your accommodation at least 45 days in advance.
The temperature is usually extreme between day and night. Pack your bags accordingly.
A Govt. pass is required to visit Kutch due to the border proximity. You can easily get these passes from the check post at Bhirandirya by producing your I-card.
Phew…! That's all from our desk! Also, listen to what Big B has to say! And then await the frequently-asked questions about Rann.
Tips For Visiting The Rann Of Kutch
Here are some tips for travelers visiting Rann of Kutch for the first time:
Since the Rann Utsav falls during the winter season, it is recommended you carry some woolens along
Don't miss the sunset view from Mandvi Beach once you're in Rann
Enjoy the whitewashed landscape from Kalo Dungar (Black Mountain), the highest point in Kutch
It is mandatory to carry identity cards as they're supposed to be presented in checkposts. Driving licence, Aadhar Card, Passport, Voter ID and other such documents are accepted as ID cards.
Cheapest Way To Attend The Rann Utsav This Year
It depends how expensive Rann Utsav will be for you, depending on different aspects mainly your location. You can easily get details about the Rann Utsav 2019-20 package price and book the package accordingly. If you live in Bangalore or other faraway region, the flight tickets will be added expense; though you can always opt for train travel.
If you live in nearby cities or towns like Mumbai, you can board government buses, which are cheaper than private ones. Other way of getting cheaper deal for Rann of Kutch Festival 2019-20 is through group tour packages. The fixed departure tours, are usually cheaper than planning a solo trip for yourself.
Best Places To Stay
Other than those mentioned above, these are the best places to stay:
Regenta Resort Bhuj
Rann Village Resort
Rann Riders
Radisson Hotel Kandla
Shaam- E- Sarhad Village Resort
Gateway to Rann Resort
Who Initiated The Idea Of Rann Utsav?
Rann of Kutch Festival, or Rann Utsav, is an initiative of Gujarat Tourism. They're indeed doing a good job in marketing the festival, accommodating the travelers and showcasing the essence of Gujarat in all its glory.
So go, see Kutch kyunki …
Kutch Nahi Dekha Toh Kuchh Nahi Dekha!
Further Read: International Kite Festival In Gujarat 2017: Join The Uttarayan Celebrations This January
Aren't you all excited to witness this unique and vibrant event that enhances the beauty of Gujarat even more. If yes, then plan a trip now, book one of the Rann Utsav packages with TravelTriangle and absorb the charm and enjoy the colorful atmosphere!
Frequently Asked Questions Asked About the Rann Utsav
Q. Why the Kutch desert sand is white?
A. The Kutch desert is a seasonal salt marsh and so it is white in color.
Q. Where is Rann of Kutch sanctuary located?
A. The Rann of Kutch sanctuary is located in the Thar desert.
Q. What is the best time to visit Rann of Kutch?
A. October to February – Winters are the best time to visit Kutch.
Q. Is Rann Utsav worth visiting?
A. One travels through the desert to see the 'Great White Rann'- a truly magical sight to see the white salt desert.
Q. What happens in Rann of Kutch festival?
A. It's a Rann Utsav, the Carnival of Music, Dance & Culture of Gujarat. Enhance the natural beauty of White Rann when the light of Full Moon spread it on the white land.
Q. How can I go to Rann of Kutch from Ahmedabad?
A. If you are planning train travel from Ahmedabad to Kutch, you can board one of the few trains between Ahmedabad and Bhuj.
Q. What can I buy from Rann of Kutch?
A. Rogan Art: Oil-based painting. Copper Bells. Lacquer. Embroidered garments with mirror-work. Chunky silver jewelry. Gold Jewelry. Bandhini sarees or dupattas. Ajrakh block printing shawls.
People Also Read:
Pushkar Mela Surajkund Mela Kumbh Mela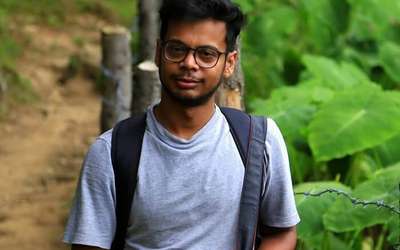 Comments
comments