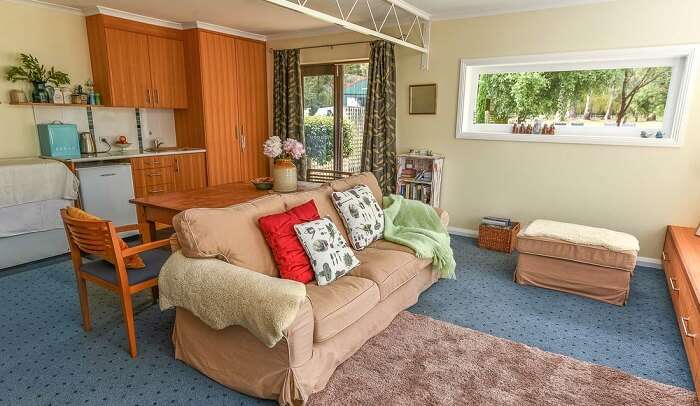 Looking for a mesmerizing island in Australia for a mind-blowing trip? Well, you should set your eyes on none other than Tasmania, located 240 km from Australia Mainland. Top-rated destinations such as Freycinet National Park, Cradle Mountain, Mount Wellington, Mount Field National Park, etc., are the key attractions and so are primary reasons why tourists keep flocking here throughout the year. Visitors can plant to stay in plenty of holiday homes in Tasmania at the budget-friendly prices. Not only would you be able to stay in comfort but will also make the most of your vacay in Australia!
8 Top-Notch Holiday Homes In Tasmania
Take a look at some popular holiday homes in Tasmania that always catch the attention of tourists on the course of their holidaying in Tasmania.
1. A Cozy Cabin In The Clouds – Gawler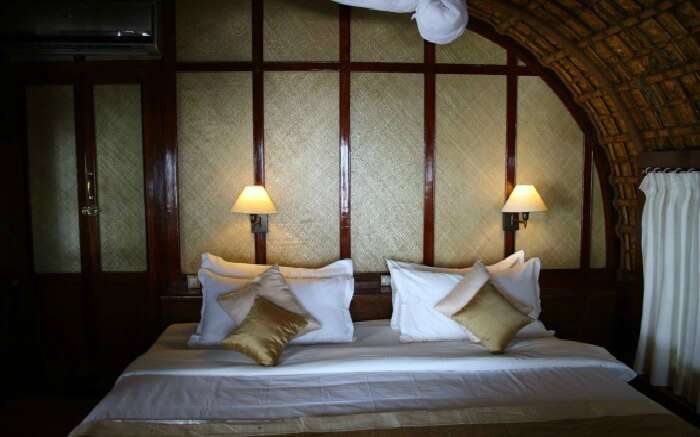 As the name suggests, A Cozy Cabin in the Cloud – Gawler is one of the hottest holiday homes in Tasmania. It is a perfect place to stay especially for those seeking to get rid of stress to enjoy in the lap of nature. Based on the hill in Central North Tasmania accompanied by a flamboyant view of the ocean, it is a perfect place to stay. Offering a variety of rooms from the majority studio rooms that come with the kitchen area and also a separate bathroom, it provides all desired comforts and luxuries sought. Barely 10-minutes drive from the main town; it's a perfect destination for the short term stays. Other facilities include Queen Size beds, BBQ, books, board games, DVDs, etc.
Location: Gawler, Tasmania.
Tariff per Night: INR 8,818/-.
Must Read: 7 Best Indian Restaurants In Hobart: Taste A Little Bit Of India In Tasmania
2. The White House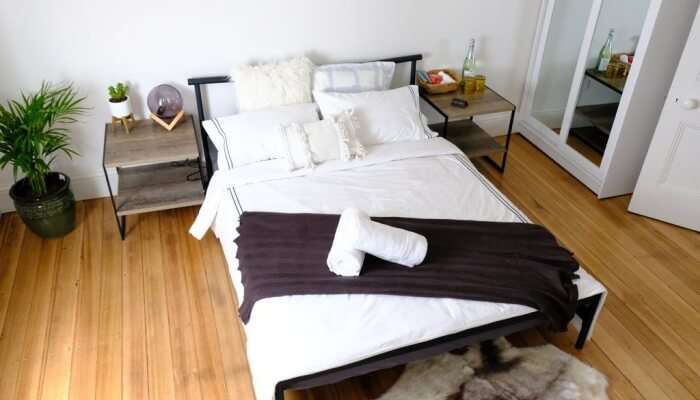 Sharing proximity with the Hellyer College and Burnie Hospital, The White House welcomes you with its two-bedroom house accompanied with the two Queen Beds. As a perfect place to stay with comfort and elegance, guests get fascinated with its spacious living place, two bathrooms equipped with showers, laundry with dryer and other amenities that make your stay a truly luxurious one. You can enjoy net surfing with free Wi-Fi service. The double lockup garage with remote control roller door makes the rooms safe and secure. It is a perfect place for those who are on a business trip.
Location: Tasmania.
Tariff per Night: INR 5,902/-.
Suggested Read: 17 Dreamy Australia Honeymoon Destinations In 2022 That Define A Romantic Vacation
3. Penguin Waterfront Escape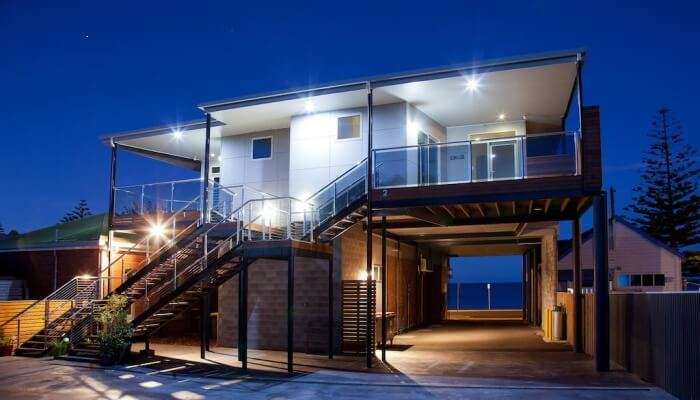 The mesmerizing waterfront location of Penguin Waterfront Escape can easily tantalize the sense of all guests staying at this famous Holiday Home in Tasmania. This Holiday Home has been facilitating luxurious stay solutions to the guests that arrive here from the far off regions. Its private decks at both front side and rear side make this Holiday Home extremely appealing. In the nutshell, it offers you a perfect choice for a luxurious stay. Whether you are seeking to stay here for a long time or short, it welcomes you with facilitating ample luxurious. Guests staying at the Penguin Waterfront Escape can access a myriad of facilities such as large open kitchen, lounge room, dining facilities amongst others.
Location: 68 Main Rd, Penguin TAS 7316, Tasmania.
Tariff per Night: INR: 13,895/-.
Suggested Read: 7 Cruises From Melbourne To Make You Feel The Luxury Overseas
4. Langdale Farm, Tamar Valley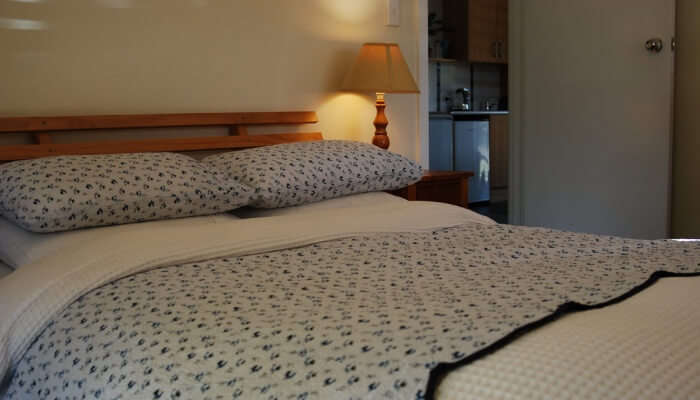 This kid-friendly Holiday Home is a perfect destination for everyone seeking to take an exciting trip to Tasmania for ample fun and entertainment option for the kids. Guests enjoy their stays in the large and spacious rooms. They witness the rare breed pig farms accompanied by the gourmet food producers nearby this Holiday Home. Foodies have a special reason to make their stays at the Langdale Farm as they can enjoy here various tasty breakfast items besides popular varieties of barbecue options.
Location: Glengarry Rd, Glengarry TAS, Tasmania.
Tariff per Night: INR: 8,633/-.
Suggested Read: Australia Tourist Attractions: Do You Dare To Visit All These 49 Places On Your 2022 Aussie Trip?
5. Mac's Cottage Flowerdale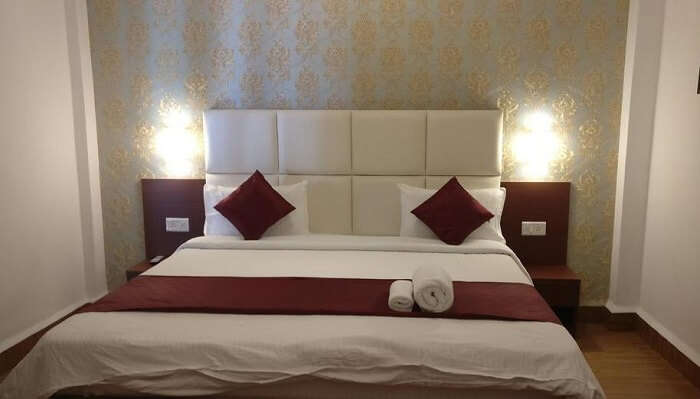 A popular Holiday Home to stay during your Tasmania trip, Mac's Cottage is a famous name here. This 3-bedroom cottage is a perfect destination to stay and enjoy the best of luxuriousness and comfort. The architectural beauty of this Holiday Home mesmerise to everybody. The uniquely placed double glazed windows appeal to all. Located at mere 5-minutes drive from the Burnie Airport that operates many direct flights to numerous destinations, this Holiday Home is easily accessible by the guests therefore it always remains sought after.
Location: Flowerdale, Tasmania.
Tariff per Night: INR: 6,972/-.
Suggested Read: Snorkeling in Australia: 10 Best Spots For Enjoying The Aussie Snorkeling
6. Bridport Villa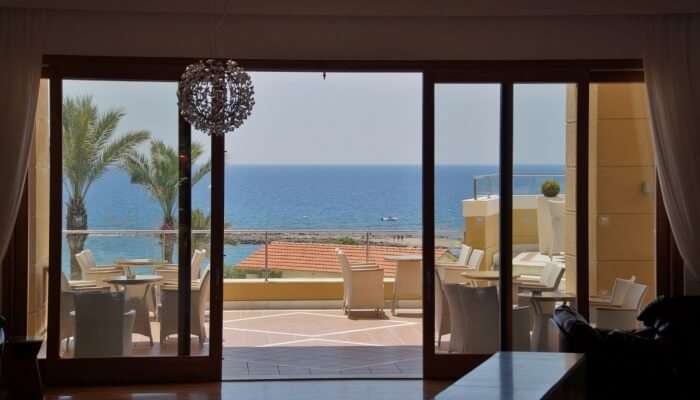 Situated just 150 meters from the beach area, this Holiday Home remains a perfect place to make your stay a truly meaningful option. Beach lovers and a large chunk of beachgoer travellers have every reason to access this place thus making it their staying option on the course of their journey to Tasmania. This 3-bedroom Holiday Home warmly welcomes everyone seeking to enjoy their holiday trips into exciting ones to remember forever. This Holiday Home has been decorated with best and aesthetically appealing décor. Guests enjoy the basic amenities and facilities such as laundry, fully equipped kitchen, bike track and walking track et al besides any other service they seek to make your stays luxurious options.
Location: Bridport Resort, Tasmania.
Tariff per Night: INR 9,161/-/.
Suggested Read: 8 Best Yoga Retreats In Australia That Will Help You Find Your Zen Amidst The Chaos Of Everyday Life!
7. Elvenhome Farmstay Cottage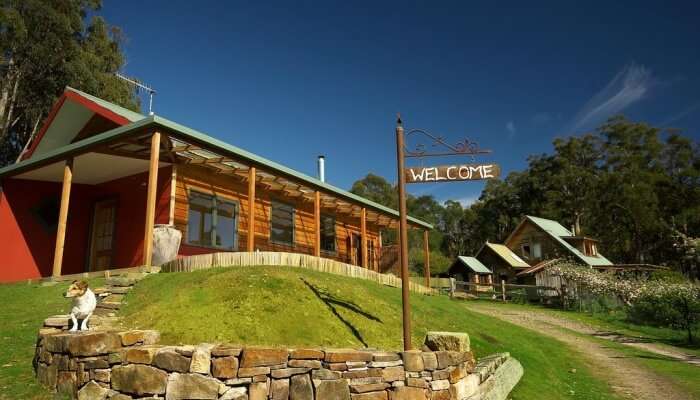 Situated nearby the historic township of Deloraine, Elvenhome Farmstay Cottage makes your stay quite enjoyable in a Holiday Home that remains worth praising for luxuriousness if compared to hotels. You enjoy the eco-friendly experience at this place. This unique holiday home features the Blackwood windows alongside bamboo flooring designs that appeal to all. Guests are facilitated with a variety of choices to make the stays pleasant. Its two bedrooms equipped with Queen Size bed suite and also separate living and dining areas with a warm, soothing, and spacious feel make it a great place for cosy and comfortable stay.
Location: 44 Grundys Rd Weegena, Deloraine TAS, Tasmania.
Tariff per Night: INR: 9,388/-.
Suggested Read: 16 Things To Do On Honeymoon In 2022: Travel Tips And How To Make It Special
8. Hatherley Birrell Collection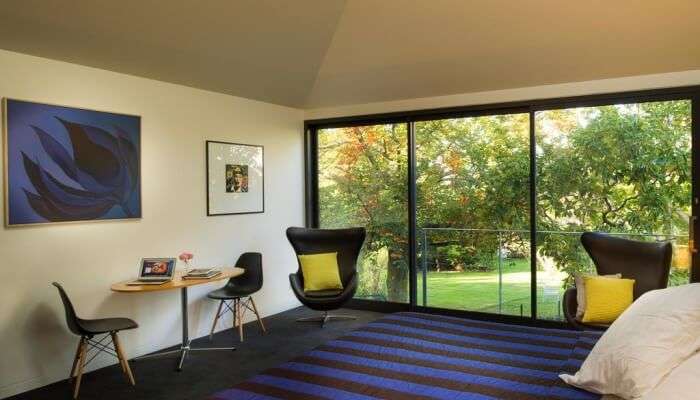 Staying at Hatherley Birrell Collection lets you enjoy in a private garden area to feel the closeness to nature. Situated within the heritage gardens of famous Hatherley House, this Holiday Home offers a completely unique experience to each guest. You can enjoy your stay with a completely relaxed room equipped with all the modern facilities. Hatherley Birrell Collection also features some other facilities such as all sorts of luxurious from modern designed bathroom to a flat-screen TV, kitchenette, free Wi-Fi, music, Apple TV and much more.
Location: 43 High St, East Launceston TAS, Tasmania.
Tariff per Night: INR: 20,607/-.
Further Read: 15 Scenic Trails For Hiking In Australia In 2022
To enjoy a fantastic and memorable holiday in Australia, you should focus on doing some advance planning. If you happen to book any of the above-mentioned holiday homes in Tasmania well in advance, you can have an affordable deal to stay there to enjoy total luxuriousness facilitated with several world-class facilities.
Frequently Asked Questions About Holiday Homes In Tasmania
Q) What are the popular vacation destinations in Tasmania?
A) The hottest tourist destinations here are Hobart, Strahan, Deloraine, Bicheno, Coles Bay, and more.
Q) How to reach Tasmania?
A) Tasmania is easily connected to the nearby Launceston Airport. This airport is easily accessible from various destinations from around the world by air.
Q) Which is the best month to go to Tasmania?
A) The peak months to explore Tasmania are January, December, and February.
Q) Can you suggest some popular accommodation options in Tasmania?
A) Tasmania houses a plethora of Holiday Homes that you can choose to stay in. Some of the popular Holiday Homes here are The White House, Penguin Waterfront Escape, Bridport Villa, Hatherley Birrell Collection and et al. They are available at the different price ranges. You can choose the right option to stay depending on your budget.
Q) Which Holiday Homes offer free Wi-Fi and TV?
A) There are many Holiday Homes in Tasmania that serve the guests with facilities like free Wi-Fi and TV. Some of the popular ones are The White House, Hatherley Birrell Collection, and others.
---
Looking To Book An International Honeymoon?
---