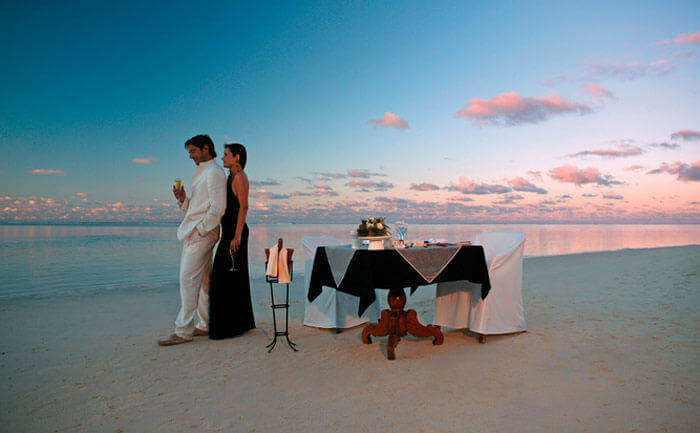 Being home to some of the world's most amazing places and experiences, Australia is one of the most popular honeymoon destinations in the world. Love-struck newlyweds can soak in the beautiful landscapes and revel in the luxury and warm hospitality the country has to offer.
This nifty little guide on most romantic Australian honeymoon destinations is for just engaged and newly married couples, to put together a fairy tale romantic getaway to the land of stunning beaches and desserts.
Best Honeymoon Destinations In Australia
Here are a few of the best Australia honeymoon destinations where you should take your partner to if you want a fairy tale holiday down under.
The Whitsundays
Melbourne
Queensland
New South Wales
Tasmania
The Great Barrier Reef
Kangaroo Island
Kimberley
Victoria
Perth
Uluru
Barossa
1. The Whitsundays – Paradise For The Beach Buffs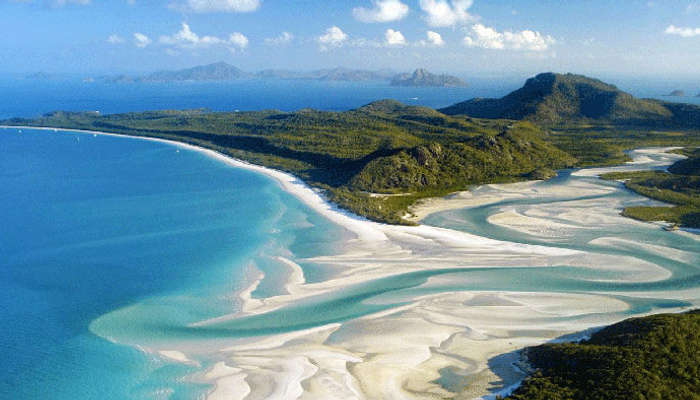 Exhilarating sunsets over turquoise waters and romantic nights under swaying palm trees make Whitsunday Islands a fantastic honeymoon gift for your sweetheart. An added surprise of an intimate candle light dinner is perfect to swoon her. One of the best romantic getaways in Australia, the luxury and offbeat islands make a perfect escape for the honeymooners.
Why Whitsunday: Live your dream of a lonely beach with just you two under the sky!
Being one of the top honeymoon spots in Australia, the Whitsundays comprise 74 islands – only eight of which are inhabited. Lesser crowd and more love are what Whitsundays promise!
Key attractions at Whitsunday Islands: Enjoy early morning scuba; go snorkeling and fishing; or if you're too besotted by the love of your life, simply unwind at Whitsunday beaches, one of the most beautiful places in Australia.
Best places to stay in Whitsunday Islands: Reef View Hotel, Island Resort, and Beach Club Hotel Resort
Best food options: Mariner's Restaurant, Fish D'vine & The Rum Bar
Best time to visit: May to December is the best time to visit this one of the top Australia honeymoon destinations.
How to reach: Both Brisbane and Cairns are nearest to The Whitsundays. You can take a domestic flight to the Whitsundays.
Nearest airport: Whitsunday Coast Airport (7 km)
Suggested Read: 21 Best Resorts In Australia For The Perfect Vacation Down Under
---
Australia Honeymoon Packages On TravelTriangle
Go on a luxurious honeymoon trip to Australia and witness the best of marine life at the Great Barrier Reef. Indulge in Australia's aquatic experiences, go for nature walks, and get the best of food & wine. Find the best honeymoon deals offered only on TravelTriangle.
---
2. Melbourne – Adore The Glinting Skyline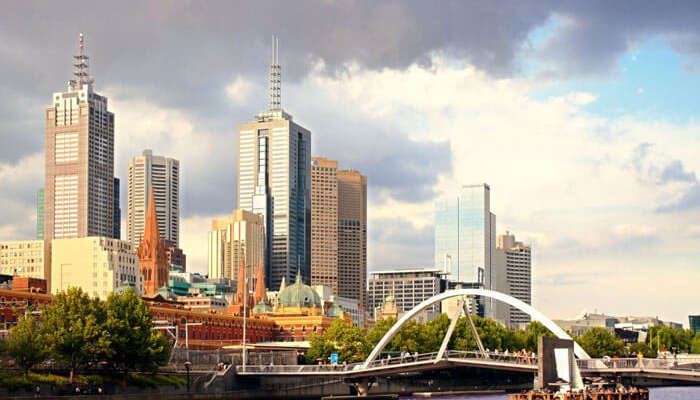 A vibrant and bustling city, Melbourne is one of the most popular destinations for a honeymoon in Australia. Be it the quaint alleys or cafe-filled lanes, wonderful restaurants or the beautiful old buildings – Melbourne is a fitting destination for an enchanting honeymoon.
Why Melbourne: Movie screening under the stars, champagne and great food on a boat with just you two and a private wine tasting tour – Melbourne has everything you need for a lovey-dovey honeymoon.
Key attractions in Melbourne: Take a romantic stroll around Melbourne's Botanical Gardens; sip coffee at one of sidewalk cafes; and yeah, do hog on the scrumptious Aussie cuisine. History buffs must visit Old Melbourne Gaol, National Gallery of Victoria, and Melbourne Museum.
Best places to stay in Melbourne: The Langham,  Crown Towers, and Royce Hotel
Best food options: Longrain Restaurant, Flower Drum Restaurant, Sezar Restaurant
Best time to visit: All year round
How to reach: If you are traveling from Sydney, the best way is to take a flight (3 hours flight time). You can also take a direct train or bus but it will consume more time like 10-12 hours.
Nearest airport: Melbourne Airport (23 km)
Suggested Read: New Year Party In Australia 2019: For Slaying The New Beginnings In Aussie Way!
3. Queensland – Experience An Unforgettable Adventure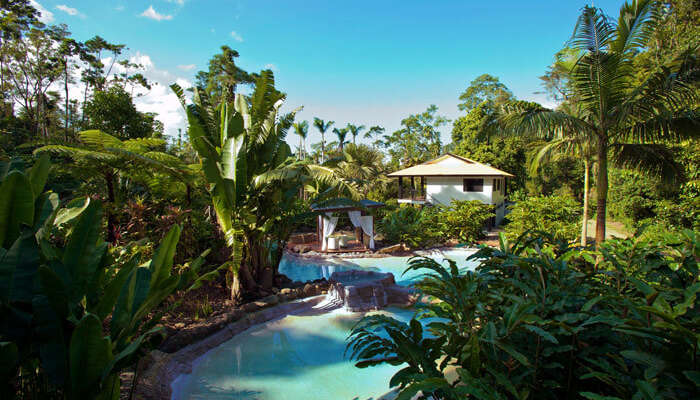 Queensland offers a plethora of destinations for love-lorn couples. From rainforests, the Great Barrier Reef, and the white sands of the Gold and Sunshine Coasts to the exquisite delicacies, Queensland is packed with pleasant experiences. This is among the best places for honeymoon in Australia in December- February.
Why Queensland: Peaceful rain forests and crimson hues of the coasts at dusk are insanely romantic.
Key attractions in Queensland: Catch the spectacular view of the city from Kangaroo Point cliff, a romantic dinner at Garuva restaurant, and a boat ride with your spouse. If your an adventurous couple, skydiving from the Family Islands National Park is a must.
Best Places to stay in Queensland: Daydream Island Resort & Spa, Silky Oaks Lodge, and East Bedarra Island Retreat
Best food options: Otto Restaurant, Urbane Restaurant, Bacchus
Best time to visit: December to February;  and May through October
How to reach: Queensland has airports in Brisbane, Cairns, and the Gold Coast with domestic flighst from all across the cities in Australia and international flighst from major international cities.
Nearest airport: Brisbane Airport (17.4 km)
Suggested Read: 15 Reasons Why Spending Winter In Australia Is Better Than Being Anywhere Else!
4. New South Wales – Adorned With Rugged Mountains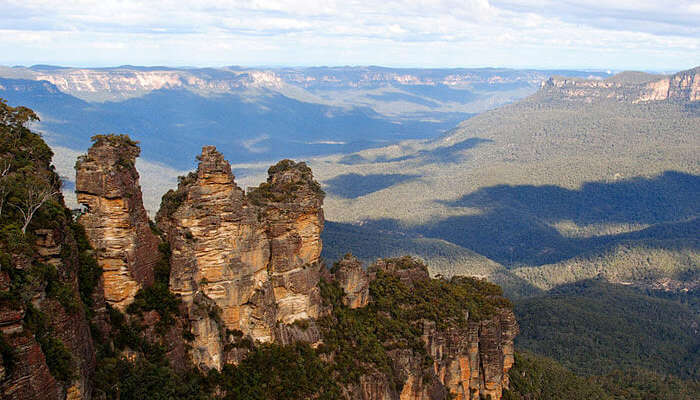 New South Wales is the perfect honeymoon destination in Australia for couples looking for a laid back vacation. Enjoy intimacy amidst gorgeous, rugged mountains or enjoying the snow filled valleys or the white sand beaches. For an Australian honeymoon, New South Wales is one of the popular destinations.
Why New South Wales: There are unexplored trails of the southern highlands.
Key attractions in New South Wales: Hike through the valley, plan a night stay at Ulladulla – the popular fishing village, and visit Lord Howe Island, Byron Bay, The Hunter Valley, Blue Mountains and the Snowy Mountains.
Best places to stay in New South Wales: Peppers Salt Resort & Spa, The Byron at Byron Resort & Spa, and Arajilla Retreat
Best food options: Quay Restaurant, Tetsuya's Restaurant, Chiswick at the Gallery
Best time to visit:  Because of the year round sub tropical climate, it is fine to head out anytime of the year.
How to reach: Being the capital of Sydney, NSW is connected to major cities by ar, rail, and road transport. You will find direct flights, buses, and trains with good frequency.
Nearest airport: Sydney Kingsford Smith Airport (13 km)
Suggested Read: 12 Most Beautiful Beaches In Australia
5. Tasmania – An Exotic Wildlife Experience Awaits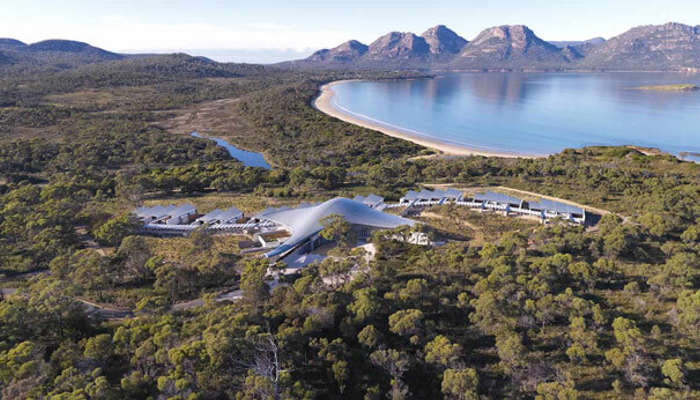 Known for its vast, largely protected reserves, lush tropical forests, and besotting wildlife, Tasmania is one of Australia's best honeymoon destinations for the honeymoon couples, offering exotic views of greenery dominating landscapes and the rugged mountains.
Why Tasmania: Perfect for couples ooking for a serene getaway in the lap of nature.
Key attractions in Tasmania: Enjoy a candle light dinner at Boat Harbor, hike the lovely rainforest trails, and take safari tours. Also, visit Wineglass Bay, Cradle Mountain,  Grindelwald, and Marrawah.
Best places to stay in Tasmania: Cradle Mountain Lodge; Saffire Lodge; and Eagle's Nest Retreat are the best accommodations here for a lavish honeymoon in Australia.
Best food options: Landscape Restaurant & Grill, Me Wah Restaurant, Stillwater
Best time to visit: October to early May
How to reach: There are a number of airports in Tasmania with direct flights from Melbourne, Sydney and Brisbane. Alternatively, you could take ta ferry if you do not mind traveling by sea.
Nearest airport: Launceston Airport, Hobart Airport
Suggested Read: 10 Mesmeric Places To Visit In Melbourne
6. The Great Barrier Reef – An Underwater Treasure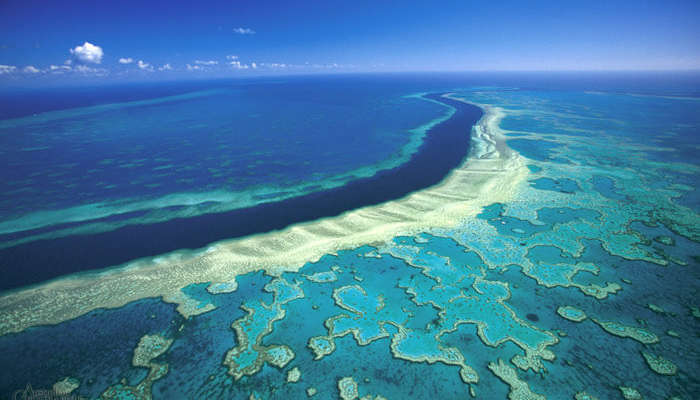 If you thought the world's largest coral reef, the Great Barrier Reef is just for the adventure enthusiasts, we bet you don't know enough! Not only is it one of the most thrilling attractions but also one of the most romantic weekend getaways in Australia.
Why The Great Barrier Reef: With the entire islands available at your expense, it's one of the most wonderful honeymoon spots in Australia you could ever expect! Also splurge on lavish facilities while you honeymoon here.
Key attractions at The Great Barrier Reef: Walk along the islands taking in the panoramic views of the deep blue waters; relax on the white sand beaches with your loved one; go for some water activities like snorkeling to witness the beauty of marine life; and don't miss places like Wilson Island, Lizard Island, Heron Island and Dunk Islands.
Best places to stay in The Great Barrier Reef: Lizard Island Resort, Wilson Island Eco Lodge, and Dunk Island Resort
Best food options: Watergate Port Douglas, Lotus Leaf Asian Salads, Cicada
Best time to visit: June to November
How to reach: There are various tour operators in Cairns and Port Douglas that organize tour to the Barrier Reef. Cairns has an airport with direct flights from Perth, Adelaide, etc.
Nearest airport: Cairns international airport (27 km)
Suggested Read: These Horizontal Falls In Australia Are The Proof That Nature Is A One Crazy Conjurer
7. Kangaroo Island – Meet The Friendly Kangaroos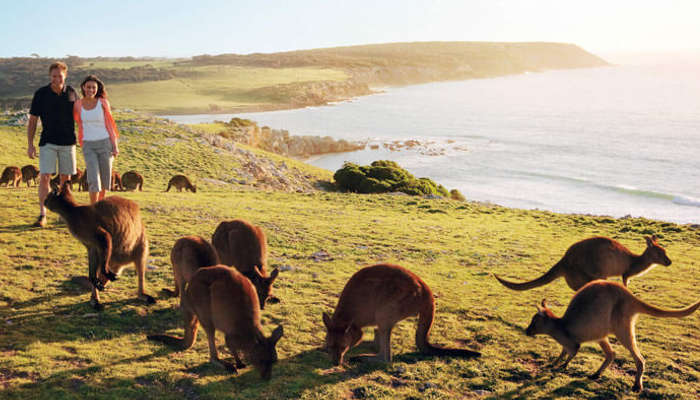 Thanks to its sparse population and secluded location, Kangaroo Island is one of the indulgent places to visit in Australia for honeymoon.
Why Kangaroo Island: Honeymoon here to witness pristine turquoise water  and white sand beaches. There is nothing more romantic than unwinding at an idyllic cottage, visit rich history, and be amazed with the wildlife around.
Key attractions in Kangaroo Island: Give sleep a miss by staying awake at the Kangaroo Island; pamper yourself with a rejuvenating spa or unwind in the beach; and visit American River, Kingscote and Parndana with your spouse.
Best places to stay in Kangaroo Island: Southern Ocean Lodge Kangaroo Isle, Tammar Ridge and Mercure Kangaroo Island Lodge.
Best food options: Sunset Food & Wine, KI Thru Thai, Bella Cafe & Pizza Bar
Best time to visit: Summer months
How to reach: You could either take a ferry ride or catch a flight from Adelaide to Kangaroo Island. 
Nearest airport: Kingscote Airport (31 km)
8. Kimberley – A Date With Nature's Mystique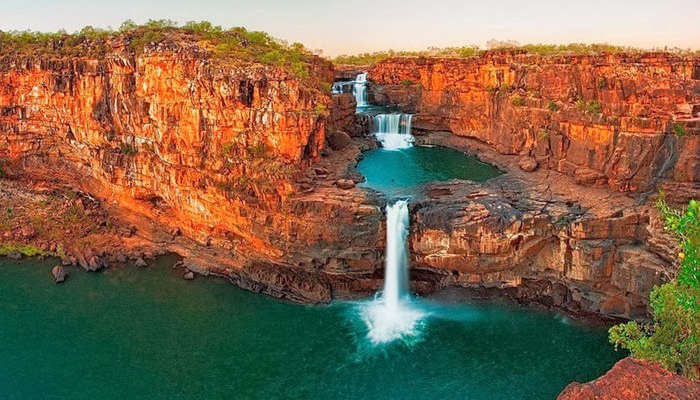 Thanks to the Tidal Rivers, the ancient Kimberly plateau has been transformed into a vast wonderland of ranges and gorges, rugged mountains and breathtaking landscapes. The surreal beauty that Kimberley is, it is certainly among the unique Australia honeymoon destinations.
Why Kimberley: Set in the pristine plateaus, it offers you a quiet and astounding honeymoon.
Key attractions in Kimberley: Tour the national parks to get a glimpse of the diverse wildlife, cycle your way through the valleys; enjoy an outdoor dinner with delicious food and fine wine; and visit Cape Leveque, the Mitchell Falls and Horizontal falls.
Best places to stay in Kimberley: El Questro Station Homestead, The Berkeley River Lodge, and Kimberley Hotel
Best food options: Derby Wharf Cafe, Tongs Chinese Restaurant, Zanders Cable Beach
Best time to visit: April to October
How to reach: The town of Kimberley is only a kilometer from the nearest airport. You could take a flight to Broom International Airport from Perth, Darwin, or Port Headland. The next best way is a 4 wheel drive but that will take you a couple of days to reach here.
Nearest airport: Broome International Airport (22 km)
9. Victoria – Pleasing With Its Lush Landscape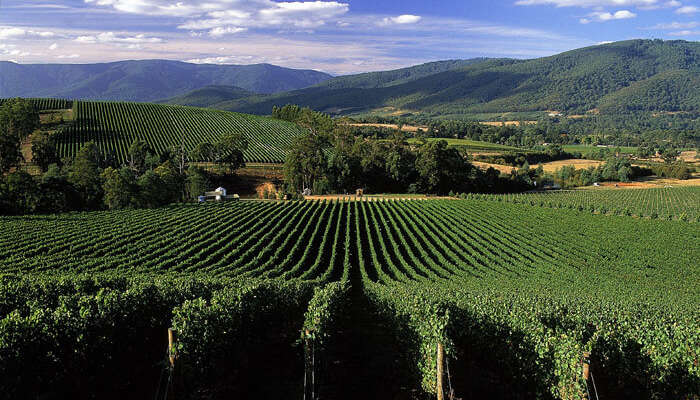 Victoria is also one of the top honeymoon destinations, due to its tropical climate, some of the best luxury resorts, camping, and aquatic experiences.
Why Victoria: Its proximity to other beautiful Australian cities, ensures one can cover the maximum attractions of the country.
Key attractions in Victoria: Drive to Melbourne to explore the gorgeous city; take a ride to the islands for some thrilling water sports; hike along the Gippsland or the Goldfields.
Best places to stay in Victoria: The Boomerangs, Yarra Valley Lodge, and Hilton Melbourne South Wharf
Best food options: 1932 Cafe & Restaurant, Lake House, Taxi Kitchen
Best time to visit: June to September is the best time to visit Victoria, one of the best honeymoon destinations in Australia.
How to reach: Whether it is a flight or train, it is best if you arrive in Melbourne, Victoria's capiytal, and then make your way around the place. Melbourne has a proper air, rail, and road network.
Nearest airport: Tullamarine Airport (23 km)
10. Perth – A Myriad Of Surprises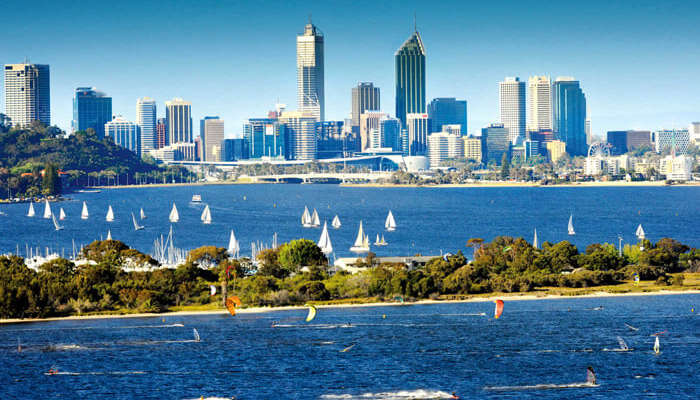 Perth, the sunny capital of Western Australia provides plenty to see and do for honeymoon couples.
Why Perth: Set between the Darling Ranges and the Indian Ocean, it's among the blissful Australia honeymoon destinations for the romancing couples. Perfect for a laid-back honeymoon.
Key attractions in Perth: Explore the bohemian North Bridge; relax in the Kings Park, while enjoying the best views of the city's skyline; discover Perth fascinating monuments and museum; surf at Perth beaches.
Best places to stay in Perth: Hougoumont Hotel, Cottesloe Beach House Stays, and Royal Hotel Perth.
Best food options: C Restaurant in the Sky, Friends Restaurant,  Mister Walker Restaurant
Best time to visit: September to November. If you want to avoid peak time, visit between March to May.
How to reach: There are direct flights from India to Perth. Perth also has a well-established rail and air network. There are trains from Sydney and Melbourne but the journey is time consuming.
Nearest airport: Perth Airport (12 km)
11. Uluru – For The Golden Sunsets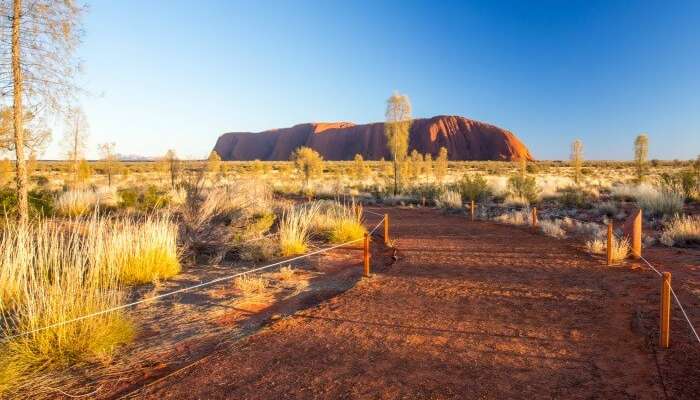 A World Heritage Site, Uluru is famed for its romantic golden sunset. The ochre-hued landscape makes it among the best honeymoon destinations in Australia. The sight with its rock formations namely Uluru and Kata Tjuta is utterly captivating. One can spot red kangaroo, Australian bustard, and black-footed rock wallaby, among many other animals and birds.
Why Uluru? The wilderness assures you connect with nature, and enjoy privacy amidst a scenic panorama.
Key attractions: Other than wildlife, there are many activities that await, such as camping, hot air ballooning, and dining at Sound of Silence
Best places to stay in Uluru: Ayers Rock Resort, Ayers Rock Campground, and Longitude 131
Best food options: Bough House Restaurant,  Sounds of Silence, Ilkari Restaurant
Best time to visit Uluru: May to September
How to reach: 
Nearest airport: Ayers Rock Airport (30 km)
12. Barossa – Where Awaits A Wine-Derful Honeymoon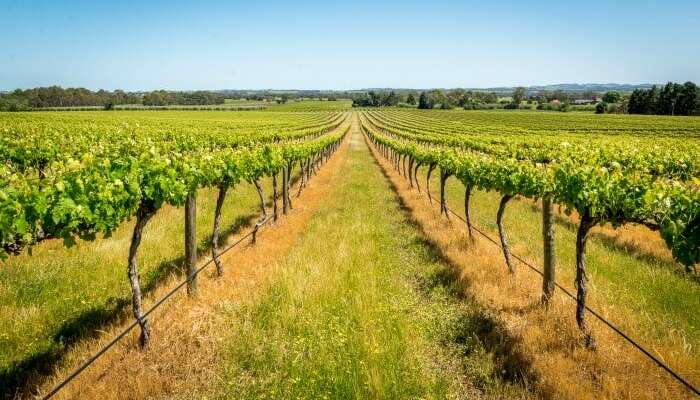 One of Australia's loveliest places for sipping wines, Barossa Valley is adorned with farms and wineries. The locals are friendly and welcoming. The valley hosts many festivals like the Barossa Gourmet Weekend, Grape Fest, and Barossa Vintage Festival.
Why Barossa Valley? This is a paradise for wine lovers, culture-vultures, and couples who are head over heels about nature's beauty.
Key attractions: Other than wine-tasting, there are many things to indulge in such as cycling, heritage walks, and shopping.
Best places to stay in Barossa: A Secret Garden, Almond Tree Cottage, and 1860 Wine Country Cottages
Best food options: Kampung Kitchen, Red Door Espresso, The Clubhouse
Best time to visit Barossa: February to April
How to reach: Barossa is hour and a half drive from Adeliade Airport. You could either take a taxi or hire car from the airport. There are bus services between Adelaide and Barossa as well. However, the most convenient way is to hire a car that will make getting around in Barossa easy.
Nearest airport: Adelaide Airport (73 km)
Further Read: 11 Boutique Australian Music Festivals To Make Your Feet Tap
If you're planning a romantic getaway with your partner amidst the pristine surroundings, then book your Australia honeymoon packages with TravelTriangle and keep this list handy to enjoy the blissful bundle of surprises, which is guaranteed to give you the honeymoon of your dreams!
Frequently Asked Questions About Australia Honeymoon Destinations
Q. Which are honeymoon destinations around Australia?
A. If you are searching for the honeymoon locations in Australia, the destinations listed above are the best ones. For the honeymoon destinations around Australia, New Zealand is a great option. It also brings thrill, flora and fauna, and unique experiences to the table.
Q. Which are the best honeymoon destinations in the east coast of Australia?
A. Fraser Island, The Barossa Valley, and Hunter Region are a few of the best honeymoon places in Australia lying on the east coast of the country.
Q. Is Australia good for honeymoon?
A. From rugged mountains and beautiful valleys to pristine beaches and unique attractions, Australia offers a lot which is perfect for honeymoon.
Q. How much does a honeymoon to Australia cost?
A. A honeymoon to Australia costs at least 500 dollars for a couple per day. It includes sightseeing, meals and transportation.
Q. When should I visit Australia?
A. The months of June to August are perfect for visiting Australia. During these months, the weather of the country is cool and it experiences winter season.
Q. Is it expensive to visit Australia?
A. Australia is a beautiful country and offers various kinds of amazing experiences. It is quite expensive to visit Australia.
Q. What is the cheapest month to fly to Australia?
A. April to June is the time when the flights to Australia are cheaper and not many people visit Australia. So, you can plan a trip during that time.
---
Looking To Book An International Honeymoon?
Book memorable honeymoon on TravelTriangle with 650+ verified travel agents for 65+ domestic and international destinations.
---
People also read:
Best honeymoon places in India in summer Best honeymoon places in Egypt Honeymoon places in Bhutan
Comments
comments