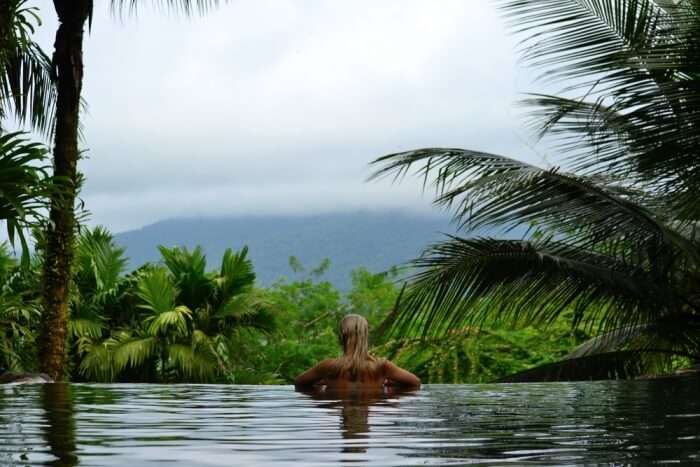 Costa Rica is a rain forested country in Central America, popular for its beaches, coastlines, volcanoes, and biodiversity. Due to the vast number of active volcanoes spread throughout the country, Costa Rica is full of thermal water bodies. There are lots of hot springs in Costa Rica available in different size, shape, and temperature.
The hot springs are safe to bath in and the travelers who want to warm themselves up in a thermal water body can easily take a dip in one of the hot springs and rejuvenate themselves while on their trip to Costa Rica.
If you are looking for a luxurious resort like bathing experience in the hot springs, then you can easily to one of the resorts with a hot spring. Many of the hot springs in Costa Rica are located in the resorts, where visitors can enjoy a luxury hot bath experience. There are also many natural hot springs in Costa Rica if you like to take the offbeat path. You can simply browse the internet to look up hot springs Costa Rica map to assist you in locating the hot springs.
Nonetheless, in this article, we have gathered a list of 10 best hot springs in Costa Rica that will offer you the wonderful relaxation and rejuvenation that you seek.
10 Best Hot Springs In Costa Rica
Costa Rica has around 200 volcanic formations, out of which nearly 100 of them show volcanic activity and as a result, there are multiple natural hot water bodies in this tropical paradise. The Costa Rican hot springs offer the perfect opportunity for relaxation to the travelers. While lying neck deep in the natural Jacuzzi, surrounded by magnificent tropical beauty, you can truly take the delight of revitalization in the perfect atmosphere. Let us take a look at the best hot springs in Costa Rica.
1. Arenal Springs Resort and Spa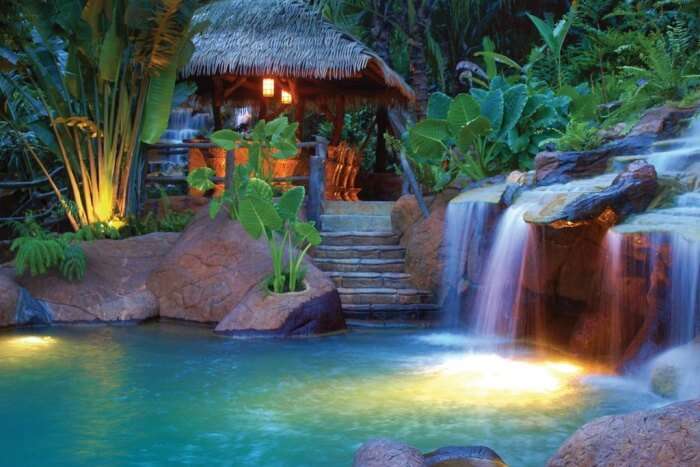 Arenal Volcano is one of the most popular destinations for travelers that want to try out the Costa Rican hot spring experience. A variety of locations in Arenal offer hot spring experience to the visitors but the best hot spring in Costa Rica, Arenal area is the Springs Resort and Spa. It is a four-star hot spring and one hundred percent natural with mineral salts rich water, which comes from the volcanic sources underground.
The hot spring has been modeled in a fashion that you will feel like you are in a hot spring in the midst of a tropical rainforest. The water is heated by the underground heated rocks of the Arenal volcano and the water automatically reaches the pool by the action of gravity and no pumping or drilling is required.
Location: 9 Km West and 4 Km North of La Fortuna Central, La Fortuna, Costa Rica.
Must Read: Costa Rica With Kids: An Ultimate Guide To Plan A Funtastic Trip With Your Little Ones!
2. Eco Termales Hot Springs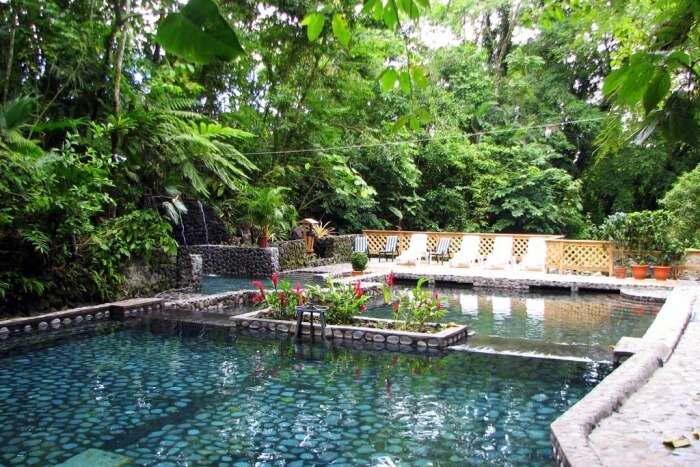 This hot spring is family-owned and not a part of any luxury resort or hotel. Eco Termales consists of a natural therapeutic spa and natural oasis. This hidden gem in the La Fortuna area offers a couple of heated pools and a spring. المنتخبات المتأهلة ليورو 2023 Although the number of visitors that can enter the privately owned area is only around 100, Eco Termales looks to it that all their visitors enjoy the hot spring bathing experience to their fullest. The pools are maintained highly and absolute cleanliness is maintained as the pools are cleaned and scrubbed every day before letting the natural water fill them up again.
Location: 3.5 Km east of the Catholic Church, La Fortuna, San Carlos, 21007, Costa Rica.
3. Tabacon Grand Thermal Spa Resort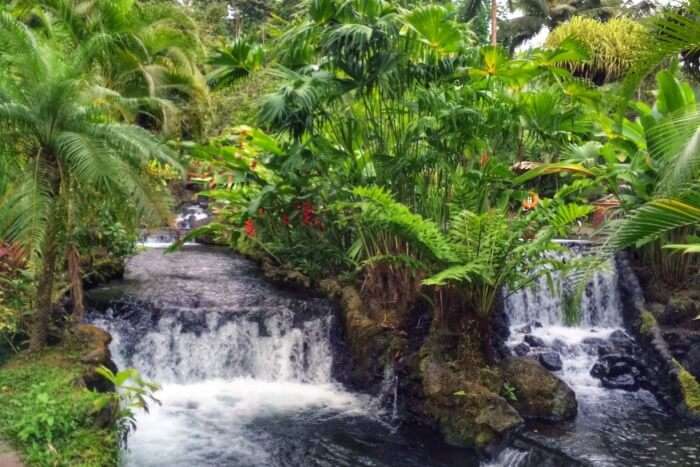 One of the best natural hot springs in Costa Rica, Tabacon Grand Thermal Spa Resort is situated within the tropical rainforest at the base of the Arenal volcano. The Tabacon hot spring can be considered as one of the most popular hot springs in entire Central America and it offers a five-star luxury experience to its visitors.
One of the most popular hot springs in the Arenal region, Tabacon Grand Thermal spa offers the best standard services to its guests. Multiple bathing spaces are created from the natural thermal river paired with private bars that serve mouthwatering cocktails. This hot spring resort in Costa Rica is one of the best places to unwind.
Location: 13 Km Northeast of La Fortuna Center, San Carlos, Arenal, Costa Rica.
Suggested Read: 10 Airports In Costa Rica To Start Off Your Vacation The Right Away!
4. Baldi Hot Springs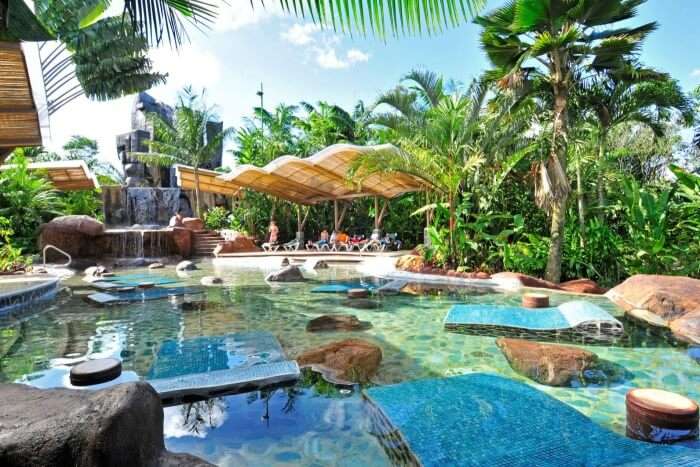 Baldi Hot Springs and Spa, another hot spring resort located at the base of the Arenal volcano, is most probably the most expanded hot spring facility. There are more than 25 thermal pools in the resort of different shapes, sizes and temperature with walking paths winding between these pools. The pools have been fashioned in a way that it doesn't disrupt the natural charm of the place and on clear days you can see scenic views of the volcanoes around. Though it is one of the popular hot springs in the Arenal region, it has a tendency to become congested in the high seasons.
Location: 142, Provincia de Alajuela, La Fortuna, San Carlos, Costa Rica.
5. Rio Perdido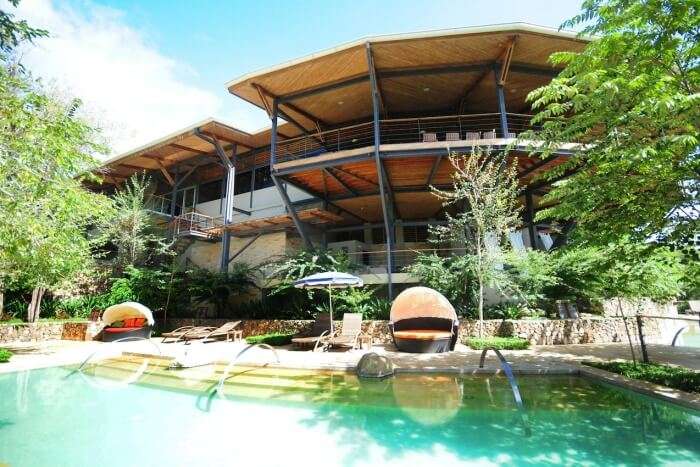 Situated in Bagaces, a little mountain town in Costa Rica, Rio Pedrido is located behind Bagaces village. The resort stay gives you the opportunity to enjoy the stunning natural landscape and the naturally moving hot springs. The thermal waters are a result of the volcanic action of the Miravalles volcano. Here, you will find multiple pools of varying degrees of temperature and enjoy a bath in one of the pools while appreciating the natural beauty of the place.
Location: Provincia de Guanacaste, Bagaces, Costa Rica
Suggested Read: 10 Day Trips From Costa Rica To Witness The Never-Ending Beauty Of The City!
6. Titoku Hot Springs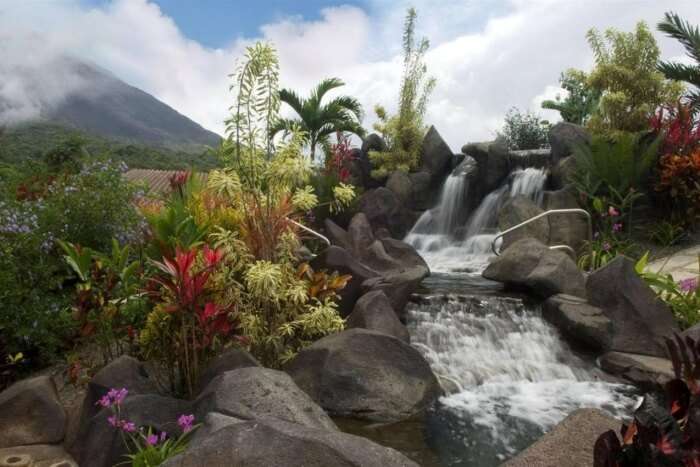 This is one of the smaller locations in the Arenal area. If you are looking for a location away from the bustling crowds, to enjoy a hot bath in a more serene environment then this is the place for you. There are only 8 pools with varying size and temperature and the max capacity of people is only 8o. The non-hotel dwellers can take a pass from Arenal Kioro to gain access to this hot spring. Since the pool capacity is significantly smaller compared to other places mentioned in this list, so you'll rarely find a crowd here and you can unwind in peacefully in this tranquil atmosphere. تحويل رصيد ون كارد الى باي بال
Location: Hotel Arenal Kioro Suites and Spa, 11 Km of downtown La Fortuna, Costa Rica.
7. Borinquen Mountain Resort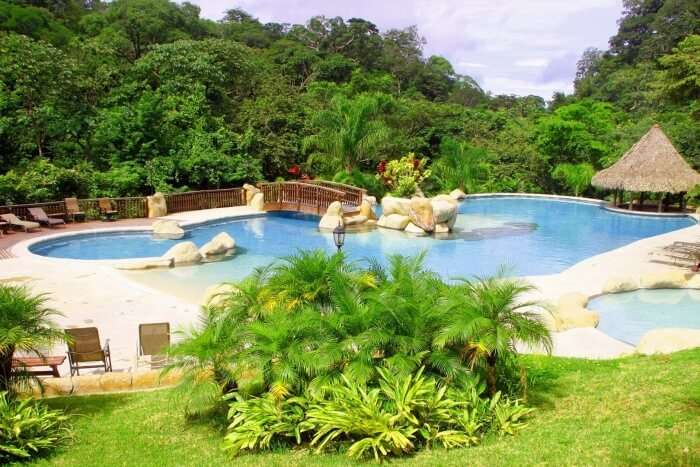 Located in the slopes of the Rincon de la Vieja Volcano, Borinquen Mountain Resort has a lot to offer to its visitors. The hot springs are located inside the resort property that guests can enjoy after a day of adventure at the ranch. The adventure sports include canopy zip lining, white water rafting, horseback riding etc.
Location: Borinquen Mountain Resort, Guanacaste Province, Costa Rica.
Suggested Read: 10 Zoos In Costa Rica & Other Wildlife Sites That You Must Visit To Let Out The Kid In You
8. Rio Negro Hot Springs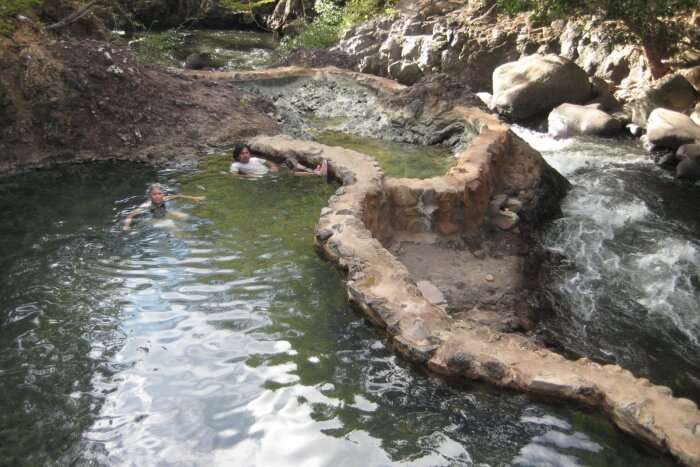 This is another hot spring in the Guanacaste region. The hot springs are heated by the Rincon de la Vieja Volcano. There are about 10 natural hot pools that you can access by means of a natural bridge. Go to this frequently visited hot spring and unwind while listening to the sounds of the rainforest.
Location: Guanacaste Province, Costa Rica
9. Vandara Hot Springs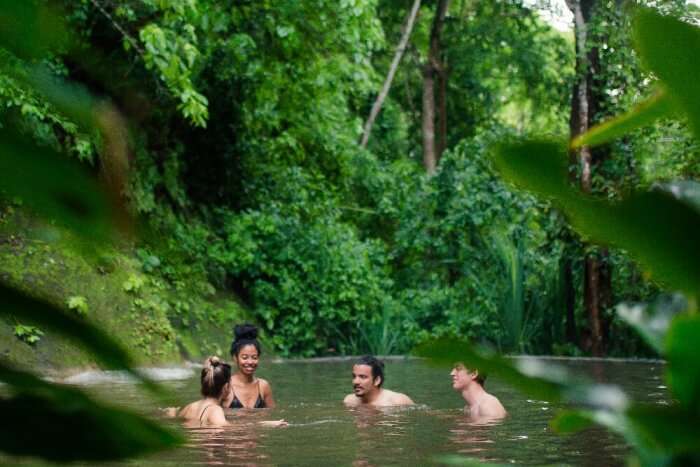 Vandara hot spring also known as Tizate hot spring is another hot spring which is part of the Rincon de la Vieja National Park. The water of the springs is heated by the action of an active volcano. The actual pool available for people in this region is manmade but visitors can also indulge in mud baths and mineral treatments or go for adventure sports like horseback riding and zip lining.
Suggested Read: An Ultimate Costa Rica Travel Guide To Explore The Best Of This Paradise Destination!
10. Rio Agua Caliente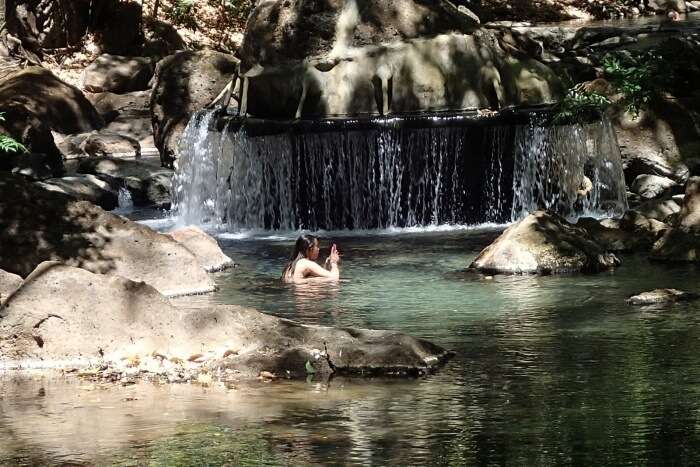 This is a natural hot spring, located near the Arenal Observatory Lodge and is not part of any hotel or resort. It has open access and anyone can go there to soak in the mineral-rich water of the hot water spring. As the place has open access and not a part of any resort facility, the place exudes natural vibes and absolutely free to enjoy.
Further Read: An Extraordinary Guide To An Enticing Family Trip To Costa Rica!
Formed by volcanic actions, the hot springs in Costa Rica offers the best opportunities for a warm soak in the mineral-rich water of the thermal water bodies. After a long day, you can dip into a hot spring and revitalize your energy by soaking neck deep into the warm waters. So, plan a trip to USA and rejuvenate yourself!
---
Looking To Book A Holiday Package? لعبة طاولة الزهر
Book memorable holidays on TravelTriangle with 650+ verified travel agents for 65+ domestic and international destinations.
---
Comments
comments