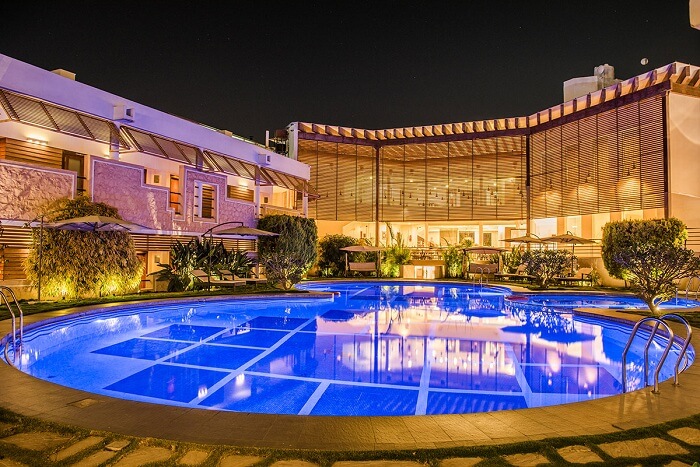 Palaces, night markets, mouth-watering chaats and whispers of the past make Indore a popular place to visit in Madhya Pradesh. The city also sees a large number of business travelers owing to its rapid development. Numerous hotels have been established in order to meet the growing footfall. From the likes of Radisson Blu to Indore Marriott and Citrus, travelers will find no dearth of accommodation here.
10 Best Hotels In Indore For Every Budget
Take a look at our list of upscale establishments as well as hotels in Indore at lowest prices.
1. Radisson Blu Hotel Indore – Luxury and perfect service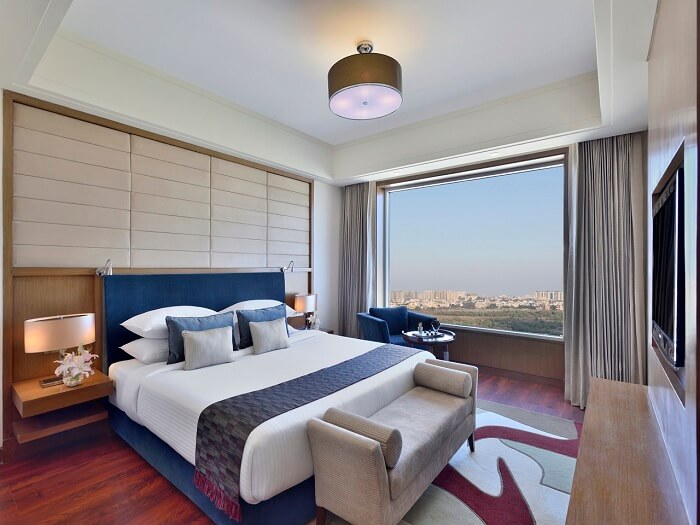 Suggested Read: 9 Reasons Why Pune Is More Kickass Than Mumbai
Radisson Blu is one of the finest 5-star hotels in Indore. It caters to even the highest expectations through unparalleled service, a range of modern amenities and plush accommodations. The rooftop pool offers sweeping views of the city and is one of the hotel's highlights. Its four restaurants give you plenty of dining choices while Ethyl Bar lets you wind down with live music and signature drinks.
What's special: Rooftop pool with views of the city. Swimmers and non-swimmers alike will love relaxing here.
Address: No.94C, Ring Road, Scheme No 12, Indore, Madhya Pradesh 452010
2. Sayaji Hotel Indore – Experience grandeur in Indore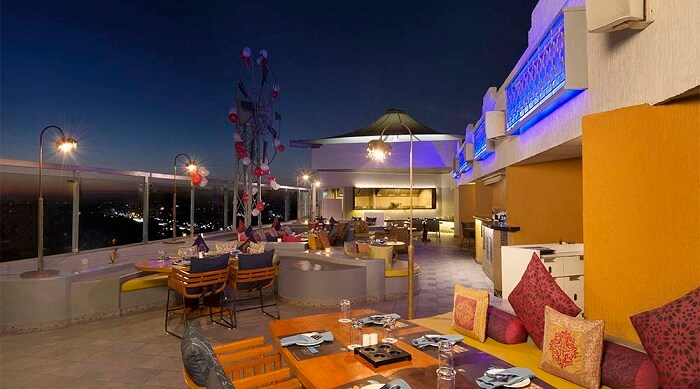 One of the best hotels near Indore railway station catering to luxury travelers, Sayaji Hotel features grand rooms designed to make guests feel pampered; dining and entertainment options including restaurants, a coffee shop, poolside bar, lounge and discotheque; and a spa.
This luxury hotel in Indore city is the perfect stop for travelers accustomed to the finer things in life as well as guests looking to host events in a spectacular setting.
What's special: Among the most sought-after 4-star hotels in Indore and numerous dining options to titillate your palate.
Address: H/1, Scheme No.54, Vijay Nagar, Indore, Madhya Pradesh 452010
Starting tariff: INR 7,000/night
3. Indore Marriott Hotel – For business and leisure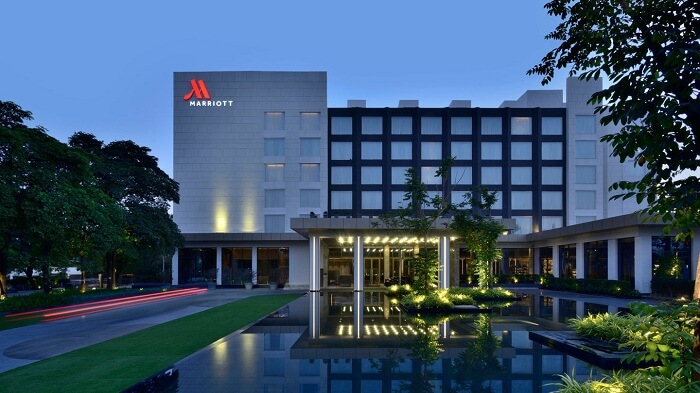 Suggested Read: 4 Best Tourist Circuits In Madhya Pradesh
Indore Marriott ranks among the top hotels in Indore. The sprawling establishment is known for its amenity-filled rooms, chic décor, fine dining and Signature Quan Spa that guarantees to pamper its guests. 218 rooms including 11 suites are there for your choosing. Out of these, 80 are controlled by iPads.
If you're looking for luxury hotels in Indore that are sought-after by both business and leisure travelers, Indore Marriott Hotel is it. The flawless service and amenities ensure that your stay is comfortable and all your needs are met.
What's special: Ideal hotel for business and leisure travelers. It also has 80 rooms that are controlled by iPads.
Address: H-2, Scheme No 54, Meghdoot Garden, Vijay Nagar, Indore, Madhya Pradesh 452010
4. The Red Maple Mashal – Where relaxation is guaranteed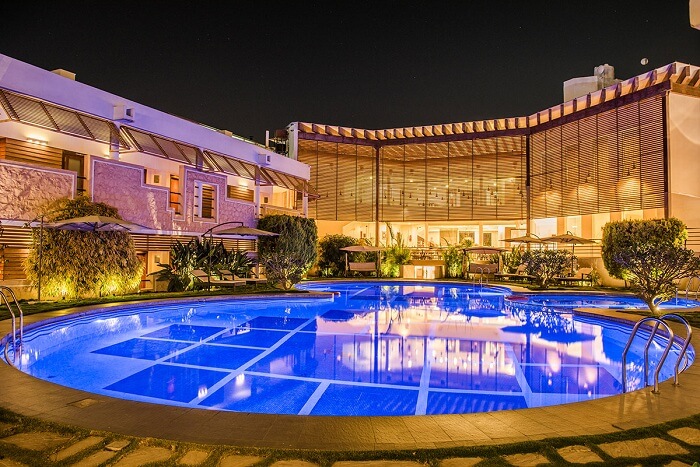 The Red Maple Mashal ranks among the top 10 hotels in Indore and for good reason. The 4-star hotel is set in the city on the Dewas-Agra highway but is also away from the noise so that your stay is undisturbed and relaxing. There are 36 rooms, suites and cottages to choose from while amenities like private Jacuzzis, a pool and an entertainment club let you experience the best of the hotel.
The Red Maple whips up a selection of delicious cuisines through its restaurants including the poolside bar and deli, Nautica, the multi-cuisine One, and Woodstock Café. You can also make use of golf, snooker and table tennis facilities.
What's special: A classy upscale hotel with an entertainment club for your indulgence.
Address: Jhoomer Ghat, Rasalpura, Rau, Indore, Madhya Pradesh 453446
5. Ginger Hotel – Where understated style dominates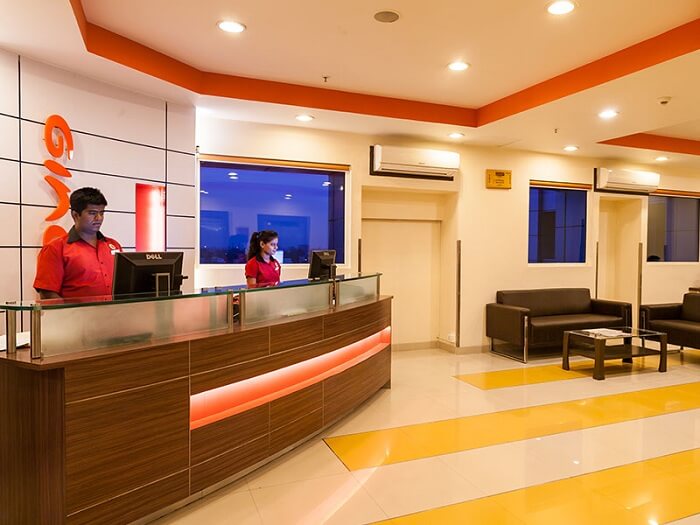 Suggested Read: 15 Tourist Places In Madhya Pradesh That You Should Be Visiting Right Now!
Clean, modern and stylish décor runs the gamut of Ginger Hotel's interiors, which is one of the best budget hotels in Indore. While the facilities aren't numerous, they are more than enough so that you get to enjoy your stay with absolutely no discomfort. You can make use of the gym and dine at The Square Meal with its range of international cuisines.
Travelers searching for cheap hotels in Indore that are close to the action will find Ginger Hotel to be just what they're looking for. Satyam Cineplex, Malhar Mega Mall and fast food joints are located nearby.
What's special: Ginger Hotel is among the few good hotels in Indore that cater to budget travelers.
Address: Agra Bombay Road, Off NH 3, Beside Raj TV Office, Near Shaniwar Darpan, Post LIG Square, Chhoti Khajrani, Indore, Madhya Pradesh 452008
6. Country Inn & Suites by Radisson – Where homeliness comes to the fore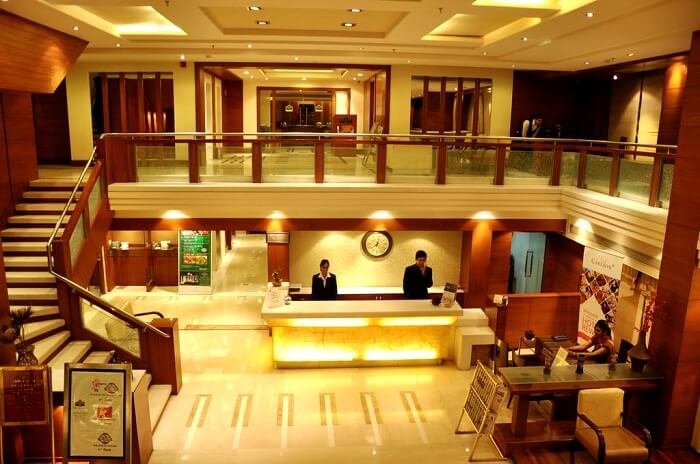 Homely, comfy and with traces of luxury, Country Inn & Suites by Radisson is one of the best hotels in Indore whether you're traveling solo, as a couple or with the family. It's conveniently located near Indore Junction and is close to tourist spots like Rajwada Palace.
Country Inn & Suites by Radisson is a favorite among travelers looking for mid-range accommodation. Each room is tastefully designed and fitted with amenities to meet today's requirements. The hotel also offers accessible rooms with grab bars in the bathrooms, wider doorways and text telephones.
What's special: One of the best hotels in Indore with prices that are competitive. Accessible rooms with a full range of required facilities are also available.
Address: 306 B, PU 4, Scheme No. 54, Near Rusoma Circle, AB Road, Indore, Madhya Pradesh 452010
7. Citrus Hotels Indore – Simplicity meets luxury
Suggested Read: 10 Honeymoon Places In Madhya Pradesh Every Couple Should Visit
Citrus is a 3-star hotel in Indore that blends elements of luxury with simplicity. It offers 41 fully-equipped rooms with modern décor that today's traveler will appreciate. The facilities are fuss-free yet more than enough to ensure that your needs are met. Two dining options, Biso and Punchin, offer multi-cuisine and buffet meals as well as fusion dishes.
Citrus offers accessible rooms and a fitness center. It also provides travel assistance, free WiFi and a three-minute check-in.
What's special: One of the few Indore India hotels with a 3-star rating and affordable prices.
Address: Plot. 34-35, FF Scheme No. 54, Opposite Meghdoot Garden, Vijay Nagar, Indore, Madhya Pradesh 452010
8. The Grand Bhagwati Palace – Refined style for the modern traveler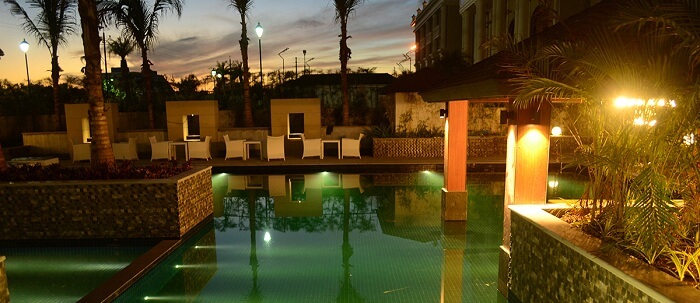 Reminiscent of the magnificence of old, The Grand Bhagwati Palace is a beautiful 5-star hotel that aims to pamper its guests to the hilt. The rooms are elegantly designed with a hint of old world charm – that is especially prominent in its magnificent banquet hall – but are fitted with modern conveniences.
Somani restaurant delights with traditional Indian cuisine while Café Piano entices with international dishes. The outdoor swimming pool beckons you to take a leisurely dip any time you want to unwind. The Grand Bhagwati Hotel is one of the best hotels in Indore for couples so if you're planning a quick weekend getaway, you know where you should head to!
What's special: Large rooms with an elegant old world feel.
Address: Omaxe City 1, Bypasss Road, Mayakhedi, Indore, Madhya Pradesh 452016
9. Hotel Surya – Affordable luxury for the discerning traveler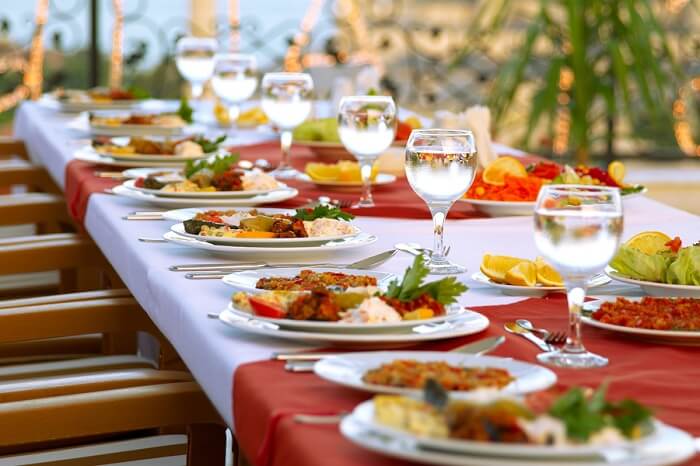 Suggested Read: 7 Mystical National Parks Of Madhya Pradesh
Hotel Surya is an establishment for all types of guests, be it a first-time tourist, a corporate visitor or one looking to spend his days indulging in fun and excitement. Spacious rooms that are brightly lit instantly lift your mood while the family restaurant and bar guarantee your taste buds are well and truly stimulated. The hotel also has a lovely wedding garden where newlyweds can celebrate their nuptials in style.
What's special: Affordable accommodation for business and leisure travelers.
Address: 5/5, Surya Circle, Nath Mandir Rd, South Tukoganj, Indore, Madhya Pradesh 452001
10. Effotel Hotel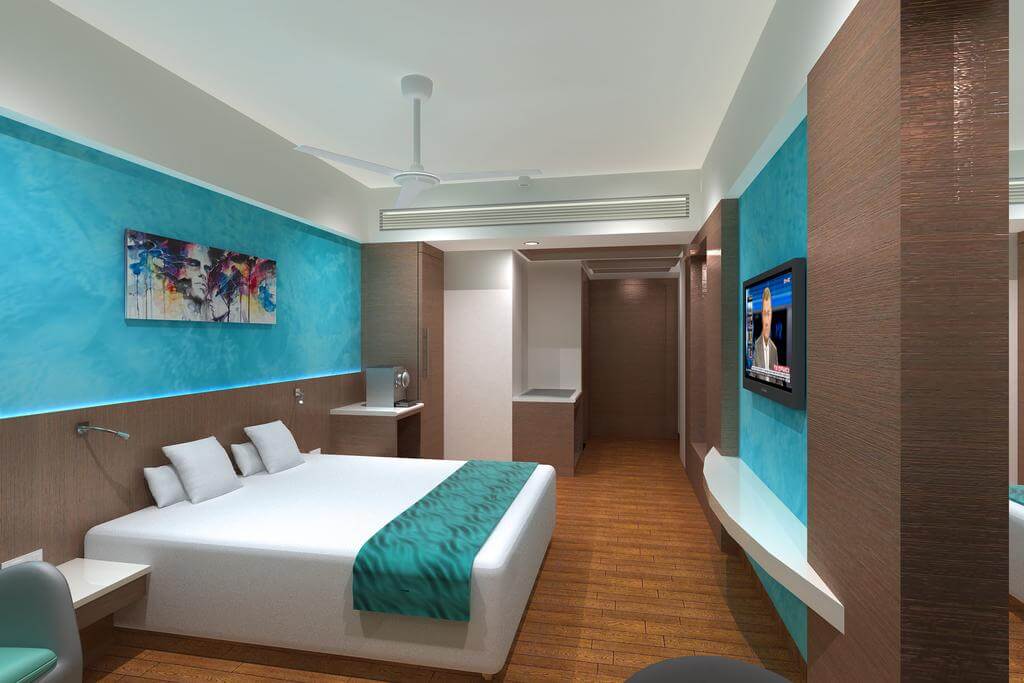 One of the finest properties in Indore, Effotel Hotel is a four star property that has won number of awards. There are three room categories – Deluxe, Premium Deluxe and Suite Room, for travelers with different budget. When here, you can expect amenities that are of modern and international standards.
What's special: The hotel's staff is well trained and you get the best for each penny spent .
Address: Plot No. 10-C/ C.A Scheme No. 94, Sector C, Indore
How many of these hotels have you stayed at? Is there any that we missed in the list? Do let us know in the comments section below. 
Comments
comments