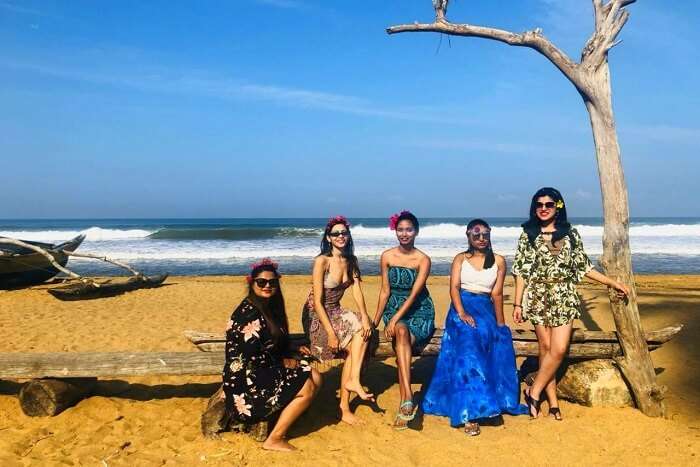 Escaping with your BFFs to an exotic land far away from all worries and responsibilities is, no doubt, the best way to live the last days of your singlehood. Which is why a bachelorette trip can never be anything less than perfect! So, when it came down to picking an ideal destination to pamper the bride-to-be, Priya and her friends decided to ditch the cliched and take her to an unusual paradise that promised utter beauty, tranquility, and glamour! Here's an account of their 5 nights 6 days to Sri Lanka that will make you ladies jealous!
Our bestie was tying the knot soon and we had only 6 days at hand before the wedding preparations commenced in full force. And when we had finally given up the hopes of finding a good place to celebrate her bachelorette, a friend stepped in and painted a beautiful picture of the island nation of Sri Lanka in our heads. "Is Sri Lanka safe for female travelers?" was our first concern. My friend conveyed that it was totally safe, and it turned out she was absolutely right!
We were blown away by what all this tiny country offered and decided there couldn't be a better place to tell the bride how special she is to us! So, we approached TravelTriangle, booked an awesome-sauce trip customized to our preferences, and we soon on our way to this tropical paradise!
Let us tell you all about our fabulous trip experience so that you too can plan a grand and gorgeous getaway to Sri Lanka with your tribe.
Table Of Content
Details Of Our Budget Trip To Sri Lanka
Trip Type: All Girls Trip
Trip Cost: INR 72,906/-
No. Of People: 6
Trip Duration: 5 Nights 6 Days
Inclusions: Breakfast, accommodation, airport transfers, sightseeing, English speaking driver cum guide
Exclusions: Lunch, dinner, entry tickets, visa, airfare, travel insurance
What Our Customised Sri Lanka Tour Looked Like
Day 1: Arrival at Nuwara Eliya | Cycling by Gregory's Lake
Day 2: Visit to the tea factory and tea-making tour
Day 3: Transfer to Bentota | Leisure day at the beach
Day 4: Leisure day | Beach hopping & relaxing
Day 5: Transfer to Colombo | City tour
Day 6: Departure
Must Read: The Complete Guide To Applying For A Sri Lanka Visa For Indians
Best Experiences To Have On A Bachelorette Trip To Sri Lanka
Here are a few things you must include in your Sri Lanka itinerary for a truly memorable vacation here.
Shopping In Sri Lanka – Ayurvedic Products, Spices, Gems & More



If one starts writing down all the things to buy in Sri Lanka, the list will never end. This place is a wonderland for shopaholics like us! We used to lose track of time whenever we set foot inside a market or mall. We ended up buying a variety of products like Sri Lankan herbs and spices and Sri Lankan tea.
The medium sized packets of spices like cinnamon powder and cinnamon sticks that we had bought cost us around INR 800/- per packet in the big cities like Kandy and Nuwara Eliya. Later, we figured that the same spices would have cost us not more than INR 250-300 per packet in smaller remote areas falling on the way.
When we were in Nuwara Eliya, we bought various authentic Ayurvedic products like creams, oils, and lotions from a spice garden. They were a little expensive (INR 1,500 per product), but the superior quality surely made up for it.
Suggested Read: 10 Places To Visit In Nuwara Eliya In 2021: The Mini London Of Sri Lanka!
The Beaches Of Bentota







I loved the beaches of Sri Lanka, especially the ones in Bentota. While we were these, trodding over that soft, warm sand and looking over the pretty sunsets while sitting on those golden shores used to be the most relaxing thing after a tiring day. If you're looking for a peaceful and secluded avenue in Bentota, the beaches are the right places to head to.
Suggested Read: 5 Most Amazing Things To Do In Kandy With Parents On Sri Lanka Vacay
Stroll, swim, jet ski, or simply get tanned on the sands – you can do whatever you feel like on those beautiful (and mostly secluded!) beaches of Bentota. Another great thing here is that most of the hotels are located right next to the shores, which means all you have to do is pick up a towel and a pair of slippers and walk right down to the beach whenever you feel like.
We had spent an entire day simply relaxing on the private beach of our hotel without a worry in the world, and I feel it's the most fun and exciting thing to do for water babies celebrating bachelorette parties in Sri Lanka.
A Sojourn In Nuwara Eliya





Nuwara Eliya is among the most delightful places to visit in Sri Lanka with friends. Calm, beautiful, and absolutely serene, it's the perfect kind of place for a mountain and tea lover to explore. We were surrounded by refreshing green foliage no matter which direction we turned our heads to. And the aroma of fresh tea in the air was calling out to "chai" addict in me!
It's now one of my favorite places since I'm a total nature baby and I loved both the natural and historical aspects of this lush paradise. I and the girls even went cycling by the Gregory Lake which was a truly special moment for us! I would totally want to go back to this haven someday!
Other than nature, one should also not miss out the temples and history of this place. A visit to the Seetha Amman Temple and the Seetha Eliya was both intriguing and soul-soothing at the same time. Even the visit to the Tea Factory was a very knowledgeable experience where we got a tour of the whole tea-making process.
The hill station of Nuwara Eliya provides as a great respite from the otherwise hot and humid weather of Sri Lanka. The weather here is always cool and soothing. In fact, the temperature had even dropped to 12 degree Celcius during the night when we were here, even in the month of April.
Suggested Read: The Ultimate Guide To Sri Lanka's Dambulla Cave Temple
Do's And Don'ts In Sri Lanka
If you have a Buddha tattoo, do make sure you hide it.
Do not wear revealing or too short clothes to the temples.
Make yourself a little familiar with the local culture and language before you head out for your trip.
What To Pack For Sri Lanka
Toiletries
Sunscreen and sunglasses
Comfortable dresses and sturdy footwear
A power bank
Universal power adaptor
Hiking shoes
Sri Lanka Travel Tips
If you're a vegetarian, make sure you do prior research and make a list of good vegetarian restaurants in Sri Lanka before actually setting off on your trip.
Sri Lanka has many more charming places in addition to Bentota and Nuwara Eliya. Have more days at hand so that you can check some out of those out as well.
Check the weather of the respective places you intend to visit and pack accordingly. Sri Lanka is a mix of hot tropical beaches and cool hill stations. The temperature could be 40 degrees in one place and 15 in the next.
Don't make a hectic itinerary. Keep time aside for leisure activities and relaxation.
The people of Sri Lanka are very friendly and honest. Don't be afraid to open up and make friends along the way!
Suggested Read: Here Are All The Amazing Things I Did On My Solo Trip To Sri Lanka
Our Experience With TravelTriangle
Needless to say, TravelTriangle is highly recommended for budget and customized trips. The trip was well within our budget where we could cover everything that we wanted to see in Sri Lanka with ease and comfort. The entire trip and TravelTriangle's services totally lived up to our expectations.
The hotel staff, as well as our driver-cum-guide, were super friendly. From listening to songs in the car, picking up flowers on the way for fun, to discussing Sri Lanka-India cricket matches, we made beautiful memories on the journey and the cab driver became a good friend.
Further Read: 26 Soul Satisfying Things To Do In Sri Lanka In 2021 For Travelers Of All Types
We hope Priya's awesome escapade to this tropical heaven with her girls has solved your dilemma on whether or not you should take a vacation to Sri Lanka. Now that you've read about all the beautiful experiences it offers, start planning your trip via TravelTriangle for the best deals on customized tours and a comfortable holiday experience within your budget.
Frequently Asked Questions About Is Sri Lanka Safe For Female Travelers
We had so many doubts while planning this trip. And now after coming back from it, we feel we are ready to answer them for other travelers out there.
Which is the best time to visit Sri Lanka?
You can visit Sri Lanka any time of the year but is advised you avoid the monsoon season since that may restrict your outings a little bit. Other than that, winters and summers would prove to be a great time to go there. One should also note that the peak tourist season in Sri Lanka is from October to April.
How do you get around in Sri Lanka?
While booking our trip, we had hired a car for the 6 days duration that we were there. You can also do the same if you're going for a package tour (which is anyway a great and economical option). If you're not interested in traveling via road, you can consider commuting by trains which will be enriched with beautiful sceneries and will prove to be quite adventurous.
Almost all major cities in Sri Lanka like Colombo, Kandy, Nuwara Eliya, Trincomalee, Ella, Badulla, Galle, Anuradhapura, Polonnaruwa, and more are connected via a well laid out railway network with frequent train traffic. You can easily book tickets on their official website before or during your trip, and it's super cheap.
Why should you visit Sri Lanka?
It's one of those very few places in the world that offers some of the most diverse landscapes ranging from rainforests, hills, beaches, mangroves, lakes, with a hearty combination of historical landmarks, Buddhist temples, cultural locales, and ruins. And the best part – you don't have to go very far to witness them all since Sri Lanka is a very small country and all its cities, towns, and villages are located very close to each other.
In terms of expenditure, Sri Lanka is pretty affordable as compared to many other third world countries. An exotic tropical island nation blessed with nature's bounty in abundance, Sri Lanka is loved the world over by all nature lovers, hopeless romantics, peace seekers, history geeks, and camera wielders.
What should I buy in Sri Lanka?
You should definitely buy spices, herbs, and Ayurvedic products from authentic Government certified stores. You should also buy tea and/or tea leaves and cinnamon. And if you are fond of jewelry, you should head to Government certified showrooms like Hemchandras in Kandy for buying ornaments made out of precious stones and gems which are very popular in Sri Lanka.
Is it safe to walk around in Sri Lanka?
Sri Lanka is a safe country, especially the populated and popular places like Colombo, Kandy, Bentota, Nuwara Eliya. One is least likely to face any sort of safety concern or menace during their tour. However, one should always take some basic safety precautions while visiting any destination on the planet. No matter where you are, it isn't advised to roam the streets late in the night especially if you're all by yourself, upset religious sentiments or traditions, disrespect locals, or break the rules and laws set down the respective government.
Is Sri Lanka safe for solo female travelers?
In light of the recent unfortunate events in Sri Lanka, people often wonder "Is Sri Lanka safe for single female travelers?". The answer is YES! Sri Lanka is absolutely safe and will make for a great destination for a solo trip!
Is Sri Lanka expensive?
In terms of the currency conversion rate, Sri Lanka is quite economical for Indian travelers. Things like entry tickets to major attractions, consumer goods, and cab fares in Sri Lanka are moderately priced.
People Also Read:
Girls Trip To Bhutan Girls Trip To North East Girls Trip To Jibhi