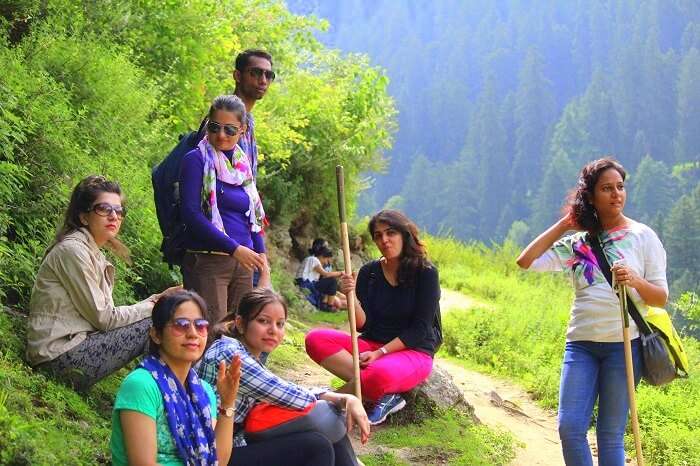 Isha Bhalla talks about her exciting 'All Girls' trip to Kasol that was organized by TravelTriangle. She elaborates on how her solo journey to Parvati Valley gave her a lifetime of memories to cherish. Her trip to Kasol cost INR 5999 and it included her transport, hotel, trek, and food. Let us hear her tale of adventure.
Trip type: Solo trip to hills that turned into an awesome group adventure!
Duration: 2 nights 3 days (WEEKEND!)
Budget: INR 5999 + a little extra money for miscellaneous things
Destination: Kasol (Chalal Trek + Kheer Ganga Trek + Manikaran + local sightseeing)
Distance to Delhi to Kasol: 550 km (approx. 14 hours)
Travel time: 14 hours (overnight bus journey)
Inclusions: Accommodation (Kasol and Kheer Ganga), meals, transfers (Bus), and trek (Chalal + Kheer Ganga), bonfire and party
Activities: Trek from Kasol to Chalal, Kheer Ganga trek, local sightseeing (on our own), bonfire dinner and party.
Kasol was an out of the world experience for me. I had heard a lot of adventure stories about this beautiful village in the lap of magnificent Parvati Valley and had wanted to visit it since a long time. So when I saw the TravelTriangle 'All Girls trip to Kasol' ad on Facebook, I was sure about doing this journey!
Booking my trip with TravelTriangle was a breezy affair and after I had gone through the trip details on Facebook, I filled up a form with my info and was soon contacted by representatives for the trip.
I soon finalized my trip and post a few necessary formalities, was sorted on my package to Kasol. All that was left now was the packing and that too was done in a jiffy! (Excitement for the trip yo!)
Finally, I was all set for a crazy trip to Kasol!
Day 0: Starting the journey
Finally, the day of my trip came and I boarded our bus to Kasol from Kashmiri Gate at around 6PM. Post an inspection by the TravelTriangle representatives, I soon settled down in the comfortable bus which was incidentally shared by other passengers outside TravelTriangle too. But this was not a point of concern and all the girls in our group soon settled in.
Our journey started at around 7PM with great zeal and excitement for the good things that were yet to come!

During our long road journey, we stopped only once and that too for dinner at a nice well-maintained restaurant. The food here was sumptuous and luckily we were done by the time the place got crowded.
Post dinner, the journey continued and we reached Kasol after almost 14 hours.
Day 1: Experiencing the amazing Chalal Trek



Suggested Read: A First-Timer's Guide To Kasol: Things To Explore, Eat And Experience In 2022
We reached Kasol in the morning and post check-in at the hotel, our trip organizers decided to do the Chalal trek from Kasol that was earlier scheduled for our last day.
Since we were all excited and in high spirits, we graciously accepted the offer!
The trek turned out to be an awesome experience and I loved the beautiful sceneries that fell on our way. The walk was a little tiring but all of it soon vanished when visited a nice cafe for drinks and food.
Sitting here sipping hot beverages and eating delicious snacks in the background of beautiful sceneries was a bliss and at this point, I truly felt the vibe of the mountains.
Later we trekked back to our hotel and relaxed for a while. In the evening, since someone had to pick up sport shoes for the Kheer Ganga trek next day, we all decided to accompany her to the Kasol center where we roamed around on our own.



By the time we got free, it was already dark and with no street light and our hotel being some distance away, we walked back in darkness. It turned even more thrilling when we all switched on the flash on our mobile phones and continued the walk in the background of the Parvati river.
Next up on our adventure list was the bonfire dinner and party which was again an awesome experience. Partying and making merry in the hills has its own charm and it was a refreshing experience.
Day 2: Witnessing grandeur of nature on the Kheer Ganga Trek



Suggested Read: Kheer Ganga Trek 2022: Whispers From The Parvati Valley!
The party previous night was a huge success and in the morning when I woke up, I was sure that I would be dead tired but surprisingly, the vibe of the mountains had worked its magic on me and I felt fit as a fiddle – ready for another day of adventure.
We were to initially trek to Tosh today but later decided on Kheer Ganga since it was more exciting. So post breakfast, we all got ready and were driven to the starting point of the trek – Barshaini (20 km from Kasol). the trek started and as we went further into the lush green pathways of the mountains, I could feel the charm of nature work its magic on me. The whole experience was mind blowing and although it was a little tough, time simply flew by!
The trek started on time and as we went further into the lush green pathways of the mountains, I could feel the essence of nature soothing my mind. The whole experience was mind blowing and although it was a little tough, time simply flew by!
Tired yet happy, we reached the mid point – Rudra Nag and were given an option to end the trek here if we wanted to. But since we had come this far, we decided to go on and complete the trek to Kheer Ganga! And I am so glad we did it, for the feeling of accomplishing it was simply amazing.


Later, in the night at Kheer Ganga, post dinner, all of us girls wanted to go on a night out to a nearby cafe and we requested our trip organizers to arrange cabs for us. They promptly did so and soon we were on our way. Time spent at the cafe was so fun that we even indulged in a dance session with the locals there.
Book Kasol Holiday Tour Packages with Travel Triangle Now
Day 3: Gurudwara and Hot Sulphur Springs



Suggested Read: 21 Enthralling Trails For Backpacking In India That Will Instantly Get You Going In 2022!
Everyone took their own sweet time to get up today and since we all wanted to do things that we had missed, we decided to go to Manikaran (famous for Gurudwara). We decided to walk down 2 km to our destination since there was no local bus available at that time.
The Gurudwara was really beautiful and we also ate the delicious langar there (kadhi-chawal). Incidentally, the rice we ate was also cooked in the natural hot water springs there.

After spending a fun afternoon here, we took a bus back to Kasol, checked out of the hotel, and then boarded our bus for Delhi.
We left for Delhi on Monday at 4 PM and reached Tuesday morning.
My trip to Kasol was a breathtaking experience and I loved each and every moment that I spent in the lush green Parvati Valley. I made a lot of friends during my journey and we all had a blast soaking in the adventure that the mountains offered.
There were special moments like the Sulphur Springs, the Kheer Ganga trek, and the bonfire party that I immensely enjoyed. And even in the future, I wish to keep enjoying and taking in the best of nature and life. 
High Points:
Chalal Walk – which gave us an intro of the good things that were yet to come!
The Kheer Ganga trek which was an epitome of adventure and the natural beauty of the place.
Sulfur springs and Gurudwara at Manikaran!
Tips for future travelers: Kasol is an awesome destination for both solo and group travelers who want to experience nature at its greatest. It offers many activities that not only replenish the body but also the soul! Go for it!
Feel the thrill of the mountains in Parvati Valley! Click on the link for more exciting weekend getaways!
---