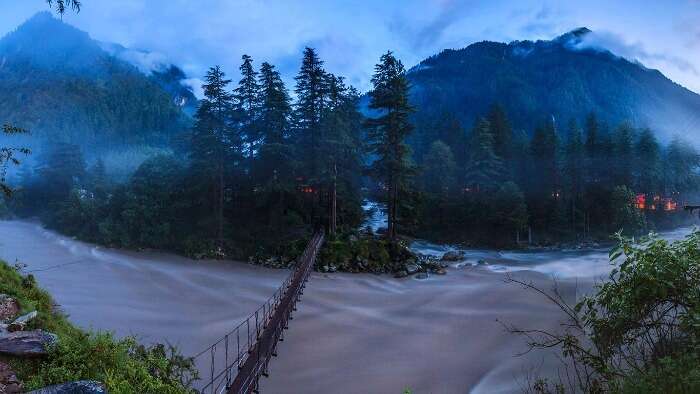 With the rapidly increasing number of backpackers and explorers looking for relaxing getaways in north India, the popularity of Kasol – a picturesque village in Kullu, stretched along river Parvati – has seen a sudden surge in the past five years. It's on everybody's checklist and the place hasn't disappointed any of those who planned a Kasol trip based on feedback from friends; family and serious travel bloggers.
The serene little village is 42 km away from the Bhuntar Airport offering a treat for the mind and the soul. It is on the way as you tread towards Manikaran, a holy place for Sikhs best known for its hot water springs. There are abundant treks and mini hikes that take you to tremendously beautiful villages. Not all of them are clustered with luxury stays and world cuisine restaurants, but you'll be surprised with the warm hospitality of the villagers and locals in the Old and the New Kasol, separated by a small bridge. Peruse the article and then plan your Kasol trip accordingly.
Here's a quick lowdown on places to explore, cafes to please the belly, and best experiences to indulge in, a complete first timer's guide to Kasol.
About Kasol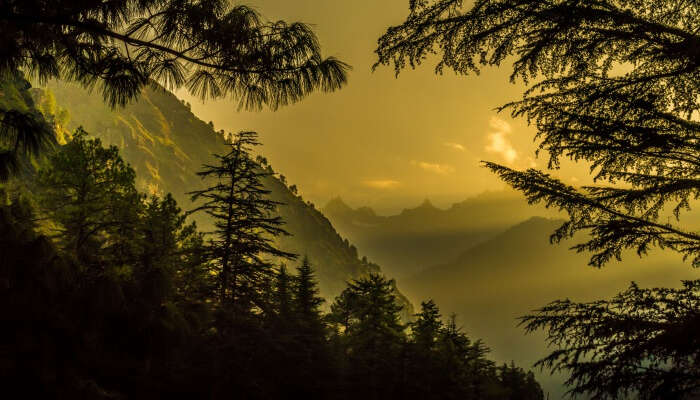 Kasol is known for its picturesque landscapes and interesting culture. This place always finds itself in traveler's list, especially those who are looking for peace as well as adventure. The villages and beautiful sights of Parvati Valley will make you never want to leave this place, as it will take you closer to nature. There's so much to absorb in the valleys of Kasol that you can't get enough.
Must Read: 8 Places To Visit In Kasol And Around It That Are A Treat To The Eyes And Soul
Best Time To Visit Kasol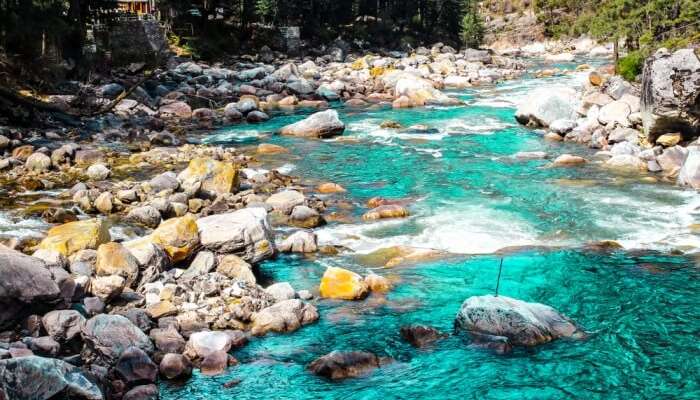 Though Kasol is a year-round destination, it is best visited during the summer months of May and June. However, people also love to visit the destination during the winter months of November to February.
Suggested Read: 10 Cafes In Kasol That Have Everything You Need For An Ultimate Food High!
Places To Visit In Kasol
Kasol is a small place that can be easily covered on foot. This Kasol travel guide brings to you the list of places that you should visit when in Kasol.
1. Chalal – Explore The Villages And Treks Around Kasol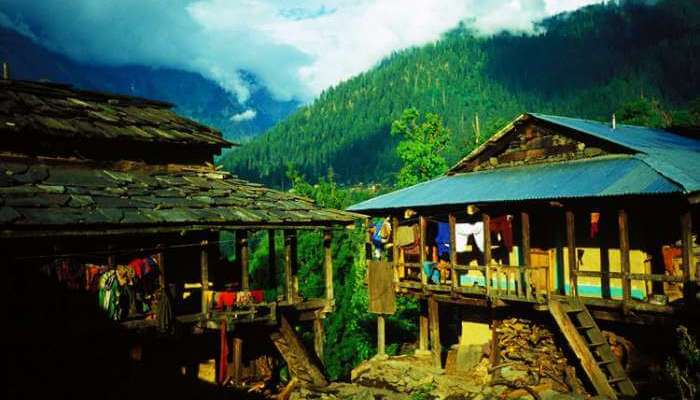 Image Source
There is no dearth of scenic spots in Kasol, which means you'll definitely come back with a lot of DPs and cover pictures. Treks and treads around include journeys to some amazing places near Kasol; such as Sar Pass, Yanker Pass, Pin Parvati Pass, and Kheerganga. You might need to travel small distances in a jeep or a cab to reach the starting place. If a tough climb is not your style, take a walk to Chalal, which is just 30 minutes away from Kasol.
For a feel of the rural life in these regions, visit Malana or Tosh. An isolated village 21 kms from Kasol, Malana is still untouched by the modern lifestyle. One of the oldest democracies of the world, Malana people claim that they are descendants of Alexander's army, but the claim is highly debatable. Their descent, however, isn't what makes this place so popular. It's the Malana cream – premium hashish which is popular among Israelis, Europeans and Indian youth visiting Kasol. Rules of Malana residents are strict with respect to outsiders, but the village and its beauty are a sight to behold. Rocky terrains with pleasing greenery and rural homes are both charming and peaceful.
Must Read: 11 Amazing Tree Houses In India: A Treat For Your Younger Self!
---
Himachal Holiday Packages On TravelTriangle
Head to Himachal to witness lush valleys surrounded by snow-capped hills. Indulge in skiing, paragliding, and other adventure sports. Book holiday packages inclusive of airport transfers, cab, resort, sightseeing, and meals to Shimla, Manali, Kasol, Dharamshala, and more.
---
2. Tosh – Enjoy Stunning Views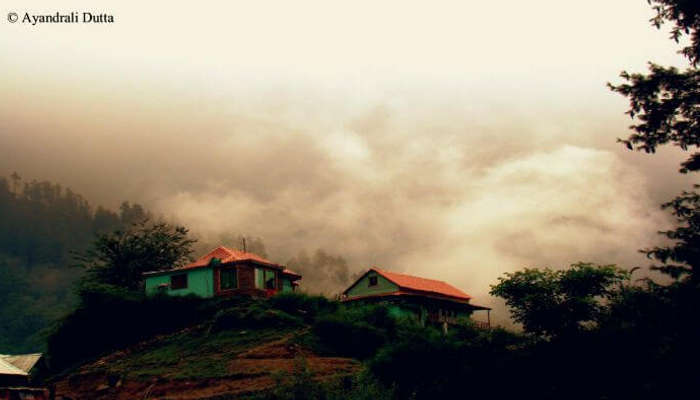 Another gorgeous village is Tosh, 18 km from Kasol. The road leading to Tosh is in a bad condition, so hiring a local cab is the best idea for those traveling by their own car. The ride might be bumpy, but for mountain lovers, it is the ultimate place to be at. Just tire yourself a bit more by going uphill to find a decent place to stay in. Some of the common stays that you can choose from are Pink Floyd Café, Shiva Mountain, Jackie Place Hotel Blue Diamond, Ashwin's, Olive Garden, Mountain Goat Café and others. From here you can head to a small trek to Kulta glacier – not very beautiful a scene, but worth an easy trek for sure.
The village however offers an unforgettable experience for those who love to unwind in the lap of nature; what's better than a lazy evening spent gazing at the majestic Himalayas. Do not miss the spectacular sunset and sunrise here.
Things To Do On Your Kasol Trip For A Memorable Experience
A lot has been written and blogged about the same cliché things to do in Kasol. While not all of them are absolutely useless, there's a lot more to experience here which this travel guide to Kasol will provide you with.
1. Hiking And Trekking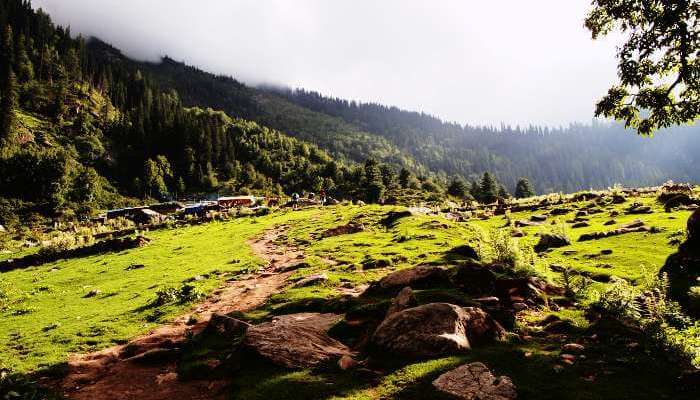 There's nothing more serene that walking along lush greenery. Kasol offers multiple exploration options for casual walkers, trekkers and everyone who falls between these two categories. Best people to give you an idea of the difficulty level of each are the locals. You could either get in touch with a local when you visit Kasol, or plan your trek in advance with the help of our verified local agents.
Suggested Read: 10 Terribly Overrated Destinations In India & Where To Go Instead
2. Israeli Food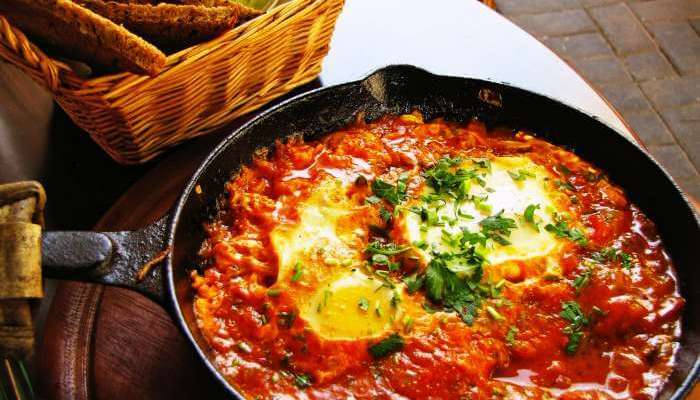 Image Source
Life's good with a Shakshouka, a Bureka, and a lemon cake in Kasol. Having covered the best places to visit in Kasol, you'd definitely love to gorge on some amazing food. If you have not tried the cuisine, this is the place to start. Go one dish at a time and keep repeating the ones you like. Don't forget the trout! And desserts are mind-blowing; we recommend Hello to the king and Hello to the queen at The Evergreen and the fresh bakes from The German Bakery at Moon Dance.
Must Read: Pranav's Solo Trip from Kasol to Kheerganga
3. Camping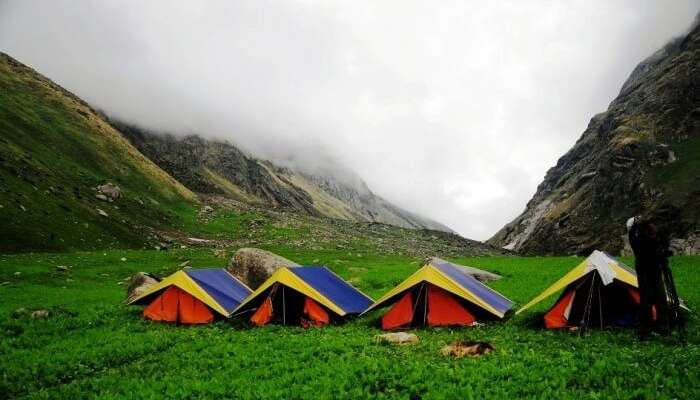 Image Source
Confused about where to stay in Kasol? Have you tried camping? If you haven't done it yet, try it here. While there are a few options, but try your luck at the Forest Department tents. Beautifully located beside the fiercely flowing Paravti, they offer one of most gorgeous morning and evening views in the valley. Also, the camps are quite comfortable and neatly maintained. Prices are as low as Rs 150 during the offseason and Rs 300 during the peak summer (May-June).
Suggested Read: 10 Fascinating Places To Wake Up On Your First Anniversary
4. Enjoy The Serenity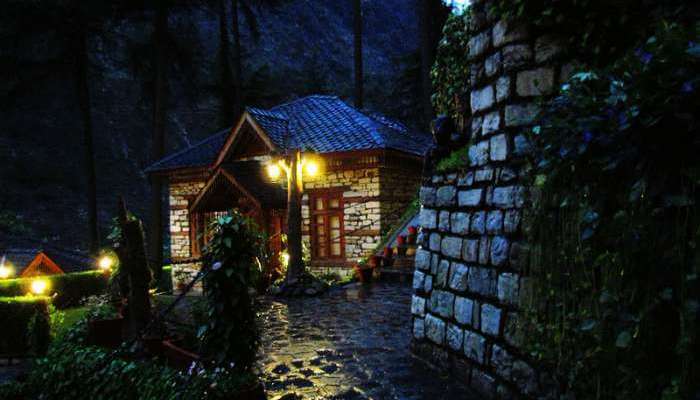 Kasol can be really peaceful. Do what you love the most while you're still surrounded by the mighty peaks and a powerful river. Kasol is the place to stir up old hobbies that get lost in your urban routine. Read a book, pen a prose, sketch, draw or paint, create a song, dream, ponder or do anything that you love doing, in a spot that makes you peaceful inside.
Suggested Read: 8 Homestays In Kasol That Will Take You A Step Closer To Nature
5. Gaming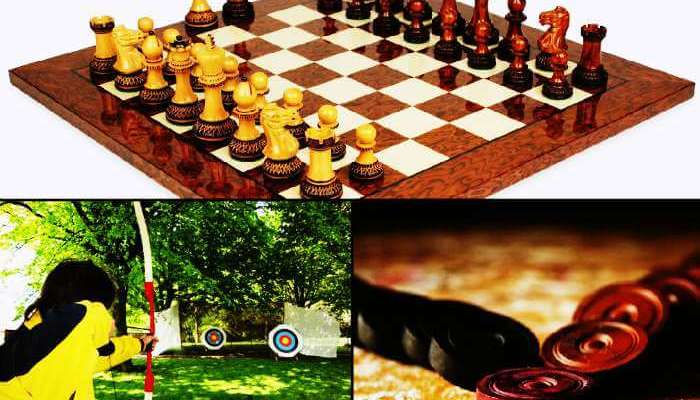 If you have a chance to plan your visit, pack that dusty archery set, the almost lost air gun, or that carelessly tucked away badminton set. If you are in a group, play a game of pithu; volleyball at Cottage Cafe; or carom at Jim Morrison Café. It is the best place to enjoy some time with your friends and going back to games, you once loved to play.
Suggested Read: 30 Places To Visit In India Before You Turn 30
Indulge In Israeli Food At The Best Cafes In Kasol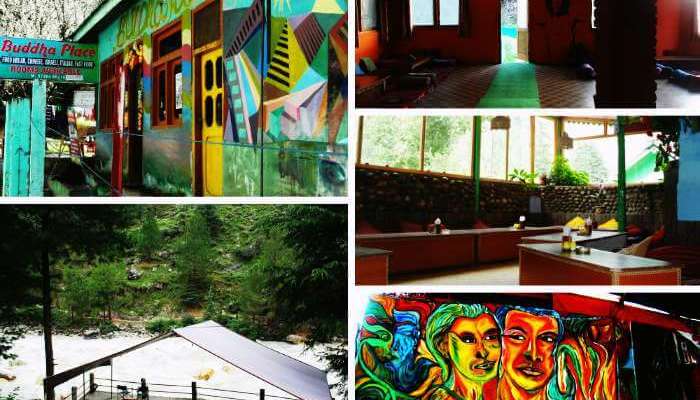 Left (top to bottom): Buddha Place Cafe; Alpine Guest House Cafe
Right (top to bottom): Jim Morrison Cafe; The Evergreen Cafe; Stone Garden Cafe
If you thought mountains and Malana cream are the only attractions in Kasol, you are wrong. The hippie village offers you abundant options from Israeli, Italian, Chinese and Indian cuisines. Almost all places have Shakshouka, Falafel, Schnitzel, Bourekas, and the desserts at German bakeries are to die for. Some of the popular cafes that must be on 'check-it-out' list are:
Stone Garden Café: A 24-hour café with awesome food and ambiance.
Freedom Café: It's the music and the legacy of 'freedom cafes' that keeps it bustling most time of the year.
Jim Morrison Café: Great music after a small trek makes it special. Food is all vegetarian though.
Shiva Shanti Café: Terrace seating allows an enchanting view of the valley and the surrounding peaks.
The Evergreen Café: Don't miss the church behind and the great food.
Moon Dance Café: Lovely setting, great food, and an irresistibly good bakery.
Bhoj Café: One of the oldest cafes is a different experience altogether.
Buddha Place: Vibrant music and interiors.
The Art Café: Go here for some peace.
Alpine Guest House Café: A scenic café along the fiercely flowing river Parvati.
Let us inspire you a little more with this TravelTriangle video that was shot during a Kasol weekend trip from Delhi
Further Read: Check out Pranav's Delhi to Kheerganga Trip
Convinced to visit the place? We bet you will have an amazing time there with this first timer's guide to Kasol. Book a trip with TravelTriangle and have an amazing time with your friends. Kasol is a pretty safe place to travel solo too! So, if you have been thinking for a while to go solo someplace, then start here!
Frequently Asked Questions About Kasol
Q. How many days are enough for Kasol?
A. For a memorable Kasol trip, 3 to 4 days are enough. The trip is perfect for those looking for a relaxing getaway in North India with many places to visit in Kasol and around it.
Q. What should I wear in Kasol?
A. When packing for Kasol, keep some loose T-shirts and pajamas. Also, comfortable shoes are very important as the place is known for wonderful treks.
Q. How much does a Kasol trip cost?
A. A 3 to 4 days trip to Kasol will cost somewhere between INR 3,700 to INR 5,000.
Q. Is it safe to travel to Kasol during monsoon?
A. Visiting Kasol during monsoon season can be a bit risky as the region experiences heavy downpour and has the brisk of landslides.
Q. What is the best time to go to Kasol?
A. Kasol is a year-round destination but October to June is the best time of the year to visit Kasol, Explore the wilderness of the place is from March to May which is also an ideal time for a visit.
Q. Is there snowfall in Kasol?
A. Yes. Kasol experiences heavy snowfall from October to February each year leaving most of the roads to Kasol are inhospitable.
Q. What is Kasol famous for?
A. Kasol is famous for its picturesque forests and see-through mountain streams and the charming Sylvan hills.
Q. Is Kasol safe for solo female Traveller?
A. Kasol is perfectly safe for all kinds of travelers even for solo female travelers.
Q. How can I go to Kasol from Kheerganga?
A. You can get a bus from Kasol to Bharshaini which is the starting point of the Kheerganga trek.
Q. Is Manali better or Kasol?
A. Both the hill stations have a unique charm. While Manali is more of an adventurous and vibrant tourist place, Kasol will surprise you with its offbeat locations and welcoming locals.
Q. How do I get from Malana to kasol?
A. Malana village is located at a distance of 21.5 kilometers from Kasol, which means it will take you around an hour to cover the distance between to destinations. You can do so with ease via car.
---
Looking To Book A Holiday Package?
Book memorable holidays on TravelTriangle with 650+ verified travel agents for 65+ domestic and international destinations.
---
People Also Read:
Japan Travel Guide Alaska Travel Guide Malta Travel Guide
Comments
comments