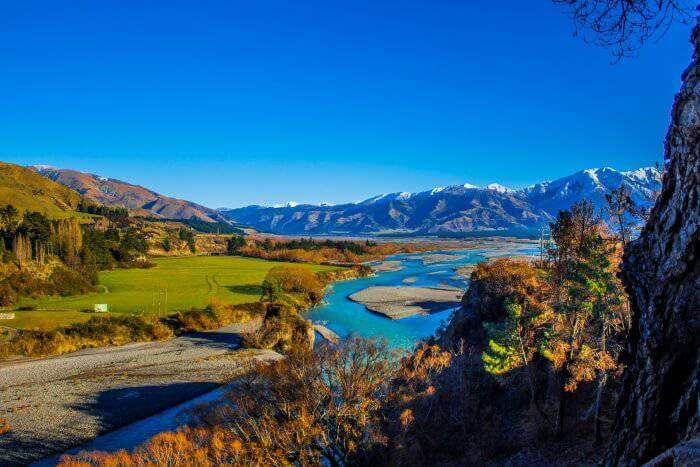 New Zealand is an island country situated at the south-western Pacific Ocean. Mainly New Zealand's geography consists of two islands – the South Island and the North Island. Once you are in New Zealand you will not feel like packing your bags again and leave this beautiful country. Wellington, the capital of the country is located on the 'North Island' and it hosts the Te Papa Tongarewa, one the most spread-out national museum. And if you are 'Lord of the Rings' fan, then New Zealand's 'South Island' is the perfect place for you where you may get a chance to stay in the Hobbit's village. There is one more thing that you will get in abundance in New Zealand and that is a volcano.
10 Best Islands Near New Zealand
There are almost 600 islands around New Zealand. Some are easier to access and some are not but all of them have their own beauty and magnificent landscapes to share. Here we present you the 10 best islands near New Zealand that will surely give everyone breathtaking pictures and memories to cherish for the rest of their life.
1. Stewart Island

Stewart Island is also known as Rakiura Island. It is the third biggest island in New Zealand. If you have a craze to walk and trek in the middle of exceptional wildlife, spectacular natural beauty then you must visit this beautiful island. The island is located 30 kilometers south of the South Island. There is only one town on the island, Oban. Oban is on the eastern face of the island facing Halfmoon Bay.
Must Read: 15 Adventurous Spots For Camping In New Zealand On Your Next Trip In 2022!
2. Waiheke Island

Waiheke Island is one of the beautiful and largest islands of New Zealand. If you have a dream of a destination wedding or want to devote your honeymoon to an island then this is the island for you. The island offers picturesque vineyards and exotic beaches. The island is densely inhabited. Waiheke Island is easily accessible. You can just catch a ferryboat from Auckland and reach the island in just 40 minutes. As it is easily accessible the island is perfect for a day trip.
3. New Caledonia

New Caledonia is one of the most amazing tropical islands near New Zealand. New Caledonia offers a totally different environment and experience as it is in the mainland of New Zealand. To reach this tropical island it takes only a 2 and a half hour flight from Auckland. This beautiful island has white-sand and crystal clear water to offer. New Caledonia has a European culture specifically French and it offers delightful foods.
Suggested Read: Food Festivals In New Zealand: To Indulge In The Country's Most Exclusive Delicacies!
4. Little Barrier Island

Little Barrier Island hosts the first nature reserve established in the Kiwi land in 1896. This island is of extreme importance for the conservation of the local flora and fauna. Access to this beautiful and important island is extremely limited. To visit Little Barrier Island one need to get a special certification provided by the Department of Conservation. After that, you will be allowed to get on a permitted vehicle that will take you to the island. 'Little Barrier' Island is located 80 km north of the city of Auckland. It is a perfect place for diving, snorkeling and bird watching.
Suggested Read: Casinos In New Zealand: 5 Best Places For A Fascinating Outing In This Scenic Land!
5. D'Urville Island

This island is termed after the French traveler Jules Dumont d'Urville. The spectacular island is located in the Marlborough Sounds. D'Urville Island is the eighth biggest island of New Zealand. If you are looking for adventure sports in New Zealand then this picturesque island is the most ideal one. In this island, you can take part in activities like diving, snorkeling, walking, marine wildlife spotting, and cycling. The natural aloofness of the island is the main attraction of the island.
6. Fiji Island

Fiji Island is the most beautiful among the Pacific islands near New Zealand. Fiji Islands have one of the best infrastructures for tourism. This spectacular island is the perfect place for romantic holidays with your partner. You can absorb yourself in relaxing with a beautiful view of the sea, going into the water to see breathtaking aquatic wildlife and in some adventure sports in the exotic islands of Fiji. It takes only a 3-hour flight to reach Fiji from New Zealand.
Suggested Read: Top Five Airports In New Zealand For A Memorable NZ Beginning
7. Rangitoto Island

If you wish to visit an island which has been created by nature just a few centuries ago, then you should pay a visit to Rangitoto Island in New Zealand. The Rangitoto Island and the young volcano which it possesses are one of the most distinguishable natural landmarks of Auckland. This island has arisen from the sea 6 centuries ago. Rangitoto is also famous for the adventure activities it offers. You can engage yourself in activities like bird watching, sea kayaking and a walk to the summit of the Rangitoto Island.
8. Poor Knights Islands

Don't get mislead with its name. The island is not at all poor in fact it houses a very rich flora and fauna. Poor Knight Islands are the leftovers of some old volcanoes that have been shaped into a breathtaking network of submerged caves, tunnels, arches and cliffs. These beautiful and amazing islands are situated on the Tutukaka coast of the North Island. Activities to get engaged in these islands are diving and snorkeling. These islands are also marine reserve. So when you are on this island give yourself a chance to enjoy the amazing marine life it hosts.
Suggested Read: 5 Best Zoos In New Zealand For A Thrilling Holiday Experience With The Wild!
9. Enderby Island

Enderby Island is situated in the North of the Auckland archipelago. The island is famous for its fauna. While your visit to this beautiful island you can adore watching the prevalent seabirds species such as Auckland teal, Auckland shag, and Auckland snipe. Enderby Island is also a home for sea lions, northern giant petrels, yellow-eyed penguins, and northern giant petrels. So if you want to witness these beautiful faunae then you must visit Enderby Island.
10. White Island

Your visit to New Zealand is incomplete without witnessing an active volcano. There is only one active volcano in New Zealand and that is Whakaari or White Island. This island is in in the 'Bay of Plenty' 48 km away from the east coast of the North Island. This island is a hotspot for tourists as well as scientists. The geothermal beauty, surrounding water of the island is among the breathtaking assets of this island. You will be able to witness the underwater steam openings and the resident aquatic life. This island should be on your list when you visit New Zealand.
Further Read: New Zealand With Kids: To Pamper The Little Ones With The Best Things To Do!
New Zealand is known for its beauty and scenic landscapes. There are almost 600 small and beautiful islands near New Zealand. Pack your bags, take a flight and visit these beautiful islands near New Zealand. There are a lot more holiday islands here that you can explore in your trip to New Zealand.
---
Looking To Book An International Honeymoon?
Book memorable honeymoon on TravelTriangle with 650+ verified travel agents for 65+ domestic and international destinations.
---