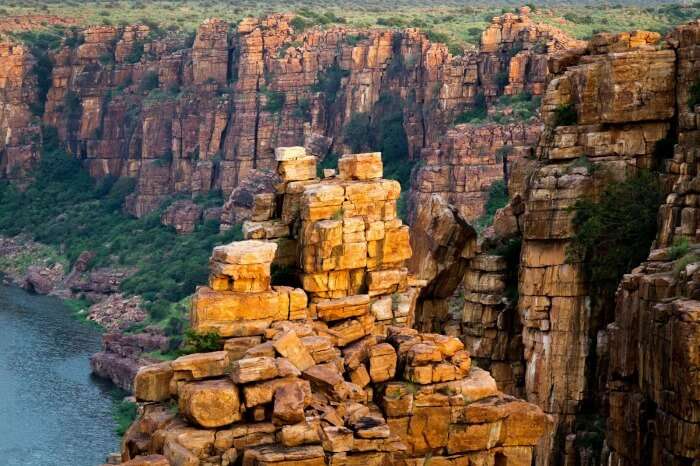 Gandikota is a small village in the Kadapa district of Andhra Pradesh that is known for its spectacular gorge formed by the river Pennar that cuts through the Erramala hills. This handsome piece of nature's architecture has come to be known as the Hidden Grand Canyon of India by travelers who visit it and get bewitched by its beauty.
There are several other attractions in and near the village that allure visitors, the most special being the ancient, magnificent Gandikota fort that sits majestically on top of the gorge. Apart from the unmatched beauty of the gorge, the mystical charm of this fort makes a visit to this village all the more exciting for history lovers and adventure seekers.
Quick Links To Navigate Grand Canyon Of India
Why Visit Gandikota?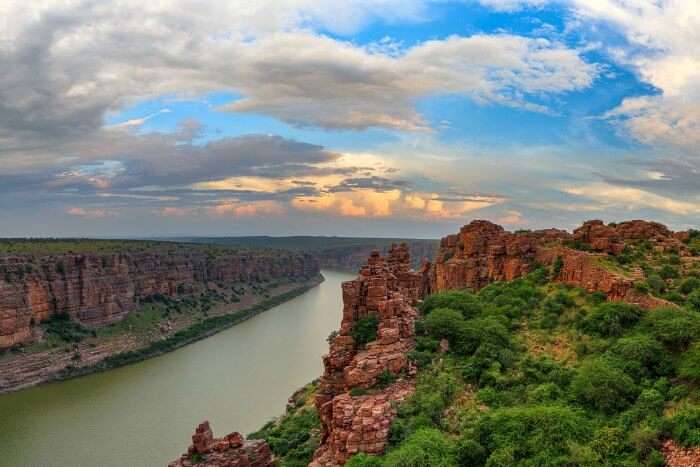 For once, it houses the Indian version of Grand Canyon that, over the coming years, might be giving serious competition to its Arizona counterpart owing to its breathtaking beauty. And the best part, this small, offbeat village has not yet been commercialised, which means you're not likely to find noisy crowds of tourists photobombing your selfies and garbage littered about everywhere! This is also one of the best places to visit in South India. 
58 Fabulous Places To See In A Day Around Bangalore In 2022!
Why Is Gandikota Called The 'Arizona Of India'?
Gandikota is a beautiful village located in the heartland of Bangalore. This untouched and unexplored place is a weekend getaway from Bangalore and deserves much more traction. In India, we usually do not witness gorge formations and thus it is called as the Arizona of India or the Indian grand canyon. Similar to the Grand Canyon in Arizona, this gorge is a stunning assemblage of rocks, cut and layered in the most amazing  way. Maybe the following pictorial comparisons can explain that better: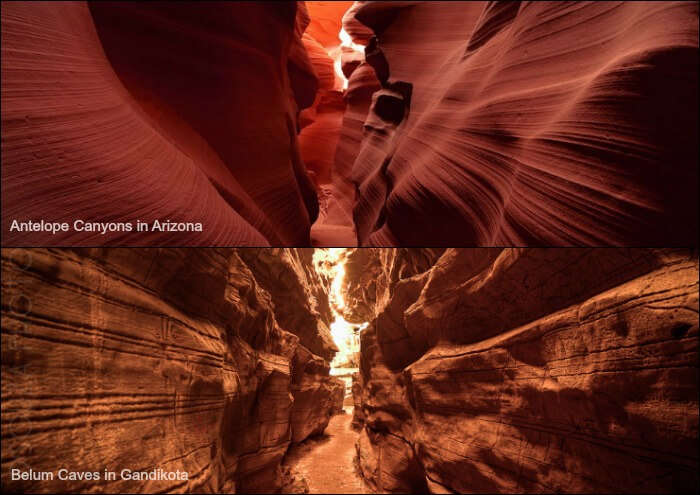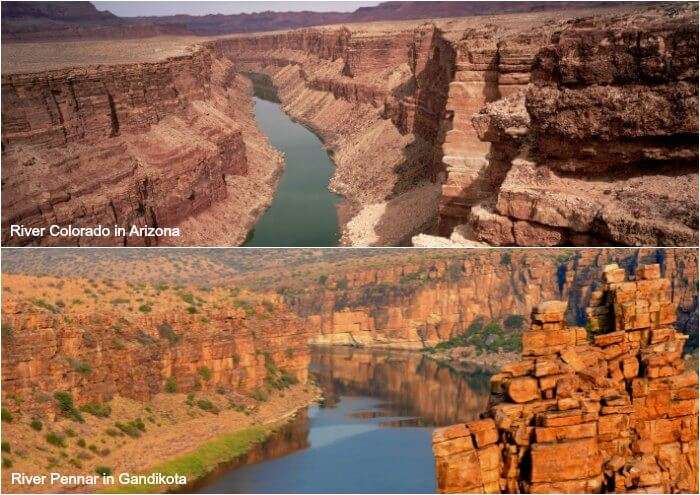 Any more doubts?
Best Time To Visit Gandikota
One should ideally visit Gandikota, hidden Grand Canyon Of India between September to February as the weather is comfortable and pleasant. The summer months are hot and humid with the temperature sometimes soaring up to a good 40-45 degree celsius, and thus is not a good time to witness the Grand Canyon India gorge.
8 Charming Places To Visit In Vizag In Summer For Your Trip To Andhra Pradesh In 2022
What To Do At Gandikota: Grand Canyon Of India
Gandikota may be famous for the hidden Great Canyon of India, but this stunning gorge is only one of the many attractions of Gandikota. There are various things to do in Gandikota Grand Canyon that one must indulge in during their visit:
1. Wander About The Ruins Of The Gandikota Fort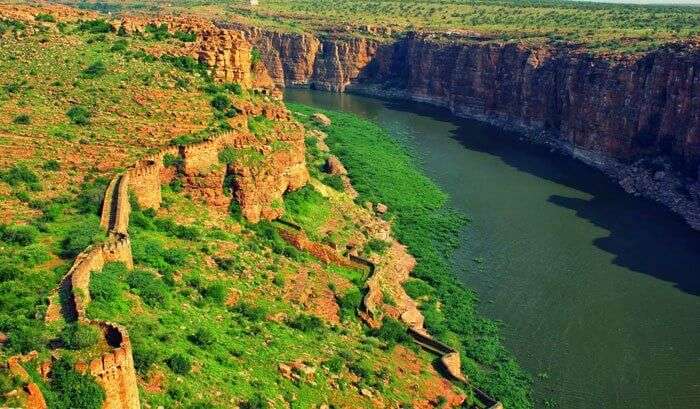 Spread over miles, the massive Gandikota fort was built in the 13th century. The fort, made in red sandstone, comprises gorgeous palaces with intricate carvings, perennial springs to irrigate the nearby vegetation, and a 5-mile perimeter wall guarding the fort. Located adjacent to each other, the remains of a Gandikota temple built in the same century and a mosque added years later set a great example of unity in diversity. One can take a leisurely walk along the fort's perimeter wall, stop by to watch the serene river, or even watch the fort transform into a play of colours at dusk. A trip to Gandikota is absolutely worth it if you wish to indulge in Gandikota fort's history narrating the tale of an entirely different civilization that existed centuries ago! If you wish to visit the best places in Andhra Pradesh, make sure to visit here.
Location: Gandikota Fort, Kadapa, Andhra Pradesh – 516433
Timings: 8:00 am to 6:00 pm
2. Gulp In Breathtaking Views Of The Gorge And The Pennar River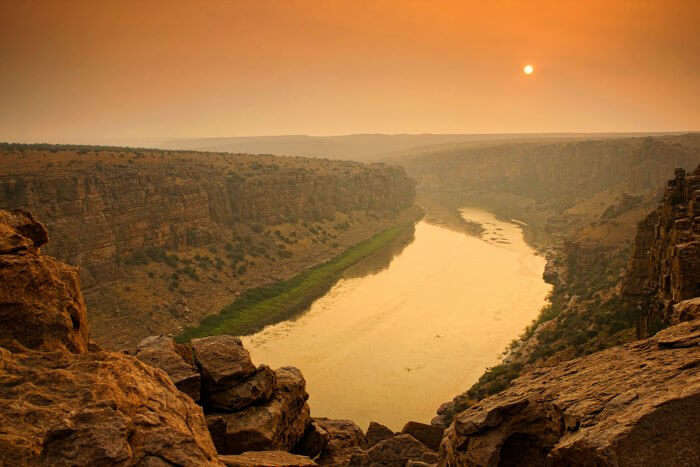 Watch the Pennar river peacefully flow through this brilliant stone gorge that's an artwork in itself, and you'll realise why it is called the Grand Canyon of India. Just like the Grand Canyon in Arizona, this massive gorge is a stunning assemblage of rocks, cut and layered in the most peculiar way as if they were arranged by hand! Climbing up those treacherous rocks can be a task in itself, but the amazing views you'll get once you're up there is totally worth it. Sit on top of the rocks and merely watch groups of pelicans fly over the velvety green river every now and then while the sun sets in the backdrop, and your trip to Gandikota grand canyon will be nothing short of heavenly!
Tip: There aren't many food options near the fort and the gorge, apart from very few shops selling snacks and soft drinks. Make sure you pack some before you leave for the day's sightseeing.
Location: Chikkaballapur District, Andhra Pradesh-562101
Timings: NA
35 Road Trips From Bangalore You Must Plan With Your Friends In 2022
3. Stare In Awe At The Fascinating Interiors Of Belum Caves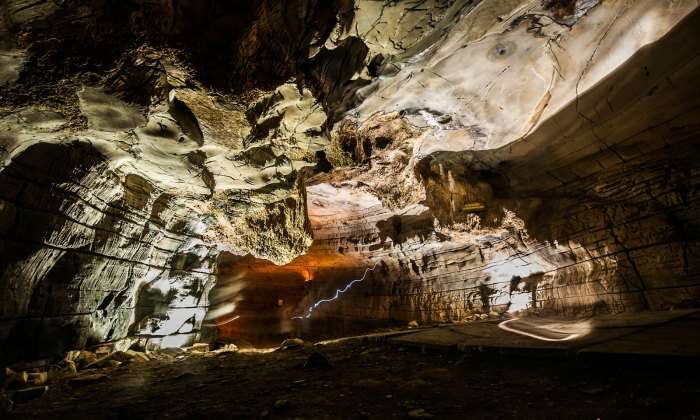 Pictures of the Antelope Canyons in Arizona must always have fascinated you. What if I say you can get that same experience in India? You heard that right! Apart from an Indian version of the Grand Canyon, we also have an Indian version of the Antelope Canyons called the Belum Caves. Belum Caves is the second largest cave system in the Indian subcontinent and has great significance in terms of its geology, archaeology, architecture (according to geologists who recently studied the area). In fact, geologists have also found surplus deposits of Quartz in the stalactite and stalagmite formations of the cave.
Location: 1/1, Opposite Indian Oil Petrol Pump, Kolimigundla, Andhra Pradesh 518123
Timings: 10:30 am to 4:00 pm
4. Sit On The Banks Of The Rayalacheruvu Lake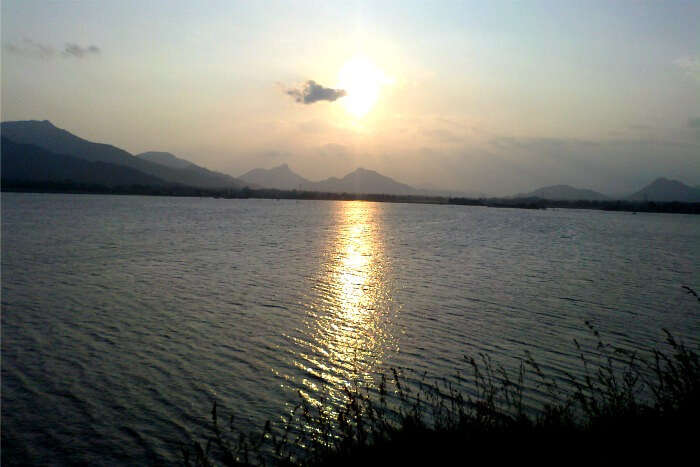 Adjacent to Gandikota fort, lies a magnificent lake that is believed to have been established by emperor Sri Krishnadevaraya using water from the Pennar river. One can sit on the bank of the lake on their trip to Gandikota and admire the canvas of nature before him- calm and clear water in front, layers and layers of the tranquil Erramala hills in the backdrop, pretty hues painted in the sky, and many native and migratory birds peeping out of the thickets every now and then. The lake, according to recent developments, will now be used for irrigation in order to help the farmers of the village, apart from being a booming tourist attraction in Gandikota.
Location: Rayala Cheruvu Rd, SBI Colony, Tirupati, Andhra Pradesh 517501
Timings: NA
20 Super Cool Places Near Hyderabad For The Quirky Explorers In 2022!
5. Find Peace At The Architecturally Rich Temples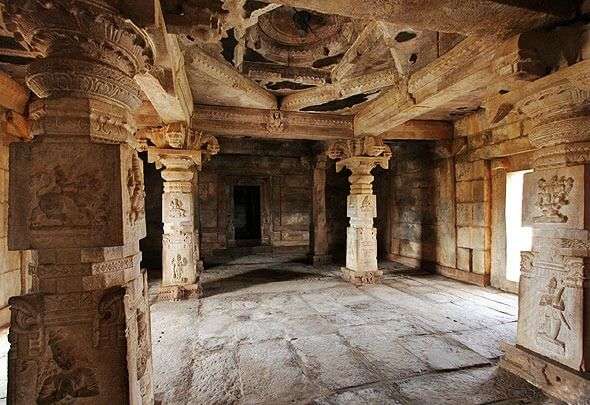 One shall find remnants of two spectacular temples near the village on their tour – the Madhavaraya temple and Raghunathaswamy temple. Visiting these architecturally rich temples is one of the best things to do in Gandikota. The Raghunathaswamy temple, made of red granite, is a complex system of pillars, hallways, and corridors with an air of mystery about them since the temple has not a single idol of Gods and Goddesses. The Madhavaraya temple on the other hand, is a fascinating play of architecture with many sculptures of Hindu Gods and everyday rituals of common people carved on the pillars and walls of the temple. It is an excellent display of art that has the life and culture of the lost kingdom preserved in its granite walls.
Location (Madhavaraya temple): R77M+7HQ, Gandikota, Andhra Pradesh 516434
Location (Raghunathaswamy temple): R78M+PXJ, Gandikota, Andhra Pradesh 516434
Timings: Both the temples are open throughout the day
6. Pay Your Respects At The Jamia Masjid Of Gandikota Fort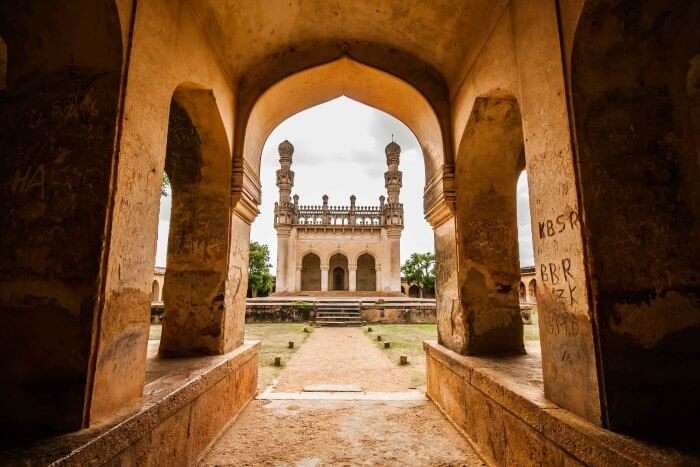 Though the walls of the mosque have lost their lustre over time, it still manages to bewitch travelers with its simple, yet elegant Islamic architecture. Visitors of the masjid are first greeted by a grand multi-arched entrance, and then the main prayer hall where thousands once converged in heartfelt prayers. From the top of the entrance, one can spot the Gopuram of the Madhavaraya temple located close by. Both stand beside each other in utter peace and harmony.
Location: Gandikota Fort, Kadapa, Andhra Pradesh – 516433
Timings: 6:00 am to 6:00 pm
7. Indulge In Adventure Activities At The Gorge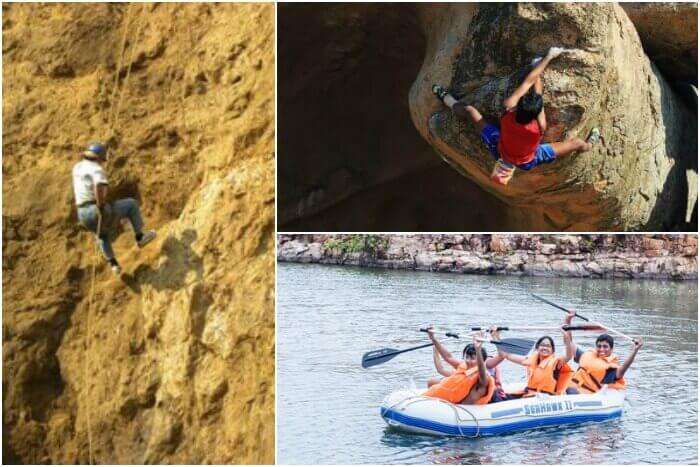 Gandikota, the forgotten Grand Canyon of India has everything for everyone, even for the adventure-hungry. As Gandikota is slowly stepping out and coming under the tourism spotlight, various travel ventures are starting to take hold in the village. One can get down to the gorge and engage in a number of adventure activities like rock climbing, rappelling, trekking and kayaking in Gandikota.
Average cost: INR 1000
25 Best Places To Visit In Visakhapatnam In 2022 To Relish The True Charm Of This Coastal Gem
Where To Stay In Gandikota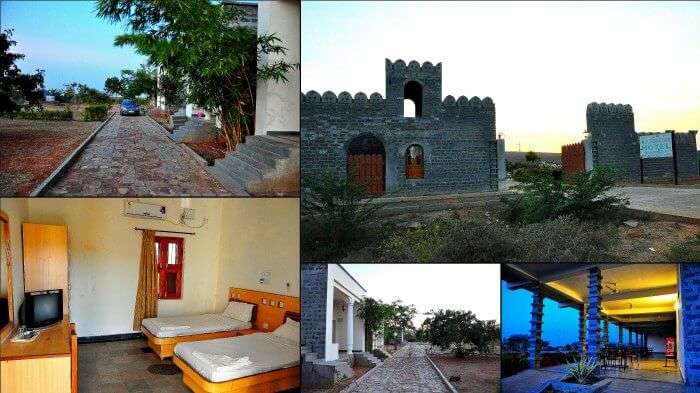 Image Source

1. APTDC Complex: The sprawling complex in Gandikota is spread over an area of 10 acres and has 12 cottages, a dining hall, a dormitory, a massive parking space and a play area for kids. The complex has cosy air-conditioned rooms with various facilities promising a comfortable stay. In order to book a room, one is supposed to call up and make reservations on phone, as the complex doesn't have any online mode of registration.
Location: Gandikota Road, Gandikota, Andhra Pradesh 516434
Cost: INR 1680 per night
2. Camping at Pennar river: If you're looking for quirky stay options and wish to sleep under the stars with the river gushing beside you, then camping at Gandikota is the perfect thing to do. Freakouts Adventure offers easy and comfortable camping opportunities to travelers, along with the scope of adventure activities in the gorge, like rock climbing, rappelling, and kayaking.
Location: Gandikota, Hyderabad
Price: INR 1599 per night
Where To Eat In Gandikota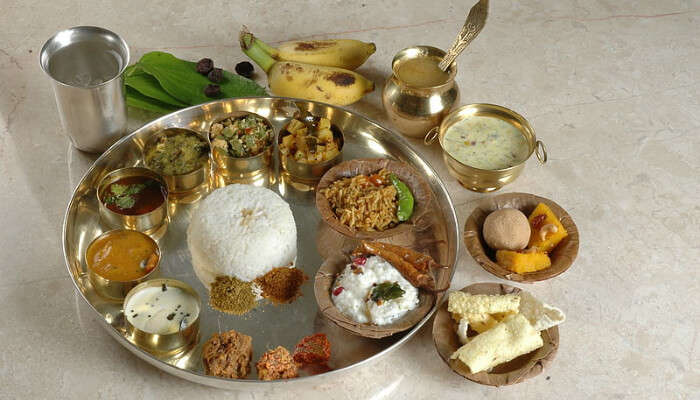 Image Credit – PriyaBooks for Wikimedia
There are some amazing places to eat in Gandikota offering a wide range of options for breakfast, lunch and dinner. Some of these top places to eat are Sri Sri Lakshmi Narayana Bhavan, Gandikota Penna River View and Abhiruchi Family Restaurant. After all, with so much sightseeing one is bound to feel hungry. Be it a wholesome meal or snacks, you will find plenty of options near Gandikota Fort such as Priyanka Restaurant, Nirmala Bakery and Andhra Spice. 
Snowfall In Lambasingi In Winter 2022: Your Handy Guide
How To Reach Gandikota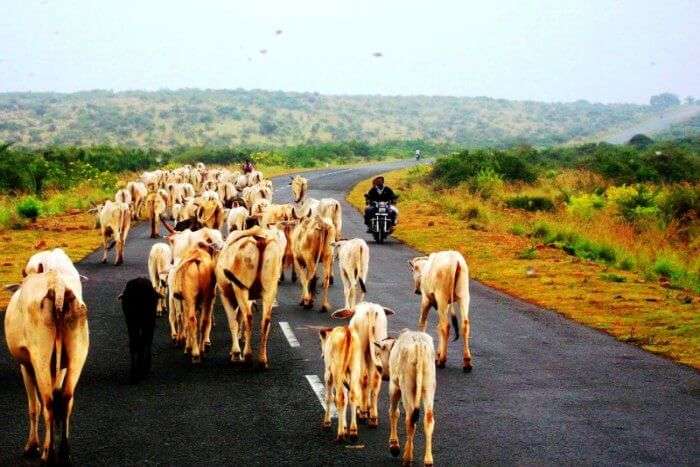 By Air
Tirupati Airport at Renigunta and Bengaluru International Airport at Bangalore are the nearest airports to Gandikota. One can take a flight to either of them and cover the rest of the distance to Gandikota by bus or private cab. Bengaluru Airport is 345 km (6 hours) from Gandikota while Tirupati Airport is 220 km (4.5 hours) away from the same.
By Train
The nearest railway stations to Gandikota are at Jammalamadugu (18 km away), Kadapa (77 km away), and Tirupati (219 km away). One can also take a direct train from Bangalore to reach this place (which shall surely turn out to be more convenient and less tiring than a bus journey from Tirupati or Bangalore).
By Road
Gandikota is well connected to major cities like Bangalore, Hyderabad and Vizag through the NH 7. Owing to the fact that roads in Andhra Pradesh are in excellent condition and connected to various link roads and state highways, one can have a smooth, hassle-free road trip to Gandikota. In fact, Gandikota is rather frequented by backpackers and bikers than normal tourists.
20 Offbeat Places Near Bangalore That Cherish Your Weekend Delights In 2022
What are you still waiting for? Rope in your rider buddies and set out on an awesome trip to Andhra Pradesh to see the Grand Canyon of India in Gandikota. And don't forget to share this handy guide with all travel enthusiasts in your circle. Have any more useful tips for travelers? Pop them in the comments below.
For our editorial codes of conduct and copyright disclaimer please click here. 
Frequently Asked Questions About Gandikota Fort
What does Grand Canyon mean?
The Grand Canyon is one of the most important natural attractions in the USA located in the state of Arizona. It is a 277 mile long steep-sided canyon that has been carved by the Colorado River. Gandikota canyon in India is often compared to the Grand Canyon because of its resemblance.
Who built Gandikota fort?
Kapa Raja, a king of Bommanapalli village discovered Gandikota in 1123 who made it a Sand fort after its discovery. Inscriptions dating back to the 16th century have been found inside the fort.
How do I get to Gandikota?
Tirupati Airport and the Bangalore International Airport are the nearest airports to Gandikota if you wish to fly down there. And Jammalamadugu (18 km away), Kadapa (77 km away), and Tirupati (219 km away) are the nearest railway stations to Gandikota.
What is Indian Grand Canyon?
The massive gorges of Gandikota are often referred to as the 'hidden Grand Canyon of India'.
What is the best time to visit Gandikota?
The best time to visit Gandikota will be from September to February. The weather is pleasantly cool at this time that can enhance your overall experience.
How far is Rayalacheruvu Lake from Gandikota?
The Rayalacheruvu Lake lake is nearly 250 km away from the Gandikota fort and can be reached in about 5 hours if you are traveling by road.
What are the activities to do in Gandikota?
For all the adventure seekers out there, here are a few adventurous things that you can do in Gandikota.
1. Camping
2. Rock Climbing
3. Hiking
4. Kayaking
5. Cave exploration
Which are the popular places to visit near Gandikota fort?
Some of the most popular places to visit near Gandikota Fort are
1. Belum Cave
2. Owk Reservoir
3. Yaganti Temple
4. Oravakallu Rock Garden
5. Kurnool Fort
Comments
comments