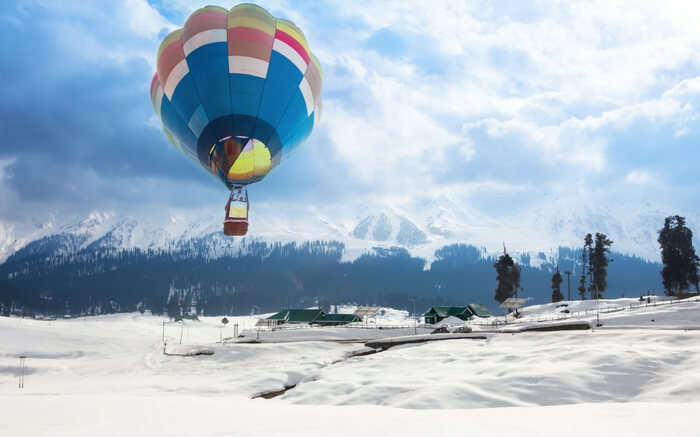 Kashmir is the best thing ever happened to India! For all the enchantress that this piece is paradise is, one must plan an extensive excursion of the Himalayan beauty. There are times when Kashmir flourishes with maple in the fall, green pasture in the summer but winter in Kashmir is really special. Nothing in the world looks prettier than the way top tourist places in Kashmir like Gulmarg, Sonmarg, Pahalgam, and Srinagar appear; all cast in the snow.
In fact winter in Kashmir is challenging. Kashmir thrives in a dreamy surrounding. The entire valley is covered with a blanket of snow. Life comes to a halt during winters as one can't find too many people around. Stunning escapades loom largely bejeweled with imposing mountain peaks in the backdrop, and partially frozen pine trees cut the picture of a mesmerizing sight around.
Must read: Autumn Affair In Jammu & Kashmir: A Burst Of Colours!
What's the ideal time for winter in Kashmir?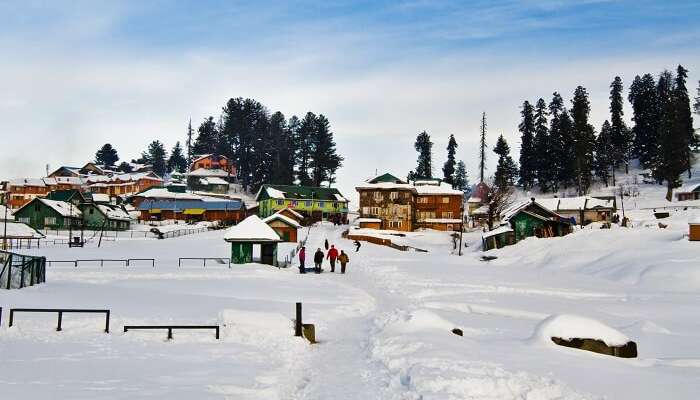 December to February is the best time to visit Kashmir in winter. While maximum temperature occasionally touches 10 degrees Celsius the minimum temperature comes down to -8 degrees Celsius. The period of 40 days from December 21 to January 31st, also known as Chilai Kalan, is considered as the most crucial when if it snows the condition gets even worse. Surroundings become duskier and the bone-chilling cold can make you numb.
1. A Shikara ride in the partially frozen Dal Lake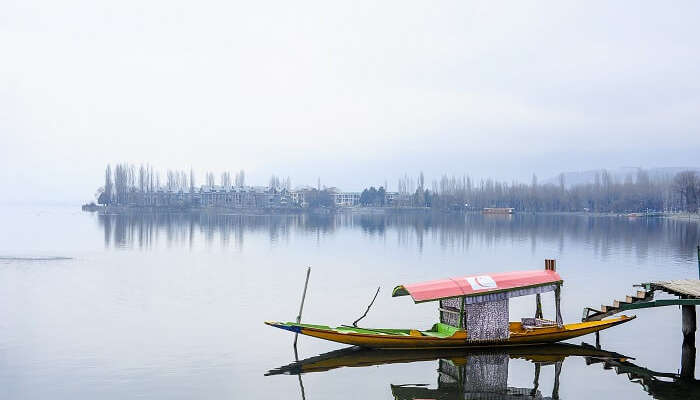 For sure you can stroll around the markets in Kashmir buying those intricately woven Pashmina shawls, and carpets but don't forget to go for a boat ride. The joy of taking a romantic boat ride in the beautiful lakes of Kashmir or staying in the best houseboats in Kashmir is incomparable. A boat ride in Kashmir is the mother of all the romantic experiences when you are on a Kashmir holiday.
As the mercury experiences a remarkable dip even the lakes become partially frozen. Plan a Shikara ride and nothing is more enchanting than it.
Must Read: Snowfall In Kashmir: Head To The Mesmerizing Valley On Your 2018 Winter Trip!
---
Kashmir Tour Packages On TravelTriangle
Visit Kashmir and experience skiing in Gulmarg, trekking through the breathtaking mountains lakes, trout fishing in Sonmarg and a romantic stay in houseboats in Jhelum River. Book packages inclusive of airport transfers, cab, resort, sightseeing, and meals.
---
2. Munching on Harissa – the winter delicacy of Kashmir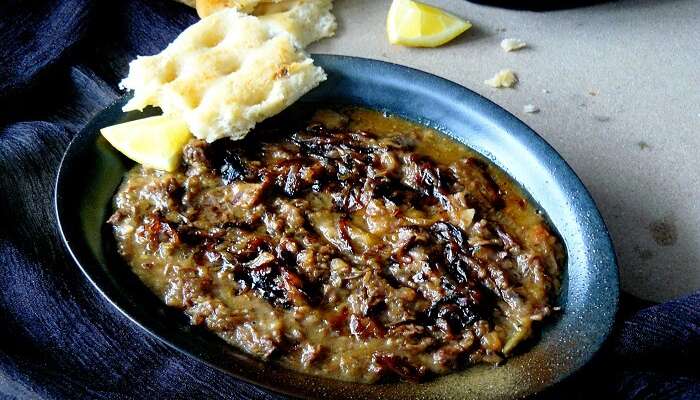 Image Source
There is a lot of things to do when you are looking to spend few days of winter in Kashmir. And Kashmiri food is certainly worth a mention. Kashmiri Pulav, Kehwa, dum aloo, Yakhni, and Kebabs are some of the most popular and lip smacking delicacies to try but it's the Harissa that hogs the limelight. Harissa is the local Kashmiri food that everyone must try.
The non-vegetarian delicacy that takes almost 12 hours to prepare is a staple diet of Kashmiris in winter. Lamb and rice are the primary ingredients of Harissa.
Suggested Read: 10 Charming Festivals In Jammu And Kashmir: A Peek Into The Rich Kashmiri Culture
3. Skiing, cable car ride, and hiking in Gulmarg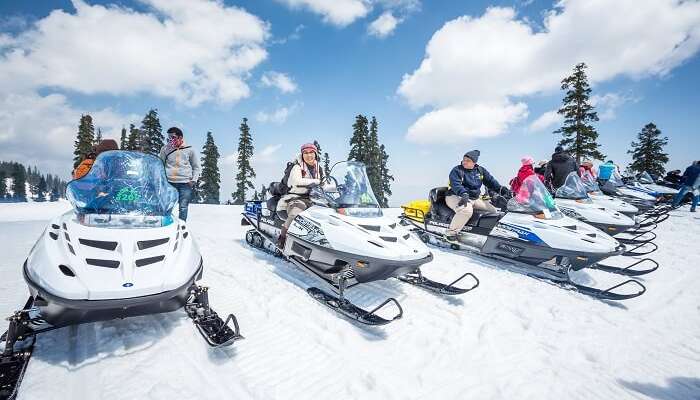 Of all the adventure activities that you can take during winter in Kashmir, Skiing is the most popular. Gulmarg and Sonamarg are the popular destinations for adventure enthusiasts who brave the sub-zero temperature to make the winter a memorable one. There are quite a few local operators in Gulmarg who make arrangements for adventure sports.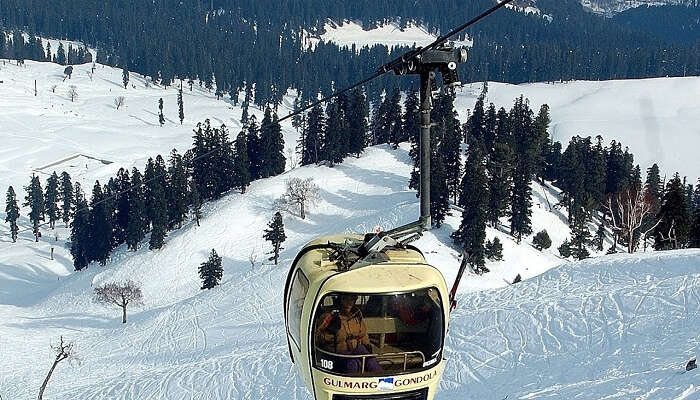 Image Source
Riding a cable car in Gulmarg is truly an incredible experience. Hot air ballooning, skating, and heli-skiing is some other popular activities to take up while planning a trip to Kashmir in Winter.
Must Read: 10 Unbelievably Beautiful Places To Visit In Kashmir
4. Walking the Chadar – the frozen Zanskar river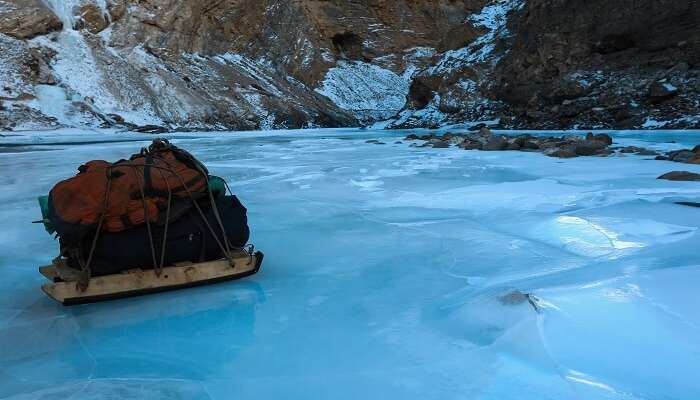 There are times when you don't find adventure but the adventure finds you. As you step into the world that looks nothing less than the ice age, there are daunting trails awaiting you into the deep embrace of nature. Zanskar river, flowing to the south of Leh across the Hemis National Park, is the perfect place to explore in winter. The river turns into a thick sheet of ice in winter thus forming a perfect platform for the Chadar Trek – one of the most thrilling treks in the world. Chadar Trek is a popular attraction of Kashmir in winter.
Suggested Read: Kashmir Food: These Scrumptious 14 Dishes Will Introduce You To Zaika-e-Kashmir
5. Beholding the best of snow mountain valley in Sonamarg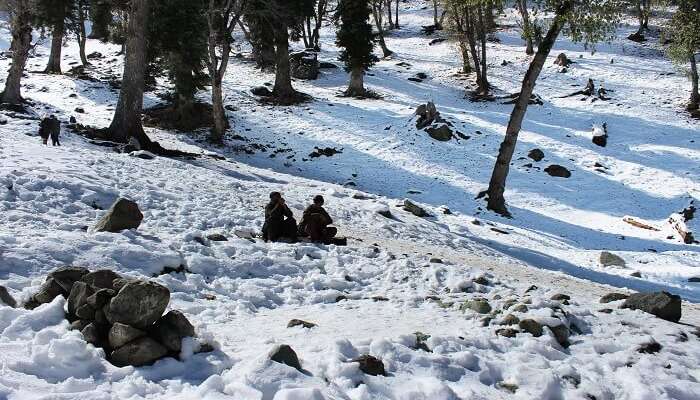 An hour drive from Srinagar takes you to Sonamarg (80 km from Srinagar). It is often said that Sonamarg remains inaccessible in winter because of the heavy snowfall and avalanche but with the able help of locals, one can maneuver the tricky trail well. Sonamarg is one place in Kashmir that will take your breath away. The beauty of Sonamarg is unparalleled with golden beauty turning into a sea of white.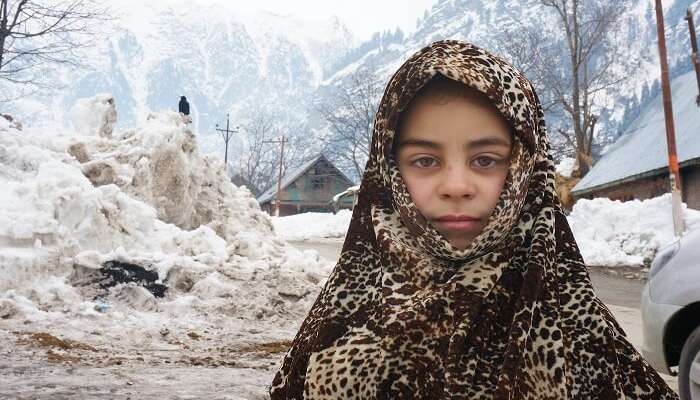 Thajiwas Glacier and Zero Point are the most beautiful of all thus making for popular places to see in Sonamarg. Embrace the beauty the land of golden meadows has its own charm in the fudgy winter. Guarded by the great Himalayan mountains, Sonamarg, one of the most popular places to visit in India in summer, is a must-visit.
6. A pony ride, white water rafting and more in Betaab Valley, Pahalgam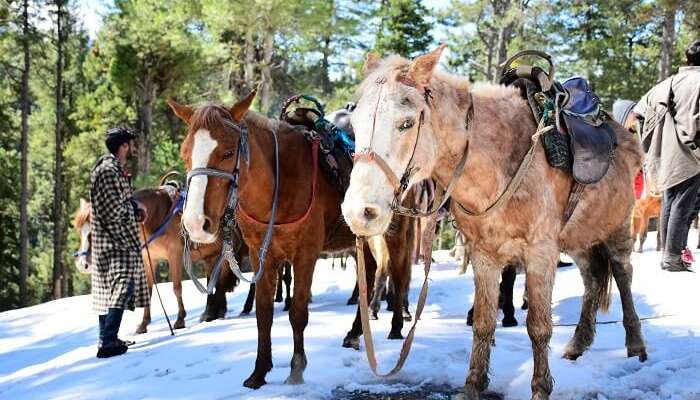 Winter would never be easier in Kashmir without ponies. When the unknown trails become difficult to walk, it is the ponies who guide you through the valley carrying you on their backs. The fact that winter in Kashmir is considered an offseason for tourism makes the travelers prone to make the higher payment. Negotiate is the word. To experience the glaciers in Kashmir at its best a horse/pony ride is a must. Stay cautious, even animals fumble sometimes.
7. Unbelievable discount & cheap stays up for the grabs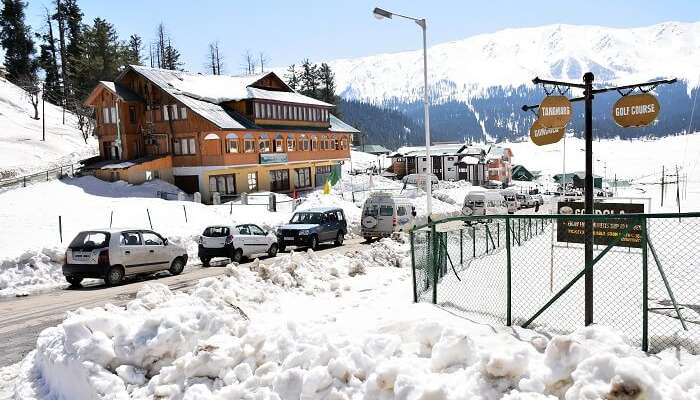 As you plan to stay in a resort or a hotel in Kashmir there are higher chances that you might land up a good discount. Winter is an offseason and this makes a stay in Kashmir a cost-effective option. Don't forget to compare prices online, you never know when you might land up an exciting deal.
8. The best of snow camping & trekking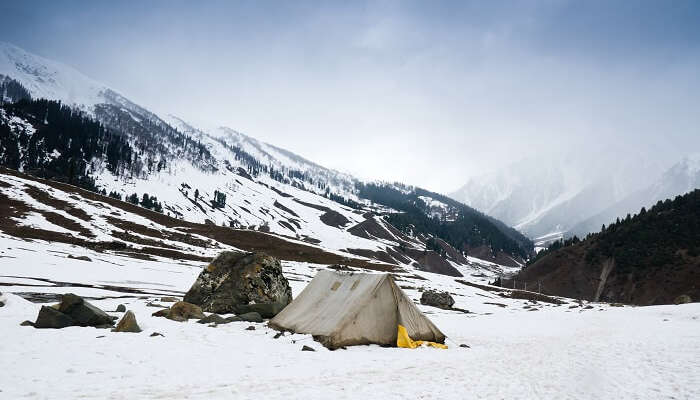 Kashmir is the aptest place to place to plan a winter camping. With not too many people around, camping always makes for a peaceful retreat amidst nature. And when you think of camping in Kashmir there is nothing like this one incredible experience. Mount Nun Kun Camping, Mount Harmukh Camping, and the Trek to Sankaracharya are the most popular of them all.
With dark grey and gloomy conditions around, and weather presenting bone-chilling conditions, camping is one of its kind experience in Kashmir. Living in a tent on a bed of snow is an experience that would invigorate the adventures in you. Consider these popular places while planning to go camping in Kashmir.
1. Sonmarg, Nichinni, Vishansar, Gadsar, Gangabal, Naranag
2. Pahalgam, Aru, Lidderwat, Kolahoi, Chandanwari
3. Manasbal Lake
4. Tsomoriri Lake, Tso Kar, Nubra Valley, Pangong Lake, Shargol (Ladakh Region)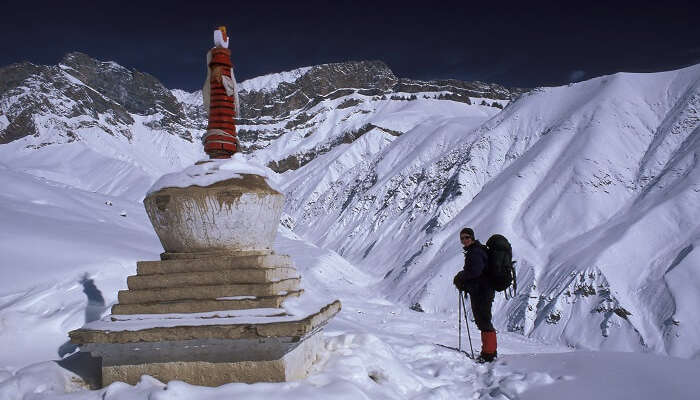 Camping in Kashmir during winter isn't possible until you have the basics in place. Consider these things before making up your mind to go camping:
1. Navigation
2. Sun protection
3. Insulation (extra clothing)
4. Illumination equipments
5. First-aid kit
6. Fire essentials
7. Repair kit & tools
8. Extra food
9. Extra water
10. Emergency shelter (in case of emergency)
* Always avoid the avalanche-prone zones!
Things to keep in mind before planning a winter in Kashmir
Be prepared for the delay in flights because of extreme weather.
Roads aren't as comfortable to travel on as it seems. The closures are frequent because of heavy snowfall.
Enquire about the roads and weather forecast well in advance.
A budget hotel might not be equipped with the electric blanket while deluxe hotels give you the facility of an electric blanket. Enquire about it in advance.
Pahalgam is easy while Gulmarg won't be easy to travel. Anyway, snow clearing machines ensure that roads are in the perfect condition to travel.
Shops are mostly opened lest there is a curfew situation in the valley. You may chance upon some great deals in shops during winters.
Book a prepaid car well in advance for your entire trip. Local transport isn't good during winters.
You might find Dal Lake frozen. It depends upon the amount of snowfall.
Carry your best winter clothings and gears. -10 degrees isn't easy to deal with.
Further read: 15 Things To Do In Kashmir To See The Best Of This Heaven On Earth
With beauty as bewitching as Kashmir, even the challenges of making it there becomes insignificant when you marvel at the snow-swept views. Book a Kashmir tour now and enjoy the beautiful surroundings of the state along with many other fascinating sights which are worth a capture.
Frequently Asked Questions About Winter In Shimla
Q: What is the temperature in Kashmir in December?
A: The maximum temperature which Shimla can hit in December is 8.2 degree Celsius which can drop down to 3.4 degree Celsius.
Q: Is it safe for tourists in Kashmir?
A: There are some regions in Kashmir which are inaccessible for the tourists, but apart from that the main attractions like Srinagar, Gulmarg and Pahalgam can be visited to enjoy the scenic beauty.
Q: Which is the most beautiful place in Kashmir?
A: There is not just one, but many beautiful places in Kashmir like the Apharwat peak, Dal Lake and Nishat Bagh in Srinagar.
Spiti In Winter Dallas In Winter Winter in Sydney
---
Looking To Book A Holiday Package?
Book memorable holidays on TravelTriangle with 650+ verified travel agents for 65+ domestic and international destinations.
---
Comments
comments