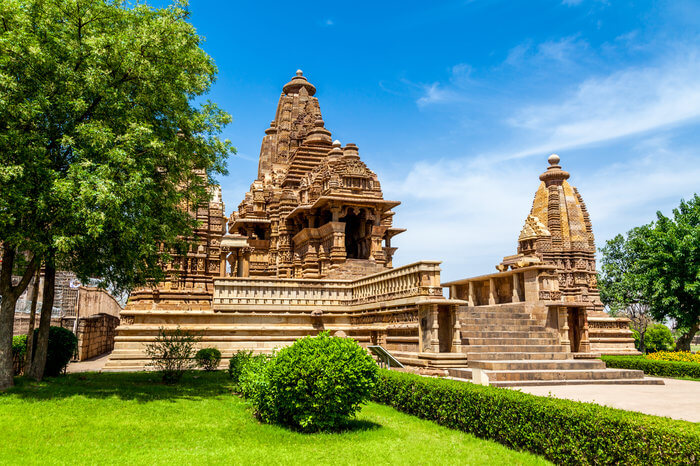 The gorgeous idols of Khajuraho carved out during Chandella dynasty are now one of the most popular and interesting UNESCO World Heritage Sites in India. Khajuraho Group of Monuments is an exemplary stone-work based on Hindu and Jain ideologies. Khajuraho temples are a perfect example of intricate stone carving and highly matured civilization. Take a deep dive into the history of Khajuraho temples and soak up the town's beauty.
About Khajuraho Temples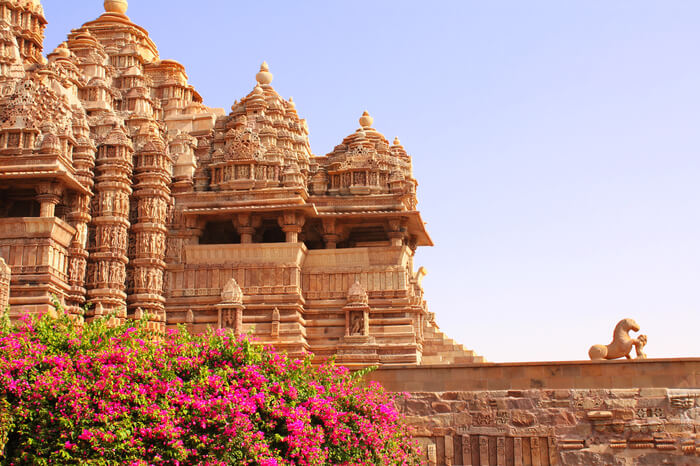 Among the most famous historical places in India, Khajuraho temple was built by Chandella rulers during AD 900 and 1130. Building temples was a tradition of Chandella rulers and were followed by all the rulers of the dynasty. 85 temples were built during the golden period of Chandella rulers, but only 23 temples survived the destruction & disfigurement by Muslim invaders.
Scattered over an area of about 25 km, Khajuraho temples are categorized into three groups: Eastern, Western, and Southern. The beauty and expressiveness of the sculptures of the temples will leave you in wonder.
Best Time To Visit Khajuraho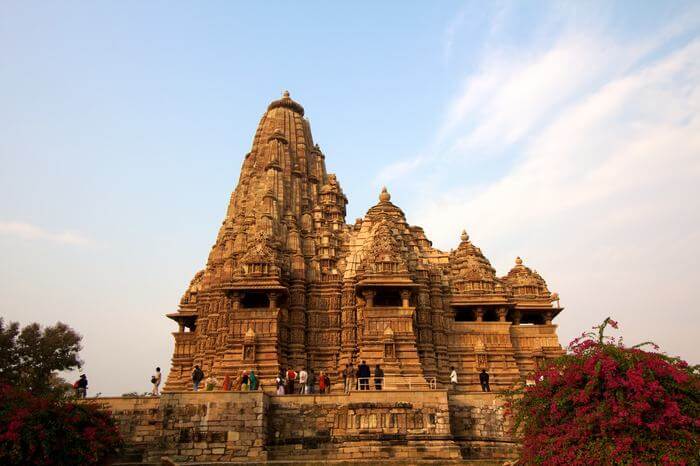 The months between July and March are ideal to explore the beautiful Khajuraho temples. However, the best time to visit Khajuraho entirely depends on what you want to do when you get there. So here's a breakup of the climate condition of the town for you:
October to February (Winter): This is probably the best time to enjoy Khajuraho for those who are interested in outdoor activities. January is the coldest month and temperature can drop as low as 4 degree Celsius during the month, but the glorious sun keeps the days warm and comfortable. It's also the best time to be a part of the most-awaited Khajuraho Dance Festival.
March to June (Summer): The weather during summer is comfortable and pleasant for city tours, but April and May can be hot and the temperature can go as high as 47 degree Celsius.
July to September (Monsoon): Khajuraho looks lush-green and gorgeous than ever during the rainy months. Although it's quite humid during monsoon but the evenings are generally cool and pleasant enough to explore Khajuraho temples. It's also off-season, so you may get great discounts on luxury properties.
Must Read: 4 Best Tourist Circuits In Madhya Pradesh
---
Looking To Book A Holiday Package?
Book memorable holidays on TravelTriangle with 650+ verified travel agents for 65+ domestic and international destinations.
---
Popular Temples Of Khajuraho
Thinking about visiting Khajuraho Temple in Madhya Pradesh? Here is the list of temples that you must explore on your vacation. Keep scrolling down to know more!
1. Lakshmana Temple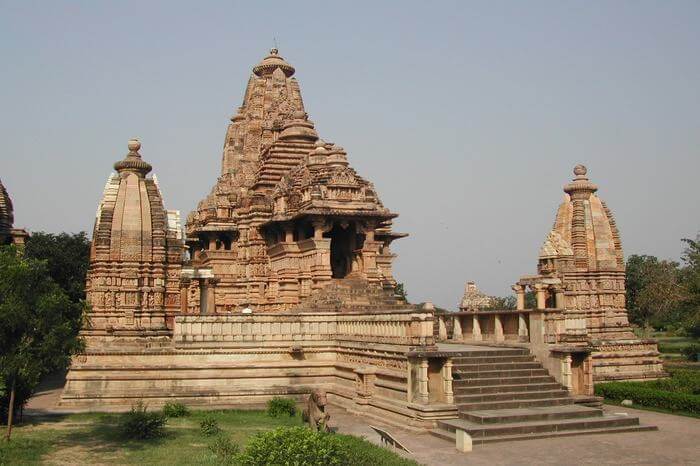 One of the most popular temples of Khajuraho and among the top tourist places in Madhya Pradesh, Lakshmana temple was built by Yashovarman, a ruler of Chandela clan, who won the territories of Bundelkhand region of central India. Completed about 954 A.D, the temple is a fine example of Nagara style Hindu temple architecture. It is one of the three largest temples of Khajuraho dedicated to Lord Vishnu.
The temple has sculptures of battle scenes, hunting, elephants, horses, ceremonies, dancers, and erotica as well as scenes from daily life.
2. Kandariya Mahadeva Temple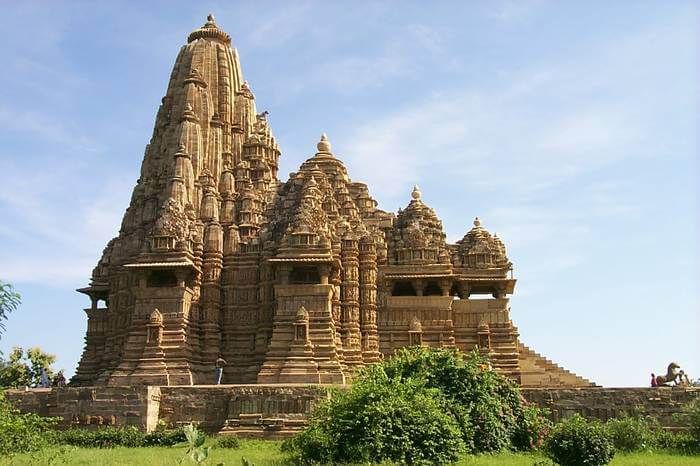 Image Source
Kandariya Mahadeva temple is the tallest and the largest Hindu temple of Khajuraho temples. Built by Raja Dhandadeva in 1050 BC, the temple is decorated with incredible sculptures. The temple is dedicated to Lord Shiva and has a marble Shiva Linga as its sanctum.
Suggested Read: Top 10 Summer Festivals In India You Shouldn't Miss In 2019
3. Devi Jagdamba Temple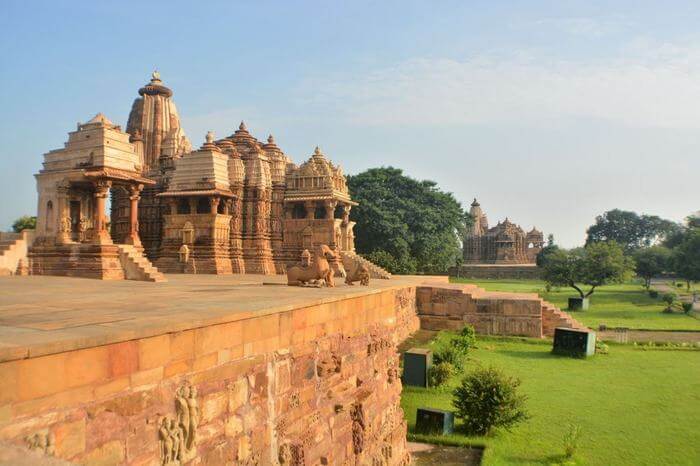 Devi Jagdamba temple is one of the finely decorated temples in Khajuraho. It was built by one of the Chandela rulers between 1000 and 1025 CE. The temple is divided in three bands: the first one exhibits the gorgeous sculptures of Brahma; the second band has wonderful stone-carvings of Lord Shiva; and the third one is dedicated to Lord Vishnu. It has a grand and incredibly beautiful statue of Goddess Parvati, the goddess of the universe.
4. Parsvanath Temple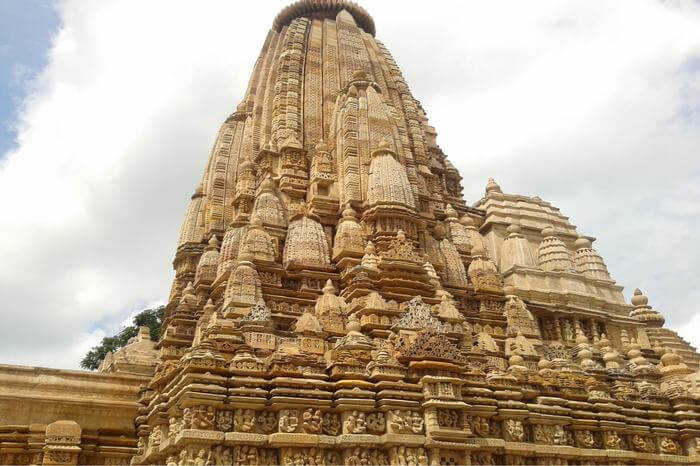 The largest Jain temple in Khajuraho, Parsvanath temple was constructed in 10th century during the rule of Dhangadeva. It was previously devoted to Adinath, the first Tirthankara (saint) of the Jains. In 1860, the image of Parsvanath was installed in the temple, which gave it its name. The temple has sculptures of sea nymphs, elephants, lions, and images of Vaishnav gods.
Suggested Read: 7 Mystical National Parks Of Madhya Pradesh
5. Chitragupta Temple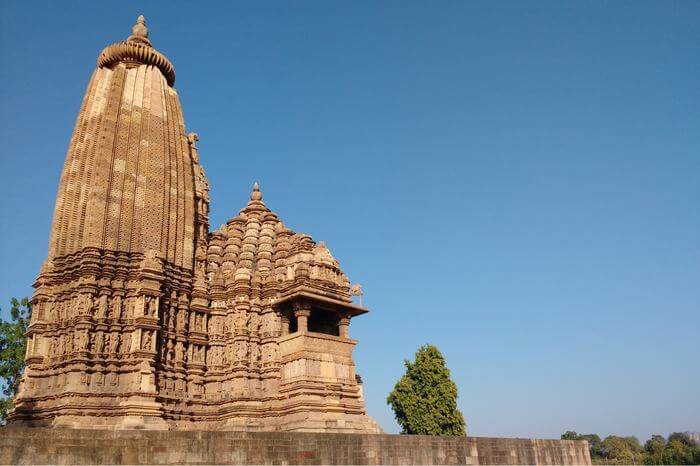 Image Source
Chitragupta temple is one of the most important temples of Khajuraho. It is dedicated to the Sun God or Surya Dev. One can see the beautiful carvings of couples in erotic poses. Incredible images of eleven-headed Lord Vishnu adorn the walls of Chitragupta. This 11th century temple is quite similar to Jagdambi temple, except it has a beautifully designed octagonal ceiling.
6. Brahma Temple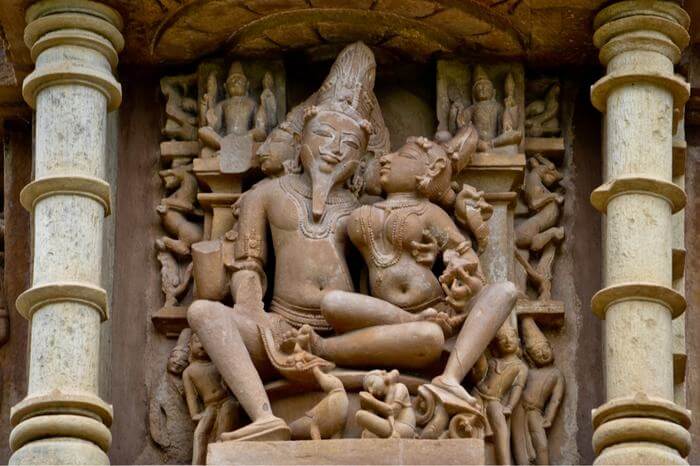 Image Source
Brahma temple is a robust little structure with a sanctum and no mandapas. Although the temple is called Brahma temple, but it has a Shiva Linga as a sanctum. This small temple walls don't have heavy stone work and there's nothing utterly special about the temple.
Must Read: 16 Tourist Places In Madhya Pradesh That You Should Be Visiting In 2019
---
Planning your holiday but confused about where to go? These travel stories help you find your best trip ever!
Real travel stories. Real stays. Handy tips to help you make the right choice.
---
7. Chaunsat Yogini Temple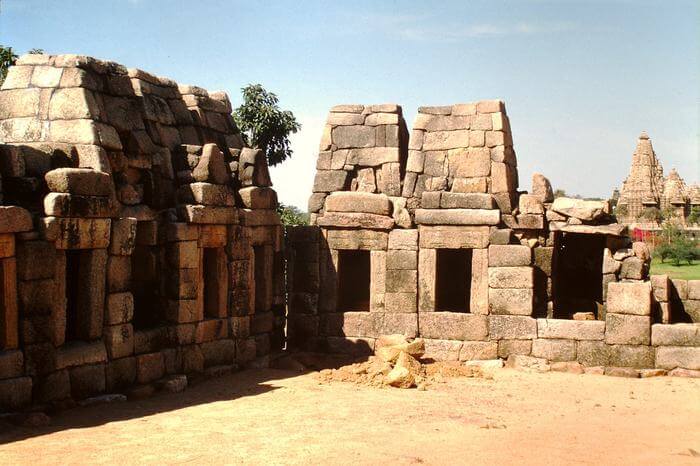 Chaunsat Yogini temple is the oldest surviving ruined devi temple in Khajuraho. The construction of the temple can be dated to about 885 CE. It is made of large, coarse granite blocks and has an open courtyard at the center. Those interest in ruins can visit this temple, but it can be easily skipped.
8. Chaturbhuj Temple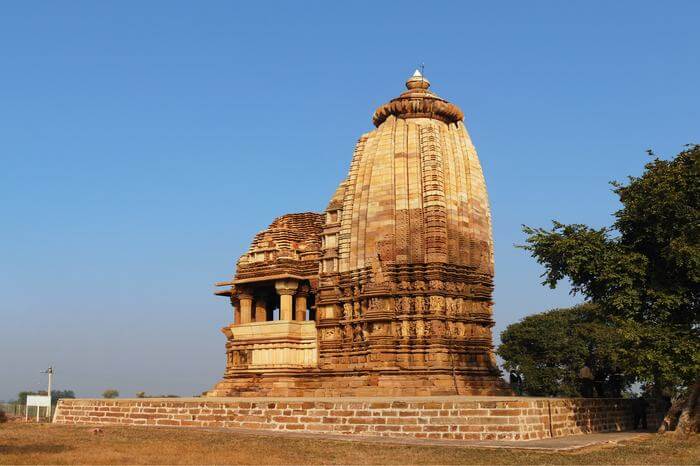 Dedicated to Lord Vishnu, Chaturbhuj temple was built in 1100 AD. This impressive temple is about 3km from Jatakari Village. It has a marvellous entrance porch, a sanctum, and a mandapa. It has a 9-feet tall idol of Lord Vishnu's Chaturbhuj or four arms. The erotic carvings of the wall also add to its beauty.
Suggested Read: 10 Captivating Places To Visit In Bhopal – The City Of Lakes
9. Nandi Temple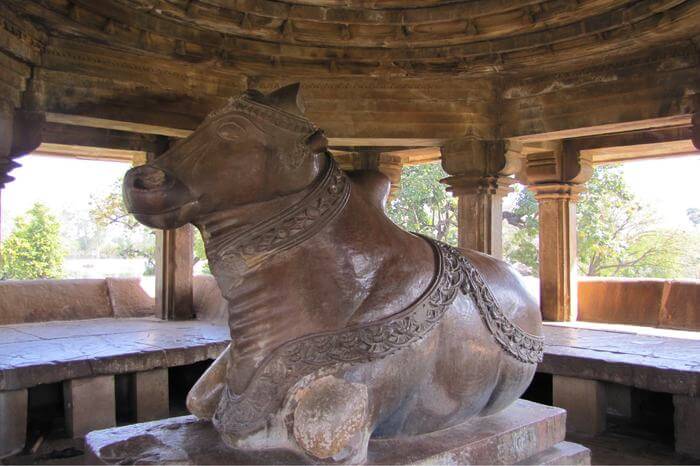 Image Source
Dedicated to Nandi bull (the mount of Lord Shiva) , Nandi temple stand within the premises of Vishwanath temple. This gorgeous temple is an open-square structure that rests on twelve pillars. It has sculpture of women playing music, writing letters, caressing babies, and in sensual moods.
10. Vaman Temple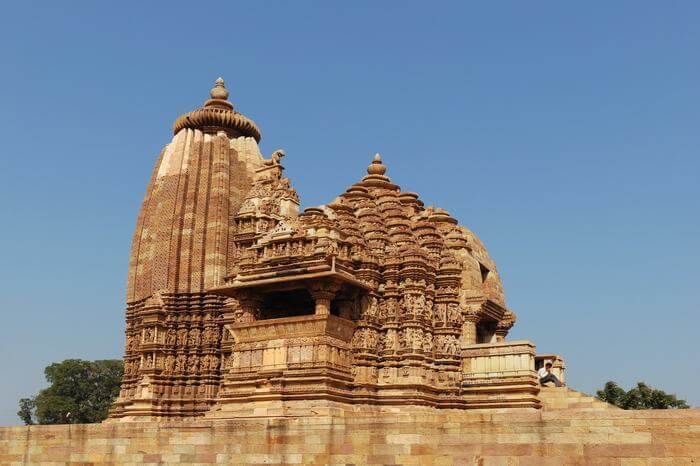 Vamana temple in Khajuraho is another piece of brilliant temple architecture. The temple is dedicated to Vamana, who was the avatar of Lord Vishnu. It has an entrance-porch, mandapa, and a hall. The exterior walls of the temple have intricate sculptures of sensuous postures, apsaras, and celestial nymphs.
Suggested Read: 20 Perfect Destinations To Spend Your Summer Holidays In India
Places To Visit Near Khajuraho
Wondering which places you can visit near the temple? Check out this list which has all the details about the places near the temple that you can explore. Take a look!
1. Adivart Tribal And Folk Art Museum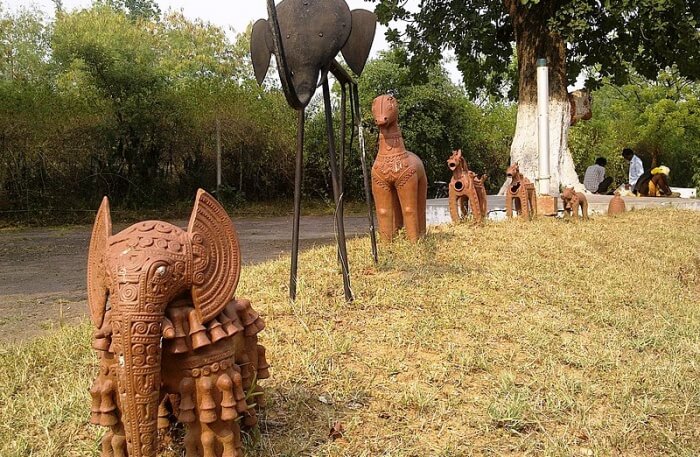 Adivart Tribal and Folk Art Museum is an incredible museum within walking distance of Khajuraho village center. It houses wonderful paintings, terracotta and wooden idols, and there's no entry fee. If your want a break from Khajuraho temples, this is the place you must visit.
2. Orchha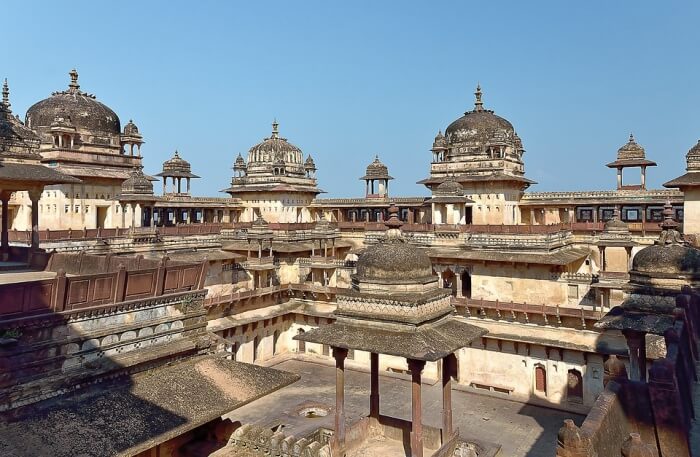 One of the best honeymoon places in Madhya Pradesh, Orchha is a stunning town. This laid-back place has ruins, gorgeous monuments, and the taste of history in every corner of it. One can spend a night or two in the town to explore its rich history.
3. Panna National Park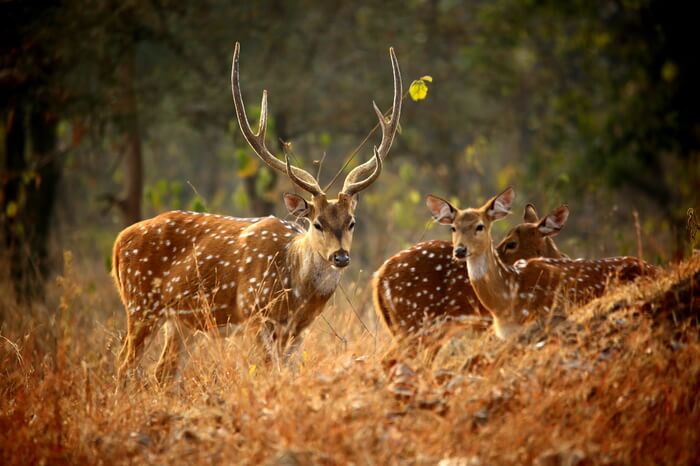 About 60km from Khajuraho, Panna National Park is a place one must visit for an incredible wildlife experience in India. This popular animal reserve is known for its rich bio-diversity. Once can catch a glimpse of chinkara, chital, sloth bear, and wolf inside the park.
Khajuraho Temples Facts
Khajuraho derives its name from Hindu word "Khajur," which means 'date'. The town was filled with date palm during ancient times.
It was in 20th century that Khajuraho temples were discovered and preserved.
Most of the temples are built in sandstone.
Only 10% of the sculptures of Khajuraho temples depict sensuality.
There were 85 temples in Khajuraho but only 20 temples could survive the destruction.
Khajuraho monuments have been ranked as the best preserved monuments of antiquity by Archaeological Survey of India.
The cluster of Khajuraho temples are divided into Western, Eastern, and Southern groups.
How To Reach Khajuraho
By train: Khajuraho town is well connected by Orchha, Jhansi, Bandhavgarh, Bhopal, Gwalior etc. The easiest way is to arrive at Khajuraho Railway Station by train and then hire a cab to travel to Khajuraho, which is a 5km drive from there.
By road: Ac and non-AC buses to Khajuraho from neighboring cities like Gwalior, Jabalpur, Jhansi, Chhatarpur, Agra etc are available.
By air: Although Khajuraho is a small town, but it has its own airport. The airport is just 8km from the main town. It has flight connectivity from Delhi, Indore, Mumbai, and Hyderabad.
Further Read: 6 Gorgeous Places In India That Can Purify You From Within
Let Khajuraho temples immerse you in the beautiful past of Chandel clan. Already mesmerized by its beauty? Get packed, pick this guide, plan your Khajuraho vacay and leave right away to explore the land of beautiful architecture and history !
Frequently Asked Questions
Q. How many of the temples of Khajuraho exist today?
A. Only, 25 of the temples of Khajuraho exist today.
Q. Which God is Worshipped in Khajuraho temple?
A. Lord Shiva is worshipped in the Khajuraho temple.
Q. Who built Konark Sun Temple?
A. Narasimhadeva I built the KonarkSun Temple.
---
Looking To Book An International Holiday?
Book memorable holidays on TravelTriangle with 650+ verified travel agents for 65+ domestic and international destinations.
---
Comments
comments