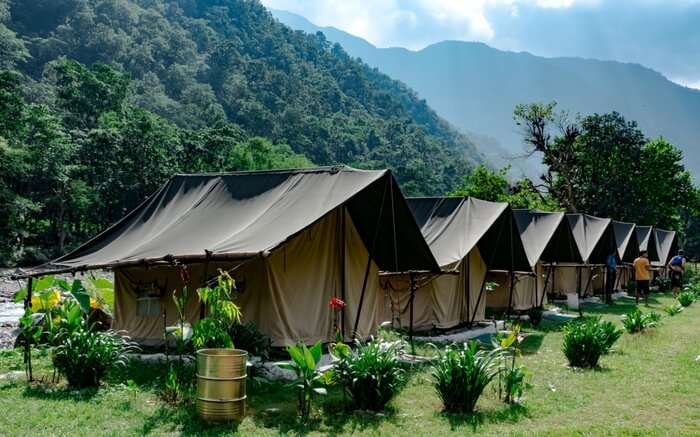 Only when you experience nature's majesty under cold dark night, sitting by the warm fire, spotting the brightest star, the mighty nature overwhelms you. Uttarakhand is the place where camps and bonfires make an exciting prospect for a traveler. Plan camping in Rishikesh and enthrall yourself with a range of activities.
The camps in Rishikesh, with neatly managed surroundings, panoramic views, and uninterrupted of valleys, makes for the ideal place to spend a day or two. These stays have basic facilities, offer good food and a wide range of activities that are perfectly curated to make your holidays engrossing. A camping stint in these places could be the best bargain for your weekend!
Camping In Rishikesh: About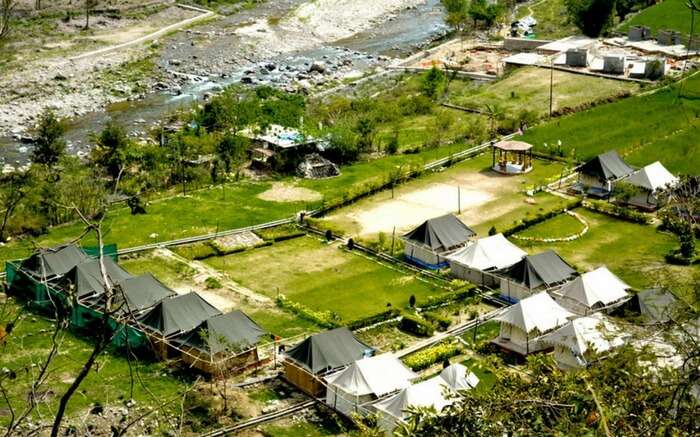 Camping in Rishikesh is famous because of the availability of plenty of adventures and tourist places around. While you plan a trip camping near Rishikesh there are a lot of activities and a day trip that you can plan to make the most out of your short vacay. River rafting, body surfing, cliff jumping, bonfire, in-house volleyball, and badminton are some of the most exciting things to do while planning rafting and camping in Rishikesh.
With so many things to do and an ideal space to live in the closet of nature, camping in Rishikesh is more fun.
Must Read: Bungee Jumping In Rishikesh 2022: Here's A Handy Guide To Know Everything About This Thrilling Activity!
Camping In Rishikesh: Best Time To Visit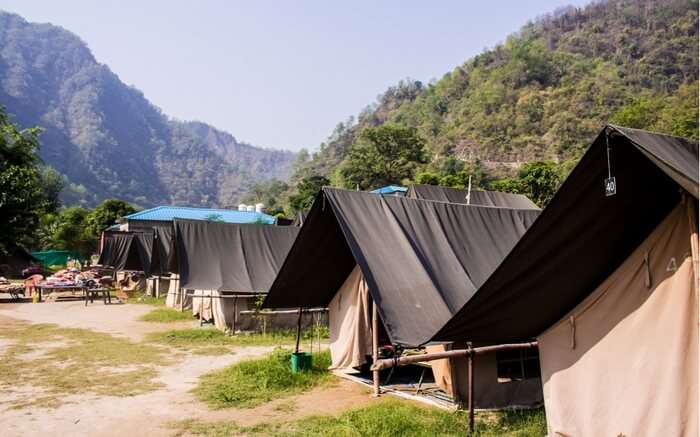 The best time to visit Rishikesh for camping varies according to the season. Late September to Mid-November & early March to the first week of May is recommended. Avoid monsoon season to avoid unwanted hassles. Also, the rapids in the river Ganges are on the surge, and staying away from water during the period is advisable.
Ideal duration: 2 days and 1 night
Approximate cost:
INR 4400 per person on double sharing
INR 4000 per person on triple sharing
INR 3400 per person on quad sharing
9 Camping Sites In Rishikesh
Rishikesh is home to some of the most amazing sites to camp that will leave you enthralled like never before. These camps offer everything for all kinds of travelers. Take a look!
1. Aspen adventures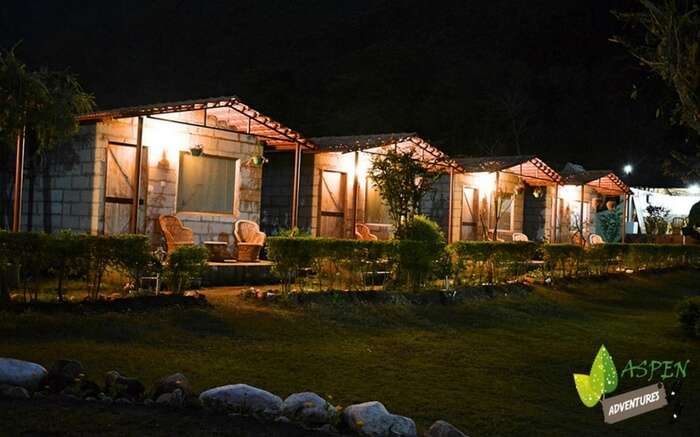 The range of adventure activities in Rishikesh, clean Swiss Tents, cleaner environs, and positive vibes greet you at Aspen Camps. Try out a range of adventure activities such as whitewater rafting, bungee, flying fox, and waterfall rappelling. Aspen adventures are the perfect place to be for camping in Rishikesh.
Location: Laxmanjhulla, Rishikesh
What's special: The tents for group bookings are classic camp style stays that offer comfortable amenities.
Tariff: INR 6700 per person per night on twin sharing basis
2. Wildex Camp Rishikesh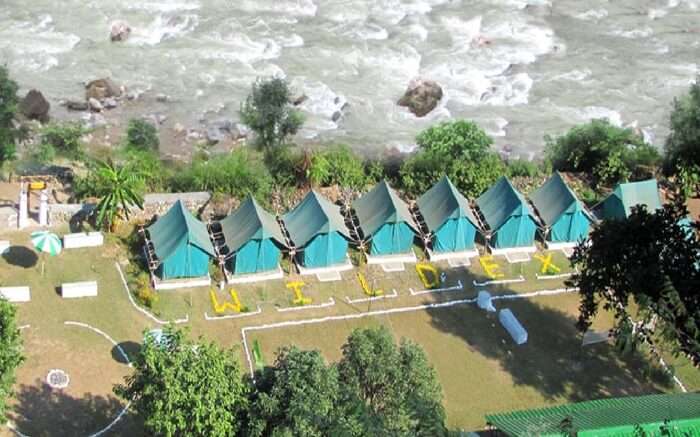 Located in the vicinity of Rajaji National Park, the Wildex Camp Rishikesh is guarded by mountain silhouettes. The place offers adventures and is visited by rare Himalayan birds too. Bonfire, lit sky, and a free-flowing river Ganga by its side, this place is too good for camping.
Location: Phool Chatti, Neelkanth Temple Road, Rishikesh, Uttarakhand 249201
What's special: If you are staying here, get a chance to wake up to the rippling sound of the Ganges and enjoy a riverside breakfast surrounded by lush green forests.
Find detailed information about the tariff here.
3. Rendezvous Rafting Camp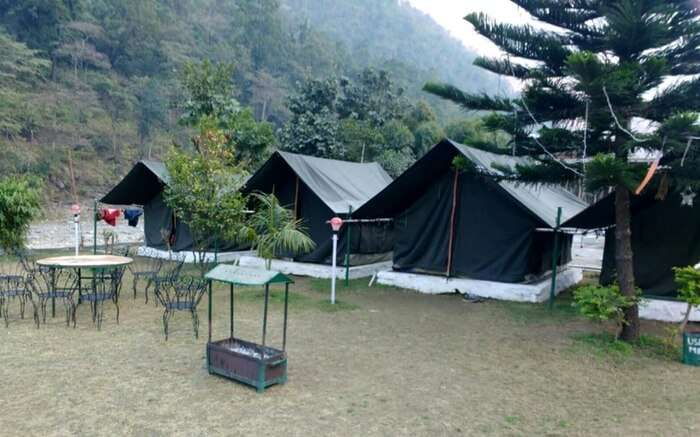 If you are a nature lover who loves to live the thrill of adventure every moment then Rendezvous Rafting Camp is your go-to-place. Well maintained tents, clean toilets, good food especially the evening snacks, and a wide range of activities offered, make the camping experience in Rendezvous a memorable one.
Location: 183, 39, Gali No5, Maujpur, Shahdara, Delhi, 110053
What's special: This rafting camp is popular for its luxury cottages and if you can splurge on your accommodation, this is where the extra budget can prove its worth.
Tariff: INR 6000 per person per night on twin sharing basis
Website | Reviews
Must Read: 6 Best Resorts Near Rishikesh And Haridwar
4. Camp Roller Coaster Rishikesh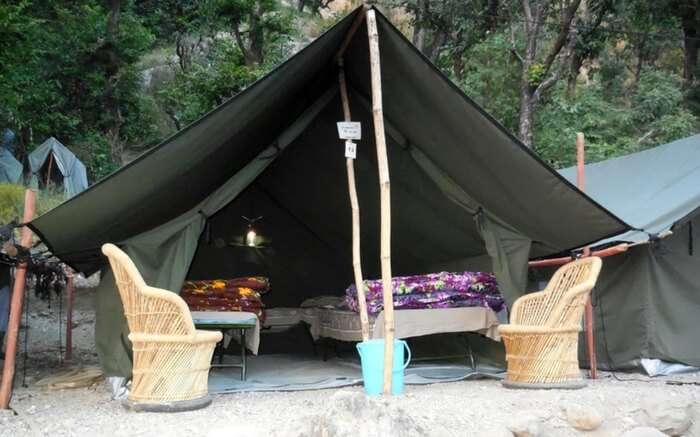 Time to embark on a roller coaster ride in the foothills of the Himalayas. With camping options available in 1 & 2-night packages, Camp Roller Coaster is the perfect dose of the weekend thrill for all the adventure seekers. A stay here gives you a tailor-made environment to enjoy the perfect weekend by the river Ganga.
If you are ready to shell extra bucks apart from the basic camping charges there is a wide range of adventure activities awaiting you here. The cost of the package depends on the size of the group you are traveling with.
Location: Rishikesh, Uttarakhand 249137
What's special: The tent camps are located on the base of the Himalayas where you can wake up to the charming views of the flowing river and snow-peaked mountains.
Enquire about the tariff and more details here.
Website | Reviews
5. Camp Ganga Riviera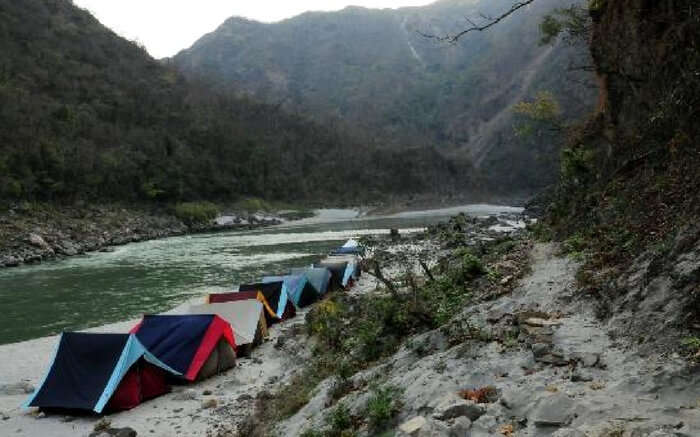 Sitting quietly by the banks of river Ganga, the Camp Ganga Riviera is a camper's delight. Greenfields, meandering rivers and magnificent nature around make this place interesting. The jungle camp is a 2-km walk from the Rishikesh-Badrinath highway beyond the quaint jhoola bridge.
A perfect sojourn for camping and adventure activity that is is, you can plan a momentous outing here with family or friends.
Location: Mahadev Chatti, Rishikesh, Uttarakhand 249192
What's special: The camp is isolated by beaches and jungles with a unique view of the mighty Himalayas that peak from behind the forest.
Tariff: INR 5,000 per person per night on twin sharing basis
Website | Reviews
6. Cradle Of Life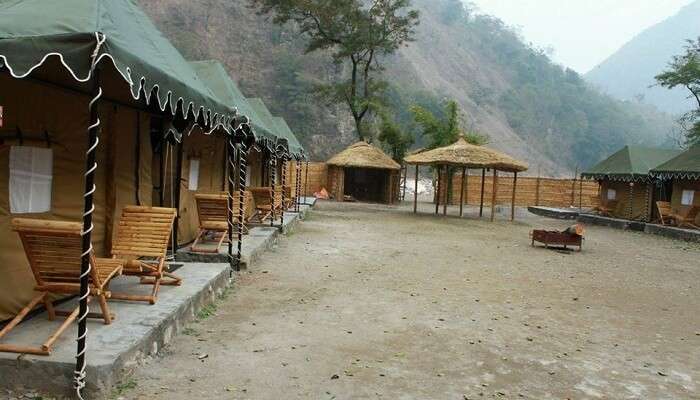 Another great campsite in Rishikesh is Cradle of Life. The camp offers everything from vegetarian and non-vegetarian food to enthralling activities like rappelling, volleyball, and more. You can enjoy the surreal beauty of the surroundings and have a relaxing staycation here. Whether it's a family or friends, you will have the best days of your life here.
Location: Haridwar Rishikesh Badrinath Road Badal, Shivpuri, Uttarakhand 249175
What's special: If you are looking for a stay with an open backyard for outdoor activities like campfire or volleyball, you won't find a better camp than this.
Tariff: INR 3500
7. Camp Gold Coast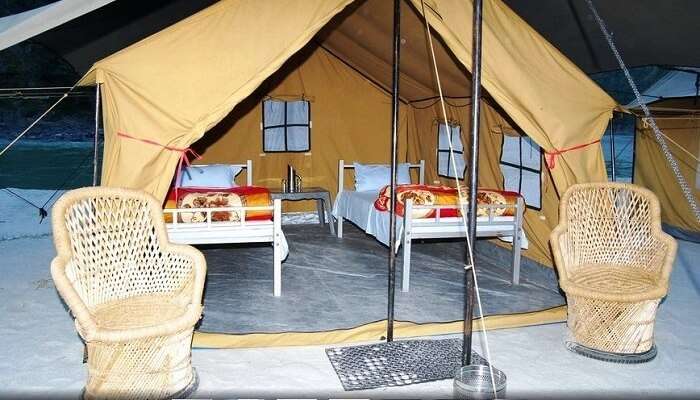 Camp Gold Coast is one of the top camps in Rishikesh that you can consider for camping in Rishikesh. The camp not only offers scenic beauty of the surroundings and amenities you need but also exciting activities like rappelling, kayaking, river rafting, and more. You will be served with lunch, breakfast, and dinner, both vegetarian and non-vegetarian.
Location: Beach No 17(B) Byasi Village Rishikesh-Devprayag Highway, Tehri Garhwal, Uttarakhand 249192
What's special: This is one of the biggest beach camps and its proximity to Singtalli Valley makes it an ideal location to stay.
Cost: INR 3750
8. Ravers Beach Camp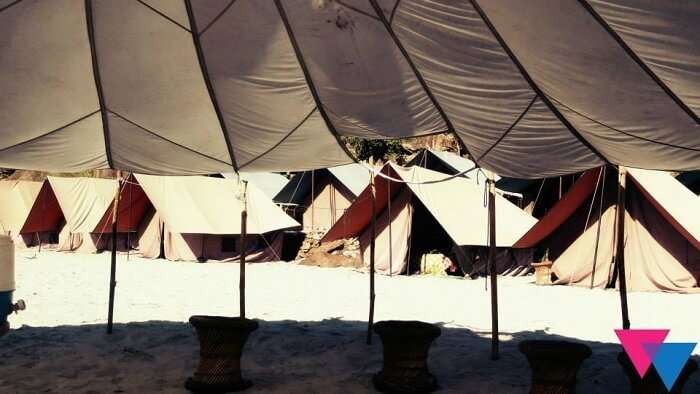 Beach camps are one of the best places to camp in Rishikesh. If you need a break from all your worries then you can plan camping at Raver's beach camp. Apart from offering picturesque views of the surroundings, the camp is known to provide an enthralling experience through activities like cliff jumping.
Location: Nh – 58 Badrinath Road Near Nainital Bank, Rishikesh 249201 India
What's special: This place offers an upstream view of the Brahmpuri landscape.
Cost: INR 2250
9. Red Chilli Beach Camp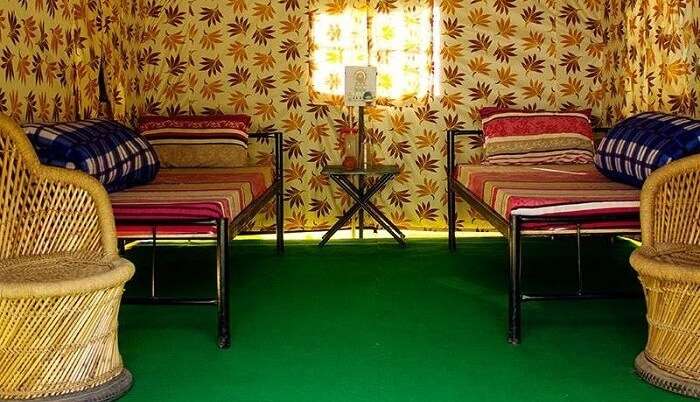 One of the famous camps in Rishikesh, Red beach camp is all about a fun-filled experience that will add stars to your holiday in Rishikesh. The camp is perched on the foothills of the city and offers scenic views of the surroundings. Hiking, trekking, water sports are some of the things you can enjoy while being there.
Location: Luxman Jhula Road, Tapovan, Rishikesh, Uttarakhand 249192
What's special: This stay is located near Byasi at the intersection of several river streams.
Cost: INR 3000
Timings: 9am – 8pm
Camping In Rishikesh: Itinerary
Let us consider Delhi as the point of departure, which happens to be the biggest city in the vicinity of Rishikesh. Volvo buses make the most convenient option to travel from Delhi to Rishikesh, which operates from ISBT Kashmiri Gate.
Day 1 – Day Of Arrival, Trek, And Safari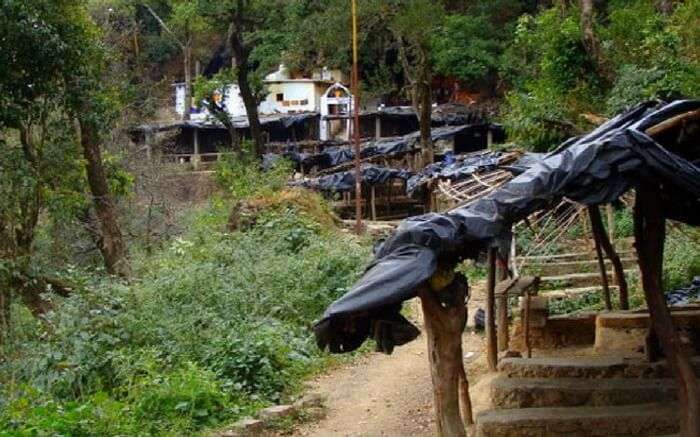 Soon after the arrival at the camp after an engrossing overnight journey head to the camp. Great breakfast and tea await you there. Enjoy the scenic beauty around or get some rest while preparing for the big day ahead. Jungle safari is the next activity! A 4×4 open jeep takes you to the nearby jungle in the Rajaji National Park and to the Vindhyavasini Mata Temple.
Explore the best of the jungle with a short jungle trek in the dense woods. Refreshing vibes and incredible views await as you head to the Neergadh Waterfall. Back at the camp good food and snacks await you at the camp. A bonfire at night with musical games and indoor activities like board games. Overnight stay at the camp.
* Make sure that you visit Laksham Jhula too. It's a popular attraction located close to Shivpuri.
Suggested Read: 40 Places To Visit In Rishikesh On Your Next Getaway To This Religious City
Day 2 – Day Of River Rafting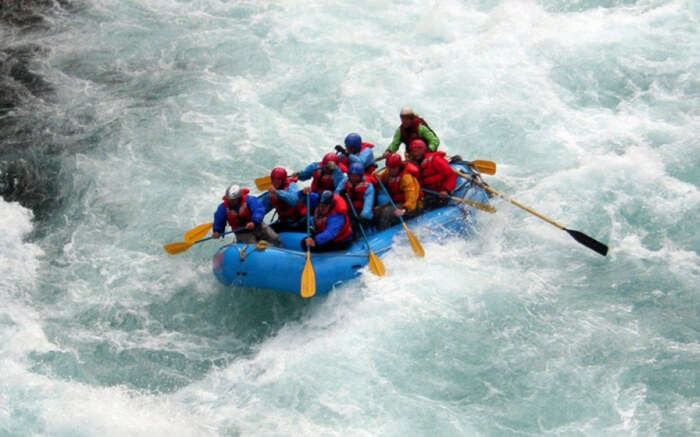 Rishikesh is known for river rafting in the Ganga river. The river with its exciting rapids makes a perfect place for adventure enthusiasts who love to experience the thrill. After a hearty breakfast head to the rafting site by the Ganga river where organizers provide you the necessary equipment required for rafting.
Enjoy the morning sunrise as the sun emerges from behind the mountains. Head to the rafting point after the meal. Shivpuri Rafting Point, with grade 2 & 3 rapids, is the most famous of them all. Among other Brahmpuri, Marine Drive, and Kaudiyala rafting points are popular.
Listen to the instructions given by the guides leading you. Take it easy in the beginning and enjoy the moments of adventure, raft along with the gushing rapids. Depart for Delhi around 4 pm and that's how a memorable trip comes to an end.
Specification of water rapids and difficulty posed by them:
Grade 1: Small waves with no obstacles in the way. Easy and ideal for family & beginners
Grade 2: Clear passages and slightly adventurous. Moderate level
Grade 3: High irregular waves with narrow passages. This rapid is difficult and needs precise maneuvering
Grade 4: Powerful waves that are difficult to tackle greet you here. The precision with good maneuvering skills is a must
Grade 5: Highly congested that is extremely difficult to tack await you here. The rapids are violent and highly congested
Rapids grade division: Brahmpuri – 2/3, Shivpuri – 2/3 plus, Marine Drive – 3/4 plus, and Kaudiyala 4 plus
Suggested Read: River Rafting In Rishikesh: The Ultimate Guide For Riding The Rapids
Things To Pack
T-shirt – at least 2
Warm sweatshirt
Sunglasses
Eyeglass with straps (only if required)
Sunscreen lotion & lip balm
Sneakers or river shoes
Waterproof camera (carrying the regular one might be risky)
Water/energy drink
Extra plastic bag
Towel
Best Time To Visit Rishikesh
Rishikesh is one of those destinations that can be visited throughout the year for its natural glory and adventure activities. You can even visit Rishikesh in December and have the time of your life.
However, an ideal time to visit would be between the months of February to mid-August when the temperature is approximately 28 degrees and the sunny sky enchants the surrounding views.
Tips For Camping In Rishikesh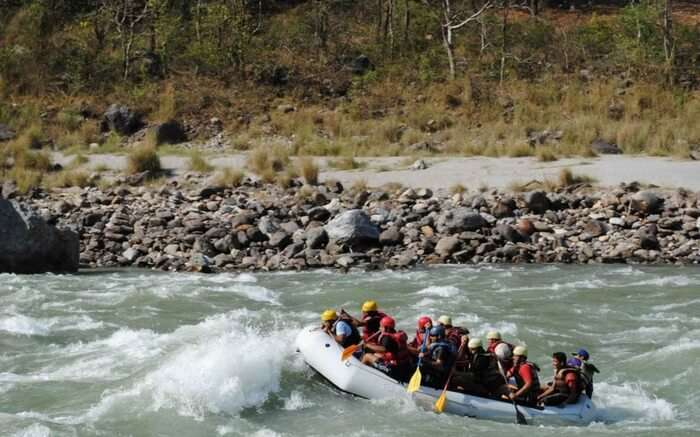 Image Source
Engrossing or tempting that camping in Rishikesh is, it is equally dangerous and therefore it is advised to keep a few things in mind before treading in those waters!
i) Every word from the instructor is important. Listen & strictly adhere to it
ii) Always wear a lifejacket or personal floating device
iii) Be safe and comfortable in whatever you wear
iv) Hold the paddle properly
v) Stay in the boat
vi) Know the commands and don't panic in case of emergency
How To Reach Rishikesh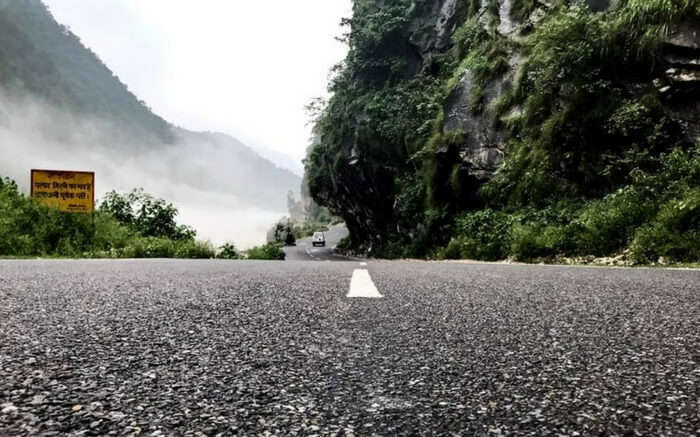 By air: Jolly Grant Airport in Dehradun is the closest airport to Rishikesh at a distance of 35 km. Book a cab from the airport to Rishikesh. Also, you can opt for the Uttarakhand Roadways buses that ply from the bus stand close to the railway station.
By train: Haridwar Railway Station is the nearest railhead to Rishikesh at a distance of 25 km. There are a number of buses and taxis running from Haridwar to Rishikesh.
By bus: Rishikesh is well connected with the nearby places which include Delhi. The 6-7 hour journey is connected by NH 58 and makes for an excellent driving path.
Suggested Read: Rishikesh In December: 10 Experiences You Need To Have For Embracing The Chill
Camping in Rishikesh is all about living amidst nature and experiencing the adventure. Try visiting a few religious sites along! This place will take away all your worries. So, what are you thinking about? Plan a trip to Rishikesh now and pamper the adventurous soul in you. 
Frequently Asked Questions About Camping In Rishikesh
What are the best and cheap beach camps in Rishikesh?
Camp Ganga Riviera, Ganga Beach Resort, and Camp Roller Coaster Rishikesh are some of the best beach camps in Rishikesh that also offer cost-effective stay options depending upon the group size most of the time.
What is the best time for camping in Rishikesh?
September – November & March-May is considered as the best time to go camping in Rishikesh. Being an evergreen destination, you can visit it any time of the year for camping.
What are the other adventure activities one can opt for while camping in Rishikesh?
Bungee jumping, rock climbing, swing, and flying fox are a few other adventure activities you can take while camping in Rishikesh.
Is the cost of river rafting included in the package cost for camping in Rishikesh?
The approximate river rafting cost along with camping in Rishikesh is INR 4400 per person on double sharing, INR 4000 per person on triple sharing, and INR 3400 per person on quad sharing.
---
Long Weekend Trips Starting @ Rs 3299/-
Take a trip to spend the upcoming long weekend with your buddies.
✓ Stay at 4 star rating hotels with local sightseeing, meals and transfers.
✓ Travel in AC coach round trip (from Delhi).
✓ All Inclusive Deal– Camping, Jeep Safari & Trekking as per itinerary
✓ Sign up NOW to celebrate the long weekend out of town!